Ah, Mexico, the land of epic tacos, tortillas and tequila. One trip here and you just know you're going to be living your biggest food fantasies. While the whole country is slinging tasty eats, should you be planning a visit to the country's Baja Peninsula, you'll want to carve some serious time out of your itinerary to check out Los Cabos and in particular, its delicious foodie scene. This dreamy, chilled-out corner of Mexico is known for its incredible farm to table produce all served against a stunning backdrop.
Loosen your belt buckle, here are the best restaurants in Los Cabos.
Acre
A pioneer of the country's farm to table movement is Acre, tucked in the foothills of San Jose del Cabo's Sierra de la Laguna mountains. The restaurant is set on 25 acres of lush greenery, nestled between treehouses and organic farms. With all the ingredients sourced from the property and nearby farms, the menu is packed full of innovative creations. Start with the spicy seafood tostada and fried tomatoes with sherry, Santiago honey and farmers cheese. Then for something a little heartier, you can't go past the crispy pork belly with seared octopus and harissa or the melt in your mouth steamed buns with tofu, spicy pineapple and salsa verde. Finish it off with their signature frozen key lime pie and thank us later. If you're after post-dinner kick-ons, stroll over to their uber-cool bar where you can sip on locally distilled mezcal.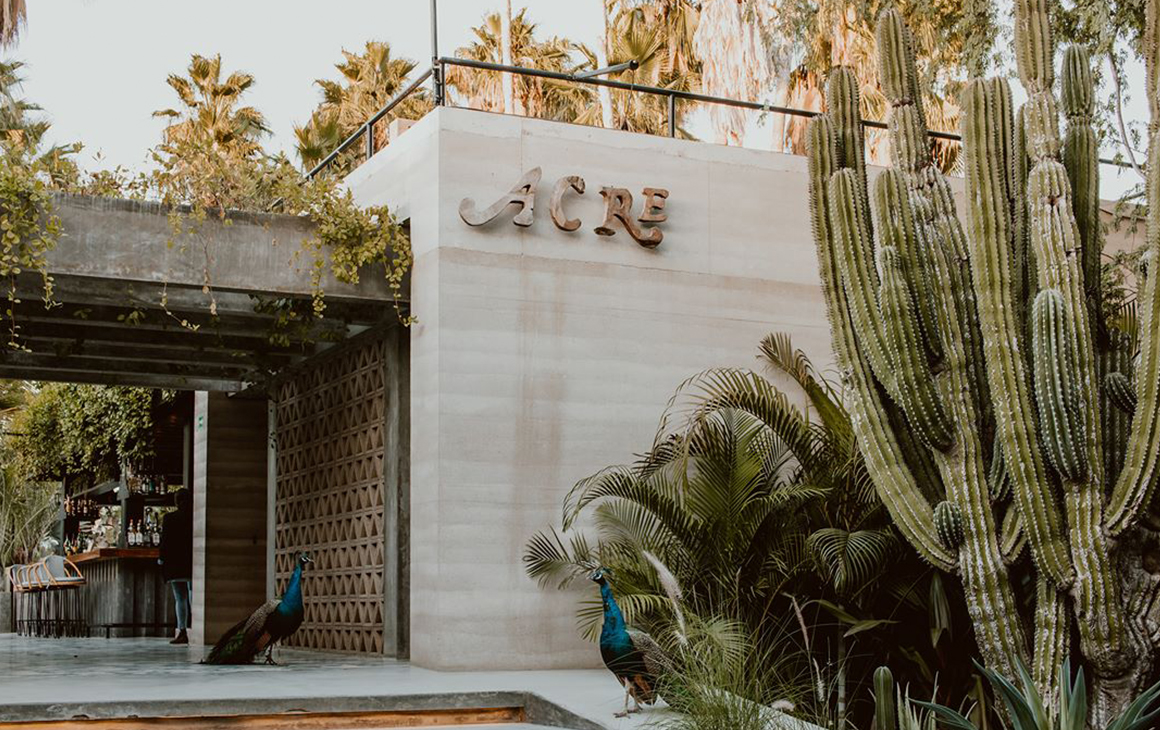 Los Tamarindos
If you prefer to cook what you eat, be sure to check out Los Tamarindos, where you can take part in a four-hour cooking class that will see you and your mates picking ingredients from the farm, cooking them in the outdoor kitchen and then smashing your dishes of guacamole, ceviche and baked tuna over a round of basil margaritas. Or, if you'd rather leave the cooking to pros, pull up a chair in their 19th-century farmhouse and tuck into a sumptuous feast. We're talking fresh Pacific oysters, baked cauliflower with pepita aioli, slow-cooked pork shank in a green mole sauce and oven-baked catch of the day with grilled farm veggies. Be sure to save room for dessert which changes daily but is always incredible.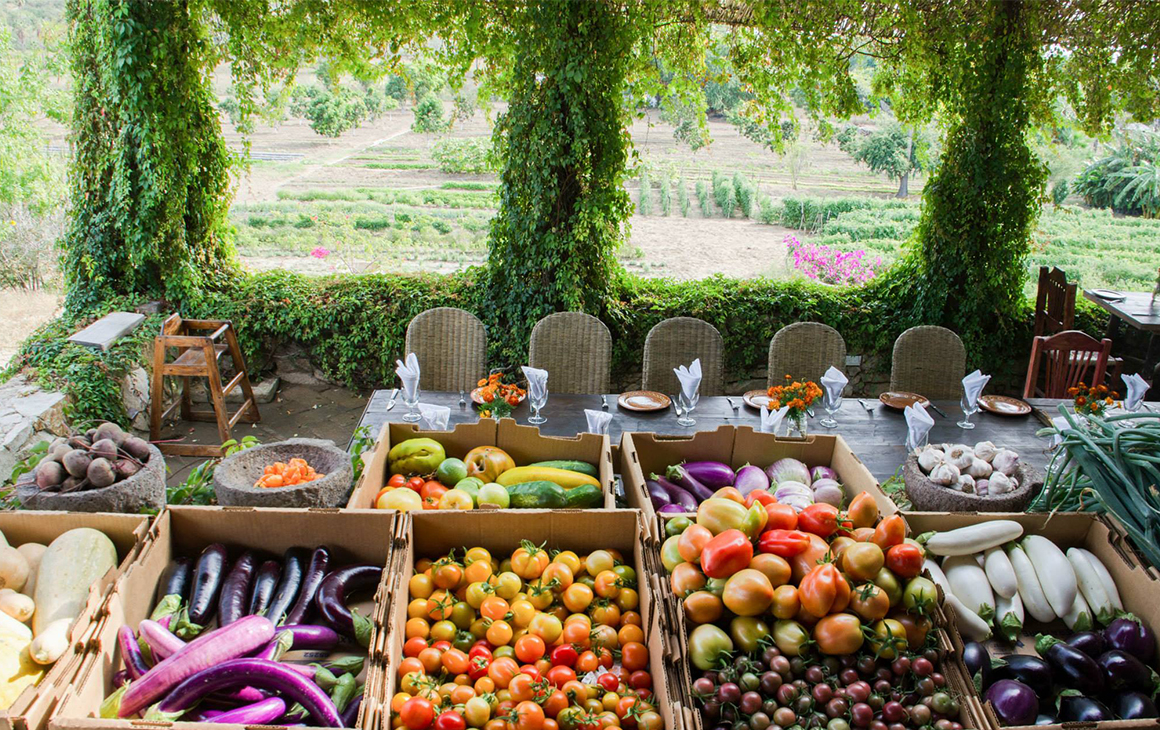 Baja Brewing Company
If you're after something more laidback but equally as delicious, you'll want to make tracks to local fave Baja Brewing Company. This tasty spot has three locations, but our fave is situated on the rooftop terrace of the Cabo Villas Beach Resort & Spa in downtown Cabo San Lucas. Catch the stunning sunset over the ocean while chowing down on classic pub fare—Mexican style. Think grilled prawns, fish tacos, spicy chicken wings and monster burgers. Here the portions are generous, and the prices are pretty reasonable so it's a goodie for groups. Our favourite part though? Washing it all down with their craft brews. Promising a taste of Cabo in every sip, you can choose between blonde, raspberry and amber ales, a Mexican IPA and even an oatmeal stout if you dare.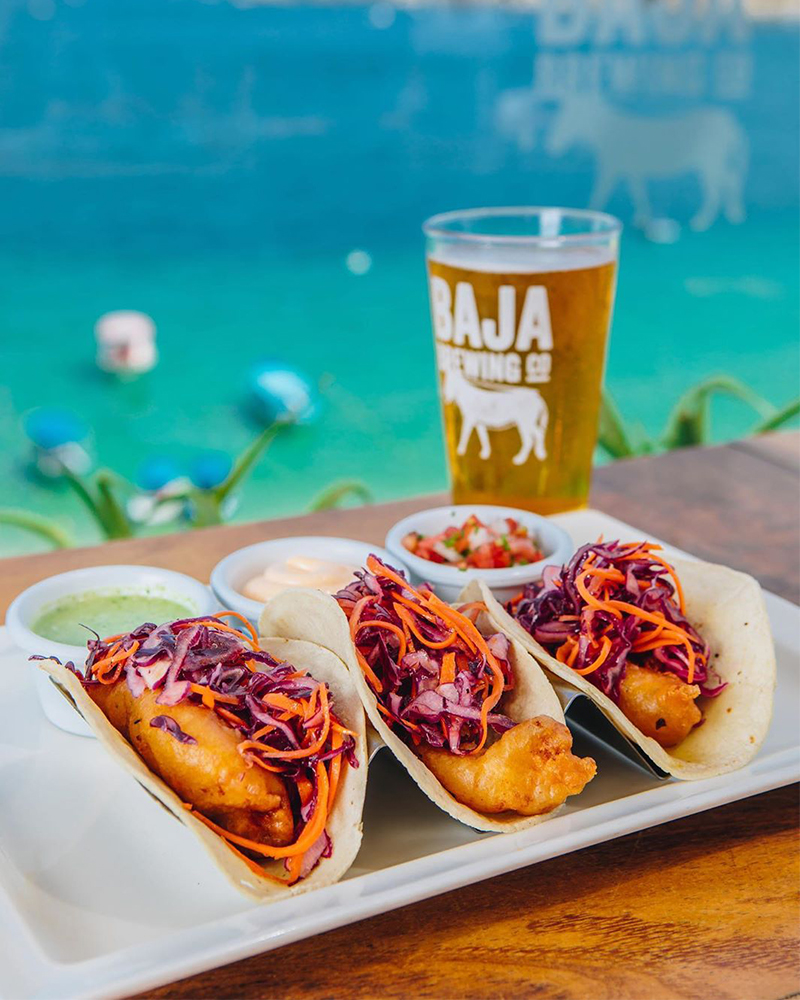 La Lupita
Located in San Jose del Cabo's buzzing Old Town, La Lupita will give you a taste of the real Mexico. While the inside of the restaurant is nice, you'll want to head out to the back courtyard for peak holiday vibes with colourful bunting, rustic wood tables, a lively bar and, come sundown, a band playing traditional tunes on the rooftop (yes, really). These guys are the top dogs of the taco world, serving up every kind of classic and modern twist you can think of. You can't go past the La Gringa (pork, asadero cheese, coriander and pineapple), Roasted Ribs (short ribs, goat cheese, blue corn, tomatoes and chipotle) and the Miso Fish made with the catch of the day, cucumber, jicama, miso and lemon. Veggos will love the Mushroom and Cactus (setas, cactus paddle, green onion, blue corn and Ranchero sauce), while the more daring amongst us should grab the blue taco with crispy Wahaca grasshoppers. Tipple-wise, be sure to order the Tamarind Martini and famous Lupita Margarita.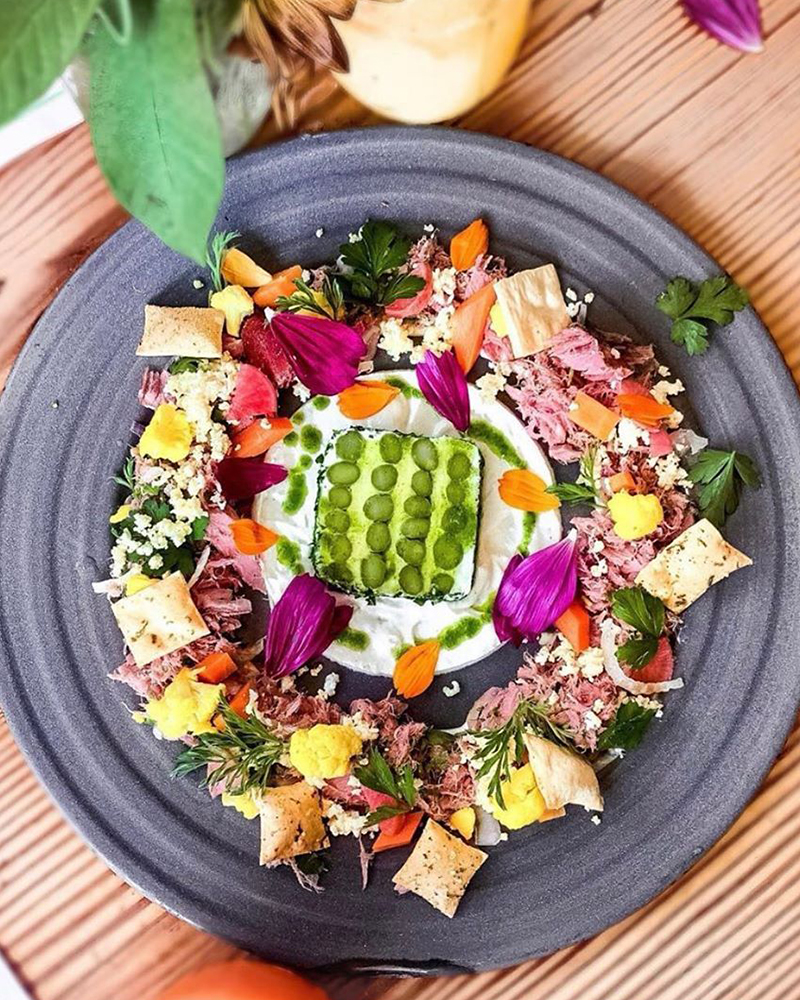 Flora Farms
Another farm to table favourite, you have to add Flora Farms to your foodie itinerary. The farm's restaurant, Flora's Field Kitchen, is all about handmade food using its farm-fresh ingredients with a goal to create a healthy meal with a sense of place. The seasonal menu strives to only serve what the farm produces, grows and raises—they don't serve beef as they believe it's not sustainable in the region. Whatever you order, you're guaranteed one of the freshest, tastiest meals of your life. Think caramelized pork belly, fresh tuna, daily pasta specials and the most colourful and flavoursome salads you've ever had. Here the cocktails are just as exciting as the food, we highly recommend the coriander G&T.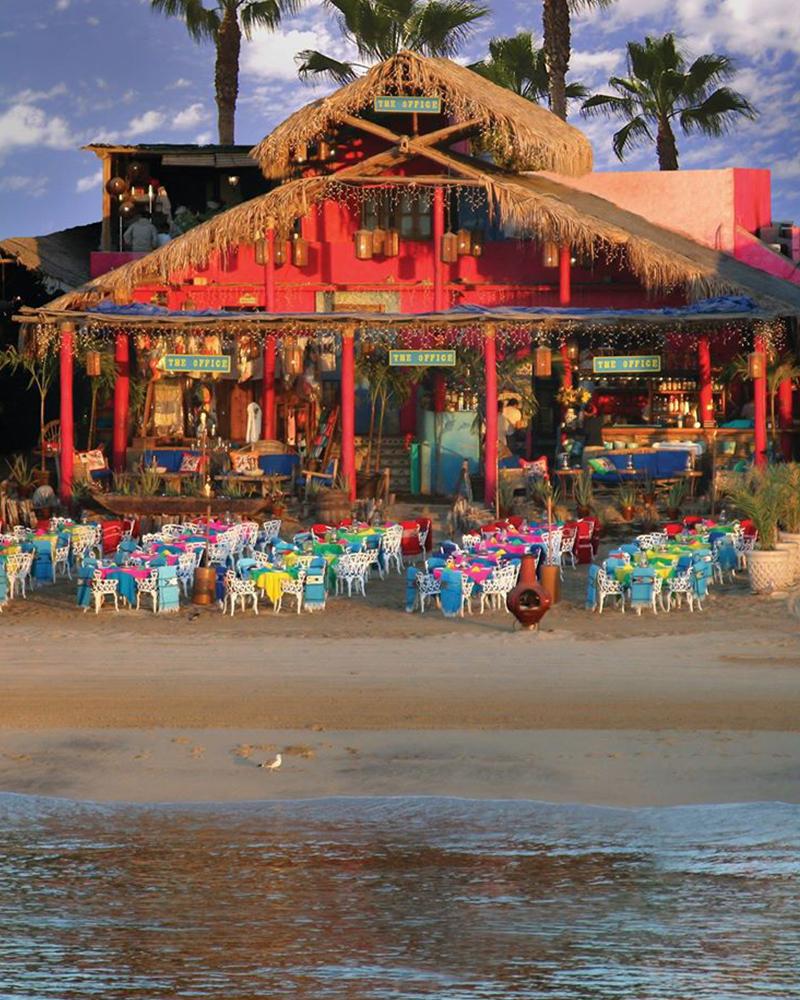 The Office On The Beach
If there's anything more magical than gorging on fresh seafood with sand between your toes, then we don't want to hear about it because we reckon we've found nirvana. The Office On The Beach is the epitome of living the good life. It came about in the 70s when the peninsula was a remote and isolated place with few visitors. What started as a small kitchen and bar on the beach for locals quickly become a firm favourite. Expect simple, delicious fare like fried fish, beef burritos, coconut prawns and of course, lots and lots of margaritas and cuba libres. Another thing The Office is famous for? Their epic line up of live music which takes place right on the sandy foreshore. Yep, you'll want to visit this gem more than once.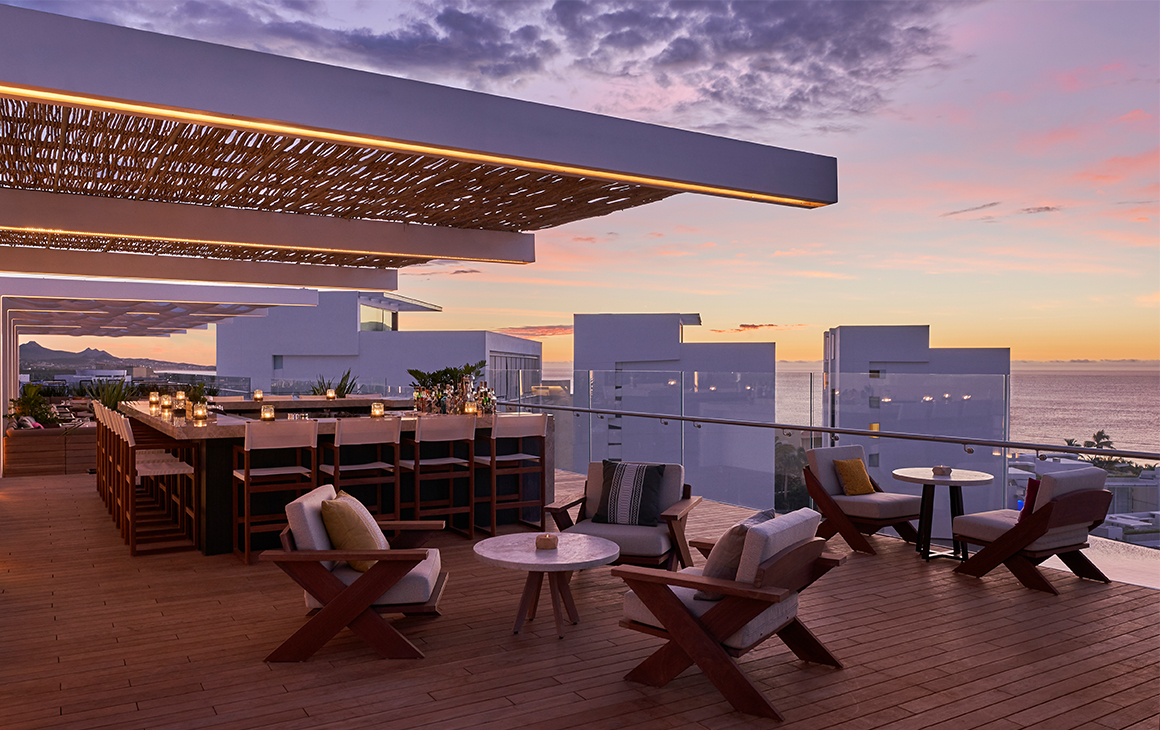 Cielomar
If you're looking for luxe vibes then you'll want to head to the uber-cool Viceroy hotel and in particular their swanky rooftop restaurant, Cielomar. Think sweeping views of the Sea of Cortez and fiery sunsets—this is the kind of place you'll score serious credit on the 'gram with. The share-style menu is full of tasty, modern Mexican eats. While you can't go wrong with anything you order here we highly recommend the drool-worthy gnocchi with local chocolata clams, yellowtail tartare, house-made ricotta with beef carpaccio and the whole grilled snapper. Cocktail-wise, if you're struggling to choose (there are a lot of tasty tipples) let the talented bartenders whip you up an original.
Want to work off all that food? Check out our guide of epic things to do in Los Cabos.
Image Credit: The Viceroy, Flora Farms, Acre, Los Tamarindos, The Office On The Beach, Krisztian Tabori