Although teeny tiny, Bruny Island is a mighty place only 20 kilometers from the gorgeous shores of Hobart known for its perfectly preserved natural bushlands, spectacularly pristine secret covelets and incredible wildlife. With over 50 kilometers of untouched coastline, there is so much to eat, see and do on this fabulous vacation destination, so we've put together a guide of everything to pop on your list for your visit.
Here is your ultimate guide to Bruny Island Tasmania.
The Best Things To Do On Bruny Island
Sample The Very Best Produce Of The Island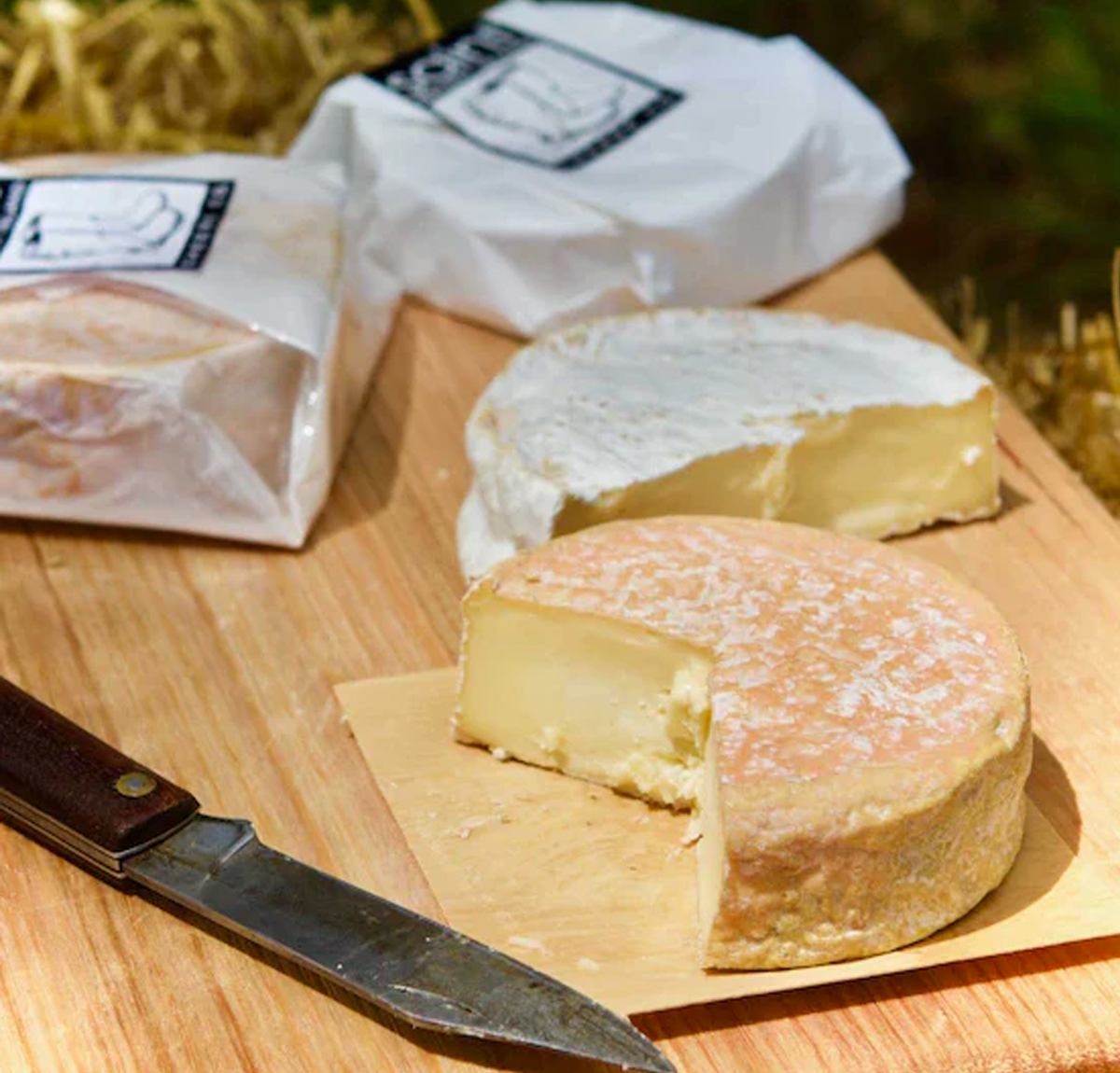 Would you believe that there's quite a selection of incredible producers on this small little corner of the world, so you may as well check out the very best on your travels. The Bruny Island Cheese Company is known for its iconic oozy gooey baked brie (drool), the team at Bruny Island Honey have been producing glorious golden honey for over two decades so you know it's damn good, and between the months of October and April you can go picking raspberries, strawberries, blackberries and all the other goods at the super quaint Bruny Island Berry Farm.
Conquer The Cape Queen Elizabeth Hike
This 12 kilometer return hike meanders through a plethora of landscapes from rugged bushland, clifftop views down to secluded beach coves, unique rock formations and just about everything in between. This easy-ish track is achievable for most hikers, so you don't require any hardcore training or climbing ability to take part, and there's even a shortened path at low tide around Mars Bluff if those legs get weary.
Warm Up With A Whiskey Or Two
The Bruny Island House of Whiskey has a wildly extensive range of purely Tasmanian Single Malts and is home to the Trapper's Hut Limited Release Single Cask Single Malt Whiskeys, and if you have no idea like one of us what that last thing just meant, then you can head there to learn all about the intricacies of this popular tipple. Not a whiskey fan? Don't worry, they also distill some pretty awesome gins too.
Recalibrate At One Of The Wild Wellness Retreats
The Bruny Island Lodge offers a stunning retreat for those looking to optimise their wellbeing through three days of salty-air goodness and scientifically-backed wellness activities such as yoga, journaling and Wim Hof Method Instruction. Perfect for those in desperate need of a recharge, these wildly popular courses run at various points throughout the year for those lucky enough to be visiting.
Try Your Luck At Surfing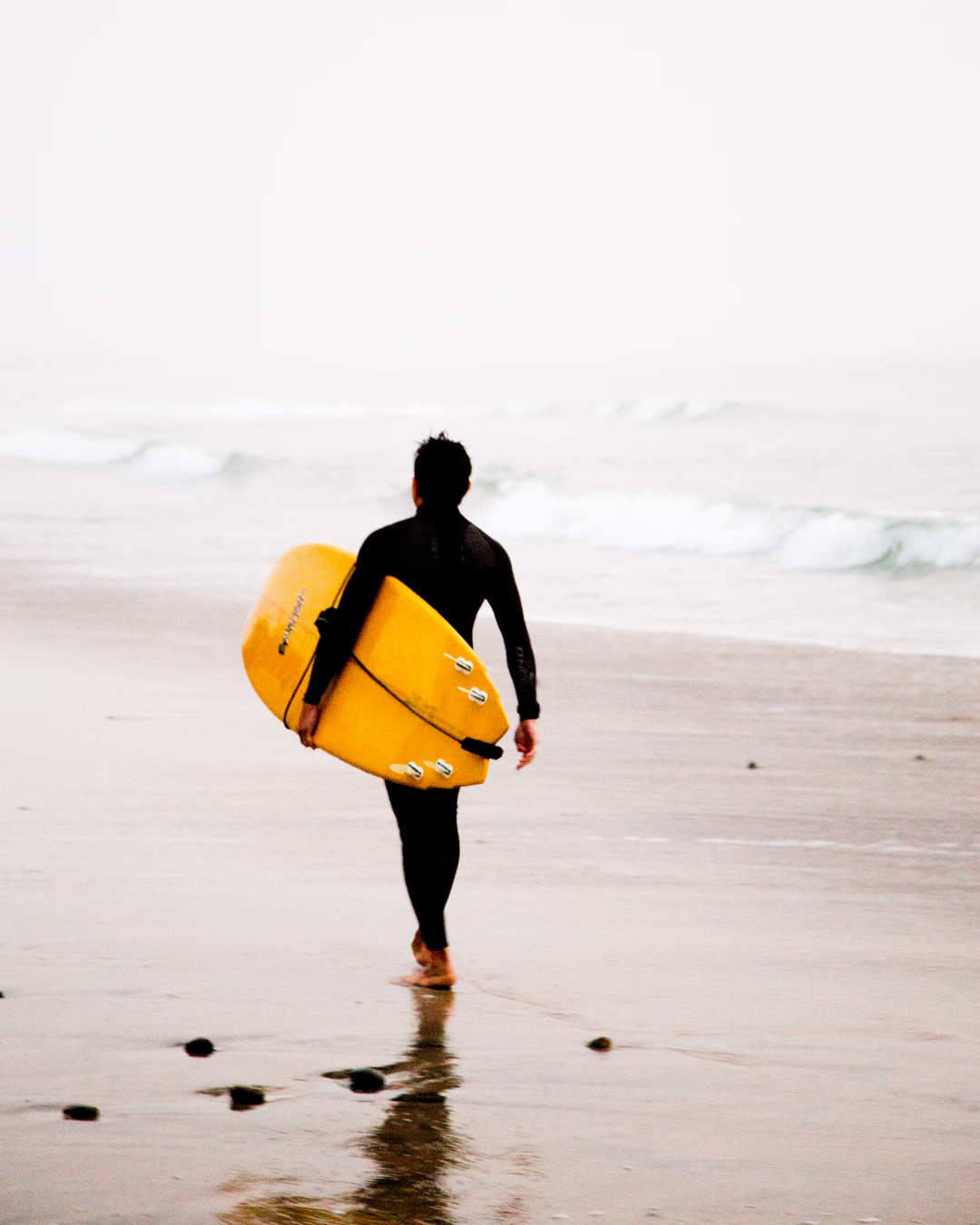 Every year Cloudy Bay, on the Southernmost tip of the island, is home to the annual Bruny Island Surf Classic where people from all over Tassie (and the country) travel to have a go at chopping up the incredible breaks of this secluded bay. Whether you're an expert or just getting started, these epic waves are absolutely worth a visit.
Take A Dip At Adventure Bay
If you're a little less adventurous in the water, then the peaceful lapping waves of Adventure Bay are definitely more your vibe. This 7km long east facing beach is extremely sheltered from the wind and swells surrounded by luscious large gum trees making it the perfect spot to pop down your towel and have yourself a leisurely swim and relax. There's also many great accommodation options on the bay so you can be right in the heart of paradise.
The Best Places To Eat On Bruny Island
Bruny Island Wines
It would be remiss of you to head all the way to the island without sampling the wine of Australia's most southern vineyards right? Bruny Island Wines create a stellar range of both vinos and ciders that you can sip at the cellar door, and also offer a gorgeous menu so that you can sit and enjoy one of their luxe Island Tasting Platters or one of their famed desserts while overlooking the rolling fields of the winery.
Get Shucked Oyster Bay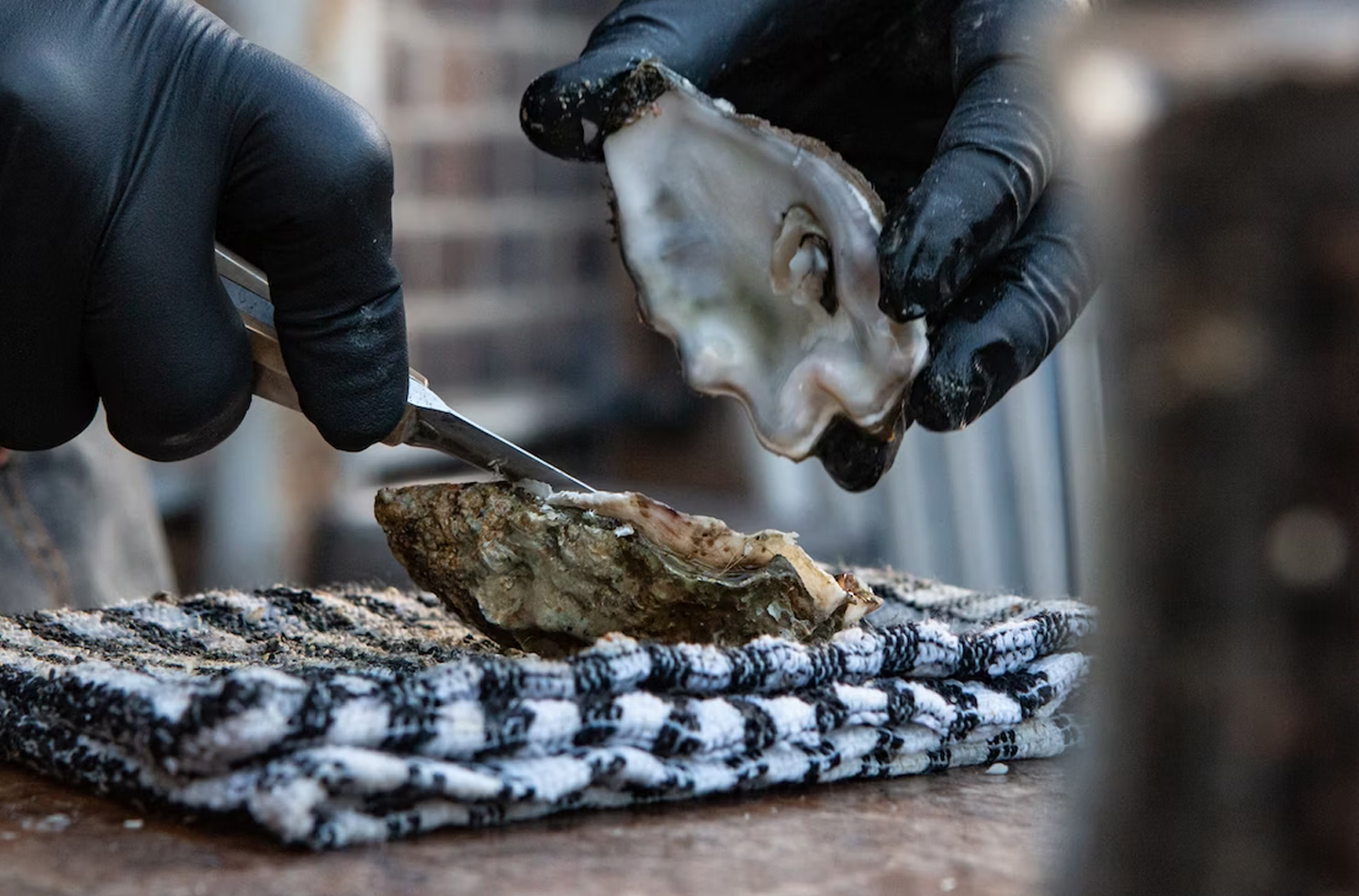 This locally owned and operated oyster farm and bar plates up some of the most juicy oysters anywhere in the world every single day, giving you the authentic experience of learning about where exactly your lunch comes from before sitting back and enjoying a glorious meal. Get Shucked Oyster Bay's terrace is a spectacular spot for overlooking the ocean on a sunny day, or cosying up indoors in those cooler months with a local Tassie beverage in hand.
Hotel Bruny Bistro
The ideal stop off for a hearty family meal and a vino, Hotel Bruny Bistro claims to be far more than just your average pub with big warmth, charm and surprisingly world-class dishes that you won't find in many other pubs around the place. From their freshly caught salmon ceviche, to their grass fed Tassie T-Bone and Local Wallaby Bolognese (you read correctly), this kitchen is all about raising the stakes and tantalising those palettes alongside a good ol' fashion bevvie.
Bruny Island Wild
This super cool all day restaurant sitting out on Dennes offers up brekky, freshly woodfired pizzas, smoked meats and loads of great classics using local produce and great quality ingredients that sing on the plate. They even offer a pretty spectacular Wild Long Lunch at various points of the year where you sail into Bruny Island before being treated to an endless array of oysters, smoked meats and perfectly paired local wines and beers to top off the meal. What a place.
The Best Bruny Island Accommodation
The Lookout Cabin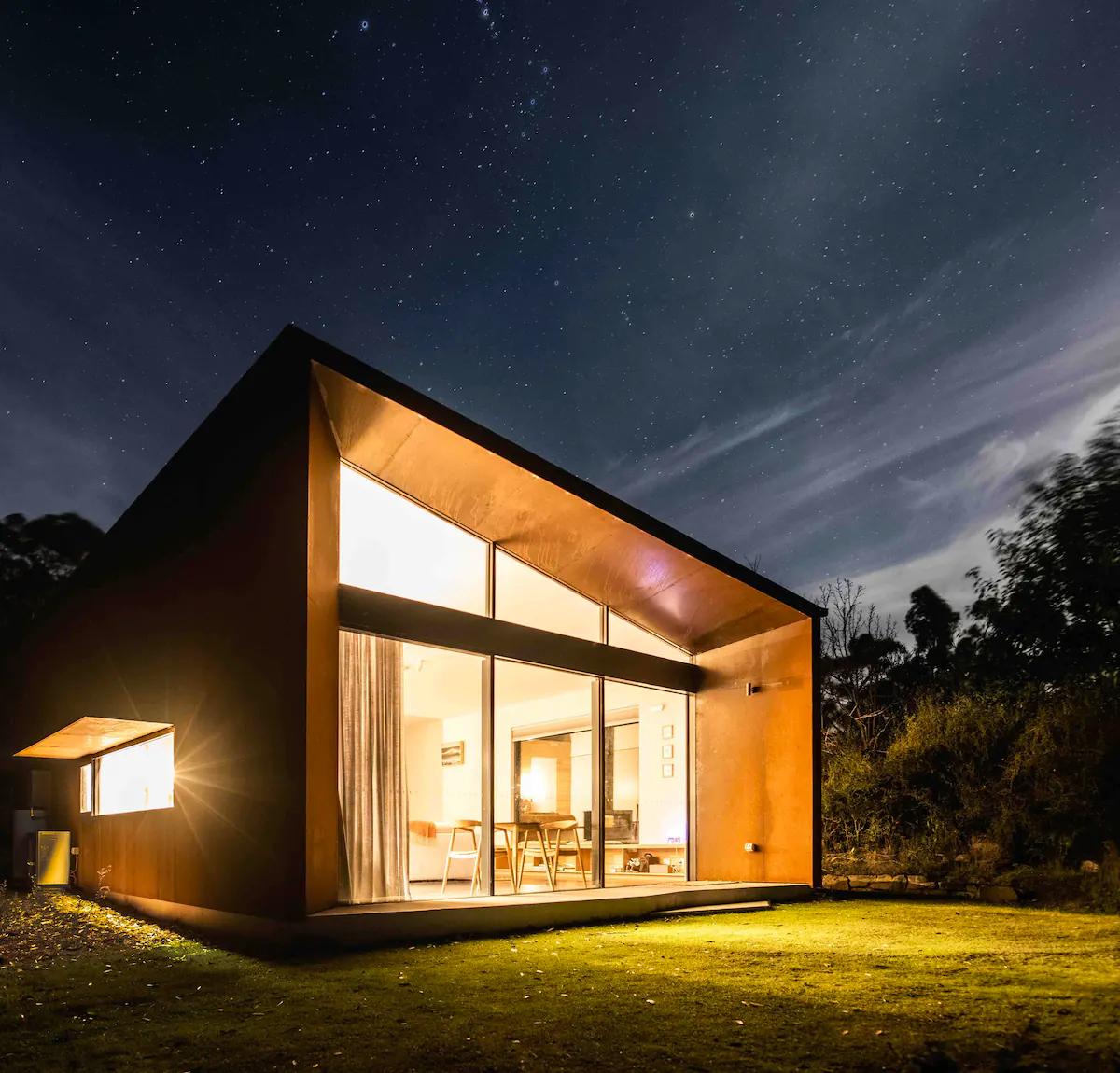 Designed for two, The Lookout Cabin is one of the most romantic stays in Tasmania. Perched high on Bruny's east coast sea cliffs, you'll have panoramic views over Storm Bay, Tasman Island and the Southern Ocean. You'll be able to lap up all the warmth from the central double sided wood heater and at night, you'll be privvy to a few glimpses of the Southern Lights.
The Shack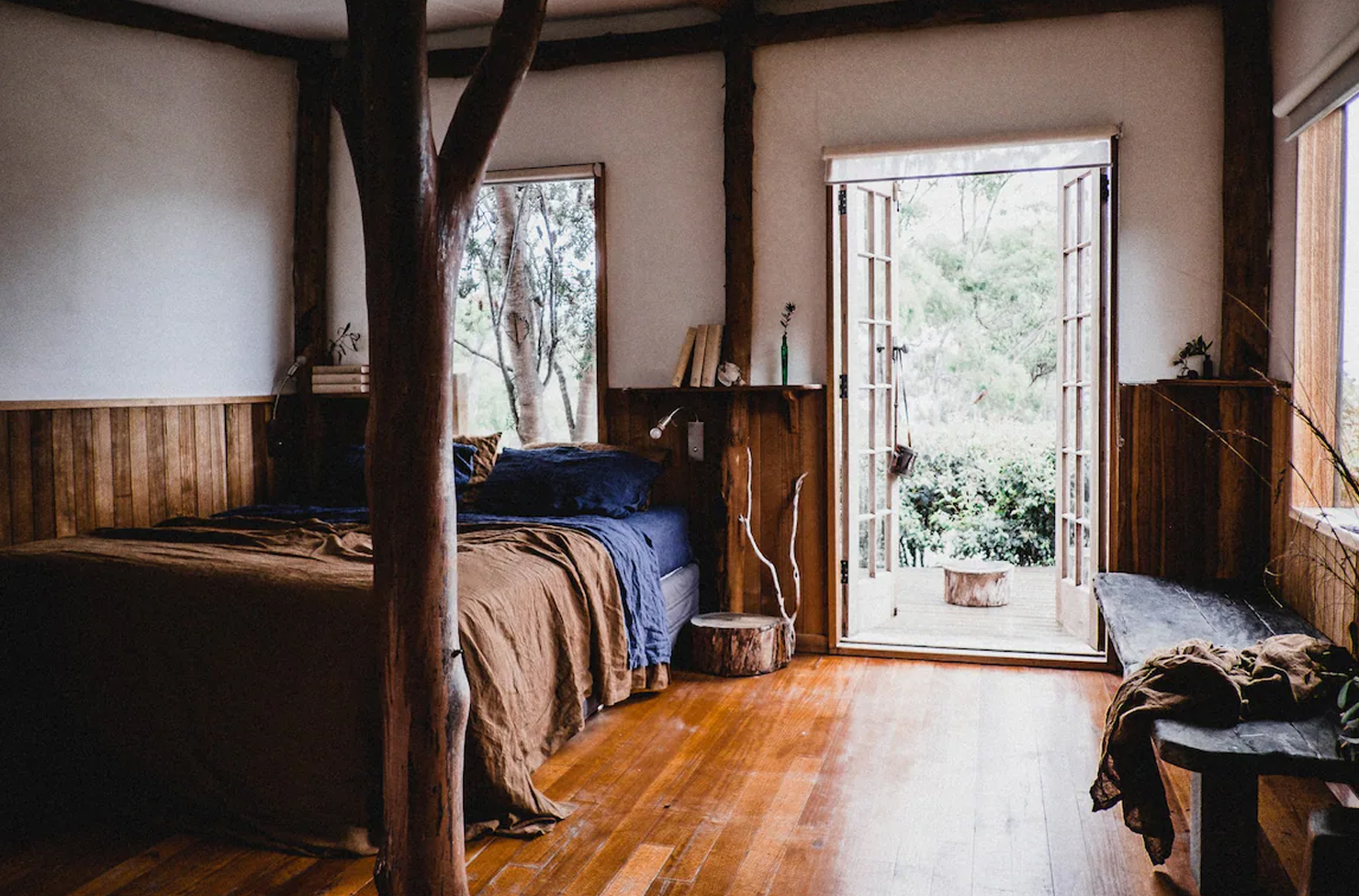 The origins of Tasmania's iconic 'shack' culture can be traced all the way back to the 1930s, when families would build small holiday homes in remote areas. Today, staying in one of these longstanding shacks remains the quintessential way to soak up all of Tassie's natural beauty, with its rugged coastline and wilderness areas. This particular shack has been built from reclaimed timbers and is a cosy getaway for two boasting a king-sized bed, wood heater, indoor kitchenette, bath and a solid flow hot shower in the open space room (very important).
Cloudy Bay Villa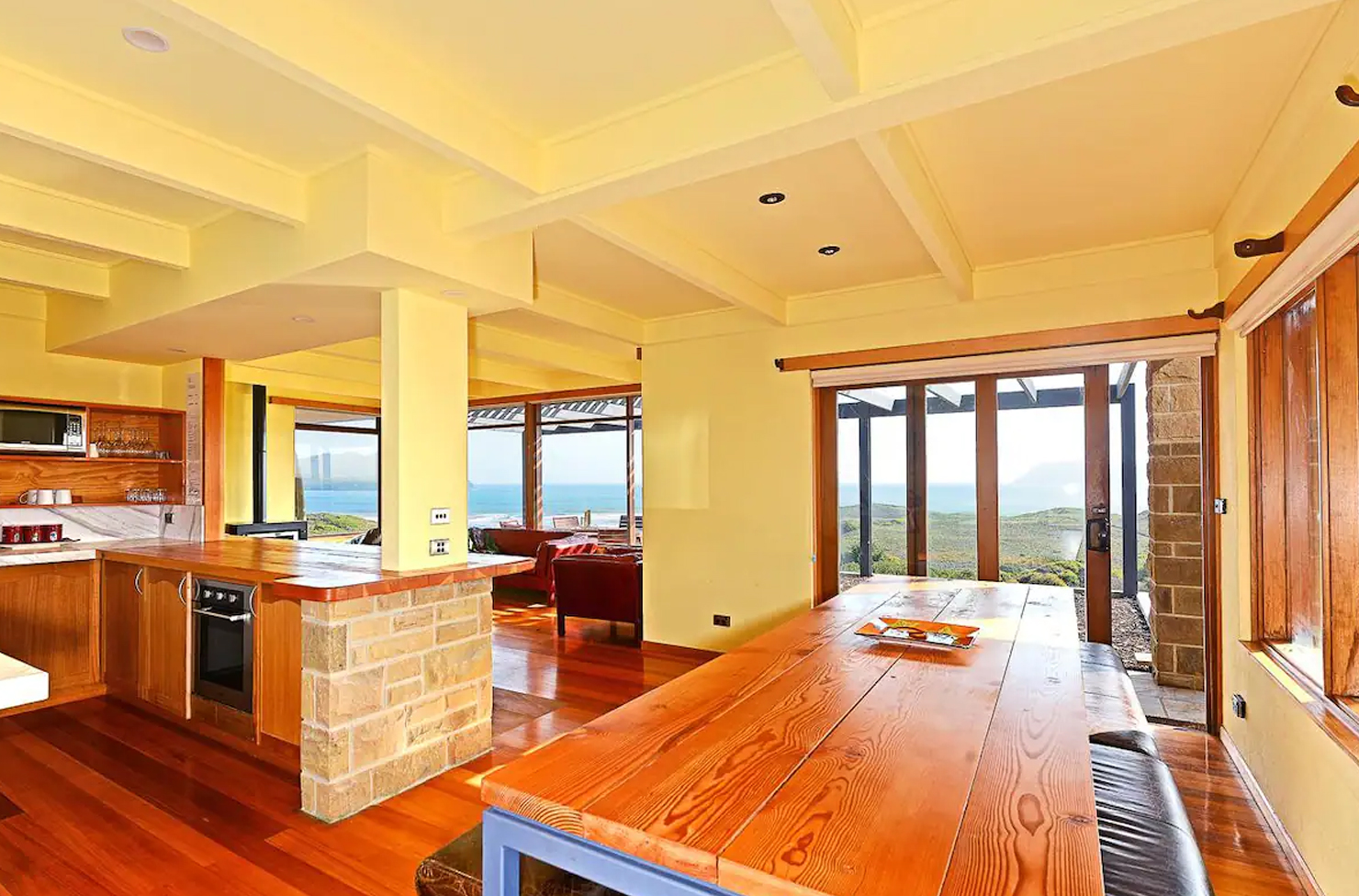 This light bright airy 10 person villa boasts iconic oceanfront views from almost every room of the home with unparalleled panoramic views of spectacular Cloudy Bay. With massive windows, the light simply floods in and makes you feel completely engrossed in the luscious greenery and natural environment around you. Great for small groups or families, this secluded point will guarantee you an escape you won't forget for a very long time.
Bruny Island Lodge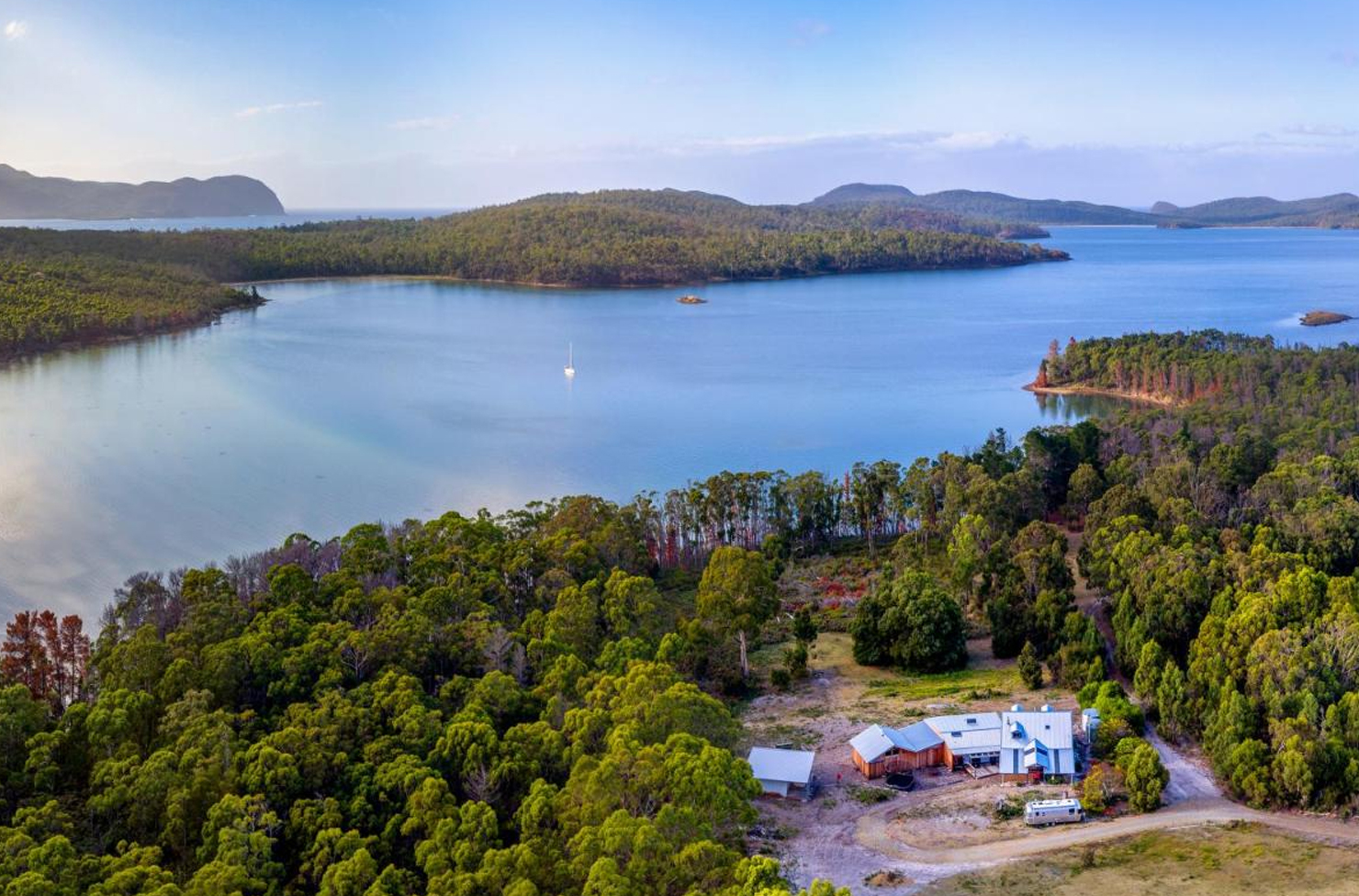 Nestled on the hill above Oyster Cove on Mickey's Bay, Bruny Island Lodge is a charming timber cottage boasting five bedrooms and accommodating up to a whopping 24 people comfortably set amongst 860 acres of untouched stunning bushland. Perfect for a big family or friends escape, it seems that everything is thought of here blending well-equipped kitchens, bathrooms and open air facilities as well as a fabulously well-stocked bar and games room complete with a cast iron fireplace to cosy up to in those cooler months. Sit out on the deck, take in the breathtaking scenery or even have a putt on the lodge's very own chip-and-putt course.
Ventnor Guest House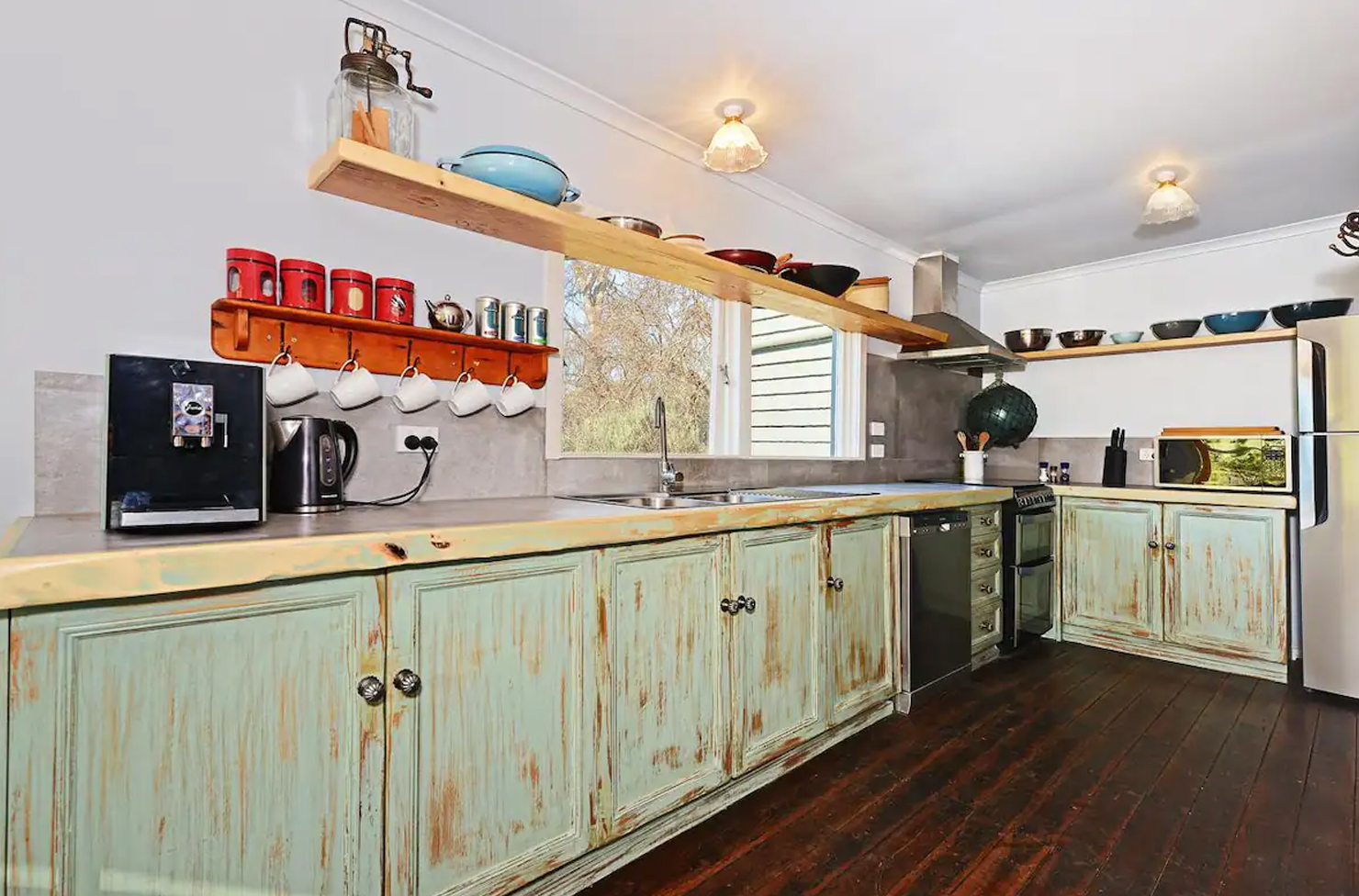 This sweet little gem on Little Taylors Bay is the perfect cottage style accommodation set in an original 1871 charming homestead that once housed a Post Office, an apple orchard and even a school. This gorgeous home sleeps up to 10 with a massive open lounge and dining area, a classic arcade games room, a sheltered outdoor BBQ area all with the ocean just 50 meters away for those early morning or late afternoon sunset swims. Truly something special, Ventnor Guest House is one not to miss.
Ready to fly? Book flights with Virgin Australia here.
Image credit: Airbnb, Blake Hunter, Thomas John
Editor's note: Urban List editors independently select and write about stuff we love and think you'll like too. Urban List has affiliate partnerships, so we get revenue from your purchase.