The Coromandel Peninsula, home to some of the country's most idyllic beaches, native flora and relaxed seaside towns, is the ideal place for a weekend—or midweek—getaway.
Ride some of the North Island's best waves, kayak out to explore secluded islets, fall asleep on the beach and enjoy a picnic with rosé under the shade of a pohutukawa tree.
As let's face it, you've been working hard and life's too short not to go on holiday.
From quirky Airbnbs to breezy villas and boujee coastal homes with panoramic views, we've done the research so you don't have to. Here are the best places to stay in the Coromandel.
Slipper Island Resort
Slipper Island
This place is almost too good to be true. Spend a few nights in paradise at a private island in the Coromandel, that's just 15 minutes away from Tairua by water taxi. One of the Coromandel and New Zealand's gems, Slipper Island is one of the country's few private islands. Choose between four chalets, a lodge or beachside glamping. The clear blue waters are ideal for snorkelling and kayaking. While the accommodation at Slipper Island Resort is modern, the island runs off solar power, uses rain water and there are no shops, so you'll feel like you're off the grid. Go with all your friends and book out the island for an unforgettable experience—it can host up to 30 people.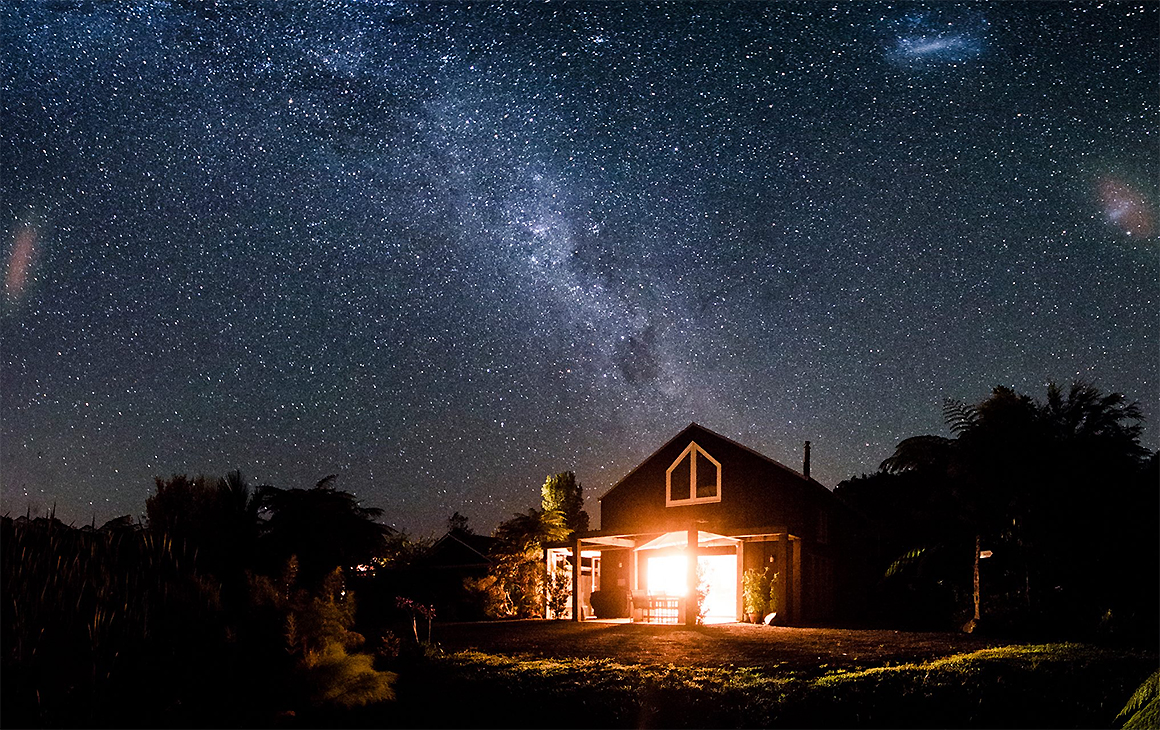 Wairua Lodge - Rainforest River Retreat
Whitianga
The Wairua Lodge Rainforest River Retreat is centrally located 12kms from the town of Whitianga, so you can enjoy peace and quiet and also not travel too far to explore all of what the Coromandel has to offer. Surrounded by rainforest and native flora, there are lots of great hikes to do in the area and the retreat is also nearby to two swimming holes. Accommodation wise, there are four double rooms and one two-bedroom apartment, all modern and tastefully decorated. We love the treetop bathhouse and outdoor spa pool—perfect for stargazing while you soak.
Beachfront Resort
Whitianga
Stay seconds from the sand at the Beachfront Resort in Whitianga—you won't even have to cross a road before you jump into the ocean. The units are close to town and also handy for a day trip to Cathedral Cove and Hot Water Beach. Body boards, kayaks and beach games are all provided for guests to use, and there is also a spa pool. Get creative with cocktails and shake up a storm at the outdoor beach bar and BBQ on the deck—we'll have a margarita, please.
Driving Creek Villas
Coromandel Town
Driving Creek Villas is a luxury retreat nestled in amongst native New Zealand bush and the Coromandel Ranges. There are three self-contained villas for you to choose from, which all come with a kitchen, Japanese-style hot tub, private garden and BBQ area so you can dine alfresco. Come here if you're planning a romantic weekend away or with a close friend. The villas are a five-minute drive to Oamaru Bay where you can swim, and 2.5km from Coromandel Town. You'll also be able to walk to New Zealand's only narrow gauge mountain railway that makes its way through Kauri forest. Driving Creek Villas offer bicycles for guests to use, a great way to explore the surrounds and work up a sweat.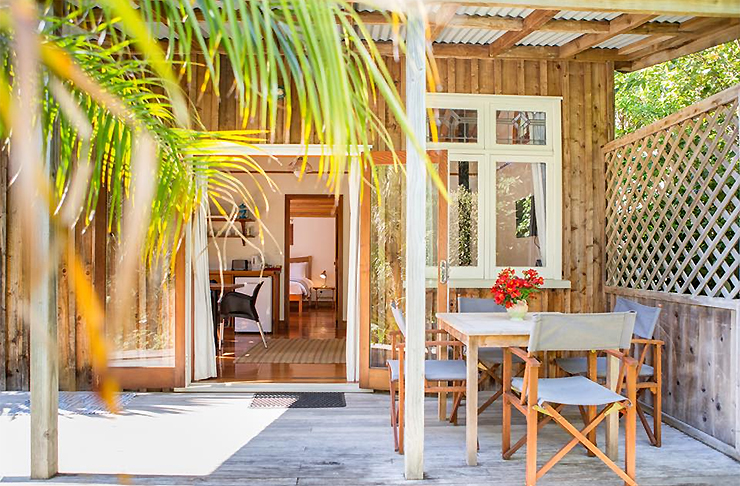 The Church Accommodation
Hahei
Charming and colourful, The Church is a tropical oasis situated in Hahei. The 12 boutique cottages are set amongst an acre and a half of well-maintained gardens—we love the flowers and cabbage trees, palms and pohutukawa trees. Inside the cottages you'll find stained glass windows, high ceilings, timber floors and plush beds. There is also an onsite restaurant that's housed in an old reconstructed church building which is well worth a visit alone. You're within walking distance to Hahei Beach, and they provide guests with spades to dig your own spa pool at Hot Water Beach.
Purangi Garden Accommodation
Hahei
Purangi Garden Accommodation may not be the most modern place to stay in the Coromandel, but it's unique and has character and places like that take our vote every time. Located across from Cooks Beach and at the Purangi River mouth, Purangi Garden is set on blissful surrounds with colourful gardens that's home to an array of birds and butterflies. Wander down to the beach, tuck into some organic produce from the orchard and take the provided dinghy out and explore. Whatever will get you here, come, and you'll see why Purangi Garden has made it to our list of the best places to stay in the Coromandel.
Airbnbs
Matakitaki
Hahei
When it comes to accommodation in the Coromandel Region, this Airbnb has got to be one of the best. Boasting panoramic views of Cooks Beach and Mercury Bay—heightened by the floor to ceiling glass windows—Matakitaki is an award-winning architecturally designed home, and quite frankly, stunning. It's got three bedrooms so it's ideal for a group of friends or family for a special occasion. There's no TV at this Airbnb, but when you're staying in such a luxurious place and surrounded by beaches for surfing, swimming, fishing and diving—would you even want one?
Pau Hana Studio
Kuaotunu
The owners of this idyllic studio in Kuaotuna, Lee and Terry, said they named it 'Pau Hana' which in Hawaii translates to "it's the end of the week and it's time to relax". If you visit to Pau Hana for a weekend, relax you will. The private studio is surrounded by a fruit orchard and garden and is a short drive to the white sand and clear blue water of Otama Beach. After a swim, head to nearby Luke's Kitchen for a bite to eat and enjoy the relaxed seaside restaurant that serves wood fired pizza using local produce.
Ponga Bush Cabin
Hahei
Get back to nature at this simple cabin, which overlooks seven-acres of rural landscapes and bush in Hahei. Ponga Bush Cabin is a great place to stay after a few busy weeks at work or if you're seeking some quiet time. The bathroom and hot shower is outdoors and so is the kitchen—but that's part of the charm of being in the bush and away from the big smoke. Relax in the hammock with a good book, stroll down to the beach for a swim and fall asleep in the afternoon to the sounds of the birds signing in nature. What's more, the fridge and lighting run on solar energy, so the cabin is eco friendly, too.
The Lookout
Cooks Beach
The best thing about this Airbnb is the views. Sit on the natural timber deck with a glass of crisp white and enjoy the scenery of Mercury Bay Winery, Purangi Estuary, Cooks Beach and Mercury Bay. The Lookout is a self-contained studio, and past travellers have praised the host's thoughtful touches throughout the space. There is even a Webber BBQ—so there's no need to head out for dinner if you don't feel like it (or if one glass turns into three). In the daytime head over to Cooks Beach and walk to Lonely Bay—it's a secluded and pretty spot with pohutukawa trees and perfect for picnics.
Excited to visit the Coromandel? Check out the best beaches in the area.
Image credit: Slipper Island Resort, Wairua Lodge, The Church, Matakitaki, Pau Hana Studio, Ponga Bush Cabin, The Lookout