As Mardi Gras kicks off (and runs until 7 March) we're seeing loads of amazing collabs to celebrate this truly fabulous, all-inclusive festival.
One in particular we want to shout out is an uber special pairing between cult classic fashion brand Levis with Minus 18—an organisation that champions LGBTQIA+ youth in Australia.
Together they've created an educational resource to offer guidance on gender-inclusive language. The co-created resource provides simple tips that Aussies can use to bring empathy and inclusion into their day-to-day lives and show allyship to the LGBTQIA+ community. It will teach you how to address groups in a gender-neutral way, use gender-neutral language when referring to partners and spouses and quite simply, how to normalise being clear about pronouns.
Alvi Ahmed (he/him), a spokesperson from the Minus18 Education Team at Minus18 says, "Minus18 are champions for LGBTQIA+ young people across Australia and we're proud to have co-created this Gender-Inclusive Language resource with Levi's. This resource was designed to educate allies to take action in supporting the LGBTQIA+ community."

You can see and share the uber helpful resource right here.
As well as collaborating with Minus 18, Levi's have also designed a special Pride range. Called "All Pronouns. All Love," it's a collection focused on stories of big love, understanding, and optimism.
"Levi's has a long-standing history of doing right by its employees and fans and supporting the LGBTQIA community. We are proud to celebrate the LGBTQIA community each year with our Pride collection and by participating in Pride events across the globe. We find it so important to see people as they want to be seen. Which is why this year, our goal is to showcase the Pride collection with a call you can't ignore: Respect all pronouns," said Levi's president Jen Sey.
Created as a love letter to the members LGBTQIA community, the collection features a unisex range of modern styles. Some of our faves include the Liberation Trucker Jacket, a light wash indigo jacket with rainbow paneling on the back with the words "they/them, she/her, he/him, we,".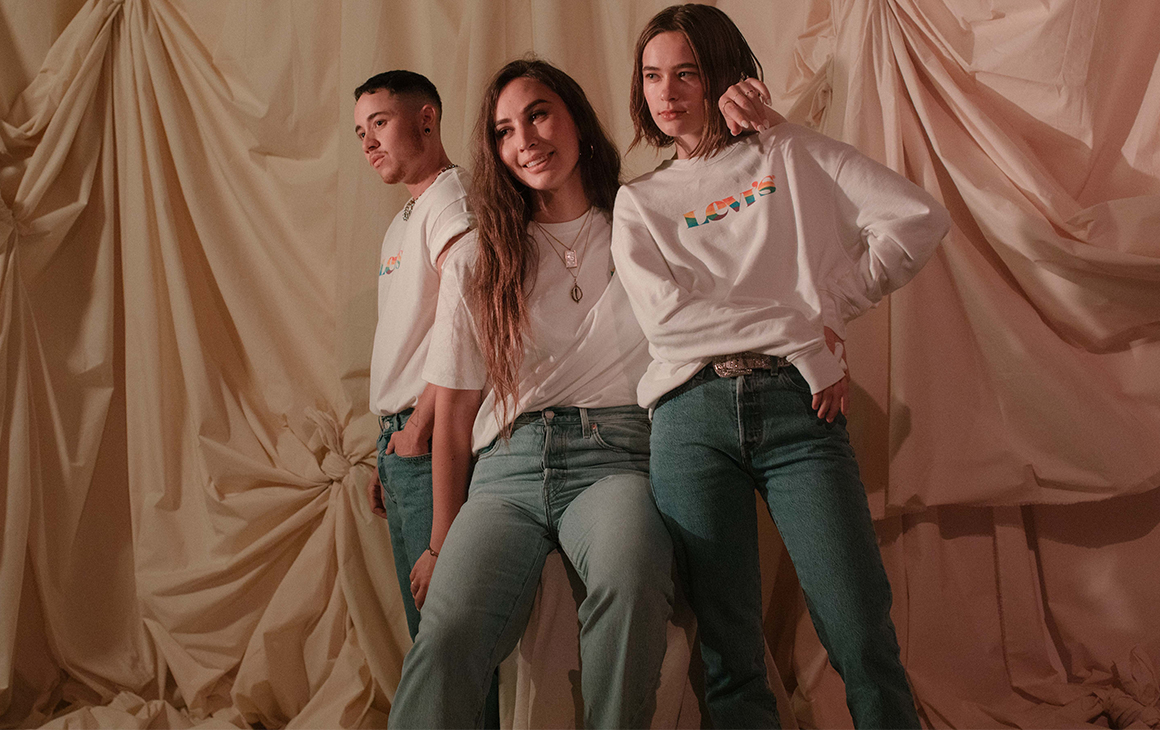 The Liberation Short-All, a light wash short overall with rainbow graphic detailing on the buttons and front and back patch and the Liberation Jumpsuit in white canvas with "they/them, she/her, he/him, we" printed on the back in holographic rainbow foil. And to round out the collection there's also two graphic tees, a tank, a relaxed graphic crew and sports bra all featuring the eye catching rainbow print.
But our favourite bit? The diverse array of LGBTQIA models rocking the range on their site. We're digging it hard and hope to see more brands following suit.
Scope and shop the collection right now.
Next up, bless your ears with these incredible LGBTQIA podcasts.
Image Credit: Levi's
Editor's note: Urban List editors independently select and write about stuff we love and think you'll like too. Urban List has affiliate partnerships, so we get revenue from your purchase.