Whether you're a Taranaki local or you're heading to New Plymouth for a few days of surf, sun and adventure, we all need a good strong cup of coffee to get us going in the morning and a hearty feed doesn't hurt either.
New Plymouth's cafe scene has exploded in the last few years so we've sorted the best from the rest, so there's no need to waste your time on sub-par eggs benny or a burnt cup of coffee.
Here are the 11 best cafes in New Plymouth.
Elixir Cafe
If you're in need of a big breakfast that will keep you going all day (and maybe all night too) look no further than Elixir Cafe. The mince on toast is so famous you can buy custom tees dedicated to it and once you've seen it you'll understand why. Thick slices of round toast topped with chunky mince, a perfectly poached egg and creamy aioli, you'll be hooked after one bite. There are plenty of options for vegans and vegetarians too like the avocado on Vogels and the Thai peanut Buddha bowl. The team here is also dedicated to the war on waste and is part of the Taranaki Cup Library so you'll never need to use another takeaway coffee cup when you're on the go.
Bean Store At Ozone Coffee Roasters
Undoubtedly the best place for coffee connoisseurs in New Plymouth, Bean Store is sitting pretty at the front of Ozone Coffee Roasters on King Street. Whether you're after single origin espresso, Aeropress, V60 or just about anything else, this is the place for you. Cold brew fans can get their coffee straight up or infused with either Makrut lime leaf or Otis oat milk; or if you prefer yours sparkling, a cold coffee with tonic and lime should do the trick. Simple but delicious breakfasts are on offer here, from granola with coconut yoghurt to pretty little breakfast platters, and the cabinet eats are just as easy on the eyes as they are on the taste buds.

Escape Coffee Roasters
While we're usually a bit suspicious of those places trying to juggle too many acts, Escape manages to pull off the 'part surf shop, part cafe, part boutique, part yoga studio' thing and they do it exceptionally well. The coffee is some of the best in New Plymouth and they have a small selection of cabinet food like bliss balls and chia puddings which go down particularly well after a Saturday morning yoga session. If you've got a pooch who is as partial to a morning out at one of New Plymouth's best cafes, this dog-friendly joint is the spot for you.
Federal Store
Retro vibes, epic breakfast menu, silky smooth coffee and sweet treats for days; there's a lot to love about New Plymouth cafe Federal Store. This place gets packed at peak times but it's absolutely worth braving the crowds to get yourself a table and relax over a plate of huevos rancheros or smashed avo. If you're in a rush, head to the takeaway deli, The Bakehouse, across the street for fresh salads, sandwiches which are bursting at the seams, sweet slices and, of course, coffee. While you're there, don't forget to treat yourself to their ginger crunch, you won't regret it.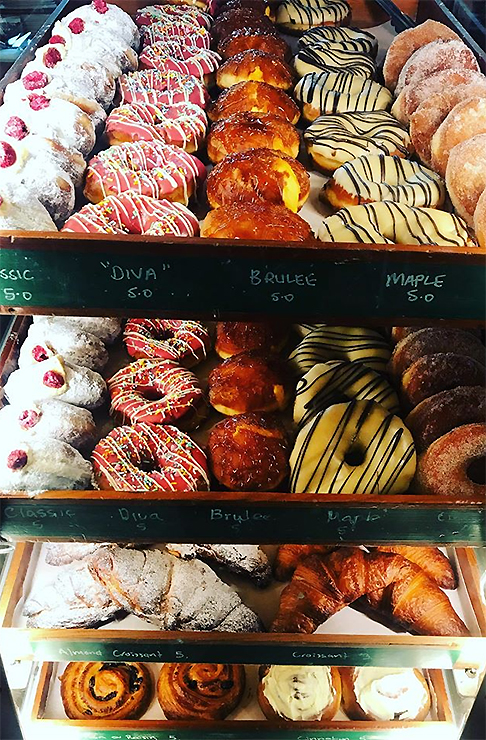 The Public Catering Company
The Public might be a catering company but you'll want to thank your lucky stars that you don't need to throw a party to get your hands on their goodies. With a retail bakery and cafe in the centre of the White Hart Precinct (conveniently located across the road from the Len Lye centre), their ready-made bagels, pies and drool-worthy doughnuts are best enjoyed at the huge communal table, unless it's a sunny day, in which case you could always stroll down to the water's edge before you tuck into your eats. Get in early for the almond croissants, they're worth setting the alarm for.
Lemonwood
Over in Oakura, Lemonwood is dishing up delicious vegetarian and vegan eats that even hardcore carnivores will swoon over. If you're in the market for breakfast, lunch, coffee or a quick snack, Lemonwood will hit the spot. Their buckwheat pancakes are legendary and their zucchini fritters are a vegan dream come true. Come lunch time, you'll want to get your hands on their sticky pot dumplings with miso dressing for a serious flavour explosion. The deconstructed coffee is an Instagrammer's dream, but if you prefer your coffee the regular ol' fashioned way just let them know and they'll do it for you, no sweat.

Monica's Eatery
Just a stone's throw from The Public, Monica's Eatery is the place to go if you want a full sit-down breakfast at the west end of the city. Build your own breakfast with eggs and all the sides you could ever dream of or keep things simple with one of their delectable breakfast platters complete with streaky bacon, poached eggs, avo, feta and more. Vegans and vegetarians are well catered for with dishes like tofu scramble and the spiced cauliflower dish which will just about blow your mind.
Piccolo Morso
With a pretty stock standard bakery on the main drag, you'll be pleasantly surprised to find Piccolo Morso has a cafe slinging some excellent Supreme coffee just around the back on Clemlow Road. True coffee fanatics can pick up Supreme merch (the socks are legit) while you're waiting for your coffee, or pop into the bakery in front for a pie or an Afghan. For those of you who prefer your coffee to go, bring your Keepcup for 50c off, otherwise take a load off at the big table and enjoy your coffee there.

Lush Cafe
Another New Plymouth cafe using Ozone beans, you already know the coffee here is going to be first-class. Lush was actually the first venture from The Public's owner, Jo Eliason, but the vibe couldn't be more distinctive. While The Public is catering to the busy people about town, Lush is dishing out nice big meals you'll want to sit down for including their famous eggs benny which you can't miss. These guys also do the best gelato in town and it's not just us who think so—they've been taking out silvers and golds at the New Zealand Ice Cream Awards since way back in 2010.
Tartan Rose
Whether you're after coffee and cake, a simple breakfast or a bunch of flowers (or all three), Tartan Rose will sort you out. They specialise in cakes—if you happen to be getting married in the area you'll want to check them out—but it turns out they are just as good at making a good strong coffee as they are at decorating cakes. If you've got a sweet tooth, check out the sticky toffee waffles.

Emmalou Macaron And Coffee House
Whether you're after Parisian-quality macarons, a quick cup of coffee or a hearty salad, Emmalou on Devon Street should be on your radar. The beautiful light-filled space makes for a very pleasant place to while away an hour or so over coffee and cake but it's the macarons that will keep you coming back on the regular. If you can't make it in you'll be pleased to know they deliver all over the country so why not treat someone special (or yourself) to a box of French goodness?
Now you're full of the good stuff, check out the 10 absolute must-dos in New Plymouth.
Image credit: Elixir Cafe, Escape Coffee Roasters, Public Catering, Monica's Eatery, Lush cafe, Emmalou Macaron and Coffee House