From boujee treehouses and private beaches to secluded rainforests and spectacular views–our beautiful country certainly isn't short on remote Airbnbs ideal for a private holiday and getting back to nature.
After all, Australia has enough space that finding a quiet slice of it to relax, unwind and forget about the stress of daily life should be very doable. But the tricky part is finding the right oasis of peace. Which is exactly why we've done the research for you and tracked down 12 of the best remote locations for hire around the country for your next well-deserved getaway.
Here are 12 of the best off-the-grid Airbnbs in Australia.
Sub-Tropical Rainforest Tiny House
Foxground, NSW
The name kind of says it all. Make this tiny house your home for a romantic getaway in the private surrounds of a sub-tropical rainforest on the NSW South Coast. This little (but still plenty spacious) house also sits right on a creek for a proper nature soundtrack and somewhere to cool off. Go for a bushwalk, drive to the beach, sit around the outdoor firepit and keep an eye out for native wildlife wandering about. Book it here.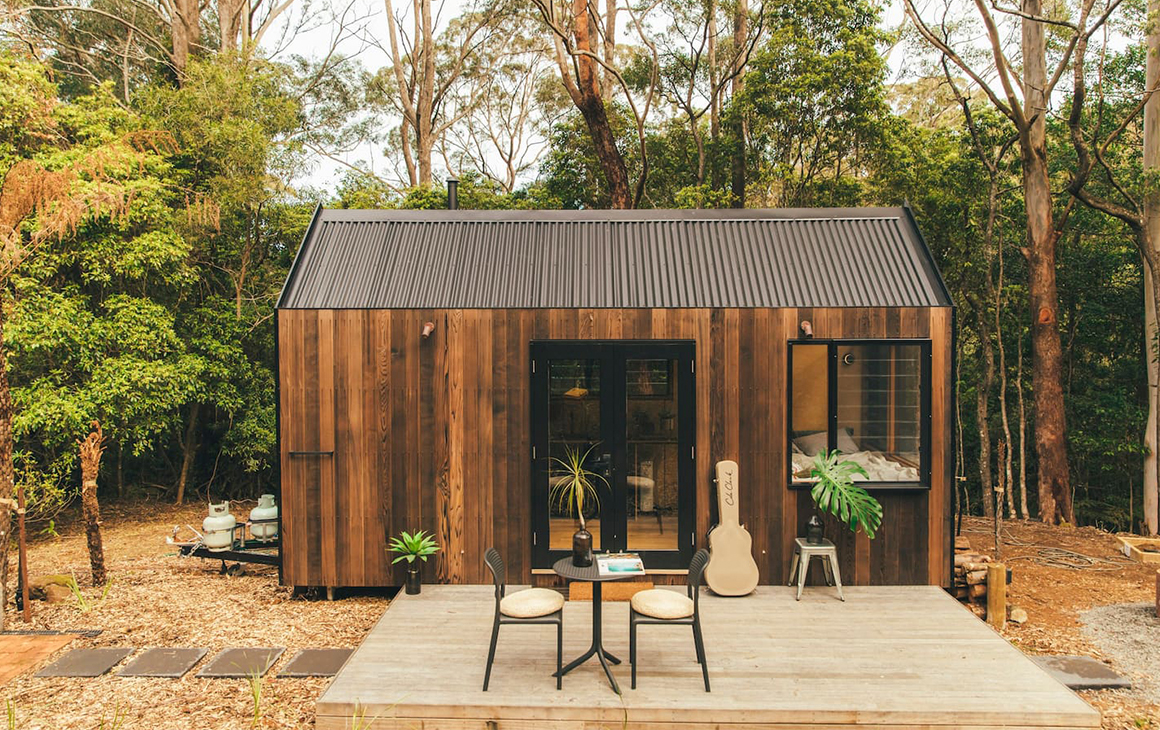 Dreamy Treehouse
Blue Mountains, NSW
How does taking a spa bath perched up in the air with panoramic views of the Blue Mountains sound? If the answer isn't unequivocally positive, this list might not be for you. High up in the trees overlooking Wollemi National Park and Bowen's Creek Gorge, this off-the-grid accommodation gives you the ultimate chance to get amongst nature and feel completely detached from the world. Stargaze, go for bushwalks, mountain bike and kick back with a glass of wine in your very own adult treehouse. Book it here.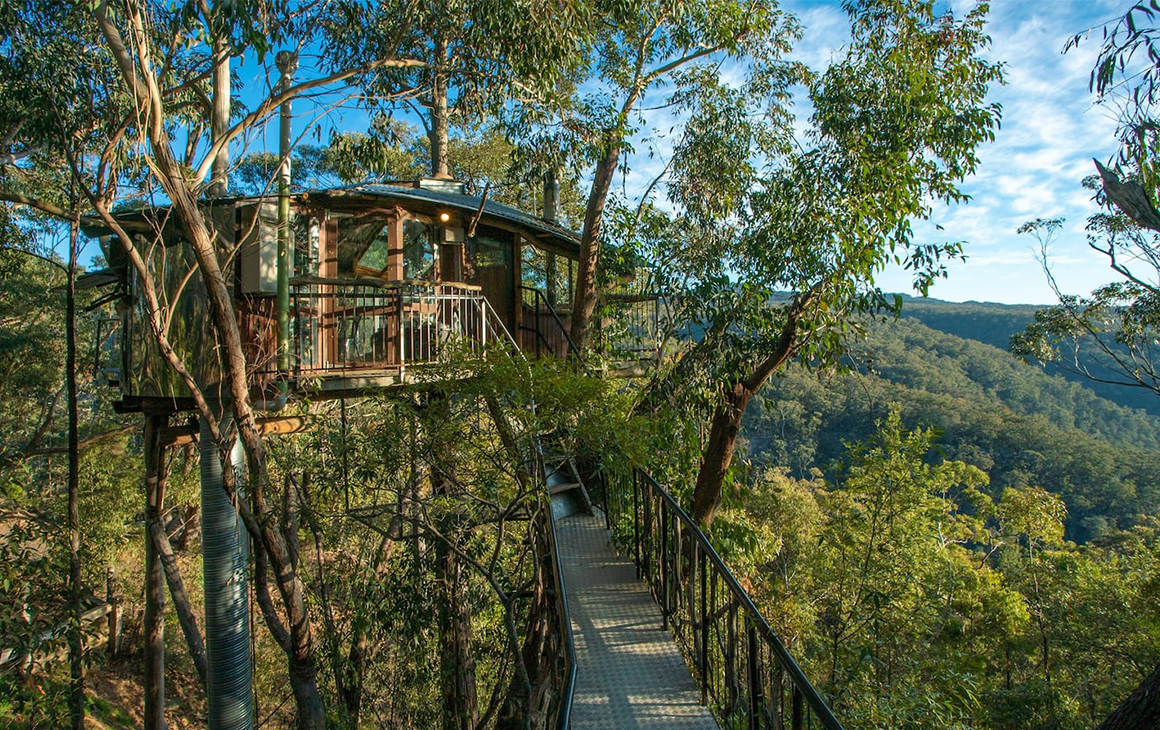 Clifftop At Hepburn
Hepburn Springs, VIC
If you're into architecture and being surrounded by breathtaking views, this Hepburn Springs getaway is definitely for you. Just 90 minutes northwest of Melbourne, it boasts some pretty outstanding bushland views from your cliffside perch. Take it in from the comfort of a living room heated by fireplace, through floor to ceiling windows. There's even a Japanese shiatsu massage chair if all of that still sounds too stressful. Every detail of this modern house is about luxury and tranquillity–something we all deserve. Book it here.
The Wensley
Wensleydale, VIC
How does 80 acres of farmland hills on the Surf Coast Hinterland in Victoria sound? Just 90 minutes southwest of Melbourne, this little slice of serenity gives you the chance to rally the troops for a group getaway like none other. This gorgeous house fits 10 and is built from recycled oregon and ironbark timber, with shades of exposed concrete and floor to ceiling windows connecting you to the surrounding countryside property. Take a dip in the outdoor bath or curl up by the fireplace. Book it here.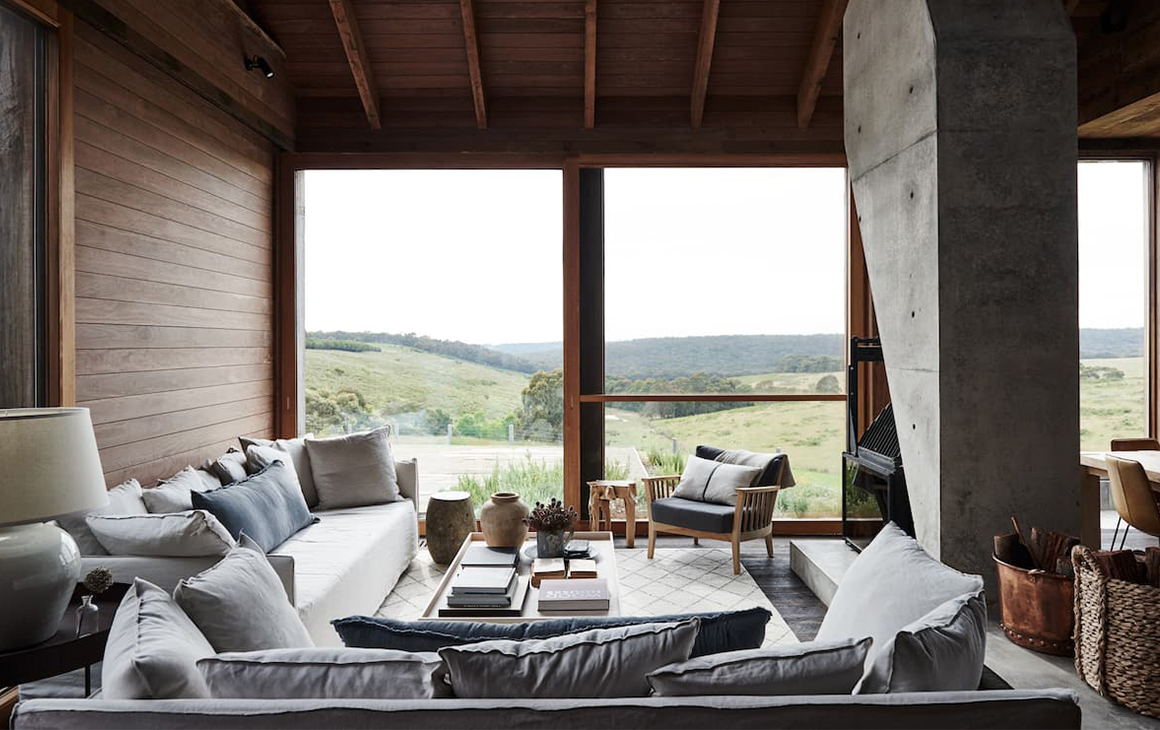 Bill's Boathouse
White Sands, SA
Tranquillity and off-the-grid are an easy sell if we're talking about a houseboat. Literally, get off the land and onto this self-contained floating nook located on the Murray River southeast of Adelaide. How you spend your time here is entirely up to you. Laze all day in the two-person hammock, the outdoor bathtub or a lounge chair from the wrap-around timber deck. Take in the sounds of the river as you spend a day fishing with rods provided. Or take out the two kayaks to explore and adventure around the area. Book it here.
Camel Beach House
Venus Bay, SA
The owners of this waterfront haven say the property is inspired by a mix of California, Mexico and Australia, with the spirit of the classic Aussie novel Storm Boy and a 'dash' of Pricilla Queen of the Desert. Now, that's quite a mashup, but it certainly paints a picture of somewhere we want to be. Sat amongst a 250-acre conservation sanctuary on South Australia's Eyre Peninsula, Camel Beach House boasts a private beach and pristine wilderness surrounds. Frankly, this off-the-grid getaway sells itself. Book it here.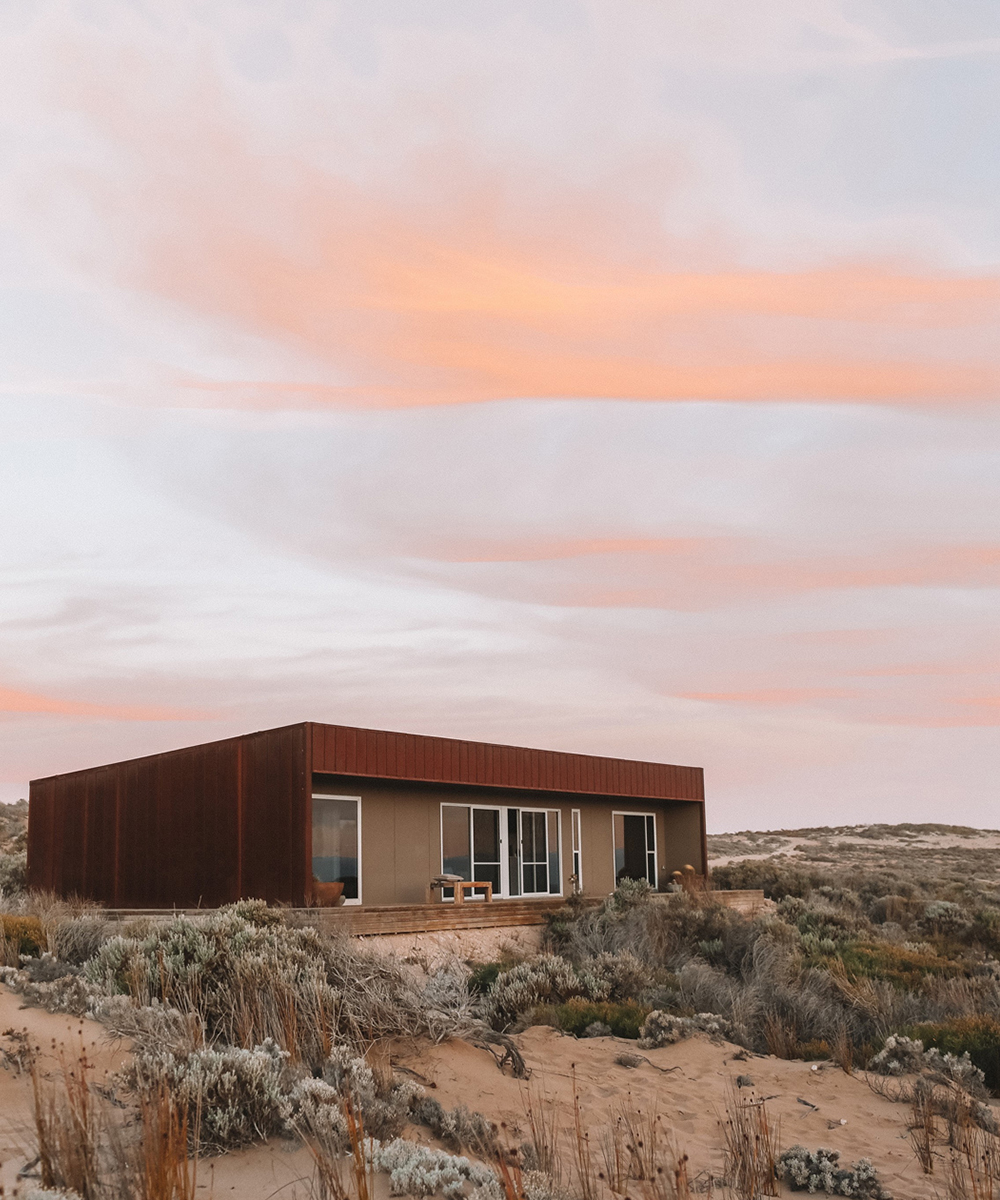 Kardinia House
Kamerunga, QLD
Anytime you use the words 'holiday' and 'far North Queensland' together in a sentence, there's usually a good result. So, if you're planning on going further north than Cairns, consider booking this treehouse rainforest retreat. With huge open spaces, a beautiful wood structure and outdoor/indoor living, this abode amongst the trees will feel exactly like a (boujee) treehouse for you and a small group of mates. Grab a beer, sit out the deck and take in the rainforest. Book it here.
Thalia Haven
Little Swanport, TAS
Fittingly, the one Australian state detached from the mainland boasts a plethora of off-the-grid holiday properties oozing with out-of-this-world, picturesque surrounds. Tassie is basically one big view. 90-minutes north of Hobart, Thalia Haven takes full advantage of its pristine environment on a 130-acre wooded peninsula, facing out to the waters of Great Oyster Bay–including 5km of private coastline and beach just for you. Take it all in from the self-reliant property, its four ancient stone bedrooms, flowered courtyard and outer deck bathtub gloriously overlooking the water. Book it here.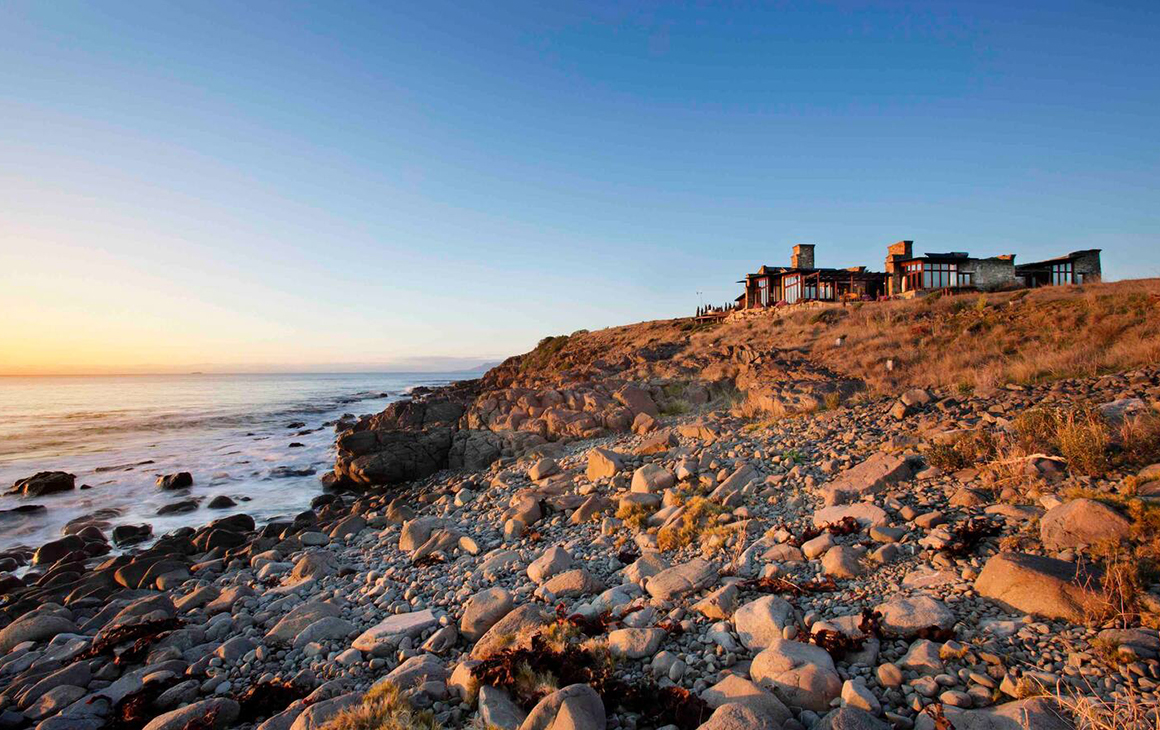 The Shack
Alonnah, TAS
Tasmania, stop showing off. At the top of Bruny Island, 90-minutes south of Hobart, you can book yourself and your partner into an intimate cabin made entirely from reclaimed timbers. Powered by wind and solar, this cosy retreat has everything you'll need to relax and explore the island. The waterfront farm property has an open deck overlooking the water, a fire pit and an outdoor bath (there seems to be something about remote properties and bathing outside–no complaints). Make sure you keep a lookout for local native wildlife, with eagles, crabs, wallabies, quolls and more roaming about. Book it here.
Hideaway Litchfield
Rakula, NT
In the Northern Territory, you're a good chance of finding secluded, off-the-grid locations surrounded by endless natural beauty for a holiday or any other reason. In Rakula, at the top of Litchfield National Park and 90 minutes south of Darwin, you'll find this modern, converted container cabin as the ideal place to explore the surrounding bushland. From here, you're a short drive from nearby Wangi Falls and plenty of water holes for swimming, surrounded by countless hiking land and close to perfect 4WD off-roading tracks. Book it here.
Private Chalet
Bandy Creek, WA
Now we're getting away from the big cities and finding some truly hidden gems in Australia. A nearly eight-hour drive east of Perth, this little beach town chalet is the perfect spot for a romantic week away. The uniquely shaped two storey A-frame accommodation is tucked away in the bush, sitting on a stream with everything you need to unwind with your better half. Sit outside for a BBQ, read a book by the fire pit, take the bikes into town, the kayaks out for a paddle on the creek or go for a swim at nearby Esperance Bay. Book it here.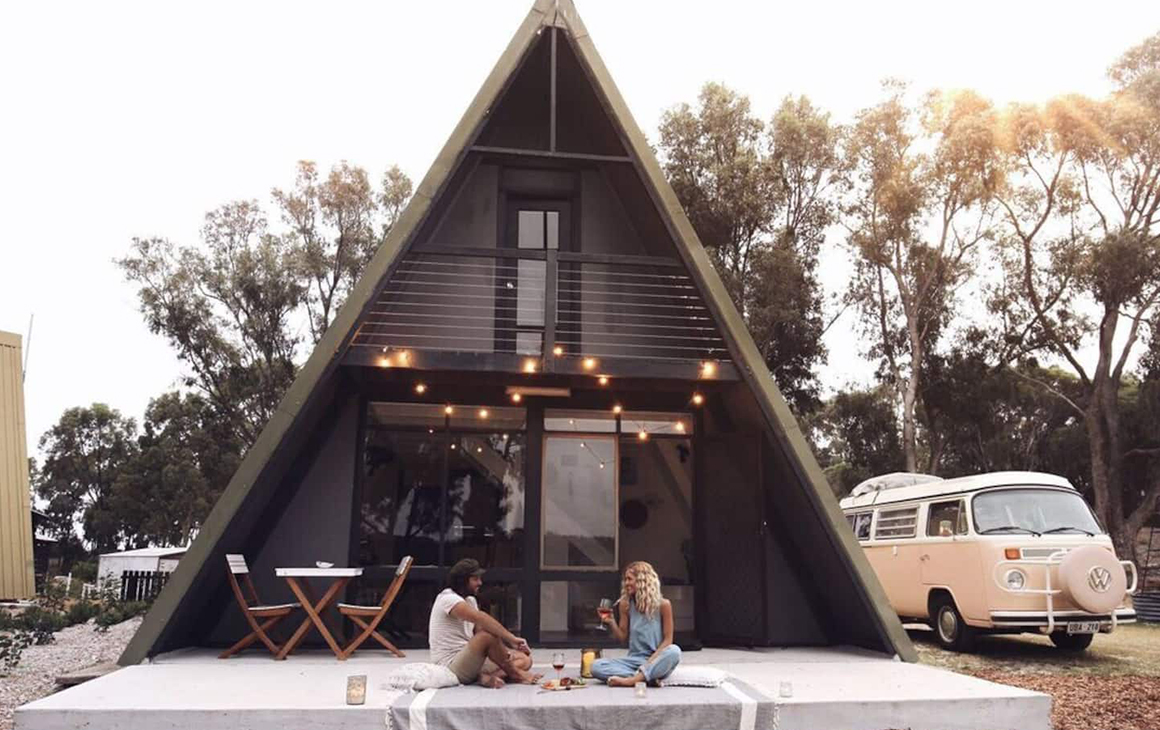 Lakeside At Ryans Nest
Pemberton, WA
By now, you know the drill if we say tiny house, off-the-grid farming property and nestled by a lake. All big ticks for this particular list. Three-and-a-half hours south of Perth, at the almost bottom furthest corner of the country, this sustainably-minded lakeside house (quietly) screams remote and recharge. Canoe or fish on your own private lake, take a stroll through the Karri tree forest, sit by the fire or get out and adventure on the surrounding bike tracks. Book it here.
Check out the best tiny houses across Australia.
Image Credit: Airbnb, Camel Beach House, Koby Lee - Koleha, Tourism South Australia
Editor's note: Urban List editors independently select and write about stuff we love and think you'll like too. Urban List has affiliate partnerships, so we get revenue from your purchase.