Coffee. It's practically the lifeblood of urban dwellers and for the financially-savvy coffee drinkers among us, at-home coffee machines have become a daily-use appliance. But did you know, it's estimated Australians use around six million at-home coffee capsules a day with only five per cent suitable for recycling?
It's a statistic too hard to ignore, which is why Victorian-couple Kayla and Piers Mossuto launched Crema Joe in 2014—a socially-conscious small business dedicated to reusable coffee capsules. But as far as sustainability goes, they were a little ahead of the times. It wasn't until the ABC's incredibly-popular War On Waste program hit our screens in 2017, that people started to take notice and really rethink their consumption. Since then, Kayla and Piers crowdfunded Crema Joe through ING Dreamstarter and the business has climbed from strength to strength spreading their message of reducing and reusing.
Here, we talk with Crema Joe co-founder, Kayla, about the shocking impact of single-use coffee capsules and why recycling isn't always the answer.
Sustainability is now more important than ever. What kind of impact do single-use at-home coffee pods have on the environment?
It's estimated Australians use around six million capsules daily. One of the main issues with that is the majority of capsules aren't recyclable. The capsules are made from composite materials and therefore can't go into your home recycling bins because they're too small for waste facilities to process. Recycling itself is quite energy intensive, so recycling really isn't the answer—there is a lot of 'greenwashing' in the capsule industry. Consumers are led to believe that recycling is the sustainable thing to do and while it is better than landfill, reducing and reusing is better.
There are so many at-home coffee machines on the market, how many brands is Crema Joe compatible with and are there plans to expand?
At the moment, we cover off Nespresso, Dolce Gusto, Aldi KFee and Caffitaly machines, and we have a couple more in the pipeline. We get a lot of emails and requests regarding machines, so we're always looking to develop and cover off as many machines as we can.
What was it like quitting your day job and diving head first into creating a socially-conscience startup?
I actually held onto my day job for quite a while. I really loved my job so it took quite a while for me to let that go and realise that I can't do it all. And we also had our son in 2016, which was right in the middle of fast growth for the business, so that was really tricky as well, but it's been really good focusing on the business full time now. We have four staff working for us and we've put a focus on employing return-to-work mums as well. We're really lucky to have such a good team.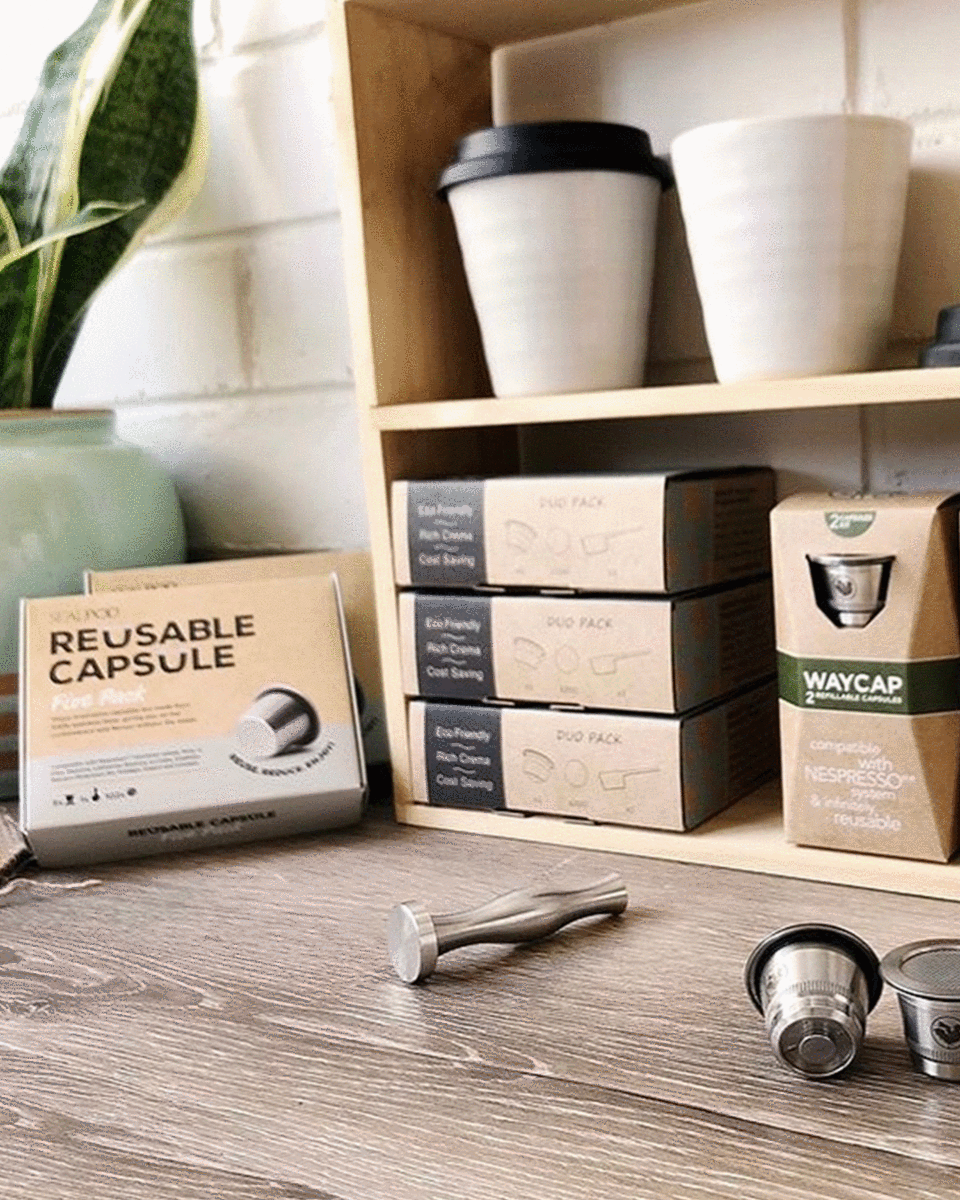 It's hard to not take notice of the fantastic work Crema Joe is doing, are you starting to see other like-minded brands following suit?
There wasn't much until about a year ago. Sustainability is almost becoming a bit of a fad, which is not a bad thing at all. It means it's coming into the mainstream and people are interested in it, and with that comes a lot of sustainable products and people looking to jump on board. We want our consumers to know that our products are quality tested and they come from responsible and ethical manufacturers. There are always going to be different products coming out but as long as people are looking to reduce their waste that's the main thing.
Leading a trailblazing sustainability-driven company, you must try to lead a sustainable life yourself. In what ways do you try to incorporate sustainable practices?
With us, there are a lot of things we are doing and there are ways in which we need to improve. We recently reintroduced our worm farm as things were a little mental at first with a newborn. We try not to bring too many soft plastics home but in the last year, we've started recycling our soft plastics, which is easy and something everyone can do. We also live a very second-hand lifestyle, particularly with my son's things—there is so much stuff when it comes to kids. So, whenever we're looking for something new, we're looking to Gumtree or Facebook Marketplace, which helps extend the life of an item and is also very economical. We also donate items or sell them when we're finished with them to create a more circular economy.
Aside from purchasing Crema Joe products, are there any other ways people can get involved?
The main thing for us is awareness. We're meeting a lot of people at events who tell us their mum or aunt or sister has a capsule machine and we ask people to spread that message and let people know there are more sustainable ways of brewing. We definitely don't advise people to buy capsule machines, we simply want to help people who already own a capsule machine to reduce their waste rather than putting that machine into landfill. We're building a lot of awareness around the fact that recycling isn't always the answer while still spreading the message around conscious consumption.