You've loaded up your car with everything you need for a three-day getaway, including a boot full of snacks and more hours of podcasts downloaded than there are hours in the day. The plan: to set your cruise control and get to your final destination as quickly as possible. Sound like you? Well, we hate to break it to you, but you're doing road tripping all wrong.
The perfect road trip makes the journey the hero. It should be relaxing yet fun, include many detours along the way and plenty of opportunities to get up close and personal with the locals. Oh, and car snacks. Lots of snacks. Surely we can all agree on that one? You should return home with a greasy steering wheel and crumbs stamped into your floor mats.
In an effort to get you road tripping right, we've teamed up with our mates at Ampol to curate the ultimate road trip from Sydney to the stunning south coast, chronicling all the best things to eat, see and do—and the characters you need to meet along the way. Buckle up, you're in for an adventure!
Day One: Sydney To Woollamia
Load up the car, cue up a killer playlist and be sure to have a bag of salt and vinegar chips at arm's reach because you're about to embark on an epic road trip and you won't want to be hungry. Make tracks for Princes Highway and then cruise for about an hour until you hit Lawrence Hargrave Drive. Here you'll want to pull onto the scenic route that'll take you past the stunning Sea Cliff Bridge. Perched above the rugged coastline of Clifton, pull over at the viewpoint to stretch your legs and take in the majesty of the South Pacific Ocean. If it's migrating season, keep your eyes peeled on the horizon for whales.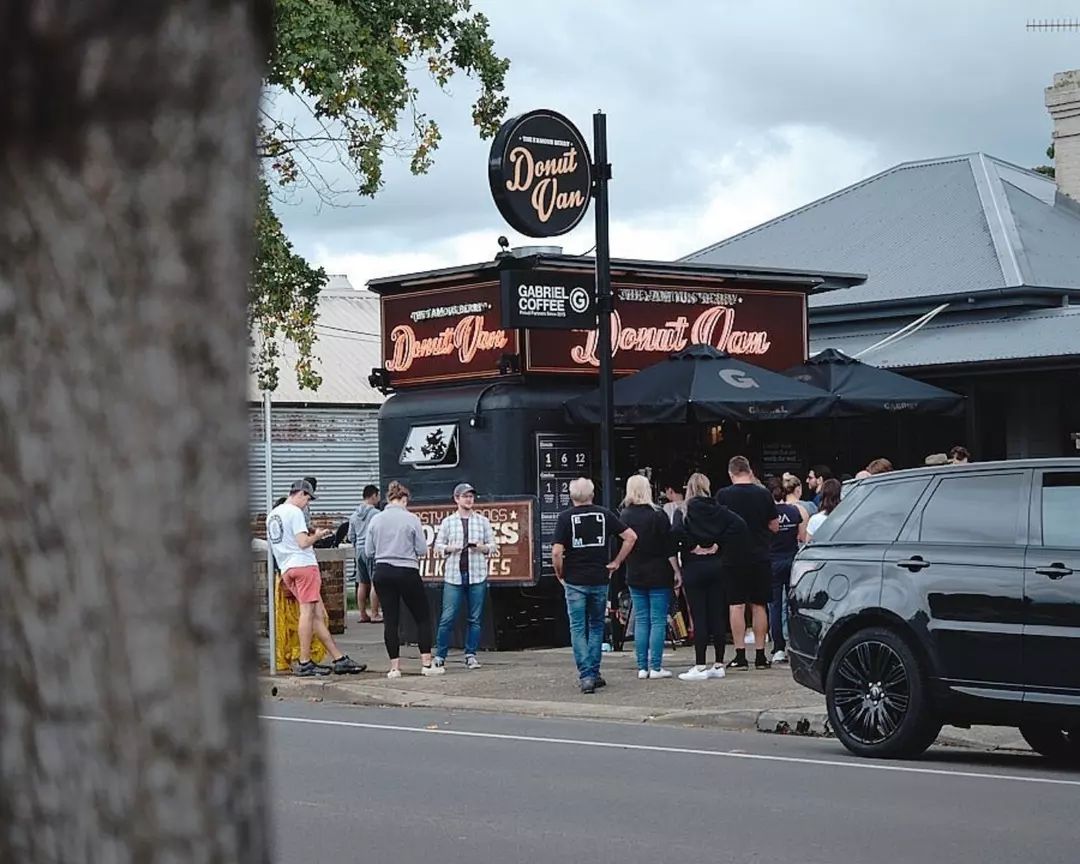 By now you've probably worked your way through that bag of chips so it's time to hop back in the car and venture onwards to your next snack point; The Famous Berry Donut Van. The van has been pumping out hot and fresh cinnamon doughnuts since 1964 so it would be rude not to grab a half dozen. Or a dozen. They also do coffee if you're feeling a bit bleary-eyed from the journey so far.
After a stroll back in time along the cutesy main street of Berry, wipe the sugar off your fingers and hop back in the car for the last leg of the day—a 40-minute drive to Paperbark Camp where you'll rest your head for the night. Splash out and book a king deluxe safari tent set among the paperbark, gum and mangrove forests of Woollamia. Luxury glamping at its finest, the tent has a wraparound deck, open-air ensuite and an indoor hot tub which you'll want to sink into before bed. Before you do though, head to the Gunyah (meaning: meeting place) to bump into fellow travellers, share stories and devour a seasonal three-course feast.
Driving Duration: three hours
Day Two: Woollamia To Mollymook
Kick off your day in Jervis Bay on a guided bush tucker walk with Walbanga woman Deidre Martin. Deidre's connection to the south coast of NSW runs deep, as does her knowledge of its native plants, which makes her the perfect companion on this beautiful walk through Jervis Bay National Park. Have a go at weaving while sipping on native tea, munching on damper and having a yarn with Deidre. Once you're full bottle on the local lore, hop back in the car and drive the 50 minutes to Conjola past the many nature reserves and national parks the area is home to.
Get a taste of country driving as you turn off Princes Highway onto the dirt road that leads to Martin's Ridge Farm where you can take a guided walk through the pastures and get to know the animals that roam the grassy paddocks. If you time things right you might even be able to sign up for one of the charcuterie workshops run by the proud owners of this spray-free farm; Ian, Tina and Rhys Martin.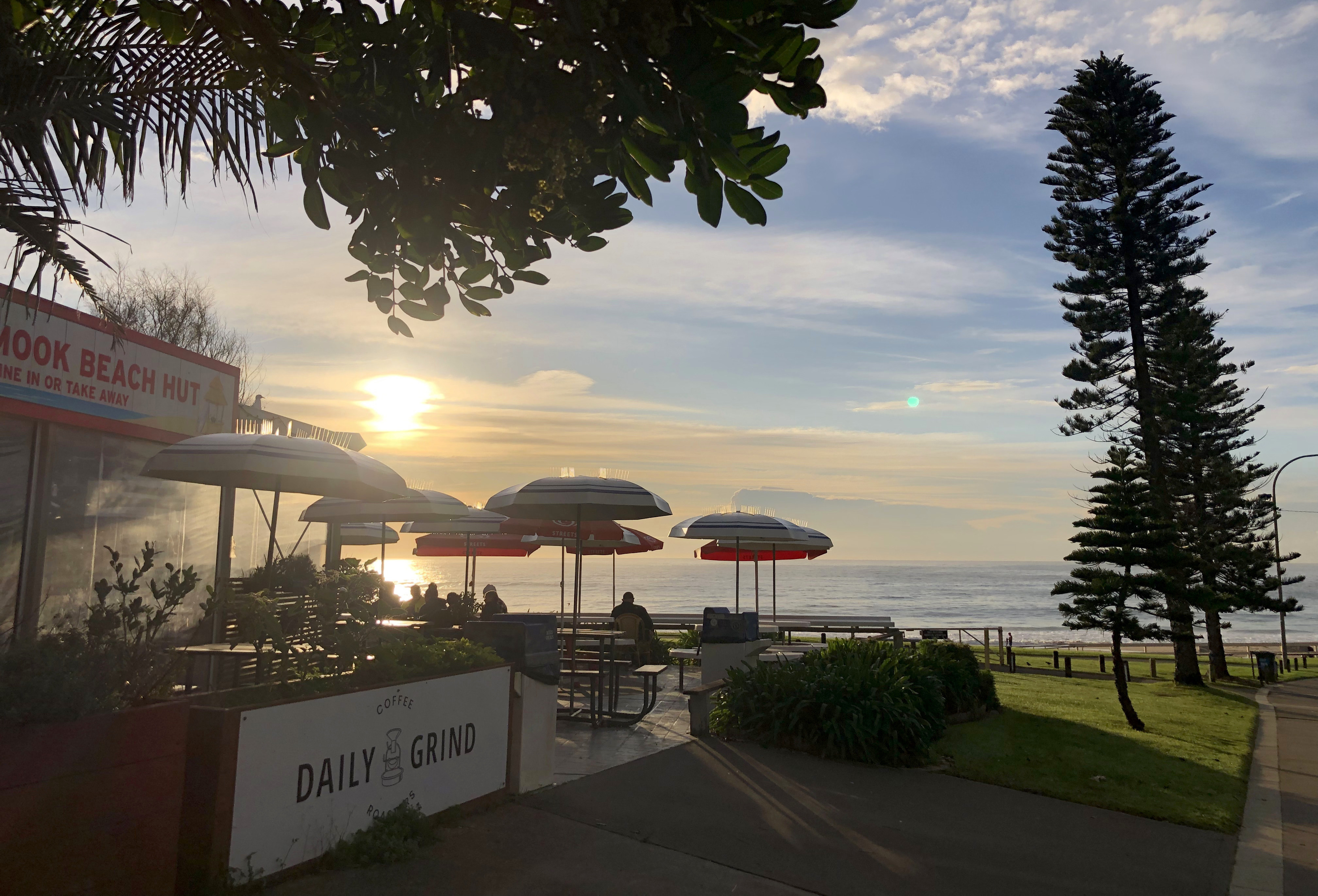 Then it's onwards to Mollymook and the boutique clifftop hotel Bannisters By The Sea where you'll be staying for the evening. Dial up the boujee and book one of their spa retreat rooms with a balcony hot tub that overlooks the ocean, but before you get ready to soak away the day hit up The Rooftop Bar & Grill at sunset for some elevated pub grub among the treetops. For something a little more cost-effective but equally comfortable, book a stay at Allure On Ocean Motel. This gorg motel boasts modern interiors and thoughtful touches like choccies on your pillow and toiletries from local suppliers. Best of all, you're literally steps from the beach so you can fall asleep to the sound of waves and wake up for an early morning swim.
Driving Duration: two hours
Day Three: Mollymook To Bawley Point
Wake up to the sound of the ocean and complimentary continental breakfast—the early start made easier with an included espresso. You'll be spending just over an hour on the road today so you've got time to squeeze in a mid-morning massage at Spa by the Sea. Otherwise, if you're up for another adventure head down to the beach to meet local surfing legend Pam Burridge for a private lesson at Mollymook Beach. Pam was the 1990 ASP World Champion surfer and was on the pro tour for nearly 20 years before setting up her surf school at Mollymook Beach, so you're in very good hands.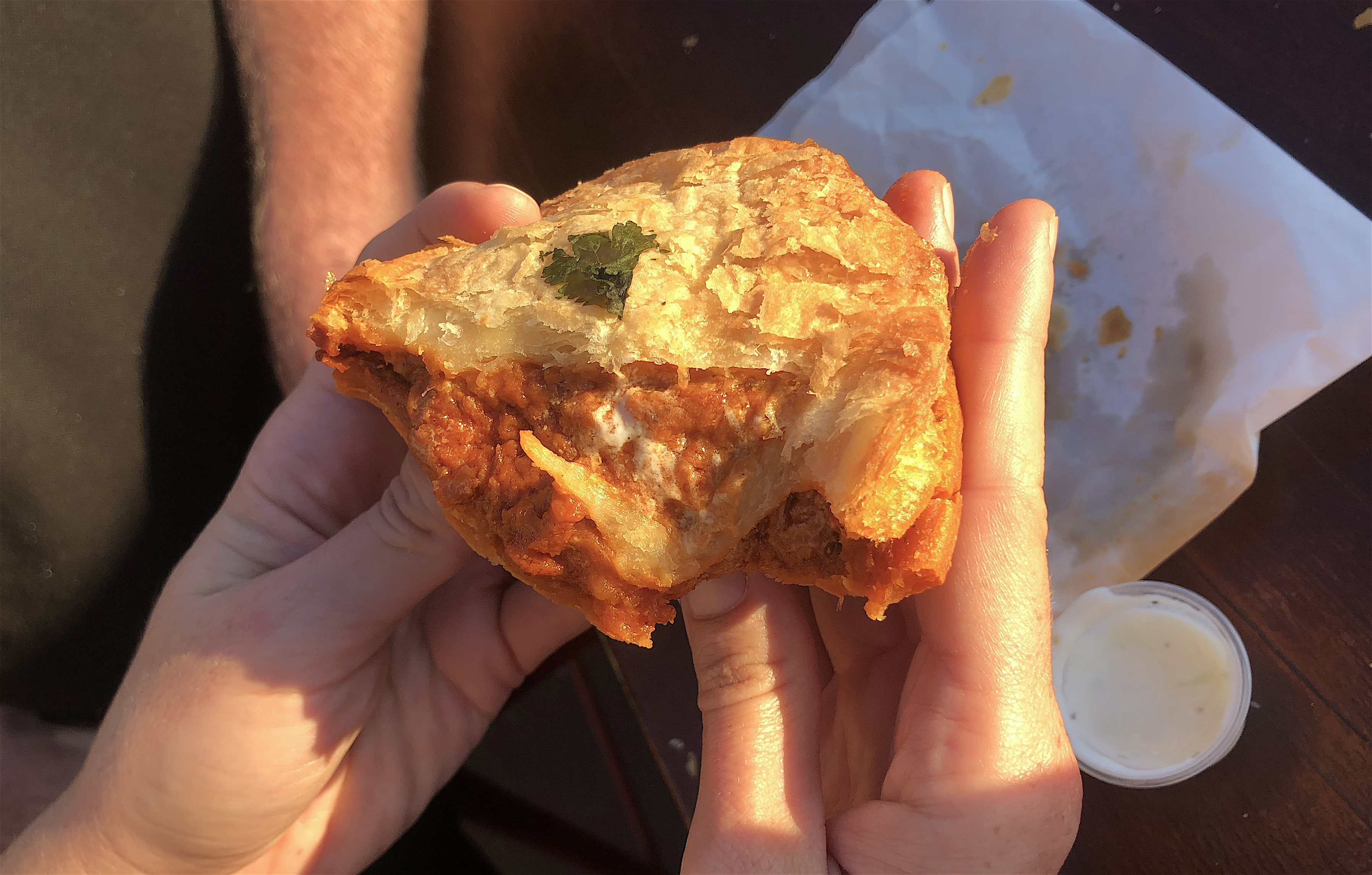 After a morning frolicking in the waves (or being massaged from head to toe), you will have worked up quite the appetite so it's high time you head to Hayden's Pies in Ulladulla. This south coast legend whips up some of the tastiest gourmet pies you'll ever bite into, and if you're lucky you'll catch the man himself at this friendly, country-style pie shop. He's been running the joint for almost 20 years, first with his mum by his side and now with his wife, so it's no wonder the house-made puff is the stuff dreams are made of. The menu is extensive and includes gluten-free options, family-sized pies and rotating weekly specials like beef stroganoff, cheeseburger and vegan vindaloo pies. Our fave is hands down the butter chicken curry pie served with a side of mint yoghurt. If you're keen on lunch and a view, grab it to go, roll down the hill to Racecourse Beach for one of the best vistas in Ulladulla.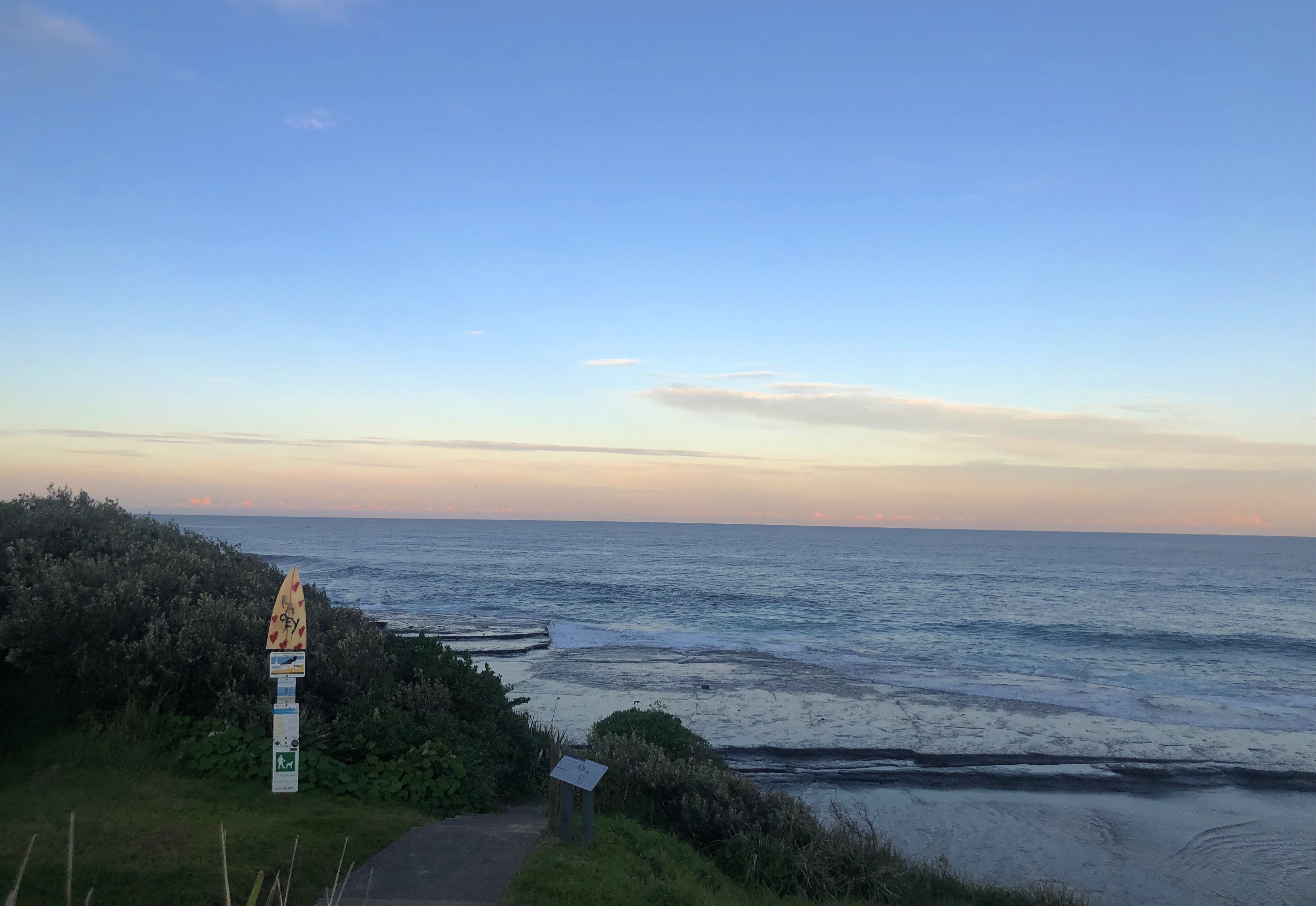 Now it's time to get to know more about the Jerrinja and Wandi Wandian Country you've been traversing over the past few days on a Commee Nulunga Cultural Tour. Aboriginal owned and operated, the walking tours take you along the coast and through the bushland of Ulladulla with an elder who will teach you all about the traditional bush tucker and medicines used by the Murramarang People for thousands of years.
It's time to eat again and it wouldn't be a road trip without some fish and chips now, would it? Pick up a box of golden crunchy goodness, and a few fresh oysters if you're fancy, from local fave The Fish Shop on Burrill Lake. If you're looking for a lighter lunch you can detour past rustic wholefoods cafe Milk HAUS in Milton instead. Located in a restored 1900s old cheese factory, the crew at Milk HAUS use produce from the kitchen garden to whip up tasty, wholesome and seasonal eats from Thursday to Monday. Have a chat with owners Kitty and Nat, take a gander at the garden, purchase a keepsake from the pop up ceramic store, spot some dairy cows and say g'day to the hens before you leave. While you're in Milton, you must stop by the gorg Van Rensburg Galleries. The gallery is run by Sarah Thomas who has an interior design background, so you know you're likely to find an artwork worthy of hanging on your living room wall, and Joanne Barby who is an artist herself. The artworks here are well priced so you can walk away with a keepsake from your travels.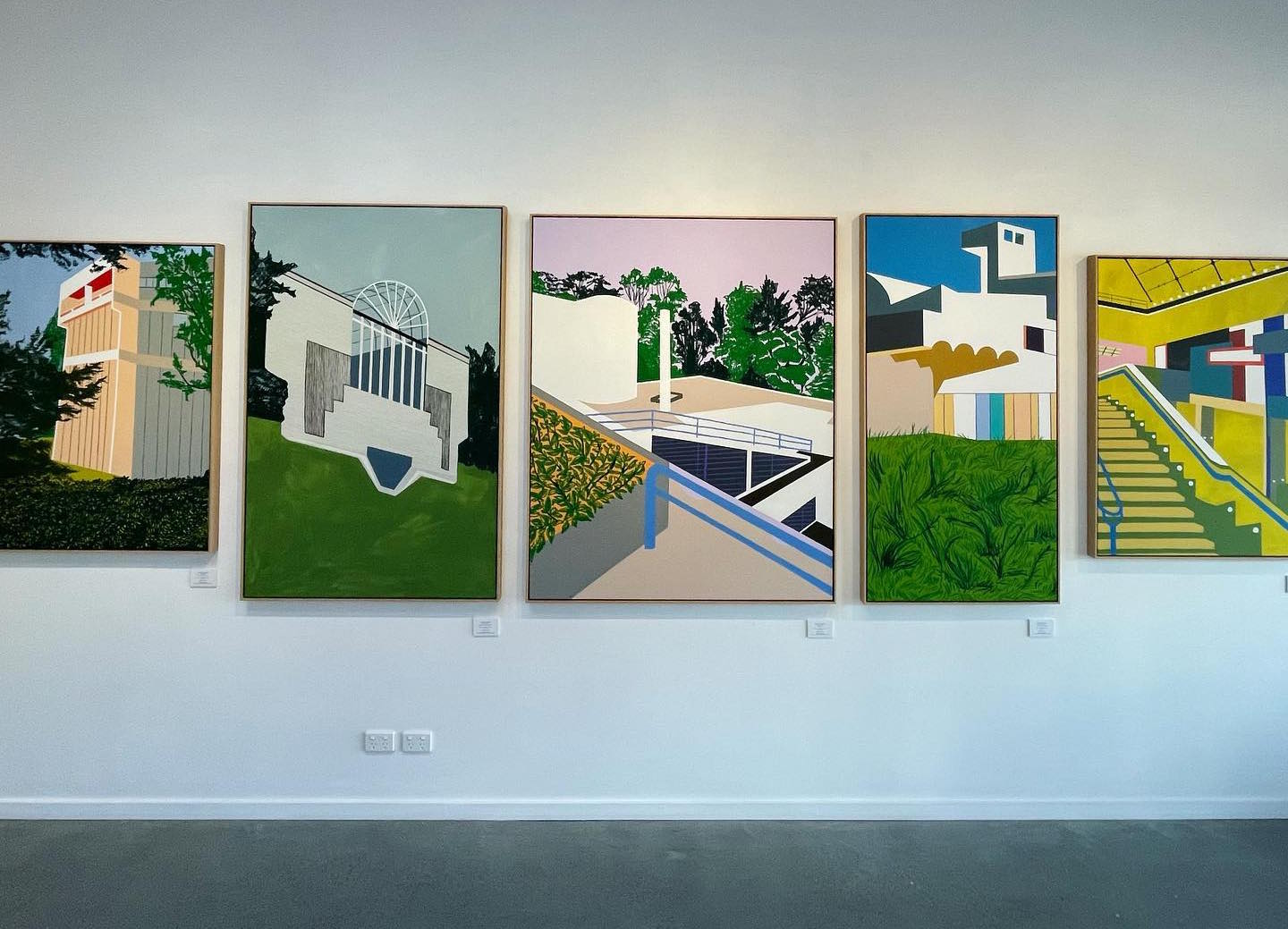 You've met plenty of human faces so far, but now it's time to meet some furry ones at Pebbly Beach, 45 minutes south of Ulladulla. Home to eastern grey kangaroos, these adorable marsupials are on the shorter end of the spectrum when it comes to roos and they tend to gather at dusk for a feast, so you'll want to plan your trip accordingly. If you've got time you can do a bushwalk or just sit and enjoy the beautiful view of the forest-lined bay.
Your final stop on this journey is Mimosa Eco Retreat. Termeil locals Linda and Len Ivey have created accommodation that brings your Aussie settler's style cottage core dreams to life. Perched on a lake, the Billabong Cottage is as cosy as it gets with its fireplace, wood-clad walls, BBQ on the verandah and a private outdoor fire pit where you can reminisce about your road trip with a few toasted marshmallows under the stars.
Driving Duration: one hour
It's time to tick off one of Australia's most iconic road trips, made oh, so memorable with so many perfect places and friendly faces to meet along the way.
Be sure to fuel up at your local Ampol along the way—for fuel and a cheeky bag of red frogs at the Foodary—because, well, essential road trip snacks. Whatever you need, Ampol has got you covered so all you need to worry about is your next destination.
Editor's note: This article is sponsored by Ampol and proudly endorsed by Urban List. Thank you for supporting the sponsors who make Urban List possible. Click here for more information on our editorial policy.