This desert metropolis pairs tradition with a futuristic vision, and following an oil boom in 1966, Dubai quickly developed to rival popular tourist destinations around the world. On their quest to be the biggest and most extravagant, Dubai built more skyscrapers than any city (except for New York and Hong Kong), boasts the second-largest mall, the world's tallest building and the only palm tree-shaped island (with two more in the works).
From skiing in the desert to sunset rooftop drinks and luxury spas, Dubai is bursting with things to do that will make your wildest dreams come true.
Things To Do
Explore Dubai's Palm-Shaped Island
Palm Jumeirah is a palm tree-shaped artificial island consisting of a trunk, 17 fronds and a surrounding crescent jam-packed with luxury beachfront hotels, malls and restaurants. The island also added kilometres of man-made beaches to Dubai's coastline in an effort to boost tourism and secure the city's future long after the oil boom—and thanks to the absurdity of the project, it worked. Palm Jumeirah is an absolute must-do, and if you're visiting on a Friday or Saturday (this is Dubai's weekend) we recommend booking into a boozy brunch at the Nobu High Brunch (a four-hour feast) or the Friday Fork and Cork at Crescendo. When the temperature spikes, step into Riva Beach Club for an icy cocktail beside the pool and for a real taste of luxury Dubai, book into the Anantara Spa for a day of pampering. If you're looking for the one of the best things to do in Dubai, this is it!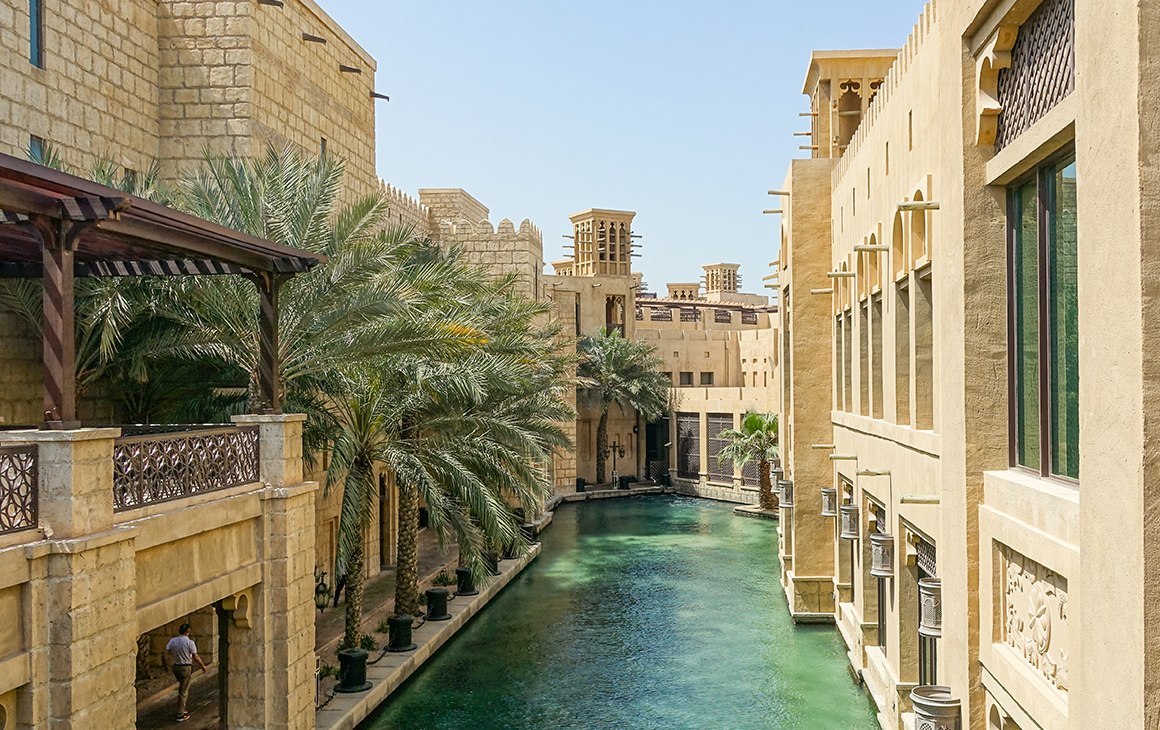 Hunt For Treasure At The Gold Souk
Located in Dubai's business district in Deira, more than 380 stalls glimmer with pearls, gemstones, and gold and silver jewellery at one of the oldest markets in the emirate. The government keeps tight control over the authenticity and quality of the goods being sold at the Gold Souk, so you know you'll walk away with a beautiful keepsake at an even better price. There's also plenty of other souks in the area worth exploring, like the spice souk and perfume souk just minutes away. This is a must-do activity when you're in Dubai.
Go On A Desert Safari
Cliched or not, going on a desert safari in Dubai is pure magic. There's plenty of tour operators in the area like Desert Safari who tailor packages to suit all adrenaline levels. Choose from a sunrise safari and camel ride, an evening safari that includes dune bashing, belly dancing and a fire show, or you can even camp in the Red Sand Desert overnight.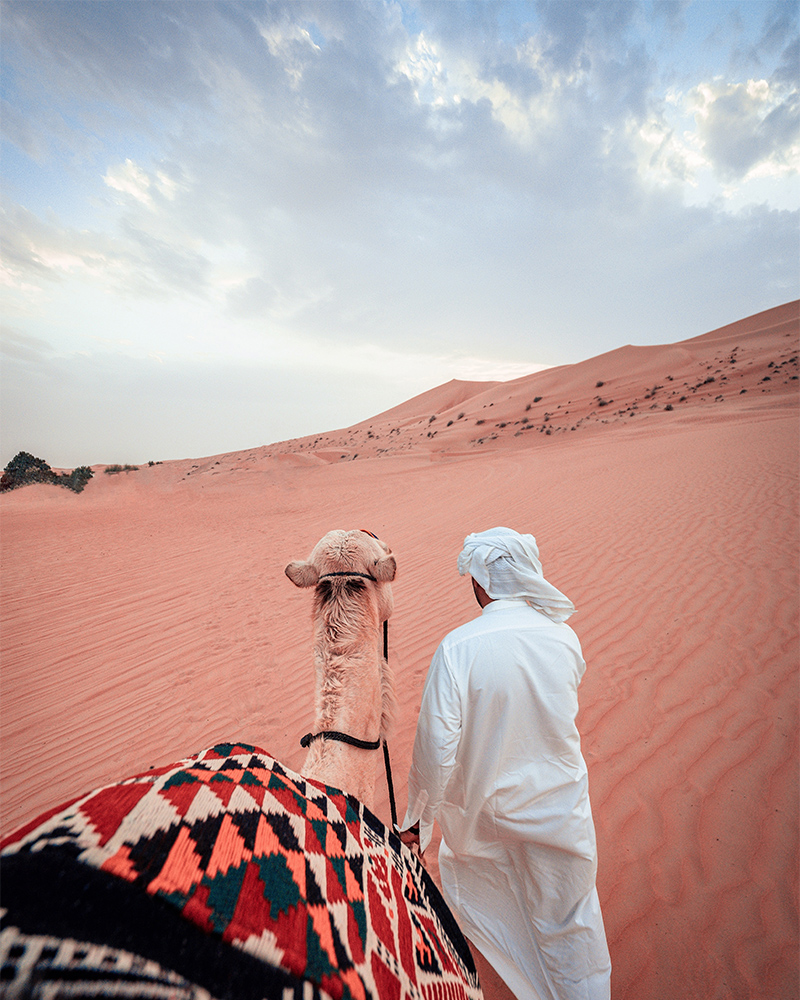 Visit The World's Second Largest Mall
Step into the super-sized Dubai Mall and get ready to live large. Promising Dubai's trademark over the top grandeur, here you'll discover top luxury brands, white marble, gold chandeliers, and chauffeur-driven buggies. There's also an aquarium and underwater world, an Olympic-sized skating rink, and the world's largest choreographed fountain show at the Dubai Fountain to check out once you're done spending.
Shred The Slopes in Dubai
The absolute contradicting nature of skiing in the desert is what makes hitting the slopes in Dubai so alluring. Located within the Mall of the Emirates, if you're chasing an adrenaline rush and one of the coolest things to do in Dubai, Ski Dubai is it. Boasting 22,500 square metres of skiable terrain and a snow park with bobsledding, tubing, snow bumpers, a climbing wall and ice cave—get ready for a ski experience unlike anywhere else in the world.
Where To Eat
Pierchic
An over-water restaurant situated at the end of a pier, Pierchic is predictably over the top with breathtaking views of the Persian Gulf and sail-shaped Burj Al Arab tower. The seafood-heavy menu boasts fresh catches and sustainably sourced produce like the must-try plankton seafood risotto and wagyu beef tartare. All in all, it's pure bliss.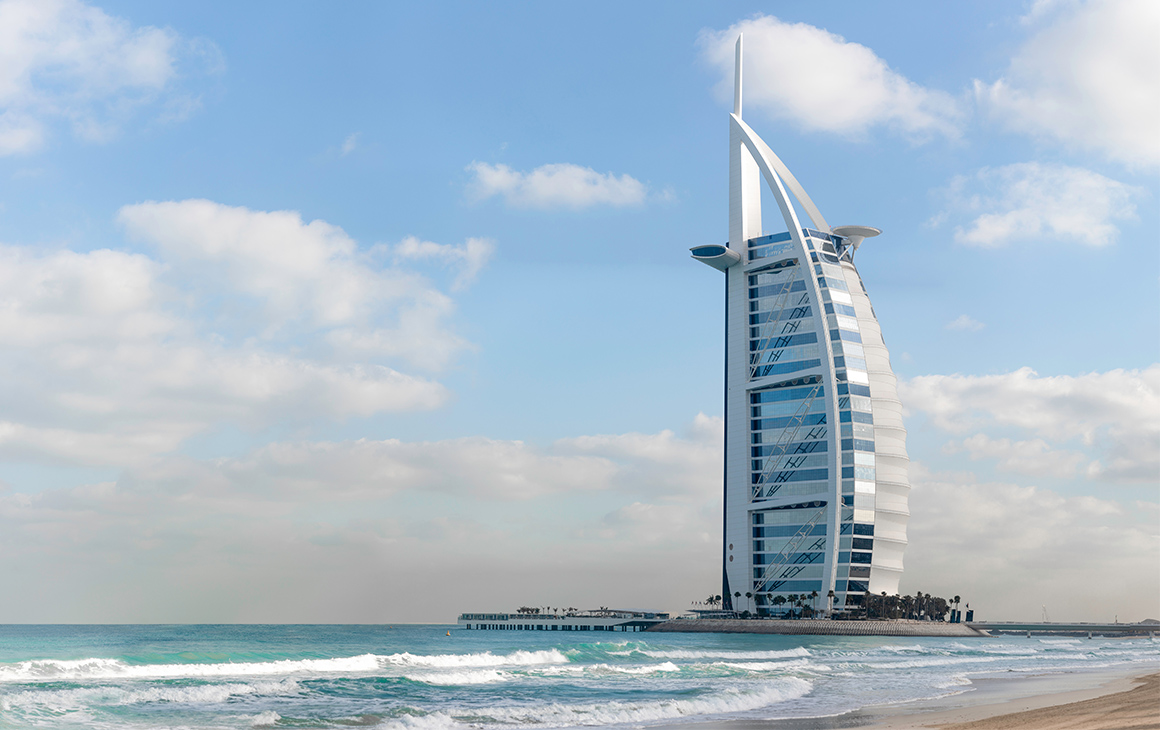 Arabian Tea House Cafe
For rich Arabian culture and hospitality, head to Arabian Tea House Cafe in the historic Al Fahidi district. The cafe used to be the home of a pearl merchant and now serves over 150 types of tea and authentic Arabic cuisine in a leafy courtyard with blue and white wicker furniture and white canopies strung overhead. If you're chasing a relaxed vibe, this is it.
Buddha-Bar Dubai
Technically three venues spread over two storeys (a lavish restaurant, bar and outdoor lounge opening out to the Dubai Marina), Buddha-Bar Dubai will see you through from a sunset dinner to cocktails in the early hours of the morning. The restaurant menu features a fusion of sushi, Thai, and Chinese (Dubai boasts a huge variety of cuisines thanks to its high expat population) and the Buddah-Bar is known for its happening vibe with an on-site DJ delivering electric tunes all night long.
Where To Drink
The Penthouse
Found on the 16th floor of the adults-only and incredibly lavish Five Hotel on Palm Jumeirah, The Penthouse is the ultimate day club in the sky. This rooftop oasis features plush white seating, skyline views of Dubai and two glass-lined swimming pools. Once night falls, grab yourself a cocktail and head to the stage to catch a set from a celebrity DJ.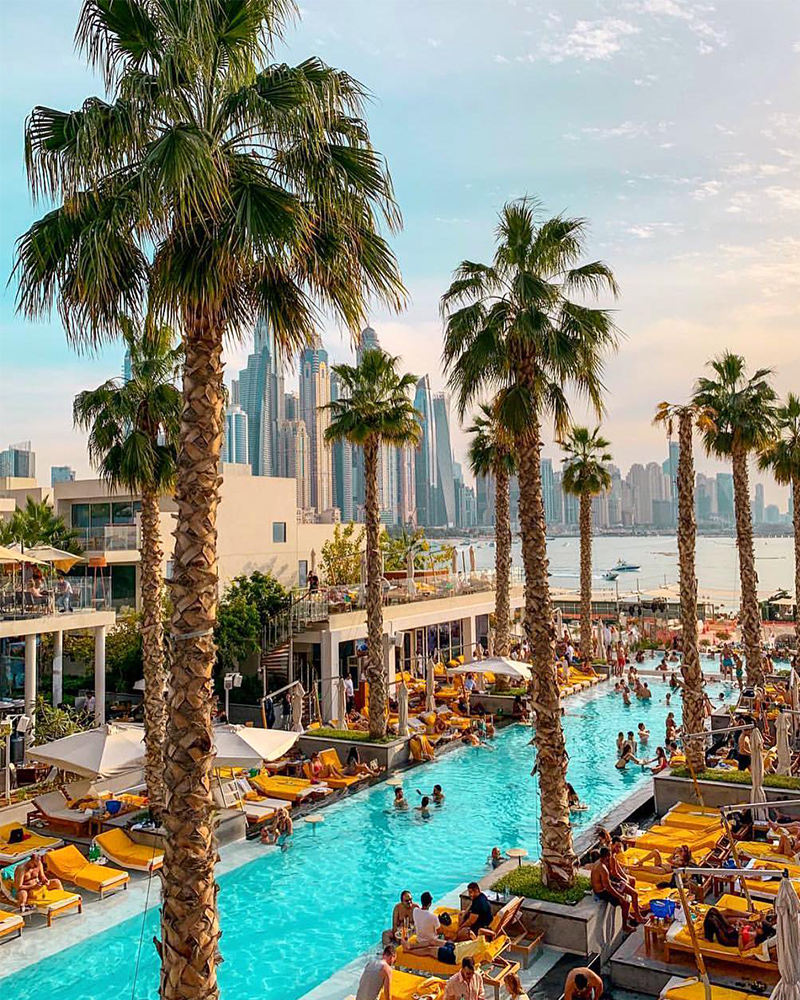 Treehouse
Head to this urban rooftop at dusk when the fairy lights glimmer in the trees and the skyscrapers light up the night sky and tower overhead. Treehouse delivers unparalleled views of downtown Dubai and the business district—in other words—it's seriously 'Gram-worthy.
Barasti Beach
For a cheeky sundowner, get to Barasti Beach. This venue is huge and is best experienced with a cocktail in hand by the pool. You can stick around once the sun falls behind the Dubai Marina when the atmosphere kicks up a notch and a solid rotation of DJ's take the stage.
Noir
Located downtown within the Mall of the Emirates, this lounge and cocktail bar is all things dark and moody. Think: plush leather couches, red marble tables, a huge chandelier centrepiece and extravagant artworks hang from the walls. The service at Noir is exceptional and the cocktails are as drool-worthy as they are 'Gram-worthy. There's even a selection of Havana cigars should you be so inclined.
Where To Stay
JW Marriot Marquis Hotel
Thanks to the huge number of hotels in Dubai (of which the majority are four and five-star), an oversupply means extremely affordable room rates. Get ready to live lavishly at JW Marriott Marquis, a luxury five-star hotel located in bustling downtown Dubai. The rooms are sleek and comfortable, and as one of the tallest hotels in the world, you'll be greeted with awe-inspiring views of the ocean and skyscape. Choosing JW Marriott Marquis also means you'll have the famous Dubai Mall, the Burj Khalifa and the Dubai Opera at your fingertips.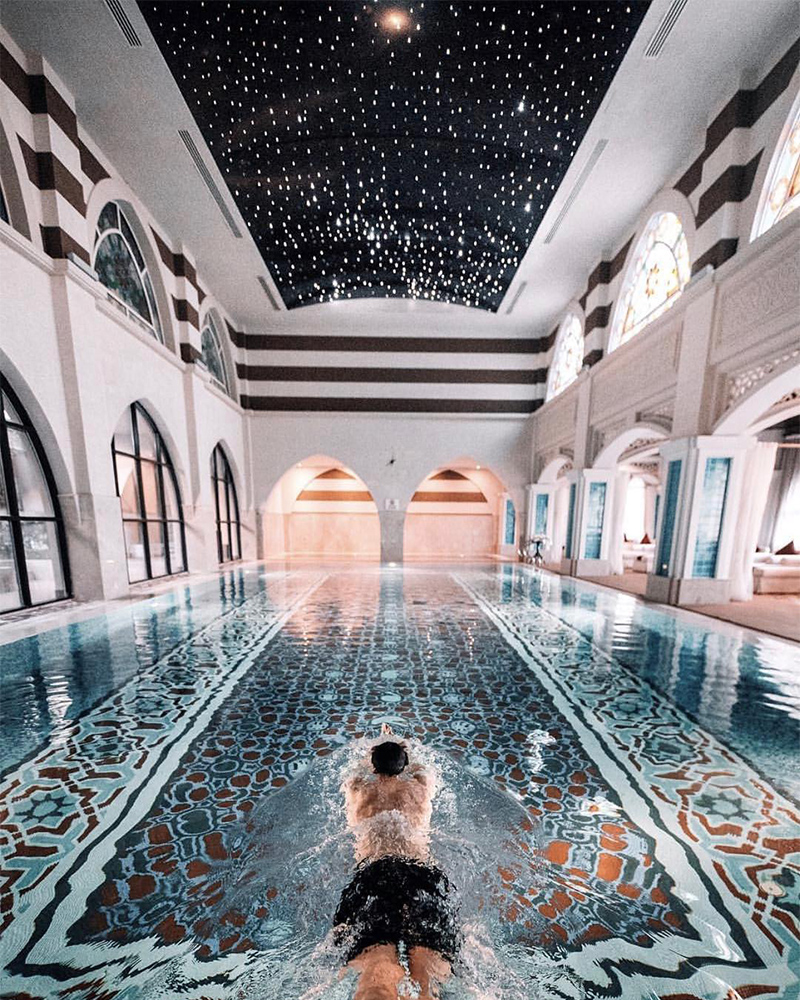 Jumeirah Zabeel Saray
Another five-star experience located on the palm, Jumeirah Zabeel Saray is inspired by the opulence of the historic Turkish Empire and Ottoman era. With nine restaurants and bars, a private beach, infinity pool, two jacuzzis, spa and 14 high-end boutiques, you could easily spend your entire trip soaking up the luxury here and not even step foot outside the hotel grounds.
Rixos The Palm
Though you might be 20 minutes from the popular tourist spots and neighbourhoods, choosing Rixos on the palm comes with its own perks. Here, you can soak up panoramic views of the Arabian Gulf, Dubai's breathtaking skyscrapers, and of the palm itself. There's plenty to keep you entertained, from scuba diving and yoga on the private beach to a Turkish-inspired spa, plus five restaurants and six bars to choose from. The rooms boast affordable luxury and floor-to-ceiling windows with your choice of a pool, garden or sea view. Trust us when we say you'll never want to leave.
After living your best life in Dubai, why not take a short flight over to London? Here are the best things to do.
Image Credit: Roman Logov, Matthew Foulds, Zosia Korcz, Jumeirah Zabeel Saray, Five Hotel, Fredrik Öhlander