It's been a hot minute but travel is finally back. The hypothetical sabbatical has turned into a reality and we are so ready to book those flights and plan our next wild adventure.
These days, travel goes hand in hand with capturing and sharing great photos and memories, so we asked photographer and avid adventurer Tyson Mayr for his top tips.
Mayr's travel photography career has been a wild one. After quitting his corporate job, buying a one-way ticket and travelling to 28 countries across six continents on a budget of $25 a day, he then won 'The Best Job In The World' competition—a $100,000 prize to travel the world for 12 months creating content for a travel company. Most recently, he's been travelling across Australia hosting National Geographic TV series, 'Only In Aus' where he uncovers some of the most unique and bizarre natural phenomenons that occur, only in Aus.
From his most outrageous adventures like knocking on the door of a random Kyrgyzstan yurt to the tech he can't live without—like the new Samsung Galaxy Z Fold3 5G available at Optus—strap in for all his inspiring travel tales and all the photography tips.
You've travelled to over 100 countries, it's a tough choice but what was your favourite destination and why?
[Laughs] This is an answer that will change depending on when I'm asked and perhaps what I'm craving at the time. Brazil was the first country I fell in love with and one that I hope to still live in one day, even if just for six months.
I also love the hidden underground subcultures you can find in Tokyo and South Korea.
The most life-changing moments for me have been on my trips through Uganda—installing water filters with an NGO called RainCatcher—but also getting off the grid to trek with Gorillas and Chimpanzees.

Anywhere I haven't been is generally what excites me the most though. I recently did a motorbike trip through The Stans, which finished with a 14-day trek through Afghanistan. There is something quite thrilling about being somewhere that so few tourists have visited. There's something very pure about the locals you meet.
Can you share some favourite, underrated destinations in Australia?
I have to say, Broome. Most know Broome for its white, sandy beaches that you can watch the sunset from the back of a camel—their stretched shadows make for an interesting drone shot—but if you venture out of town a little you will find bright-red sand beaches that contrast beautifully with a turquoise ocean that surrounds it. Located at the mouth of the Kimberly, Broome is a landscape photographer's dream about and somewhere that really is unique to Australia.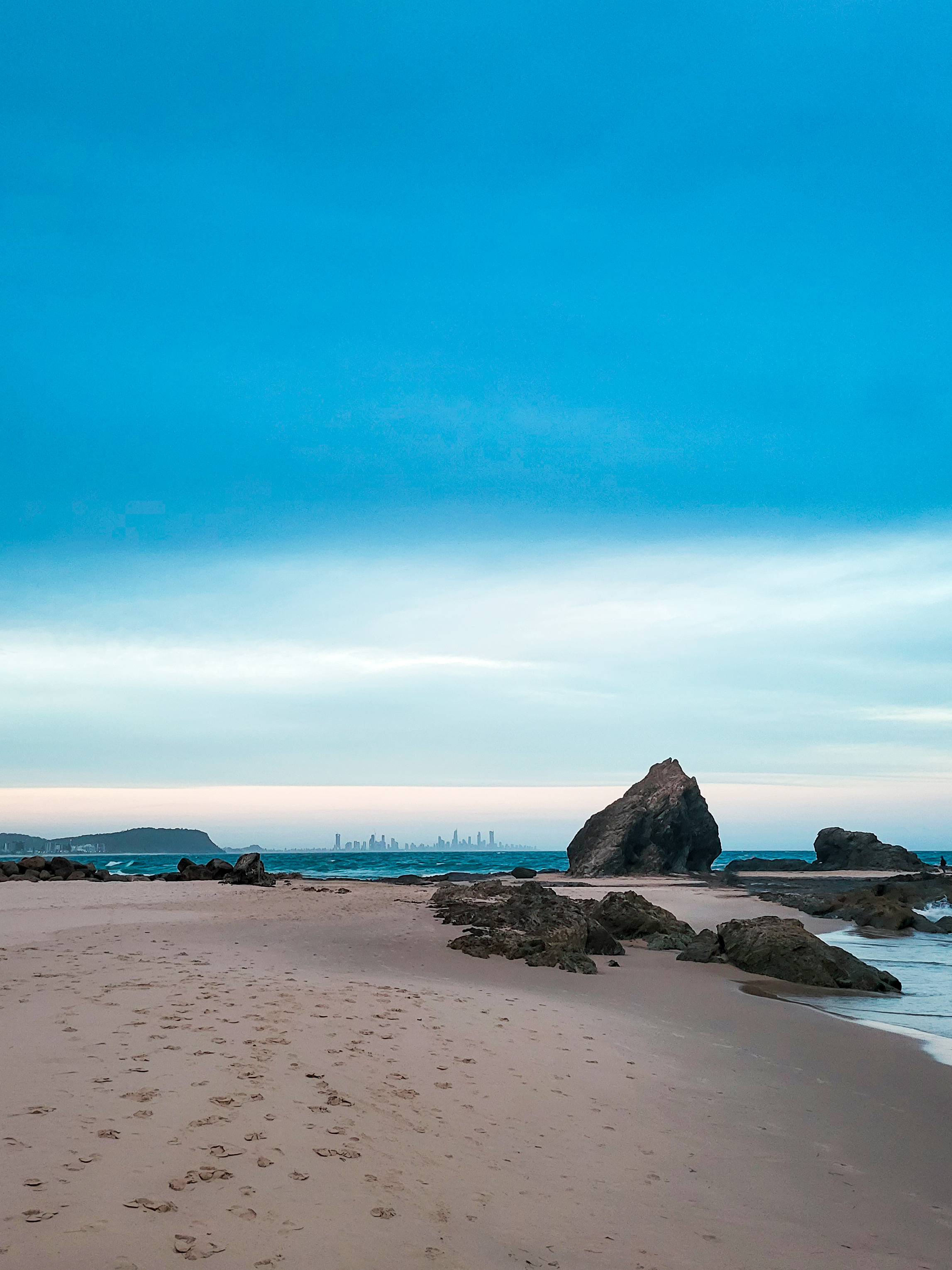 Image taken on Samsung Galaxy Z Fold3 5G available at Optus
You've embarked on some wild travel adventures, can you share some favourite experiences, stories or memories?
While riding my motorbike through Kyrgyzstan towards one of the highest altitude lakes in the world, I realised as the sun was setting that I was a long way from where I needed to sleep and the night time sky was quickly blanketing me with sub-zero temperatures. To make matters worse, I took a wrong turn—you have to remember the roads here are just a little more prominent than a cow track—and ended up several hours away from anywhere safe to sleep with a fuel tank that was flirting with empty. Suddenly I saw a yurt pitched a few hundred metres away from the road and even though it was 11pm, I pulled my bike in to see if the nomadic locals living there might be able to sell me a little fuel. I was greeted by a family of seven who quickly invited me in and shared a meal with me. They rolled a blanket out on the ground just next to them—everyone sleeps on the floor next to each other—and for the next day or so I lived with them and helped them with their livestock, sharing as much as we all could with each other without speaking the same language.

It's moments like this that make me love travel. Often I share images of well-known destinations or stunning locations, but the truth is it really is the journey and local experience you encounter that makes a region special. This is something I have to constantly remind myself of when shooting a destination—the image is just a small part of my trip, don't forget to travel! This is why I also love to travel less prepared. The more prepared you are, the less chance you will encounter something completely unexpected.
What has been your biggest 'pinch me' moment?
Summiting Kilimanjaro is still one of the most surreal moments I've ever had. I was robbed at gunpoint in a violent attack just days before this in a different part of the world so I'm sure that adversity added to the entire experience. Being on the top of Africa's highest peak was one of the only times I've been emotional from a sight or experience.
Winning 'The Best Job In the World' competition was also a very defining moment. I had been slaving away at photography and videography for two years before that, making many sacrifices to work on my craft and that competition truly fell right at the moment that I was most prepared—I was announced as the winner on the TODAY show live in New York and it certainly was a moment that changed things for me mentally. You never know when a life-changing opportunity will present itself, but you better be prepared for when it does.
Can you share your go-to travel hacks?
Make an effort to put yourself in new situations every single day—stepping outside of your comfort zone is one of the most beneficial things you will get from travel and where you will truly discover who you are and what it is that excites you in life.

Couchsurfing.com is a game-changer. Staying with locals in a new part of the world is the best way to authentically experience it. Some of my best travel moments and friends have been made this way. It was also how I was able to travel to 50 countries on $25 a day.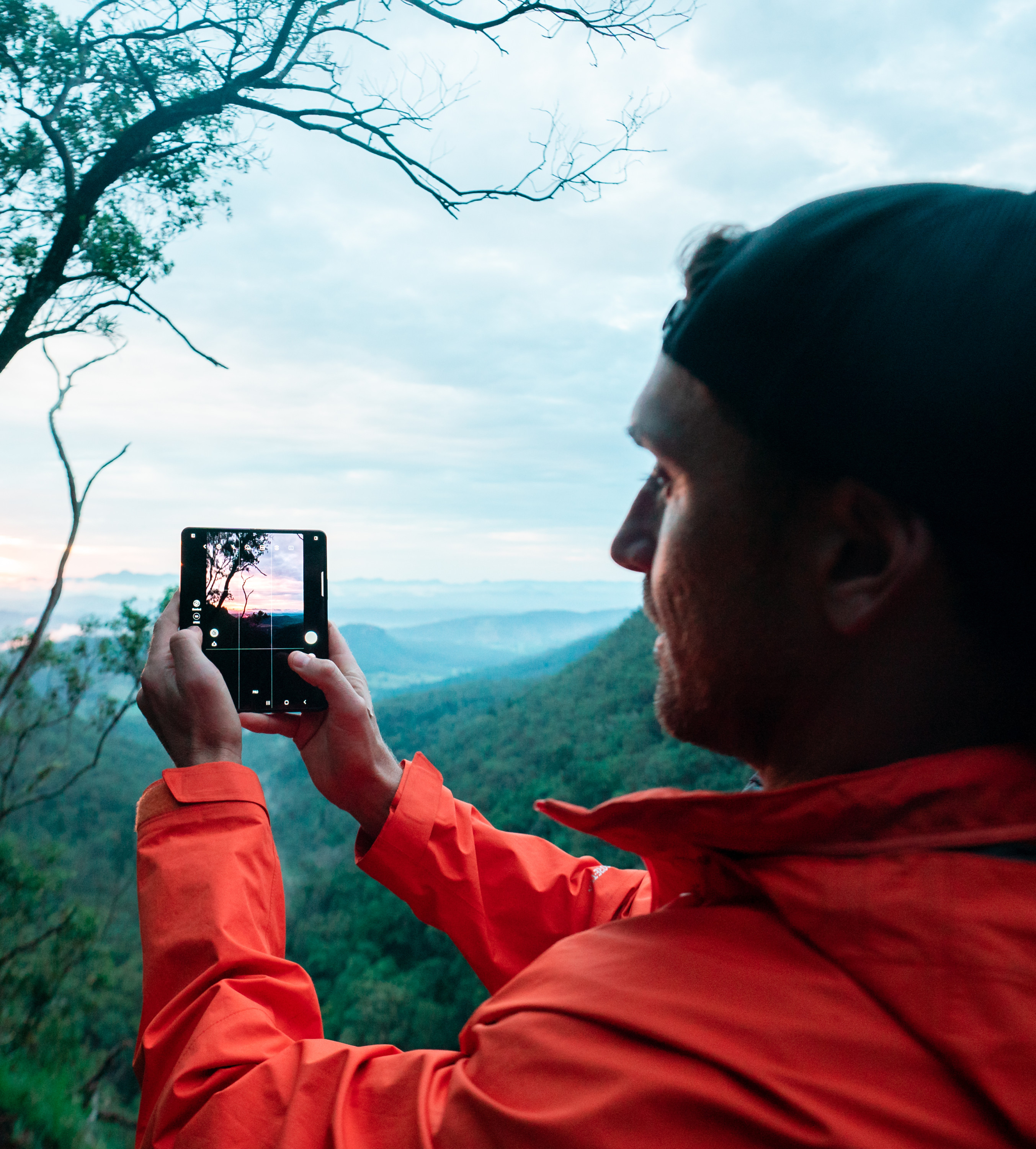 What are your top three travel accessories you can't live without?
Noise-cancelling headphones. This is important for video editing and working out, but a must-have when it comes to flights and working in busy cafes.
A camera in my pocket. They say the best camera you have is the one closest to you and I have found this to be true many times. Having a top-quality camera that travels with you everywhere like the Fold3 means you never miss out on an unexpected moment. And trust me, when you are abroad, there are a lot! Before this phone, I have missed out on a lot of amazing moments, like a wolf running to the side of my car, simply because my big camera was packed in my car.

My laptop. From emails and research to editing photography and video for clients, this is a device that is crucial to everything I do. The only downside is its size and weight in my bag—something you really do notice on seven-day treks, so using the Samsung Galaxy Z Fold3 5G as a replacement for this on longer trips will be a lifesaver—it already is on smaller ones!
What are your top editing and shooting hacks?
Always shoot in RAW. The Fold3 is a photography beast and I love that it has a Pro Mode, which allows you to adjust all of your camera settings and shoot in RAW. I haven't had a phone that allows me to do this before and shooting in RAW means you really have the data in your images to edit it the way it needs to be.

I was at Lamington National Park recently and with Pro Mode, I was able to slow the shutter speed right down and really smooth out the waterfall behind me. Not just that, I didn't need to set a timer to self-shoot myself, I could simply yell out 'Cheese' and the camera would take my image for me.

Image taken on Samsung Galaxy Z Fold3 5G available at Optus
As soon as international borders open, where are you buying a plane ticket to?
My first trip will be to LA for meetings, followed immediately by Rwanda to trek with the gorillas and possibly Antarctica after that. Both of these are for a project I am launching in 2022, where others will be able to join me on these trips—some of them as specialised photography adventures.
What's next for you and your career?
Right now, I'm in conversations with a major streaming service for my own travel show in 2022 and I'm also working on a new travel company that will launch in 2022 also—something which others will be able to join me on the adventures I partake in.
Capture epic travel memories with the new Samsung Galaxy Z Fold3 5G available at Optus. With its exceptional camera quality and ability to shoot epic angles, there are so many reasons why it's the must-have travel tech accessory.
And the best part is, you can buy it now and pay over a 12, 24 or 36 month period on a device payment plan with OptusPay completely interest-free.
Image credit: Tyson Mayr
Editor's note: This article is sponsored by Optus and proudly endorsed by Urban List. Thank you for supporting the sponsors who make Urban List possible. Click here for more information on our editorial policy.