Today, Urban List launched a new partnership with one of Australia's brightest fintechs—a personal investing platform called Pearler. While I'm usually sans-byline, making wheels turn behind the scenes, this partnership is one I'm particularly proud of and so I've come through the matrix to share the news and why this particular pairing is so important to me.
Before I dive in, I need to do one thing. One of the biggest criticisms of the finance sector—particularly when it comes to their marketing — is the relative lack of transparency. And so, as Urban List's Founder, I wanted to table a couple of things up front.
The first: I know (and admire) the Pearler founders personally. Nick and I worked retail together, way back in the day; we have children around the same age; and we holiday in the same sleepy little beach town, Rainbow Bay, each Summer.
Separate to that: I'm both a user and raving fan of the platform. I'm not an advisor. I don't want to tell you what to do with your cash. You do you.
In case you were wondering, no—I don't usually mix my personal and professional life. But with Pearler I'm making a big ol' exception, and here's why…
Finance is one of the biggest lifestyle decisions we make
As a platform, Urban List exists to introduce you to your best life—helping you find and do more of what you love. And a huge part of that lifestyle is balancing the means we have to live. Our lifestyles are funded by our career and finance decisions, and I think Urban List could do more to support you on that front.
Our Money content could be more actionable and this is one way
Career and Money is one of Urban List's fastest-growing verticals (you guys have hit that section 400,000+ times already this year), but what you find there isn't quite as actionable as the rest of the content we create. When we share eats and events, it's easy for you to go out and try those experiences. But to date, we haven't made it quite as simple when it comes to finance, particularly the generation of wealth.
I'm drawn to purpose-led startups—those tackling a problem worth solving
Conversations with Nick, one of Pearler's founders, have given me a financial uppercut. The way he describes things really hits home. We both (and likely, you do too) belong to a generation that works hard, is relatively fairly compensated for our efforts, and live in a society that does a pretty (granted, not perfect) good job looking after its people.
And yet, we've financially plateaued—working hard but not necessarily going anywhere beyond little savings, and a government-mandated superfund.
We are a generation that needs the confidence and the discipline to do more with their money. We have the interest and the intent, but the big guys deliberately make it jargon-filled and difficult.
There should be a platform that makes it easier—with an intuitive interface and normal language that we can understand; leveraging community intel and the ability to learn from a group of people whose habits we admire (not a single advisor), and clear reporting so we can see how we're making gains toward our personal goals. Because unless you can see that momentum, who has the willpower to maintain money discipline?
Let's take two much-loved success stories — Spotify and Canva — but make it finance
That's exactly what's happened, and it's one of the things I love the most about the approach.
In short, Pearler is the finance version of open source platforms we already love, like:
Spotify allows us to create banging playlists, simply by following other users whose tastes we like (the parallel to finance being, what if you could just copy the share portfolio of a finfluencer who has things dialled? News flash: now you can.)

Canva has enabled everyone to become a designer—not as a full-time gig but as a sideline skill that helps facilitate their lives (again, the parallel being a finance platform that provides quality templates, themes and tools that make it easy to start investing, rather than having to start from scratch.)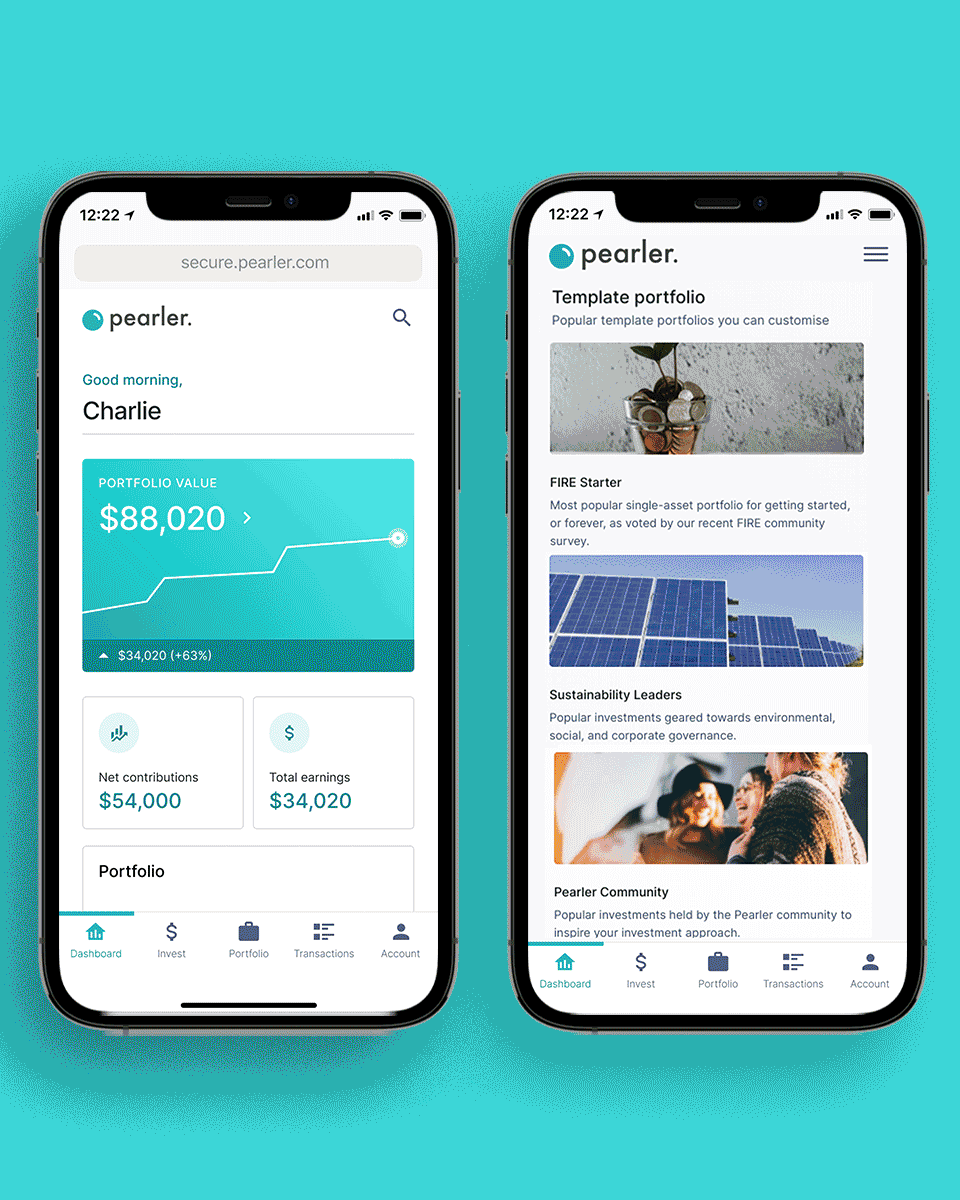 These concepts of crowdsourcing and copying ideas, of creating templates that eliminate the need to recreate the wheel… These are already being widely applied across the internets and have made life so much easier.
On Spotify, we are adept at researching to find people whose tastes mimic ours. On Pearler, you can check out other users' portfolios to find people with a similar appetite for risk, belief in concepts that are growing, and your personal values set.
On Canva, we're adept at picking up ready-made templates that meet our needs. On Pearler, you can do the same—investing in buckets of shares (rather than the more risky, individual company approach) according to themes you believe in. Think AI is the future—run with that. Think we're getting older and will be investing more in medical research—that's a belief you can back in too.
The share market is daunting as hell, but it doesn't have to be
And Pearler is sorting it out.
33% of our audience has told us they're currently investing and we know that a lot of you are interested. So if you fit into either group, Pearler is one way you can get involved.
Check it out and let me know what you think.