For those getting married in Adelaide, it feels like the possibilities are never-ending. Whether staying local in the heart of the city, or venturing out to one of Australia's best wine destinations, it can feel a little daunting, so we've compiled some of the most stunning spots to suit any budget or style.
Read on for the best wedding venues in Adelaide.
The Best Outdoor Wedding Venues in Adelaide
Al Ru Farm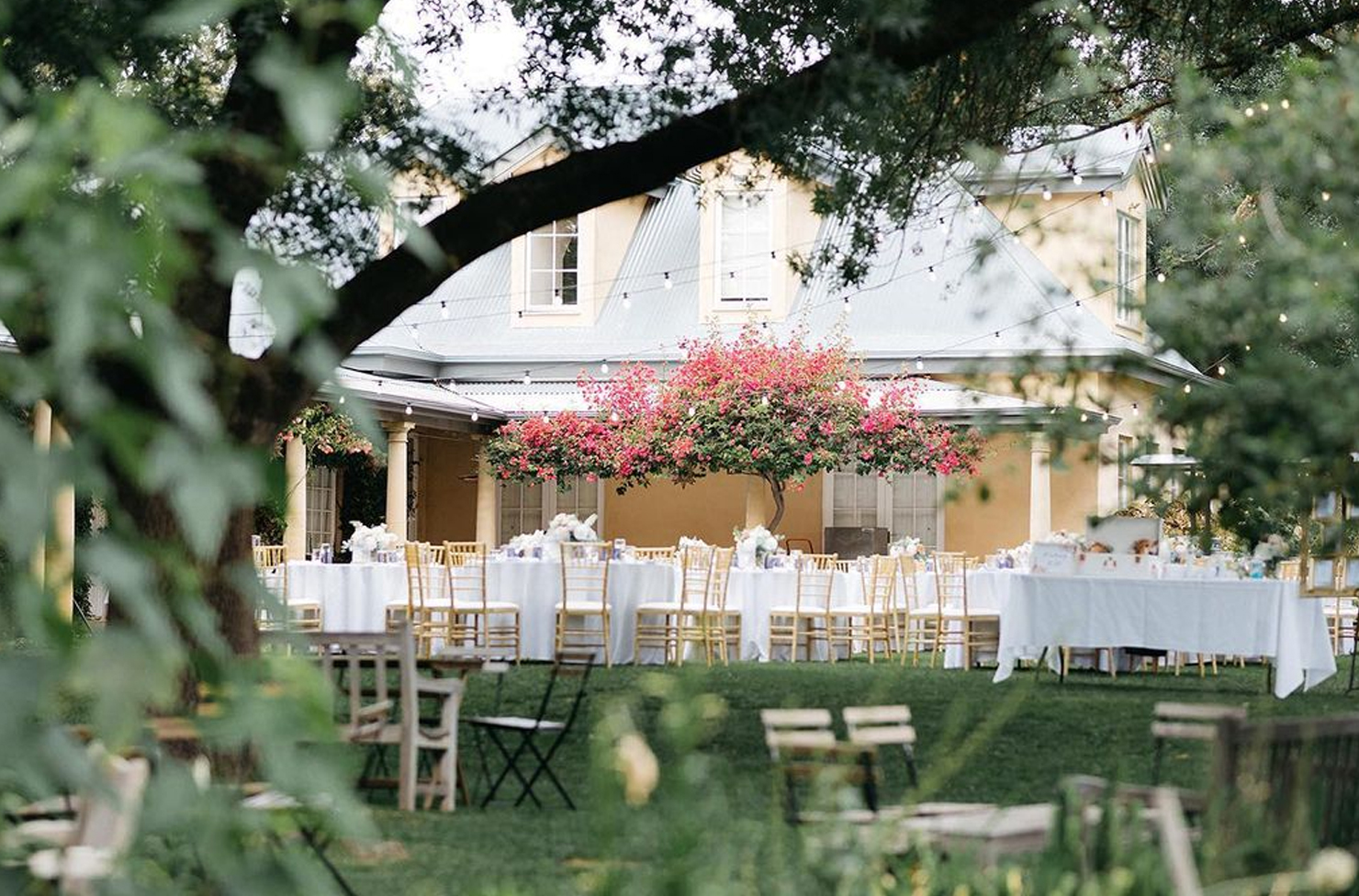 Set upon over 10 acres of sprawling gorgeous gardens, the charming Al Ru Farm offers the perfect picturesque setting for those looking for a whimsical open air wedding just thirty minutes out of Adelaide city. Even better, their team offers all-inclusive packages meaning all of the stress is taken out of planning, and they even offer charming accommodation for up to 30 people, meaning all of your bridal party can stay on site. Book the venue here.
Adelaide Botanic Gardens
You may be surprised to know that you can hold both your ceremony and reception all within the luscious confines of Adelaide Botanic Gardens, with a range of options meaning they can cater for the smallest to the most rambunctious of celebrations. It doesn't get much more lovely than sharing your vows amongst one of the city's most adored landmarks, so why not lock in a balmy Summer day and send out those save the dates? Book the venue here.
Comida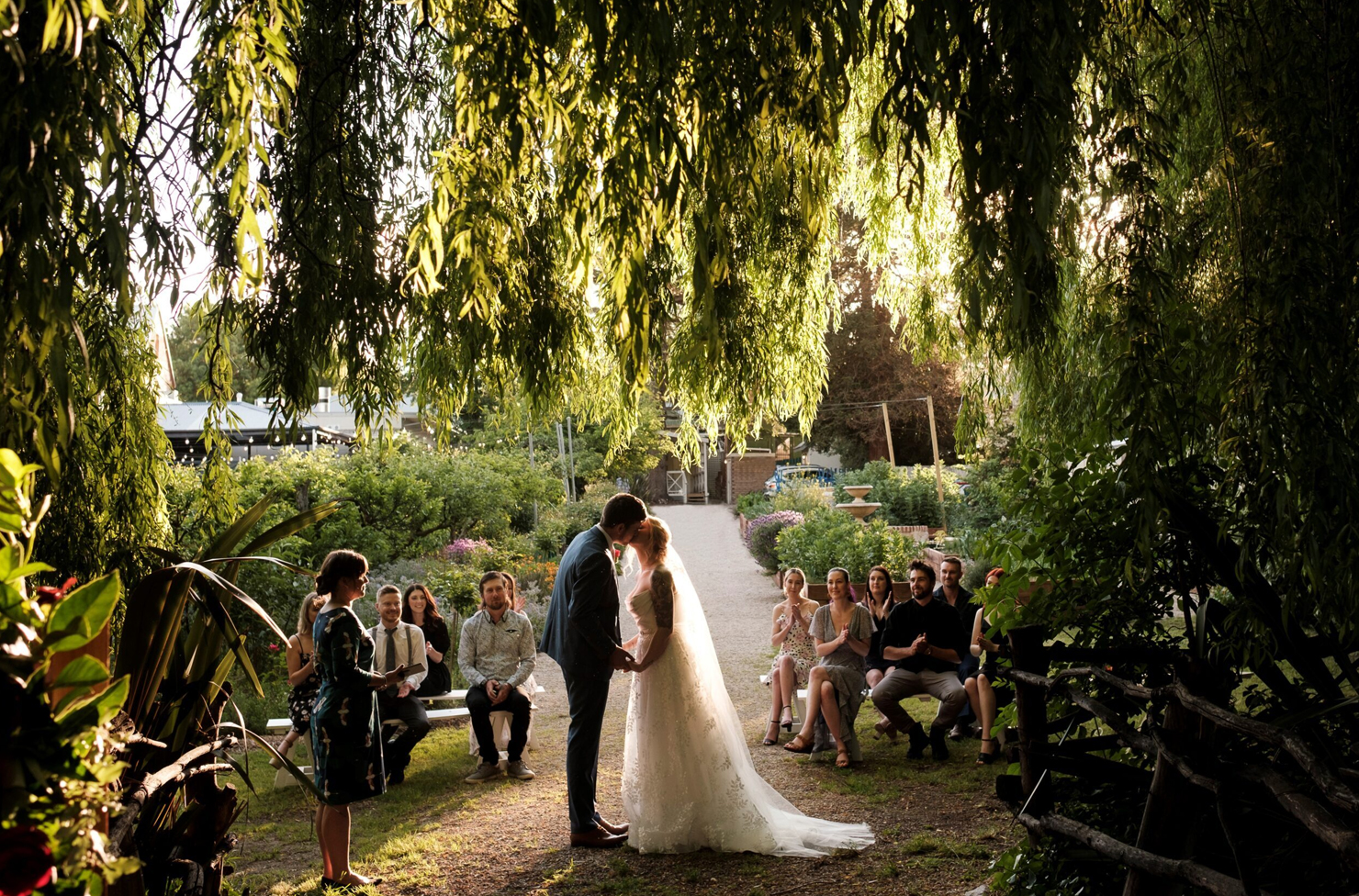 This fun Spanish restaurant and event space is a genius option for those looking to ditch the traditional function rooms, with a beautiful outdoor garden space where you can celebrate amongst the fruit trees and twinkling festoon lights. Seating between 10 and 250 guests, the best part of this place is they don't charge any hire fee meaning you can spend those extra dollars on other special touches without breaking the bank. And with some delicious menus to suit whatever vibe you're after, you'll be well-fed and ready to fiesta. Book the venue here.
Paxton Wines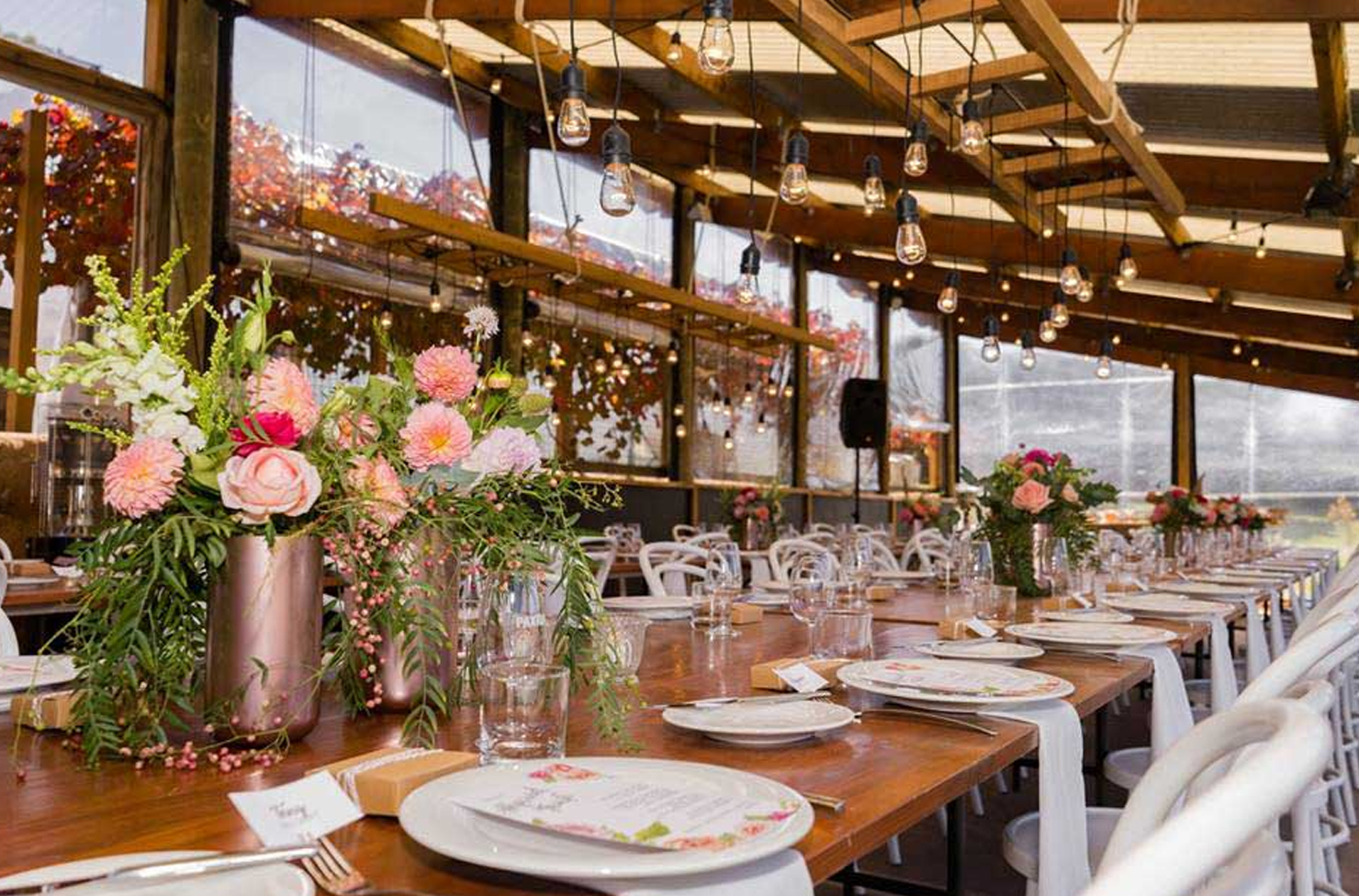 It doesn't get more luxe than the unparalleled winding fields of Paxton Wines set alongside their gorgeous original 1850s brick hut cellar door. Get married in the open air in their spectacular lawn areas, and then spend the night dancing the night away under the star-lit skies of McLaren Vale or hire out a marquee in those cooler months to keep your guests toasty and warm. Book the venue here.
The Best Cheap Wedding Venues In Adelaide
The Dinghy Shed
This bright quirky spot ideal for aquatic lovers sits pretty on the Outer Harbour, overlooking the sparkling waters of the marina boasting views that are hard to beat. We love the laid back atmosphere of this cosy corner of the world, with its technicolour locker area fabulous for pics and umbrella lined deck area perfect for saying your 'I dos' against the turquoise backdrop. Book the venue here.
TEN22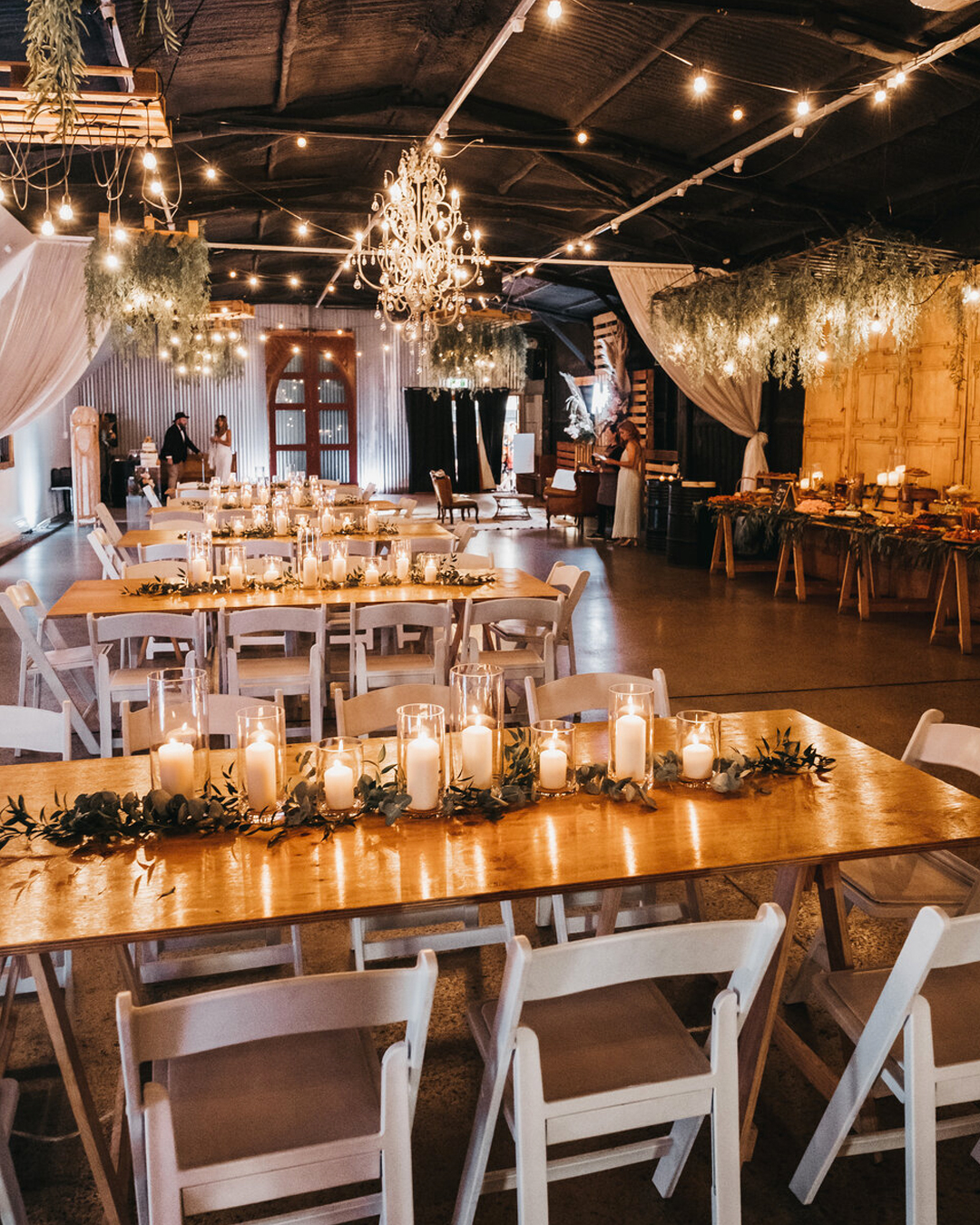 For those modern lovers, TEN22 provides a chic industrial warehouse space where you can let your imagination run rampant in creating whatever sort of festivity you've dreamed of. This lovingly restored warehouse is filled with plenty of light thanks to its high ceilings and is fully decked out with some divine eclectic styling - think vintage French furniture, Italian chandeliers and hallowed cathedral doors to fill your guests with wonder as they enter the space. Even better still is their enchanting fairy-light lit courtyard which is gorgeous for your intimate ceremony, or for a change of scene during cocktail hour. Book the venue here.
Adelaide Town Hall
There's something extremely moving and intimate about a wedding held at Adelaide Town Hall. Built in the 1860s, this quaint heritage- listed building promises plenty of character and charm, with its Victorian-era details and winding marble staircases perfect for getting those dreamy pics, the hall caters to guest lists of any size, meaning you can have that teeny tiny elopement party or invite every second and third cousin fitting upto 1000 people. Book the venue here.
Glenelg Surf Life Saving Club
This simple, unpretentious venue is suited to those laid back beach lovers looking for a brilliant view without all the fuss. Boasting unparalleled oceanfront views of Glenelg Beach, this much-adored Surf Living Saving Club is an affordable choice that provides a couple of excellent spaces to fit your specific style and guest list. There are few places more glorious to watch the sunset over the horizon in our books. Book the venue here.
The Best Reception Venues In Adelaide
Published Arthouse
Art aficionados and street artists, you're going to love this place. Published Arthouse is a huge converted warehouse that has turned every inch of wallspace into a modern work of art, promising you some seriously 'gram worthy ceremony pics. With plenty of space and holding upto 300 guests, many couples opt to feed their crew via some of the city's coolest food trucks, or you can of course lay out some long tables and source some brilliant catering. Either way, it's a venue people will never forget. Book the venue here.
State Library Of South Australia
For all of our literary lovers, this one's for you. We can't think of a more magical place to wed than amongst all of the love letters and love stories of Shakespeare, Keats and all of the other timeless hopeless romantics. Nestled amongst endless art, culture and enviable architecture, the State Library building is an ode to all things opulent and promises to wow your guests. Book the venue here.
Adelaide Pavilion
For couples after a sleek more traditional event space, Adelaide Pavilion offers plenty of sophistication and a blank canvas meaning you can style your day from the ground up. With decades of experience in catering to even the biggest of bridezillas, you can rest easy knowing that the fabulous team will be ready to help you with every fine detail to ensure that every element of your reception is impressive and memorable. Book the venue here.
Mitolo Wines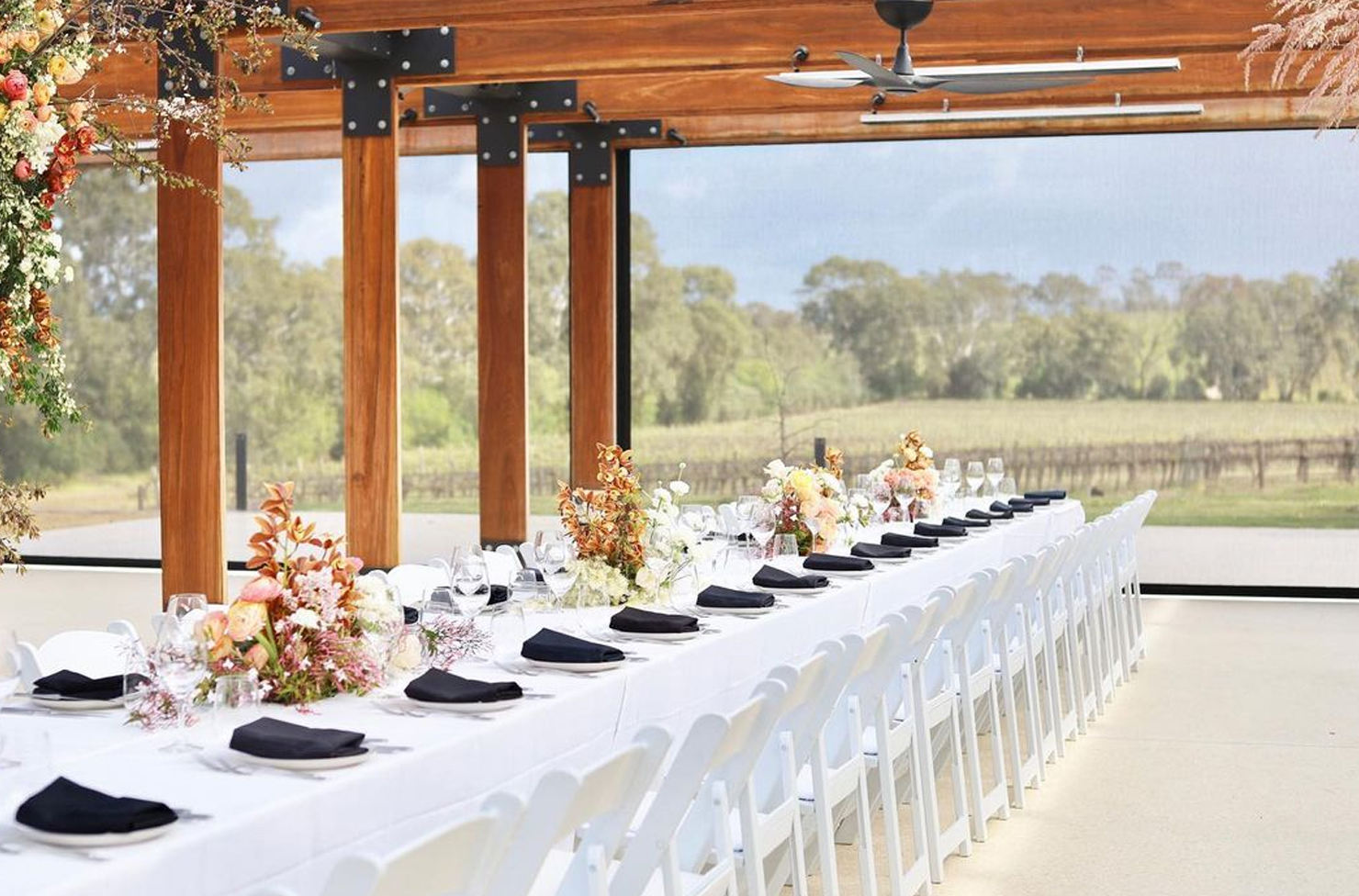 Truth be told, we're a little obsessed with this family-owned winery, and it will only take you a quick scroll through their socials to see why. Oozing luxury and genius around fine wine and food, Mitolo Wines is incredibly detail-oriented meaning that every morsel, cocktail and place setting will be stunning, alongside their sweeping views out to the winding vineyards and beautiful historical Willunga Ranges. Book the venue here.
The Best Small Wedding Venues In Adelaide
The Lane Vineyard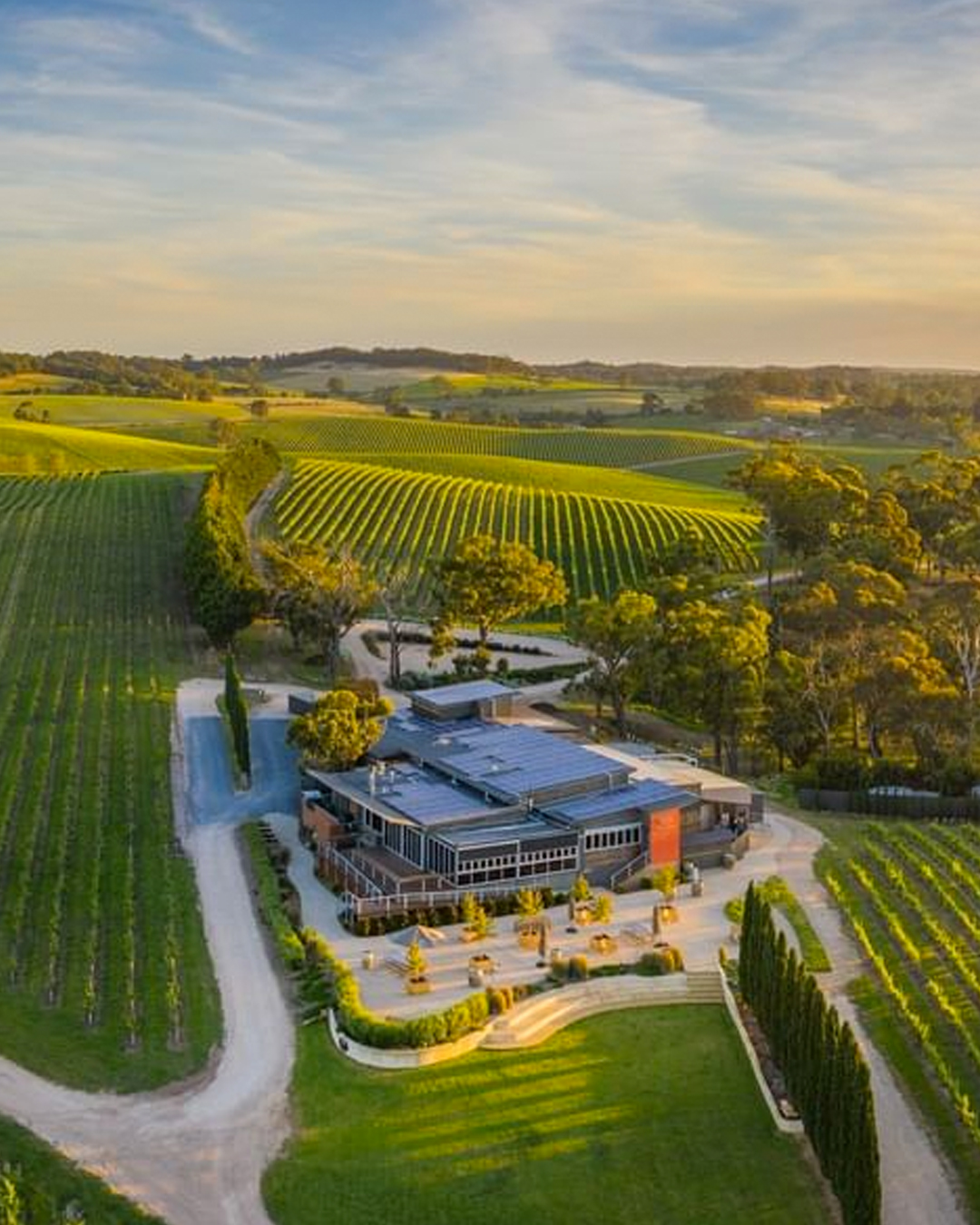 The Lane has somehow managed to strike just the right balance between sophistication and rustic elegance, perched above the rolling hills creating the most divine setting for your guests to sip champagne out on their deck overlooking the neverending greenery. The friendly team are dedicated experts in event planning, meaning you can palm off all of the fuss to them and know that you're in excellent hands. With a gorgeous glimmering lake, we recommend you head there around sunset to snap some stunning pics that you'll cherish forever. Book the venue here.
Popeye Boat
For those wanting to shake things up for their big day, why not ditch land and head for the seas with Popeye, the Torrens River Cruiser? Grab your closest people and hop aboard to soak up all the sunshine and shoreline while you celebrate your love in the coolest way! With some easy packages to ensure everything is taken care of, all you'll need to do is pick out some favourite vinos to bring, find some yummy things to graze, and get ready to sail into your future right beside your favourite person. Book the venue here.
Seppeltsfield Winery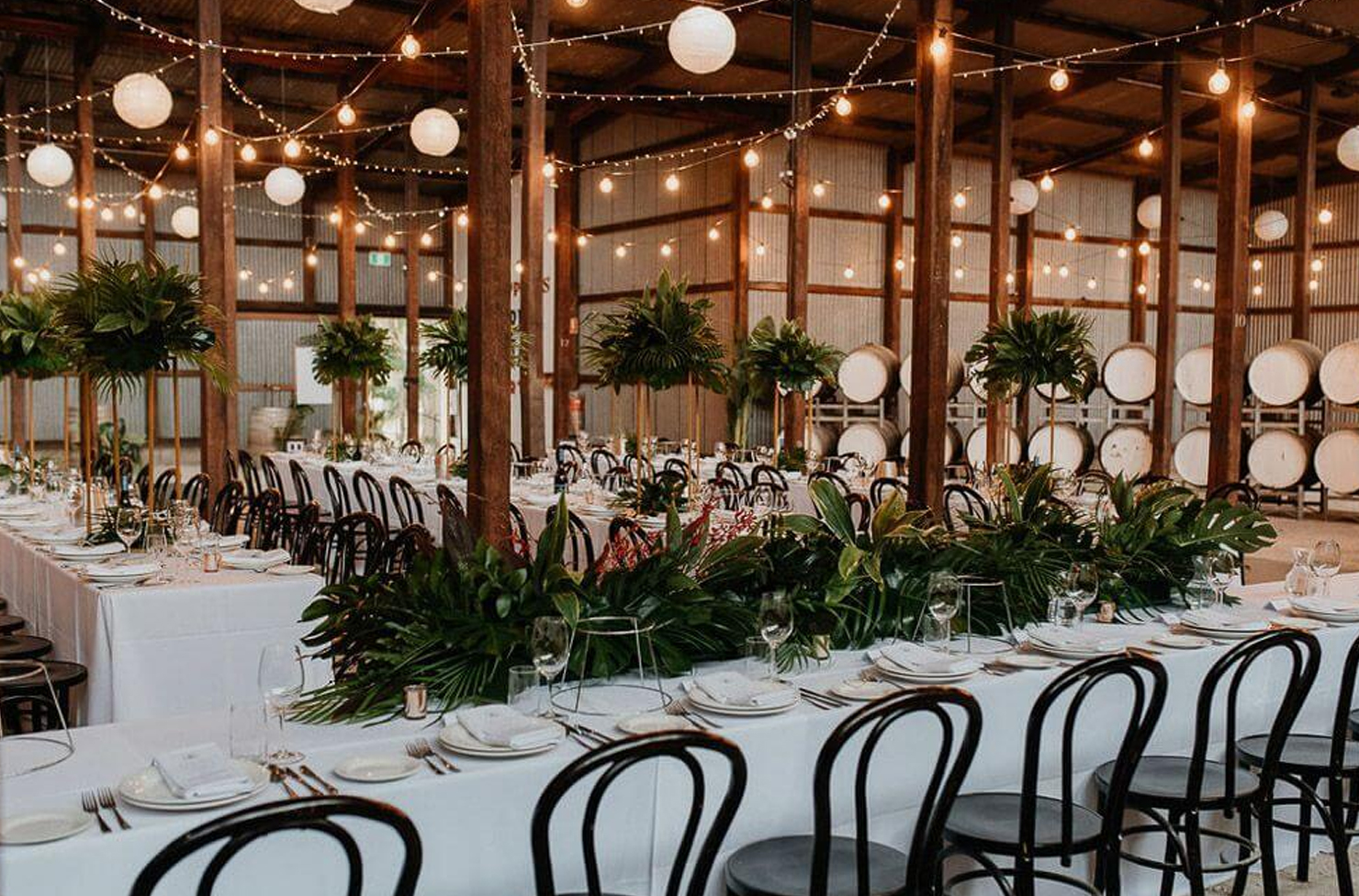 We can't help but think a little of Alice in Wonderland when we visit this glorious luscious winery; with its climbing vines, immaculate rose gardens and vintage barrel cellars, your guests will be transported into another world with their choice of incredibly intimate and timeless spaces that feel private and slightly European. Boasting a multi-award winning kitchen team, and some pretty sensational wines, Seppeltsfield Winery will create the most gorgeous backdrop for your big day. Book the venue here.
Inglewood Inn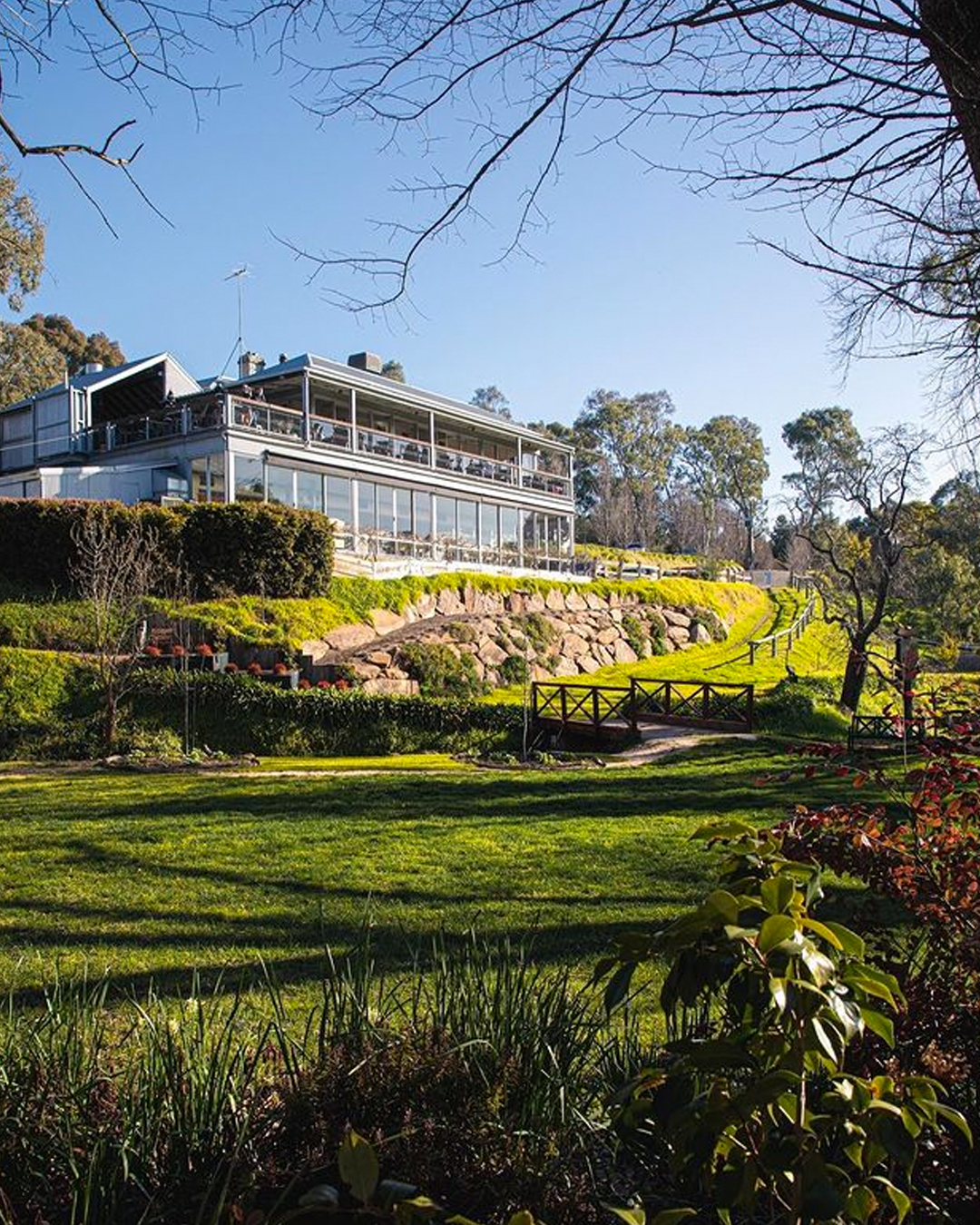 Perched between the Adelaide Hills and picturesque Para River lies the beloved Inglewood Inn, another quaint spot established over 160 years ago perfect for those looking to find a little piece of the country not far from the city. You'll fall in love with their bright airy function space with its floor to ceiling windows offering the most stunning vista out to the treetops, streams and secret walkways that you can explore with your new husband or wife for a minute away from the chaos after the formalities are finished. Book the venue here.
Thinking of heading more south? These are the best wedding venues in Hobart.
Image credit: @hannahbenwellphotography , Comida, Paxton Wines, Ten22, Mitolo Wines, The Lane Vineyard, Seppeltsfield Winery, Inglewood Inn