We reckon one of the biggest silver linings to overseas travel effectively being cancelled has been the chance to finally put those hard-earned savings into Aussie travel. Our stunning backyard is bursting with 'gram-worthy locations that rival anything we've seen OS.
One such location is stunning Fraser Island/K'gari located off the coast of Queensland. Just a three and a half-hour drive from Brisbane and a pretty, 50-minute ferry ride and you'll find yourself in absolute paradise.
But because there's a lot of this great country to see and annual leave usually has a limit, we've created the ultimate weekend guide for first-timers so you can soak up as much Fraser Island/K'gari goodness as possible.
Take note wanderlust-seekers, here's how to have a baller weekend on Fraser Island/K'gari.
Saturday
6:45am
You'll want to make the most of your weekend, so rise and shine early and jump on the very first Kingfisher Bay Ferry that departs from River Heads (20 minutes south of Hervey Bay) at 6:45am. A return walk on ticket (so, sans car) will set you back $60. If you want to take your wheels with you (4WDs are really the only option worth taking) prices range from $100 to $275 return. To wake you up, grab a coffee and baked treat from the onboard cafe.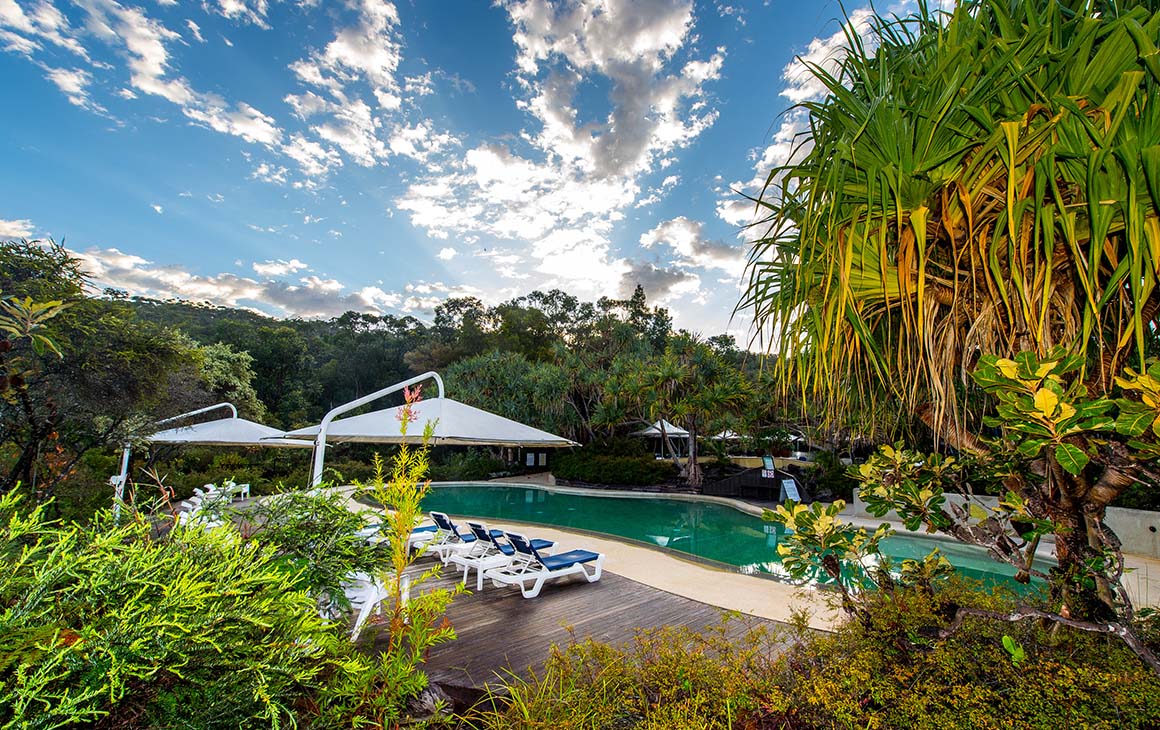 8am
Once you've picked your jaw up off the sand—that sparkling azure water is pretty mesmerising—jump on the awaiting train and head to Kingfisher Bay Resort where you'll be resting your head for the next few nights. The stunning, open plan resort makes the most of its gorgeous surroundings with greenery, wetlands and native flora and fauna in abundance. You'll get to soak it up later, right now you've got places to be.
8:30am
Head back down to the jetty for a ranger-guided canoe paddle. The rangers on the island are super knowledgeable so as you paddle out from the jetty to gorgeous Dundonga Creek, you'll learn all about the mangroves and native wildlife. Over the course of an hour, you can spot everything from rays and turtles to dolphins and even dugongs if you're lucky.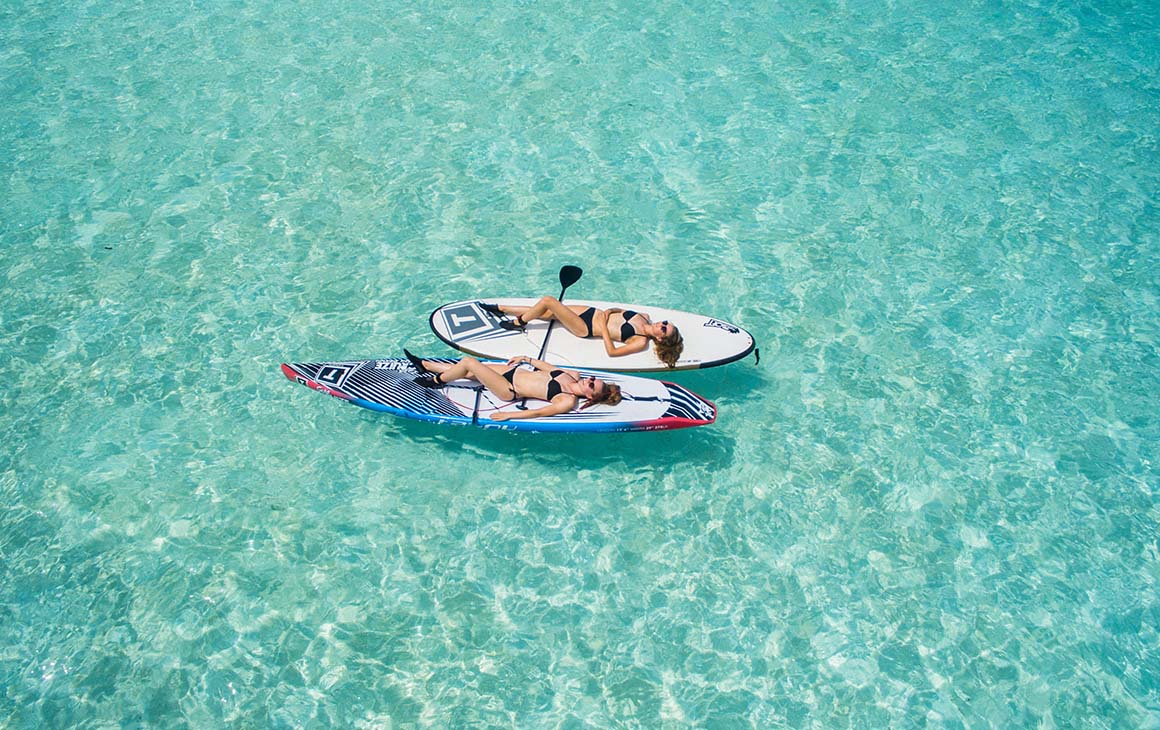 10am
After that hard yakka, it's time to bliss out by Kingfisher's pools (thats right, plural). Grab a sun lounger, a good book and a mimosa (you're on holidays after all) and soak up those blissful island vibes.
12pm
It's time to venture out and feed your rumbling belly. While there's a handful of spots to dine at around the island, today you're going to make tracks to Sand Bar. Perched just a short stroll from the beach, this vibing spot is tucked amongst the greenery and serves a seriously drool-worthy chicken parmigiana (among other pub classics). Wash that down with an ice-cold beverage, challenge your mates to a round or two at the attached arcade and top it all off by cooling down with a dip in the restaurant's pool. Yep you read that right. This is living, Barry!
2pm
Because you'll have a full belly, we're not going to suggest a walk, but you do need to explore more of this island's great outdoors, so why not do it on two wheels? We're talking about segways people. And no, you don't have to super fit or a pro to work these things. They have balancing technology built in, plus you'll have an awesome ranger to help to learn the basics, before taking you on a tour along the sand where you'll learn about the traditional custodians of the land, the Butchulla People, and the environment you're holidaying on. Trust us, you'll be absolutely hooked by the end and won't want to get off.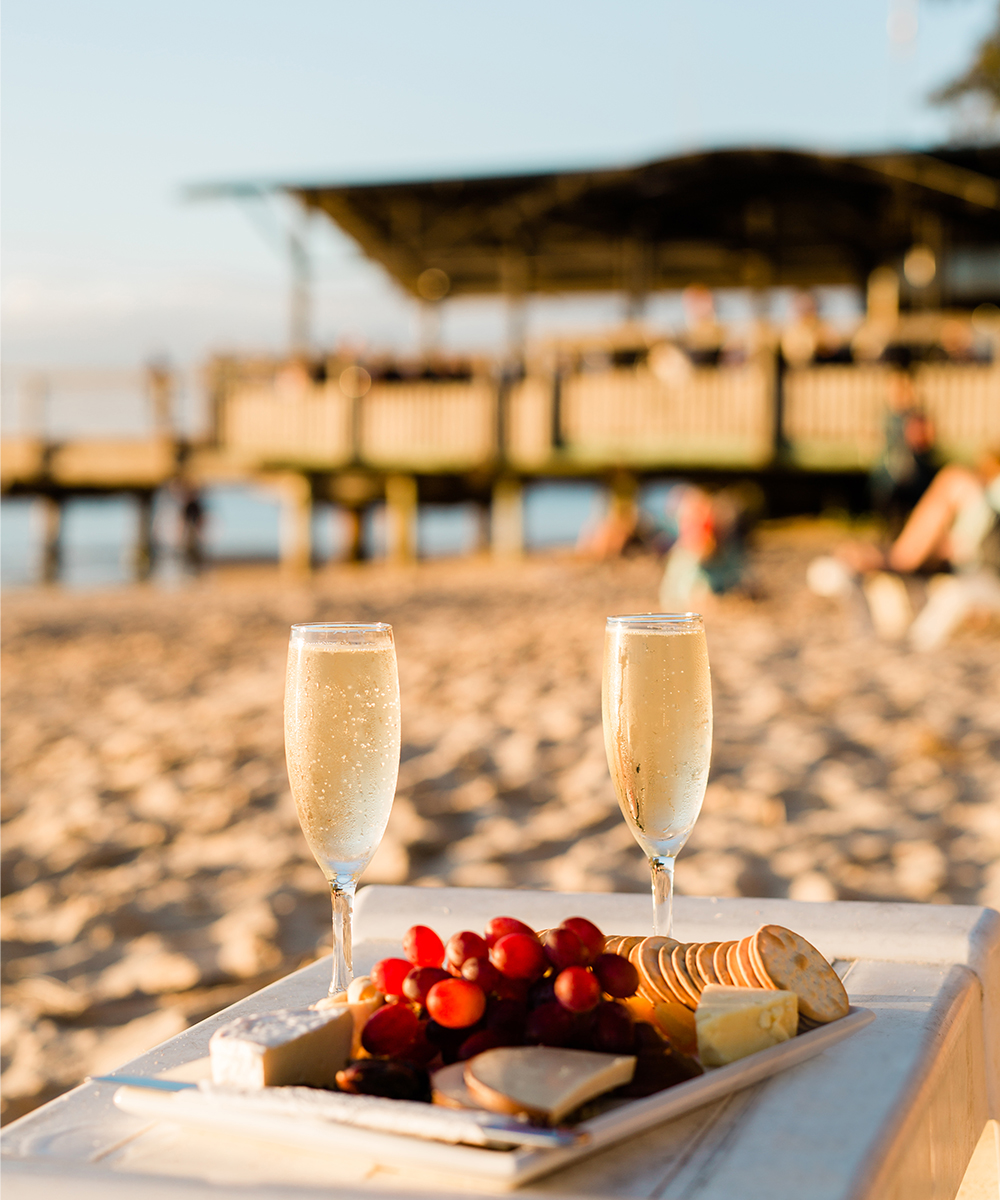 3:30pm
The hour long tour, conveniently finishes up right next to the Sunset Bar. Grab an espresso martini on tap, or a refreshing cider slushie and sink into a bean bag on the sand. With music floating down from the bar setting off the ultimate relaxation mood, you'll feel like you're in Thailand or Bali—but better! If you get peckish, we do recommend grabbing one of their tasty cheese boards to nibble on.
5pm
Sunsets on Fraser Island/K'gari are some of the best in the world and we reckon they're even better when witnessed while on the water. Climb aboard the West Coast Explorer for their famous Sunset Sessions. With a glass of bubbles or beer in hand, you'll set out across the Great Sandy Strait and bask in the island's iconic golden glow as the sun dips below the horizon.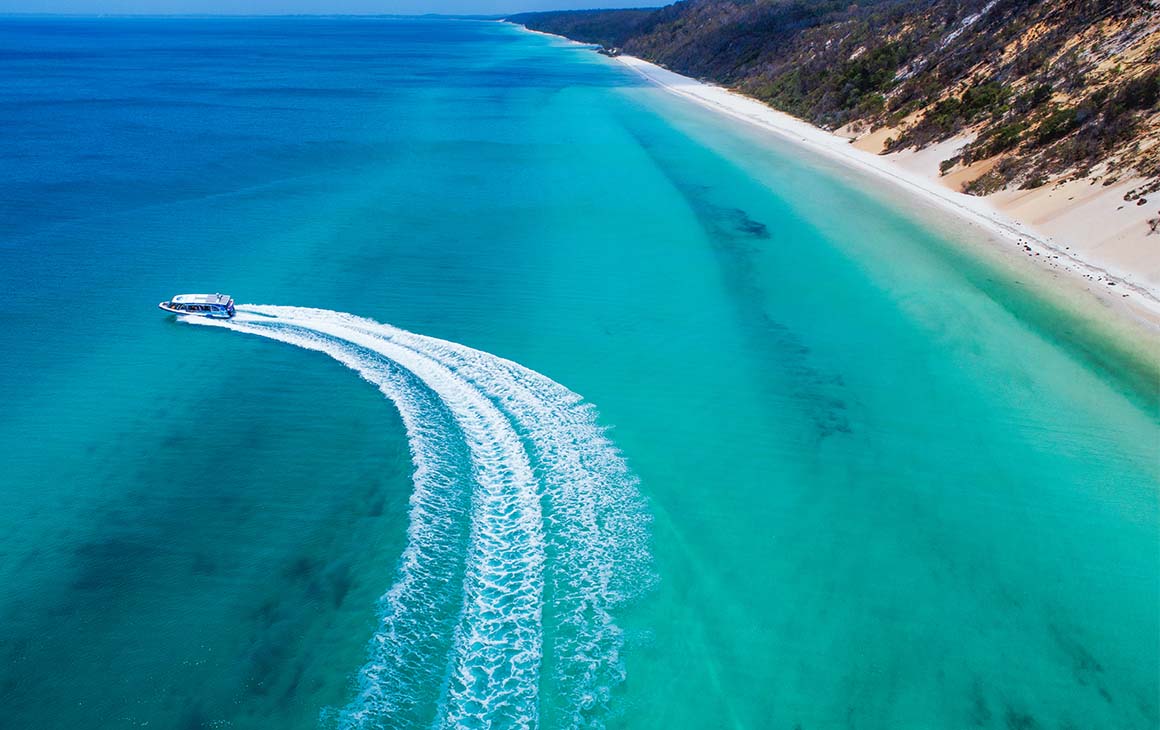 7pm
Wash off the salty sand and don your best 'holiday outfit' (everyone has one) and head to Kingfisher Resort's fine dining restaurant, Seabelle, for dinner. Here it's all about celebrating the flavours of native K'gari with an array of bush tucker-infused dishes. Think paperbark wrapped north Queensland barramundi with macadamia nuts, lemon aspen, wild lime and munthary berries.
Sunday
7am
Fuel up on coffee, eggs and pastries from Sand & Wood, Kingfisher's casual dining spot, because you have a huge day ahead of you.
8am
Because your time on K'gari is limited, you want to cover as much of the world's largest sand island as possible and you can do that with the Beauty Spots Tour. It will set you back $239 per person but it's worth every penny for the incredible all-day journey you're about to have. If you're really lucky you'll score the ranger we had, Butch, who's love of K'gari was evident in the way he explained the island's heritage and rich culture. The best bit though? You get to soar over sand dunes in a minibus/4WD hybrid that leaves the other cars in its dust. Lunch and a very special afternoon tea is also included. Below is a snapshot of what you'll get to do although depending on weather conditions and your ranger, it might not be in this order.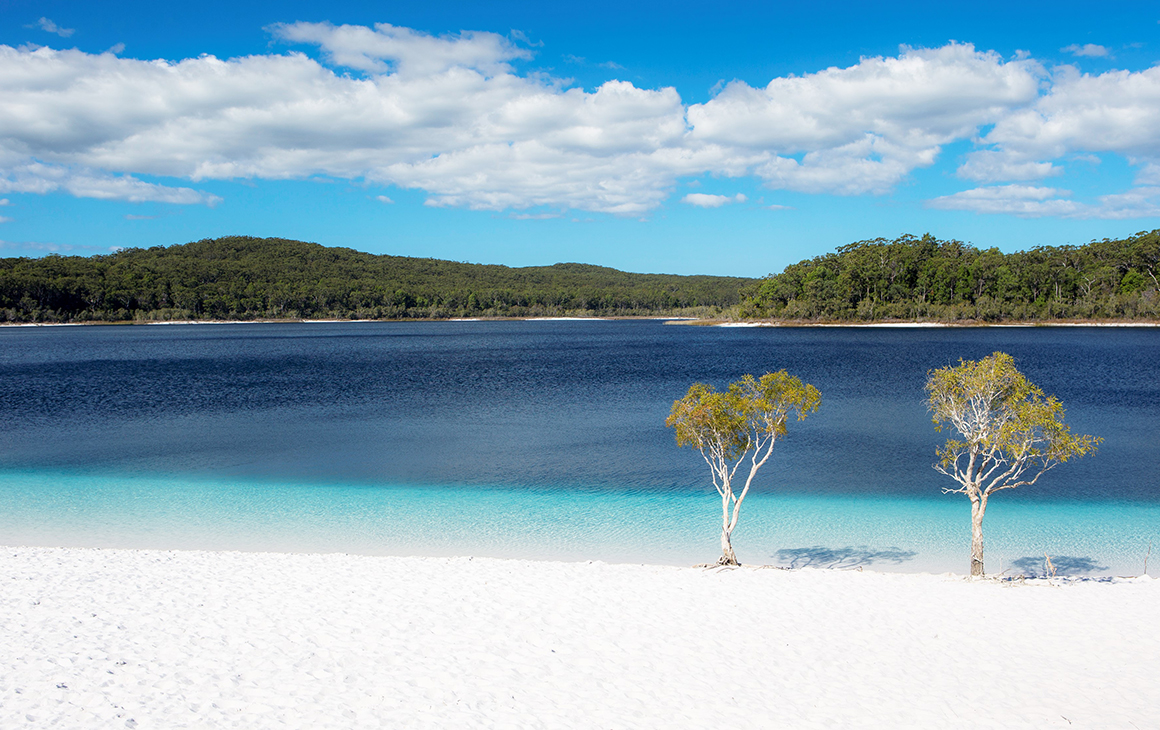 Lake McKenzie
This is the famous spot you've seen splashed all over the 'gram. Think sugar-white sands and aquamarine water that's fed entirely by rainwater (no springs, no rivers, no connection to the outside world). On a calm day, the surface is like a mirror, reflecting the surrounding bush and the sky above. Pro tip: while you will see people swimming there, it's actually a sacred spot for the Butchella People so we recommend sinking into the sand and soaking up the beauty but not getting wet.

Pile Valley's Satinay And Brush Box Forests
It might sound weird to get excited about a tree, but K'gari is home to one of the world's biggest populations of satinay and today you'll get the chance to get up close and personal to them. These guys grow to 40 metres high, 1000 years old, and a bunch of your mates would struggle to join hands around the trunk. If you're really lucky you'll get a chance to have your afternoon tea here and snap a tree-hugging pic.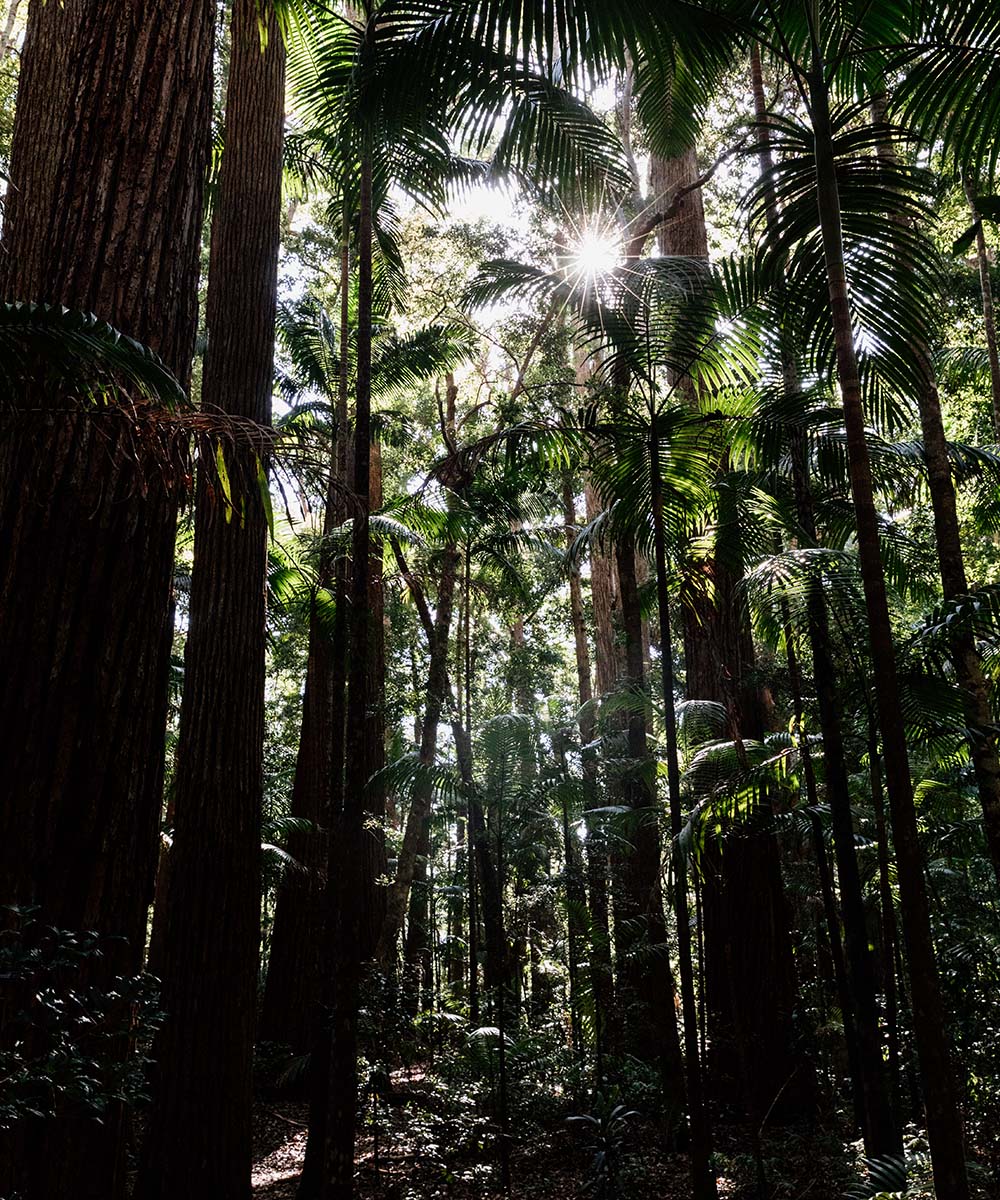 75 Mile Beach
There's nothing quite like hitting the open beach and speeding around on four wheels. You'll get the chance to zip up and down this famous and stunning beach from the comfort of your tour bus watching the waves crash into golden sand.
Maheno Shipwreck
This giant, rusting hulk washed up on K'gari's eastern beach in 1935 and looks like something straight out of a film set. Pro tip: Keep an eye peeled for migrating humpback whales in the ocean too—they pass right by here between August and November.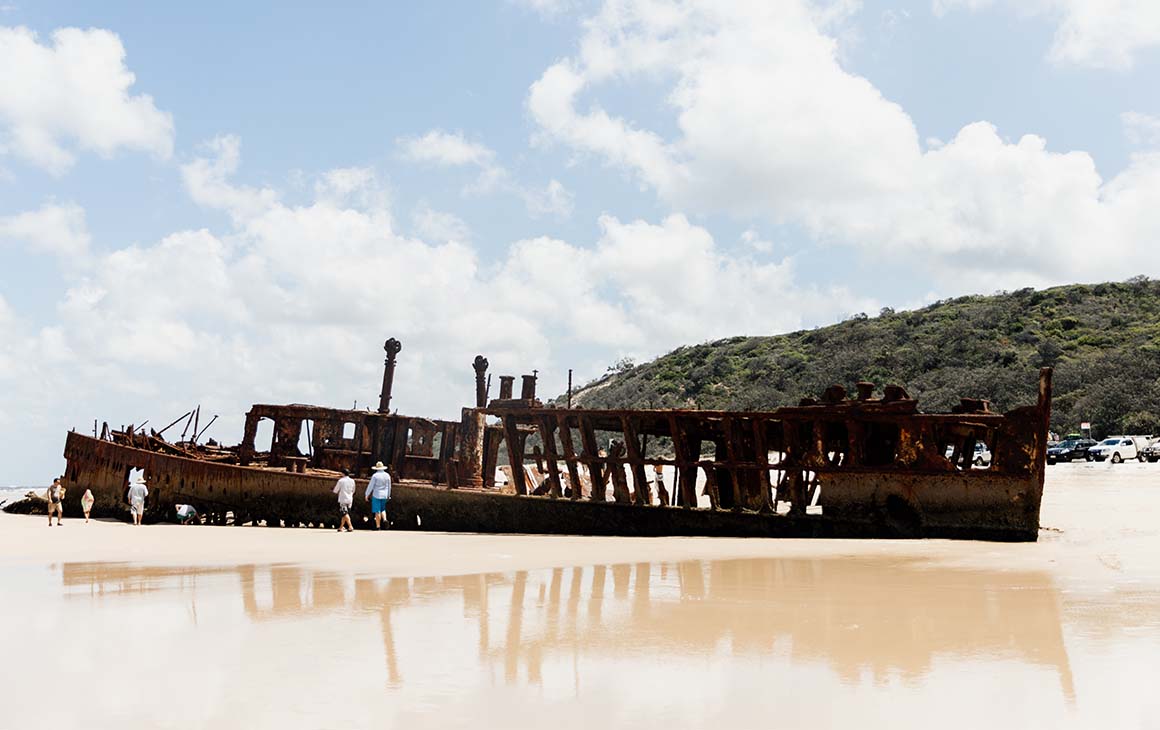 Eli Creek
You'll spot the people—or rather the convoy of 4WDs parked out the front setting up tents and grilling snags—before you see Eli Creek but as the largest freshwater creek on the eastern beach, there's plenty of room for everyone. Chuck on your swimmers and follow the boardwalk deep into the bush. Eventually it stops at the creek mouth where you can head in and blissfully float all the way back to the beach, carried along on gentle currents, drifting past banksia and pandanus palms. Pro tip: BYO floating device.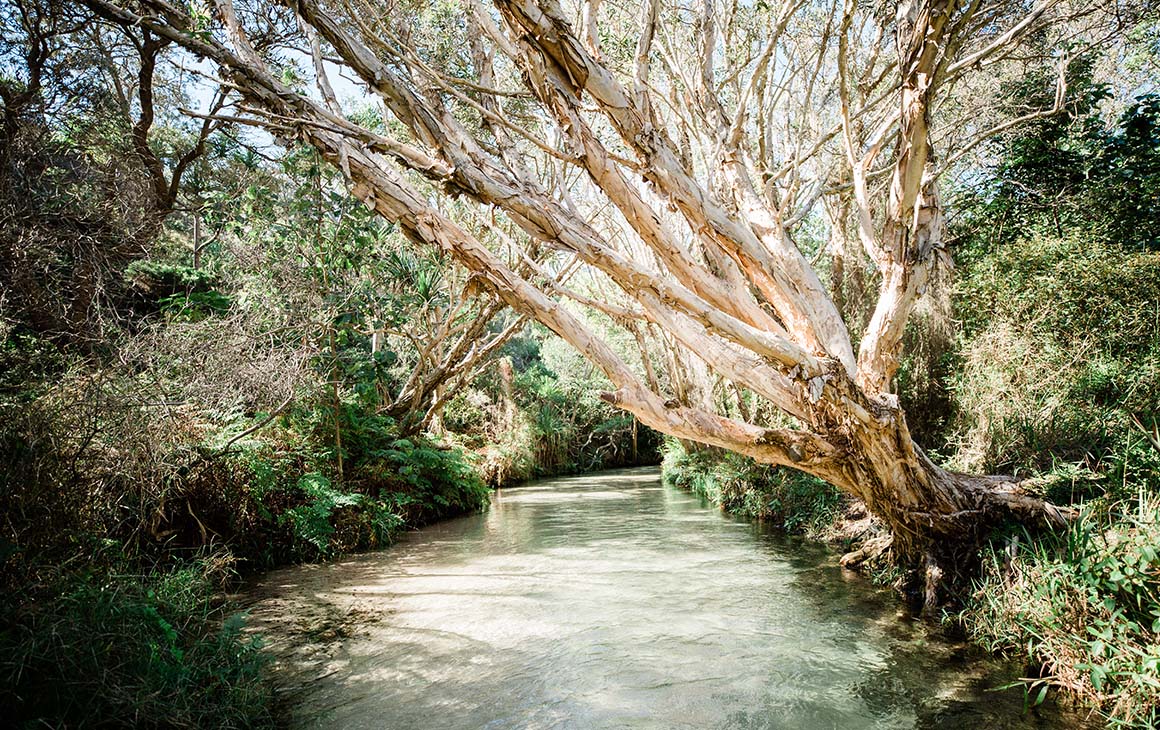 5pm
You're probably feeling a little exhausted after your big day of trekking across the island. Catch the last rays of the day back down at Sunset Bar, cocktail in hand.
7pm
Head to Sand & Wood for dinner and another bevvy because you deserve it dammit. The menu here is vast, you can tuck into juicy pork belly with ginger and apple puree or melt-in-your-mouth braised beef cheeks with merlot pan reduction. But above all else, make sure you save room for their signature dessert, the Fraser Coffee Rock. Inspired by the island's ancient Coffee Rock formations, it's a tasty concoction of double chocolate ice cream, chocolate soil, honeycomb and a dash of Baileys. Yep, now it's well and truly time to roll back to your room ahead of your early ferry home tomorrow.
If you have some more time up your sleeve, check out this epic guide to nearby Rainbow Beach.
Image Credit: Kirra Smith Photography, Ishan/Unsplash, Chris McLennan, Cameron Zegers, Mark Seabury