Home to famous walled cities steeped in history, pristine beaches, and islands where the only thing on your to-do list is party—Croatia is the ultimate holiday destination no matter your vibe. Which is why we've teamed up with our mates at Qatar Airways to curate the ultimate travel itineraries for your next well-earned vacay.
Not sure which part of this beautiful country to explore first? No worries, we've picked four of the coolest cities in Croatia to holiday at so all you have to do is fire up the group chat and start booking.
Dubrovnik
Looking like something straight out of Game of Thrones because well… it was filmed there, Dubrovnik is an enchanting seaside fortress. A UNESCO World Heritage site since 1979, this magical city needs to be seen IRL to be believed. Perched on the edge of the Adriatic Sea, you'll want to base yourself in Dubrovnik's Old Town, encircled in towering stone walls. Soak up Dubrovnik's rich history with a walk along the city walls which run 20 metres high and are 1940 metres long. Take the walk at your own pace, admiring the sea of terracotta rooftops and sweeping views of the Dalmation Coast. Pro tip: if you're visiting in summer aim for first thing in the morning or late afternoon.
The best thing you can do in the Old Town is to simply get lost in the labyrinth of stone streets and alleyways. Around each corner you'll find boutique shops, restaurants and quaint cafes. For a truly special meal, head to 360, a Michelin star restaurant sitting atop the old port. Keen for a cocktail? Bard Bar and Buža II are our faves. Etched into the outer city wall, hugging a cliff face, this is truly a bucket list experience. Pre or post tipple, at Bard Bar you can even take a set of winding stairs down to sea for a dive into the ocean. More of a beach-goer? Venture just beyond the walls and you'll find gorgeous stretches of sparkling aqua coastline. Pay a few euros to secure a sun lounger and umbrella and sip cocktails by the seaside. Banje is a pretty spot closest to the Old Town and often features a live DJ. Wander just 20 minutes further afield along tree-lined streets and you'll find Sveti Jakov—a local fave that will take your breath away.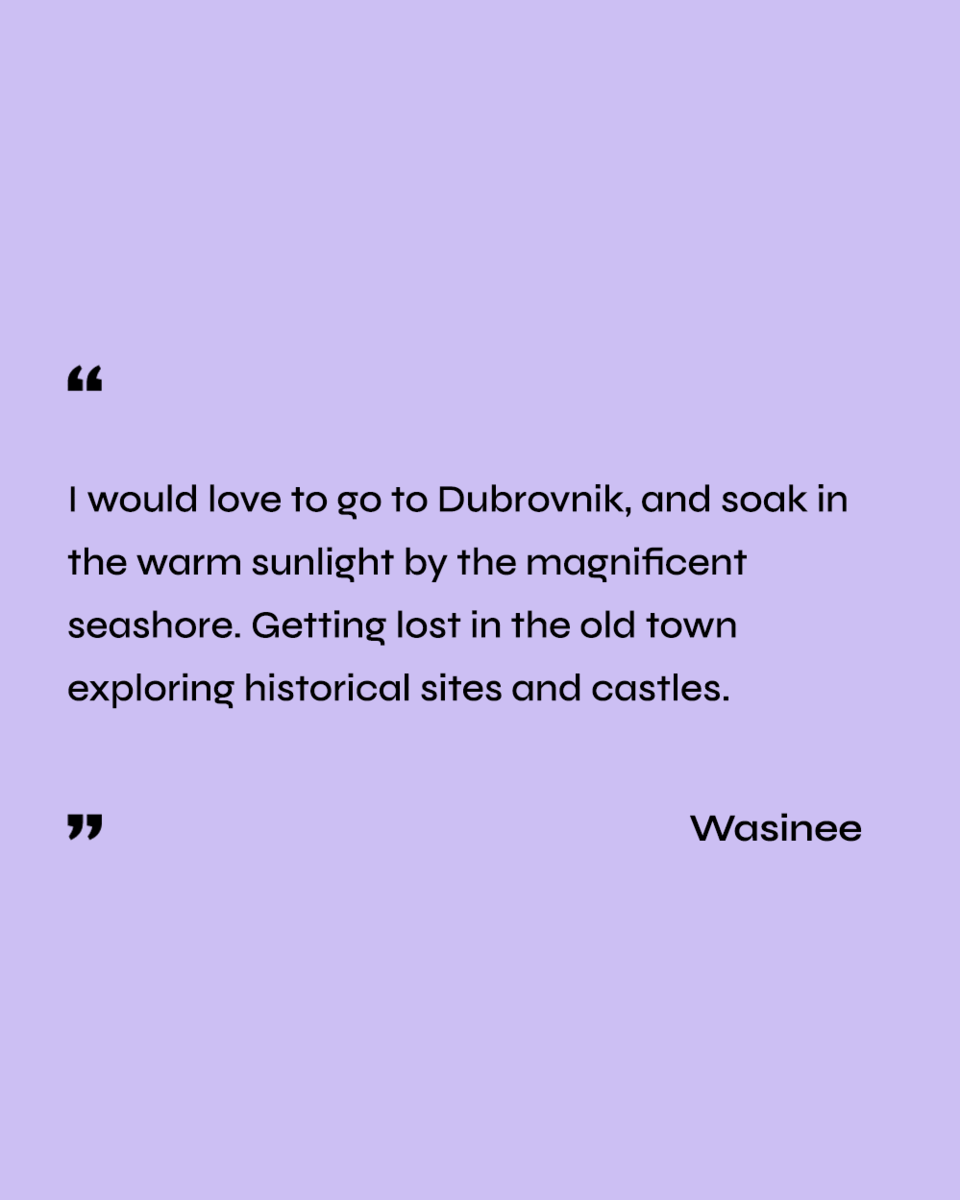 Split
If Dubrovnik is the city of stone, Split is a marbled oasis. Think: a maze of Mediaeval archways and winding marble passageways opening up to squares buzzing with bars, restaurants and music. Kick off your visit with a leisurely stroll around Split's open-air food market. A local institution, it runs 24 hours a day. No, that's not a typo. Come any time of the day to find incredible aromas wafting through the stalls offering up fresh fruit and veg, cheese, baked treats and seafood. Come with an empty bag, stock up on snacks and make your way to Bačvice beach, just a 10-minute stroll away. There you'll find a crescent moon strip of golden sand and sparkling water. Post dip you can bar hop your way along the coastline which is lined with bars, restaurants and nightclubs.
Back in Split's centre, make sure you wander around the stunning ​​Diocletian Palace (it's free), meander through the market stalls in the palace basement and climb to the top of Cathedral of Saint Domnius. Sure it's a bit of a hike but the views are absolutely worth it. Foodies will be pleased to know the culinary scene in Split is booming. Head to Bokeria Kitchen & Wine for fresh seafood and modern twists on old classics; Fife for people watching and tasty, wallet-friendly eats and Konoba Kod Joze, a Split institution serving Croatian dishes for over three decades. If you want to keep the good vibes going after dinner, check out Split's pumping nightclubs. We love Vanilla Nightclub (it has a giant pool in the middle of it) and Zenta, a two-storey club frequented by locals. Finally, while it's not actually located within Split, if you are vacaying here, you simply must make your way to Krka National Park to float in Croatia's famous Skradinski Buk waterfall. It's only an hour's drive (there are loads of day tours running from Split) and it's absolutely dreamy.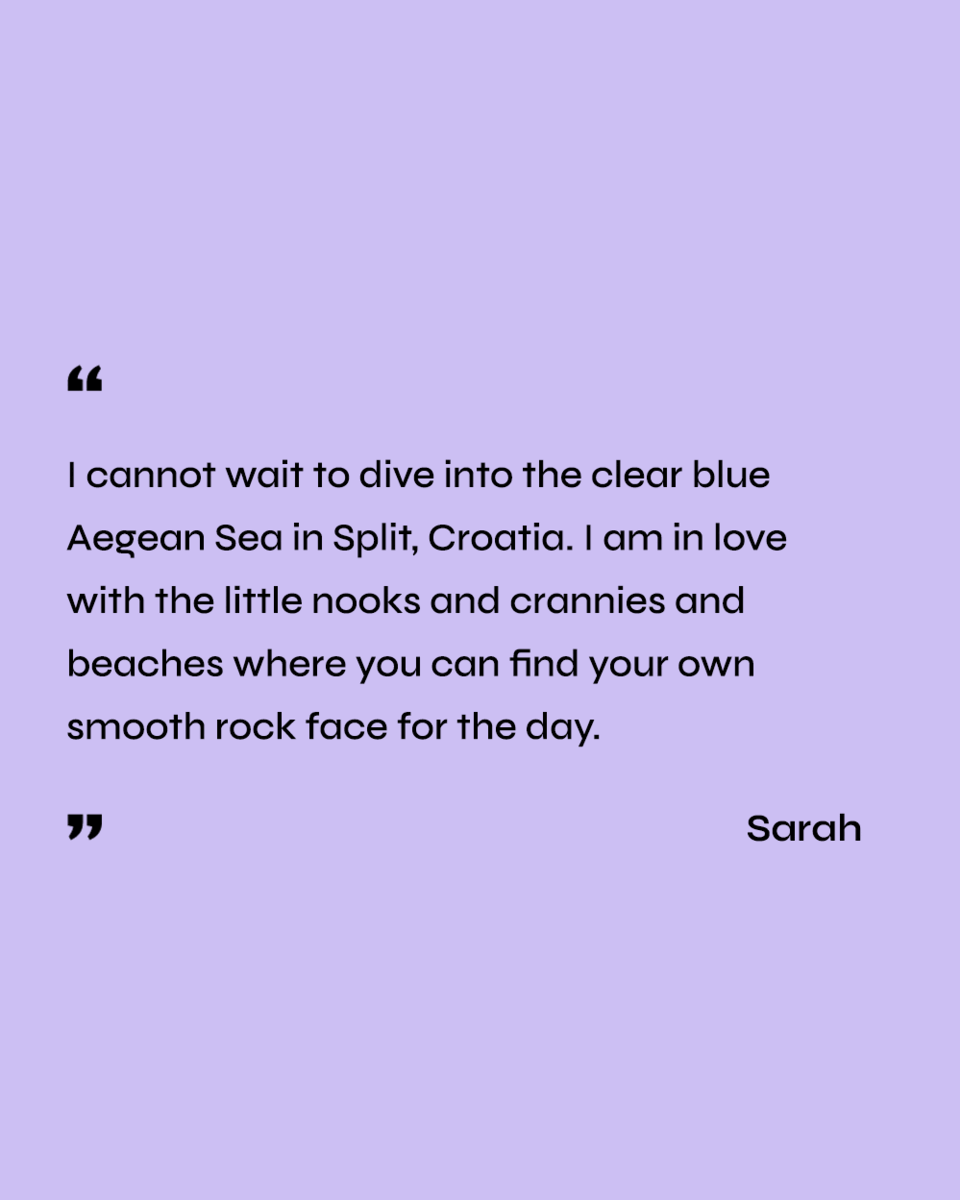 Zagreb
While Croatia is best known for its coastline, head further inland and you'll discover jaw-dropping natural beauty and a city steeped in history and culture. Yep, we're talking about the country's capital—Zagreb — and you can get there in a flash with Qatar Airways direct flights via Doha. Often overlooked, this stunner needs to go on your must-visit list for something a little bit different. Located on the slopes of Medvednica Hill, the city centre is a tale of two halves. In the Upper Town you'll find orante domes, cobblestone walkways, old church spires (St Mark's is captivating) and red-roofed buildings. In Lower Town, you'll be mesmerised by a mix of architecture including neo-baroque and art deco woven amongst vibrant street art. Pro tip: carve out an afternoon of zero plans and just wander between the two towns—you won't regret it.
Little known fact? Zagreb is packed with seriously cool contemporary art. Case in point—The Museum of Broken Relationships. Inside you'll find moving stories told by hundreds of personal belongings of past lovers and brokenhearted humans from all over the world (pack tissues). And you have to visit the Museum of Contemporary Art. Featuring incredible though-provoking and edgy artwork, there's a packed schedule of film, theatre and performances happening all year long so you'll never get bored with a visit here. Even better? In summer they host concerts on the rooftop. Foodies will want to spend a morning roaming around Dolac Market. The best way to experience local life, the open-air market is the place to be. Farmers from all over the region come here to sell their fresh fruit, veggies, cheese and meat. Take your edible treasures to nearby Zrinjevac Square, awash with vibrant flowers, pop-up cafes and stalls and an ornate music pavilion from 1891—name a better picnic backdrop?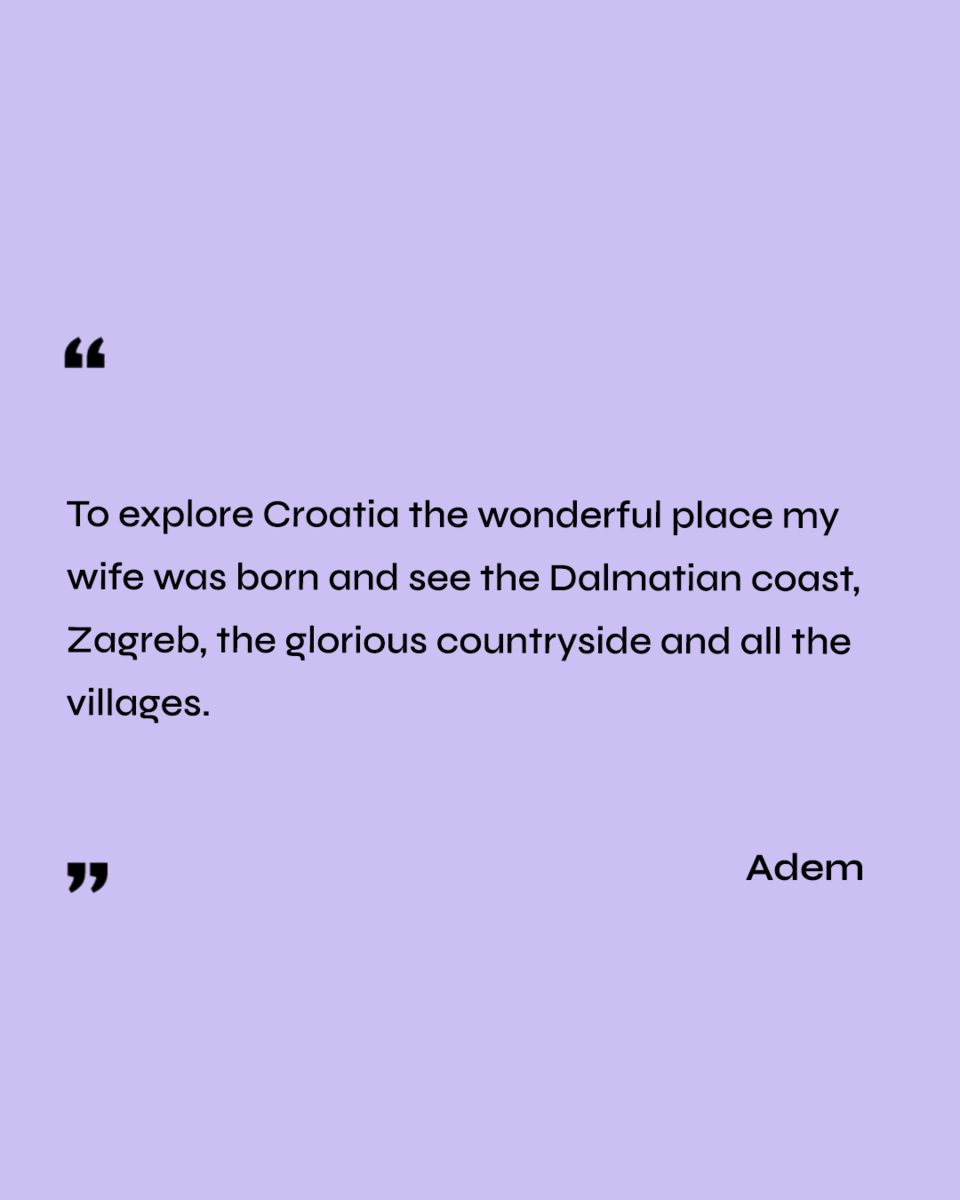 Hvar
You can't come to Croatia and not check out the beautiful island of Hvar. Just an hour's ferry ride from Split, the island is home to hidden coves, gorgeous beaches, vineyards and craggy cliffs—in short, it's what Euro vacay dreams are made of. First things first, Hvar is all about day parties! We're talking about après-beach baby. Check out Hula Hula Hvar (it will give you Bali vibes), Carpe Diem Bar and Beach Club Hvar. These venues are next level. Think: cabanas perched on the edge of the Adriatic Sea, live DJs pumping only the best tunes, drool-worthy eats and cocktails delivered right to your sun lounger. This is peak holiday mode.
Aside from partying, Hvar is home to gorgeous natural beauty, so it would be rude not to explore it. There are plenty of tiny coves and secluded beaches on offer, so you can escape the tourists. Order a taxi boat ride to the Pakleni Islands and be sure to stop at Jerolim and Stipanska. Back on the main island, head to the traditional village of Velo Grablje where you'll be amazed by their rolling fields of lavender. Yes, you do want that pic for the 'gram. Once you've stocked up on all the essential oils, make your way to Grapčeva špilja, one of the best preserved Neolithic cave dwellings around the Mediterranean. Your jaw will hit the floor as you marvel at dramatic stalactites and stalagmites dating back 3,000 years. Lastly, round out your trip with a truly authentic experience—a meal at Konoba Menego. Located near the main square, this adorable restaurant is rustic and homely (think: ham hocks hanging from the ceiling and family pictures on the walls), serving secret family recipes from the heart. Devour "Grandma's" Dalmatian stuffed bread (salted anchovies, tomato and onion), fresh octopus and their speciality, figs soaked in brandy. Then wash it all down with the house red that comes from the family vineyard on the island Sveti Klement. Yep, this place is pure happiness.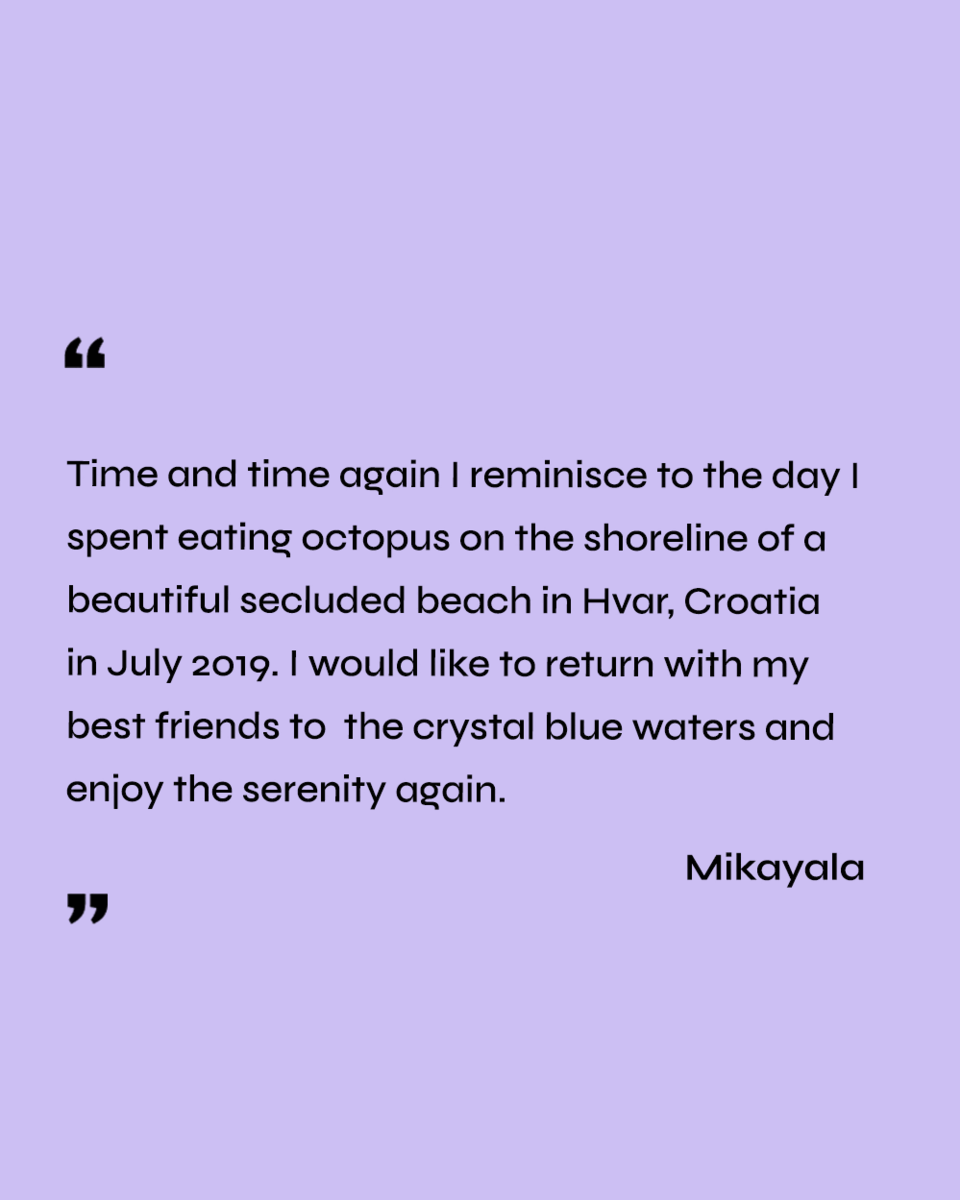 It's safe to say that when it comes to a European summer, it doesn't get much better than Croatia. Head to Qatar Airways to start planning your Croatian escape with flights into Zagreb, with a stopover in Doha.
Editor's note: This article is sponsored by Qatar Airways and proudly endorsed by Urban List. To find out more about who we work with and why read our editorial policy here.