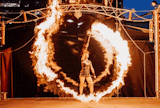 Win An Epic Bar Crawl Adventure For You And Your Bestie

The countdown to FRINGE WORLD Festival 2022 is officially on. Clear your calendars from 14 January—13 February, WA is about to get seriously lit, with some of the best artists and entertainment in the state turning it on through a jam-packed programme.
Festival favourite Briefs! will return with a new Bite Club at the Fringe Playground and at the Art Deco Hub, DIVAS' epic new variety show—The Drag Review: Fierce And Fabulous promises to inspire.
The city centre will be pumping FRINGE WORLD award-winners Kohesla Ensemble And Friends performance at The Ellington Jazz Club and cabaret legend Cece Desist's majestic return at Connections Nightclub. And that's not to mention the spellbinding Circus After Dark at The Rechabite.
Better yet, a plethora of venues across 14 suburbs in the Metropolitan area will be joining in on the city-wide fun.
To celebrate tickets going on sale, we're giving away 5 FRINGE WORLD DIY crawl packs for you and your mates. You'll be kitted out with everything you need for an epic adventure through your choice of either the Pleasure Garden or Girls School—including vouchers for gifts, food, drinks and epic merch.
What are you waiting for? Enter below and share in the group chat to make the most out of summer.