If your idea of the perfect summer getaway is soaking up the sunshine on an idyllic tropical beach with an ice-cold drink in hand, then look no further. It's no secret that the largest inhabited island of the Whitesundays, Hamilton Island is a legitimate island paradise and with direct flights from most major Australian cities, Hamilton Island is the prime gateway to the World Heritage-listed Great Barrier Reef.
Any place where the primary mode of transport is a buggy sounds good to us. If you're keen to live your best island life, you're going to want somewhere equally as stunning to rest your head. Unwind, rejuvenate and soak up true island luxury at Hamilton Island's best Airbnbs.
Casuarina 13
There's a reason (well, a lot of them) that this stunning Airbnb books out several months in advance. Casuarina 13 sleeps up to 10 guests, with four bedrooms and two bathrooms, so you can bring your whole squad. Situated just around the corner from Front Street, the bustling heart of Hamilton Island, the sprawling two-storey Airbnb villa boasts drop-dead gorgeous views over the passage to the Hamilton Island Golf Course. Casuarina 13 is fitted out with all the luxe new finishings you could want and we love that there are multiple living spaces, so you can relax on the balcony deck, chat in the fully-equipped kitchen or chill out in the living room, depending on how social you feel. This one deserves a top spot as one of Hamilton Island's best Airbnbs.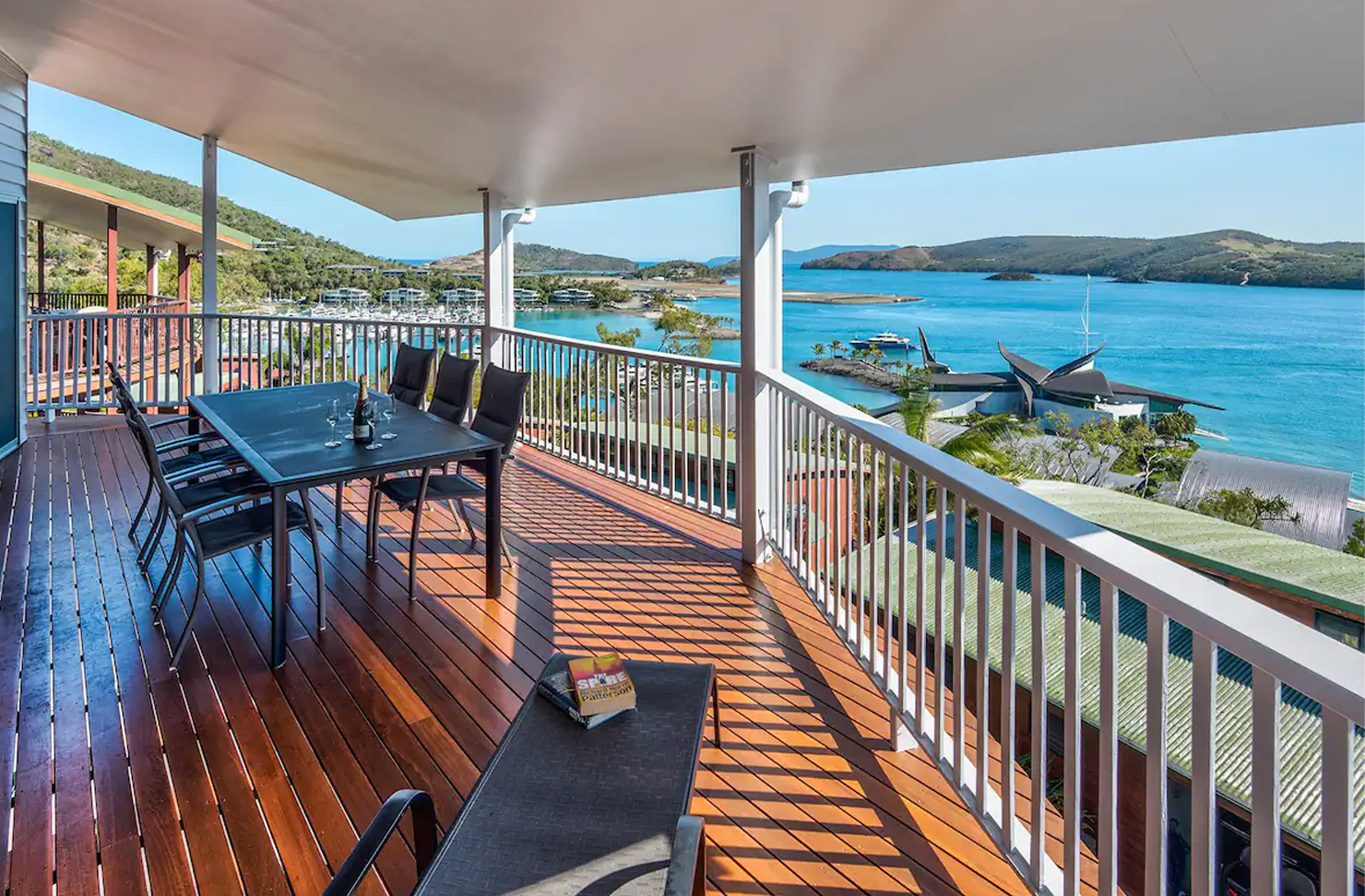 Villa 16 The Edge
Setting a new standard for luxury accommodation on Hamilton Island, Villa 16 The Edge is the place to stay when you're looking to seriously impress (or be impressed). This opulent tropical Airbnb boasts floor-to-ceiling windows and doors which ensure unparalleled views of the ocean, sleek and sophisticated furnishings, access to one of the island's only pools and a BBQ on your private deck, perfect for cooking up a feast. The lavish two-storey Airbnb sleeps eight guests, with three spacious bedrooms and two bathrooms—we recommend snagging the master bedroom so you can soak in the huge spa bath, with an ice-cold cocktail in hand. Villa 16 The Edge is absolutely one of Hamilton Island's best luxury Airbnbs.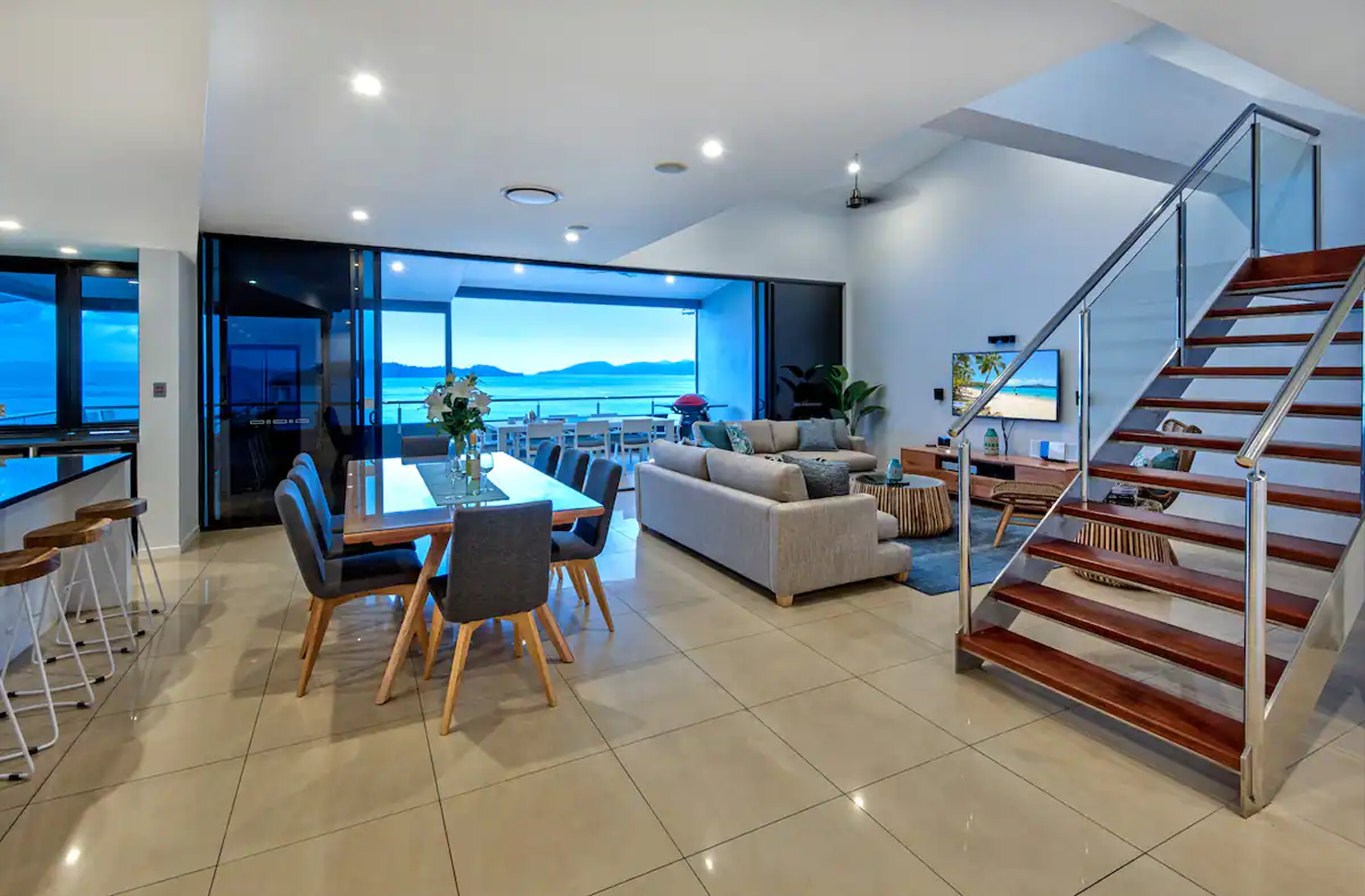 Hidden Cove 17
It's not often you get to kick back and enjoy the finer things in life. We're talking about a four-seater buggy, champagne on arrival, snorkelling gear and luxury furnishings. No, we're not dreaming, this is the reality at Hamilton Island's Hidden Cove 17 Airbnb. This two-bedroom apartment is located on the western side of the island and you'll have the unique advantage of enjoying your own private beach. You and five of your mates can soak up the good life in this lush modern Airbnb with a wraparound balcony that promises unparalleled 180 degrees of sunsets over the water and surrounding islands.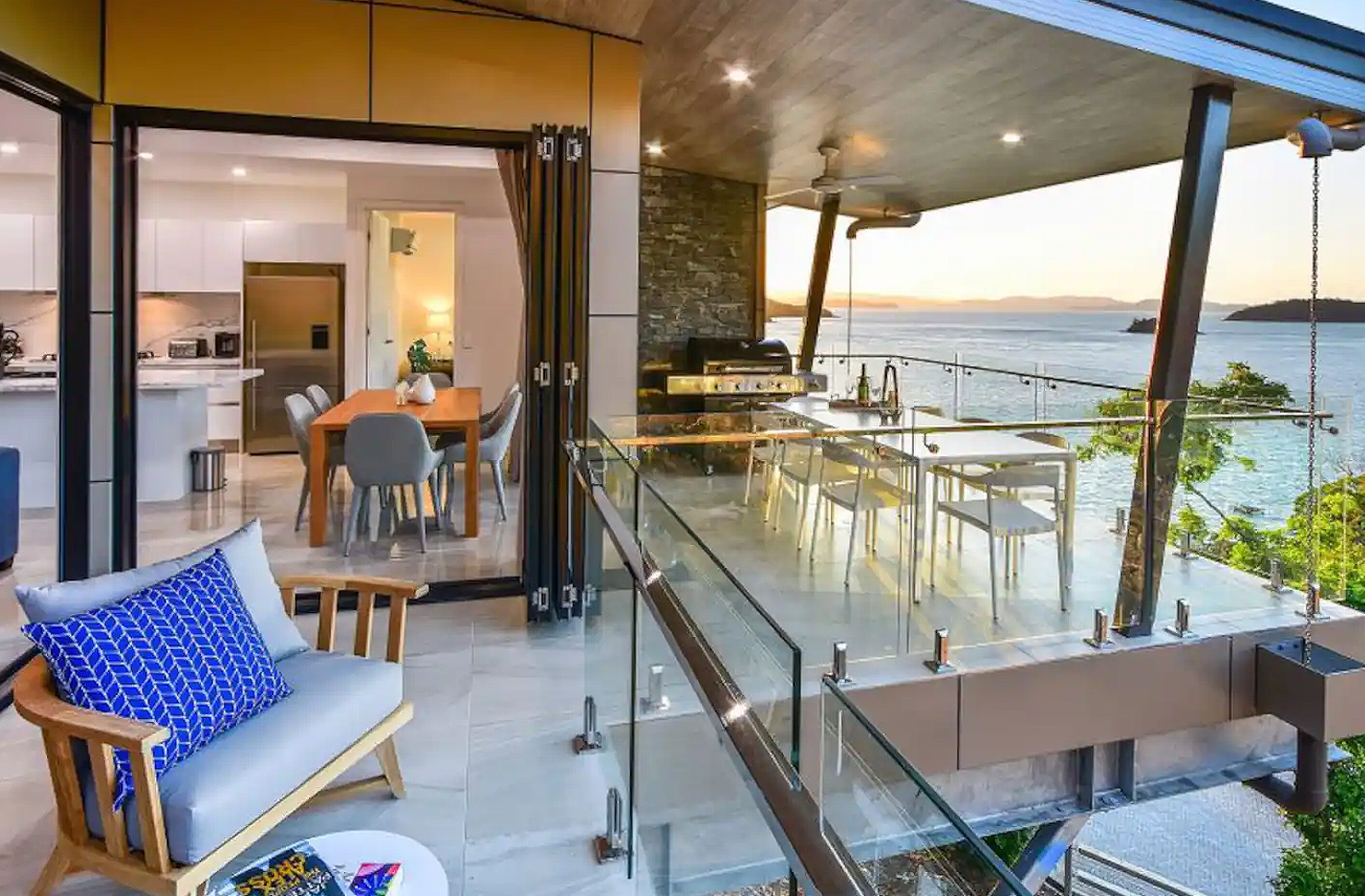 Poinciana 106
Location, location, location. If being centrally located on Hamilton Island is a must-have for you, then you need to book in at Poinciana 106. This slice of paradise overlooks Cats Eye Bay and is located conveniently close to Hamilton Island's sports complex, marina, restaurants and beaches. Sleeping four guests, with two bedrooms and one bathroom, this Airbnb is by no means a sprawling villa but what it lacks in size, it makes up for in character, location and views. You'll be spoiled with your own buggy to get around the island and airport transfers to make your island vacay that much easier. Ahhhh, the island life is a hard life.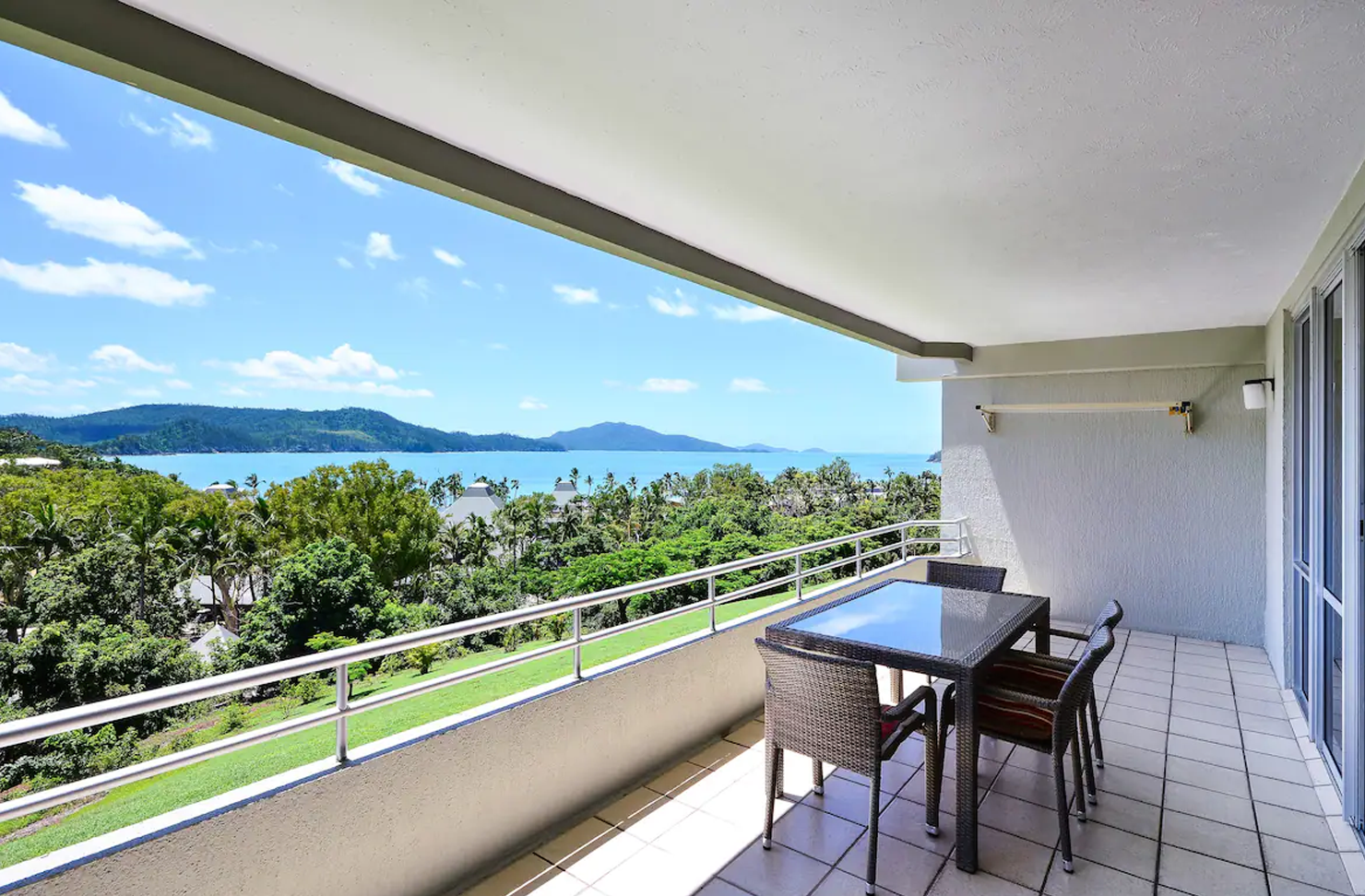 Frangipani 102
So recently renovated that the plastic is barely off the mattresses, Frangipani 102 is one of Hamilton Island's best new Airbnbs which is perfectly positioned across the road from Catseye Beach. This ultra-modern apartment has two bedrooms and two bathrooms, so up to six people can revel in tropical luxury here. This place practically breathes luxe island opulence—you'll have access to a swimming pool, your own personal buggy and a sprawling balcony to soak up all sweeping ocean views. We're already dreaming of summer days spent here, feet up and a cocktail in hand.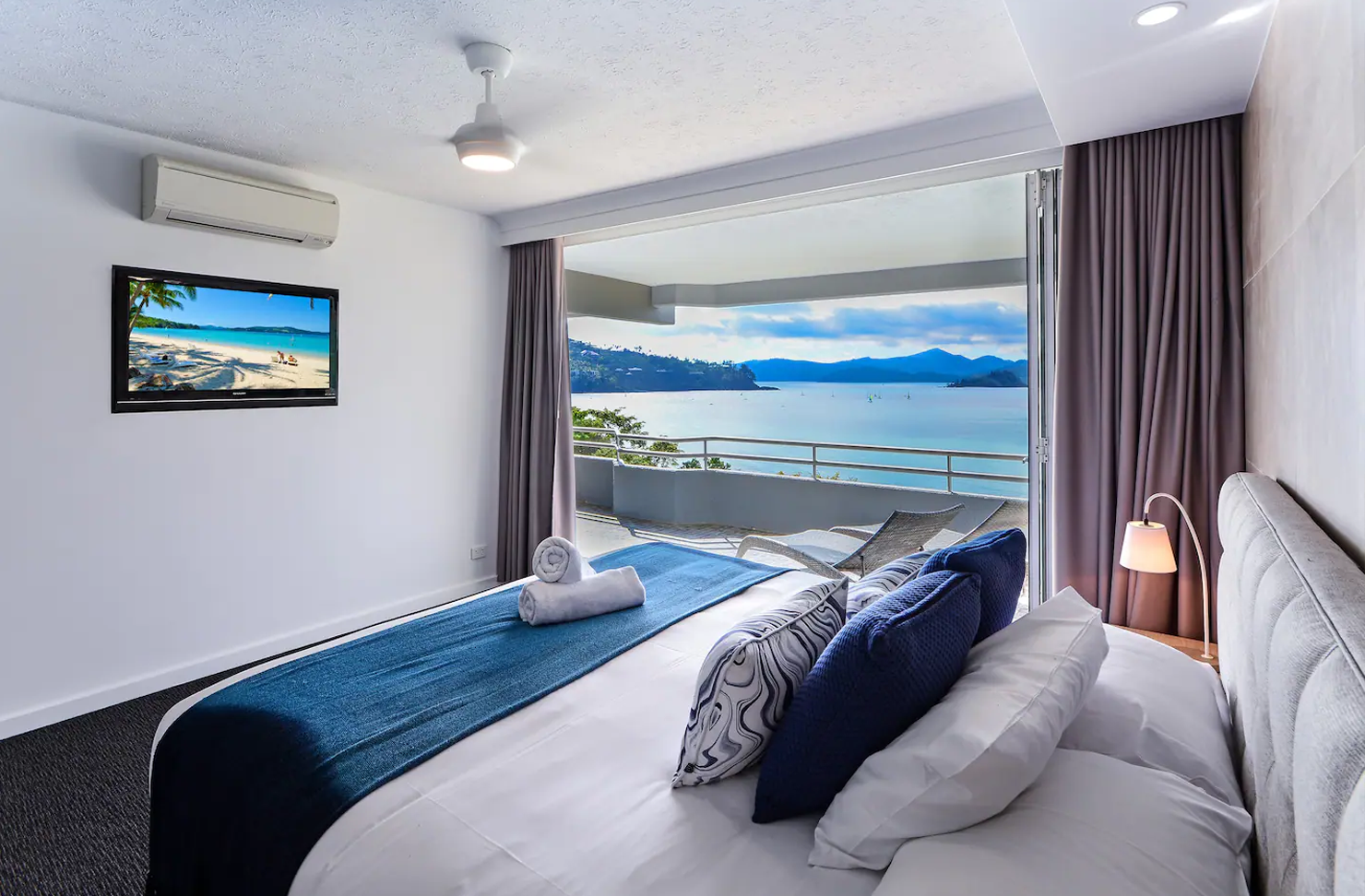 Pebble Beach Private House
We obviously couldn't write about Hamilton Island's best Airbnbs without including Pebble Beach Private House. This architecturally-designed treehouse-style residence is set on an acre of land with uninterrupted vistas to the Whitsunday passage and direct access to your own private beach. Yeah, we told you it's damn impressive. Pebble Beach is one of the largest Airbnbs on Hamilton Island and will easily fit eight guests over its three levels and three guest pavilions. If you're the entertaining type, you'll love that this unique Airbnb has a whole level dedicated to an indoor-outdoor entertaining area with a private cabana. If this wasn't enough, you'll also have your own buggy. Hands down, one of Hamilton Island's best luxury Airbnbs.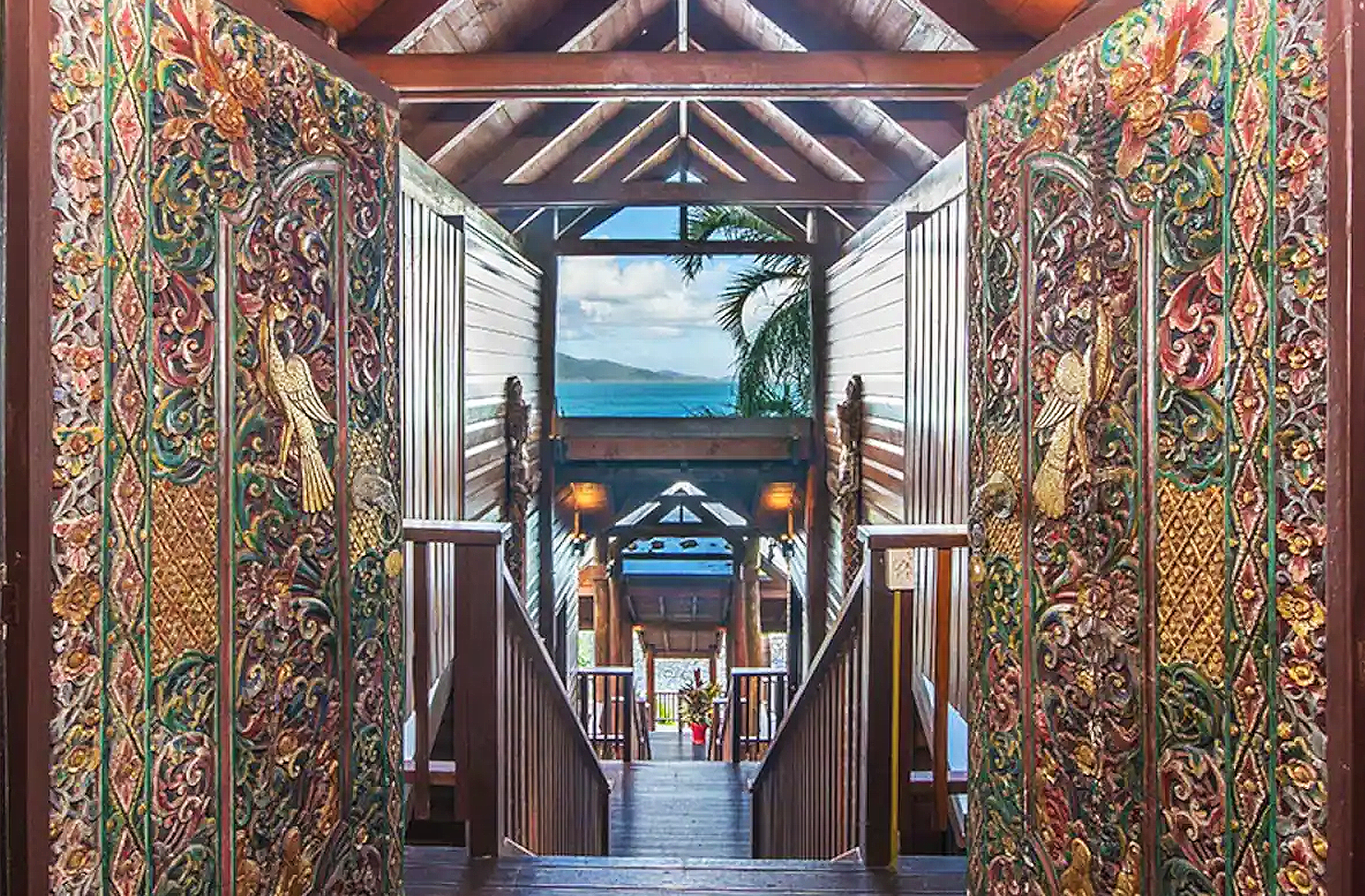 Villa Bijou De Mer
You could be forgiven for thinking you're on a luxury escape in the Maldives when you wake up in paradise at Villa Bijou De Mer. This absolute oceanfront yacht club villa is housed in a gated estate on the eastern side of Hamilton Island and comes decked to the nines with your own private pool and access to the Yacht Club shared pool. Thoughtfully designed to emulate a nautical atmosphere, 'Bijou De Mer' translates to 'Sea Jewel' and after staying here, you'll soon understand why. We would never want to leave this fully-furnished Airbnb with breathtaking ocean views, but if you choose to explore you can do so in the comfort of two private buggies.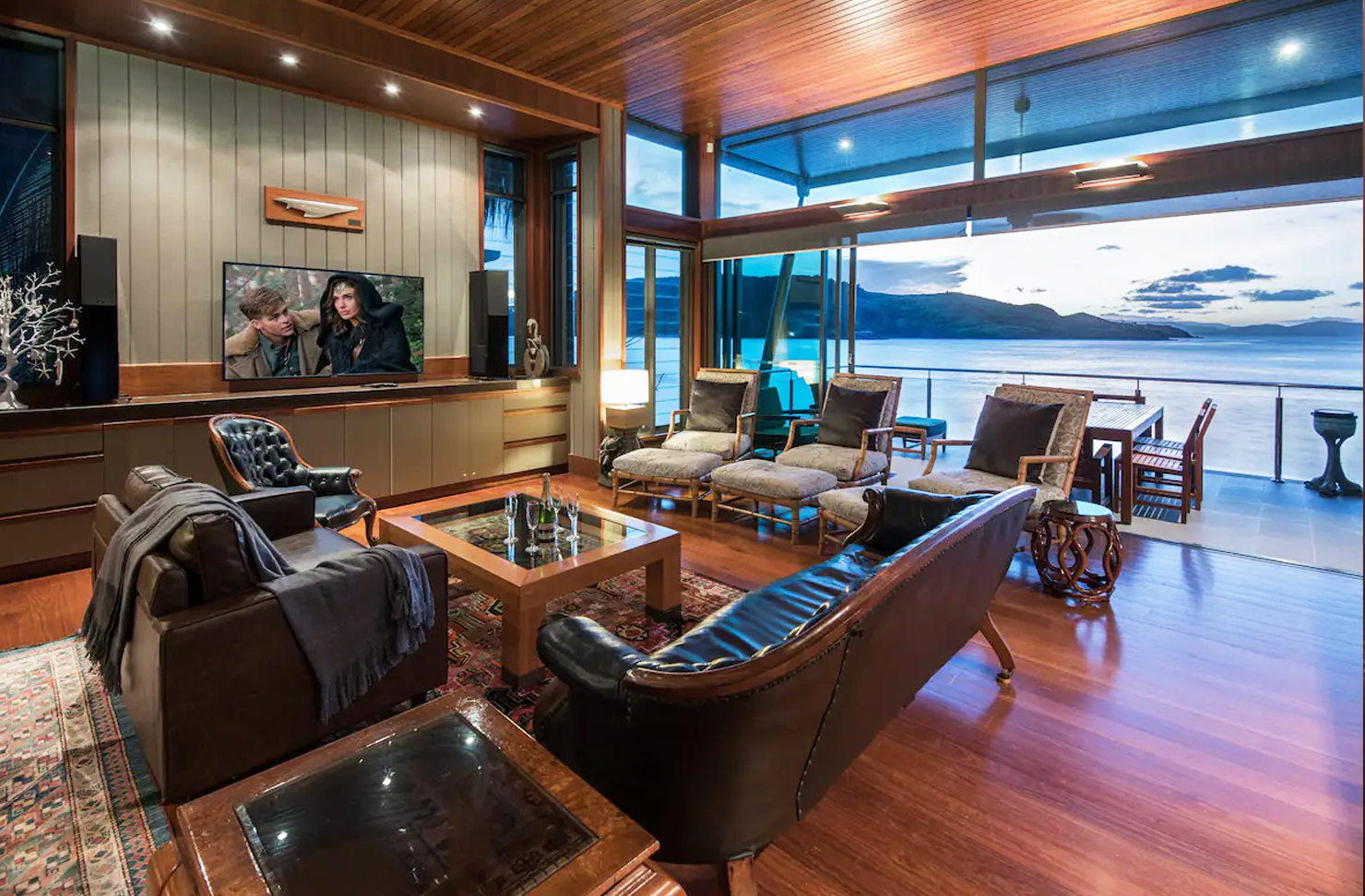 La Bella Waters
You'll certainly need to save some pennies for a stay at La Bella Waters, but we promise it's absolutely worth it. The recently renovated property is one of Luxury Holidays' premier locations and for good reason. Soka up the seemingly endless ocean view across Fitzalan Passage to Whitsunday Island and out to the Coral Sea, while you luxuriate in the huge pool which is only accessible to eight residences—and comes with a swim-up pool bar. The expansive property sleeps eight guests in three bedrooms, which are all decked out to the max with beautiful furnishings like granite top sinks, spacious ensuites and walk-in wardrobes. La Bella Waters has easily earned its spot as one of the best Airbnbs on Hamilton Island.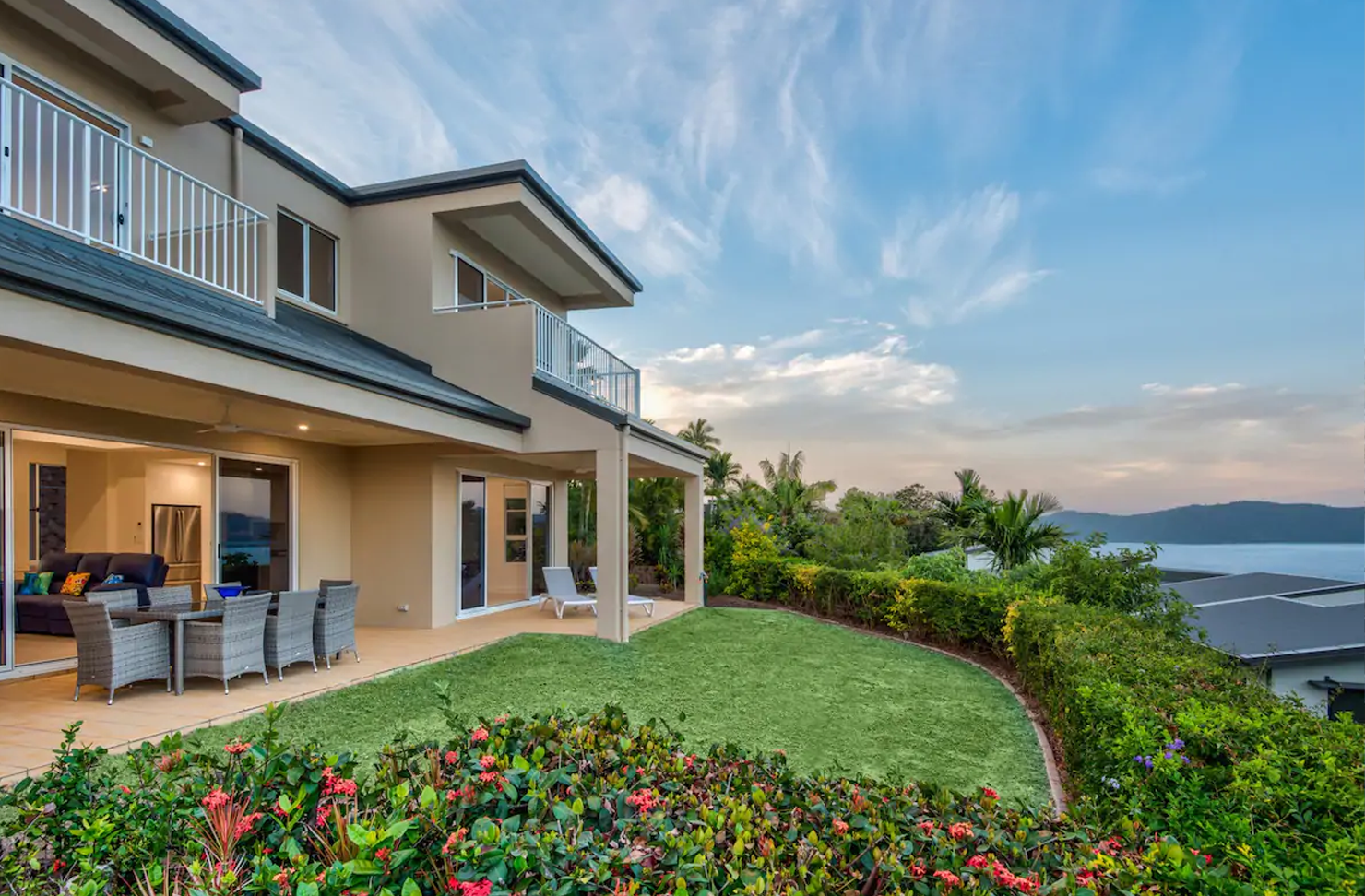 Casuarina Cove 15
Casuarina Cove 15 might not be boasting the luxe AF finishings of some of Adelaide's more boutique stays, but for affordability and location, you can't go past it. The three-bedroom Airbnb villa is nestled into the hills overlooking the Hamilton Island Yacht and you can soak up the expansive views while kicking back on the huge deck with an outdoor pool table. Hosting up to eight guests, with three bedrooms and two bathrooms, Casuarina Cove 15 is one of our top picks for a getaway with friends. We dig that there's a cute hammock downstairs and there's also a BBQ grill so you really never need to leave, right?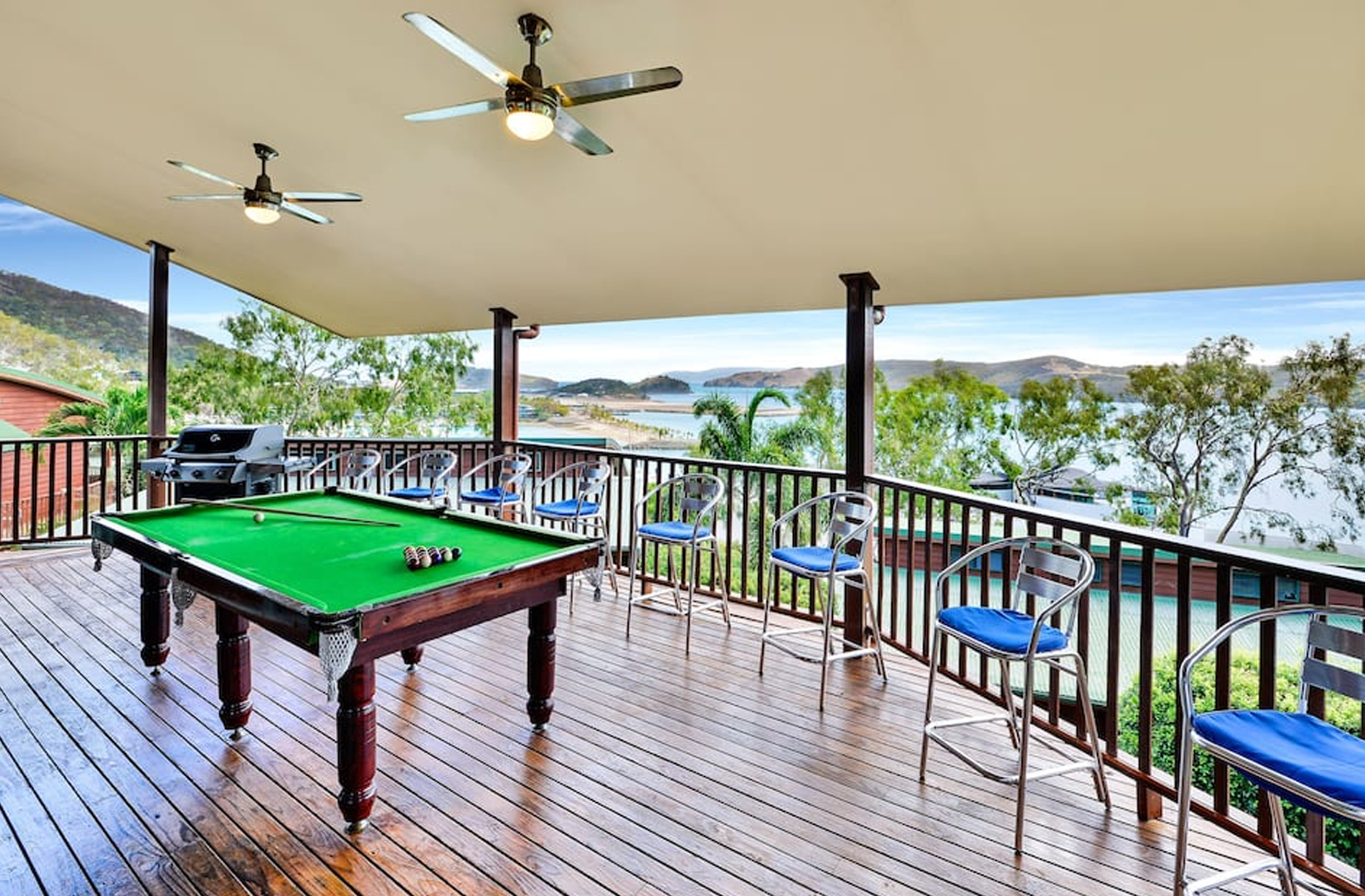 Shorelines 28
Shorelines 28 is throwing up all the goods and we're here for it. And by 'the goods' we mean access to two pools, a complimentary buggy, valet service and some of the most breathtaking views on Hamilton Island. This ultra-modern two-bedroom apartment can sleep up to four people, with each bedroom boasting its own private balcony. Views for days. The fully-equipped kitchen is decked out with the latest and greatest in technology—Shorelines 28 is bringing a fresh, new face to Hamilton Island accommodation and defs deserves a spot as one of Hamilton Island's best Airbnbs.
If this has tickled your travel bug, it's time you escape to Australia's dreamiest under-the-radar beach towns.
Image Credit: Airbnb (supplied)