Not only does QLD have an abundance of stunning beaches, we're also home to red-sand country, national parks and ancient rainforest.
Whether you like to be truly removed from civilization or located only a hop, skip and jump from creature comforts, we're convinced you'll find a new favourite spot to pitch your tent. And remember, always check operator websites and the forecast before you set off on your camping adventure.
Here are 15 of the best camping spots in Queensland.
Beachfront Camping In Queensland
Cylinder Beach | Minjerribah (North Stradbroke Island)
Spending any length of time on Minjerribah is a part of the quintessential Queenslander experience. Cylinder Beach's campground overlooks one of North Straddie's most iconic swathes of sand, meaning you get to fall asleep listening to the ocean and wake up to one killer view. Cylinder Beach is also a patrolled beach, so you can don your best swimmers and catch some waves without a care in the world. Plus, the campground comes with all sorts of modern amenities including free wifi!
Noah Beach | Cape Tribulation
Noah Beach might just be one of the most unique beachside locations in Queensland. Nestled between the Great Barrier Reef and the Daintree Rainforest, setting up camp at Noah Beach literally puts you in the middle of two World Heritage-listed natural wonders. Noah Beach's camping area is located just 50 metres from pure white sand and crystal clear waters. It's entirely accessible by car or small campervan, just don't forget to bring your own drinking water, unless you want to end up saltier than Tom Hanks in Cast Away.
Rainbow Beach Ultimate Camping | Sunshine Coast
To truly experience the natural splendour that the Sunshine Coast has to offer, camping is the way to go. Rainbow Beach Ultimate Camping will set you up with a fully prepared campsite right on the beach so that you can skip all the boring stuff, show up and enjoy the serenity. We're talking everything you need already sorted, from your own private toilet and shower to cooking facilities and even meals and seafood platters delivered directly to your pre-pitched tent.
Whitehaven Beach | Whitsundays
Yep, you read that right, not only is Whitehaven Beach the poster child of Australian beaches everywhere, but you can actually spend the night on this mind-bogglingly beautiful strip of sand. Whitehaven Island is a national park and there are no other residents except for you and your fellow campers—meaning you'll pretty much have the island paradise to yourself for a night. A permit to camp in the Whitehaven Beach camping area will set you back about $6.35 a night but you'll have to get in quick because, understandably, numbers are strickly limited and sell like hotcakes.
Sandy Bay | South Molle Island
Friends, we'd like to introduce you to camping at Sandy Bay. Located west of Whitsunday Island, South Molle Island is a chilled natural refuge that has somehow managed to escape the rampant commercialisation the rest of the area has experienced. Sandy Bay is the island's most popular campsite, home to toilets, picnic tables and gorgeous views over the surrounding area. Sandy Bay was made for active campers, with plenty of hiking trails, mountain biking tracks and snorkelling spots on offer. As for getting there? You'll have to catch a ferry from Airlie Beach or Shute Harbour.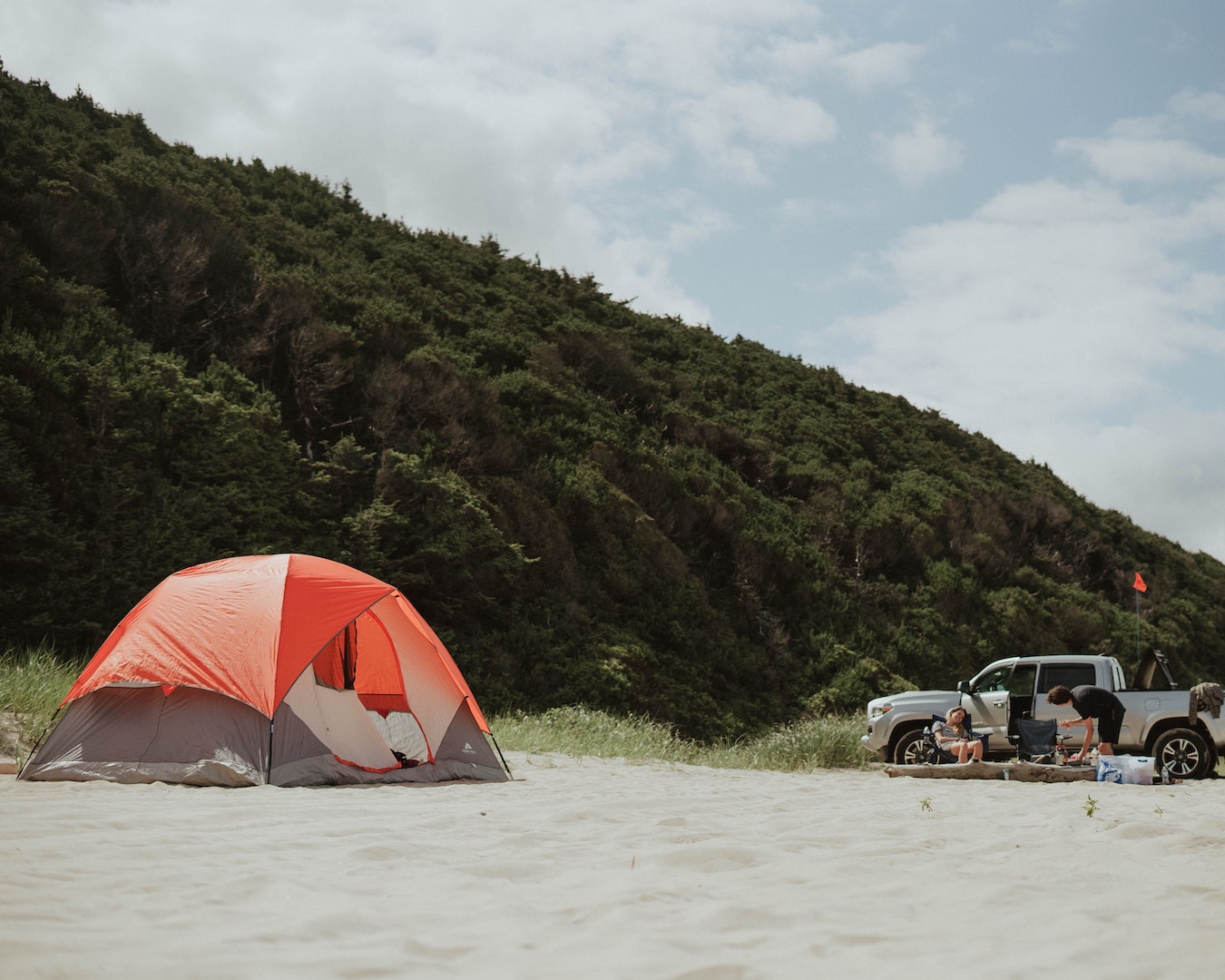 Rainforest Camping In Queensland
Charlie Moreland | Sunshine Coast Hinterland
Heading inland, this camping spot is for those truly wishing to disconnect from the rest of the world. Charlie Moreland's camping ground is accessible by 4WD only and is a little rustic—the campground sits alongside Little Yabba Creek, which doubles as your bathing spot, and you'll have to bring your own drinking water. Due to its location on the edge of Conondale National Park, this hidden gem offers up some seriously good nature vibes, teeming with birdlife and, if you're fit enough to conquer the hike up to the Mt Allan fire tower, you'll be treated to 360-degree views over the Conondale Ranges.
Boreen Point Campground | Noosa
Noosa is the perfect balance of tranquil, natural beauty and beach-town vibes. Whether you're kayaking through the everglades, shopping at the iconic style-hub that is Hastings Street, or falling asleep on the beach, Noosa will deliver your perfect day. To truly immerse yourself in everything Noosa has to offer, pitch a tent at Boreen Point Campground on the white sandy shores of Lake Cootharaba. Here, you'll fall asleep beneath the stars and wake to adventures like swimming, stand-up paddleboarding, and kayaking.
Bunya Mountains National Park | Bunya Mountains
The Bunya Mountains are a natural paradise; its peaks are dense with foliage, ancient bunya pines, rolling green hills and plains, and stray kangaroo grazing. Bunya Mountains National Park is actually home to three different campgrounds, each tailoring to a different camping experience. Dandabah is a large open area available for more vehicle-based forms of camping equipment, while the Westcott and Burtons Well areas are only suitable for tents. Facilities include showers, BBQ equipment and the permission to build your own campfire.
Tamborine Mountain | Tamborine Mountain
Located on a property that is shared by Thunderbird Park—which doubles as an adventure playground—and Cedar Creek Lodges, this camping spot might just be the best place to enjoy the spoils of Tamborine Mountain. Set amongst the rainforest in the northern valley section of the mountain, this camping spot will put you within walking distance to a spring-fed creek and an ample supply of swimming holes. Both powered and unpowered sites are available, with the standard facilities on offer, and you can hone your fire-building game at your own site.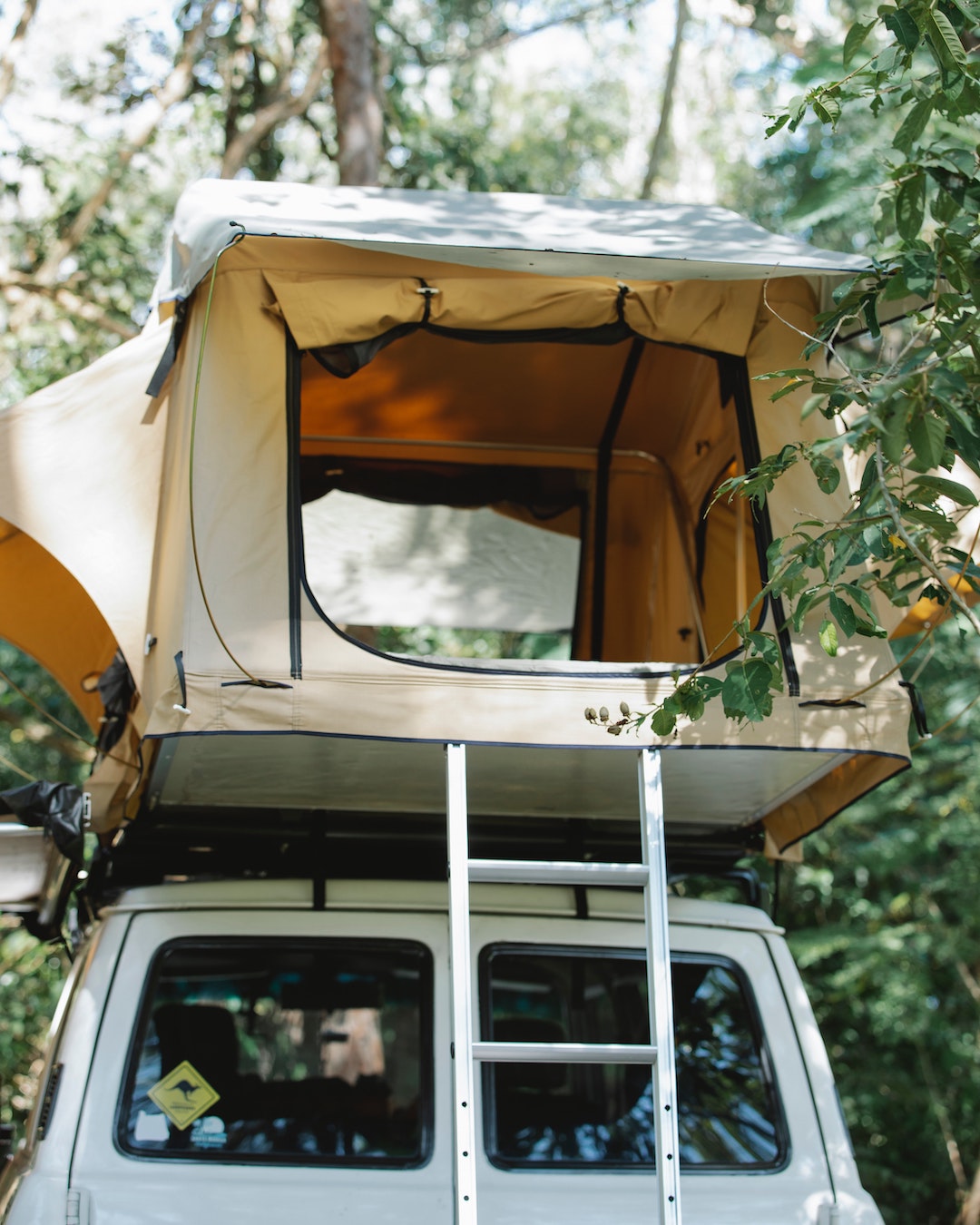 Wilderness Camping In Queensland
Bigriggen Park | Scenic Rim
When it comes to immersing yourself in nature, Bigriggen Park, under two hours from Brisbane, has it all. We're talking 100 acres of hilltop flats, the gentle burble of the nearby river, towering gum trees and both powered and unpowered campsites—all located in the middle of the bush. The campsite is easily accessible for every type of vehicle and there are plenty of hiking options in the surrounding national parks. After you've hiked your way to a mountain view you'll never forget, kick back by your tent with a treat from the camp store, a roaring fire and your favourite people.
Goomburra Valley Campground | Southern Downs
If you've been itching for a digital detox Goomburra Valley Campground is just the place to pitch a tent. Located on the Darling Downs and situated on the banks of Dalrymple Creek, here you can fill your days with bush walks, exploring hidden swimming holes, and gliding down the creek in a kayak. And, thankfully, if you don't want to commit to total bushwhacking, there are toilets and hot showers if you aren't game to hit the creek for a freshen up.
Mount Barney Lodge | Scenic Rim
With its own creek frontage, a swimming hole, and a shady grassed campground, Mount Barney Lodge is your go-to for literally staying next to Mount Barney itself. With numbers capped around 100 campers, trailers, motorhomes, RVs and caravans welcome, and there's also a non-vehicle area, with both types of unpowered sites allowing open campfires. There's hot showers (a must after a hike), toilets and a washing up area, and a camp store offering basic items including milk and ice.
Carnarvon Gorge | Carnarvon National Park
Hidden behind the hot and dry façade of central Queensland lies a tropical, cool camping nirvana you've probably never heard of. Carnarvon Gorge runs for 35km at the heart of the 302,000 hectare Carnarvon National Park, its white cliffs reaching almost 600 metres tall as they surround Carnarvon Creek. The gorge is thriving with unique plant and animal life but one of its most underrated features has to be its rich Indigenous cultural heritage, evidenced by the many examples of stunning Aboriginal artworks. Camping in the gorge is permitted during the Easter, winter and spring Queensland school holidays, with the campsites located under a canopy of gum trees and Carnarvon fan palms. Otherwise, you can stay year-round at Big Bend camping area, located adjacent to Carnarvon Creek and sweeping sandstone cliffs.
Bartle Frere | Tropical North Queensland
Queensland's highest campsite, Bartle Frere, just so happens to be perched in a clearing on the state's highest mountain peak, 1400 metres above sea level. You'll have to leave your car at the Josephine Falls car park, located about 80 kilometres south of Cairns, and climb up four hours through a steep rainforest, but we promise what you'll find at the top will be worth it. Pitch your tent on the helicopter pad (provided there's no helicopter incoming, of course) then walk to the edge of your mountain perch for panoramic views over the Atherton Tablelands and Innisfail on one side and the Great Barrier Reef on the other. It's official: Queensland camping doesn't get much better than this.
Like your getaways with a little bit more style? Check out these Queensland treehouses you can stay in.
Image credit: Tourism & Events Queensland