Growing up as a little tike in Queensland, nothing was cooler than the idea of a treehouse hideaway—a secret space all to your own, just like the ones in The Simpsons, or an Andy Griffiths novel. While childhood may be behind us, our dreams of spending the night in a hidden treehouse don't have to be. In fact, Queensland is packed with vacay destinations up in the trees, so you can get up close and personal with the koalas and kookaburras without having to do any hard work on your part. Check out our top picks for the ultimate homes among the gumtrees, and make those childhood dreams a reality in these Queensland treehouses.
The Canopy Treehouse
TARZALI, TABLELANDS REGION
Hidden amongst over 100 acres of lush tropical rainforest in the Cairns Highlands, The Canopy Treehouse is an absolute must on your AirBnB bucket list. The eco-retreat blends award winning luxury with sustainable living, so you can enjoy a green getaway that doesn't hurt the local wildlife. With room for up to six guests, The Canopy Treehouse is perfect for families looking to holiday local whilst supporting eco-tourism this summer. Book your stay here.
Stoney Creek Treehouse
Kamerunga, Cairns
Kicking off our round-up of Queensland's best treehouses is Cairns' own Stoney Creek Treehouse. Enjoy incredible views of the surrounding treescape through towering wall-to-wall windows and massive glass sliding doors. While you're at it, make friends with the local wildlife as they come to visit the back porch—we're talking echidnas, lizards, bush turkeys and plenty more. Top it all off with a night in a comfy queen bed (featuring luxe hotel-quality linen) and call it a holiday well spent. Book your stay here.
The Bower House
Tarzali, Tablelands Region
Perfect for larger groups or families, The Bower House will quash those quaint childhood dreams of what a treehouse should be and replace them with a sprawling luxury escape like no other. The three-bed, two-bath (plus one spa) abode has earned itself four Master Builders awards for its incredible design and thoughtful touches. Perfectly positioned on the rainforest ridge, enjoy sweeping valley views alongside welcome visits from the local wildlife as you squeeze in some much needed R and R. Book your stay here.
Rainforest Treehouse
Butchers Creek, Tablelands Region
Explore over nine kilometres of walking trails and bushland from the comfort of this stunning wilderness retreat. Spread over two storeys, Rainforest Treehouse offers complete seclusion alongside panoramic views of the surrounding mountain ranges. Watch the sunrise to the sound of birdsong as you relax on the accom's spacious balcony, and enjoy a delicious breakfast hamper courtesy of your humble hosts. Sounds just like living in paradise. Book your stay here.
Kardinia House
Kamerunga, Cairns
Escape the hustle and bustle of city life with this gorgeous getaway among the gumtrees. Hidden within the north Queensland rainforest, Kardinia House combines outdoor living with classic creature comforts, so guests can enjoy a taste of the luxe life all round. Featuring high ceilings and exceptional views set against a rustic, relaxed backdrop, Kardinia House is the perfect venue for your next tropical getaway. Book your stay here.
Talle Creek Studio
Burleigh Heads, Gold Coast
For a modern take on the classic timber treehouse, treat yourself to a stay at Talle Creek Studio. The open-concept home blends green hues and wood floors with scenic views out over Tallebudgera Creek, broken only by the occasional branch from the surrounding canopy. Guests will delight on the studio's modern finishings, including a drop-down projector screen perfect for snuggling up during late night movies. Book your stay here.
Coolgarra Bush House Canyon Lookout
Springbrook, Gold Coast Hinterland
Looking for a local mid-week escape? Score yourself a night at Coolgarra Bush House Canyon Lookout, a hand-built, recycled timber chalet made with relaxation in mind. The home features towering ceilings complemented by tall glass windows for a truly immersive rainforest experience, plus plenty of vintage decor that practically oozes rustic charm. But the highlight of the property has to be its stunning stone fireplace, parked right in the middle of the downstairs lounge so you can gather round to warm up during those chilly Springbrook nights. Book yourself a stay here.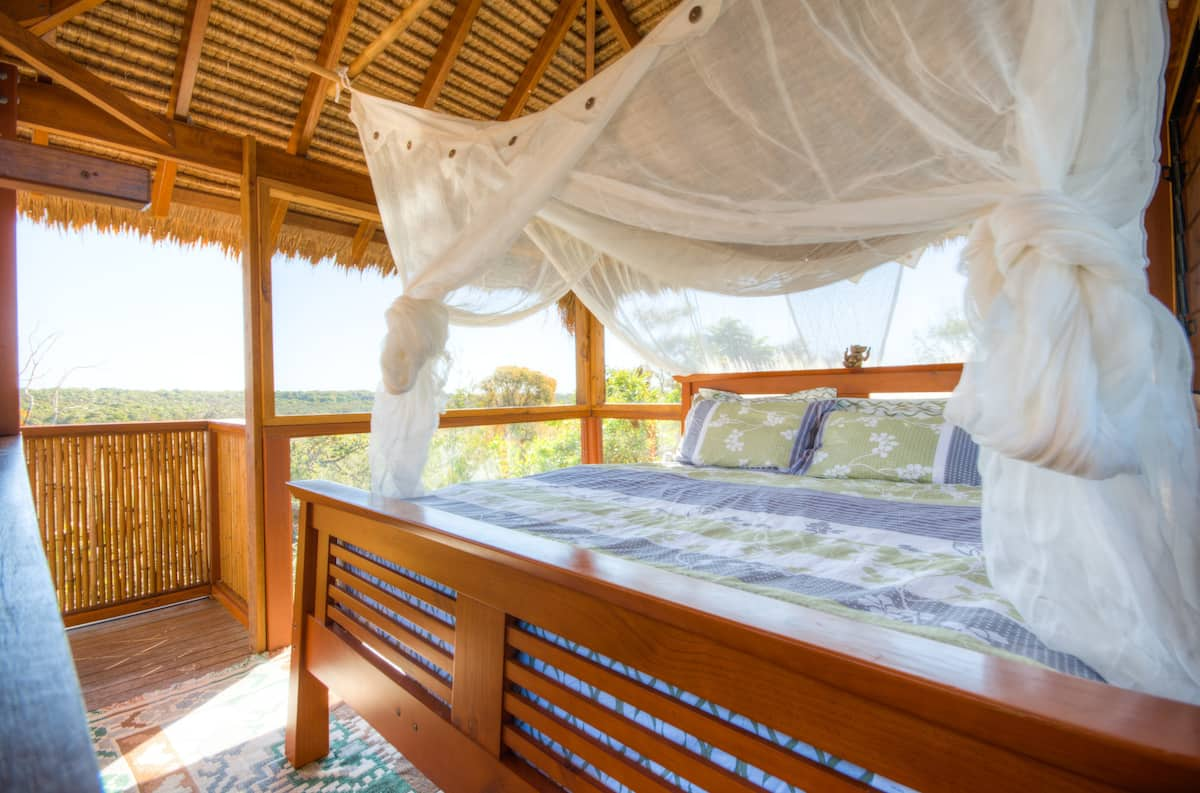 Noosa Tree Top Eco Retreat
Sunrise Beach, Noosa
Love the idea of vacay in the clouds, but don't want to give up your go-to summer beach sesh? Get the best of both worlds with a stay at Noosa Tree Top Eco Retreat. The enclosed, Bali-style thatched hut is raised up above Noose National Park, overlooking countless mountain ranges and greenery through wall-to-ceiling glass windows. But should you get sick of the views (yeah, right), make your way down stairs and take the short walk to the beachfront—the sound of crashing waves will guide your way. Book your stay here.
Gaiananda Tree House
Currumbin Valley, Gold Coast
A relatively new listing heating up AirBnB, Gaiananda Tree House is a heartfelt invitation to true peace and relaxation. The home is hidden deep in the rainforest of the Currumbin Valley, offering total seclusion to each and every one of its guests. Equipped with a massive spa bath, outdoor deck and in-house massage service, the worst part of this holiday will be dragging yourself away to come home. Book your stay here.
Prefer an island escape? Check out these incredible Queensland islands to escape to this summer.
Image credit: Airbnb
Editor's note: Urban List editors independently select and write about stuff we love and think you'll like too. Urban List has affiliate partnerships, so we get revenue from your purchase.