You'd be forgiven for thinking the Gold Coast is only good for beautiful beaches and you might have been right in your perceptions a few years ago, but now, you'd be inherently wrong. Recently, the Coast has exploded with a cultural scene like we've never seen before. Art gallery spaces are opening up on the regular and we're seeing more and more creatives no longer hiding out in their homes but instead showcasing their uber talented work. And we couldn't be happier about it.
Here are our favourite Gold Coast art galleries.
Level Up Studio + Gallery
Coolangatta
Our newest addition to the art scene is a government initiative and is all about supporting and educating local artists and the community through three different components. Level Up Residency, Level up Gallery and the public programs which include art workshops, artist talks, school holiday workshops, networking events and monthly exhibitions. The residency program is for local artists between 18-25 in which they support and nurture their development in the early stages of their career. How cool is that? One up for Level Up!
AW Space
Mermaid Beach
A newbie to the growing creative hub of Mermaid Beach, AW Space is an art gallery, workshop and event space all rolled into one. Claudio Kirac, a well-known character on our shores, is the man behind the Art-Work Agency who along with his partners opened this new creative space for all to savour the sweet delights of art, and a cooler office for the crew of course. Only opening in March with their debut exhibition named 'Outside,' it's one that showcases travel, friendships and connected places. Keep an eye out for their upcoming events and workshops as they find their feet because you're definitely going to want to spend some time here.
Gallery One
Southport
Only well established multi award-winning Australian artists are shown at Gallery One as their philosophy is to showcase the best of Australian Investment Art and support artists through their world class exhibitions. If you feel like treating yourself, don't get the guilts because a piece of art at this calibre is an investment that will continue to appreciate, and make you feel uber-cultured when you put it up in your home. Don't fret if you don't know much because they have a fine art consultant on hand that can help you on where to start when you buy your first piece of art.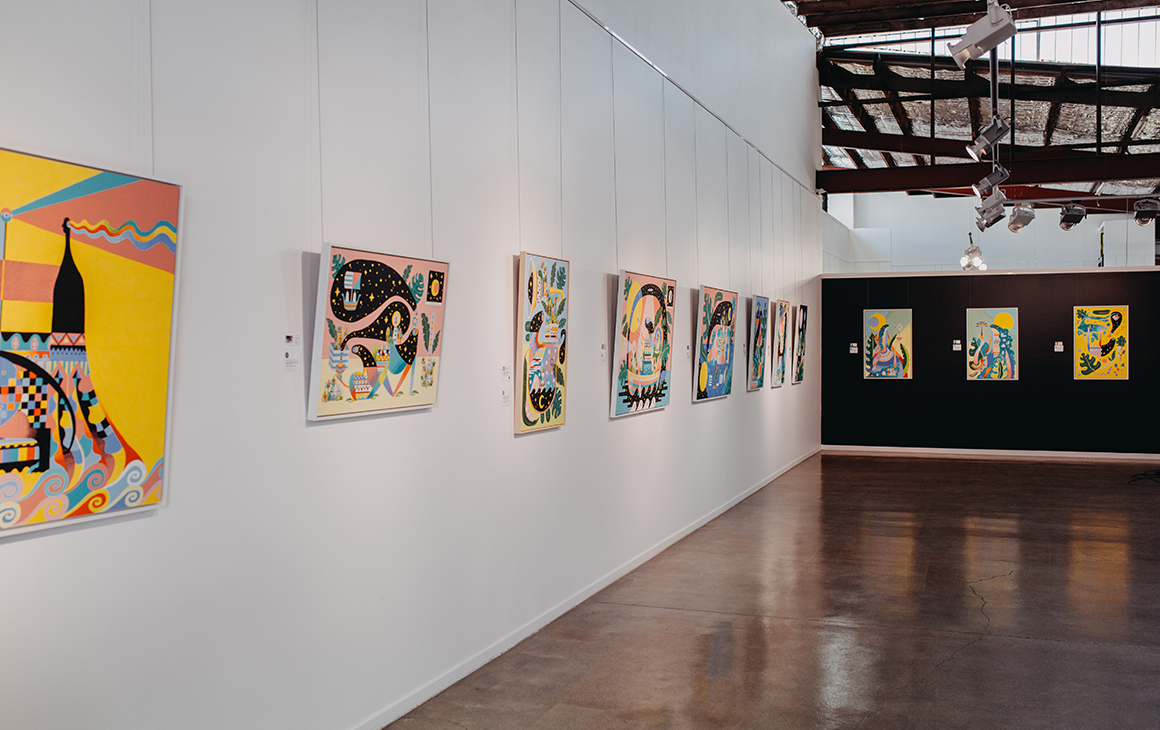 19 Karen Art Gallery
Mermaid Beach
Named after it's exact address (which is very handy), is a gallery that boasts around 70 Australian and International artists. The gallery focuses on revolving exhibits incorporating numerous styles of art from urban and street art to abstract, surrealism and pop art, all hand-picked by the Gallery Director herself because she won't hang paintings in her gallery that she wouldn't hang at her home. Open Tuesday to Saturday, but also available for private viewings, 19 Karen will take you on a journey from the moment you enter.
Dust Temple
Currumbin
A creative hub like no other, Dust Temple stands loud and proud in the industrial centre of Currumbin. A beautiful old warehouse that is home to a popular café with incredible pastries, an art gallery, as well as an event space that hosts all sorts, including artists, musicians and poets. They have a number of reoccurring events that are cheap as chips to attend—on the first Thursday of every month they hold a life drawing session, an open mic night on the second Thursday and a Poetry Jam on last Thursday of the month. Open every day of the week for a coffee and a browse, we recommend you keep returning to Dust to see what's new in the hood.
Maverick Hair And Art Space
Coolangatta
A hybrid hair salon, bookstore and art gallery, Maverick is one of the coolest joints on Griffith Street. Sitting pretty upstairs in an industrial style loft space, with timber floors and whitewashed brick walls showcasing local and emerging artist's wares. Not only do they showcase artworks, they also specialise in art & design books, homewares, ceramics and picture framing. It's pretty much a one stop shop. They often have local art exhibitions that run for a whole month so be sure to check out their calendar to see what's coming up.
Home Of The Arts (HOTA)
Surfers Paradise
Recently refurbished and better than ever, HOTA is somewhere you could happily spend all weekend. It's the largest public regional gallery on the Gold Coast, held nearly 3,000 events in one year and boasts a cinema, café, theatre and a new outdoor amphitheatre, meaning there is always something happening here. A lot of the art exhibitions here are free, you just have to RSVP if you want to attend the opening nights. The HOTA Homegrown initiative fosters the collaboration, mentorship and shared ideas between artists, with a special focus on locals. And be sure to check out their long list of events, there's sure to be something that tickles your fancy.
Left Bank Gallery
Southport
A family-owned business that not only exhibits contemporary art in their whopping 400 square metre warehouse, they also specialise in fine art printing, art reproduction, wallpaper printing and picture framing. So you can pretty much get your work printed, framed and hung up on the wall all at the one place. They also do workshops and art classes with local creatives so you can find that inner spark and let your passion ignite. Open Monday to Friday, 9am to 5pm, Left Bank is an absolute must do and The Simm family will definitely look after you and your needs.
Inspired to get creative? Try your hand and these ceramic classes or the paint and sip sessions.
Image Credit: Hayley Williamson for Urban List