While all the action appears to happen on the always-vibrant Gold Coast coastline, how about those secret hideaways, the ones far from the Surfers Paradise disco lights that just candidly watch over all the chaos?
Sure, there are a bazillion and one high rises dotted around the coast with priceless views, but what about those hinterland beauties that make the hustle and bustle seem oh-so tranquil from a distance?
We've scoured the entire stretch of the great south-east to uncover the Gold Coast's best hidden lookouts, worthy enough to showoff to your out-of-towner pals on their next vacay.
Moonlight Crag | Lamington National Park
This could possibly be one of the Gold Coast's best-kept secrets, until now. You'll need to set aside the day to trek out to this green wonderland, unless you want to tie it in with a romantic stay-cay and spend the night at nearby O'Reilly's Rainforest Retreat (obvs we'd be taking the second option). Moonlight Crag lookout is nestled within the glorious Lamington National Park and, while you can drive to the lookout, why not soak up the serenity (and some sweat) with a lazy 8km scenic trek. Starting at O'Reilly's Rainforest Retreat, you'll snake your way through the lush rainforest, past tumbling waterfalls and cloud-high escarpments. Keep an eye out for rustic signs that direct you to a grand, two-tiered wooden platform which towers over the entire scenic rim. Take a deep breath folks, and absorb that crisp country air. Ahhh the serenity!
Freeman's Organic Farm | Currumbin Valley
Originally a quaint road-side fruit market, Freeman's Organic Farm attracts locals to this hillside hinterland gem. Aside from boasting one of the most epic views of Springbrook National Park, this family-run business serves up a sensational brew and yummy farm-fresh treats seven days a week, as well as selling locally-grown produce that's dirt cheap. On weekends, the barbecue is firing and brekky and lunch are on offer, accompanied by live music from local up-and-comers—insert picture-perfect-backdrop and you've got heaven on a stick. Or bring the fam-bam and take a piece of the farm home with you with strawberry picking and guided farm tours on the agenda. Freeman's Organic Farm is located on Tomewin Road, a just stone's throw from the state border. Don't forget the mandatory Insta pic!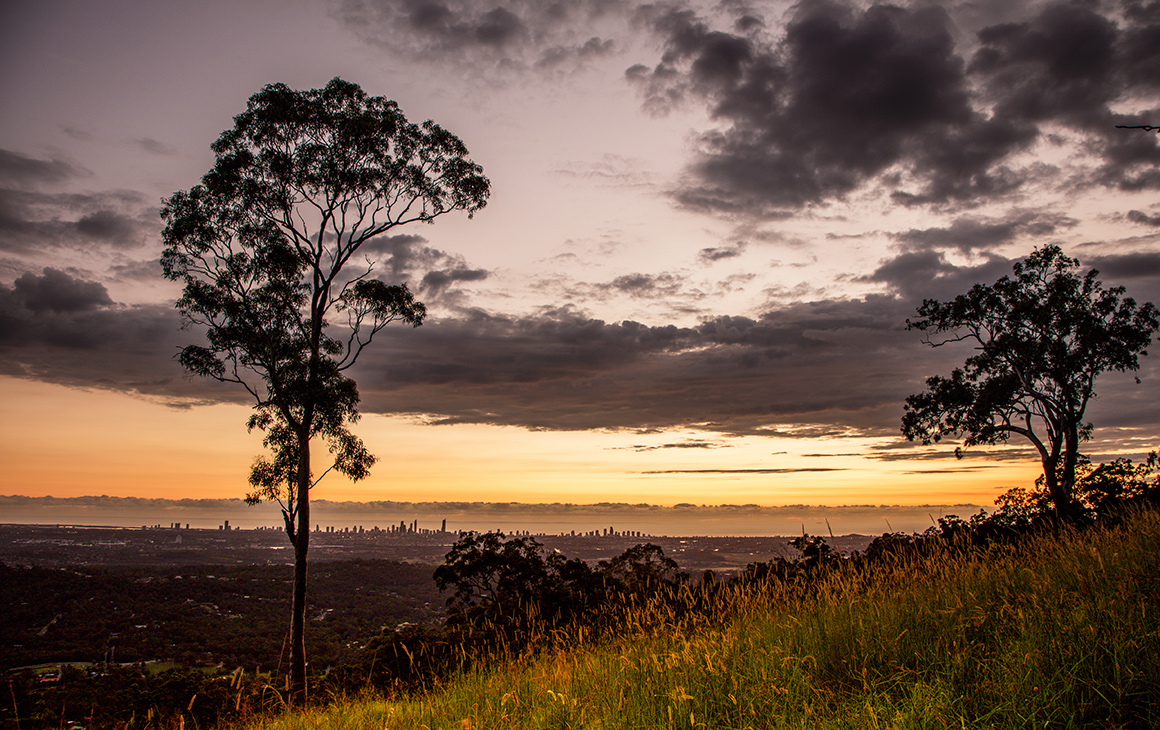 Eagle Heights Mountain Resort | Wongawallan
Sightseeing and hiking can be hard work, eh? Fancy rounding up your day with a cold beer and a pub meal at the Eagle Heights Mountain Resort beer garden? Thought so. If you want to skip the hiking altogether, this is one of those views you can easily access by car. This hush-hush venue is one of those places that a friend-of-a-friend-of-a-friend of yours has told you all about, and after one visit you'll be dirty that you didn't know about it earlier. Most weekends are buzzing with live entertainment, and there's plenty of room for the rugrats to chase each other around the grassy courtyard that's generally reserved for "I do's". While it's nice to bask in the delicious rays, the best way to soak up the wondrous view is at dusk, just as the GC skyline starts to twinkle. Bliss!
Hinze Dam | Advancetown
You might be surprised to see it on our list, but Hinze Dam is more than just a seriously large man-made puddle. The ground's architecture boasts a modern-eco feel and flawlessly-manicured gardens that would give Buckingham Palace a run for its money. The highlight, of course, is the alluring view of the steel-blue dam, framed by the distant Lamington Plateau. Providing a jungle gym of activities, you could easily spend the whole day here, starting with lunch at the View Cafe which offers the best damn view to take in the panorama. You can literally walk the paths and mountain trails for hours on end, finishing off the day just in time for a barbie and bevo at one of the many free picnic areas. Round up your mates and head west this weekend, for one of the best lookouts on the Gold Coast.
Best of All Lookout | Springbrook National Park
We're not fooling you, this is legit the name of this lookout, and you will know why once you see it for yourself. Nestled atop one of the highest points in the succulent Springbrook National Park, the Best of All Lookout is only a 25-minute roadie off the M1. You'll head off the beaten track and up winding roads through Springbrook, before arriving to this beauty at the end of the hinterland circuit. Forget everything you know about bush walking, the walk to this hidden lookout is a mere few hundred metres and you'll be pleased to know you don't even need to pack your hiking stick or leech repellent to get to this mystic paradise. You won't know where to look first; from notorious Mt Warning that's practically within reach (okay, not really), to the stretch of flickering coastline from Byron Bay all the way north to the Gold Coast, and everything dotted in between. While you're here, check out nearby Purlingbrook Falls and don't forget to BYOP (that's picnic supplies) for lunch at the lovely Gwongorella Picnic Area.
Speaking of stunning hinterland walks, check out the best bush walks on the Gold Coast.
Image credit: Jules Ingall Photography