There are times in life when you just need to get away from the hustle and bustle of the city and treat your body and mind to a little TLC. Sure, you could head to some exotic overseas spot, but why would you, when our backyard has so many beautiful places you can head to and restore your soul?
It will do you wonders and may even ease up those achy muscles, tension headaches and iron out that permanent frown between your brow.
Here's where to find the best wellness retreats on the Gold Coast (or in driving distance).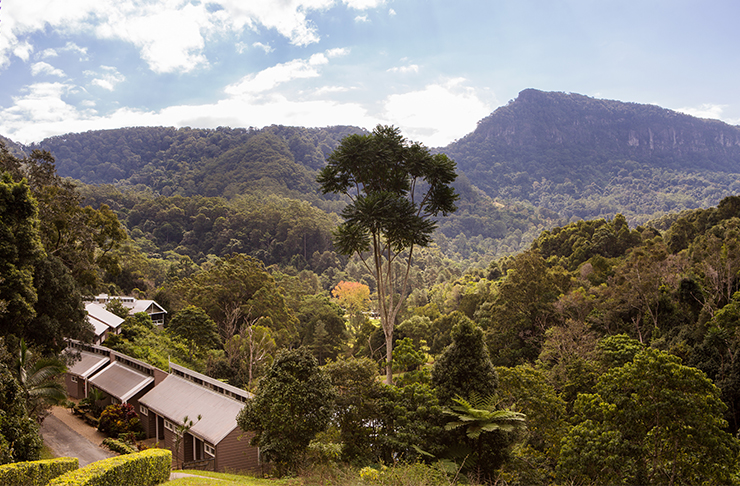 Eden Health Retreat
Currumbin Valley
Set in dew-draped Currumbin Valley is the splendid Eden Health Retreat, occupying a sheer 120 hectares of tranquil promised land and fresh country air. Built with sustainability in mind, this holistic earthy-inspired retreat covers all aspects of wellness: fitness, nutrition, naturopathy and life coaching to name albeit a few indulgences. More than just your average feet-up vacation, Eden Health Retreat tailors structured programs to suit your needs, be it stress relief, weight loss, a health detox or finding your spiritual side. It doesn't take long to settle into this paradise and the facilities are seriously first-class. Sauna, steam room, gymnasium, heated swimming pool, giant flying fox, bush walking tracks, tennis court, natural mud baths, and they even have a guest library full of self-development and productivity books. All foods are sourced locally and ethically from rural producers nearby, while alcohol and caffeine is non-existent. Without question one of the best Gold Coast wellness retreats, packages at Eden Health Retreat are six nights, seven days stays only.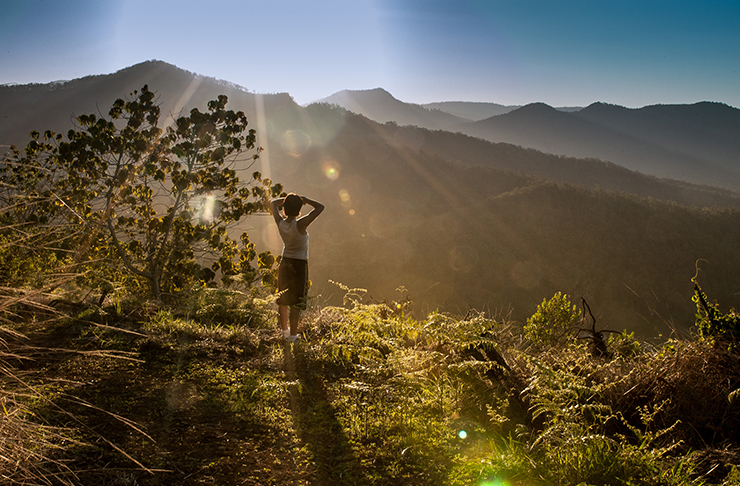 Gwinganna Lifestyle Retreat
Tallebudgera Valley
Located high in the lush Gold Coast Hinterland is the famous Gwinganna Lifestyle Retreat. Offering the perfect balance of fitness, nutrition and heavenly rest, Gwinganna will soothe your soul—just what the doctor ordered. A picture-perfect infinity pool overlooking the hinterland hills and ocean is a great place to spend your afternoon after a day of spa pampering. With long-term health transformations in mind, the Gwinganna experience goes well beyond your stay, thanks to their daily health seminars and wellness centre—including a whimsical cottage full of ancient herbs and organic supplements. You will leave with an abundance of knowledge, wisdom and a fire in your belly preparing you to kick some butt when you get back to the daily grind. Packages for the best wellness retreat on the Gold Coast start at two nights (reserved for us time-poor city slicker folk) and go up to seven nights.
Gaia Retreat And Spa
Brooklet, NSW
Fancy a wellness retreat without the set agenda of activities? An original health retreat in NSW, at Gaia Retreat and Spa you won't feel the pressure to get up at the crack of dawn when you really just want to hit snooze. Although it would be lame to skip a glowing sunrise yoga sesh at the stunning Samira Lookout—the highest point of the property. Gaia, translating to Mother Nature in Greek, is nestled in the green rolling hills of the Byron Bay Hinterland, with panoramic views of the glistening Pacific Ocean and enchanting Nightcap Ranges. This sanctuary has just 23 majestic rooms and gracefully provides the resources allowing you to pick and choose what suits you, when it suits you. Founded in 2005, and the brainchild of Aussie's own Olivia Newton-John, this boutique retreat will tantalise all your wellness needs, from meditation to Pilates and spa treatments to emotional guidance workshops. Gaia Retreat and Spa is surprisingly popular among solo detoxers too; offering the perfect opportunity to freshen your spirit, enjoy some peace-out bliss time or simply contemplate life. From Tai Chi and sound healing, to catching zzzz's in one of the hammocks dotted around the stunning grounds, you will leave Gaia feeling invigorated.
Nirvana Wellness Retreat
Beechmont
Another gem conveniently close to home is the zealously holistic, back-to-basics Nirvana Wellness Retreat. If no booze, no shoes and no technology doesn't sell it to you, read on. In their own words, this spiritual retreat is not a resort. No distractions are welcomed in the creative renewal and rejuvenating experience that Nirvana offers. Hidden away in Beechmont, on the Gold Coast's Scenic Rim, lush green trees lead you up the path to a Queenslander-style home, which sleeps all guests. Although the living staples are simple, the view of the Gold Coast Hinterland remains uncompromised and seriously priceless. Hosted by meditation guru Shanti Gowans, your day-to-day activities consist mostly of meditation practices, and contrary to other retreats mentioned here, Nirvana Wellness Retreat focuses on ditching the tangible luxuries and the status quo, instead teaching you to tap into your higher self, learning to appreciate the important things in life and not the materialistic trash. Just one day here will leave you feeling light years away from society, which is somewhat refreshing. For 10-day stay-cationers, you have the option to engage in Panchakarma, a daily purification process that involves herbal medicines, oil applications and tissue cleansing. Get in touch with your spiritual side Yogi's and Yogettes and book a retreat—stat.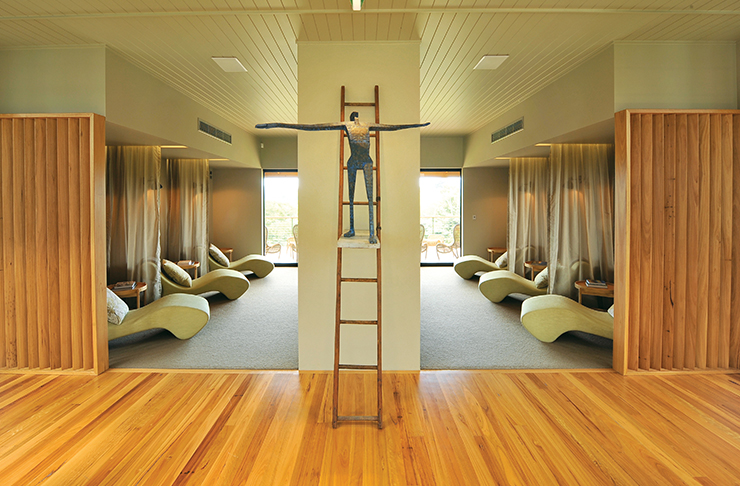 Spicers Tamarind Retreat
Maleny, Sunshine Coast
This Asian-inspired sanctuary is a mere two and a half-hour drive north, and absolutely worth the road trip. Overlooking the smoky-at-sunset Glasshouse Mountains, you will feel very much drawn to nature at this retreat. Spicers Tamarind is laidback luxe with all the services within easy reach—without the rigid drill-sergeant pitch—your retreat, your rules. On arrival you'll be greeted with a wine and cheese platter, a tour of the facilities and what will be your humble abode for the next few days of utter bliss. After a day spent wandering through the quaint local villages of Maleny and Montville, or a three-hour Spice of Life pampering package at Spa Anise at Spicers Tamarind, you'll be ready to put your feet up just in time for sunset over the Glasshouse Mountains. Or, perhaps a cosy day bed back at your modern-yet-rustic private villa will tickle your fancy. Their gorgeous restaurant, The Tamarind, has scored a number of Chef Hats over the years and promises to have you drooling over their five-course Thai degustation menu. Despite generally attracting honeymooners to Spicers Tamarind Retreat, most villas can accommodate up to four people, making it the perfect double-date getaway with your best couple buddies. With most villas flaunting their own fireplaces, you'll want to squeeze a wellness weekend in before winter thaws out.
Want some pampering but don't have time or cash to splash at the best wellness retreats on the Gold Coast? Head straight for one of the Gold Coast's best day spas instead.
Image credit: Gwinganna Lifestyle Retreat, Eden Health Retreat and Spicers Tamarind Retreat
Editor's note: Urban List editors independently select and write about stuff we love and think you'll like too. Urban List has affiliate partnerships, so we get revenue from your purchase.