Whether you're on the Gold Coast for a long time or a good time, chances are the searing Queensland sun has taken its toll on your skin, and the non-stop surfing, partying or cafe hopping has your body beat.
Well, we think it's high time you carved out some space to de-stress and rejuvenate. We did the hard yards and tested treatments all over town to come up with 12 of the best day spas on the Gold Coast in 2023, to switch off your phone, shut out the world and get glowing again.
The Banya
Mullumbimby
Stunning architectural designs, elegant surrounds, sumptuous dining and luxurious pampering is what awaits you at The Banya Mullumbimby. Built on the bricks of a 1920's bank, The Banya is a modern, experiential twist on a traditional European bathhouse and prides itself on curating an immersive social, bathing and dining experience. The Banya comprises a bathhouse space and a social dining area, effortlessly synthesising elements of socialisation and relaxation. Start at The Bathhouse and divide your time between the lap pool, mineral pools, a wood-fired sauna, massage rooms, a steam room and cold plunge pool. Once you're feeling truly reinvigorated, let the morning ease into the afternoon so you have an excuse to stay for a lunch long with drinks, eating your way through small share plates and nutritious staples.
Soak Bathhouse
Mermaid Beach
Kick off your shoes, take a deep breath and prepare to be transported to a luxurious, stress-free environment reminiscent of a tropical paradise. No, you're not on an island getaway, you've just stepped into the heavenly Soak Bathhouse. This urban bathhouse, nestled away in sun-kissed Mermaid Beach, offers clients a welcome escape from the daily grind and promotes a holistic approach to wellness in body, mind and spirit. Here you'll find indoor and outdoor communal mineral baths, hot spas, plune pools, steam rooms, a traditional dry cedar sauna and a sundeck. Soak's rejuvenation experience supports the four pillars of wellness—recovery, nutrition, movement and connection—and is perfect for your next girl's spa session or date night. PS: Soak is open until 10pm seven days a week.
Greenhouse the Bathhouse


Burleigh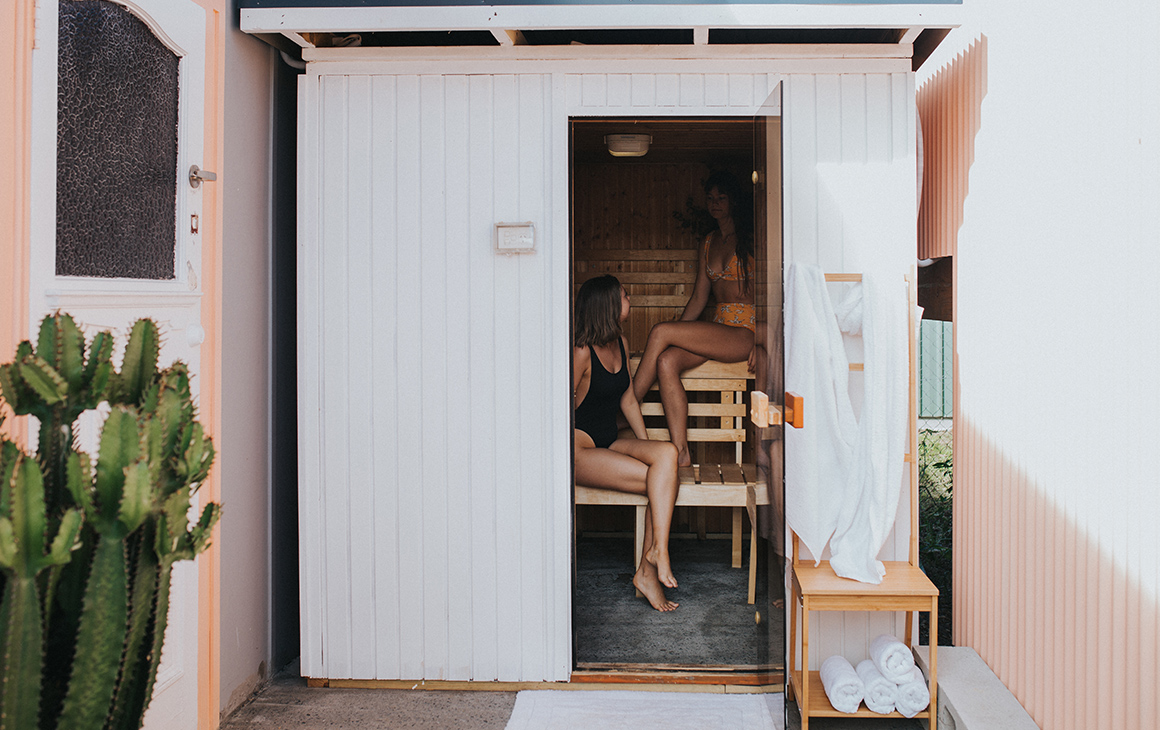 Located at the mouth of the Tallebudgera Valley and inspired by bath houses in Morocco—where all facilities are gathered under one roof—The Bathhouse is modern and minimal. Once you strip down to your swimmers or shorts, first rinse off in the outdoor shower, before splitting your time between the warm massaging bubbles of two hydrotherapy spas and a custom-built wet steam room. Then, get the blood circulating with a refreshing dip in the outdoor magnesium plunge pool. Next, it's onto the red cedar dry sauna, where you have control of the intensity by splashing water over a bed of hot rocks in the corner, and then retreat to the sundeck at the rear. Take it slowly through the stunning facilities or soak, steam, plunge and repeat. The choice is yours.
Earth & Skin
Mudgeeraba
Organic beauty spa Earth & Skin is soothing all our stresses away. Located in a stunning Queenslander-style cottage in Mudgeeraba, this sanctuary is just what you need: calming, quiet and heavenly. Offering a range of holistic treatments including signature massage experiences, organic facials, eye treatments, skin peels, LED light therapy and incredibly blissful manis and pedis, Earth & Skin is the spa getaway of your dreams. Expect luxurious beauty services using products which are natural, chemical-free and free from animal cruelty, ensuring they're both good for your health and the planet. If you're looking for one of the best day spas on the Gold Coast, you've found it.
Chuan Spa
Surfers Paradise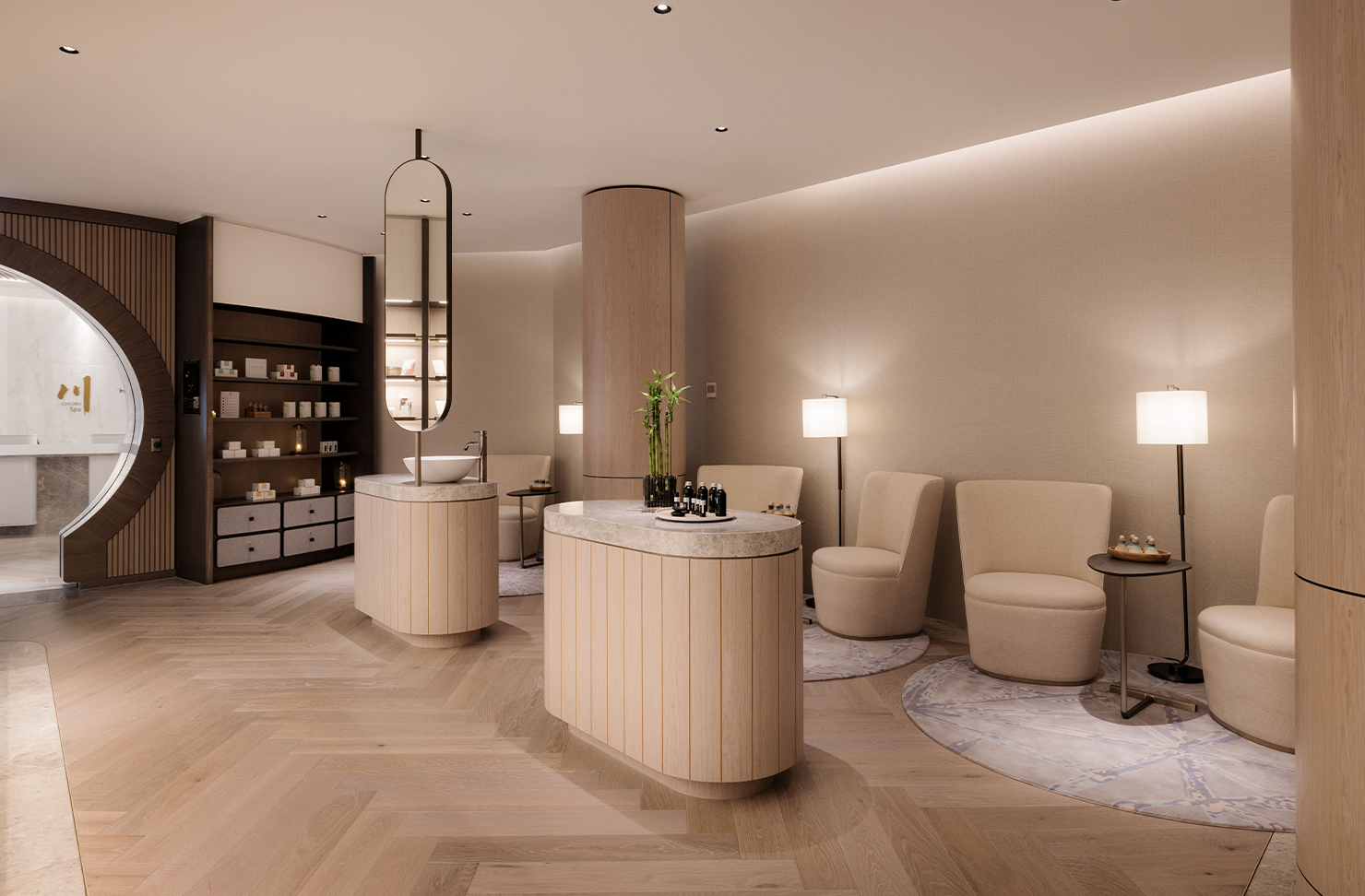 Health and wellness lovers are spoiled at The Langham Gold Coast's Chuan Spa, a 5,300-square-foot holistic wellness retreat set with indoor and outdoor pools, that embraces the healing philosophies of traditional Chinese medicine through indulgent wellness treatments. Chuan Spa offers a range of treatments including facials, massages, scrubs and wraps, hand and foot therapies, and beauty treatments, with each customised to nurture, balance and restore, guided by the five elements of wood, fire, earth, metal and water. Step inside and you'll be welcomed by the subtle scent of Chuan signature elements oils amongst the spa's stunning fit-out of neutral, calming hues and bespoke contemporary design with marble accents, comprising eight treatment rooms and two couple rooms.
The Bathhouse At Ground
Currumbin Valley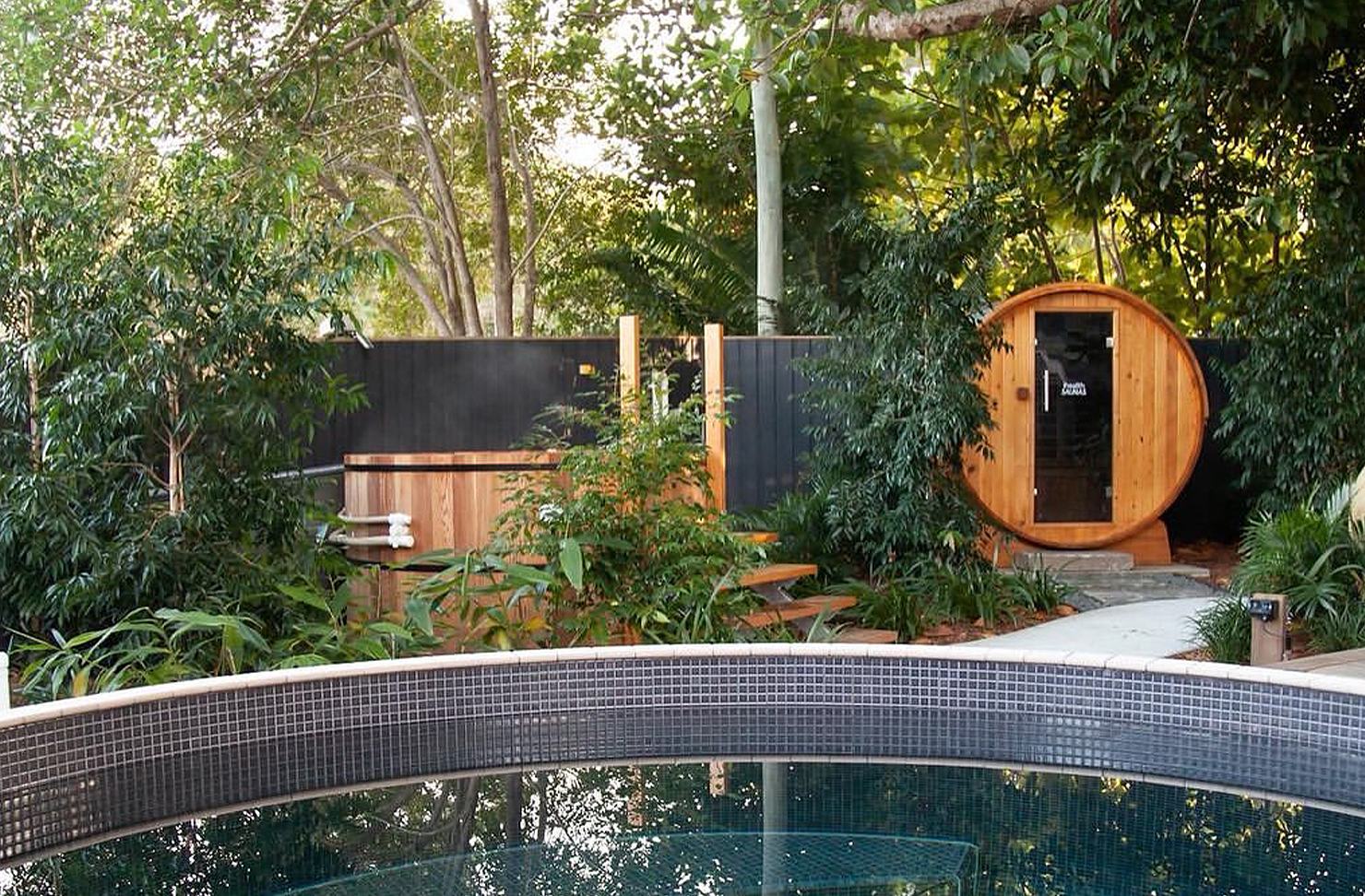 Set amongst lush rainforest, under the canopy of a majestic fig tree, The Bathhouse At Ground is truly something special. Inspired by the natural surrounds and seamlessly blending nature into every aspect of the building's design, the health sanctuary breathes relaxation. Expect lavish touches, natural textures and earthy, wooden tones which compliment the surrounding wilderness. Drift into the traditional cedar hot tub, which uses sustainably sourced timber from British Columbia, warm up in the infrared and hot stone saunas and dip your toe in (literally) the hydrotherapy spa baths.
Kalm Springs
Casuarina, NSW
Slip off your shoes, exhale and let any stress melt away when you step foot into the stunning new health sanctuary sprinkling its calming magic around the Gold Coast. Nestled in lush seaside escape Casuarina, Kalm Springs is an indulgent seaside health spa that is all about healing, rejuvenation and wellness from within. The team here is all about restoring balance to your body, and they have a variety of blissful treatments to rejuvenate you. Kalm Springs' three main wellness treatments include ice bath therapy, float therapy, infrared saunas and LED therapy—while you can choose how many treatments you want, we recommend you clear your schedule for this place and take the time to splash out on a day of pampering. Trust us, it's worth it.
On Eagle Wings Mountain Retreat & Spa
Mudgeeraba
A trip to On Eagle Wings Mountain Retreat & Spa in the Mudgeeraba Hinterland is just as much about the journey as the destination. Breathe in the pure air as you travel through rolling countryside on your way to one of the best day spas on the Gold Coast. Perfect for friend dates, lovers or some solo 'me time', indulge in a half-day spa package or individual treatments including detox saunas, mineral spas, pedis, massages and facials. All followed by a few hours sprawled on the expansive deck with a 25-metre infinity pool and panoramic views. Heaven exists and it is only a 15-minute drive from the Gold Coast.
Halcyon House Spa
Cabarita
If you've ever treated yourself to a long wine-fuelled lunch or perhaps splashed out on a fanciful weekend getaway, you can attest that Cabarita's dreamy Halcyon House is the kinda place you wish you could shut off from reality and hide away forever. While Halcyon Spa is not technically on the Gold Coast, it is absolutely worth the short jaunt south across the border if you're looking for the ultimate day spa experience. Designed by the same creative hands behind the adjoining boutique hotel and Paper Daisy restaurant, Halcyon Spa is wrapped in crisp white stucco walls, with signature breezeblocks and archways hiding relaxation areas and calming courtyards. The spa treatments are as gorgeous as the space—expect facials, massages, body therapies and spa rituals.There's also a Hammam-inspired domed steam room, where you can bliss out pre or post-treatment to maximise the rejuvenation experience.
Gwinganna Lifestyle Retreat
Tallebudgera Valley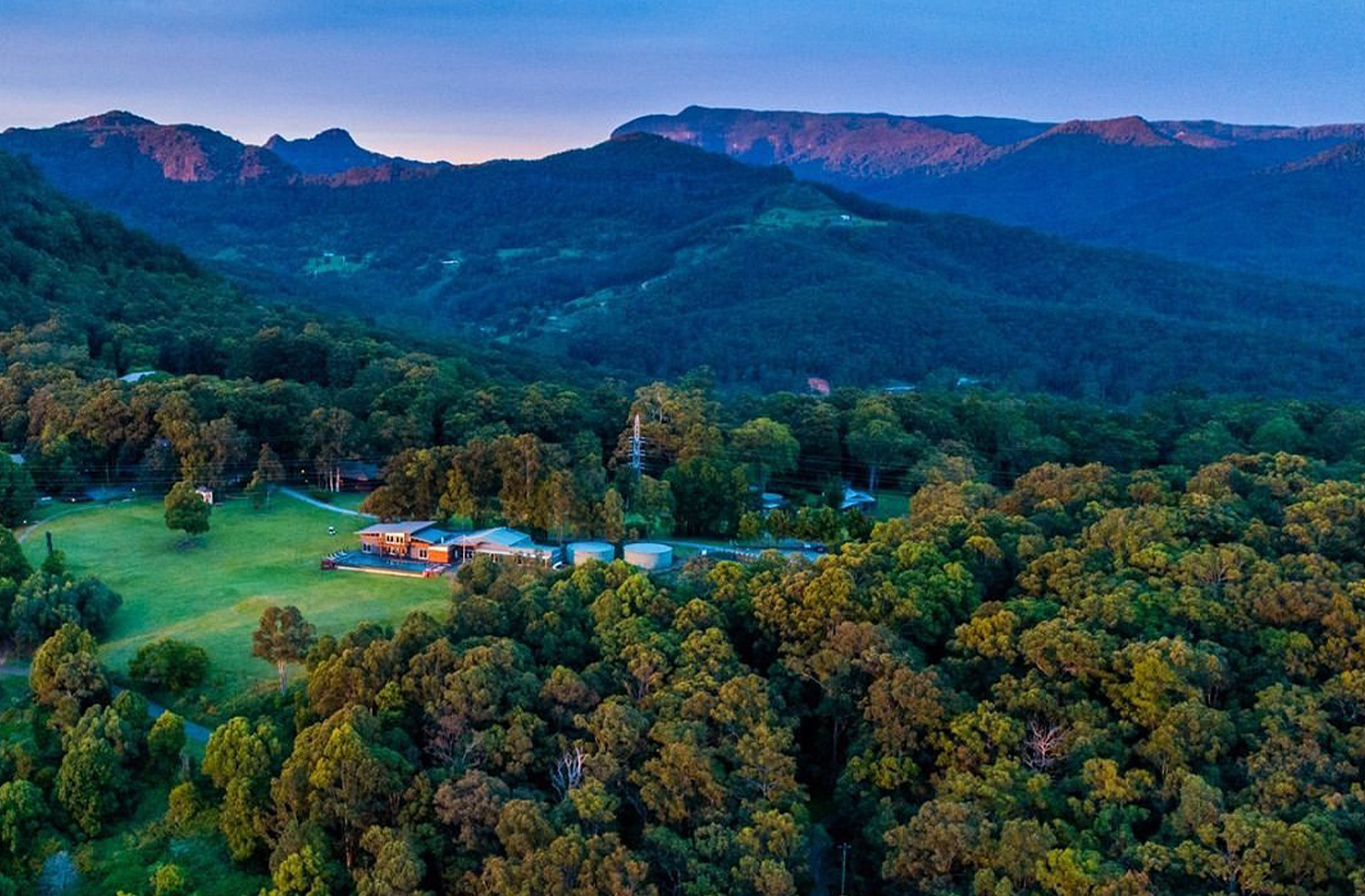 Let's just lead with the fact that Gwinganna won 'World's Best Eco Spa' in the 2022 World Spa Awards. So yes, it's incredible. While it's not technically a 'day spa' and you'll need to stay at least two nights to take advantage of the stunning facilities—Gwinganna Lifestyle Retreat is truly something else. Gwinganna takes a holistic approach to wellness, providing conventional spa treatments together with traditional Chinese medicine and acupuncture, naturopathy, yoga and nutrition to sooth the mind, body and soul. It also boast's the Southern Hemisphere's largest spa with an exclusive indoor/outdoor 33-room spa sanctuary. We know you're going to adore Gwinganna's lush forest surrounds complete with the real-time chatter of wildlife as your soundtrack; the perfect setting to completely disengage from the world and reconnect with yourself.
Endota Spa
Broadbeach, Coolangatta, Robina & Surfers Paradise
Step away from the bustle of Broadbeach for a full-body buffing at the heavenly Endota Spa. This modern full-service spa offers you an escape from your hectic daily life with essentials such as massages, facials, waxing and body wraps and spa treatments. Endota also welcomes group bookings, so gather your gal pals for a Girls Day Out pampering session including massage, pedicures, facials and footbaths. Bliss.
Stephanies Wellness Spa at Q1
Surfers Paradise
Towering over the northern Gold Coast skyline, Stephanies Wellness Spa at Q1 lives up to its namesake delivering an exceptional destination spa experience. Wood, textures and greenery create a tropical sanctuary where guests can unwind and reflect. Specialising in distinctively Australian treatments influenced by Aboriginal Dreamtime therapies, the award-winning spa's Vichy shower, Jet Spa pod and Hyrdostorm shower are to die for. We suggest trying the Sacred Elements skin ritual that will shift tension and ensure you leave invigorated.
Worked your way through the best day spas on the Gold Coast? You'll probably be ready to treat yourself to an afternoon of sipping in the sunshine at the Gold Coast's best rooftop bars.
Image credit: Brooke Darling and Hayley Williamson for The Urban List, Kara Rosenlund for Halcyon House & Supplied