Yoga is a one-stop shop for all your fitness needs; with a reputation for building strength and flexibility, reducing stress and anxiety as well as hitting the natural reset button for your emotional and mental wellness, there's really no excuse not to do it!
We've put in the hard work for you, having tried and tested the best yoga studios on the Gold Coast where you can headstand, salute the sun, downward dog, Om and immerse yourself in a gorgeous meditation and then come back to centre. Namaste.
Here are the best yoga studios on the Gold Coast.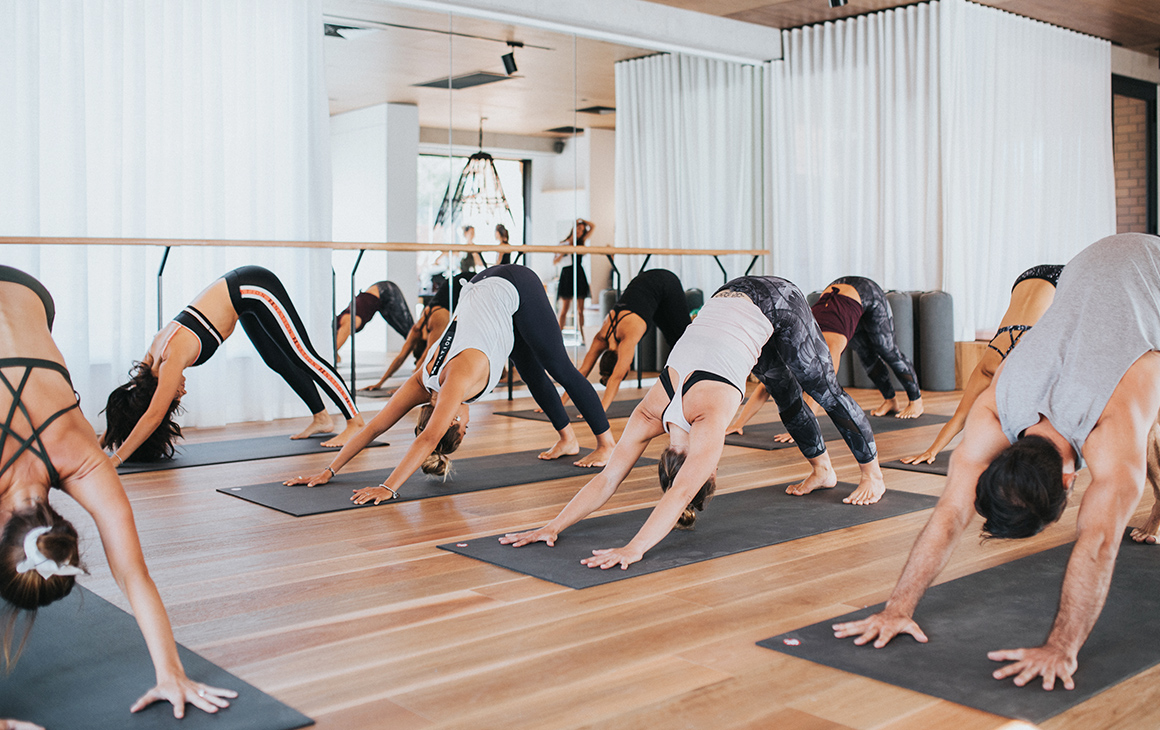 Gold Coast Yoga Centre
Palm Beach
Operating for over 20 years, Gold Coast Yoga Centre in Palm Beach is the longest running yoga studio on the Gold Coast. Originally opening in 1996 and still flowing strong with the same five-star teachers, this crew knows yoga. Gold Coast Yoga Centre has created classes that are best for you and your current level with options available from beginner through to level three advanced. Walk into their ambient studio and be comforted with the best class that suits exactly how your body is feeling that day—no challenges, no pushing boundaries—just you, your mat and ultimate presence. We vote Gold Coast Yoga Centre as the best yoga studio on the Gold Coast for ambience, environment and embracing your free-flowing style. If you're looking to take your yoga to the next level, contact them about their expert teacher trainings.
Boheme And Body
Varsity Lakes And Rainbow Bay
Boheme & Body is your perfect destination for a one-hour getaway. Walk into Boheme & Body's elegant Varsity Lakes studio or their intimate space in Rainbow Bay and forget about all the worries, stresses and other annoying BS that happened prior in the day. Boheme & Body have created their own signature yoga classes, which have a sequence of poses designed specifically for incorporating harmony and balance within our busy 21st century lives. Boss riding your arse? Boheme & Body yoga. Partner being an idiot? Boheme & Body yoga. Stressed AF? Boheme & Body yoga. Need a holiday? Boheme & Body yoga. Trust us, you will leave these classes grounded and re-centred. We promise.
Essence Of Living
Mermaid Beach
Essence of Living is the best yoga studio on the Gold Coast for the yoga enthusiast and traditionalist. Located in Mermaid Beach, Essence of Living is a self-nurturing yoga sanctuary, with two large upstairs studios, an extensive class list, plus highly trained and well-respected teachers. Essence classes do exactly as they promise, to bring you back to your Essence of Living—grounded, re-entered and clear—you won't even know yourself when you walk out of an Essence class. Reactionary? Stressed? Who, me? Hint: Give yourself at least five minutes before you drive home from class, as you will leave these classes with your Zen next level.
Soul Centre
Southport
Northern Gold Coasters, Soul Centre is your go to for one of the best yoga studios on the Gold Coast. One hour of the perfect balance of power, strength, bodied breath and relaxation—this beautiful studio in Southport provides all the above. Soul Centre's classes are run by experienced and qualified teachers, who are down to Earth and offer easy explanations where beginners can find themselves comforted without too much yoga lingo and experts can be challenged further in their practice. Struggling with taking your yoga to the next level or hitting your favourite move? We nailed our first headstands here!
The Body Method At Cornerstone Stores
Tugun
If you're a Pilates fan, you'll already be familiar with The Body Method brand, who boast one of the most attractive studios on the Coast. An organic expansion of their flagship studio in Tugun, this larger, even more magical space in Cornerstone Stores hosts yoga, barre, meditation, as well as Pilates and workshops (from pregnancy yoga to women's wellness), and we're so ready to sign up. Seriously, this dreamy, light-soaked space needs to be experienced to be believed, and it'll be impossible to walk away from a class without slipping into a total Zen-like state of mind. When you're done, hop downstairs to Stable cafe for a smoothie and a nourishing salad, or pop into Prae for a new activewear treat. Go on, you deserve it.
Ritual Yoga And Pilates
Palm Beach
If you're on the hunt for a killer yoga and Pilates studio on the Gold Coast, Ritual Yoga is a Pinterest board of a studio, complete with wooden floorboards, dream-catchers, and warm space where you can enjoy free wifi and are welcome to sit, have a cup of tea and catch up with friends." Averaging nine classes per day with a room also set up for Pilates Barre, this could very well be our favourite thing about Palm Beach (forgive us, Barefoot Barista!).
Miami Yoga Room
Miami
Miami is a go-to Gold Coast yoga studio with one of the largest timetables and classes running from 6am to 7pm. Whether you prefer Vinyasa, Ashtanga, Yin or Flow, they have got you covered. Miami Yoga Room's spacious studio provides a fresh, spacious space to completely express your movement, nail your handstands and perfect your backbends with their supportive (and very patient) teachers. Whatever it is you're chasing, you'll most likely find it here.
Peace Yoga And Mediation Centre
Burleigh Heads
Peace Yoga And Mediation Centre is a gorgeous Gold Coast yoga studio in Burleigh Heads. Get along to one of their night time classes and immerse yourself in the ambience of dimly lit yoga, which provides the perfect wind down after a hectic day. Peace Yoga And Mediation Centre cater for kids, mums and bubs, plus pregnancy and postnatal yoga. Try something a bit different and join in on partner's yoga, where you can meditate, exercise and enhance your relationship together or ask them about their private tuition to skyrocket your yoga improvement.
The Floating Lotus
Helensvale
Gold Coast's The Floating Lotus is a full spectrum yoga studio with 40-plus yoga, pilates, barre, yin and meditation classes weekly. The Floating Lotus team of over 20 teachers emphasise inclusivity, welcoming all levels of experience, fitness, age and gender to every class. A one-week trial will set you back $20 and once you're head over heels with The Floating Lotus, you can become a member and attend unlimited classes for just $29.90 per week.
Breathe Holistic Wellness
Broadbeach Waters
Looking for something a little more private? This beautiful boutique studio in Broadbeach Waters provides the best small group yoga classes on the Gold Coast, with a maximum of six people—so make sure you book your spot. Yes, no daunting large classes if you fall in your headstand or get stuck in pigeon pose. Breathe Holistic Wellness is an integrative health clinic, with classes targeted towards your specific needs—be it muscular release, pre-natal, mobility and aroma yoga. At this Gold Coast wellness studio you'll find other body professionals including chiropractors, masseurs and psychologists under one roof.
Worked your way through best yoga studios on the Gold Coast? How about some sampling of the top Gold Coast Pilates studios next?
Image credit: Hayley Williamson for Urban List