When it comes to summer on the Gold Coast, nothing beats sea breezes and epic views with a side of getting physical. So there's been no better time to lace up the joggers, gather your mates and explore the most iconic Gold Coast coastal walks right here on home turf.
Whether it's a dawdle down at the marina, a hike atop rolling hills or a wistful waterway walk featuring chats galore, we love all of the Gold Coast's coastal walks. Explore the great outdoors and soak up a healthy dose of vitamin D at 13 of the best coastal walks on and around the Gold Coast.
Currumbin to Elephant Rock
Currumbin
Sure, you could travel this route by car. But why would you when there's fresh air, sunshine and footsteps to be had? Turn off the Gold Coast Highway, where idyllic ocean shores greet your sea spray hungry spirit. Snag a park to the side of the main drag or duck into the residential areas for a quick pull-in. With ocean air in your lungs, snake along Currumbin Creek's coastal track to the very edges of Currumbin point, then all the way 'round to Elephant Rock. Why not celebrate a walk well done with a cheeky beer to your whistle at the nearby Vikings Surf Club or duck into Backbone a little further up for dumplings and bao buns.
THE DETAILS
Distance: 3 km
Time: 50 minute return
Grade: Easy
Burleigh Headland Circuit
Burleigh Heads National Park
Beyond the order-and-go Justin Lane pizzas, pop-up picnics and sneaky pocket flasks, Burleigh Hill and its adjoining National Park offer a pristine rainforest-lined corridor to one side and wild ocean space on the other. Start left for a relaxed coastal stroll, or up the ante and weave between towering trees via the incline to the right. Round up your mates, bundle up the picnic rug and make a stop halfway at Tallebudgera creek for an idyllic dip before finishing up the one-hour round trip home. With multiple tracks throughout the park, keep an eye out for wildlife to guide the way.
THE DETAILS
Distance: 2.4 km
Time: 1 hour return
Grade: Moderate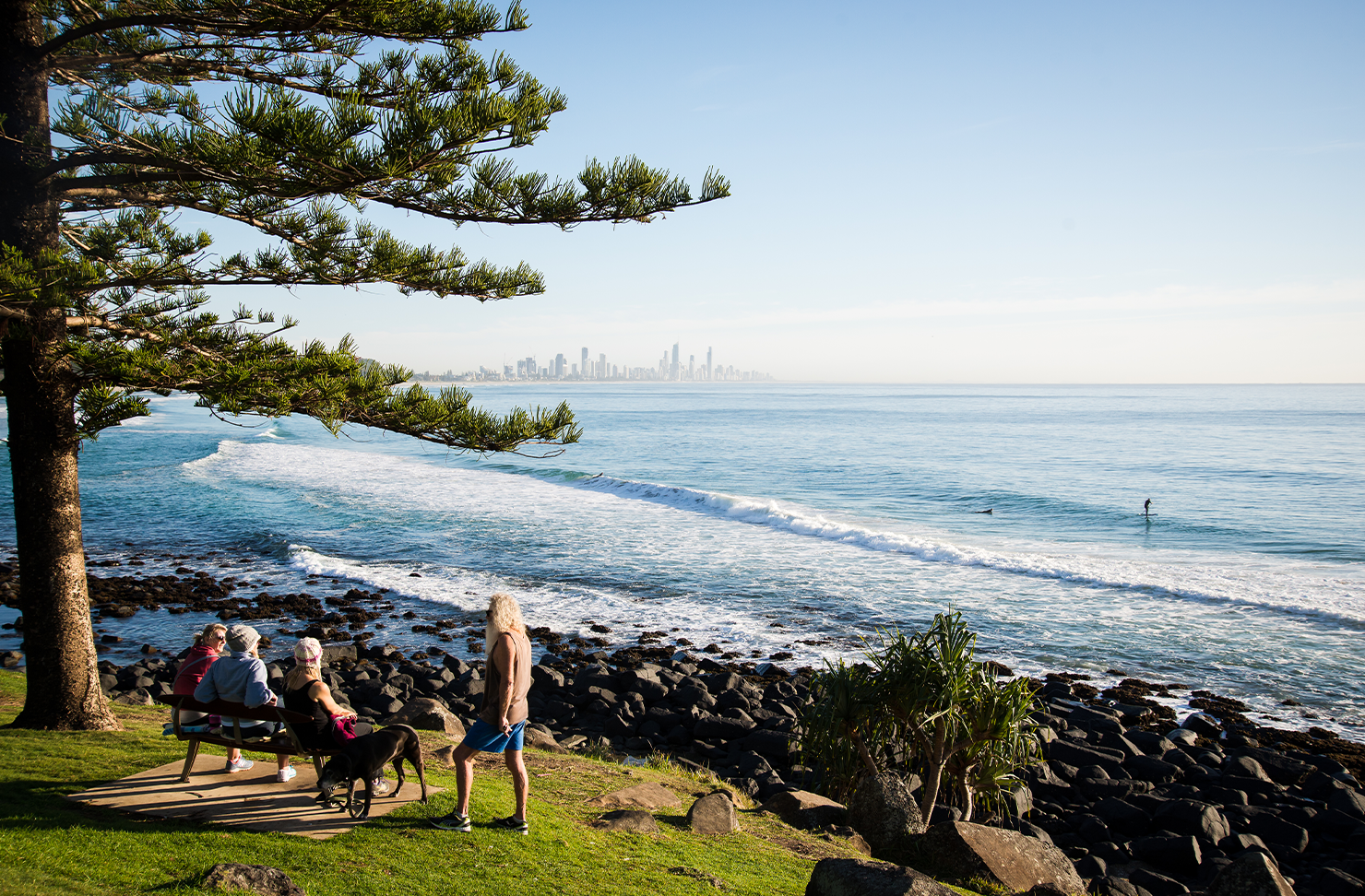 Broadbeach to Main Beach
Broadbeach
Pull in, grab a bite at the ever-iconic Elk Espresso and head off on Broadbeach's easy coastal walk. This flat terrain is the perfect setting for a walk and chat right beside the ocean's shores. Venture through shady parks and up to Main Beach's boat lined waterways. As the best coastal walk on the Gold Coast for those who love variety, naturally this walk takes around 2.5 hours, but you'll be tempted to make it more, what with the many eateries lining your track.
THE DETAILS
Distance: 12 km return
Time: 3 hours
Grade: Easy
Kirra To Point Danger
Coolangatta
Surrender to the tourist hotspots and the novelty that is straddling the border and standing one foot in New South Wales and the other in Queensland. Start at Kirra's impressive lookout before working up a sweat on your wander to Coolangatta's seawall. Wide shared pathways along Coolangatta Beach make your stroll along Greenmount, past Rainbow Bay and up the hill past Snapper Rocks to Point Danger a cinch. With its diverse terrain, views and greenery, what a thrill this coastal walk on the Gold Coast is.
THE DETAILS
Distance: 4 km
Time: 1 hour 15 minutes return
Grade: Moderate to hard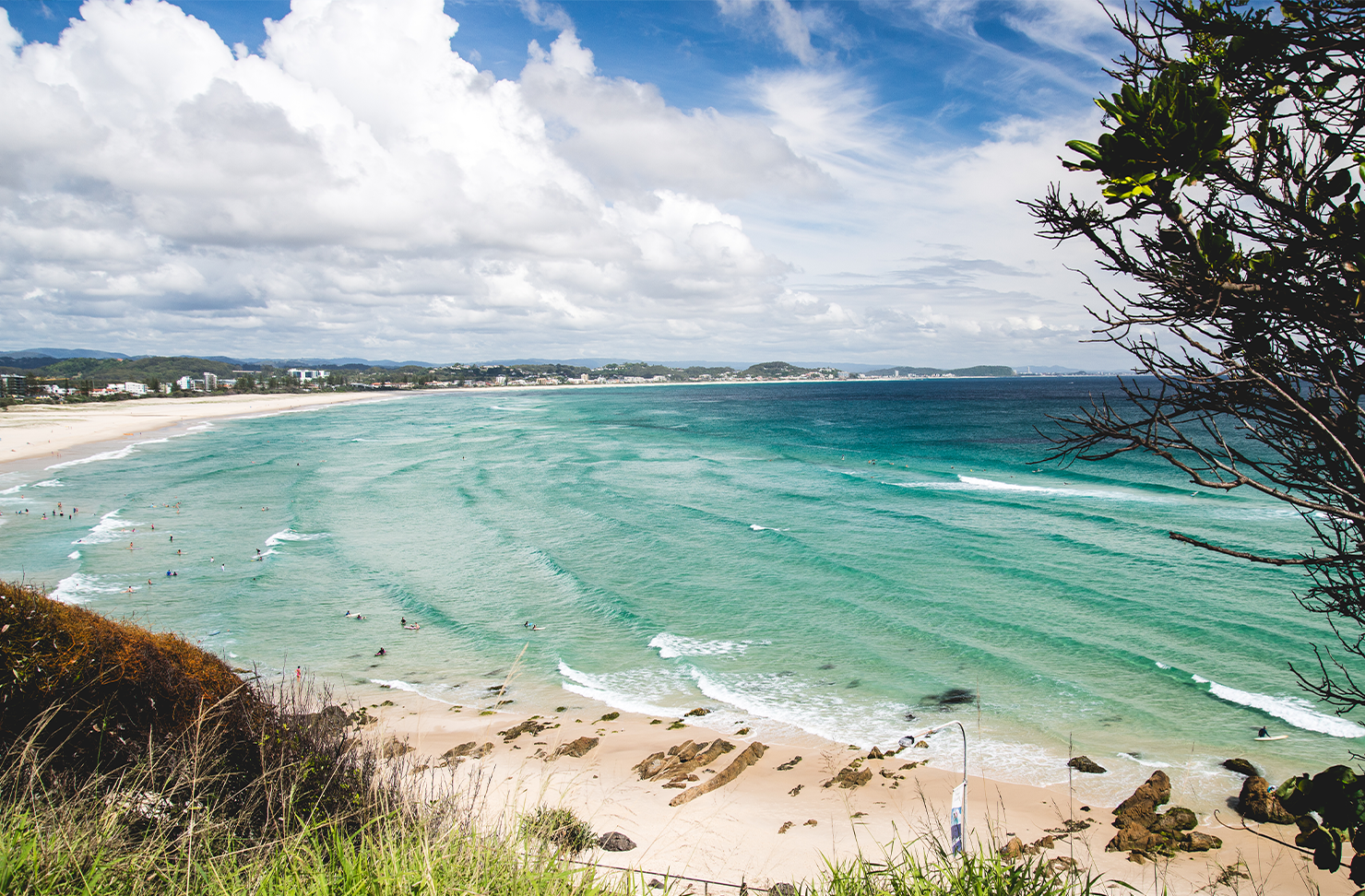 Fingal Tiny Lighthouse Walk
Fingal
Dates, mates, or a solo trip to somewhere breathtakingly beautiful. You don't have to be a fitness junkie to give this track a crack. Venture below the border and hit the pavement for one of the best coastal walks near the Gold Coast. Once you're parked up, make your way into the bush, weave along the sand-lined walkway, up a few stairs and get a high fived in the face by Fingal's majestic panoramic ocean views. With conserved land, you'll be privy to wildflowers, lush fauna and Australiana flora at your fingertips. Take the scenic route around the cliff's edge or check out the tiny lighthouse in all its glory. Yes, it's just as adorable as it sounds.
THE DETAILS
Distance: 2 km
Time: 1 hour return
Grade: Easy
North Burleigh Lookout to Nobby's
Miami
Unsure if a coastal walk's your jam? Start small with a wander atop North Burleigh Hill. Nestled between Mermaid Beach and Burleigh, this coastal walk allows you to choose your own adventure. Whether it's a stroll down Burleigh's shady path, or a wander up from Broadbeach's sun-drenched walkway. You may even choose to explore a little closer from Nobby's Beach, or cut to the chase and park up just below at Don Mcsween Park. Grab a cuppa from BSKT, head on up along the McMansion-framed road, climb the rainbow stairs and reach your front row seat to a birds eye view of the Gold Coast's beach-meets-cityscape lookout. Then venture up into the scrub for a viewing platform frequented by dolphins and if you're lucky, even whales.
THE DETAILS
Distance: 5 km
Time: 1 hour return
Grade: Moderate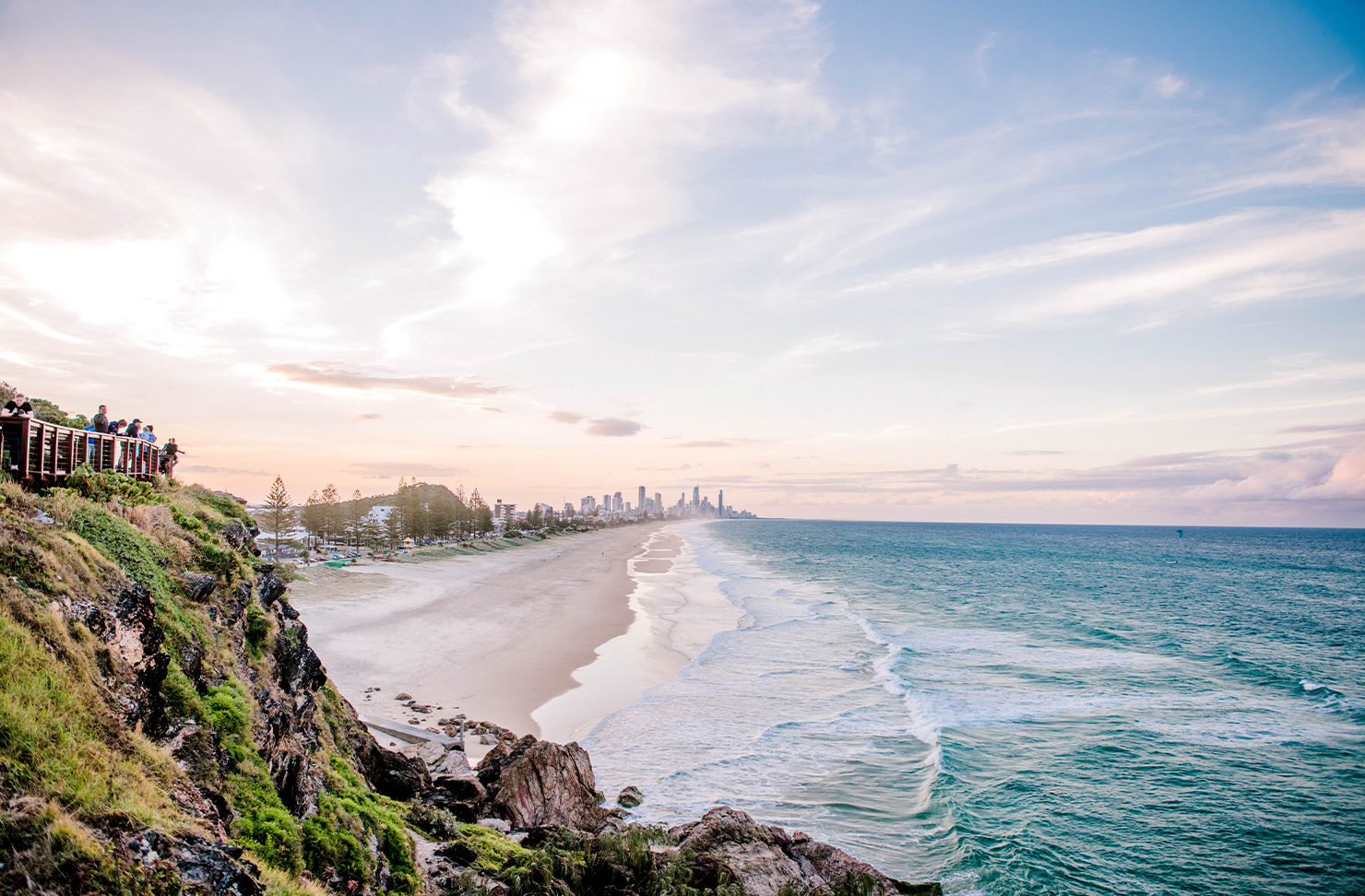 Marine Parade Foreshore
Labrador
Okay, maybe Labrador wasn't on your hit list for a coastal walk on the Gold Coast, but hear us out. With its extra-wide path, dotted gym equipment and ample space to walk your pooches, we can see exactly why this coastal walk is a northern Gold Coast local favourite. While it's a decent two-hour return trip, the best part is, you can turn back any time and kiss away your blisters with a bevvie at the nearby pub or try your hand at pelican feeding at the Broadwater every day at 1:30pm.
THE DETAILS
Distance: 7 km
Time: 2 hours return
Grade: Easy
Beree Badalla Reserve
Currumbin Creek
Believe us when we say this coastal walk is enjoyable for even the most foot-mode-of-transport-phobe. If you don't love it for its secret Tarrabora Reserve entrance beside a literal lagoon, then you'll definitely get swept up in its mangrove-framed boardwalk. Depending on the tide, you'll be privy to tiny crabs scurrying for cover or feel like you're floating on water with baby waves lapping just below your toes at high tide. Take the Currumbin Creek trail bridge built in 1903 and restored in the '90s then treat yourselves to fresh paninis, pastries and lattes at Aperitivo to mark halfway on this Gold Coast coastal walk. Yes please.
THE DETAILS
Distance: 3 km
Time: 40 minutes return
Grade: Easy
Kingscliff Waters to Cudgen Creek Beach
Kingscliff
Tucked away from the roaring surf, this coastal walk is one of the finest near the Gold Coast. Explore from inland waterways right through to where the creek meets the sea. Ogle pristine, clear waters and scoff to each other that this must be some type of heaven. Take a dip or laze beneath the trees. We can both agree that after choosing to lace up those sneakers over Netflix binge all day long, you deserve it.
THE DETAILS
Distance: 4 km
Time: 1 hour
Grade: Easy
Norries Headland Loop
Cabarita
Donning a new pair of adventure-ready sneakers and want to go on a coastal walk that makes you question if this is real life? Then this one is for you. Opt to walk Cabarita's emerald green headland which is oddly often quiet, featuring a maintained stairway to literal heaven. Or ready yourself for a challenge and pound the pavement from inland, then once you've reached the peak for picture-perfect views, return with silky soft sand between your toes along the beach. Channel your inner walking weapon alter-ego for a day that'll make peeling your eyes off Netflix well worth it.
THE DETAILS
Distance: 1 to 6 km
Time: 30 minutes to 2 hours
Grade: Moderate to hard
Byron Bay Lighthouse Walk
Byron Bay
It'd be rude to not mention the most easterly point of Australia with its infamous lighthouse, jagged cliff faces and its must-do coastal walk. After all, it's only a short road trip away to the picturesque Northern Rivers. Stop off at the fruit market on your way in, fill the backpack with snacks, and bundle up your goodies for the hike that everyone must complete at least once. Tossing up whether the trip's worth the trek? Why not make a weekend of it? With several walking trails close by you'll be spoilt for choice. Think: Wategos Beach's smooth beachfront, The Fisherman's Lookout and Tallow Ridge Track.
THE DETAILS
Distance: 4 km loop
Time: 1 to 3 hours
Grade: Moderate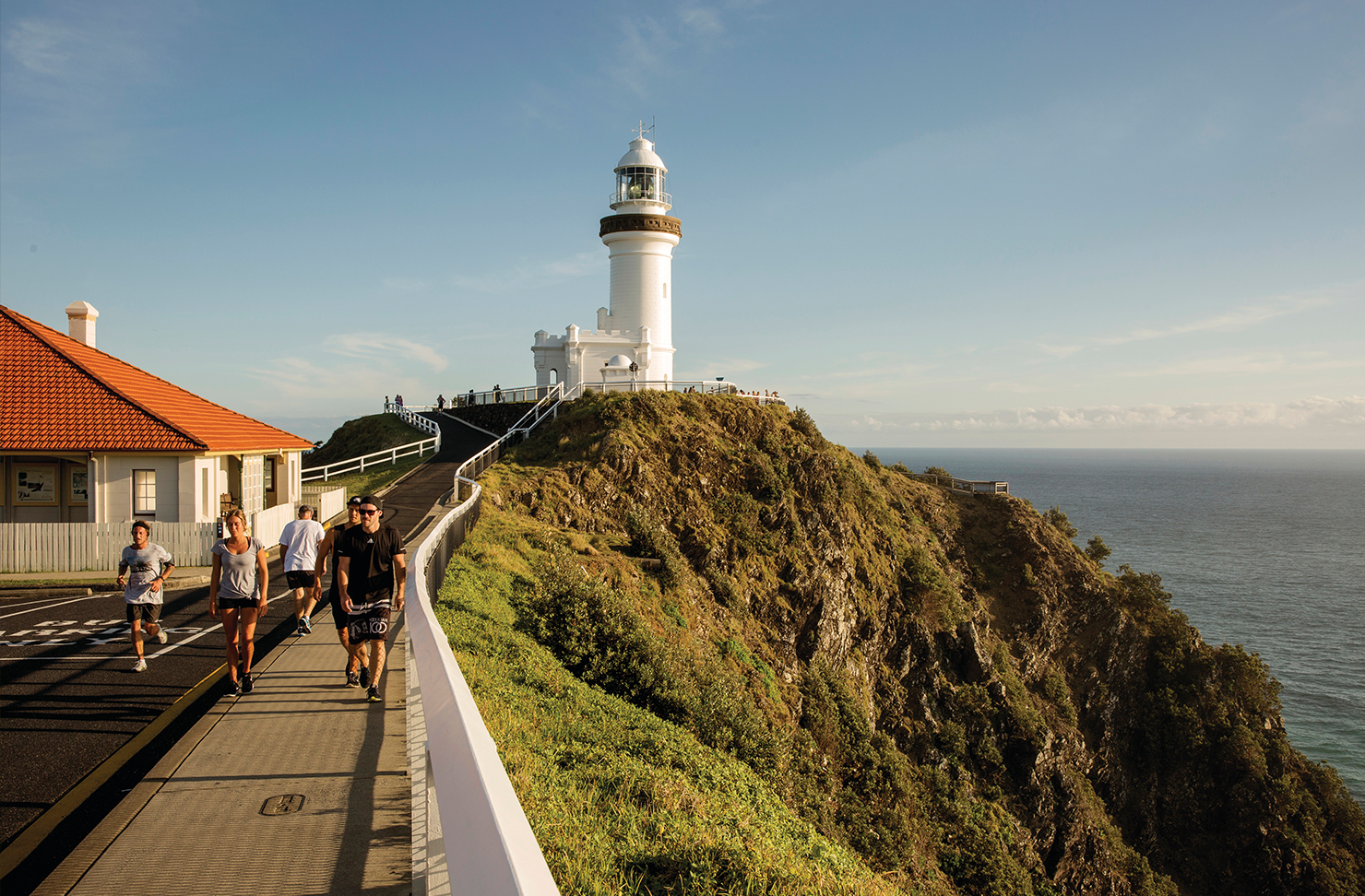 Tweed River Walk
Tweed Heads
If you're hunting for a relaxing hideaway tucked away from the main drag, we know just the place. Channel your inner David Attenborough and keep an eye out for frill neck lizards, jumping fish and the occasional dolphin that frequents these waterways. Park up at John Follent Park and make your way left up the coastline of the Tweed River Walk. This coastal walk is an easy meander right up until you reach Coolangatta Beach, if you've got a hunger that only a high step count can satisfy.
THE DETAILS
Distance: 5 km return
Time: 1 hour
Grade: Easy
Casuarina Coastal Trail
Tweed Heads
'80s lycra bodysuits do have a place. And it's on this serious coastal hike on the southern end of the Gold Coast's surrounding region. A whopping 25km return trip, get physical for hours as you explore the stretching shoreline between Casuarina and Kingscliff. Featuring boardwalk sections and stairs to scale the ebbs and flows of rocky terrain, this one can take up to 8 hours return, so head out early for an all day outdoorsy adventure.
THE DETAILS
Distance: 25 km return
Time: 8 hours
Grade: Moderate
If you've had your fill of the coastline, why not head to the Hinterland and make tracks at the Gold Coast's best bushwalks?
Image Credit: Brooke Darling Photography, Kaitlin Maree Photography & Destination NSW