There are many amazing things about living on the Gold Coast, and one of them is being located right on the 'Humpback Highway', the migration track of the wondrous sea creatures that are whales. The Gold Coast offers some of the best whale watching in the world, with a long season stretching from May to November. We're spoilt with a free nature show on the daily as whales make their way to the warmer waters up north and back south again come springtime.
Seeing a family of whales (or a pod of dolphins) frolic and splash in the ocean is an indescribable experience, so it's high time you make your way to one of these gorgeous whale-watching spots or hit up one of the many whale watching cruises that traverse the Humpback Highway. Scroll on for 12 of the best whale watching spots on the Gold Coast.
Burleigh Hill
Burleigh Heads
Everyone's favourite sunset picnic spot, Burleigh Hill doubles as a great location for whale watching. Bring a blanket and your favourite bevvy and get ready to observe the waters with a keen eye. If no whales show up, don't worry—it's a prime spot for people watching, too.
The Spit
Main Beach
If you're looking for an epic whale watching location on the northern end of the Gold Coast, the Spit is your best bet. On the end of the 5km long, largely undeveloped sandy strip, you'll find a massive pier that takes you right over the waves and up close to the Humpback Highway.
Point Danger
Coolangatta
The Point Danger headland on the border of New South Wales and Queensland offers unobstructed ocean views as far as the eye can see—you can spot whales from miles away on a clear day. Pack a picnic or pop into the famous Cafe Dbar for a snack or a cuppa.
Fingal Head Lookout
Fingal Head
The beautiful untouched beaches in Fingal Head warrant a visit whether it's whale season or not. Perch yourself on the rocks in front of the quaint Dreamtime Lighthouse and admire the Fingal Head Causeway while you wait for a whale or two to make a splash. Trying not to get distracted by the natural beauty around you may be easier said than done, so make sure to keep your eyes peeled.
North Burleigh Lookout
Miami
A well-kept local secret, the North Burleigh Lookout offers platforms and ocean-facing benches with incredible views towards both Burleigh Heads and Surfers Paradise. If you're feeling peckish after a long day of whale watching, the Miami restaurant scene is just a short stroll down the street.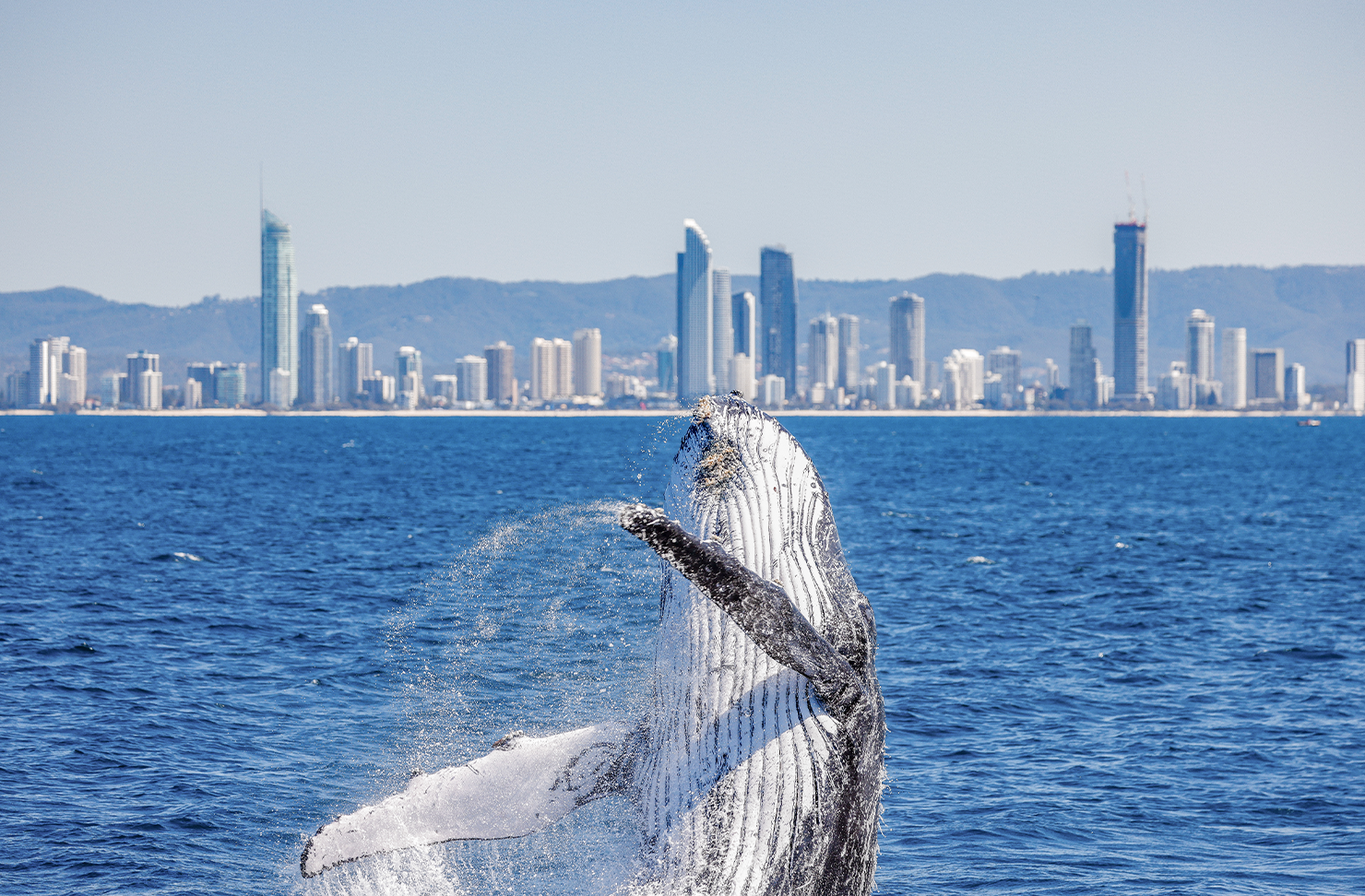 Elephant Rock
Currumbin
The viewing platform atop Elephant Rock offers the perfect vantage point to look for whales. If you forgot your binoculars, there's telescope binoculars you can use by putting a coin in. The Currumbin Beach Vikings Surf Life Saving Club built right on the rock boasts a dining area with gorgeous views of the ocean if you prefer to look for whales with a glass of bubbles or a pint in hand.
Tumgun Lookout
Burleigh Heads National Park
Lace up your runners and head to the Tumgun Lookout within the Burleigh Heads National Park for an all-round incredible nature experience. Charge the winding path up the hill for a good workout, but make sure to set aside a good while to keep an eye out for whales once you get to the lookout. They can hold their breath underwater for over an hour so patience is key.
Rainbow Bay Lookout
Coolangatta
Rainbow Bay lookout offers spectacular panoramic views to Greenmount Beach in the south and Coolangatta Beach in the north. With observation decks, barbecues and shaded tables, why not pack lunch and make a day out of it! If it's not too chilly you might even want to take a dip on one of the stunning, patrolled beaches on each side.
Cabarita Headland
Cabarita
This one is a little bit further south than the rest, but well worth the trip for the sweeping ocean views and the peace and quiet. The Norries Headland Lions Park features a timber boardwalk that leads right up to the top with incredible views in all directions, including a stunning cove with tidal rock pools right below.
Sea World Cruises
Surfers Paradise & Main Beach
If there's any whale watching operator on the Gold Coast who knows about whales, it's Sea World Cruises. Gold Coast's longest-running cruise company, Sea World Cruises is one of the most popular whale watching tour operators around due to their variety of cruise offerings, modern vessels and top-notch service. If you're all about the whales, the classic whale watching cruise is most popular, departing daily and reaching the popular Humpback Highway in just twenty minutes. Feel like something a bit more boujee? Upgrade to the Captain's Lounge Whale Watching for a true VIP experience or embark on a champagne breakfast cruise with all the finishings.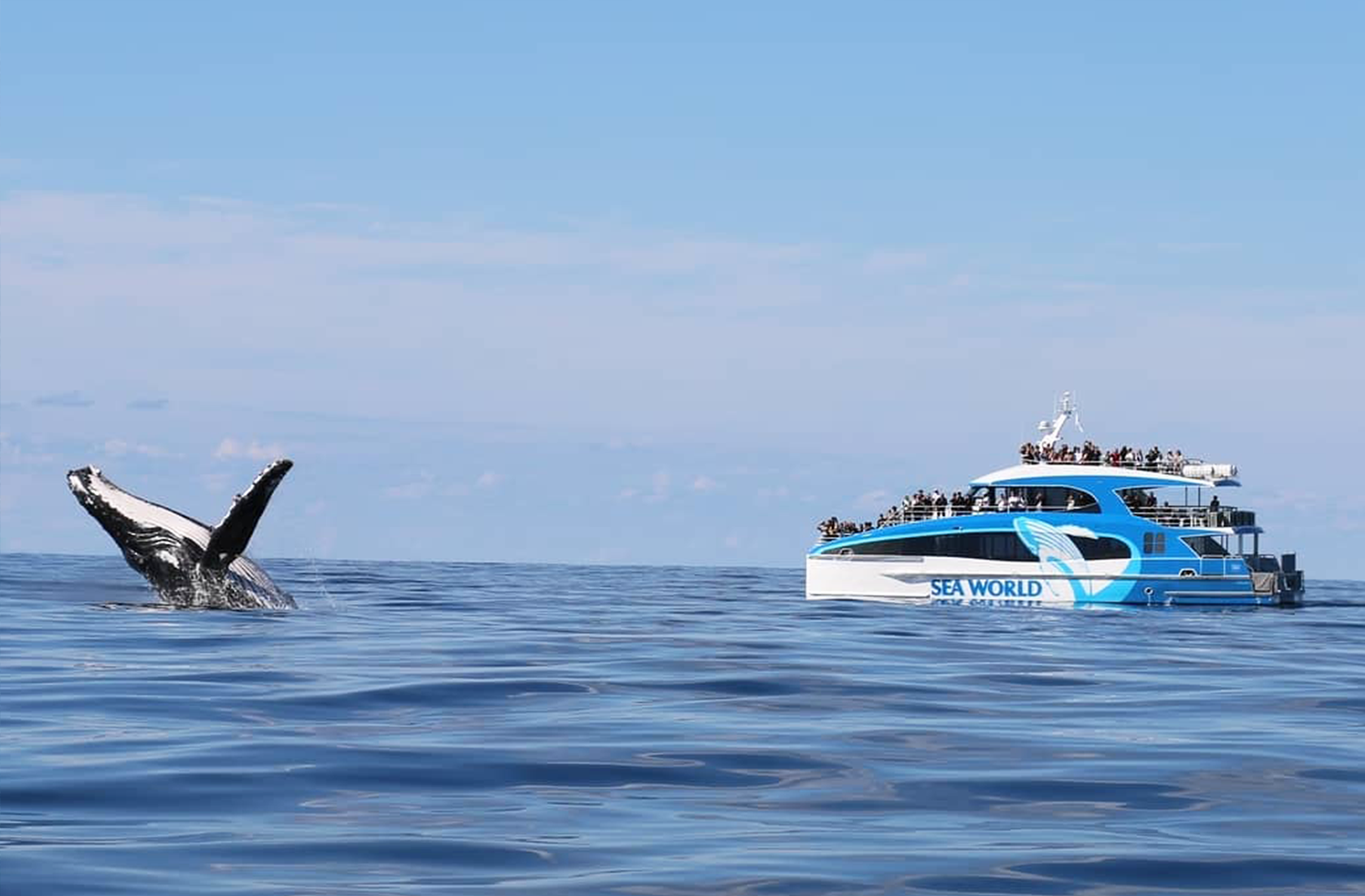 Whales In Paradise
Surfers Paradise
Surfers has its own slice of whale watching activity in the form of the adorably named Whales In Paradise cruises. Whales In Paradise promises to deliver not just another cruise but an experience with the naturally curious humpback whales we all know and love. With a water-level viewing deck and guarantee that there will only be as many customers as can comfortably see, Whales in Paradise will pretty much do everything they can to make sure you see whales and you're sure to spot many gorgeous pods of dolphins too. These low-noise cruises were also the very first whale watching tour operator on the Gold Coast, so you can be sure they certainly know their stuff.
Spirit of Gold Coast
Main Beach
Spirit of Gold Coast whale watching cruises offer a spectacular two and a half hour experience along the majestic Humpback Highway with a knowledgeable team and an on-board marine biologist who can give you all the deets about marine life, whale migration and well, everything about whales. If there aren't any whales out to play, you'll get a free return trip but with a 99% success rate finding whales for 25 years, we think you're in pretty safe hands. Hands down, one of the best whale watching experiences on the Gold Coast.
Looking for more cool stuff to do? Hit our list of 50 cheap or free things to do on the Gold Coast.
Image credit: Sea World Cruises (supplied)