It's impossible (not to mention unethical) to ignore the climate crisis that's going on in the world today, but we're the first to admit that we're probably not going to stop travelling anytime soon. Instead, we're trying to find the most eco-friendly ways to live our best lives.
We'll try to fly and drive a bit less and when we arrive, we'll support the accommodation options doing their part to lessen their impact. As luck would have it, there are plenty of amazing eco-friendly accommodation options around South East Queensland, so there's no need to slum it while you're saving the planet. From solar powered cabins and outdoor tubs filled with rainwater to sleek designs made entirely from sustainable materials, here are nine stunning eco-friendly cabins and cottages near Brisbane where you can get totally off grid.
Secret Cabin Society
Eerwah Vale
Hide away in this handbuilt cabin located deep within the Sunshine Coast rainforest. You can watch the local kingfisher diving for fish from the hammock on the deck, get cosy by the fireplace, or take a refreshing dip in the billabong as you're surrounded by the sounds of nature. Decked out in recycled materials and treasures from around the world, the cabin is off-grid (goodbye phone reception) and has walk-in access only, meaning you can totally surrender yourself to the seclusion. Book your stay here.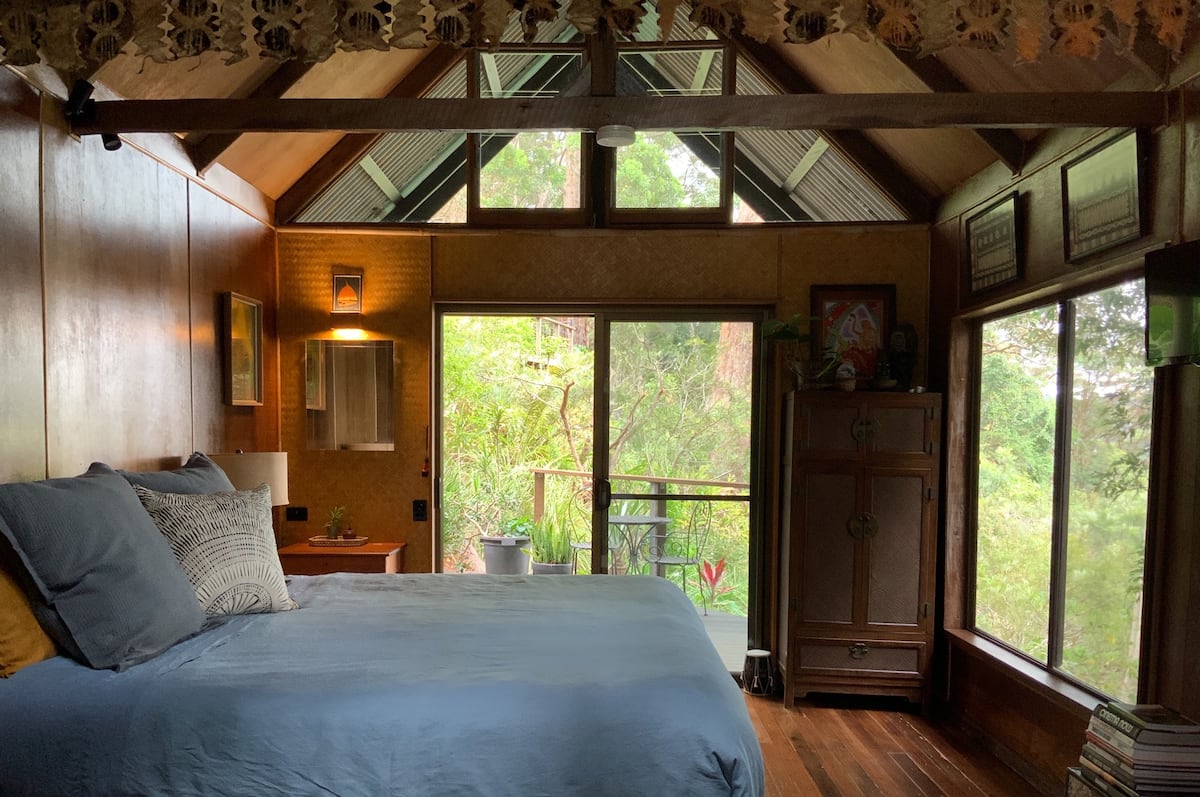 Private Eco Rainforest Cabin
Mount Tamborine
Featuring stunning views down through the valley towards the ocean, this stunning two-person cabin has been completely constructed from recycled timbers, joinery and expanses of glass to create an immersive rainforest experience. Basically, it will feel like you're sleeping amongst the treetops. Both the freshly renovated bathroom and kitchenette embrace clean lines and are environmentally sensitive, while the cabin relies solely on rainwater. Book your stay here.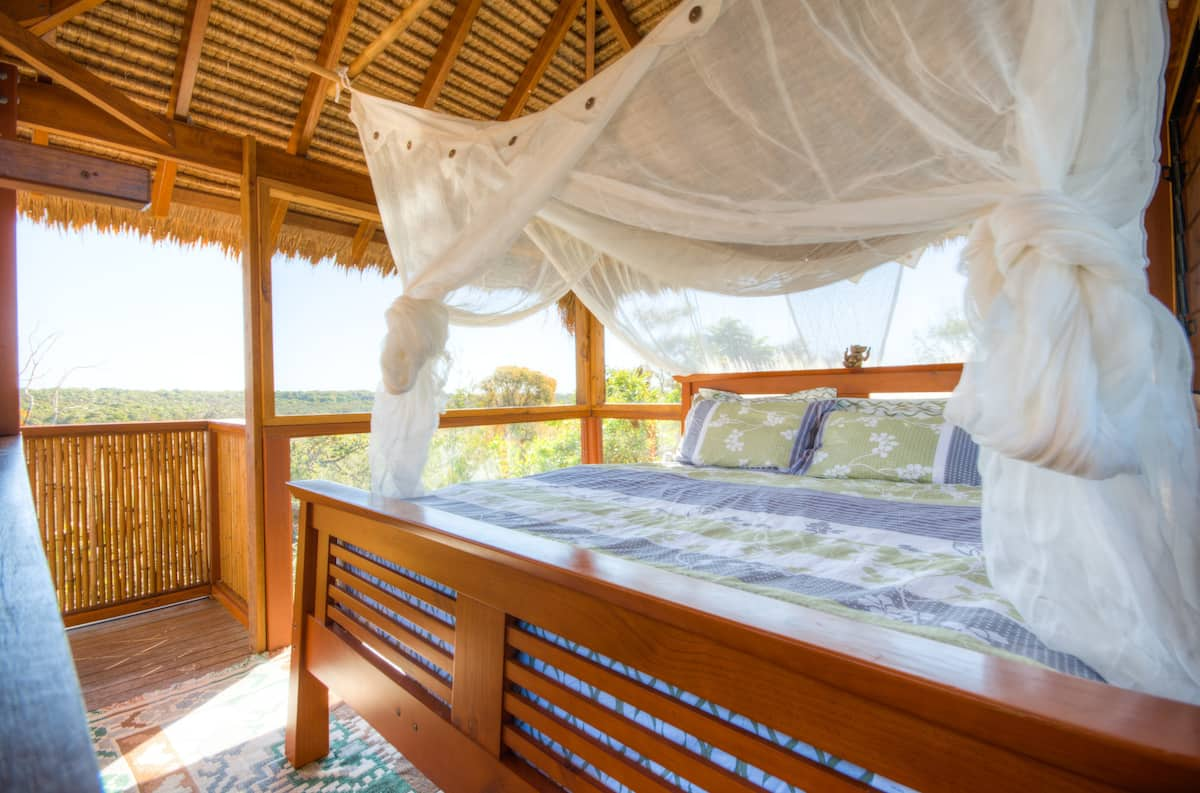 Noosa Treetop Eco Retreat
Sunrise Beach QLD
This private and cosy Bali-style bedroom overlooks the national park, with incredible floor-to-ceiling views on two sides. Featuring a thatched roof, the eco retreat is not your usual Airbnb—you'll sleep snug and warm under a blanket of stars with the sounds of the ocean to lull you to sleep. The separate indoor-outdoor covered bathroom features a large tub for soaking in, while your own spacious deck (adjoined to the back of the Hosts' solar-powered home) is the perfect spot to grab some sun, read a book or catch up on some zzzs. Did we mention you can book an in-house massage and access the yoga studio, complete with mats and props? Book your stay here.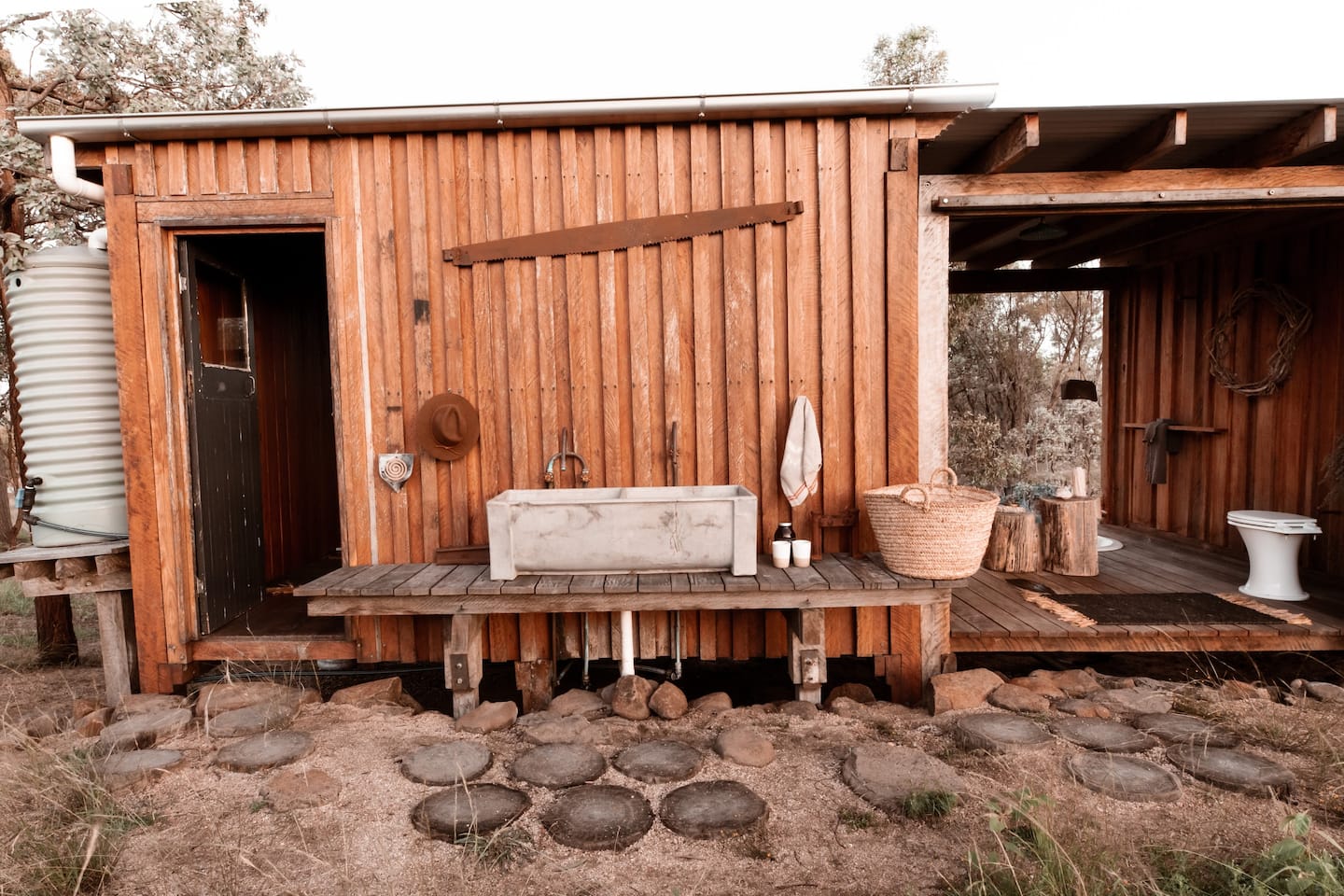 Bloodwood Cabin
Rawbelle
This fully sustainable eco-stay has just the bare necessities, including a bed, a bathroom, a fridge and a BBQ and hotplate for cooking—but despite the lack of wifi, you may never want to leave. Located on 20,000 acres in the North Burnett Region, about seven hours north, the rustic cabin is secluded and private, and shares its space with wallabies and kangaroos. Basic it may be, but the outdoor concrete plunge pool and sunken bathtub in the bathroom that can be fully opened to the views will feel nothing short of five stars. Book your stay here.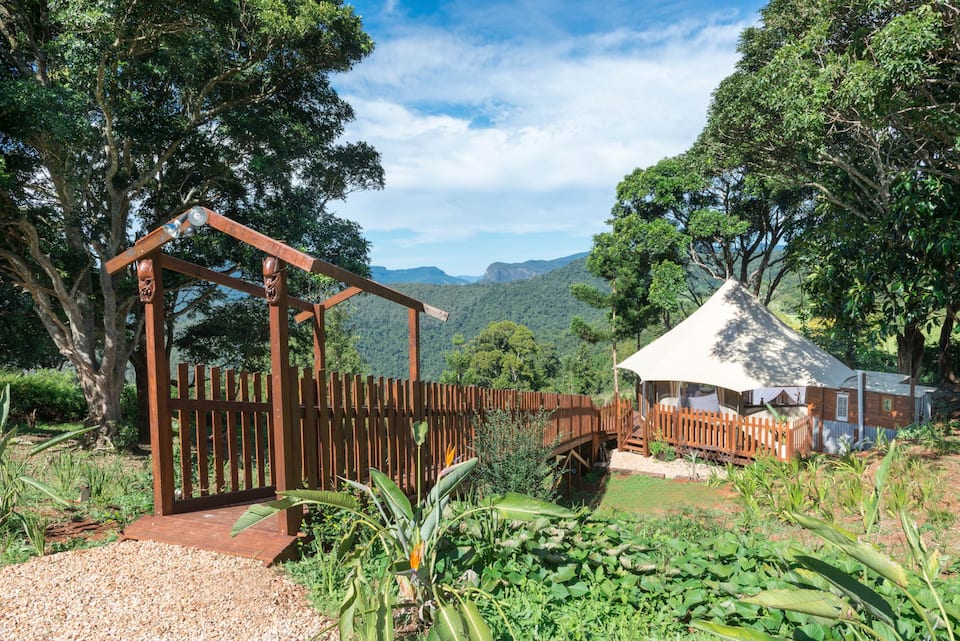 Clouds Safari
Beechmont
Perched in the midst of the Gold Coast Hinterland, this luxury glamping spot is modelled after the classic African Safari Tent—just without the views of the savannah. Providing180 degree panoramic venues of Lamington National Park, inside you'll find a queen-sized four-poster bed, freestanding bathtub with mountain views, kitchenette and full bathroom including a shower, making it perfect for a nature-filled romantic getaway. Plus, it's only a five-minute drive from the famous 'heart shaped waterfall', also known as Killarney Glen. Book your stay here.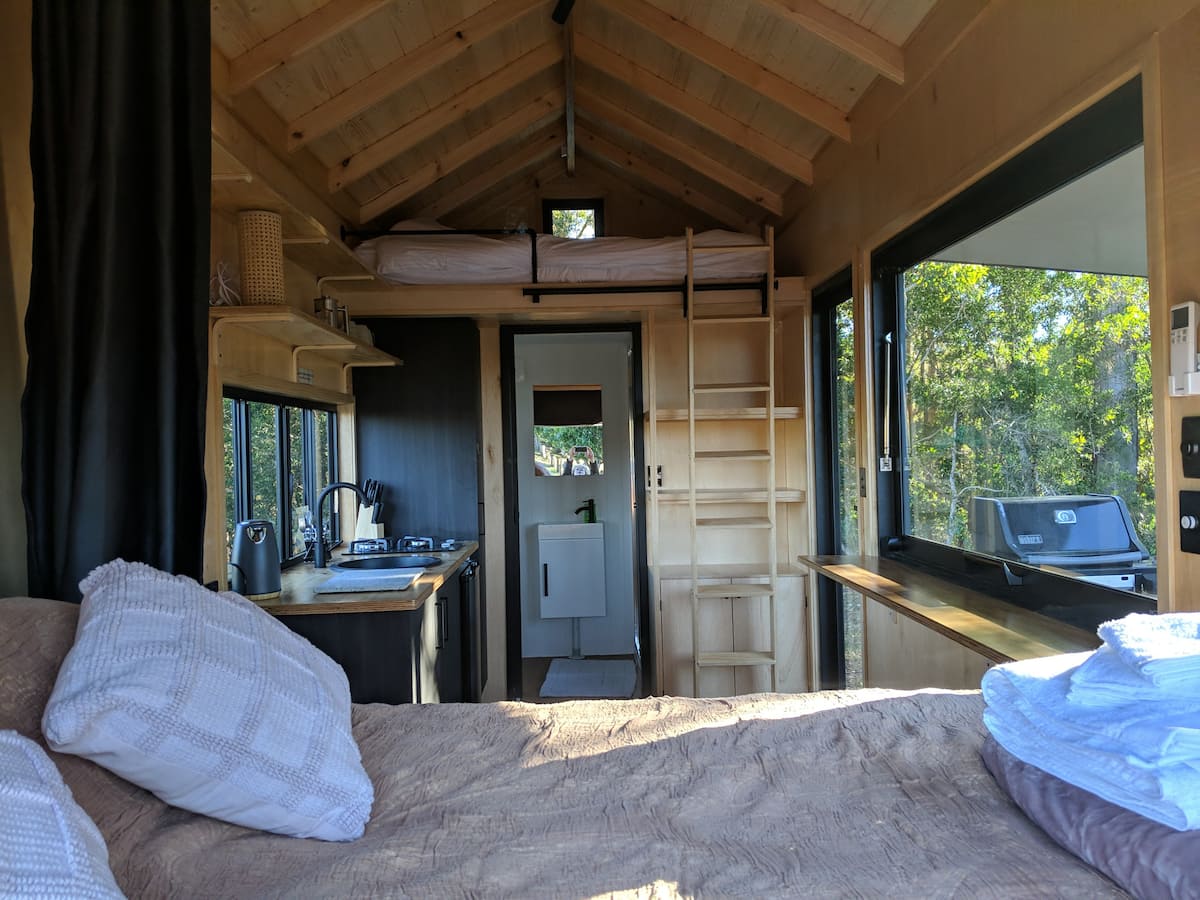 Tiny Farm House on The Hill
Peachester
This tiny house farm stay was designed to be a luxury stay with minimal impact on the environment. Take in the 180 degree views of the Sunshine Coast Hinterland, with mini cows, sheep and alpacas to make friends with before you cook up a feast in the fully equipped kitchenette and patio BBQ. When the stars come out, you can sip on a wine by the outdoor fireplace and breathe in that country air. Book your stay here.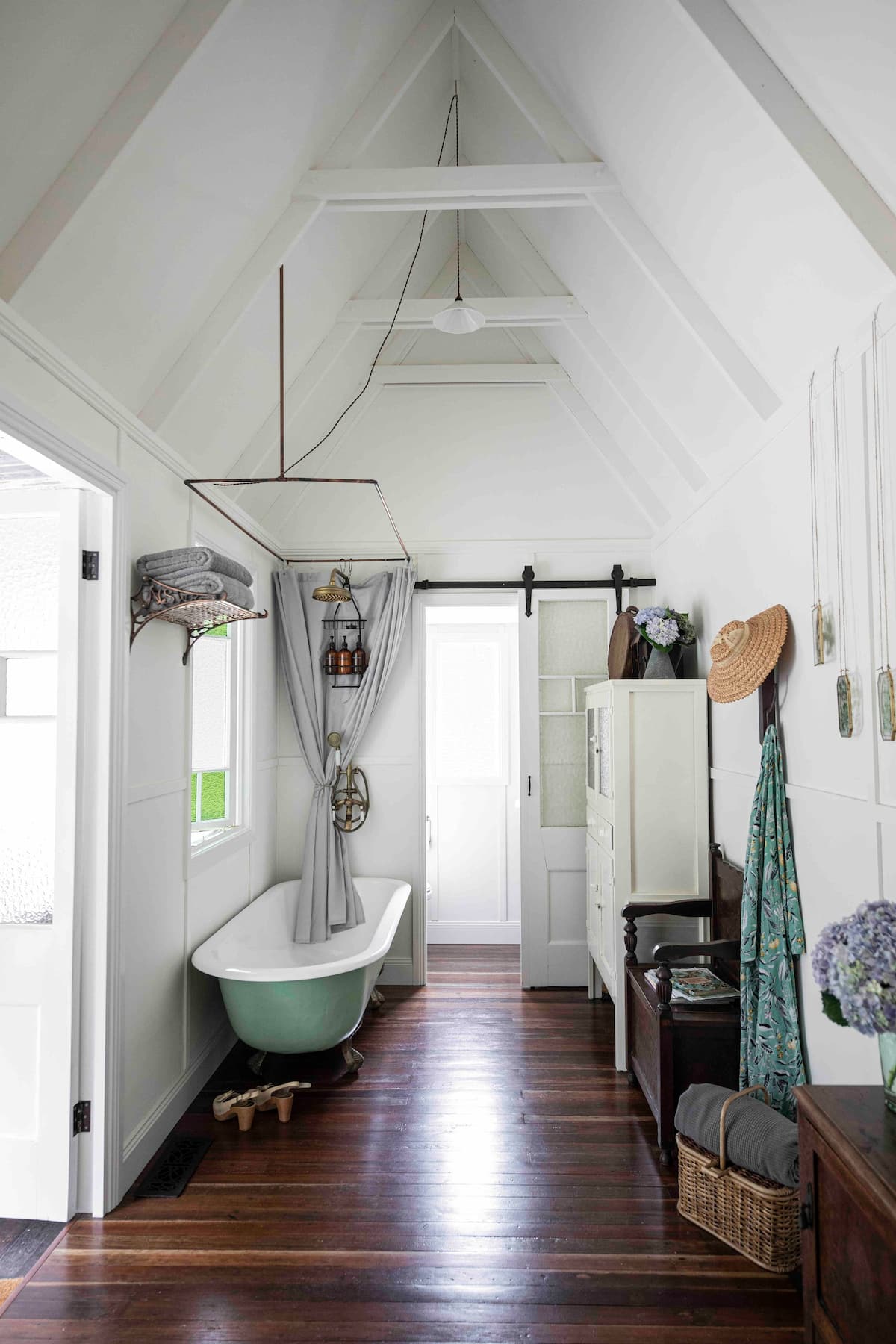 Palmer&Gunn Wee Tiny
Austinville
This wee tiny cottage was built using reclaimed materials, vintage fittings and antique doors and windows—there's even a claw-footed tub inside and a fully functional antique stove out on the verandah for cooking. Whilst it's totally off-grid, solar power provides enough electricity for air conditioning inside in the warmer months, while the wood fired cedar hot tub overlooking the burbling creek out the front is perfect for winter soaks. Book your stay here.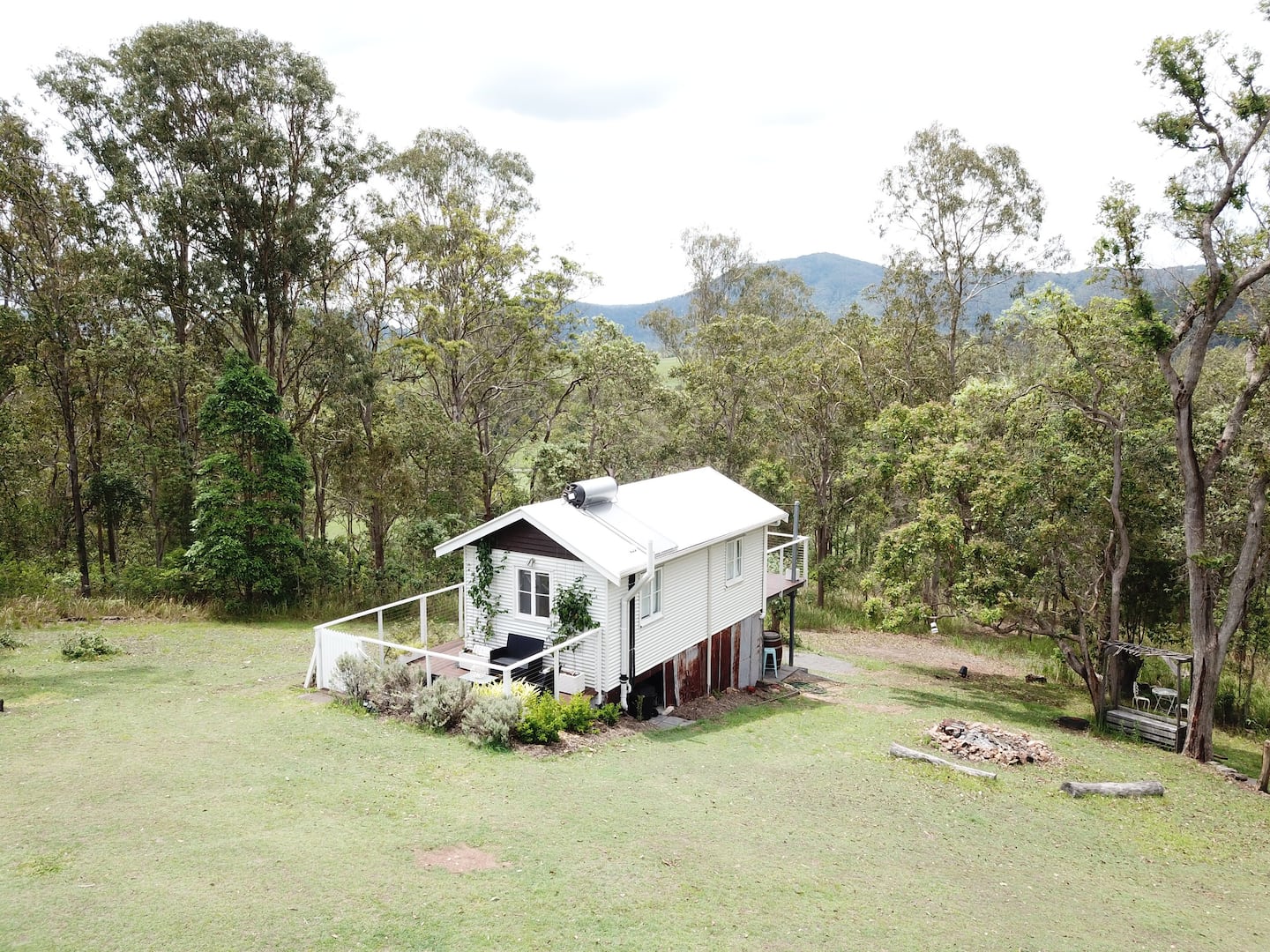 Apple Gum Eco Cottage
Conondale
A peaceful self-contained studio nestled amongst the trees and rolling hills of the upper Mary Valley, this quaint cottage near Maleny is located on Located midway between the towns of Maleny and Kenilworth 25 acre farm where you can give horses a liquorice treat, feed alpacas and say hello to cows when you wake. In between farm strolls, cook up a feast in the kitchen and enjoy it around the campfire. The cottage uses solar electricity and filtered rainwater with a waterless composting toilet fitted, making it completely sustainable—but don't worry, there's still wifi. Book your stay here.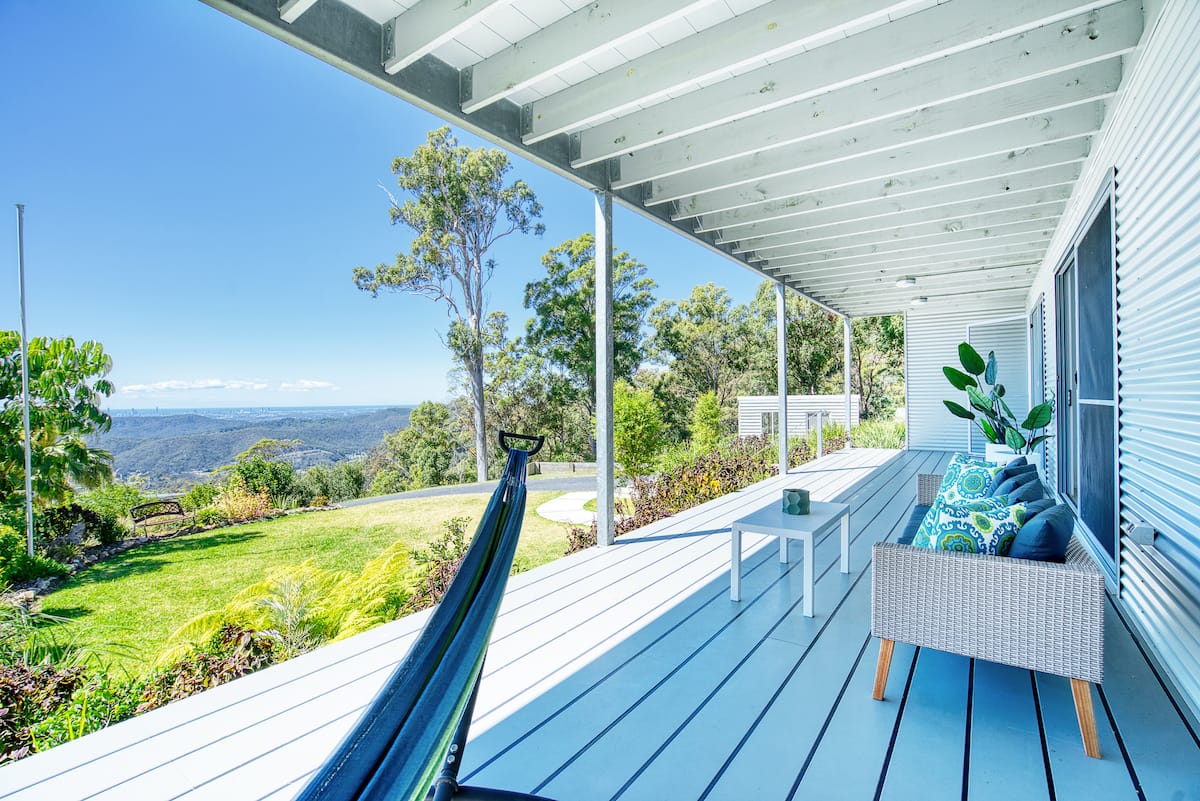 Tamborine Dreams: A Luxury Eco Retreat
Tamborine Mountain
Need more room than a tiny house or cabin can provide? Nestled within the stunning Scenic Rim, this luxurious new eco retreat sleeps nine, so there's space for your whole fam. Tucked away in Tamborine Mountain, walking trails, waterfalls and wineries are all in easy reach, and once you've had enough of adventuring you can relax in the light-filled interiors with impressive balconies and decks, cook up a storm in the gourmet chefs' kitchen or just have a soak in the hot tub. Book your stay here.
If you're after more luxury eco-friendly stays, check out these sustainable hotels and retreats around South East Queensland.
Image credit: Airbnb