A green getaway is more than just a fun alliteration—it's the way we should all start thinking about how we travel.
We're talking booking a stay somewhere that uses low-lighting, harvests rainwater and composts, among other things.
To make it easier for you, we've created a list of sustainable escapes around south east Queensland that'll make you feel even better about saying yes to that weekend getaway. After all, you're doing it for the environment.
Crystal Creek Rainforest Retreat
Tweed Valley
If you're after a getaway that seamlessly connects luxury with the environment, this is it. Crystal Creek Rainforest Retreat is surrounded on three sides by the Numinbah Nature Reserve leading to Springbrook and Lamington National Parks. You can stroll along stunning fern-lined gullies, under giant strangler figs and 400-year-old rainforest trees. Then you can lie in a hammock over a bubbling rainforest brook of pure, crystal-clear mountain water before retreating to your glass terrace bungalow. It's seriously dreamy. And you can enjoy it while knowing the Retreat is committed to preserving its backyard which is home to 25 species of rare and threatened plants, 15 species of vulnerable birds, mammals, reptiles and amphibians and 400 species of plants. They've carefully removed large expanses of lantana, leaving the existing native vegetation, and planted over 1,000 native rainforest trees endemic to the area. They also use insulated glass, heat pumps and lemon myrtle oil as a cleaning product, all to minimise their environmental footprint.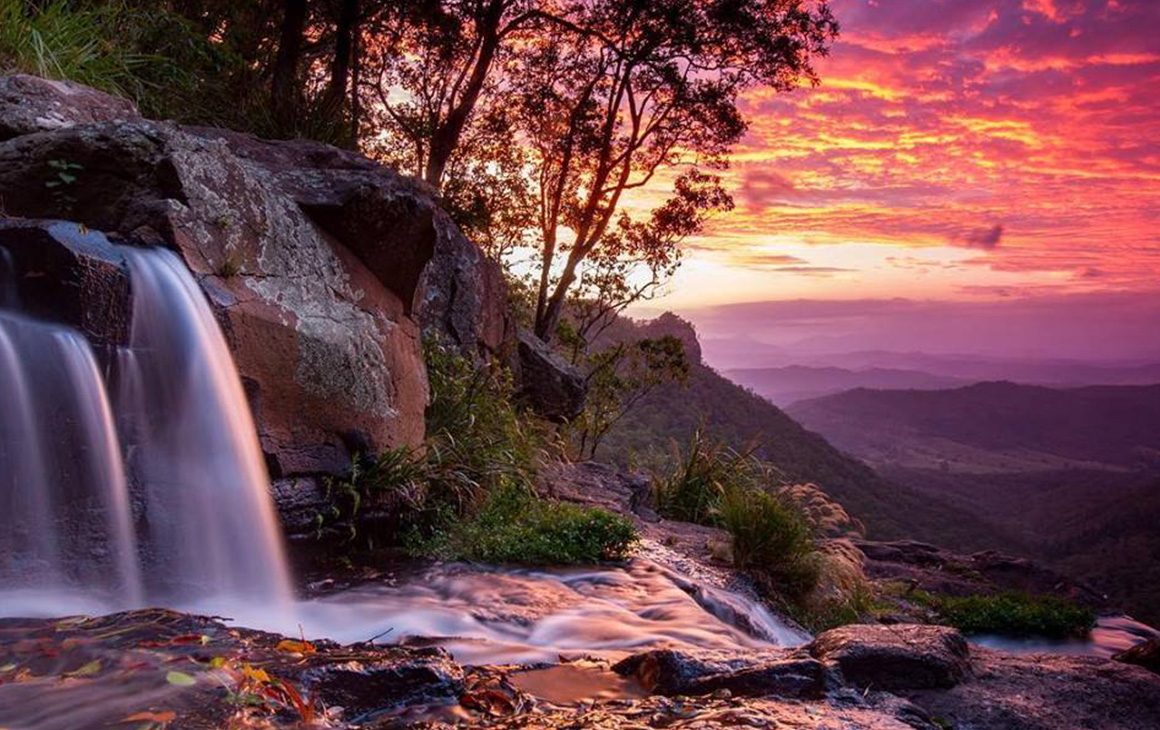 O'Reilly's Rainforest Retreat
Canungra
Surrounded by 20,000 hectares of subtropical rainforest, O'Reilly's is the perfect escape to reconnect with nature. Owned and operated by the O'Reilly family, pioneers of ecotourism, O'Reilly's boasts the world's first Treetop Walk in the canopy of the rainforest and an Advanced Eco-accredited 'Discovery Program' of guided rainforest activities operating every day. Bliss out in one of 48 self-contained and architecturally designed Villas (made from recycled materials) perched onto the sloping hillside. There's also plenty of activities here to get you out amongst nature, including Segway tours through creek crossings to Morans Falls or opt for uber relaxation at the Lost World Day Spa, equipped with a couple's suite and 25-metre infinity lap pool. We recommend ordering a picnic hamper and setting off to one of 500 world-class waterfalls accessible via 160-kilometres of nature trails.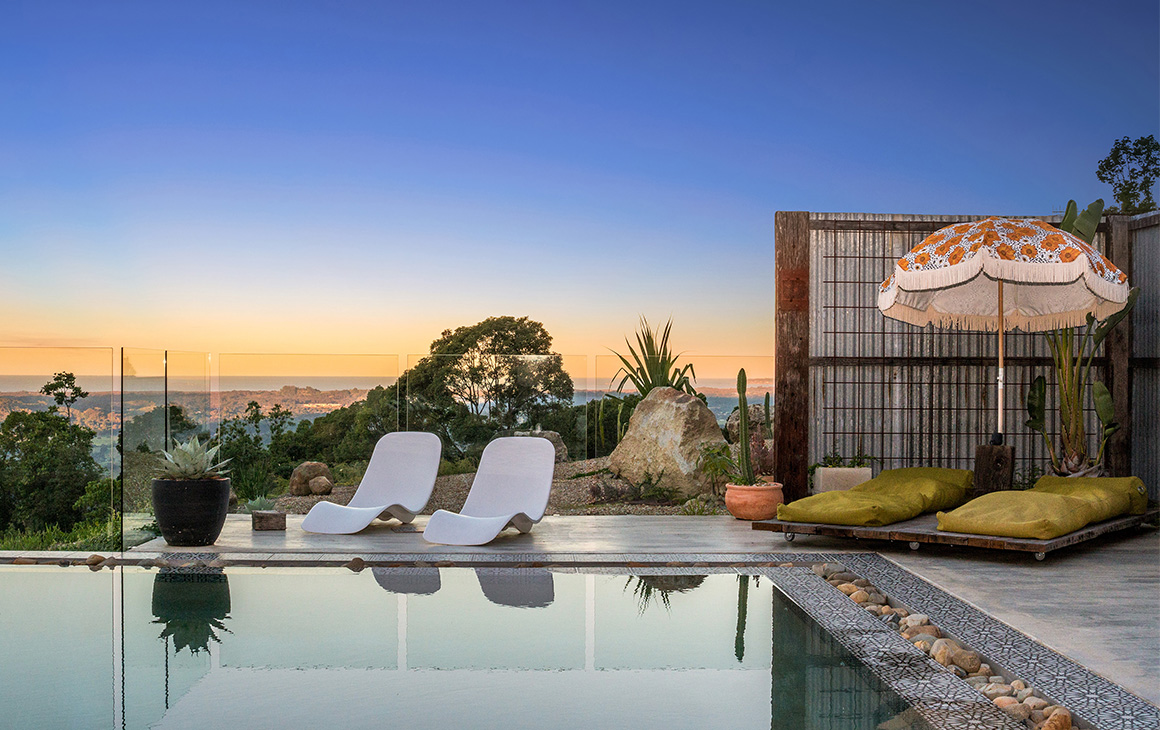 Blackbird
Byron Bay
This luxury accommodation is so stunning you won't want to leave. At Blackbird you'll be able to cosy up in private pavilions all framed beautifully in acres of green rainforest, with spectacular views eastwards to Cape Byron and the Pacific Ocean. These guys get 10/10 for their sleek interiors and exteriors. The design-driven accommodations are provided in distinct detached concrete Pavilions fitted out with the latest environmentally sustainable energy saving 20kW solar system with Tesla Batteries to provide air-conditioning, hot water and other services. As well as wanting you to relax during your stay (champagne on arrival, complimentary artisanal local produce in your pavilion and dip in 10 metre mineral magnesium pool for starts) the crew at Blackbird also want to encourage you to appreciate their stunning backyard providing easy access to waterfalls, as well as hiking trails, kayaking and mountain-biking all at your fingertips.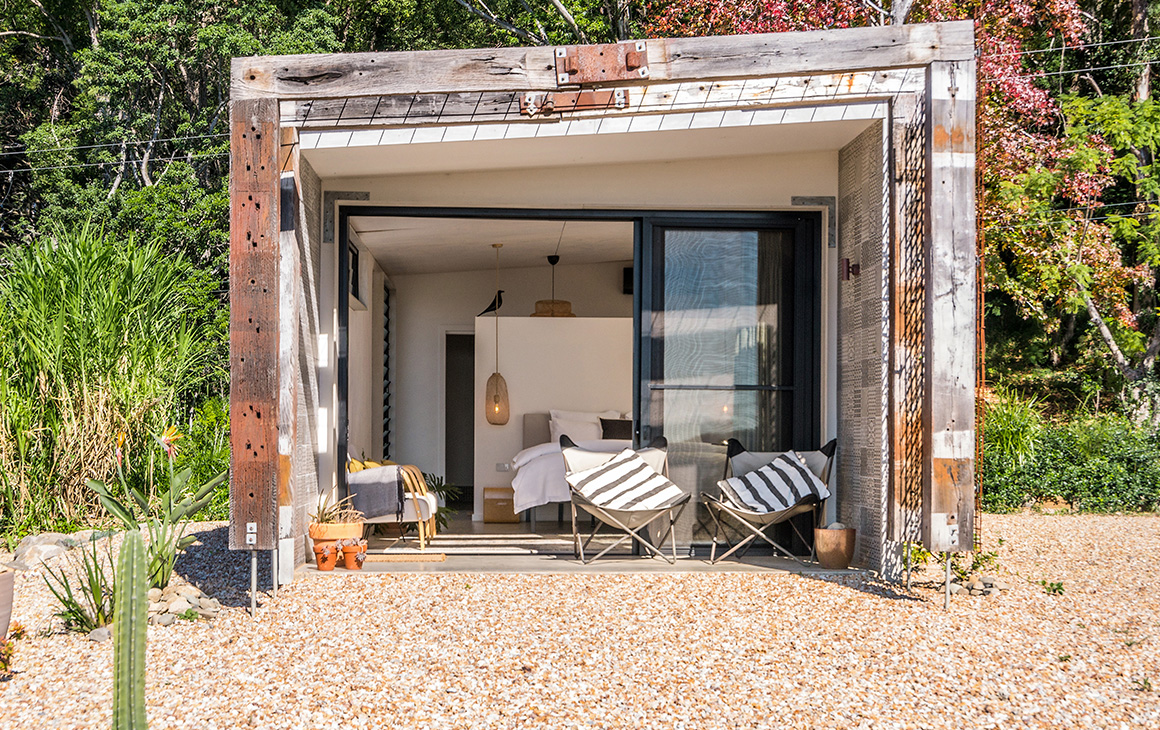 Nightfall Camp
Lamington National Park
Ok so this one is a little over an hour's drive from the Gold Coast but it's too good not to include. Nightfall Camp is credited for its zero-carbon ethos and we're loving them for it. Located smack bang in the middle of Lamington National Park, owners Steve and Jaide have mashed up glamping with eco-goodness. With bush regeneration of native plants, organic cuisine sourced from local markets and a natural spa (a swirling, bubbling spa in the middle of their nearby creek), glamping was never so good for the environment. They also boast on-site waste-water treatment, are a chemical-free site, use a 5KW grid-connect solar-power system and are dedicated to monitoring Christmas Creek and protected species including the glossy-black cockatoos which frequent Lamington Valley. During your visit you may meet Lillypilly, a wallaby the Nightfall crew raised from a hairless joey. And if that wasn't enough, know that you can forage for snacks in the wilderness and roast them over their custom-built wood-fired oven too.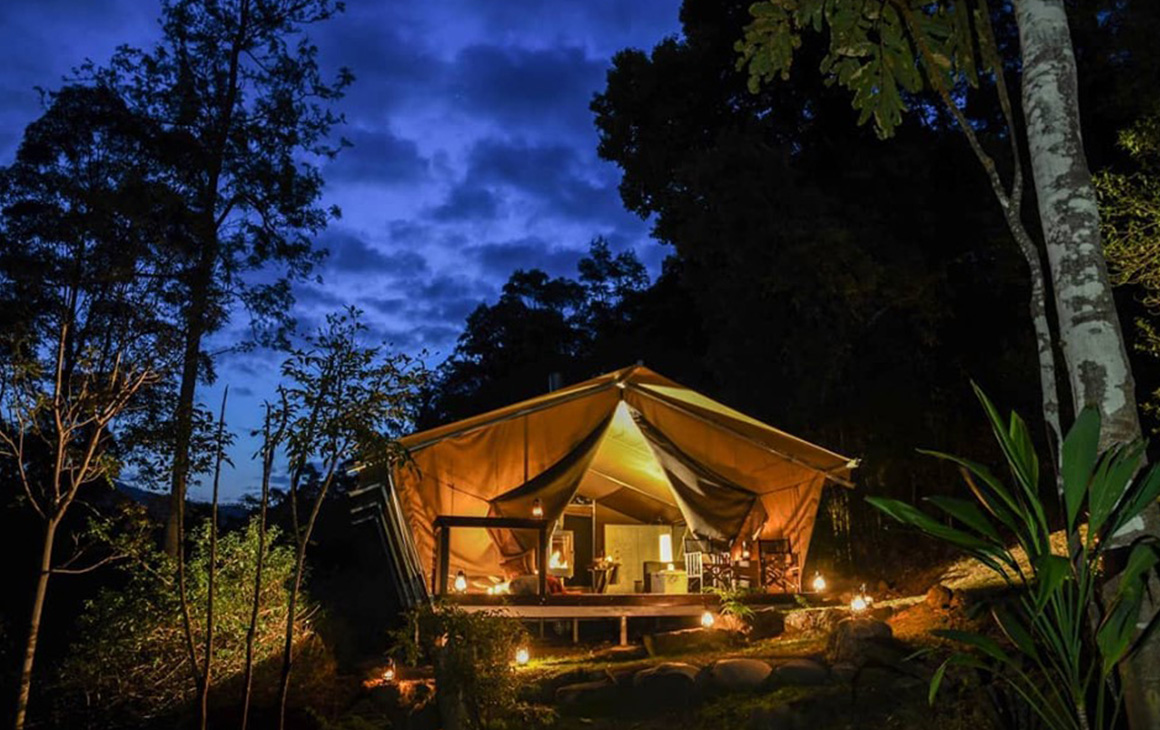 Gwinganna Lifestyle Retreat
Tallebudgera Valley
If you want a retreat that is as healthy for the environment as it is for you, you'll want to check in to Tallebudgera Valley's Gwinganna Lifestyle Retreat stat. The idea here is simple; it's a wellness haven maintained by the boundaries that certain substances aren't to be consumed during your stay. If you're okay with that, you'll be rewarded with a personalised getaway that nourishes your mind, body and soul. Gwinganna also has our eco-friendly stamp of approval. As well as being fully registered with Land for Wildlife, a program committed to protecting and enhancing wildlife habitat on the property, they use only organic produce in their kitchen, often sourcing from their own backyard. There are also 16 different walks for you explore the stunning natural environment across the retreat's 200 hectares.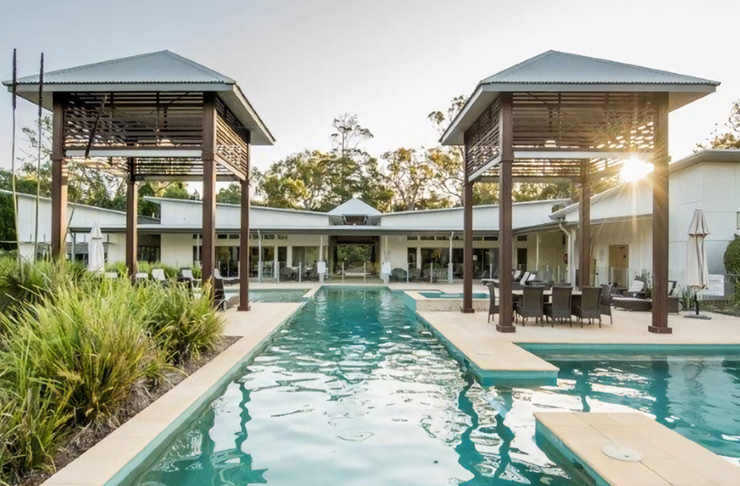 Beach Road Holiday Homes
Noosa North Shore
It's not often that "sustainability" and "luxury" go hand-in-hand, but that's exactly what you'll experience with a stay at Beach Road Holiday Homes. Bordered by wild bush and empty beaches, this is the kind of place you rally all the family together for one epic group holiday. With several eco-friendly homes, a tennis court, multiple pools, as well as a media and games room, there's no way boredom will enter the vocabulary here. This eco escape is a short ferry ride from Tewantin and is the perfect spot to rest your head after a day of 4WD up the beach.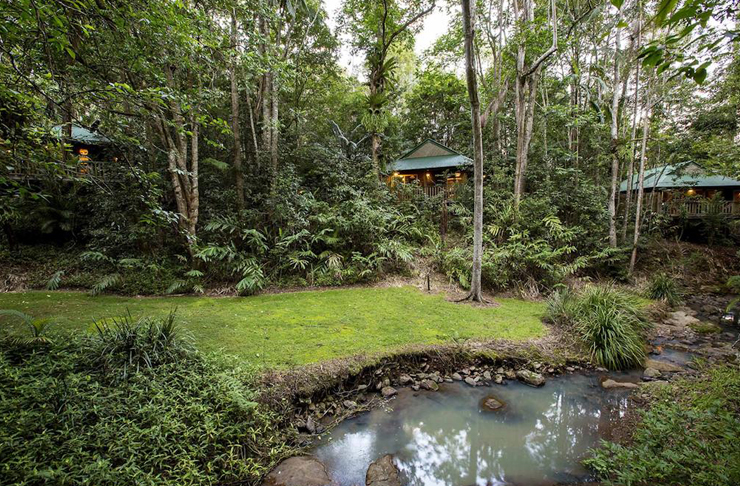 Narrows Escape
Montville
Curl up in the hammock and read a book, tramp through the rainforest, or feast on all the goods crammed into the specially-made gourmet hampers—you'll do it all at Narrows Escape. This romantic hideaway in Montville features six eco-friendly pavilions nestled deep in the forest. The team is committed to sustainability practices such as using rainwater tanks to supply the pavilions, selecting natives for the gardens, using LED light globes and giving food scraps to the on-site hens. But it doesn't stop there. These guys also stand by sustainable tourism, supporting local businesses by only supplying guests with locally-sourced food and seasonal produce.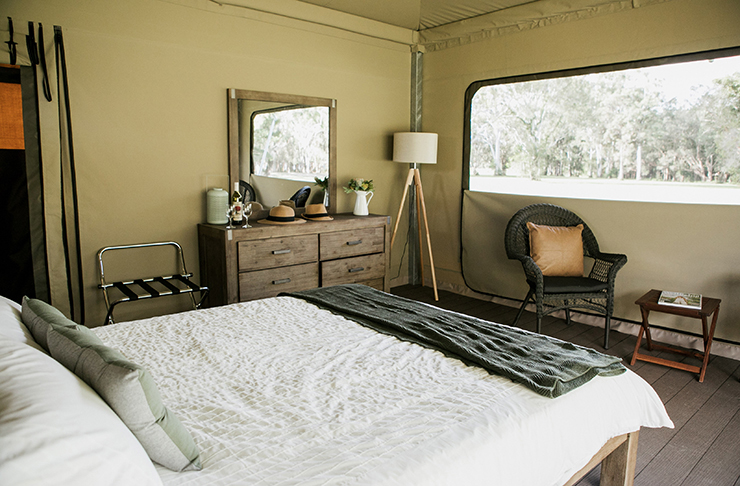 Habitat Noosa
Elanda Point
If getting outdoors is key to a great weekend getaway, then Habitat Noosa is worth checking out. Unfolding over 65 acres, this eco camping and glamping experience is unlike any other on the Sunshine Coast. Located in the national park, your neighbours will include a local group of eastern grey kangaroos. With 500 metres of waterfront on the Noosa River, there's the option to camp on powered or unpowered sites, park up your motorhome or RV, or go all out and book a glamping tent, which we highly recommend. Habitat Noosa is also home to a bar and bistro serving dishes made with local and seasonal ingredients, plus an on-site micro-brewery which produces 100% natural beers. See? This isn't your average campground.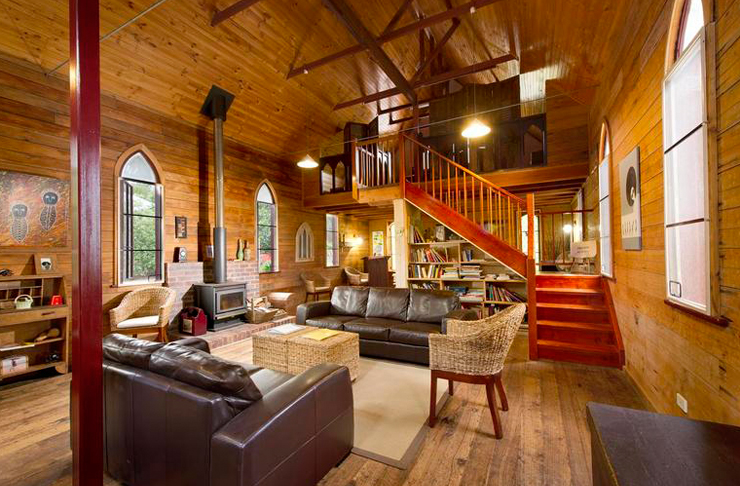 Glass House Mountains Eco Lodge
Glass House Mountains
Surrounded by giant volcanic plugs in every direction, Glass House Mountains Eco Lodge is the perfect base to explore, you guessed it, the Glass House Mountains. Tucked at the foot of Mount Tibrogargan and a few-minute stroll from the start of the national park walks, this is the perfect stay for the environmentally-conscious, but also adventurous, traveller. The lodge has adopted many sustainable initiatives to help minimise its impact, including harvesting rainwater, recycling grey water, composting, using low energy lighting and non-chemical cleaning products. Guests are also encouraged to walk and explore the surroundings, rather than hopping in the car—which isn't difficult with some of the best mountain hikes on the Sunshine Coast on your doorstep. There's loads of accommodation options, but we suggest checking out the Victorian train carriage or the 125-year-old timber church, for a stay with a twist.
Looking for more epic local escapes? Head here.
Image Credit: Crystal Creek Rainforest Retreat, Nightfall Camp, O'Reilly's Rainforest Retreat, Property Shot Photography, Amy Higg for Urban List, Glass House Mountains Eco Lodge, Narrows Escape, Beach Road Holiday Homes