When the news hit the street that Split Upstairs was closing, we heard the sound of collective hearts breaking all over the Gold Coast. Fear not—the ever-evolving rooftop space overlooking the iconic Nobby's strip has transformed into a bold, bright and, of course, cheeky, urban barbeque eatery. Fat Pig BBQ is about all things barbeque, oozes grungy vibes and is honestly something we haven't seen, well, ever.
Quirky, laidback and just the kind of happy place we need in our lives right now, Fat Pig BBQ is the new Nobby's gem you need to know about. If the cheekily bold signage shining out to the Gold Coast Highway and the irresistible scent of smokey barbeque wafting from the rooftop joint hasn't convinced you this is the place to be this season, just take a look inside.
Make your way up the iron stairs hidden out the back and you're met with a barbeque joint-meets-rooftop bar that showcases funky features which seamlessly work together to solidify this easy-going joint as somewhere you defs want to hang out. The first thing you notice even before you make your way upstairs is the colourful kaleidoscope of graffiti painted, well, everywhere. Palm trees and lush greenery pop up around the space, a black and white collage of 90's hip hop icons decorates the bar, while the iconic disco ball glistens in the sunlight above.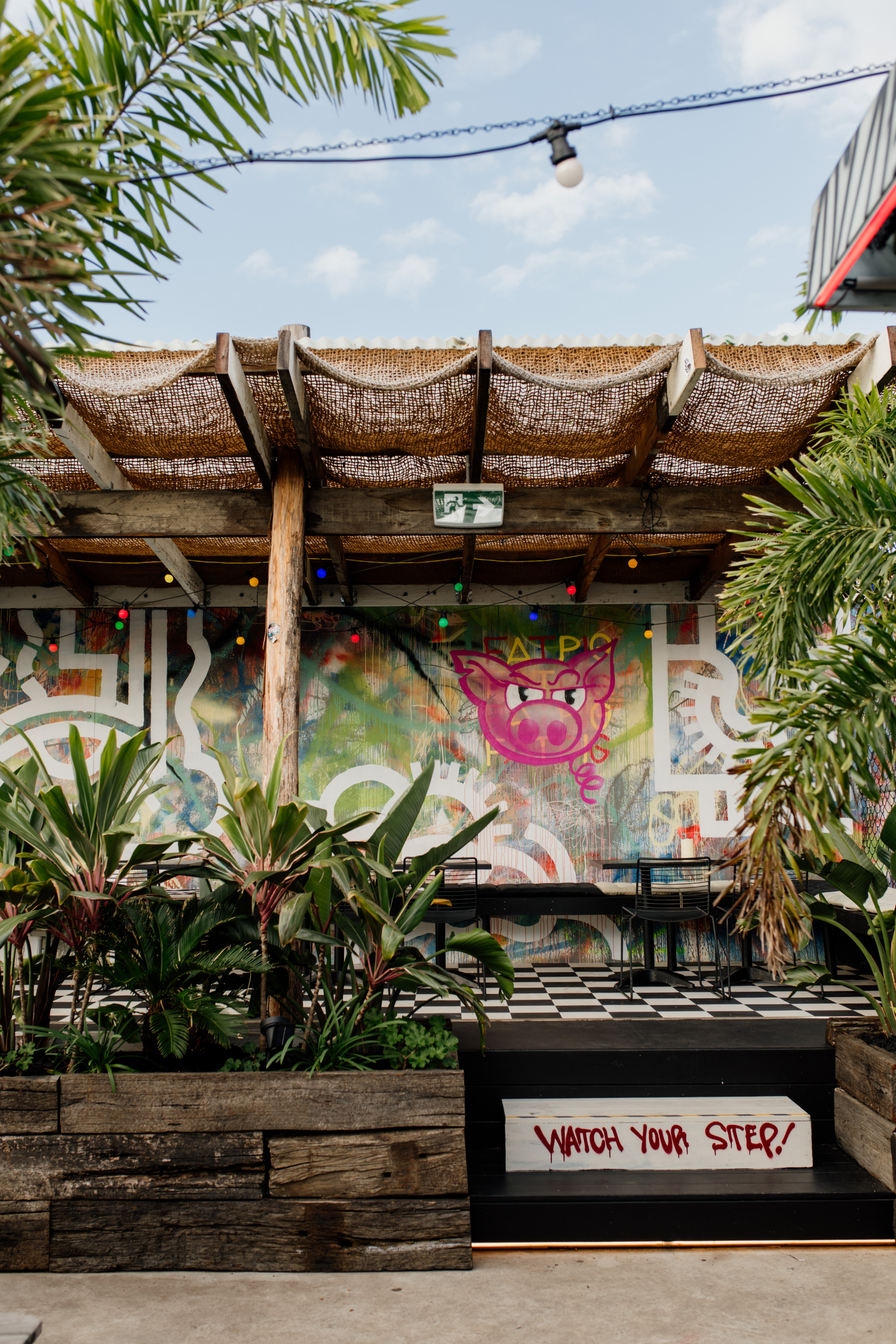 In harmony with Nobby's beach vibes, bright blue umbrellas provide a shady spot for your Sunday afternoon drinks, while clusters of heaters bring the heat (if the spicy barbeque isn't doing that enough already). Lust over eclectic features like the old-school piano, ping pong table and pool table, hinting at the cheeky side of Fat Pig BBQ, which is an underlying theme throughout the space.
Soulful tunes set the mood in the lazy afternoons, but as the afternoon sunset fades into twilight, 90's R'n'B and hip hop tunes are sure to get your toes tapping. Hands down, the '90s was the golden age of hip hop and Fat Pig BBQ is quickly working its way into our hearts—and social lives—this season.
Celebrating all things barbeque, slow-cooked and smoked, the menu is curated by the talented Jon Nurimen, formerly of The Fish House, so you know it's gonna be delicious. Unlike his more refined venues—head to Gods of the Sea downstairs for that—Fat Pig BBQ is unapologetically messy, fun and designed to bring people together over finger-lickingly good food.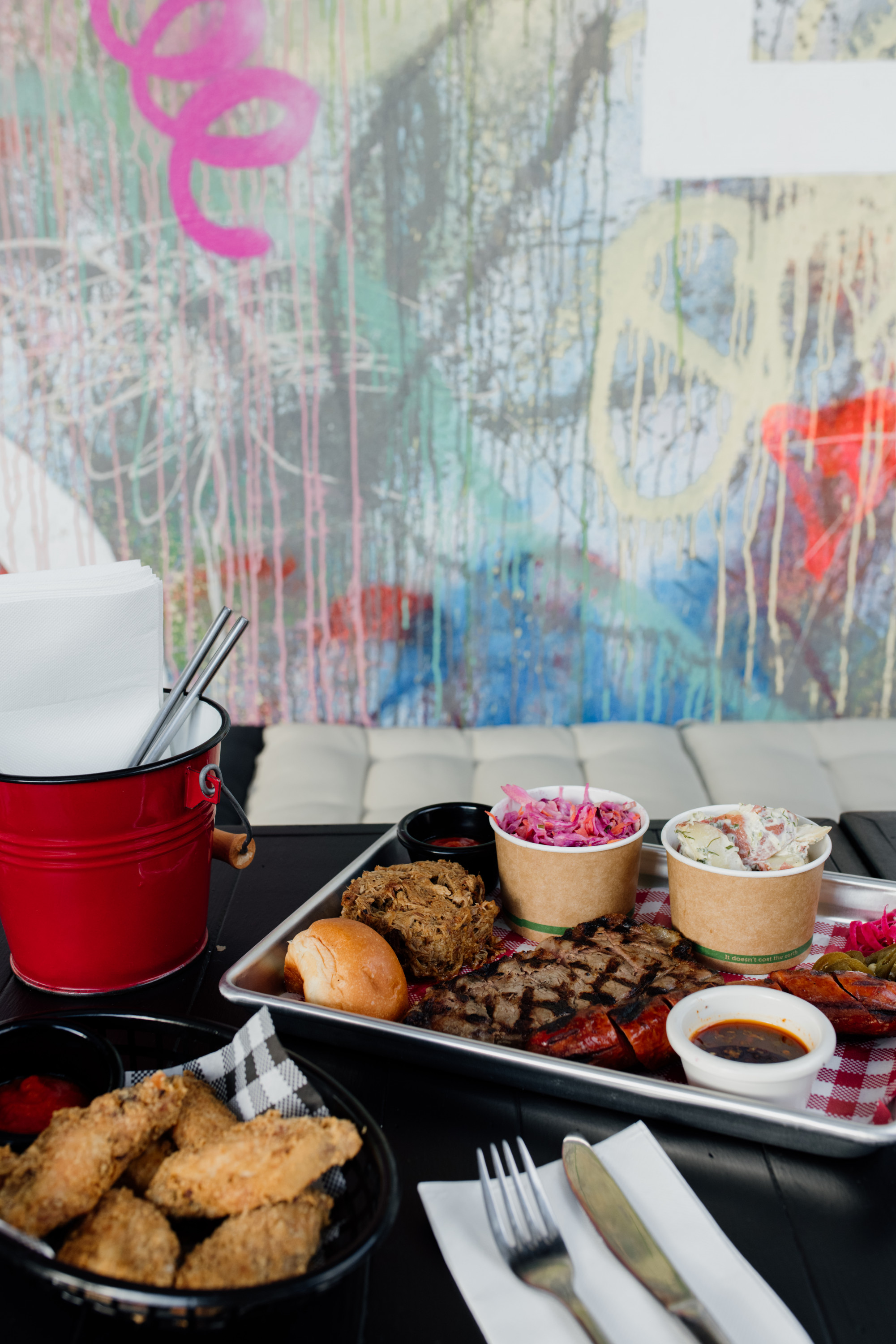 The star of the menu is the DIY barbeque platter, where you select all your favourite goodies and load it up to make one epic smorgasbord of mouth-watering noms. Choose between meats like grilled black Angus striploin or slow-cooked pulled pork, then ramp up the goodness with sides like oh-so-cheesy mac'n'cheese or corn cobs slathered in chilli and garlic butter. We can't go past the melt-in-your-mouth burgers—choosing between the slow-cooked pulled pork burger with dijon coleslaw and apple salsa or the wagyu beef burger, loaded up with all your classic fillings, may just be the hardest decision you have to make here. Our plant-based friends are covered here with a selection of vegan-friendly bites, including the vegan burger, which is so succulent your meat-eating pals will want a bite.
For something lighter to share with the squad (if you're willing to share the deliciousness), chow into the famous truffle and parmesan fries, saucy buffalo wings or popcorn squid. Fat Pig BBQ sets itself apart and pays testament to the chefs' skills by smoking all meats and crafting all sauces, marinades in-house with fresh and local ingredients.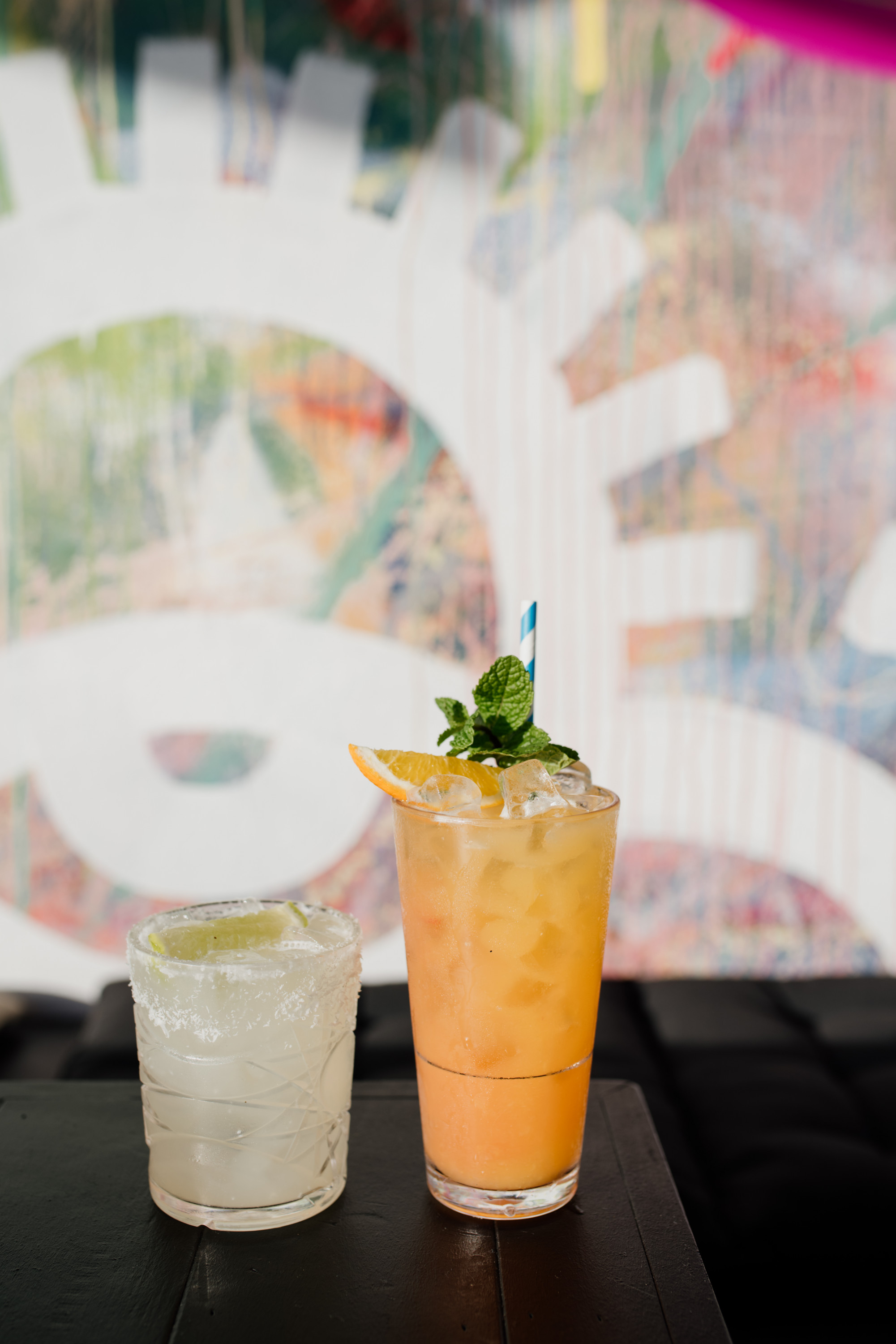 The dig-your-fingers-in style eats are complemented by a carefully curated drinks menu, perfectly designed to soak up all the goodness you've just inhaled. Crowd favourites include the hot-pink jalapeno Herradura margarita and the Suntea, which masterfully muddles Canadian whiskey, peach schnapps, iced tea and lemon. If cocktails aren't your bevvy of choice, don't worry because you'll be busy deciding between the huge array of spritzes, wine and exotic beer on tap.
Fat Pig BBQ will send your senses into overdrive; quirky and eclectic, it's a visual and taste explosion. If you're looking for somewhere a little bit different, with delectable eats, banging beats and upbeat vibes, then you've found it.
THE DETAILS
What: Fat Pig BBQ
Where: 2215 Gold Coast Highway
When: Thursday & Friday; 4pm to late
Saturday & Sunday; 12pm to late
For more information, click here.
Are rooftop bars your thing? If you're looking for more places to spend a lazy afternoon in the afternoon sun and fresh air, then check out our pick of the Gold Coast's best rooftop bars.

Image credit: Brooke Darling Photography