Imagine all the smooches you'll get when you whisk your other half away on a romantic getaway with all the trimmings. You guys adore each other, but there's only so many boxes of Favourites and sad servo flowers you can give before it gets a bit old. This time of year calls for a surprise romantic getaway and we've got just the places to check out (or check into).
Get all swept up in each other's irresistibleness at one of our top picks for best romantic getaways near the Gold Coast.
Blackbird
MULLUMBIMBY
This boutique bed and breakfast, set on 28 acres, is the ultimate romantic getaway just an hour's drive from the Gold Coast. The sprawling property, beautifully framed in acres of lush rainforest, comprises of three private pavilions, perfect for a cosy retreat. Each is thoughtfully fitted out with the latest environmentally sustainable energy saving 20kW solar system as well as modern luxuries, designed to ensure you unwind and zen out. Wake up with a dip in the 10-metre mineral magnesium infinity pool, then warm up in the sauna before sipping a glass of red while taking in the view of the Byron coastline—dreamy!
Byron At Byron
Byron BAY
Is there anything more romantic than Byron Bay's picturesque locale? Lighthouse walks, dolphins dancing and starlit nights away from the city's haze equals total heaven. Tucked away from the busker-lined streets, salty air and boutique stores is the ever-luxurious Byron at Byron. Ready for a completely luxe romantic getaway? Yep, this is it. Relax with his and hers spa treatments ft. man-i-cures (cute) and remedial massages for the fellas, wander along on a lush guided rainforest tour and explore local farmers markets led by a resort chef each Thursday. Onsite yoga classes, tennis matches and feasts from the regions finest are all a must to indulge in. All too much to choose from? Opt for the Indulge Package (including dinner for two, a decadent cheese platter and bottle of champagne, of course)—then prepare for loved up bliss.
Mouses House
Springbrook
We're all about celebrating our hinterland's beauty. And we reckon a cosy cabin hideaway buried within a rainforest just outside of Springbrook National Park is the perfect escape for you two lovebirds. Book in for a stay in the Mouses House luxury rainforest spa and stream chalet, fit with private outdoor hot tub and fireplace. All conveniently built next to a mountainside stream for some casual scenery extras. Sky lofts, spa rooms and adorable Snow White named cabins scattered through the forest mean you'll feel completely secluded and completely in lerrrve. Food baskets and delivered brekkies are on the ready as well as picnic hampers, booze (in case you were too excited to do a bottle-o run before your stay) and even gushing waterfalls within walking distance.
Crystal Creek Rainforest Retreat
Tweed Valley
Move over camping, this romantic Gold Coast getaway with all the trimmings awaits. We're seriously melting over the glass terrace bungalows at Crystal Creek Rainforest Retreat—your next one-of-a-kind romantic getaway fit with sky high glass windows and uninterrupted views of glorious tree-lined serenity in the Tweed Valley. Just an hour's drive inland from our humble Gold Coast region, this place is utter privacy, comfort and seclusion. Picture yourself waking up surrounded by a lush rainforest oasis without the mozzie bites. Better yet, why not lap up that serenity in your own private spa? Thinking about popping the question? Romantic surprises are also on offer, like 100 candle setups and cute outdoor dinners for two deep within the rainforest.
Halcyon House
Cabarita
The charming little town of Cabarita is just a stone's throw from our doorstep, so it's perfect for a short elopement with your lover. Caba's multi-award winning boutique hotel, Halcyon House is a sure fire way to charm the pants off of your honey. For the coastal lovers among us, lap up ocean views then hire a surfboard onsite and hit the waves. Or, stay in because rooms are fit with 24-hour room service, a complimentary mini bar and even a pillow menu. Yes, that's a thing apparently! Or, why not zen out at their epic spa. You'll be busy, to say the least. Dine at Halcyon's hatted Paper Daisy restaurant for a relaxed dining experience then set off for fruit tasting, snorkelling with the turtles or seaside horse riding, ala Daryl Braithwaite. And if that's not the cutest darn thing to do with the ball and chain, we don't know what is.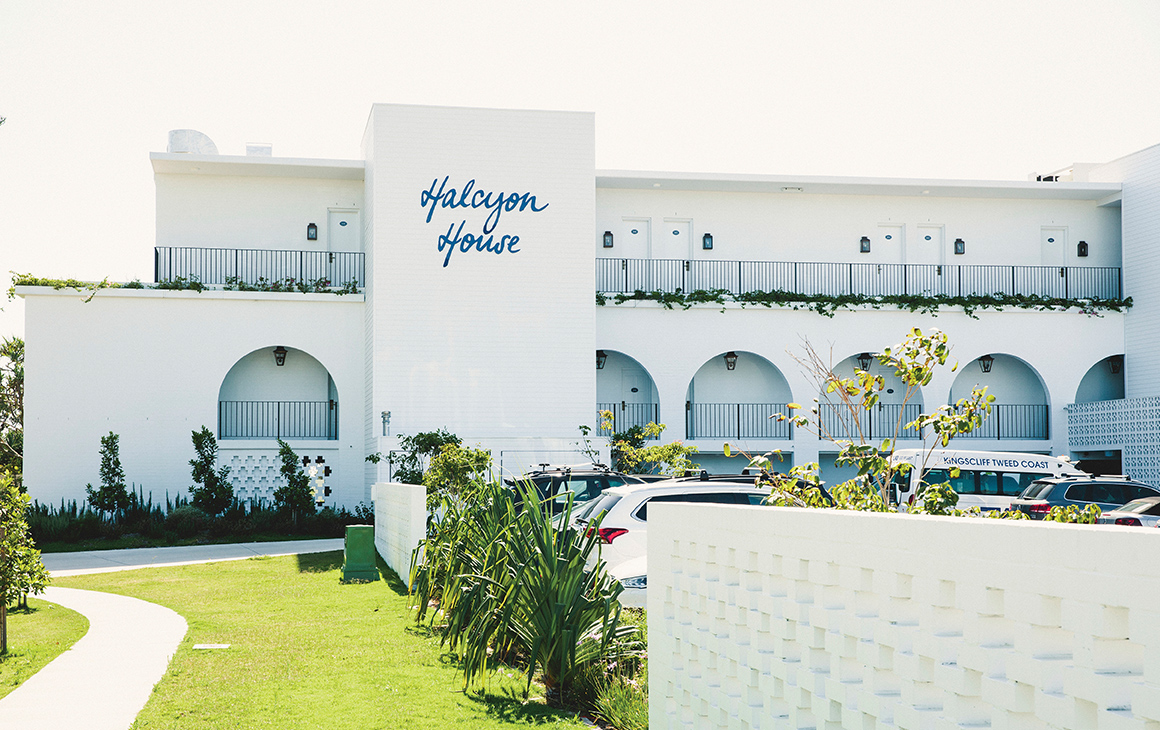 Springbrook Mountain Chalets
Springbrook
Sometimes cosy is best. Especially when you're getting all up in your partner's space because you love 'em so much. Springbrook Mountain's chalets have that retro chic vibe about them with all wooden interiors, leather couches and balconies reaching out to the forest floor. Choose from unique 'boat-styled' chalets for two with chapel ceilings or spread out big time in the deluxe cabin with it's A frame roof and loft styled bedroom. The only real question is, who brought the marshmallows to toast in your private fireplace?
Songbirds Rainforest Retreat
TAMBORINE MOUNTAIN
The vision behind Songbirds Rainforest Retreat was to create an experience that blew away expectations. Its aim is to completely immerse guests in the sounds and sights of the natural environment, accompanied by incredible food. One visit and you'll know they've succeeded. Songbirds is one of the best romantic getaways from the Gold Coast, so take your pick of six spacious villas spread out over 51 acres of stunning Australian rainforest, giving you a sense of ultimate privacy, while also being part of the all-encompassing environment. Don't miss Songbirds Restaurant, overseen by Head Chef Meyjitte Boughenout, for a spectacular experience of classical dishes with a modern touch, combined with just a pinch of theatre.
Spicers Peak Lodge
MARYVALE | QUEENSLAND
Jaws will drop as you enter the majestic 12km driveway of Spicers Peak Lodge. Located 1100 metres above sea-level in South East Queensland (just over two hours from the Gold Coast), Spicers Peak offers the height of luxury via its all-inclusive holiday styling. Melt into a treatment at Spa Anise, dine at award-winning restaurant, The Peak, explore the surrounds with a gourmet picnic hamper in hand, or alternate between the pool and tennis court for some localised fun.
Paddock Hall
Byron Bay Hinterland
If there's one thing we're seeking in a romantic getaway from the Gold Coast, it's that one-of-a-kind roof over our head; the type of roof that separates our holiday from the next person's and maybe throws a little Insta-envy in the face of our social followers, too. Lovers of farm life, welcome to Paddock Hall, a blissfully small but modern guesthouse located in Tintenbar in the lush Byron Bay Hinterland. Praising open-plan design in support of rural views over the working macadamia nut farm, Paddock Hall provides the perfect getaway solution with its use of sustainably sourced timbers, exposed beams, vintage claw foot bath on the veranda, tranquil pool and a fireplace for chilly nights. Rise, shine and inhale the fresh country air as you enjoy a breakfast catered by Newrybar's Harvest (optional) or a wander to visit the resident sheep, goat and chickens. We know what you're thinking, and to confirm; yes, Paddock Hall is as impressive as it sounds.
Want more super cute date ideas that won't break the bank? Check out these cheap and cheerful date ideas.
Image credit: Blackbird, Halcyon House