Has your two-minute noodle fetish, along with your takeaway fries started to affect your belly? Let's face it, even before the coronavirus hit the Gold Coast, grocery shopping and meal prepping was never the most exciting job of the week. Well, we reckon it's time to break-up with your chicken flavour sachets and give your local drive-thru a rest—you deserve better.
Here's our roundup featuring some of the best meal delivery services on the Gold Coast, for nutritious and delicious meals delivered to your doorstep.
Cameron's Kitchen
If you want to support a local family business while also simultaneously filling up on delicious eats, Cameron's Kitchen has you covered. This first-class meal delivery service drops wholesome eats straight to your door that can be refrigerated for up to seven days. From Thai green curries to meatloaf or even vegetable risottos, the food is always fresh and delicious.
Youfoodz
No time to rush around town in search of healthy feed in your lunch hour? Then you need to get on the Youfoodz bandwagon. A clean-eating secret weapon for your fridge, Youfoodz is a totally fresh meal delivery service that's going to transform your bod and leave your lunch hour wide open for more important things (like stalking people on Instagram). All about the healthy eats they may be, but Youfoodz make nutritionally balanced meals you'll actually want to chow down on—think kaarage chicken, Korean BBQ beef noodles and tandoori chicken with cauliflower rice. Made specifically so you can stock up in one quick order (everything is made to last between 7-9 days), you can jump on the Youfoodz website and order delivery of YouFoodz for the week and rest easy knowing a healthy, delish meal is waiting for you in the fridge every day.
Soulara
If plant-powered nutrition is your mantra, then look no further than Soulara, a company that's putting the fun back into vegan and vegetarian meals, delivered to you. Clear up your environmental conscience with a range of detox bowls, curries and noodle dishes, all guaranteed to send your tastebuds into a starstruck frenzy, as they finally meet cardamom, star anise and paprika.
Dinnerly
Marketed as Australia's most affordable meal kit, Dinnerly offers easy, tasty recipes for as low as $4.85 per portion. Six ingredients, five steps—that's all you need when you sign up with Dinnerly. From sweet soy chicken noodles to beef burgers, there's plenty of variety and enough to satisfy even the pickiest eaters. It's so good (and so budget-friendly) that even our editor gets it weekly—do you need any more of a reccomendation?
Performance Eating
If you're ready to get serious on your coronavirus detox but need a little help, Performance Eating is your ultimate go to when it comes to the Gold Coast's best meal delivery services. Fresh, perfectly proportioned meals, this local company is sure to keep you fuelled up, as well as looking and feeling fresh AF. The best thing about Performance Eating? The many vegan options! And we're talking delish noms like basmati pilaf with gauc and South American baked beans. Drool.
Fresh Meals 2 U
Fresh Meals 2 U is the perfect meal delivery solution for those who would love to eat a healthy, nutritious meal but simply don't have the time. With a wide range of meal plan options, you can opt for a 'balanced' meal plan that will help you shift those WFH kgs. And the food is still delish, including eats like Portuguese chicken and even banana bread.
Herbidoor
Here's something that we definitely can't pass up—how about some plant-based sticky date pudding delivered to your door each week? Who knew quitting cooking could be so damn good! You'll never get bored with a plant-based diet again thanks to Herbidoor, a Gold Coast meal delivery service where you choose from five brand new meals each week. Order online by midnight on Tuesday and a fresh delivery will be waiting at your door the following Monday, ready to slay the week ahead. Our fave thing about Heribdoor other than sticky date pudding? How about raw salted caramel slice? Yep, it doesn't get better than that!
Nourish'd
Got a sensitive gut? How does a menu that caters for dairy free, keto and nut allergies sound? Nourish'd has got you covered, with a philosophy that promises good food, and the ability to claim back your health and time. Get chilli cheese fries, off-the-bone lamb shanks, and country style crumbed chicken prepped and delivered while you focus on crafting a new hobby, or getting out into the fresh air. Time = saved.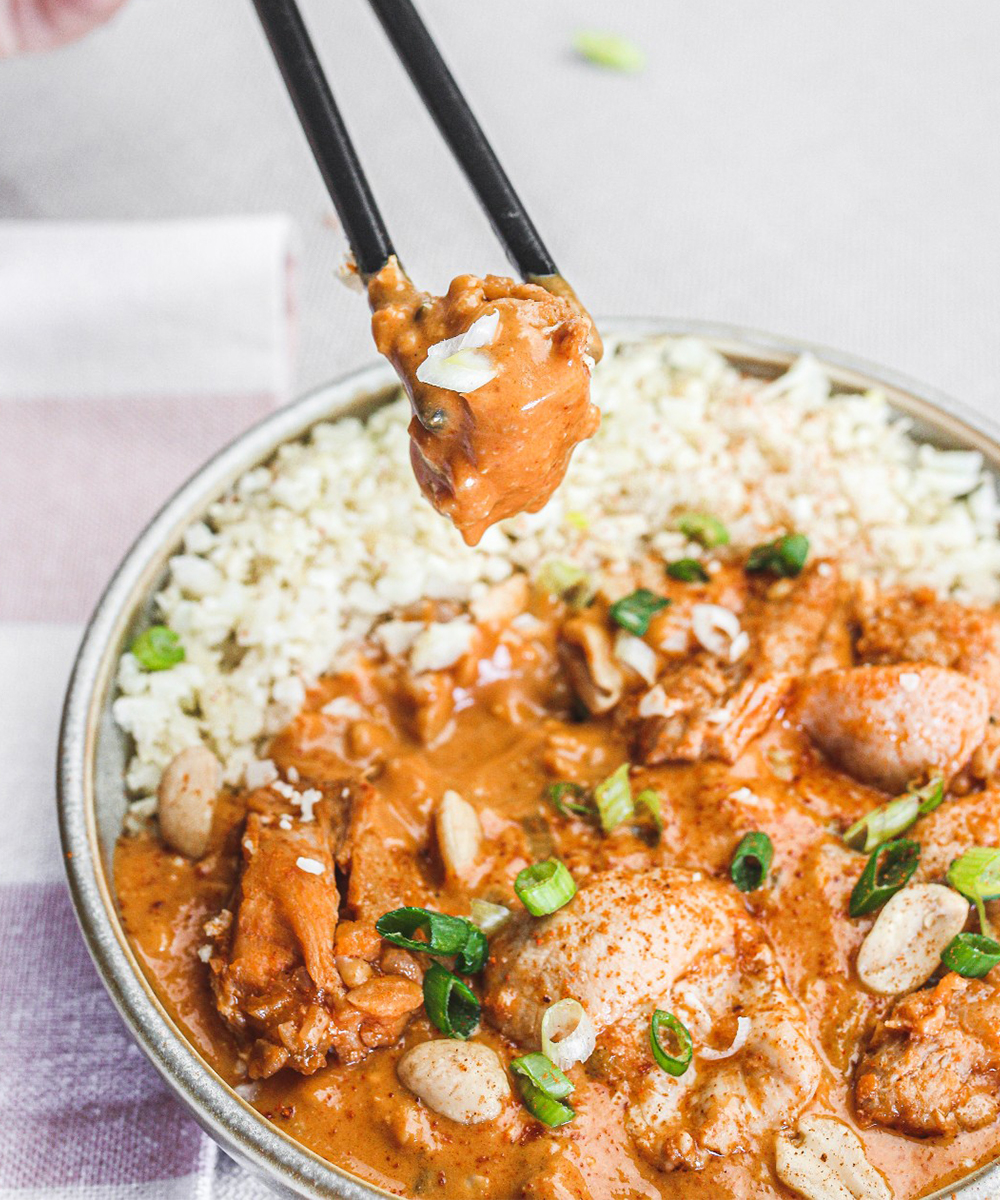 Marley Spoon
Marley Spoon's chef-designed menu has options for all tastes and lifestyles, including vegan, low-calorie and family-friendly options that'll leave you wanting more. Marley Spoon also sources the best, seasonal produce from trusted Australian suppliers, so you know that whatever you're getting is legit. Plus the meals are varied and totally drool-worthy, too—think spicy chicken Rendang curry, pomegranate-glazed chicken, roasted hemp seed barramundi and loads more.
Wholesomeness
Peer into the world of Wholesomeness, a plant-powered nutrition-based company that has created pre-made packs that are all gluten and dairy free, saving you the time and hassle of meal invention and careful product selection at the supermarket. Choose from low FODMAP, vegan or flexitarian packages that are made with quality produce and attention to nutrients, then sit back and relax while experienced chefs and dieticians pay attention to the food that will come right to your door.
Hello Fresh
Don't have time to hit the supermarket, or find it a bit daunting in the age of COVID-19? Can't decide what to have for dinner, but need to curb your UberEats habit? HelloFresh is here for you. It's the country's most popular home-delivered meal plan set up, shipping fresh produce and a huge variety of quick, simple recipes straight to your door to ease the stress of mid-week meal-making. One of the greatest things about HelloFresh is the convenience factor—great, healthy produce delivered to your door. But it'll also get you fired up in the kitchen and cooking recipes you may never have thought of trying. No doubt, you'll wind up a better cook as time goes on. On the sustainability front, HelloFresh's fruit and veg is sourced direct from Aussie suppliers, and as your produce comes pre-portioned, you'll be reducing food waste too. Basically, it's a win on all fronts.
Looking for things to do on the Gold Coast while chowing down on your meal delivery? Check out this hit list.
Editor's note: Urban List editors independently select and write about stuff we love and think you'll like too. Urban List has affiliate partnerships, so we get revenue from your purchase.
Image credit: Soulara, Nourish'd