Coachella's been postponed, local businesses have closed and physical distancing is trending. The impact of COVID-19 can't be ignored with many working remotely this week and new bans being put in place by the day.
Times like this can feel pretty uneasy and though we're all about lapping up what our city has to offer (cue bottomless feeds, coastal walks and daycations), we know it's not business as usual.
In light of this, we still encourage you to support Gold Coast's local businesses as much as you can but when you're working from home or choosing to self-isolate in your downtime, we've got some goodies up our sleeve we want to share.
From DIY dessert kits and body scrubs to everything you need to binge on Netlflix, here are seven awesome things to do on the Gold Coast, if you're staying at home this week.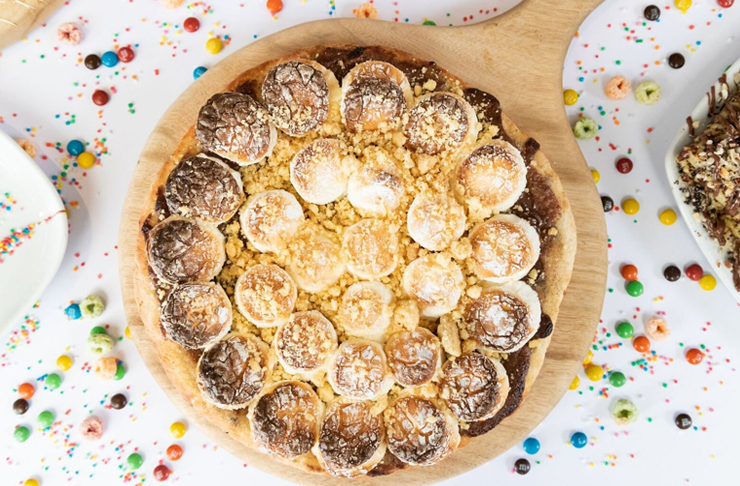 Order A DIY Dessert Survival Kit
If you're a sweet tooth craving all things sugary right now, it's your time to shine with Cowch's marvellous new DIY Survival Kits. Cowch has decided to go one step further with the new takeaway situation by providing you good citizens with some of their most delicious desserts as make-at-home options. If you've had one of their dessert pizzas before, you can understand why the Ferrerro No Share clearly states no share. Pig out on one of the many pizza options, or go for pancakes, sundaes, or crepes instead. The options are endless. To find out how to get your hands on one of these survival kits, head here.
Get Creative
Self-isolation is the best time to get your creative juices flowing. If you've always fancied learning the basics of pottery, now is the perfect time and thanks to Gold Coast-based company, Crock'd, you don't even need to break quarantine. Delivering the sweetest DIY pottery packs to your door, Crock'd sells sets for two, three or four people, so your housemates can get in on the action too. The kits come with a set of super easy instructions, as well as a set of 'clay breakers'—think ice-breakers, but more on theme. Find out more here.
Take Care Of Life Admin, Finally
Personal or professional, we've all got goals we've been pushing aside, because, life, right? There'll likely be some downtime in your schedule, so make the most of it and put some plans into action. Our Career & Money section is a great place to start if you're on that career grind, but simple things like writing to-do lists for right now, tomorrow, this month and this year are great ways to get you thinking, too.
Spa Night
Treat yourself to a relaxing spa night. We've all got old unused Christmas gift sets hidden in the cupboard, filled with bath salts, shower gels and moisturisers, so get your pamper on. Bath bombs at the ready—run yourself a bath, pop on that face mask, play some relaxing tunes and let your troubles fade away as you sink into the abyss. If your beauty cupboard is looking bare, scroll here for an easy-to-make DIY body scrub.
Marie Kondo Your Space
While puzzles, Netflix, Tik Tok and virtual hangouts with friends are entertaining ways to chew up a couple of hours, it's important to integrate a few productive tasks into your week to help provide a healthy dose of achievement into your routine. A tidy space equals a tidy mind and as you'll be spending much more time at home over the next while, you want to have a good relationship with it. So with any extra time on your hands, use it to overhaul your wardrobe, declutter pesky drawers and perfect your pantry. For more useful tips on things to focus your energy on, head here.
Flex Your Culinary Skills
Always complained that you never have enough time in the kitchen? Consider this your chance to experiment. Pour a glass of red, get your buddies on House Party and have a virtual cook-off, working through our hit list of awesome spaghetti Bolognese hacks. From adding dark chocolate and butter to white wine and instant coffee, you're sure to find a new 'secret' ingredient you'll be using for years to come.
Binge All The Movies And TV Shows
This whole solitude thing is prime time to catch up on all the movies and tv shows you never got around to watching. Luckily for you, we've gone and done the hard yards so you can easily work your way through all these lists:
​​Avoiding the office for now? Here's How To Work From Home Like A Total Pro From Someone Who Does It All Year Long.
Image credit: Sincerely Media and Cowch