We're pretty lucky to have such a huge variety of authentic international eating spots right here on the Gold Coast. And if there ever was a cuisine made to be shared with mates over a couple of cold ones, it's Korean.
Cheap yet delicious, there's few things that bring us as much joy as an all-you-can-eat Korean BBQ buffet washed down with a few sojus. We hope you're hungry, because we've rounded up nine of the best Korean BBQ joints on the Gold Coast.
Suzy BBQ
Burleigh Heads
Grab your gang, because Suzy BBQ, nestled in the heart of Burleigh Heads, is the funky Korean BBQ house we've all been waiting for. From the vintage Korean posters lining the walls to the red Coca-Cola chairs on the footpath to the bustling atmosphere, everything about Suzy BBQ is eccentric, fun and something the Gold Coast hasn't seen before. Grill your own meats to taste at the table and tuck into them hot alongside drool-worthy kimchi dumplings and Instagrammable kimchi pancakes, all washed down with a range of crisp, cold Asian beers and spirits (and yes loads of soju, of course). It's communal-style eating with a K-pop twist. As the only non-Southport/Surfers entry on this list, we thought we'd give it top billing.
Korean BBQ Buffet
Southport
When a restaurant's core values are quality food, quality service and unbeatable experience, it's pretty hard to go wrong, right? Korean BBQ Buffet is the largest Korean BBQ Buffet on the Gold Coast, but this is one case where quantity doesn't mean a reduction in quality. Their head chef with over 30 years of experience will see to that. Sure, you can go a la carte and grab yourself a place of slurp-licious noodles or crispy fried chicken, but why wouldn't you dive into the all-you-can-eat experience when it's just a cheeky $45 per adult? We're sold.
Korean Kitchen
Surfers Paradise
Hailing from the Culinary Corridor in Cavill Lane, Korean Kitchen is a traditional Korean restaurant with a gas BBQ grill built into each table, ready for you to fire up and sear a mouth-watering range of meats, seafood and vegetables. You'll be sailing through Seoul with the extensive menu of traditional Korean treats like crispy pancakes, loaded dumplings and their own take on the much-loved bibimbap. If you can handle a bit of heat, the spicy sausage stew is the perfect comfort food on a cold winter's night. With marinated pork, bulgogi and marinated chicken all just $15, you can make it a lunch and dinner deal without breaking the bank.
Gal.B Korean BBQ Restaurant
Southport
Gal.B Korean BBQ is a carnivore's dream. Specialising in high grade meat cuts such as A5 Wagyu chuck tail, cube roll and chuck slice, this cosy spot attracts the peeps who really know their meat. The team here pulls no punches with their traditional flavours, making everything as funky, bold and fresh as possible. And for those late night munchies, Gal.B has got you covered, with a midnight close from Tuesday to Saturday. Get moving and nab yourself a table, because they don't last long at Gal.B.
Cook N Beer
Surfers Paradise
With a fresh menu as of April this year, Cook N Beer will serve you up fragrant, steaming BBQ as hot as they come on a sizzle plate, right to your table. Add to that their party-worthy snack menu including gooey cheesy sticks, hyper-loaded kimchi, chive or seafood pancakes and super crunchy fried chicken with your sauce of choice, and you've got yourself one hearty feast. Raw fans will just love tucking into the beef tartare or beef sashimi, while seafood lovers will find it hard to go past the giant seafood hot pot, loaded with crab. Oh and as the name suggests, there's a range of icy cold beer to help wash it all down.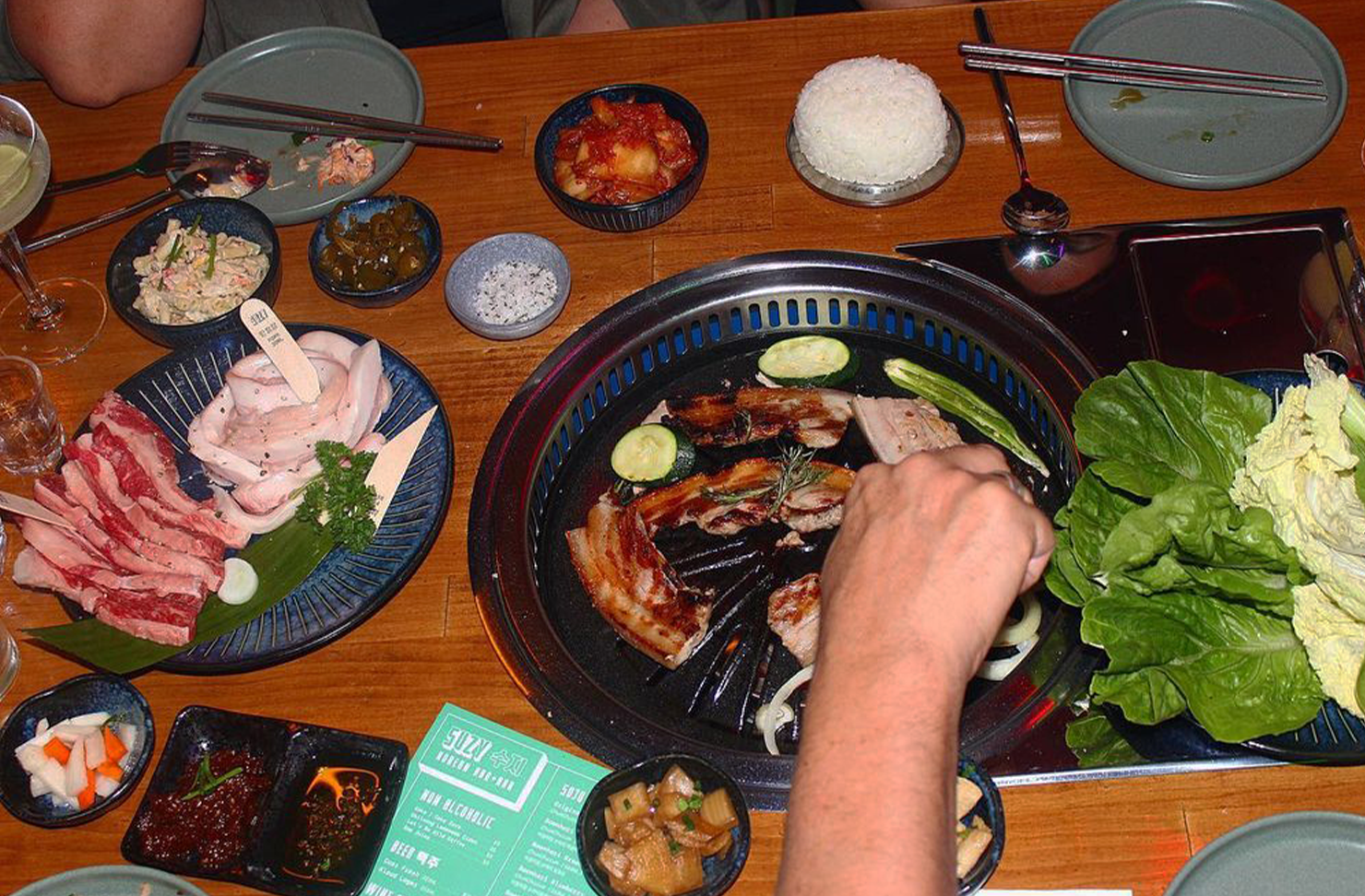 Dae Bark
Southport
You'd better bring your appetite to Southport super fave Dae Bark, because their meals are next-level huge. Of course you can cook your own meal at the table, but every diner must try one of their punchy BBQ bowls at least once. Loaded with spices, herbs, mushrooms and meat, these marinated mountains will have you strapping on your trekking gear for a gastronomic adventure to flavour town. And in case that isn't all you can eat, you can stay on for the nightly all-you-can-eat buffet.
Goha Korean Restaurant
Southport
Goha Korean is one of the Gold Coast's best kept secret Korean BBQ spots. With a busy clientele list of devoted locals, there's no need for fanfare or advertising in this humble family-run business. It's all word of mouth. The owners choose their selection of super-fresh marinated meat daily from the family butcher next door for their nightly BBQ buffet feast. Your table will be groaning with marinated meats, zingy condiments, fresh veg and humongous steaming hot pots packed with protein. It's definitely time to grab your gang and goha.
Rice House
Southport
Cheap, tasty and everything you expect from a Korean BBQ joint, the popular Rice House in Southport has all the flavours you expect from a Korean restaurant, served simply and without fuss. Dine in and choose from a menu packed with pork, veggies and seafood, or if you're feeling lazy, simply order in. But wherever you are and however you're eating, be sure to get the cheese ramen, and thank us later.
Yi Dynasty
Southport
Korean BBQ, but make it fancy. Eschewing charcoal grills in favour of high-tech infrared ones, this authentic Korean dining experience has a devoted following of extremely loyal fans who simply won't go anywhere else. As well as being a healthier option than coal, the infra-red grills impart a distinctive flavour that marks Yi Dynasty as a solo player. And if you're a real health nut, the kale salad will be right up your alley.
Image Credit: Suzy BBQ