No matter the season or the weather, every day is a potential pizza day in our opinion. Which is fortunate given the Coast is home to a bunch of mouth-watering options—enough to sample a different one every day of the week. From authentic Italian wood-fired delights to quirky toppings, there's a slice to suit every taste bud.
Here is our pick of the best pizza spots on the Gold Coast.
Francie's
COOLANGATTA
Quickly earning itself a cult following in Coolangatta, we reckon Francie's is one of the best pizza restaurants on the Gold Coast if you find yourself wandering around the southern end with a hunger you need to crush. With cool vibes, a laidback local clientele, hip staff and wood-fired neo-Neapolitan-style pizzas featuring cheeky names like Pears Brosnan and Cheese Louise (not to mention an entire vegan pizza menu!), Francie's is unassuming but a total fan favourite.
The Don
Burleigh Heads
If you haven't been to The Don yet—or the foodie paradise that is North Burleigh Kitchens—then what are you even doing with your life? Serving up some of the most delicious pizza around, The Don also offers all-you-can-eat Sundays where you can stuff your face with both pizza and Mexican food from the Margarita Cartel kitchen. Indulging in Italian and Mexican food at the same time? Challenge accepted.
Slice Pizzeria
Burleigh Heads
A tried-and-true Burleigh & Byron staple, Slice Pizzeria doesn't disappoint when it comes to delivering the doughy, cheesy goods. Slinging an impressive variety of stone-baked pizzas, these babies have the perfect ratio of toppings and crust thickness. You've got the classics, of course, like Meat Lovers, Margherita, Hawaiian, but then you also have an entire Camembert pizza for those next-level cheese experts or even an epic Game Of Prawns 'za if you're feeling seafood-y. Deliciousness all around.
Double Zero
Broadbeach
When the menu is in Italian and you can't read a thing, you know it's legit. Double Zero focuses on traditional neapolitan pizza which is cooked for 90 seconds in a woodfire oven. If you want to take your pizza love further, you can learn how they do it at their Pizza Masterclass, held on the first and third Saturday of the month.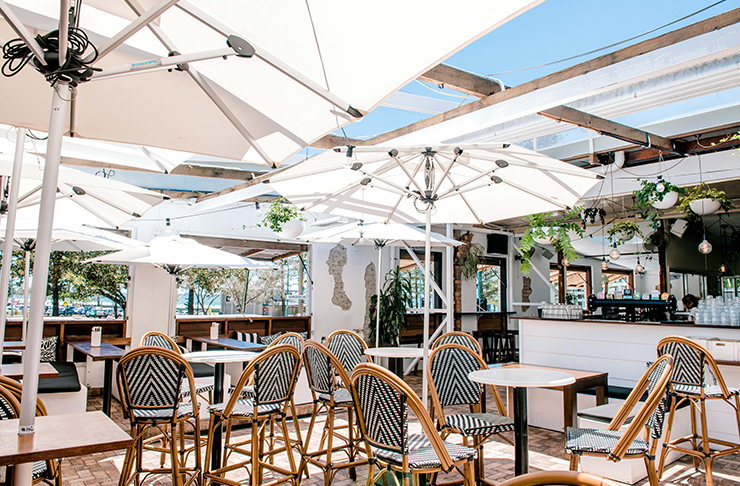 Justin Lane
Burleigh Heads
The team at Justin Lane do pizzas well. Really well. Their bases are 100% sourdough, naturally risen over 48 hours and hand stretched to order. Our picks? Their melt-in-your-mouth pork belly, pear and gorgonzola number or the pistachio, red onion, mozzarella and rosemary concoction. Enjoy it upstairs on the rooftop and wash it down with a chilli passionfruit margarita. Or make like the locals—grab a takeaway and enjoy the sunset at Burleigh Hill.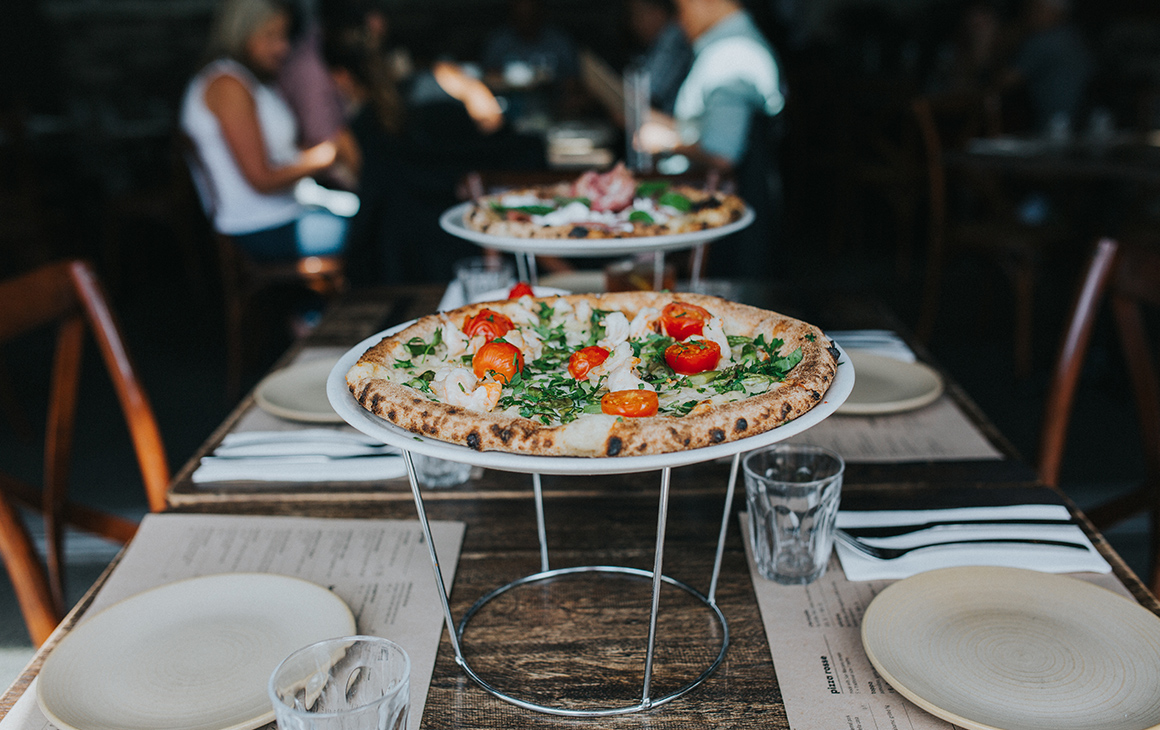 Gemelli
Broadbeach
Gemelli is the Italian word for 'twins' which is fitting as the delicious eatery is run by the Carney brothers. Their moreish pizzas are woodfired and cooked in a traditional Italian way. Our top picks are the Che Stupido (fior di latte, ham, salami, fennel salsicce and chilli), the Roma (fior di latte, San Daniele prosciutto, burrata and cracked pepper) and the Griffiti (pomodoro, fior di latte, San Daniele prosciutto, rocket and shaved reggiano). Really though, you can't go wrong with any of them.
Goccia
Mermaid Beach
This authentic pizzeria is run by Italian couple, Anna and Loris. Inspired by their childhoods growing up beside their Nonnas in the kitchen, everything at Goccia is homemade and oh so tasty. Choose from either a tomato or white base, and more than twenty pizza toppings. We're a sucker for their ever-changing specials too. Expect delights like mozzarella, truffle salami, mushrooms and goats cheese. Or pancetta, roasted potato and provolone cheese!
Costa D'oro
Surfers Paradise
It doesn't get more authentic than Costa D'oro. This family fun business has been serving up pizzas for more than three decades. Established in 1987, they offer all the faves including margherita, meat lovers and napoletana. The best part? You can have pizza for dessert as well. Their Chocolate Pizza is topped with nutella, cashews and fresh strawberries.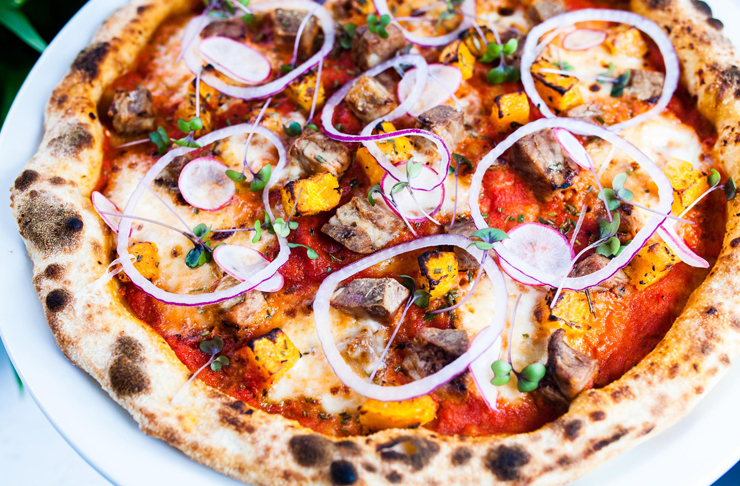 Bread And Butter
Kirra
This beachside pizza joint offers pizza as good as the coastal views. Their stone baked pizzas are cooked in a Marana Oven—made in Verona and one of the best ovens produced in Italy. It means they're perfectly cooked with just the right amount of crisp. The dough is made in-house and opened by hand. Toppings range from the traditional like margherita and diavola to the not so trandtional like meat lovers and Hawaiian.
Roy's By Gemelli
Sorrento
Run by the same guys who spin carb magic at Gemelli, Roy's by Gemelli is tucked into the burbs of Sorrento. Straight up, you can't go past The Roy's Special—prosciutto, rocket and shaved parmesan. Their full menu is available for takeaway and delivery, so you don't even need to leave the comfort of your own home for a slice of heaven.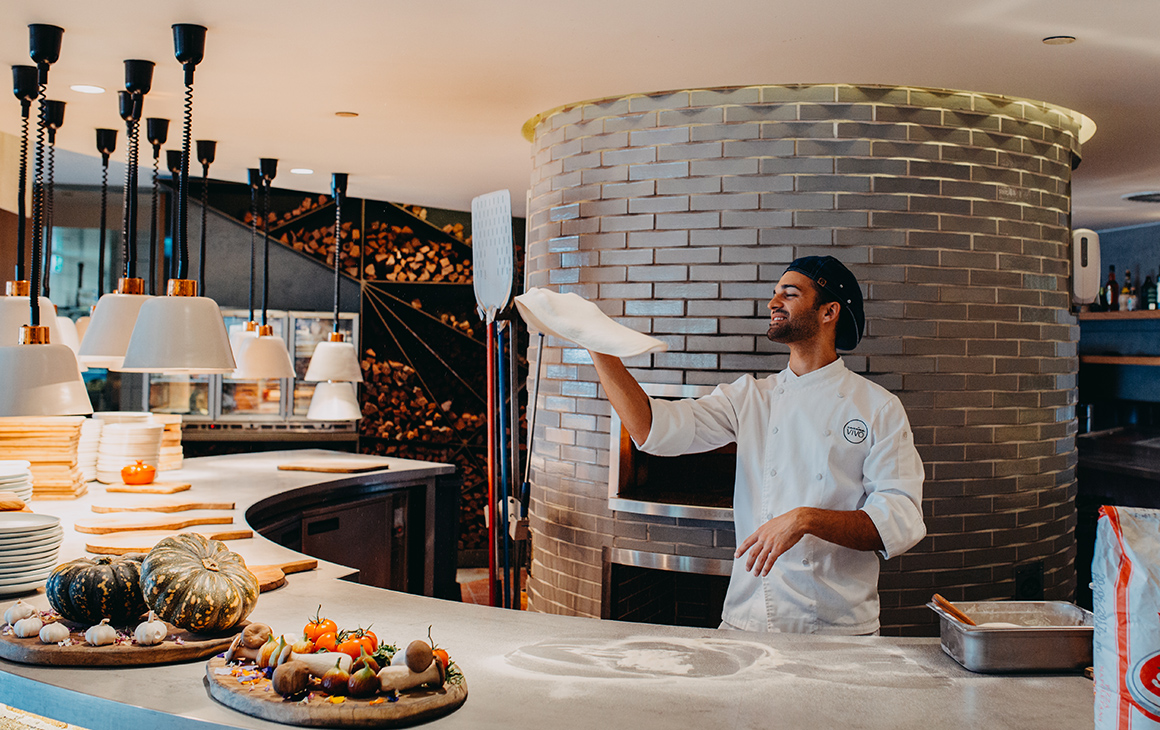 Cucina Vivo
Broadbeach
Cucina Vivo is inspired by the cliff-top restaurants of the Amalfi Coast. Overlooking the pool at The Star we recommend grabbing a table on their huge deck and ordering an Aperol spritz before digging into a woodfire pizza prepared in the large open kitchen. Even better, they've got everyone catered for here with loads of veggie options and gluten free bases.
Jordy's
Casuarina
The creative team behind Jordy's fused flavour with Tweed regions for a unique twist to the menu. From the Stokers Siding (mushrooms, fior di latte and oregano) to Fingal Head (buffalo mozzarella, gorgonzola, pecorino, fior di latte and chives), your gut will thank you for exploring all these delicious locations. And as if all those scrumptious toppings weren't enough, Jordy's pizza crusts are supersized and go perfectly with the house made dipping sauces.
Balboa Italian
Palm Beach
Like a glistening beacon of beauty on the Gold Coast Highway, this treasured neighbourhood haunt is serving the locals fine Italian fare with a contemporary twist, all in the most magnificent of settings. Come prepared to devour slice after slice of mouth watering woodfired pizza—from a spicy Diablo to a sumptuous four-cheese pizza bianca, Balboa Italian truly has all your pizza needs covered.
Looking for something sweet to enjoy post pizza? Check out our round up of the best diet ditching desserts on the Gold Coast.
Image Credit: Kaitlin Maree Photography and Hayley Williamson Photography for Urban List