It's the glitter strip that put our humble surf city on the worldwide tourist map, but there is oh so much more to Surfers Paradise than high rises, novelty arcades and expansive beaches.
In the past few years, Surfers' culinary scene has really stepped it up a notch or three. So, if you find yourself knocking around these parts with a hunger for some delicious nosh and friendly service, best make good use of your valuable time—and avoid the tourist traps—with our pick of the best restaurants in Surfers Paradise.
Yamagen
Yamagen is a funky Japanese izakaya located inside QT Gold Coast hotel, with one of Queensland's largest Japanese whisky collection (over 65 bottles and counting) plus some of the most innovative and creative Japanese cuisine you'll ever taste. Behind the expansive bar, you can peer into the glass-enclosed kushiage station; the beating heart of the izakaya where smells and smoke wafts as Japanese chefs work over robata grills and binchotan charcoal. Or, nab a posi at the 15-seat traditional sushi bar where you can interact with the chefs and devour plate after plate of omakase (chef's selection of market fresh sushi and sashimi). If you're on the hunt for one of the best restaurants in Surfers Paradise, well, you've found it.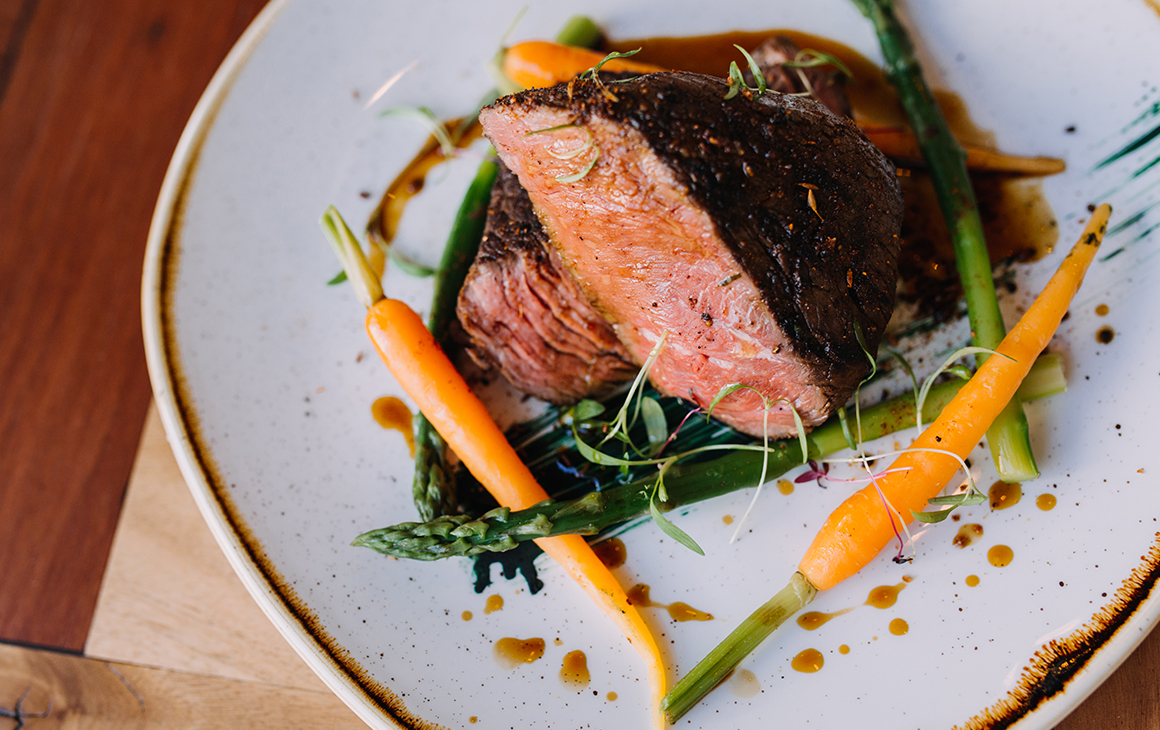 The Island
There's a lot to love about The Island, Gold Coast's newest boutique hotel offering. Hotel guests and day visitors are welcome to enjoy The Island's hip Italian-inspired restaurant and adjoining bar, open for breakfast, lunch and dinner, seven days. Eat your way through starters including the Eggplant Involtini with buffalo mozzarella, prosciutto and basil, to spicy bites of fried Ascolana olives and a terra cotta aioli for dipping. Or mains including wood-fired pizzas, pan fried Kingfish and a challenging 400-gram peppercorn-crusted Thousand Guideas Shorthorn rump. And don't get us started on dessert. But the fun doesn't end there. Home to the Gold Coast's biggest rooftop bar and sprawling alfresco patio, The Island Rooftop is bringing the cool back to the tourist precinct's after-dark scene with DJs, a retro-styled cocktail bar, ample seating, nooks and one of the best Sunday sessions on the Coast.
Salt Meats Cheese
Ensuring you are never too far from cheese, pizza and pasta, Sydney's renowned food emporium, Salt Meats Cheese, has its very own Gold Coast-based pizzeria and deli, right in the heart of Surfers Paradise. The New York-style menu features truffle gnocchi, flaming Parmesan wheels (Wednesday nights only) and the intriguing black lobster pizza with a squid ink base. Come for novelty offerings like coffee in a cone, all-you-can-eat pizza night on Mondays, or frequent pizza and pasta-making master classes.
Bazaar
There's some stiff competition in the hotel circles, but when it comes to buffet feasts, QT Gold Coast is considered the best in town. Big call, right? And like everything QT does, they'll ask that you forget any past buffet experiences, because they like to be different, and they nail it. Firstly, they'll have you know this isn't a buffet, it's an 'interactive kitchen'. Bazaar's selection is seriously eye-popping and always changing with dinner options like made-to-order steaks, seafood (prawns, crabs, oysters), an Asian station (dumplings, stir-fries, curries), countless salads, a lolly station and a wall of quirky desserts. Served seven days for breakfast, dinner and Sunday lunch; one thing is guaranteed, you'll need to be rolled out the door.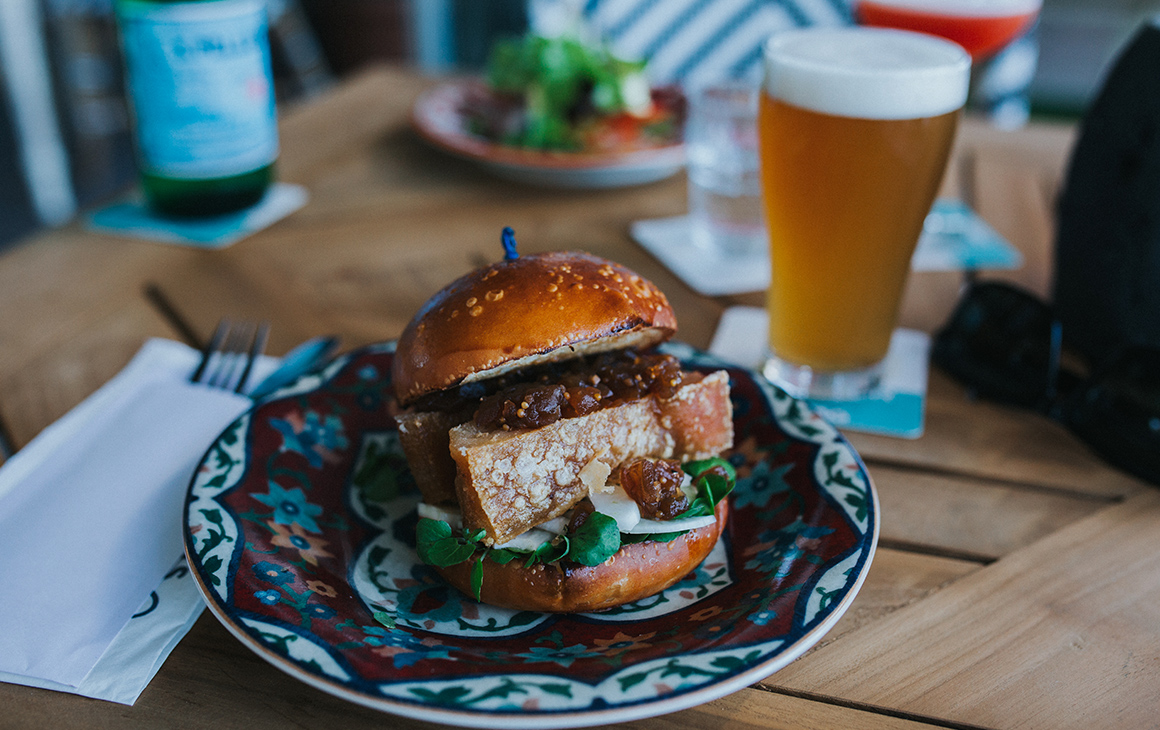 Sandbar
Surfers Paradise's longest established beachfront watering hole underwent a funky Bali-inspired overhaul recently, injecting some desperately needed cool back into the touristy precinct. We love Sandbar's breezy fit-out, always-holiday vibes, creative menus, extensive craft beer selection and killer cocktail list to accompany those salty sea vistas. Tuck into creative burgers such as Kim Jong's Demise with Korean-style crispy chicken or the Piggie Smalls with spiced pulled pork and apple relish, or surrender to a delish beachfront serving of Jo's Proper Fish and Chips, complete with mushy peas. Head to Sandbar, one of the best restaurants in Surfers Paradise, and cheers to the good life.
Fu Manchu Oriental Kitchen
Fu Manchu Oriental Kitchen on Surfers Paradise's Chevron Island has a true Asian fusion menu that morphs from devout traditions to dishes with a European twist. Hiding behind an unassuming London shop front-style facade, Fu Manchu is totally where we want to hang on our next date night, with a dark and moody supper club-ish interior that lends itself to getting cosy and just a lil' bit boozy. Our tip? Fu Manchu's Singapore chilli crab and sticky Asian beef short ribs are life changing.
Hyde Paradiso
Hyde Paradiso is the perfect spot for Sunday sessions and long lunches that lead into dinner with live DJs setting the mood. If you're after a European summer escape but can't afford the airfare, then this is the place for you. Setting up shop at Peppers Soul in Surfers Paradise, the restaurant and bar is channeling the colours of the Mediterranean with a hanging garden, drawing your eye up and then out to the stunning and uninterrupted beach vista. Food-wise, there's a fresh, seasonal, share-style menu with dishes reflecting the bold flavours of Greek, Turkish, Italian and Moroccan cuisines. Thirsty? These guys know how to make an excellent tipple. The 12-metre-long pink terrazzo bar specialises in 'Shared Cocktails' which basically means they're absolutely huge and oh so flavoursome. Friday through Sunday, Hyde will get the weekend party vibes flowing with guest local and international DJs cranking out sweet tunes into the night. And you'll want to get familiar with their Bottomless Brunch, kicking off every weekend from 12pm.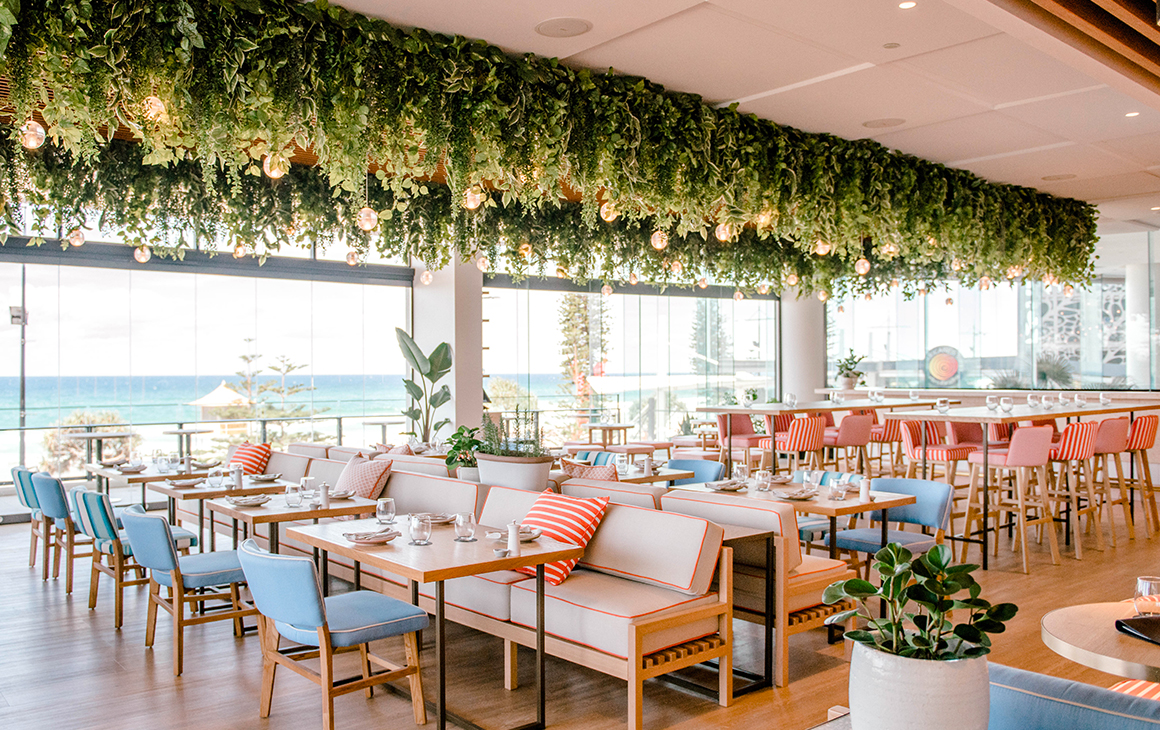 Edgewater Dining
One of the best restaurants in Surfers Paradise, Edgewater Dining is one venue that's successfully embraced the beauty of Gold Coast's spider web of canals. Situated on Isle of Capri, Edgewater's sprawling deck opens out to a swoon-worthy view of million dollar mansions and an up close and personal look at the iconic Q1 and glittering Surfers Paradise skyline. With talented restaurateurs at the helm and open for breakfast, long boozy lunches and dinner, seven days, a visit here is a sure bet you and your posse will be satisfied beyond belief. Munch on oysters, lemon pepper calamari. specialty burgers, risotto or perhaps a juicy lamb rump.
Tribeca NYC
Chevron Island's Tribeca NYC is named after the hip neighbourhood in downtown Manhattan with a world-renowned dining scene and inner-city loft living. It was the first true American dining establishment to open on the Gold Coast, and we can attest, is still one of the best. Tribeca NYC's extensive menu strongly lends itself to share-style dining, which we totally urge you do, to ensure you can try as many dishes as possible in one sitting. Think: flame-grilled New York steak, Rueben sandwiches, gourmet mac and cheese, ridic burgers or their legendary BBQ ribs.
Betty's Burgers
Betty's Burgers have worked up quite the reputation, Australia wide. Originating up the road in Noosa, with Surfers Paradise their second ever location, the burgers dished out here are pure, unadulterated deliciousness. And don't even get us started on their concrete AKA custard ice cream blended with your choice of mix-ins. As with any top notch burger joint, there's always a favourite, and the pick of the bunch is the Betty's Classic—a simply satisfying 10-buck burger loaded with an Angus beef pattie, lettuce, onion, tomato, cheese and Betty's secret special sauce.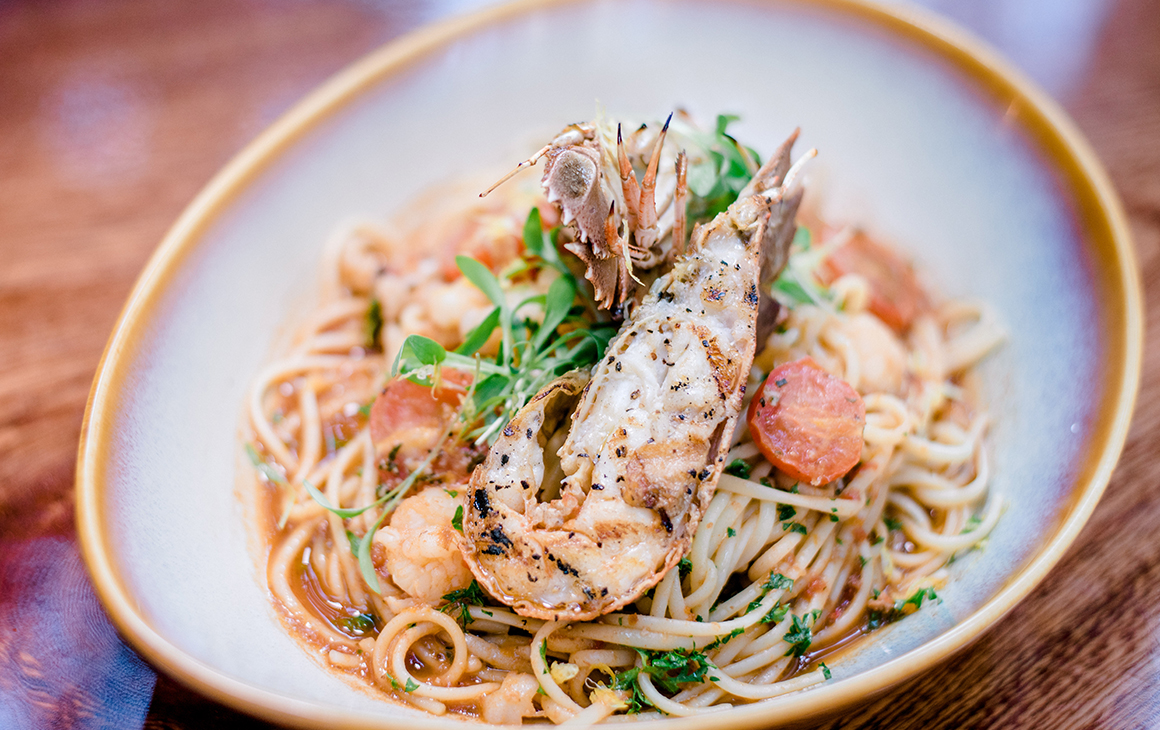 White Rhino
White Rhino, the Coast's $4 million, two story restaurant and bar venue located in the Circle on Cavill precinct in Surfers Paradise is ideal for those long lunches that turn into boozy dinners. The interior oozes cool with an elaborate waterfall bar, five-metre-high ceilings and lush greenery. Oh, and there's also a totally Insta-worthy open-air outdoor garden that's just perfect for summer drinks in the glorious GC sunshine. The Modern Australian menu features everything from moreish pizzas and drool-worthy burgers, to fresh seafood pastas and salads. There's also a large cocktail and wine list on offer that is available from 10am daily.
Seascape Bar & Restaurant
Got a weakness for seafood? Beeline to the esplanade where you'll find Seascape Restaurant & Bar. Sprawling over three levels, including a sunny rooftop bar, nabbing a prime position with uninterrupted Pacific Ocean vistas won't be too difficult. Go semi-casual with the bistro on level one or frock up for a fine dining experience in the restaurant on level two. Here you'll feast on fresh Pacific lobster, Moreton Bay bugs in a Malaysian red curry glaze, Tasmanian Atlantic salmon in a coconut broth, or an impressive selection of fresh local fish cooked to your liking.
Chop Chop
Chop Chop is a sprawling hawker-style market that feature a bunch of permanent Asian restaurants and street food stalls, plus an epic bar pumping out cracking cocktails. In case your mouth isn't already watering, be prepared for cuisine representations from Korea, Thailand, Japan, China and India, plus more, and flavour-packed eats like steaming bowls of ramen, mouth-watering dumplings, butter buns, crispy pork with noodles, honey chicken, Thai sushi with BBQ beef and game-changing bao buns. With lots of dark wood, hanging paper lanterns, oriental styling, steaming woks, flaming barbecues, wafting aromas and chatter from diners, it's sure to be sensory overload and, even better, cheap! If you need a guide to help you order, check out our round up.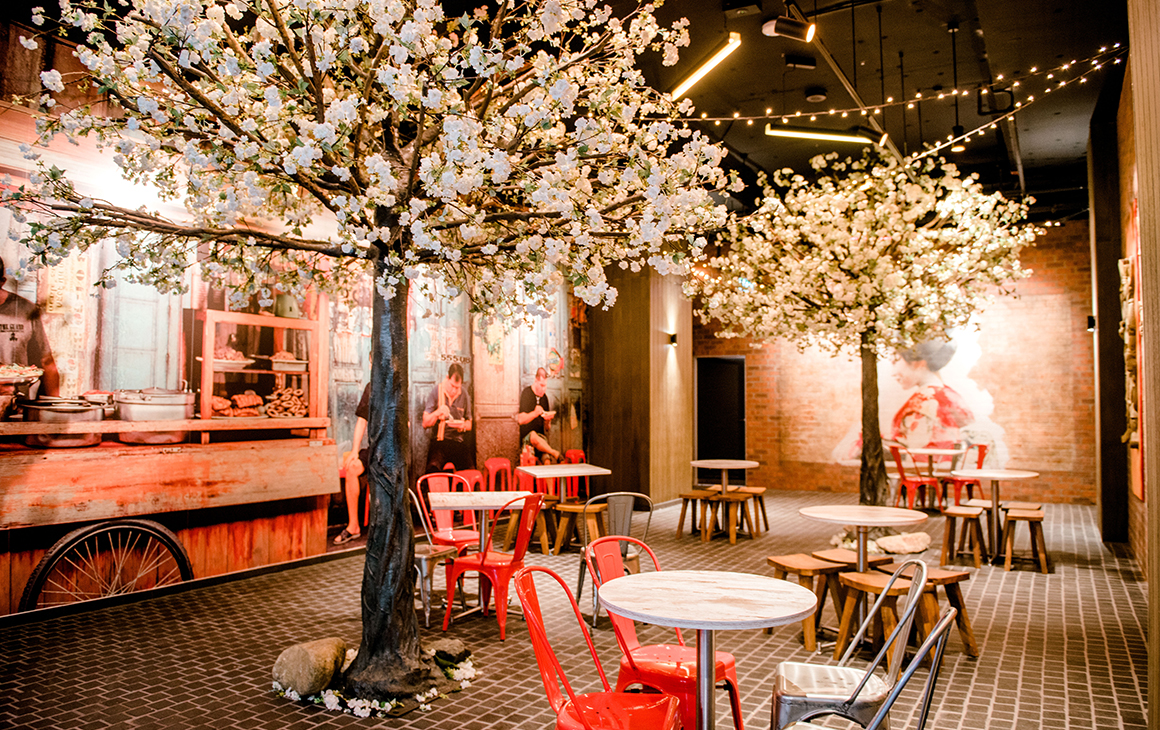 House Of Brews
If a wide craft beer selection is high on your priority list when choosing a restaurant, House of Brews on Orchid Avenue has your name all over it. Beer lovers will be in hoppy heaven with a ridic wall of 32 taps—the biggest draft selection on the Coast. Hungry? Of course you are! House of Brews extensive beer menu can be paired with classic American BBQ dishes such as sticky BBQ wings and ribs, burgers, steaks and loaded parmys—knock back a coldie while people-watching the frivolities of the nightly Surfers' circus.
Clifford's Grill & Lounge
One of the better options in Surfers Paradise when it comes to hotel restaurants, Voco's Clifford's Grill & Lounge has a sleek inner-city vibe and a grill house menu with an American twist. The pan-seared pork sirloin, slow-cooked lamb shoulder and seriously meaty sharing platters are standouts. Just don't leave without ordering Clifford's signature Bombe Alaska dessert—it's totally Insta-worthy too. Once you're done stuffing yourself silly, venture next door to The Walrus Social House for a nightcap, with a solid bar list (they have over 25 rums from around the world on the menu; woah, sailor) you may need to be rolled home afterwards. You have been warned.
La Diosa Mexicana
Located in Circle on Cavill, La Doisa is further proof Surfers Paradise is becoming a true foodie hub. Combining the traditional flavours of Mexico with his Lebanese heritage, expect a different take on traditional Mexican cuisine. Passionate about fresh and healthy food, all of the ingredients are sourced locally and made from scratch onsite, think salmon ceviche tostadas, Corona battered salmon tacos, Al Pastor pork burritos
chipotle and agave chicken wings. Another plus? Their epic cocktail menu. Choose from almost a dozen margaritas, ranging from traditional lime juice through to chilli chocolate made with tequila, chocolate liqueur, cream, chili, orange juice, lime juice, and chocolate bitters. And if that wasn't enough variety, they also have a selection of over 30 types of tequila and mezcal.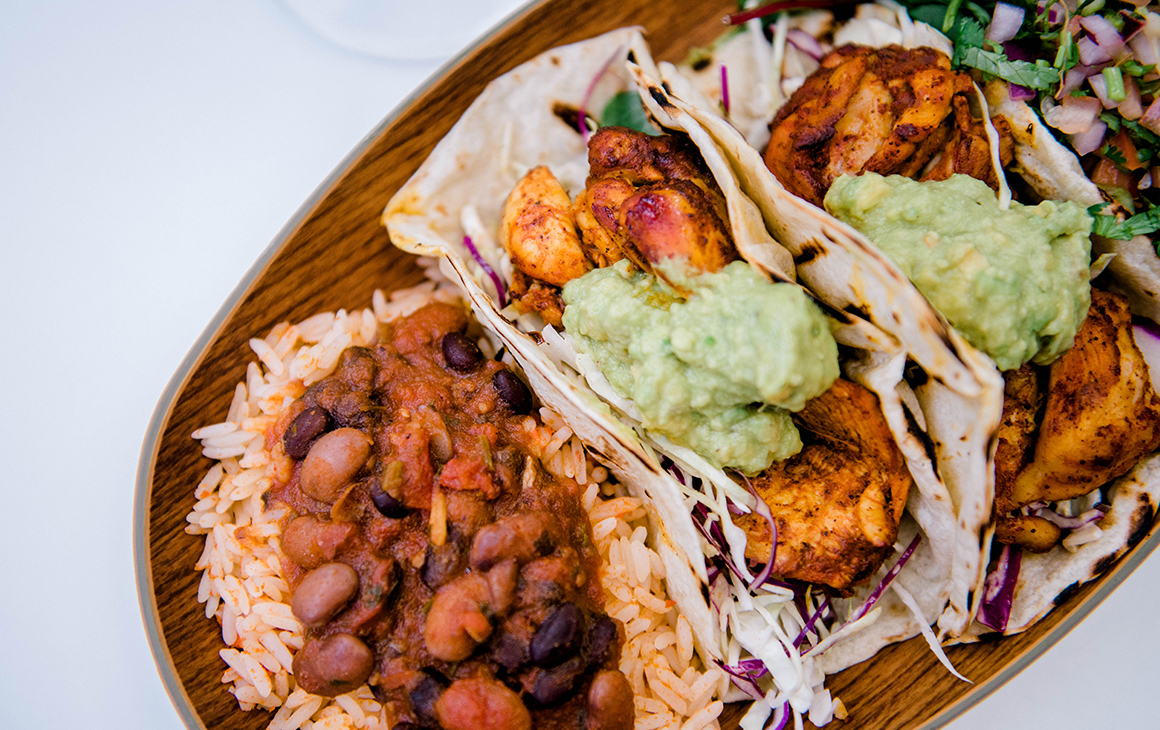 Elston
If you take away Elston's hip, modern-rustic fit-out and breezy beachfront views, you've still got an on-trend food and drinks menu prepared and produced to perfection. Avoid the tourist traps nearby and pull up a seat to order from a menu loaded with pancakes to pulled pork, peking duck bao, or delicate share boards to a 440-gram New York sirloin. No matter your tastes, you'll definitely find something you'll happily devour at Elston, one of the best restaurants in Surfers Paradise. And if not, there's no shame in skipping dinner and getting straight into the cocktails!
Longboards Laidback Eatery
It'd be a crime to leave long-time favourite Longboards Laidback Eatery off our list of the best restaurants in Surfers Paradise. Cheap and cheerful, with poolside seating next door to the towering Q1 Hotel, Longboards has served many a satisfied burger-loving customer with finger-licking appetizers and cheeky burgers like The Budgie Smuggler and The G-Banger. Up for a challenge? Their 1.6-kilo Phat Bastard Burger will ensure you depart from holidays with a lil extra bulge around the waistline.
Filled that hole in your stomach and ready to drink? We hear ya! You'll find all our fave Surfers Paradise bars right here. You're welcome.
Image credit: Hayley Williamson and Kaitlin Maree Photography for The Urban List