From anchor tatts to masterful black and grey portrait, traditional old school Americana, pin-up girls and neo traditional; it's clear many among us see our bodies as a blank canvas.

With the help of some well-respected and very well-inked people in the business, we're pointing you in the direction of 14 of the best tattooists on the Gold Coast.
SkinFX
Surfers Paradise & Southport
Any tatted-up Gold Coaster worth their ink knows the story of Paul Braniff. In 1985, this local pioneer set up the Coast's first-ever tattoo studio, Borderline (near the "border") in Kirra, and is admired for passing the baton along to his star apprentices, several of which have gone on to open their own studios. Paul moved Borderline from Kirra to Coolangatta and then Burleigh before opening his flagship studio SkinFX in Surfers Paradise.
SkinFX (together with three additional studios) are now in the capable hands of Paul's sons, Luke and Ben who've both been tattooing since the mid-90s. No list of the best tattooists on the Gold Coast would be complete without SkinFX and a nod to the Braniff family.
Inkspired Tattoo & Beauty
Coolangatta
If you're ever in Coolangatta and get stung by the tattoo bug, we wouldn't be able to recommend anywhere but here. Inkspired Tattoo & Beauty is definitely the studio to head to if you're after lots of different options. In fact, it's easy to get lost in the tattoo styles you can choose from. To name a few, they've got black and grey, neo-traditional and mandala. And if you've got some tattoos you're not happy with, you're in luck—the talented artists at Inkspired have you covered.
When you consider how much care goes into what they do, it's no surprise Inkspired has so many satisfied customers. In fact, we're surprised you haven't heard of it already. With such high-quality (yet affordable) tattoos and a clean, welcoming atmosphere—we're surprised you haven't heard of Inkspired Tattoo & Beauty.
383 Tattoo Studio
Broadbeach
383 Tattoo Studio is a clear favourite among the best tattooists on the Gold Coast. Their talented team of artists focus on custom creations rather than flash, and to say they've got all the style bases covered would be an understatement.
Whether it be Japanese, colour portraits, realism, black and grey portraits, Chicano, realistic cars or colour explosions, you'll walk away stoked with your new piece of body art.
Phresh Ink
Surfers Paradise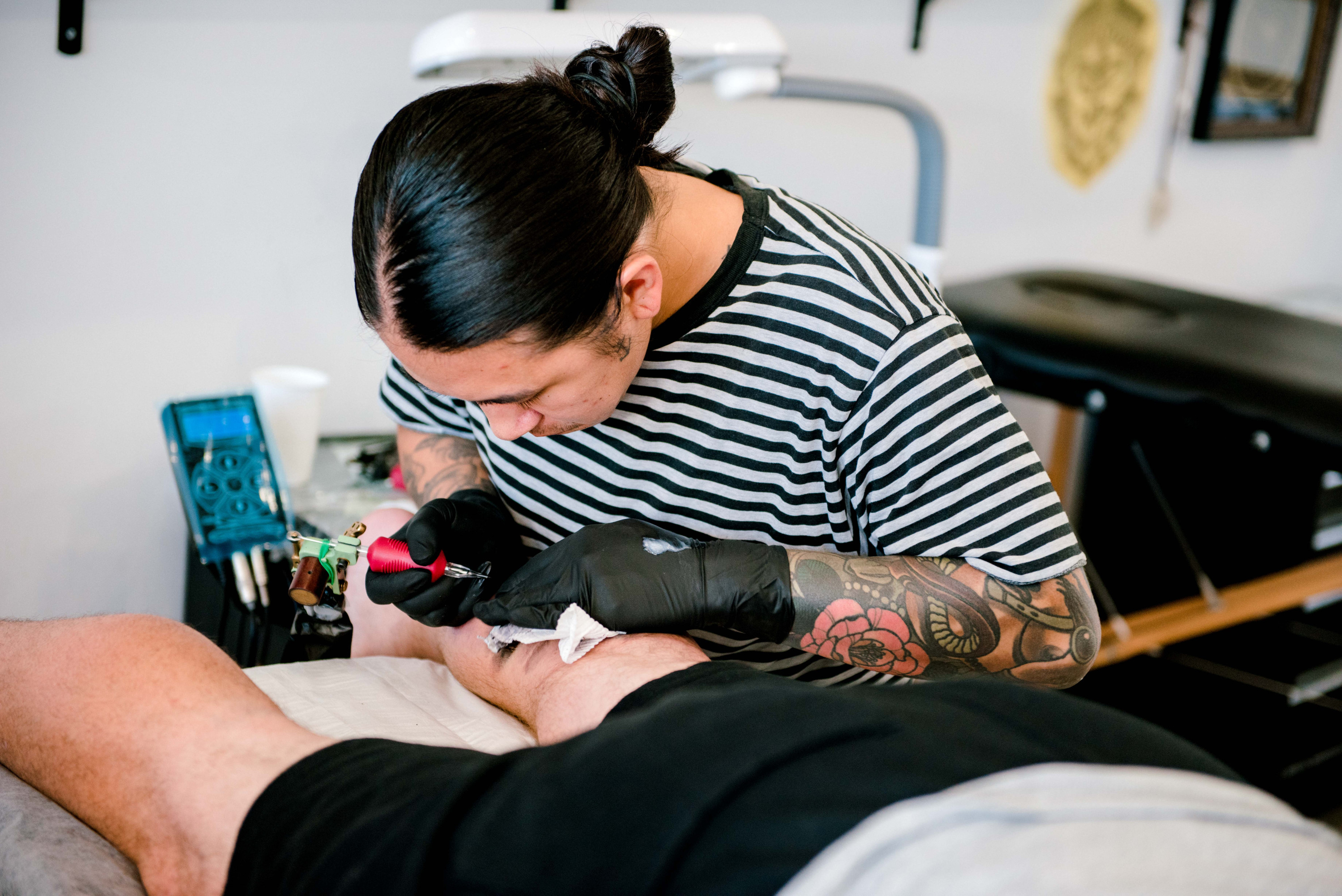 Phresh Ink is a studio held together by the culture of family—and the staff will make sure you know it. Founded in 2013, owner and director Josh Kuhne prides himself on good customer service and high-quality yet affordable tattoos. If you're looking for variety, you're in the right place, because Phresh Ink has found the key to tattooing. This state-of-the-art tattoo studio specialises in all types of tattooing, so whether you're after colour, realism, dot work, or something else, Phresh Ink has you covered.
And if you're still unsure about the tattoo process or have any questions, you're in luck. Phresh Ink has free consultations for you to discuss any tattoos you're after, any concerns, or anything you may need to know. Oh—and they've got vegan ink, at no extra cost.
Loco Tattoo
Mermaid Waters
Loco Tattoo is a much-loved tattoo studio among Gold Coast ink addicts. With a team of award-winning artists that specialise in all kinds of styles, you're guaranteed to find an artist here that can give you what you want, no matter how whacky or wild your design concept is.
From grey-wash realistic portraits to full-colour neo-traditional pieces, Loco Tattoo does it all. Check out their Instagram for some serious tat inspo, and you'll be booking in ASAP.
Borderline Tattoo
Burleigh Heads
On graduating some 20 years ago, apprentice Tim Ebbels bought Borderline Tattoo from Paul Braniff and made it his own.
Today, this Burleigh Heads institution is home to a handful of rad artists, including Tim himself. So you can rest assured that you're in safe and steady hands when getting buzzed at Burleigh's Borderline.
Good Vibrationz Tatatau
Oxenford
Renowned for its intricate and detailed mehndi work and cultural pieces, Good Vibrationz Tatatau is the first Polynesian-owned and operated tattoo studio on the Gold Coast.
Whether you're after a traditional Maori piece or something a little different, like a geometric mandala or a freehand ornamental lotus, the talented artists at Good Vibrationz will work with you to create your dream tattoo. They also specialise in coverups, so if you've got a tattoo that needs fixing up, this is the studio for you.
Blackmarket Collective
Robina
This triple-threat tattoo parlour/barber/menswear store is championed by an inventive team of artists who splash their creativity on both your skin and their signature in-house label, Blackmarket Collective.
Swing into this gent's one-stop shop for an ink consultation and leave with a slick short back and sides from the barber plus new kicks or custom-printed threads from the clothing apparel corner.
Celebrity Ink
Surfers Paradise
It's no secret that Surfers Paradise already has its fair share of tattoo studios. But how can we resist, when they're all so different? And Celebrity Ink is just that, different. While your typical studio only specialises in tattoos, Celebrity Ink is the one-stop shop when it comes to your body—think tattoos, piercings, and cosmetic tattooing, all in one place.
With free consultation sessions, aftercare processes, and a team focused on your comfort, it's no stretch to say they're the best when it comes to service. But they're not all bark either—they've got the ink skills to back it up. With too many tattoo styles to name, it's best you take a sneak peek at their Facebook instead.
Storm The Gates
Mudgeeraba & Varsity lakes
These guys claim to be the Gold Coast's 'only real local studio', which seems like a big statement, but once you walk in and feel the relaxed atmosphere for yourself, you can understand where they're coming from.
Each and every tattoo artist that works at Storm The Gates has a real passion for what they do, and it shows through their flawless tattoo work. Everything from large detailed sleeves to small delicate pieces, the talented artists at Storm The Gates can do just about anything. Hit up their Instagram to see what all the fuss is about.
Alfred Street Tattoo
Mermaid Beach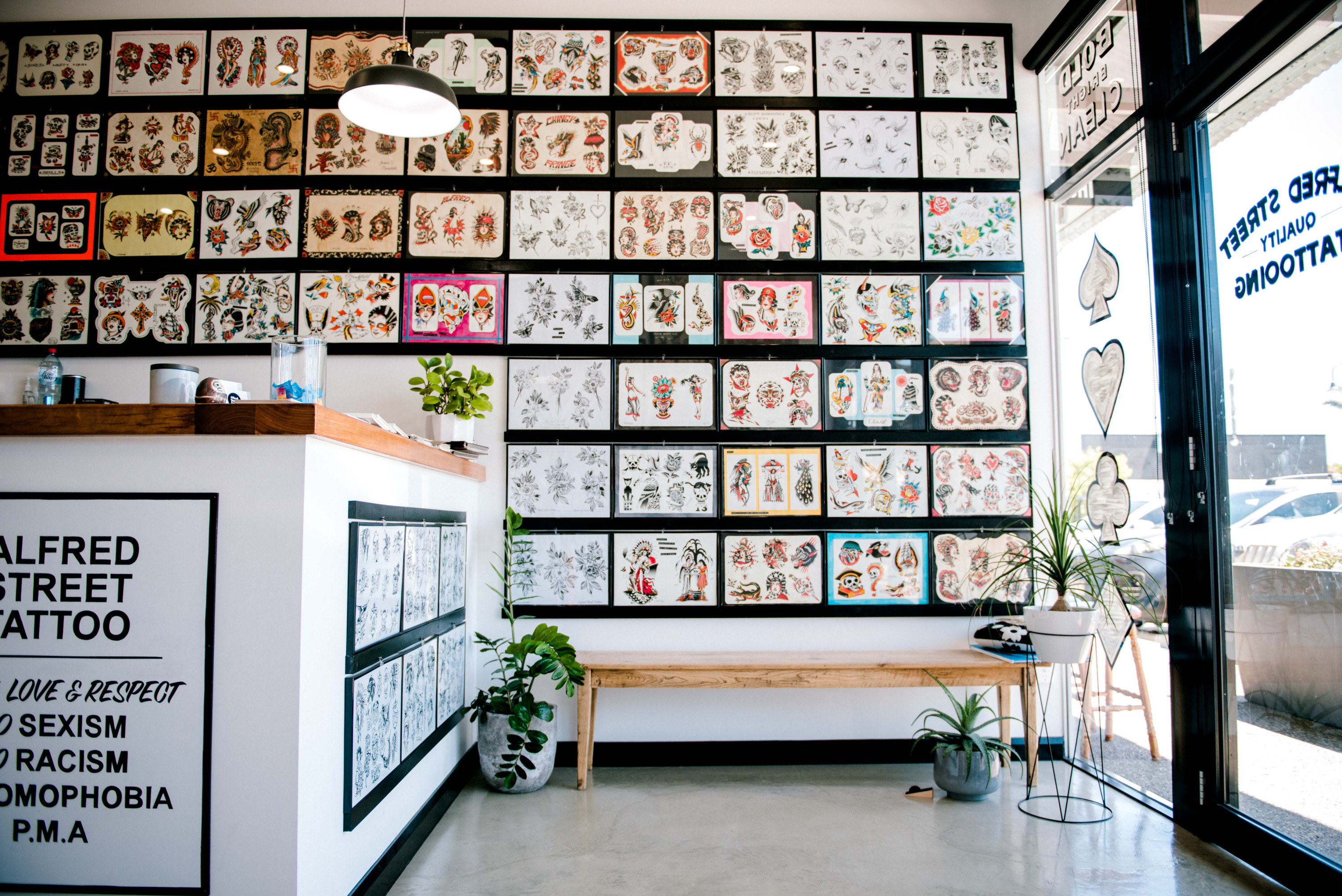 If you're looking for something a little quirky or unique, then this is the studio for you. Alfred Street Tattoo boasts a team of talented young artists, each one with their own unique style and method. The team's beautiful creations are attracting tattoo fanatics from around the globe.
So, whether it's a fine delicate flower, a full chest piece, or a detailed skull you're after, Alfred Street Tattoo will make sure you leave the studio with a beautiful and unique tattoo that you can be proud of.
Surf N Ink Tattoo
Surfers Paradise & Helensvale
Looking for a comfortable atmosphere and high-quality tattoos? You'll need to check out Surf N Ink Tattoo. They're a family-owned tattoo studio that firmly believes in expressing yourself, and they make it no secret—think open, bright studios, top-notch customer service, and a relaxed atmosphere engineered to be your safe space. On top of that, they exclusively use sustainable products, with vegan inks and biodegradable consumables.
But let's talk tattoos. Surf n Ink Tattoo is all about expressing art as a vision. With multi-award-winning tattoo artist Marco on the team, we promise this is a studio that cannot disappoint. Fine line, traditional, geometric, tribal, you name it, they've got it. They've even got free consultations and photos of their breathtaking tattoos on their Facebook, so you know exactly what you're getting into.
Serpents Ink
Broadbeach
If you're into more whimsical tattoos, the team at Serpents Ink have you covered. One look at their Insta page and you'll see some unique, colourful stuff. Boasting a national-award-winning fine-line tattooist and a slew of other talented artists, you're in good hands with these peeps. You can find them right across from the Broadbeach South G:Link station.
The Coast is bursting with creative locals. Check out our round-up of the best GC-based illustrators and artists.
Image Credit: Kaitlin Maree Photography for Alfred Street Tattoo