If there's one thing the Gold Coast loves, it's hidden bars—the heat of a new venue is directly related to how hard it is to find. Entry via a back door alley? 10 points. A secret password required for entry? Getting warmer. A hidden speakeasy disguised behind the shopfront of a banh mi takeaway joint? Nailed it.
NAÂMi is the latest newcomer to the Burleigh bar scene and lies unsuspectingly off James Street, but swathes of cocktail-loving revellers are already privy to its whereabouts. Wander along Burleigh's bustling main street, but take it slow—blink and you literally will miss NAÂMi's hidden entrance behind a banh mi takeaway shopfront.
Step inside the pint-sized Vietnamese takeaway joint, which slings up a tempting array of authentic banh mi, spring rolls and pho to-go. Unique touches hint that this is something a little more than just a takeaway shop—a vintage motorbike leans against the wall, while deconstructed motorcycle parts create an eye-catching display. But don't let the delicious bites and impressive styling distract you from the real reason you're here.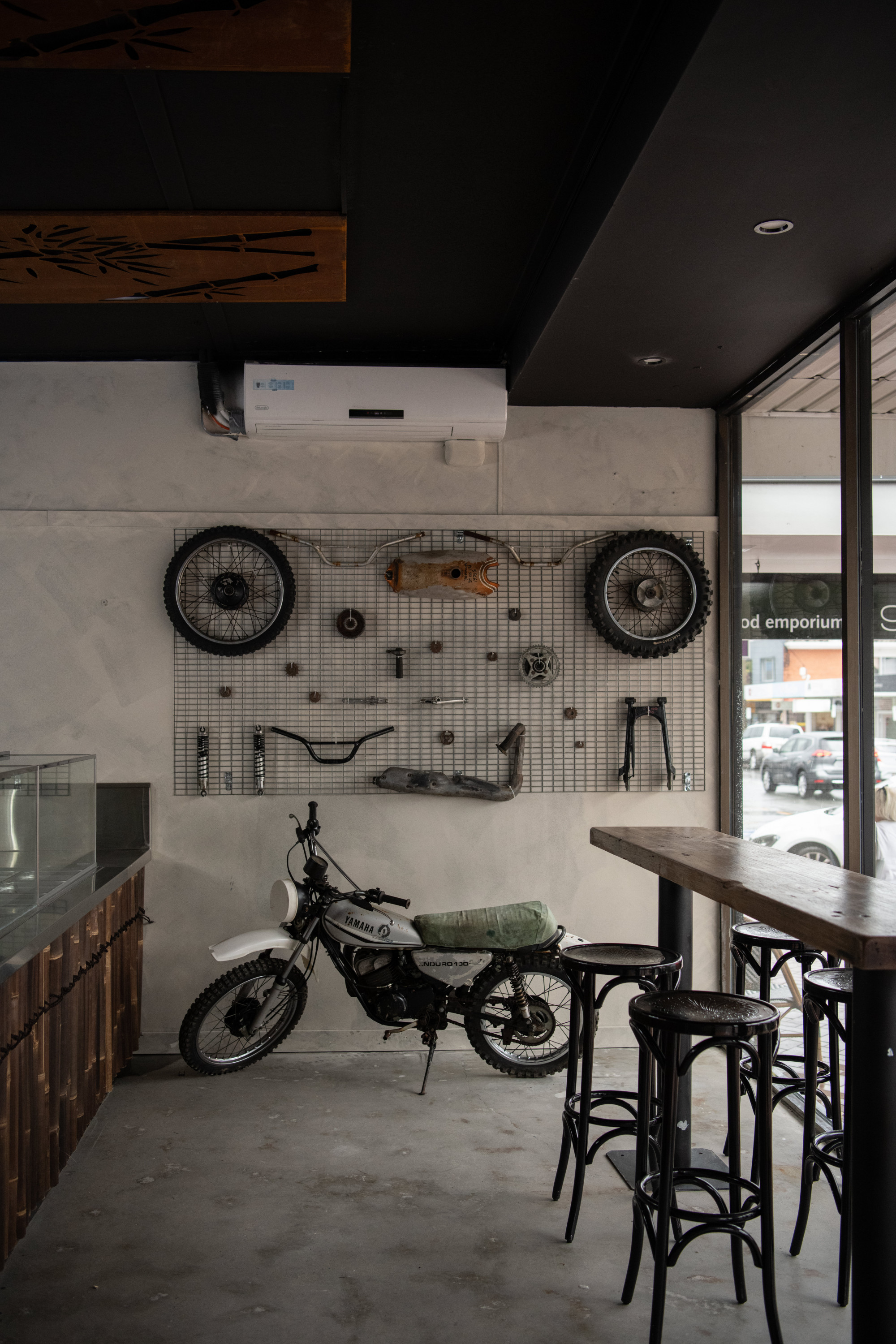 Slip through the nondescript back door and you're instantly transported to the bustling alleyways of Hanoi. The moodily lit space doesn't just remind you of Vietnam—the authentic and carefully curated styling truly takes you on a trip to the far-flung South East metropolis. Your eyes are immediately drawn to the bold, neon-lit NAÂMi sign, which seamlessly adds a touch of Gold Coast flair to the grungy styling. Paper umbrellas suspend from the ceiling, window shutters lining the walls give you a peek into Vietnamese street scenes and the peeling plastered walls are reminiscent of old-school back alley joints. Accents of jade green add a dash of colour to the dark tones, pops of greenery cascade around the space and clusters of bar tables line the walls, tempting you to pull up a stool, have a drink and spend many an evening here chatting with friends, old and new.
Now that you've immersed yourself in the experience that is NAÂMi, it's time to get serious. This isn't any old bar—the bespoke cocktail menu boasts twelve extravagant drinks which aren't just drinks, they're multi-sensory experiences. We're talking about new sights, tastes, sounds, and textures that will completely reshape your concept of the drinking experience. The talented head bartender has made a serious name for herself by transforming many well-known Gold Coast venues into the institutions they are today and once you taste one of her signature concoctions, you'll know why.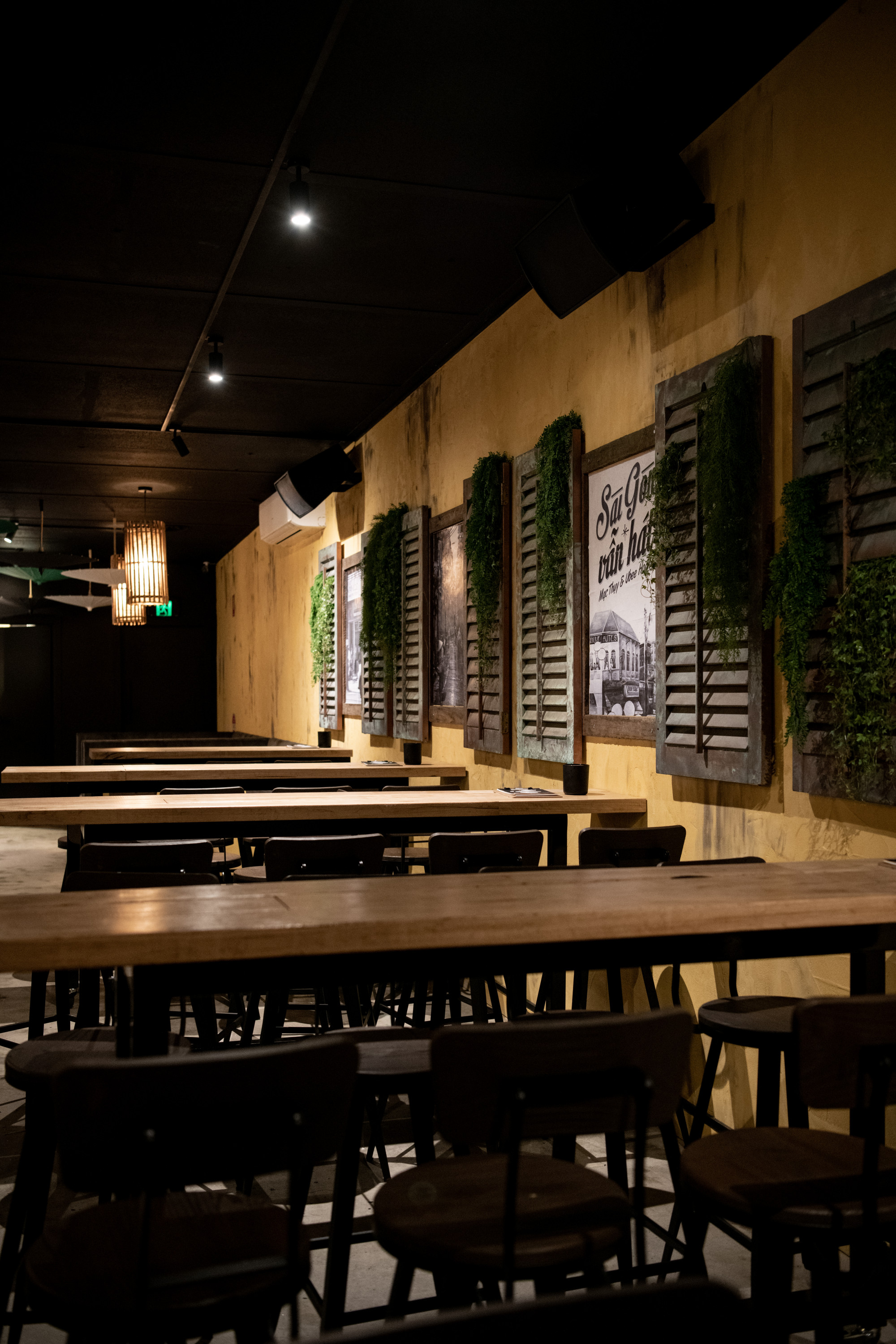 At NAÂMi, classic cocktails are muddled, stirred and shaken up to create modern, Vietnamese-inspired twists on favourites that are so exquisite, you won't ever want to go back to the basics. Browse the tempting selection of cocktails and prepare to fall in love (or off your chair after a few) with the Instant Zombie, a bewitching combination of three types of rum, lime, lemongrass sherbet and chilli to create a Viet-inspired 'pina colada', served in a charming Instant Noodle mug over billowing dry ice. Nod to NAÂMi's ethos of making everything in-house and order the Pho-Groni, which mixes Sum Yung Guys Pho Gin (yes, pho gin is a thing), Campari, house vermouth blend and a cardamom tincture which has been aged in a port finished cask in-house. We can confirm it tastes as good as it sounds.
Now that you've fallen under the cocktails' alluring charm, dive into The Pav Is Mine, a tantalising concoction of vanilla vodka, butterscotch schnapps, strawberry, fresh passionfruit and pineapple topped with a passionfruit smoke bubble. Wondering what a passionfruit smoke bubble is? You'll have to order it to find out but we promise it will elicit plenty of bedazzlement. The theatrical bar experience will linger in your mind long after you've left, but what better way to cement a memory than with a photo?
Order the Far East Side, which expertly combines Bombay Sapphire Gin, Napoleon Mandarin, lime, coriander and green mandarin, and you'll get your own Polaroid photo to take home as a memento of your adventure. It's these wild theatrics and sensory immersions that mark NAÂMi out as something truly special—it's not every day you're served a flaming fire cocktail or a secret flask hidden in a book. For those after something more simple, take your pick from the extensive range of spirits, with an emphasis on local suppliers and ingredients.
NAÂMi buzzes with an underlying current of energy—a DJ booth pumps out tunes from the corner, bartenders shake, stir and sling up drinks with flair and a constant hum of conversation and laughter fills the air. NAÂMi is the perfect injection of vibrancy into the Burleigh bar scene; it's the sort of place you keep in your pocket for when you want to really impress, but still retains plenty of relaxed cool. Start looking up synonyms for "wow," because you're going to start saying it a lot more often from now.
THE DETAILS
What: NAÂMi
Where: 47 James Street, Burleigh Heads
When: Open Thursday to Sunday, 5pm to late
For more information, click here.

Feeling inspired by all this talk of cocktails? Hit up our ultimate guide of the best bars on the Gold Coast.
Image credit: Brooke Darling Photography