Eating and shopping your way around the Gold Coast's best restaurants and boutiques can be thirsty work.
Luckily, our glorious surf city is also blessed with a bevvie of fab bars in which to whet your whistle. While the definition between watering hole and restaurant gets a little blurry these days, we've compiled a bucket list of the best bars on the Gold Coast where you should have sunk a few drinks if you call yourself a local. Just visiting? Make this your hit list!
Prepare yourself for a night you won't remember.
North | Surfers Paradise & Beyond
Mr P.P.'s Deli & Rooftop | Southport
One of the best bars on the Gold Coast if you're floating around the northern end is Mr P.P.'s Deli & Rooftop. Downstairs, hidden behind the guise of a deli, Mr P.P.'s cosy wine bar is perfect for knock-off drinks or a sociable Saturday night. You can come and hang with the CBD office workers for sunset drinkies on the rooftop and you'll likely walk away with a handful of new (slightly more intelligent) friends.
Last Night On Earth | Southport
Southport's OG watering hole, loved for its Wednesday trivia nights, thirst-quenching craft beer selection, board games, live acoustics, relaxed vibe and cheeky antics. Not Tonight has relaunched as Last Night On Earth with an all-new look, including a new name AND (soon) a rooftop bar. Hola!
Fisherman's Wharf | Main Beach
While Fishos' glory days are well and truly a distant foggy memory, you can't call yourself a local until you've sunk a pot or five in the sunshine at this stalwart Marina Mirage drinking hole.
The Island Rooftop | Surfers Paradise
Adjoining boutique hotel, The Island, Gold Coast's biggest rooftop bar and sprawling alfresco patio, The Island Rooftop is bringing the cool back to Surfers Paradise's after-dark scene. With DJs, a retro-styled cocktail bar, ample seating and leafy nooks, The Island's Gin & Jazz Thursdays are a hit with Bliss Sunday sessions heating up the afternoons with DJs and live vocalists from 2pm.
Stingray Lounge | Surfers Paradise
Undoubtedly one of the Gold Coast's best hotel bars, QT Gold Coast's Stingray Lounge is a fine example of hotels going all new age to entice the savvy holidaymaker. Stingray's clientele is a rare mix of tourists and locals; the bar usually hoppin' on weekends with its funky Pop Art theme and 50 tequilas lining the back bar.
House of Brews | Surfers Paradise
House of Brews is one for the hops lovers. With an impressive 32 domestic and international craft beers lining their tap wall, an American BBQ-inspired menu (hello, hot wings!), rooftop bar and regular live tunes to sink your beers to, this is a standout venue on Orchid Avenue's raucous bar street.
Brooklyn Depot | Surfers Paradise
Okay, so this might be a house dedicated to burgers and greasy American nosh at its finest, but with those neon lights and tasty cocktails beckoning, many a burger mission has turned into an all-night drinking sesh at this Surfers Paradise bar slash diner.
Sandbar | Surfers Paradise
After a hip and breezy re-fit, Sandbar is deserving of its spot among the best bars on the Gold Coast. With a staggering 100-plus bottled and draft craft beer options, it's the most extensive range on the GC. Those salty sea breezes come at no extra cost.
Elsewhere | Surfers Paradise
Elsewhere nightclub is a hub of alternative electronic tunes, a Saturday Night Fever-style dance floor and delightfully gorgeous hipsters. Here, it's not unusual to catch a live gig from a small-time DJ for $10 on the door one night, then end up seeing them ruling the EDM world a year later.
The Avenue | Surfers Paradise
Now operating out of a sleek new location (just across Orchid Avenue), The Avenue has a colourful 40-year history on the Surfers Paradise nightlife scene. While today, it's less about Manpower cabarets, big hair and grungy rock bands, and more about live music, comedy shows, grazing platters, tapas and cocktails, The Avenue is one of the best bars in Surfers Paradise if you're on the hunt for a good time.
Cocoon Lounge | Surfers Paradise
Flying the flag for the glitter strip, white-on-white Cocoon Lounge is one of those people-watching, day-drinking spots you have to visit at least once. Love it or hate it, this is Surfers Paradise partay life in a nutshell.
Fortitude Brewing Co. | Mount Tamborine
Can't convince your man to take a trip into the lush hinterland? You can always bribe him with beer! Fortitude Brewing Co. is conveniently positioned in the same complex as Witches Cheese, and should be the last pit stop on any visit to Mount Tamborine. #handsupnotdriving
One50 Public House | Bundall
One50 Public House is a go-to for northerners or, for the rest of us, a wobbly night post day-drinking at the races.
Central | Broadbeach To Miami
Aloha Bar & Dining | Broadbeach
This hidden Broadbeach hangout is high on our list of the best bars on the Gold Coast. Aloha Bar & Dining crams in fun and frivolities on the reg; nights filled with nautical and tiki paraphernalia, treasure chest cocktails and pineapple everything.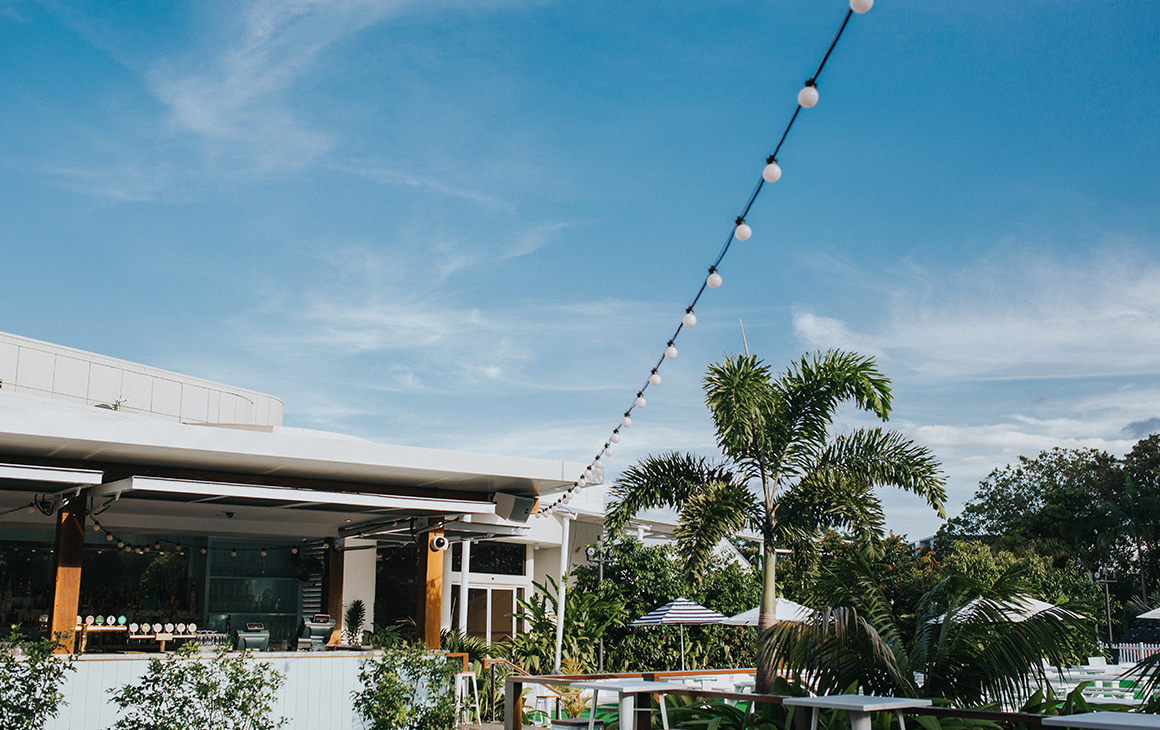 Garden Kitchen & Bar | Broadbeach
There's a lot to love about the new-look The Star, who has been attracting locals back in droves thanks to its swanky Garden Kitchen & Bar. This leafy, sun-drenched outdoor bar is a hotspot for Sunday drinks or Saturday night cocktails; basically any occasion where you wanna frock up and live it up. Frose, anyone?
Nineteen At The Star | Broadbeach
Everyone knows the wildest nights start the classiest, so if you're looking to kick off your evening with an aura of sophistication (it'll go out the window later), head to the mind-blowing Nineteen at The Star lounge bar on, you guessed it, the 19th-floor of The Star Gold Coast's new six-star hotel, The Darling. Sadly we'll never afford to stay the night in this crazy high-roller hotel, but doesn't mean we can't pretend with an evening elevated above the glittering lights of Broadbeach. #makeitrain
The Loose Moose | Broadbeach
Another of our faves among the best bars on the Gold Coast, The Loose Moose has without question the city's most ridic bar fit-out with its steampunk and 1920s prohibition Americana styling, plus a twist of its Canadian cousin. Come for the mind-blowing list of 80 different beers and 160-plus whiskies then stay for the finger-licking menu.
No Name Lane | Broadbeach
No Name Lane is a smart Melbourne-esque style cafe in Broadbeach, which morphs into a vibing cocktail bar as the sun dips. Come for your morning brekkie, then return after dark for $10 espresso martinis all day, everyday, paired with share-style tapas dishes and antipasti boards.
Soho Place | Broadbeach
Soho Place in Broadbeach is the Coast's first official 'small bar'. Operating completely without a kitchen or food menu, step through the 'hidden in plain sight' red telephone box entryway and you'll be stepping into a window-less vortex where hours may mysteriously disappear. You have been warned.
The Roosevelt Lounge | Broadbeach
No expense was spared to create Roosevelt Lounge, a game-changing 1930s American-inspired lounge bar and restaurant in Broadbeach. If you're not made of money, you'll definitely feel like it after a night spent lounging around looking glamorous in sinkable leather chesterfields and red velvet booths with cocktails made at your table.
Lupo | Mermaid Beach
Transporting you straight to a vibing neighbourhood bistro and bar somewhere in Europe, at Lupo you'll feel like you've been welcomed in for drinks at the family home. Except here, your bartender makes a mean Old Fashioned and will serve you quaffable small batch wines and impressive bar snacks that'll see you stashing your keys and booking an Uber.
BonBon Bar | Mermaid Beach
Tequila and tacos are a match made in heaven. Amirite? Right! So, 100 tequilas behind the bar and some of the Coast's best tacos on the menu is all the reason you need to lock in a date with good times at Bonita Bonita's sultry little sibling, BonBon Bar.
Après Surf | Mermaid Beach
You can't help but warm to the chilled dudes of Après Surf, who've gone to great lengths to build a regular local patronage. Après ski parties, Sunday sessions, BBQ dinners, DJs, serious value cheap eats specials and good vibes galore—cheers boys!
The Cambus Wallace | Nobby Beach
The Cambus Wallace is recognised (and rightly so) as one of Gold Coast's best cocktail bars (and rum bars, and craft beer bars… you get the picture). This dimly-lit and nautical-themed bar cum eatery puts the hip in Nobby Beach and makes a mean Kraken espresso martini if we do say so ourselves.
Bine Craft Beer Bar | Nobby Beach
A trailblazer for craft beer on the Gold Coast, Bine rocks our world with 50-cent wings, sliders, juicy parmigianas and regularly rotating craft beer taps, and is a crowd favourite among the best bars on the Gold Coast.
Nobbys Arc | Nobby Beach
A long-standing Gold Coast drinking hole which continues to pull a jolly drinking crowd year after year; at some point every local has been coaxed to Nobbys Arc for 'just one drink'… and we all know how that ends!
Lost Palms Brewery | Miami
The Coast's most recent addition to the local craft beer landscape, Miami's Lost Palm Brewery is bursting with charisma to reflect our laidback coastal lifestyle. With five huge fermenters in action and six beers ready for tasting, you're bound to find your new go-to summer, amber or IPA drop.
South | Burleigh & Beyond
Black Hops Brewery | Burleigh Heads
Black Hops Brewery is run by three everyday local lads who are playing out every man's dream. For the ultimate tap to tank to pint glass experience, you'd best be making tracks to this friendly neighbourhood watering hole in Burleigh Heads.
Lockwood | Burleigh Heads
Lockwood was the Gold Coast's first truly speakeasy-style hidden bar. Converting what was once a storage room into an atmospheric watering hole that oozes old soul—with seductive mood-inducing blues and rockabilly tunes and some of the stiffest twist-on-the-classic cocktails in town—if you're yet to hunt down Lockwood's must-text-to-enter bar in the back alley of Burleigh, you'd best take a good hard look at yourself.
Justin Lane Rooftop | Burleigh Heads
Life is best lived outdoors, which is why Justin Lane's rooftop bar rocks our world. Without question one of the best bars on the Gold Coast, this is where the beautiful people head for Sunday sessions in the sunshine.
Iku Yakitori & Whisky Bar | Burleigh Heads
While you can get your fill of authentic yakitori and Japanese eats, it is Iku's atmospheric back bar, lined with hard-to-find Japanese whiskies, that's well deserving of a spot among the best bars on the Gold Coast. Owned by the same crew behind long-standing favourite, Estu, Iku's ridic fit out and weekly evolving cocktail menu is nek-level awesome.
Nightjar | Burleigh Heads
Secreted away in a back alley car park in much-loved Burleigh Heads, Nightjar, a grungy dude's den, has got all the industrial feels. Come for the daily happy hour (4pm to 6pm) and sing-along live music, where you just might end up dancing like nobody's watching until the ugly lights come on.
Burleigh Brewing Co. | Burleigh Heads
Where better to sink beer than direct from the source? Eleven-year-old Burleigh Brewing Co.'s new hops HQ is a gleaming beacon of awesomeness in an industrial wing of Burleigh, where frosty brews are paired with live music and food trucks four afternoons a week.
Ze Pickle | Burleigh Heads
Everyone knows beers and burgers are a match made in heaven, especially when those burgers are some of the best you'll find on the Gold Coast. Our mates at Ze Pickle are so damn popular they've expanded to Brisbane and Sydney—and you've got to love a local success story.
Burleigh Heads Hotel | Burleigh Heads
Burleigh Heads Hotel is the kinda joint where you could be a total bar fly and no one would blink an eye. It's packed out for UFC, weekend football, Friday nights, parmy nights, or just any sunny afternoon giving an excuse to sink a few. #pisspot
The Scottish Prince | Palm Beach
With 150+ bottles of whisky behind the bar, it's clear what your tipple of choice should be here. The Scottish Prince, from the same team that brought us The Cambus Wallace, is a booze-swilling tribute to another ill-fated ship and is without question one of the best bars on the Gold Coast.
The Collective Rooftop | Palm Beach
Gone are the days Palm Beach were a sleepy beachside suburb that you'd pass through enroute to the airport. Thanks to vibing hangouts like The Collective and its so-hip-it-hurts rooftop bar, the 4221 is officially on the drinking map. The perfect time to visit? Magic hour, just as the sun dips behind the hinterland. Bliss.
Lester & Earl | Palm Beach
With a rustic wrap-around deck overlooking gorgeous Palm Beach, you can imagine you're in a tropical paradise while sipping on a delish cocktail or one of Lester and Earl's many alternative craft beers. An afternoon here is the perfect way to take advantage of the sizzling weather while feasting on slow-cooked meats and finger-licking American nosh.
Balter Brewing | Currumbin
If you think we bang on about Balter a lot, well, you'd be spot on. We freakin' love Balter's cool-as-hell Currumbin-based brewery, which is totally deserving of its spot among the best bars on the Gold Coast. But don't just take it from us; Balter's XPA was awarded Australia's most popular beer at GABS Hottest 100 in January 2018. Having been personally served brews by home-grown surfing legends Mick, Parko, Bede and Josh, you've got to pinch yourself and ask, how'd we get so lucky?
Backbone Bar | Tugun
Tugun's addition to the best bars on the Gold Coast, at Backbone Bar southerners enjoy one of the city's most carefully-curated tap craft beer line ups, all within stumbling distance. Work your way through 12 tap options (*hick*), perfectly paired with tasty Asian bites like dumplings, bao and kaarage. Cheers!
Tupe-Aloha | Kirra
Part restaurant, part weekend watering hole, the cheerful crew describe Tupe-Aloha as a Mexican eatery trapped on a Hawaiian island, with poke, burritos, tacos, mini cocktail umbrellas and pineapple everything. You can't help but walk away with a smile on your face after a daytime drinking session at this characterful joint.
Baskk | Coolangatta
Nights in Coolangatta got a whole lot cooler when the team from Cafe Dbar introduced their whimsical new long lunch and after-dark destination, Baskk Kirra Point. Adorned with natural fibers of rattan, hard and driftwoods throughout; you can't help but linger for sunset cocktails, cheese and seafood platters, shoulder-swaying tunes or just mingling with the beautiful people.
Tasca | Coolangatta
For us, it was love at first sight when laying eyes on Coolangatta's sophisticated wine bar, Tasca. This tiny venue punches well above its weight and is a beating heart on Griffith Street come weekends. With a seat at the bar (one of the best in the house), settle in with small batch Italian, French or Spanish vino—served with an origin lesson—and sides of squid ink tagliolini or leek and porchini risotto, all designed to share.
Eddie's Grub House | Coolangatta
Eddie's Grub House is that grungy dive bar we didn't know we were missing in our lives. Rock 'n' rock tunes, beards, tatts and ripped denim is the order of the night, along with stiff rum drinks and greasy, fried, yet damn fine, pub grub.
Coolangatta Hotel | Coolangatta
Sometimes you just wanna wear your double pluggers and boardies, to drink Tooheys New while shooting the shit with your mates, catching the footy on the telly, or just watching the world go by. Coolangatta Hotel is that place, and every Gold Coast local should have been there at least once in their life.
Komune Beach Club | Coolangatta
Epitomising our laid-back coastal lifestyle, Coolangatta's Komune Beach Club can't be beat for a Sunday session that feels more like a party at your mate's epic beach house (and your 21-year-old self, that is). Get wet with pool volleyball fun, lounge in stripy bean bag chairs, fist pump to DJ tunes, and embrace an afternoon that'll likely end with getting busy on the dance floor.
Rainbow Bay SLSC | Rainbow Bay
No visit to the Coast is complete without a frosty beer or three at our all-time fave, the characterful old Rainbow Bay Surf Club. Snag one of the best seats in the house on the wrap-around deck and knock back the cheapest pot of Balter in town. Complete with views over the same surf break where the legendary shark-punching world champ Mick Fanning, and his mates, got their water wings.
Made your way through the best bars on the Gold Coast? Well, that's hella impressive! You'd best be reaching for a hangover cue next—with Gold Coast's best breakfast burritos.
Image credit: Hayley Williamson for The Urban List