Eating and shopping your way around the Gold Coast's best restaurants and boutiques can be thirsty work.
Luckily, our glorious surf city is also blessed with a bunch of fab bars to service you. While the definition between watering hole and restaurant gets a little blurry these days, we've compiled a bucket list of the best bars on the Gold Coast where you should have sunk a few drinks if you call yourself a local. Just visiting? Make this your hit list.
These are the best bars on the Gold Coast.
North | Surfers Paradise & Beyond
Mr P.P.'s Deli & Rooftop | Southport
One of the best bars on the Gold Coast if you're floating around the northern end is Mr P.P.'s Deli & Rooftop. Downstairs, hidden behind the guise of a deli, Mr P.P.'s cosy wine bar is perfect for knock-off drinks or a sociable Saturday night. You can come and hang with the CBD office workers for sunset drinkies on the rooftop and you'll likely walk away with a handful of new friends.
Last Night On Earth | Southport
Southport's OG watering hole, loved for its Wednesday trivia nights, thirst-quenching craft beer selection, board games, live acoustics, relaxed vibe and cheeky antics. And you can't go past their rooftop bar for some seriously good vibes.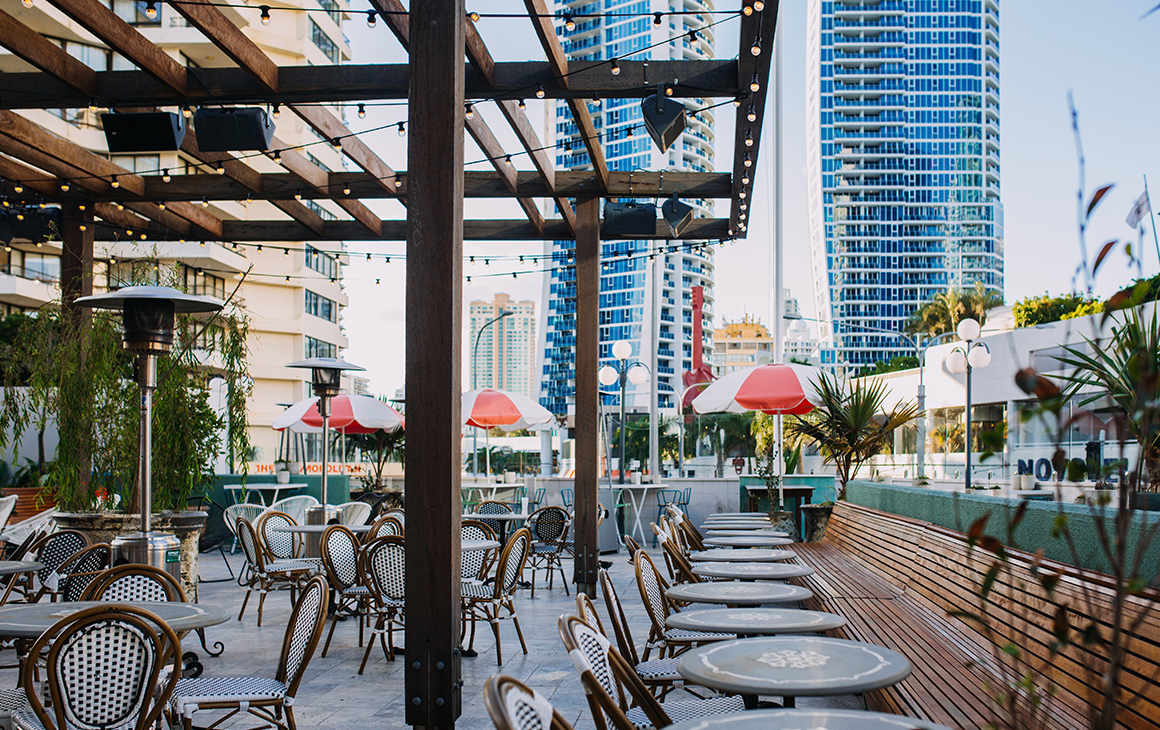 The Island Rooftop | Surfers Paradise
Adjoining boutique hotel, The Island, Gold Coast's biggest rooftop bar and sprawling alfresco patio, The Island Rooftop is bringing the cool back to Surfers Paradise's after-dark scene. With DJs, a retro-styled cocktail bar, ample seating and leafy nooks, The Island's Gin & Jazz Thursdays are a hit with Bliss Sunday sessions heating up the afternoons with DJs and live vocalists from 2pm.
Sandbar | Surfers Paradise
After a hip and breezy re-fit, Sandbar is deserving of its spot among the best bars on the Gold Coast. With a staggering 100-plus bottled and draft craft beer options, it's the most extensive range on the GC. Those salty sea breezes come at no extra cost.
Central | Broadbeach To Miami
Aloha Bar & Dining | Broadbeach
This hidden Broadbeach hangout is high on our list of the best bars on the Gold Coast. Aloha Bar & Dining crams in fun and frivolities on the regular; nights filled with nautical and tiki paraphernalia, treasure chest cocktails and pineapple everything.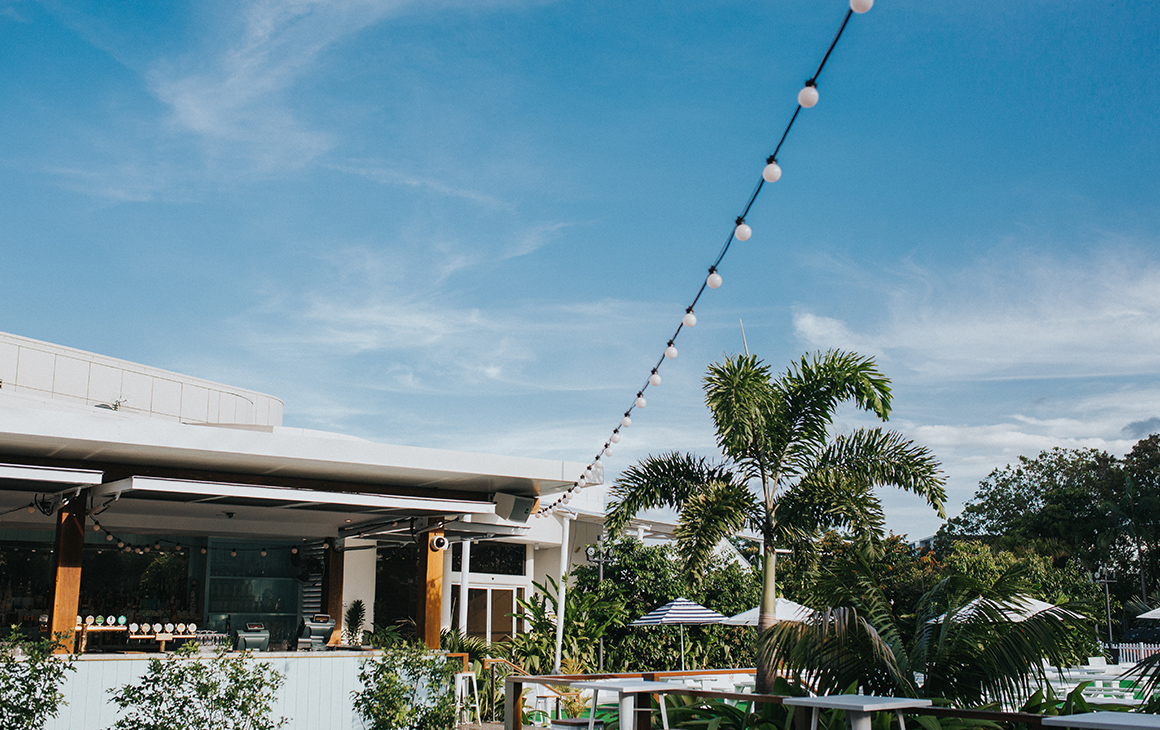 Garden Kitchen & Bar | Broadbeach
There's a lot to love about the new-look The Star, who has been attracting locals back in droves thanks to its swanky Garden Kitchen & Bar. This leafy, sun-drenched outdoor bar is a hotspot for Sunday drinks or Saturday night cocktails; basically any occasion where you wanna frock up and live it up.
Nineteen At The Star | Broadbeach
Everyone knows the wildest nights start the classiest, so if you're looking to kick off your evening with an aura of sophistication, head to the mind-blowing Nineteen at The Star lounge bar on, you guessed it, the 19th-floor of The Star Gold Coast's six-star hotel, The Darling. If you can't afford to stay the night in this crazy high-roller hotel, it doesn't mean we can't pretend with an evening elevated above the glittering lights of Broadbeach.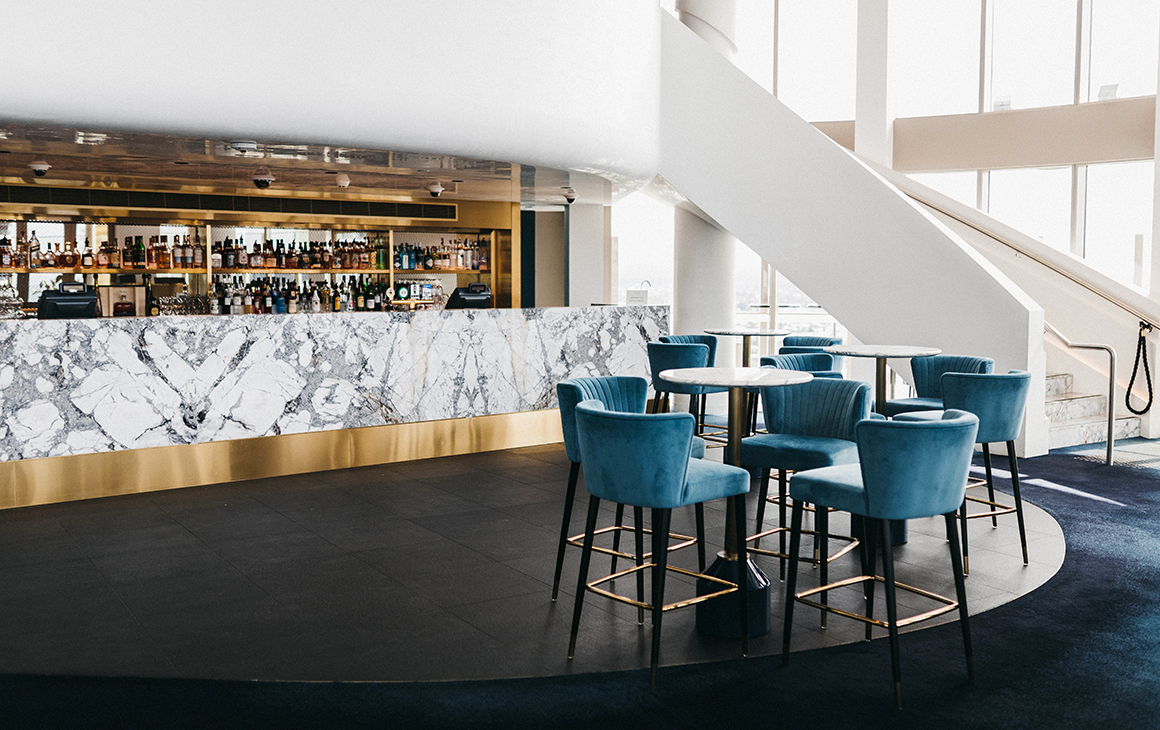 The Loose Moose | Broadbeach
Another of our faves among the best bars on the Gold Coast, The Loose Moose has without question the city's most ridiculous bar fit-out with its steampunk and 1920s prohibition Americana styling, plus a twist of its Canadian cousin. Come for the mind-blowing list of 80 different beers and 160-plus whiskies then stay for the finger-licking menu.
Soho Place | Broadbeach
Soho Place in Broadbeach is the Coast's first official 'small bar'. Operating completely without a kitchen or food menu, step through the 'hidden in plain sight' red telephone box entryway and you'll be stepping into a window-less vortex where hours may mysteriously disappear.
The Roosevelt Lounge | Broadbeach
No expense was spared to create Roosevelt Lounge, a game-changing 1930s American-inspired lounge bar and restaurant in Broadbeach. If you're not made of money, you'll definitely feel like it after a night spent lounging around looking glamorous in sinkable leather chesterfields and red velvet booths with cocktails made at your table.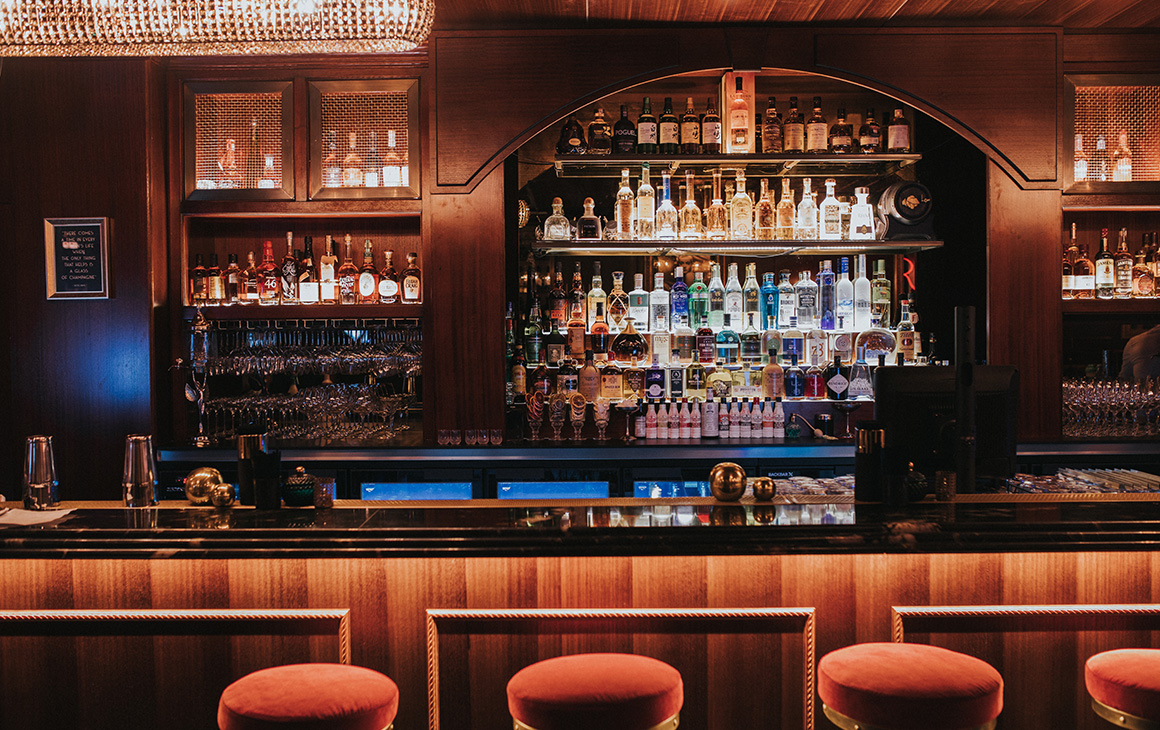 Après Surf | Mermaid Beach
You can't help but warm to the chilled dudes of Après Surf, who've gone to great lengths to build a regular local patronage. Après ski parties, Sunday sessions, BBQ dinners, DJs, serious value cheap eats specials and good vibes galore.
The Cambus Wallace | Nobby Beach
The Cambus Wallace is recognised and rightly so, as one of Gold Coast's best cocktail bars. This dimly-lit and nautical-themed bar and eatery puts the hip in Nobby Beach and makes a mean Kraken espresso martini if we do say so ourselves.
Bine Craft Beer Bar | Nobby Beach
A trailblazer for craft beer on the Gold Coast, Bine rocks our world with 50-cent wings, sliders, juicy parmigianas and regularly rotating craft beer taps, and is a crowd favourite among the best bars on the Gold Coast.
South | Burleigh & Beyond
Lockwood | Burleigh Heads
Lockwood was the Gold Coast's first truly speakeasy-style hidden bar. Converting what was once a storage room into an atmospheric watering hole that oozes old soul—with seductive mood-inducing blues and rockabilly tunes and some of the stiffest twist-on-the-classic cocktails in town—if you're yet to hunt down Lockwood's must-text-to-enter bar in the back alley of Burleigh, you'd best take a good hard look at yourself.
Justin Lane Rooftop | Burleigh Heads
Life is best lived outdoors, which is why Justin Lane's rooftop bar rocks our world. Without question one of the best bars on the Gold Coast, this is where the beautiful people head for Sunday sessions in the sunshine.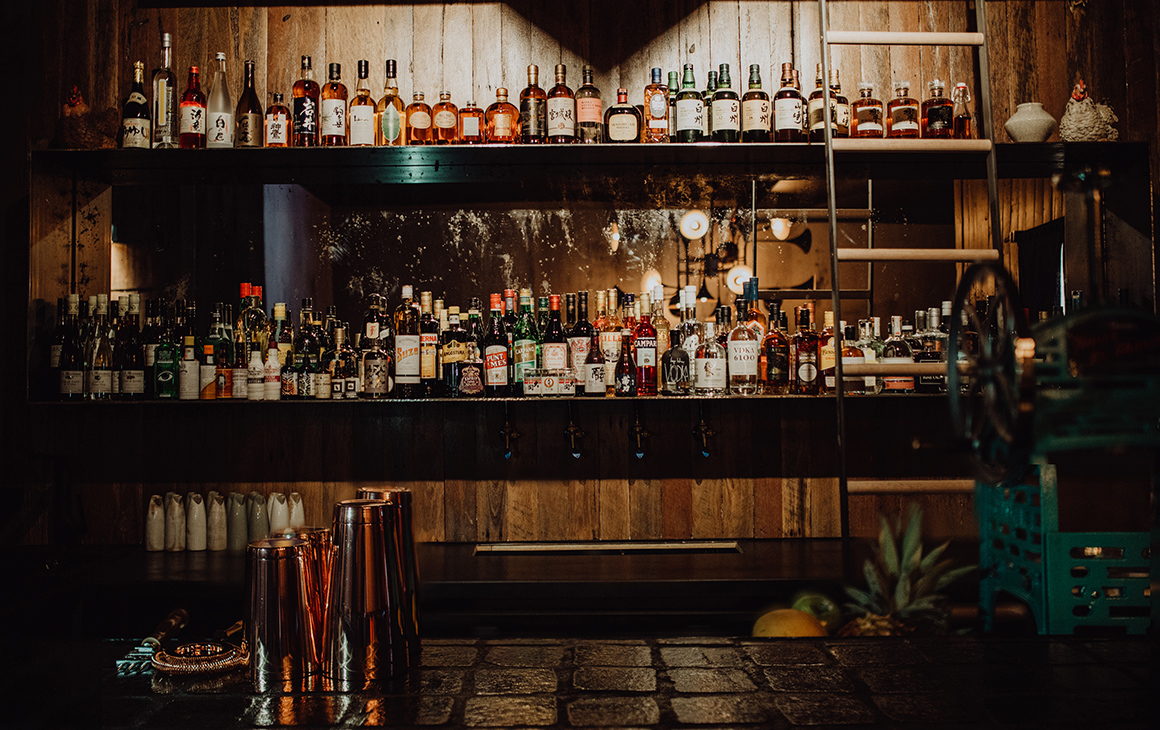 Iku Yakitori & Whisky Bar | Burleigh Heads
While you can get your fill of authentic yakitori and Japanese eats, it is Iku's atmospheric back bar, lined with hard-to-find Japanese whiskies, that's well deserving of a spot among the best bars on the Gold Coast. Owned by the same crew behind long-standing favourite, Estu, Iku's ridic fit out and weekly evolving cocktail menu is next level awesome.
Nightjar | Burleigh Heads
Secreted away in a back alley car park in much-loved Burleigh Heads, Nightjar, a grungy dude's den, has got all the industrial feels. Come for the daily happy hour (4pm to 6pm) and sing-along live music, where you just might end up dancing like nobody's watching.
The Burleigh Pavilion | Burleigh Heads
Boasting one of the best views of our stunning coast, the Pav has fast become our go-to spot for sinking tipples while watching the sunset. With places to park your surfboard and showers to wash off the salt, this joint is beach to bar at its finest.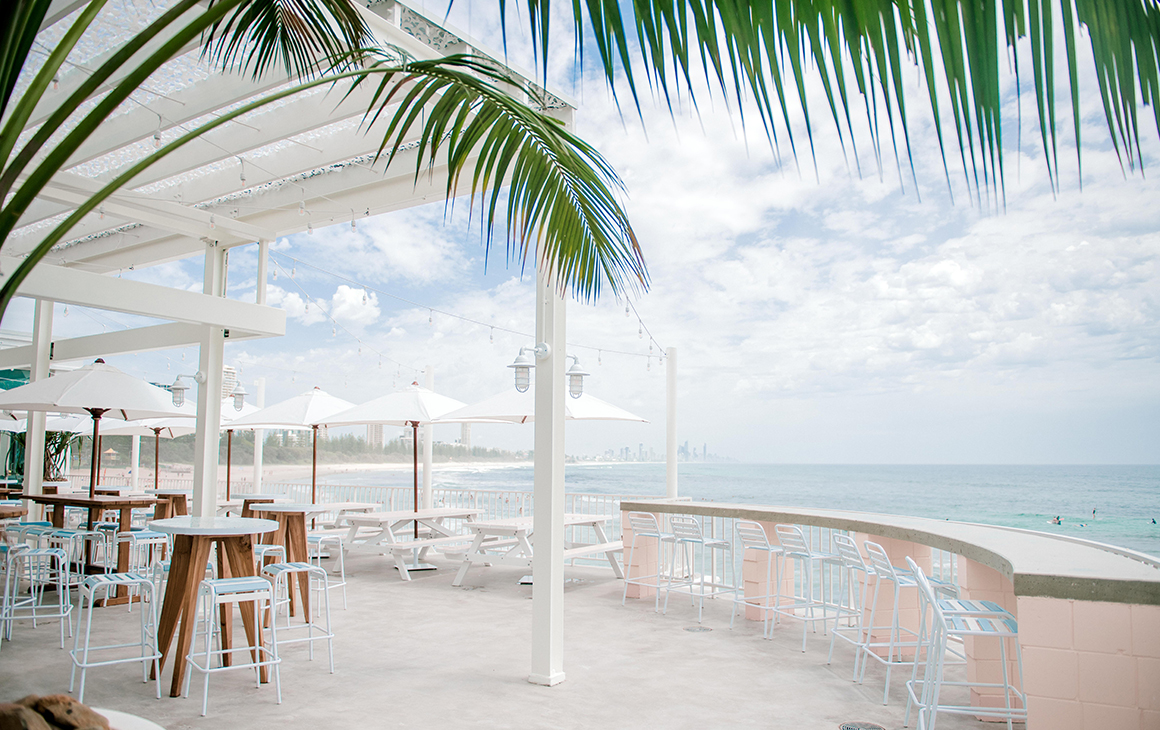 Rosella's | Burleigh Heads
Boasting an all-Aussie natural wine list, VB tins and cocktails that feature Zooper Doopers and Nutri-Grain, this Australiana bar is an absolute must do if you find yourself in Burleigh. Pull up a stool at the bar, sip a cocktail and snack on roo carpaccio and Vegemite jaffles.
The Scottish Prince | Palm Beach
With 150+ bottles of whisky behind the bar, it's clear what your tipple of choice should be here. The Scottish Prince, from the same team that brought us The Cambus Wallace, is a booze-swilling tribute to another ill-fated ship and is without question one of the best bars on the Gold Coast.
The Collective Rooftop | Palm Beach
Gone are the days Palm Beach was a sleepy beachside suburb that you'd pass through enroute to the airport. Thanks to vibing hangouts like The Collective and its so-hip-it-hurts rooftop bar, the 4221 is officially on the drinking map. The perfect time to visit? Magic hour, just as the sun dips behind the hinterland.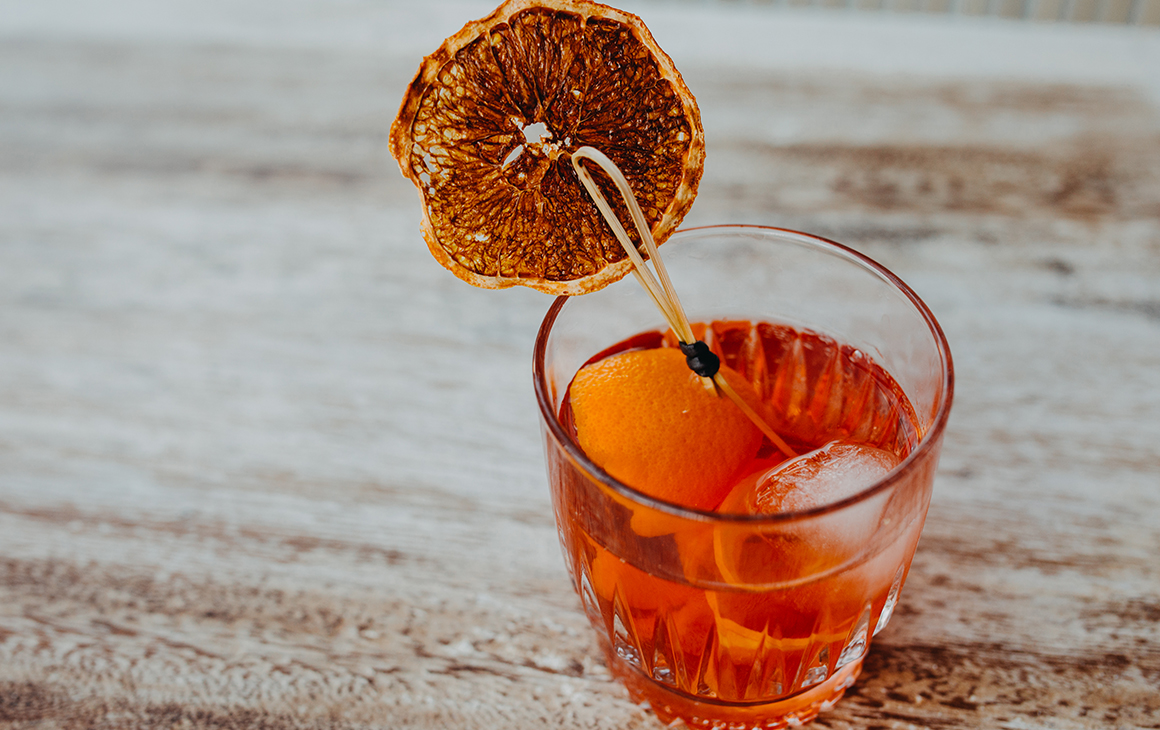 Baskk | Coolangatta
Nights in Coolangatta got a whole lot cooler when the team from Cafe Dbar introduced their whimsical new long lunch and after-dark destination, Baskk Kirra Point. Adorned with natural fibers of rattan, hard and driftwoods throughout; you can't help but linger for sunset cocktails, cheese and seafood platters, shoulder-swaying tunes or just mingling with the beautiful people.
Tasca | Coolangatta (Temporarily Closed)
For us, it was love at first sight when laying eyes on Coolangatta's sophisticated wine bar, Tasca. This tiny venue punches well above its weight and is a beating heart on Griffith Street come weekends. With a seat at the bar, settle in with small batch Italian, French or Spanish vino—served with an origin lesson—and sides of squid ink tagliolini or leek and porchini risotto, all designed to share.
Komune Beach Club | Coolangatta
Epitomising our laid-back coastal lifestyle, Coolangatta's Komune Beach Club can't be beat for a Sunday session that feels more like a party at your mate's epic beach house. Get wet with pool volleyball fun, lounge in stripy bean bag chairs, fist pump to DJ tunes, and embrace an afternoon that'll likely end with getting busy on the dance floor.
Made your way through the best bars on the Gold Coast? Well, that's hella impressive! You'd best be reaching for a hangover cue next—with Gold Coast's best breakfast burritos.
Image credit: Hayley Williamson and Kaitlin Maree for Urban List