Gold Coast cafes are as abundant as the tanned bodies on our beaches. If there is one thing we're equally proud of as our glittering coastline, it's our love for good coffee, beautifully crafted breakfasts and the humble weekend brunch.
Narrowing down the haunts that are serving some of the best breakfasts on the Gold Coast hasn't been an easy task, yet here they are—a swag of cafes you should have been to if you live on the Gold Coast and if you're just visiting then this your ultimate breakfast hit-list. We've got you covered from north to south with 25 of the best breakfasts on the Gold Coast in 2023.
North | Broadbeach & Beyond
Daark Espresso
Chirn Park
Guaranteed to draw a crowd with its caffeinated brews, beautifully plated breakfasts and always smiling staff, it's little wonder Daark Espresso is the busiest cafe on the block in Chirn Park. A pioneer for smooth coffee on the northern end, once you've tried one of the many blends and brunching options on offer at Daark Espresso, we anticipate you'll be adding this to your list of the best cafes on the Gold Coast in 2023.
Cardamon Pod
Southport
Cardamom Pod in Ferry Road is the OG of vegetarian eating on the Gold Coast, where you can enjoy a breakfast and lunch array of Insta-worthy waffles, pancakes, mermaid and acai bowls. Their special menu is created by Chef Vijay Krsna and includes unique twists on traditionally non-vegan meals like the healthy benny with avo on sweet potato discs with tempe, sautéed baby spinach, field mushroom, cashew hollandaise sauce and grilled tomato.
And don't forget to leave room for dessert—choose from their range of vegan treats, banoffee pie, snickers, chai cheesecake, tiramisu, vegan ice cream, brownie bars. It's all delicious and good for you and the planet too.
Elk Espresso
Broadbeach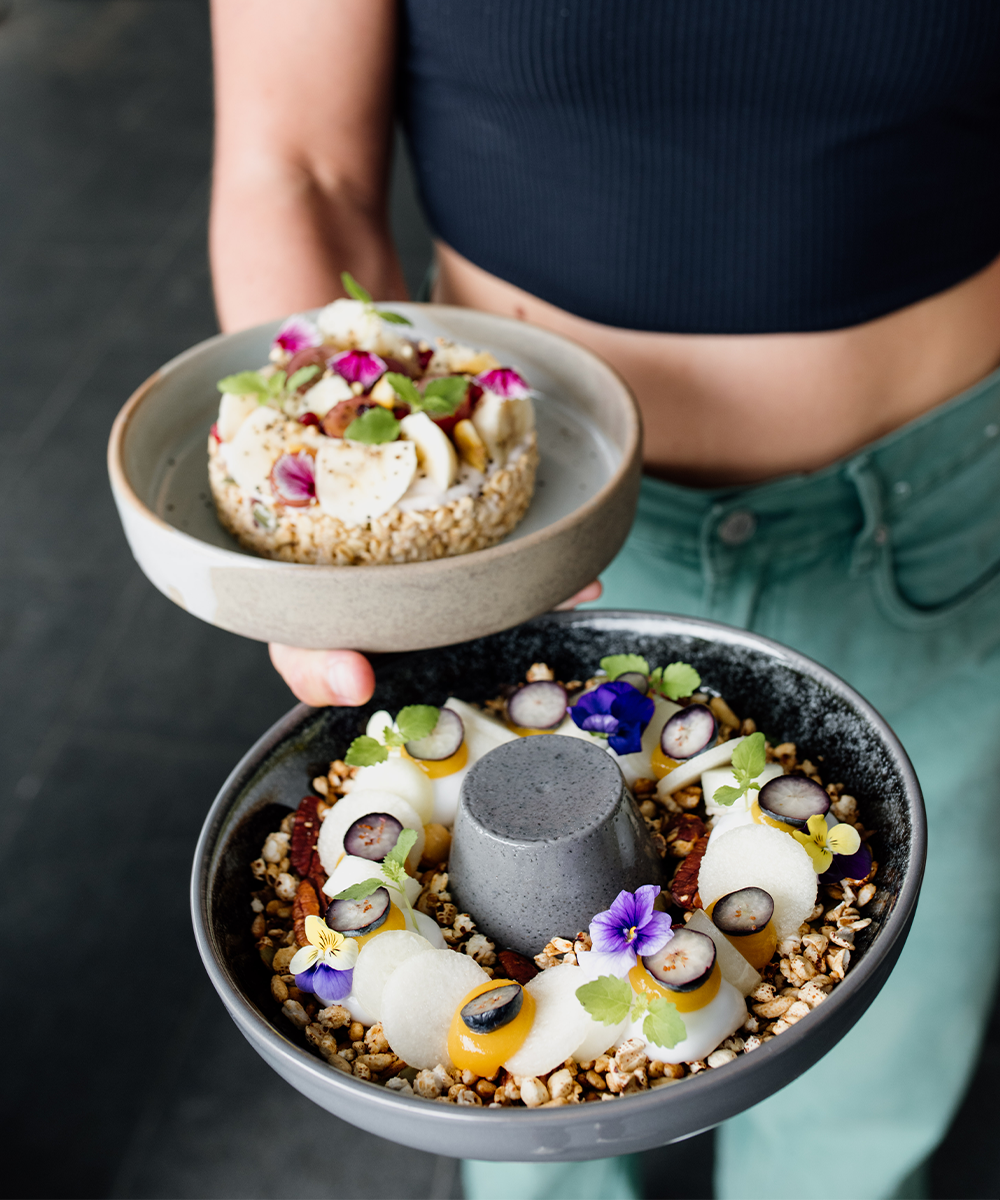 A long-standing crowd favourite among the best breakfasts on the Gold Coast, starting your morning at Elk Espresso in Broadbeach feels like a warm, welcoming hug. One of the most imaginative menus in town that changes with every season, right now we can't go past their fried chicken waffles (yes, it's a thing) and their raspberry panna cotta. If you're stuck on what to order, Elk's famous potato with double smoked bacon, avocado, rocket, poached eggs and hollandaise is a no-brainer.
Terrarium
Oxenford
Terrarium epitomises the phrase 'hidden gem'—this Oxenford cafe is nestled in the Maudsland bush and is as sweet as they come. Expect simple, yet hearty breakfast dishes and house-baked sweets, like Terrarium's famous lemon cheesecake. This cafe is a top spot to check out on the Northern Gold Coast.
Paradox Coffee Roasters
Surfers Paradise
Tasting as good as it looks, this slicked-back cafe in Surfers Paradise's The 4217 complex is hard to miss. Cavernous with vaulted ceilings, moody lighting, red brick and industrial finishings, Paradox Coffee Roasters is the kind of cafe that excites those with a lusting desire for warehouses and contemporary design.
What else excites us about Paradox? Yep, it's the coffee. The passionate team roasts at their onsite commercial roastery daily and spreads their caffeinated joy to cafes throughout all of eastern Australia. Their bespoke blends and single origin coffees are truly phenomenal and absolutely worth a visit.
Bear Boy Espresso
Helensvale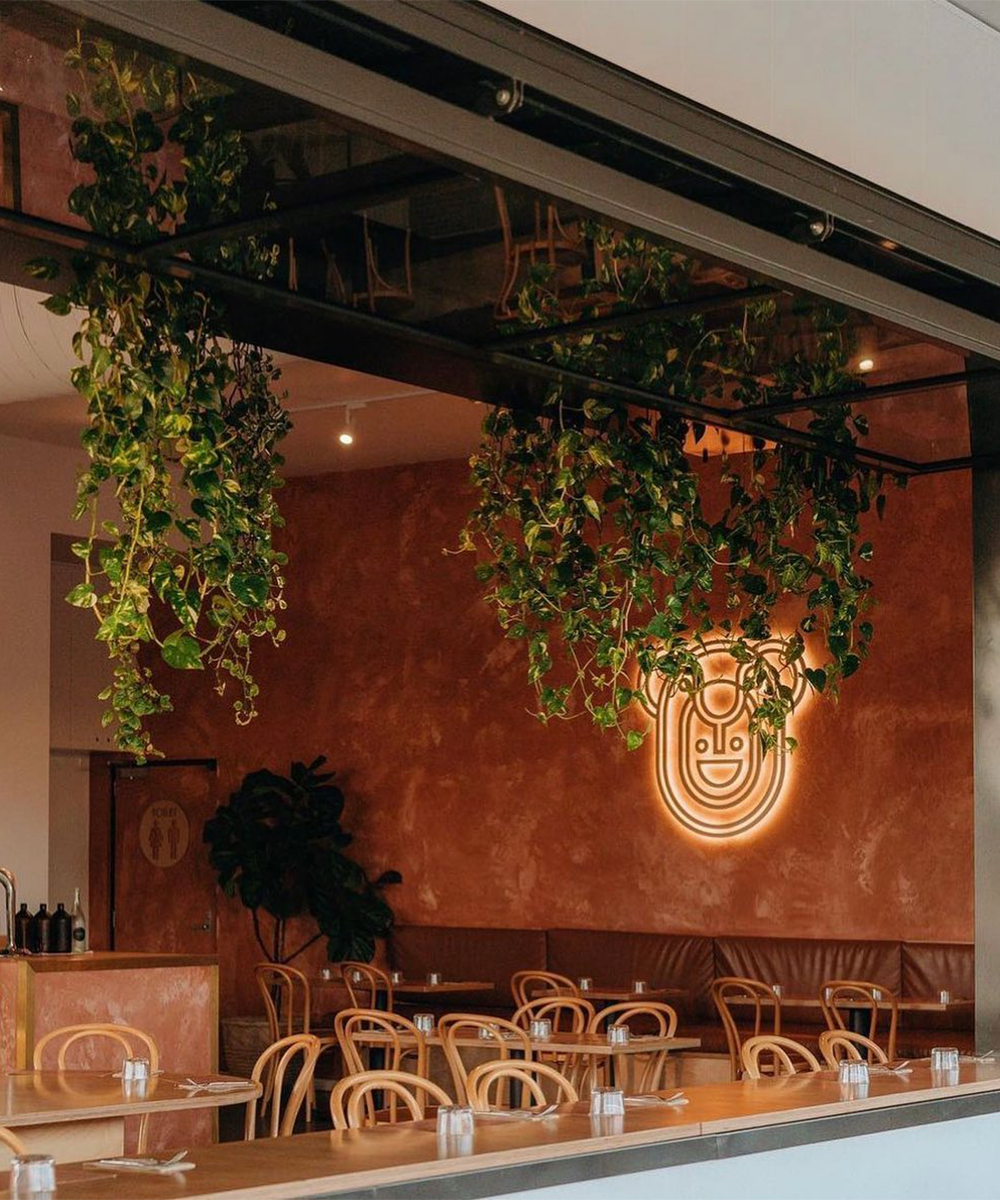 Given the vast populous of the northern end, cool cafes are surprisingly few and far between. Which is why you should know about Helensvale's Bear Boy Espresso. We're lusting over their on-trend colour palate with terracotta splashed throughout and an upbeat vibe.
Perfectly complemented by a seasonal menu currently featuring delights like chicken waffles, cinnamon french toast, acai bowls, Single O coffee and vegan raw treats. If you're keen to mix up your breakfast routine, Bear Boy Espresso is one of the best cafes on the top end of town and worth the trip north.
Hot Shott
Main Beach
The ever-friendly team at Hot Shott Main Beach let you order anything on the menu, at any time of day. Looking for something light? Opt for granny's bircher or chia pudding. Need a heartier breakfast? The trio of breakfast sliders will not disappoint, with three adorable brioche sliders in the flavours of bacon, egg and tomato relish, hash cake BLT and beef patty, onion jam and cheddar cheese. Deliciousness tripled.
The Winey Cow
Main Beach
One of the Gold Coast's newest cafes, The Winey Cow originated in 2014 in the Mornington Peninsula, and quickly secured a name for itself as one of the most lauded brunch restaurants in Victoria, before expanding to Queensland. The expansive menu showcases all your classic breakfast and all-day favourites elevated with innovative twists.
Think—stuffed mushrooms with salted ricotta and walnut crumble, limoncello and coconut waffles with passionfruit jelly a cheeky $49 bottomless mimosa deal. The cherry on top is the almost-sounds-good-enough-to-eat doggy menu filled with pup-friendly snacks like Peking duck wing and lamb shank bone.
Le Vintage Boutqiue Cafe
Worongary
You know how dogs are just so easily distracted and how they find anything and everything downright fascinating? Well, that's how you'll feel at Le Vintage. There's so much to gaze at while in complete wonderment, from the kooky and colourful mismatched chairs to statement artwork and the glitzy and glorious chandeliers. Plus there's Merlo coffee and a simple yet awesome menu at a bargain price.
Central | Mermaid Beach To Burleigh Heads
Bam Bam Bakehouse
Mermaid Beach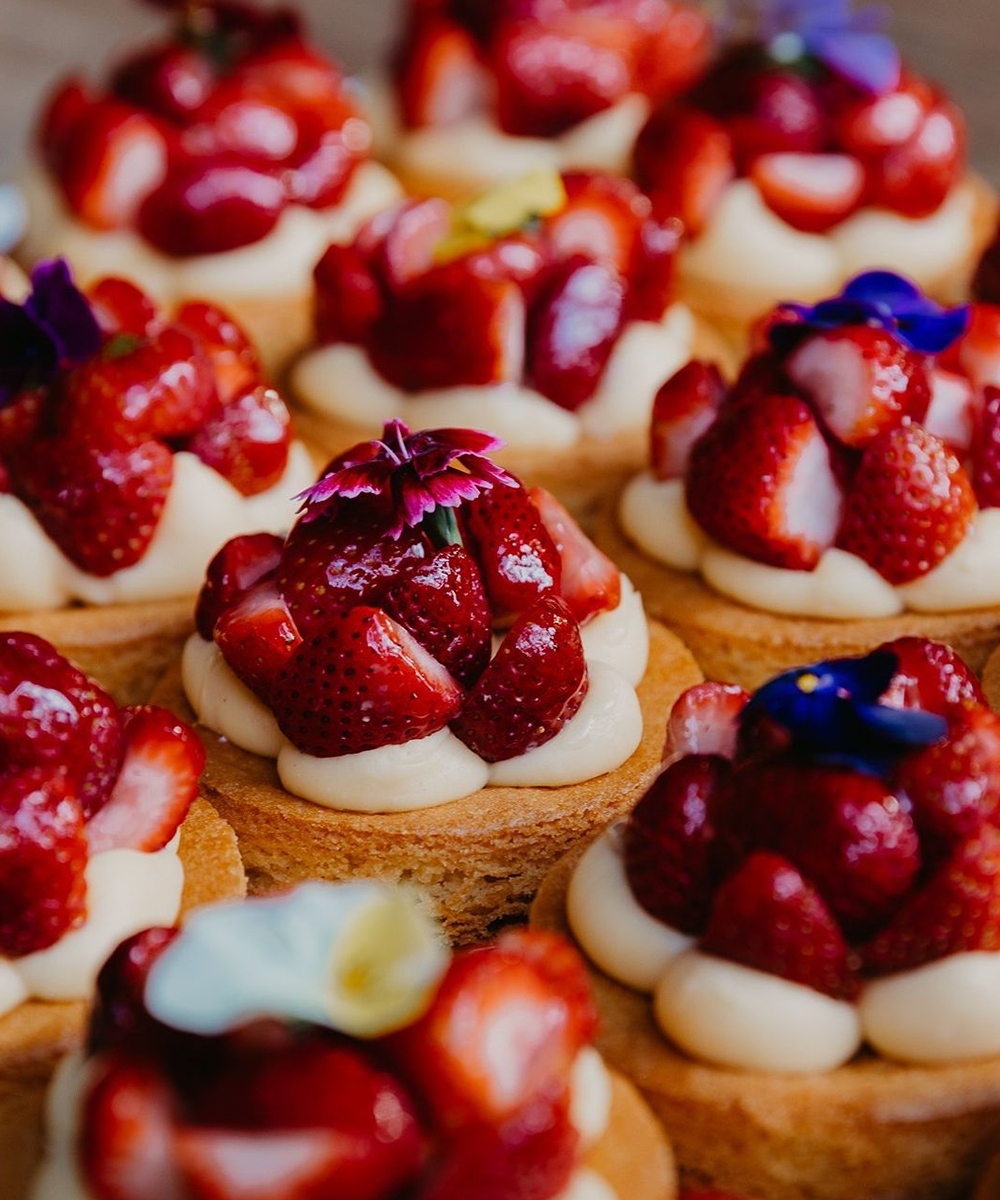 The talented team at Bam Bam makes magic out of everything they touch, whether it be flavoursome breakfast dishes or buttery home-baked goodies and dessert pots; paired with a sleek interior that's up there among the Coast's most beautiful cafes. Hands down, one of the best breakfast spots on the Gold Coast in 2023.
Social Brew
Burleigh Heads
Located on the ever-bustling James Street, Social Brew pumps out top-notch coffee and banging breakfasts seven days a week to their loyal locals. The fit-out will draw you in—hanging greenery and twinkling lights tumble from above—and the extensive breakfast and lunch options will keep you coming back for more.
Commune
Burleigh Heads
We'll never tire of Burleigh's beloved and original cafe, Commune. Whether we're sinking into the retro lounge chairs, devouring the signature corn fritters with house made chilli jam, or trying to decipher the latest event posters from the vintage layers, there's a lot to love about this spot.
The Milkman's Daughter
Mermaid Beach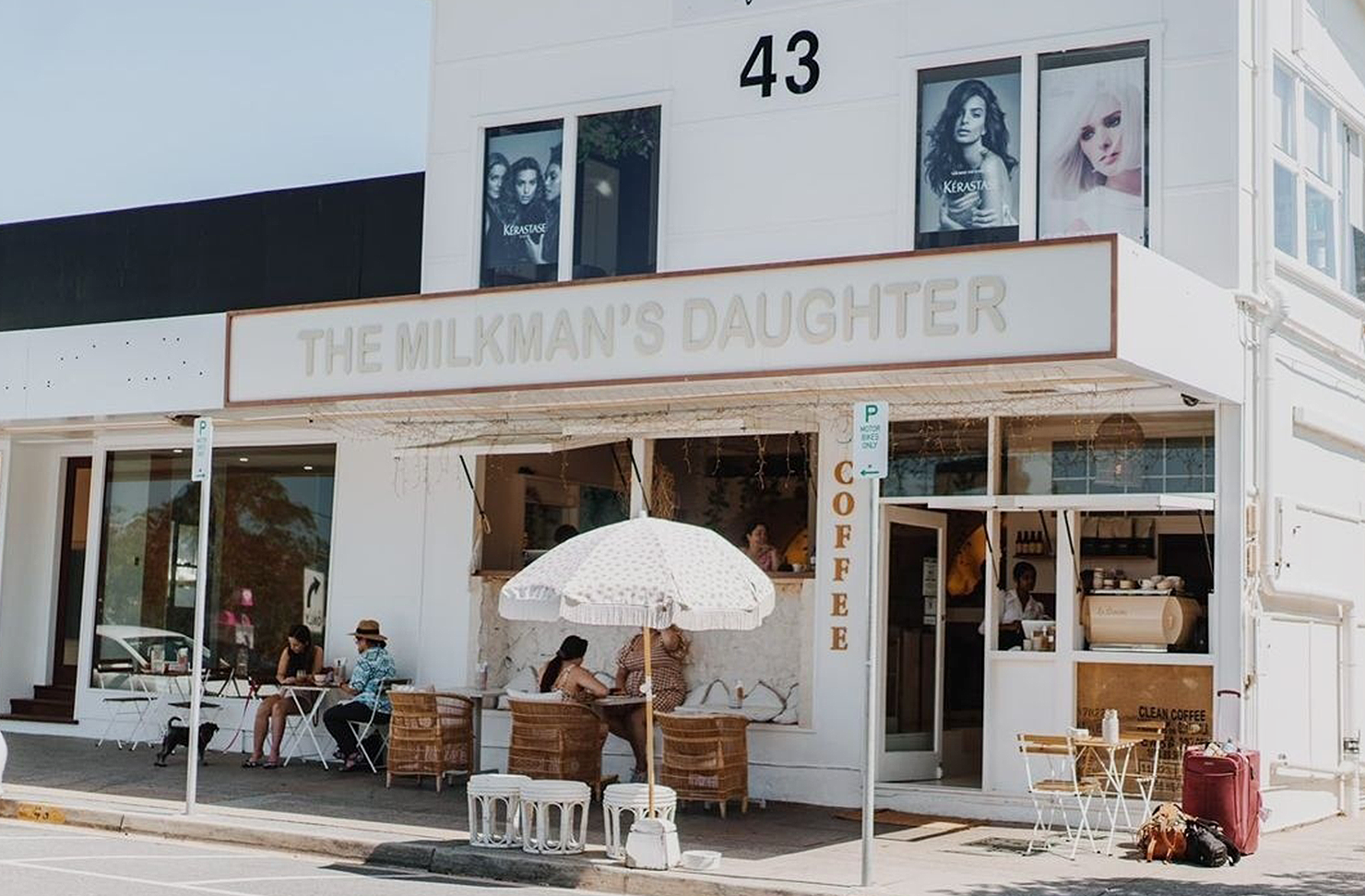 Vegetarians, vegans and breakfast fans alike are well catered for at The Milkman's Daughter in Mermaid Beach. White washed walls, cosy alcoves lined with cushions and smatterings of live greenery set the mood for a healthy start to the day—featuring the likes of breakfast bruschetta and lemon ricotta pancakes that'll warm your soul from the inside out.
BSKT
Nobby Beach
There's so much to love about this Nobby Beach institution which is bringing health-conscious food to the masses. Regardless if you're gluten free, dairy free, vegetarian, vegan, or otherwise, you're sure to find something on the BSKT menu that tickles your tastebuds. Finish off with a dip in the ocean just metres from this stunning breakfast spot and that's your weekend plans, sorted.
Palm Springs
Burleigh Heads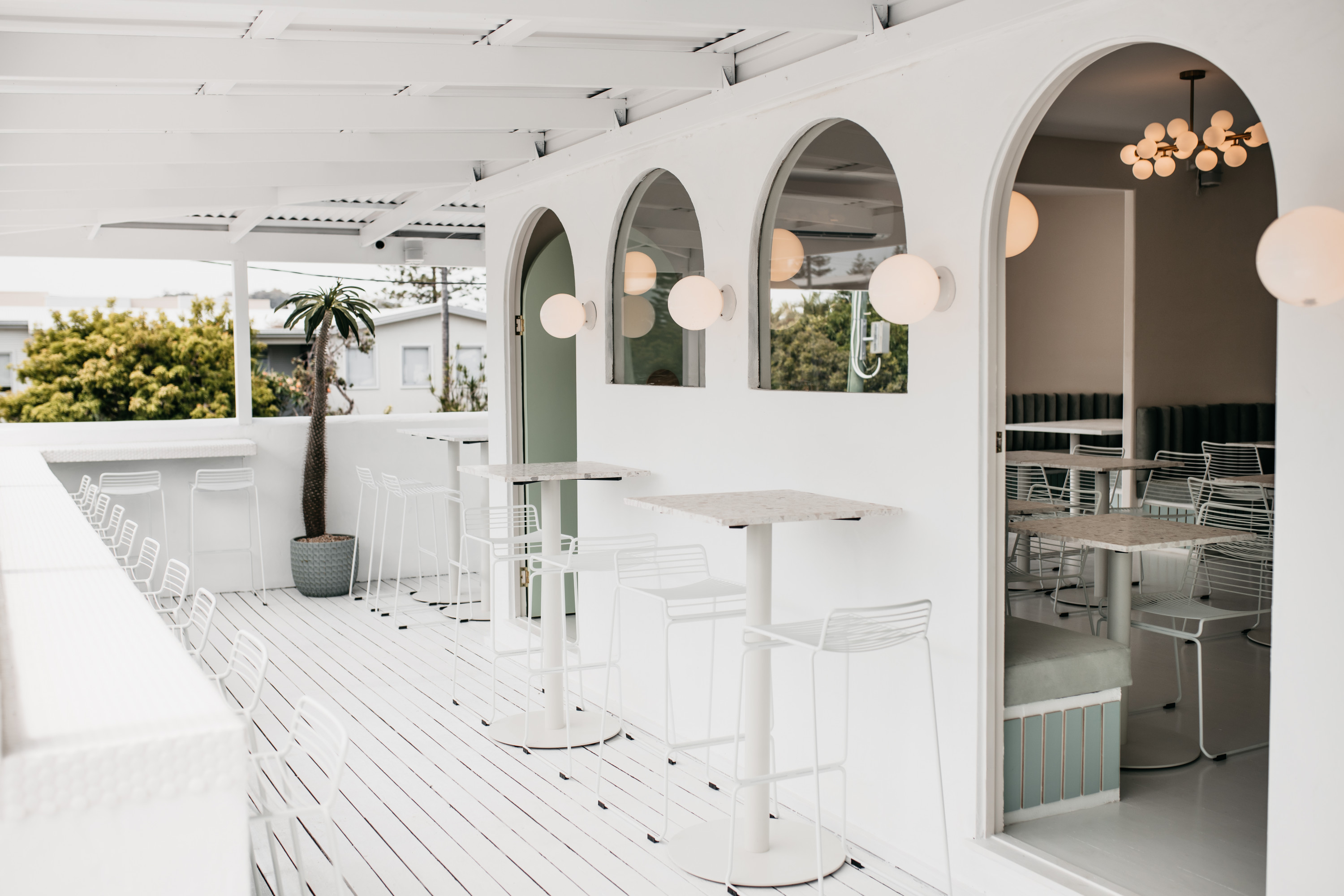 If white-washed interiors and Cali-luxe touches appeal to the interior designer in you, pay a visit to Palm Springs in Burleigh Heads and thank us later. Run by three intrepid Burleigh locals, Palm Springs is one of the Gold Coast's coolest breakfast spots for pimpin' your Insta. Putting a Cali-cool twist on brekky and lunch favourites, the menu is pared-back and complemented by top-notch coffee and an extensive array of cold-pressed juices.
Blackboard Coffee
Varsity Lakes
Blackboard has spread their magic coffee-roasting fairy dust up and down the Coast, with Blackboard Coffee starring on many local coffee menus. Coffee connoisseur or not, everyone who visits Blackboard's flagship Varsity Lakes cafe always falls in love. That's probably thanks to the haloumi eggs benedict, maple bacon burger and the delicious line-up of doughnuts and cronuts.
Paddock Bakery
Miami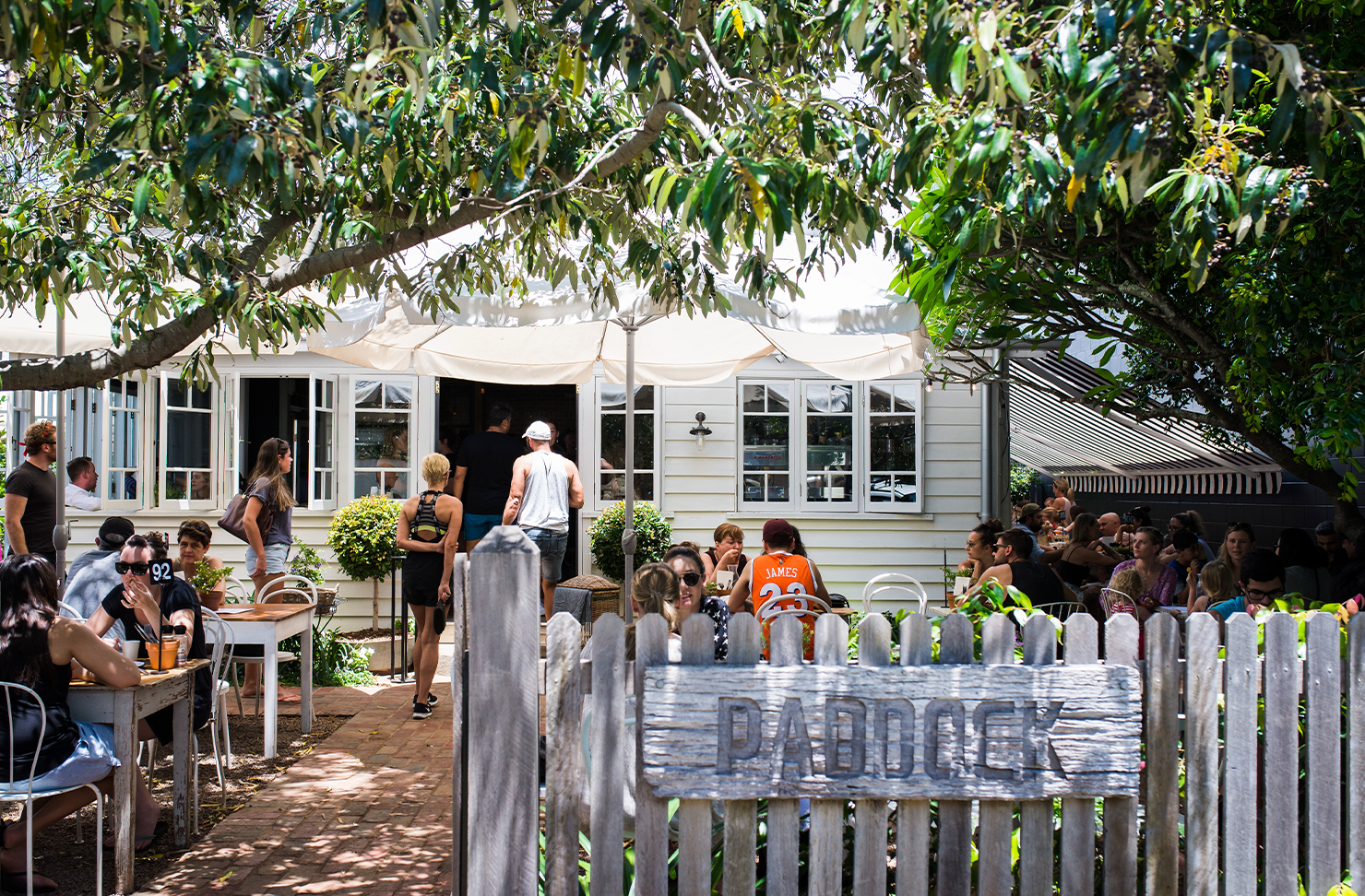 You can't talk about breakfast on the Coast without talking about Paddock Bakery—Toad in a Hole, Dippy Eggs and Nutella Bots, to name a few. With its whimsical garden setting, this pretty-as-a-picture Miami cafe has iconic breakfast dishes and wood-fired baked goods that we turn to time and time again. Paddock Bakery is one Gold Coast cafe deserving of a spot on your breakfast bucket list.
Tarte Bakery & Cafe
Burleigh Heads
Food envy is guaranteed across the table at the French-inspired Tarte Bakery & Cafe, as you and your brunch pals tuck into plates of miso scrambled eggs sprinkled with fine grated parmesan and togarashi and the Bullseye Benny consisting of bacon, poached eggs, house hollandaise and rocket atop Tarte's NYC Everything bagels.
Luring crowds from all corners of the Coast, Tarte's offerings are the ultimate mouth and eye candy. Pair that with a prime location commanding the corner of the James Street-Burleigh precinct, and you've got one of the Gold Coast's best cafes.
Magnolia Lane
Burleigh Heads
Picture this: your curiosity has been piqued by an eye-catching feature wall, you venture into whitewashed outdoor space and immediately feel like you've found your new local. That's exactly what visiting Magnolia Lane is like.
The all-day menu is centred around wholesome food that nourishes your body, but it's also damn delicious, large serving sizes and totes Instagrammable. Magnolia Lane takes their coffee very seriously and serves only the finest beans from Melbourne based Inglewood Coffee Roasters.
South | Palm Beach & Beyond
Espresso Moto
Palm Beach & Mermaid Beach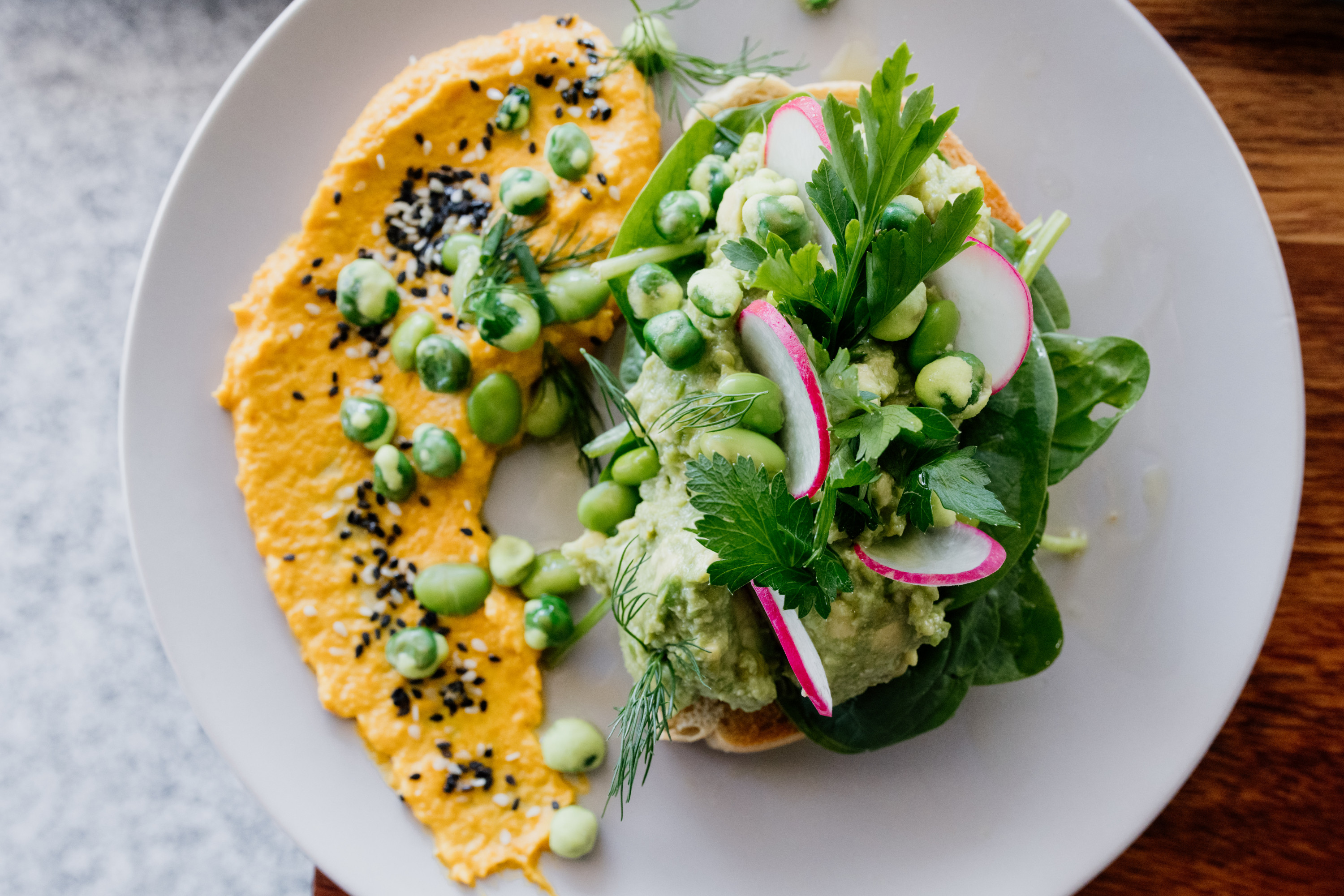 Palm Beach and Mermaid Beach locals love Espresso Moto for breakfast and brunch, and together with exceptionally friendly and efficient service, this Gold Coast cafe delivers every time. We can't go past their famous take on the classic eggs benny—it's always excellent.
Barefoot Barista
Palm Beach & Currumbin
There's no denying we adore Barefoot Barista and the fact that they operate two ever-pumping venues is a sure sign of their popularity. Both of their cafes are sleek, pared-back and will transport you to a neighbourhood cafe in Melbourne.
Think—polished concrete floors, industrial accents, busy barista bars and kitchens slinging some of the absolute best breakfasts on the Gold Coast. It's little wonder this is a standout favourite among the locals; if we could eat at Barefoot Barista every day of the week, we would.
Custard Canteen
Palm Beach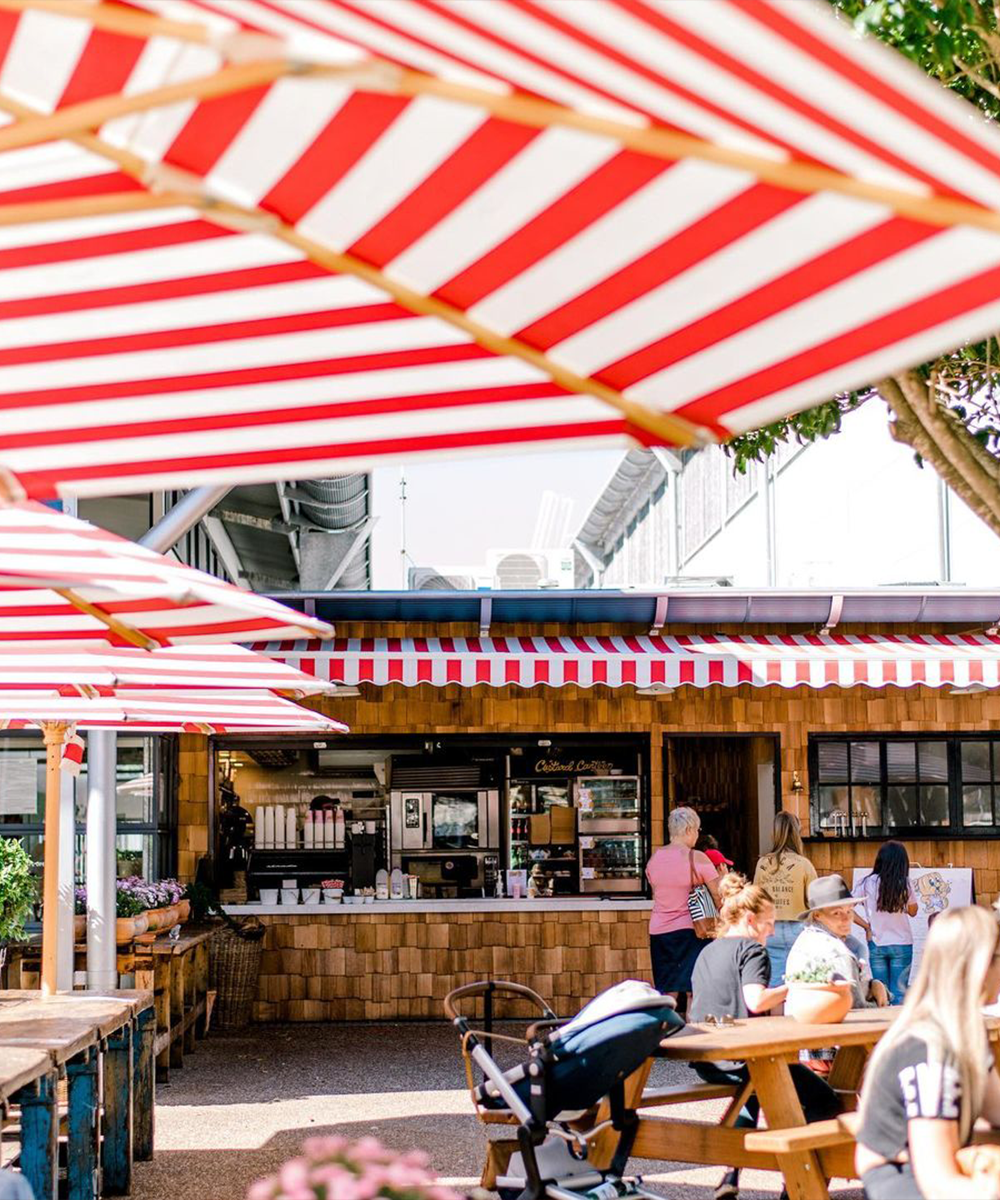 You'll smell Custard Canteen the moment you step out of your car, with baked buttery goodness wafting on the salty sea breezes next to Tallebudgera Creek. Custard Canteen's specialty is authentic, buttery Portugese tarts and the all-day menu is made to eat with your hands, so you can order to takeaway and enjoy under your umbrella at the creek, or bask in the outdoor, picnic-style ambiance at the cafe.
Stable Coffee And Kitchen
Tugun
The beating heart of the Cornerstone Stones complex, Stable Coffee and Kitchen is one of the most aesthetically pleasing cafes in town, hands down. You'll be crushing on Stable's blush pink stone-top island table—the perfect Instagram backdrop for your breakfast plate—retractable floor-to-ceiling windows, courtyard seating, oak wood accents and artwork by local creative Claudio Kirac.
While you're there, tuck into some of the most wholesome and artistically-presented breakfast and lunch dishes around, best followed by a spot of retail therapy at the adjoining boutiques.
Refinery Coffee
Currumbin
At this Currumbin industrial estate-based cafe breakfast dates and caffeinated liquid goods all delivered with relaxed yet attentive service in a beachy, sun-drenched setting. Expect to find healthy green bowls loaded with quinoa, avo, hummus, sauerkraut, poached egg and more, or roasted field mushrooms and avo on sourdough.
Refinery Coffee is licensed from 10am, so no one will bat an eye if you order a glass of vino or local beer with your baked chai apple buckwheat waffles, because it's 5pm somewhere, right?
Niche & Co.
Tugun
While there's no denying you can get an acai bowl from every other cafe these days, there's something to be said about Niche & Co.'s infectious passion for the Brazilian super berry. For these guys, acai is not a fad; it's a way of life. Acai bowls with salted caramel, espresso, peanut butter and more—they've thought of it all.
Have you eaten your way through our list of the best breakfasts on the Gold Coast? Start working on this thirst-quenching list of Gold Coast bars next.
Image credit: Brooke Darling, Hayley Williamson, Kaitlin Maree Pohotography & supplied