Gold Coast cafes are as abundant as the tanned bodies on our beaches. If there is one thing we're equally proud of as our glittering coastline, it's our love for good coffee, beautifully crafted breakfasts and the humble weekend brunch. Narrowing down the haunts that are serving some of the best breakfasts on the Gold Coast hasn't been an easy task, yet here they are—a swag of cafes you should have been to if you live on the Gold Coast. Just visiting? Welcome! Make this your hit list.

We've got you covered from north to south with the best cafes on the Gold Coast.
North | Broadbeach & Beyond
Daark Espresso | Chirn Park
Guaranteed to draw a crowd with its caffeinated brews, beautifully plated breakfasts and always smiling staff, it's little wonder this is the busiest cafe on the block in Chirn Park. A pioneer for smooth coffee on the northern end, once you've tried one of the many blends and brunching options on offer at Daark Espresso, we anticipate you'll be adding this to your list of the best cafes on the Gold Coast.
Cardamom Pod | Southport
Serving wholesome vegetarian breakfasts and lunches, get your daily fix of Cardamom Pod's raw peanut butter and jelly smoothie bowls, Insta-worthy acai and pink pitaya bowls, health beneficial smoothies, fresh juices, raw desserts, meat-free savoury creations, and oh-so much more in the plant-based department.
Elk Espresso | Broadbeach
A long-standing crowd favourite among the best breakfasts on the Gold Coast, starting your morning at Elk Espresso feels like a warm, welcoming hug. One of the most imaginative menus in town that changes with every season, right now we can't go past their Black Forest activated charcoal waffles with raspberry ice cream, chocolate soil, marshmallow and violet chocolate chards.
No Name Lane | Broadbeach
Although it might be tucked down a laneway in the middle of Broadbeach, No Name Lane rakes in a lot of attention. Pumping out some of the best coffee and breakfasts in Broadbeach, if not the Gold Coast, if you've not dropped by this local favourite, make it your next detour on the way to the beach.
Central | Mermaid Beach To Burleigh Heads
Background (Barista) | Mermaid Beach
At Background (Barista) the servings are plentiful without being heavy, the produce is local and fresh and the execution is bang on. Enjoy signature dishes like the Crispy Potato Hash with pulled ham hock, watercress and mustard hollandaise, served inside a compact cafe that simply oozes style.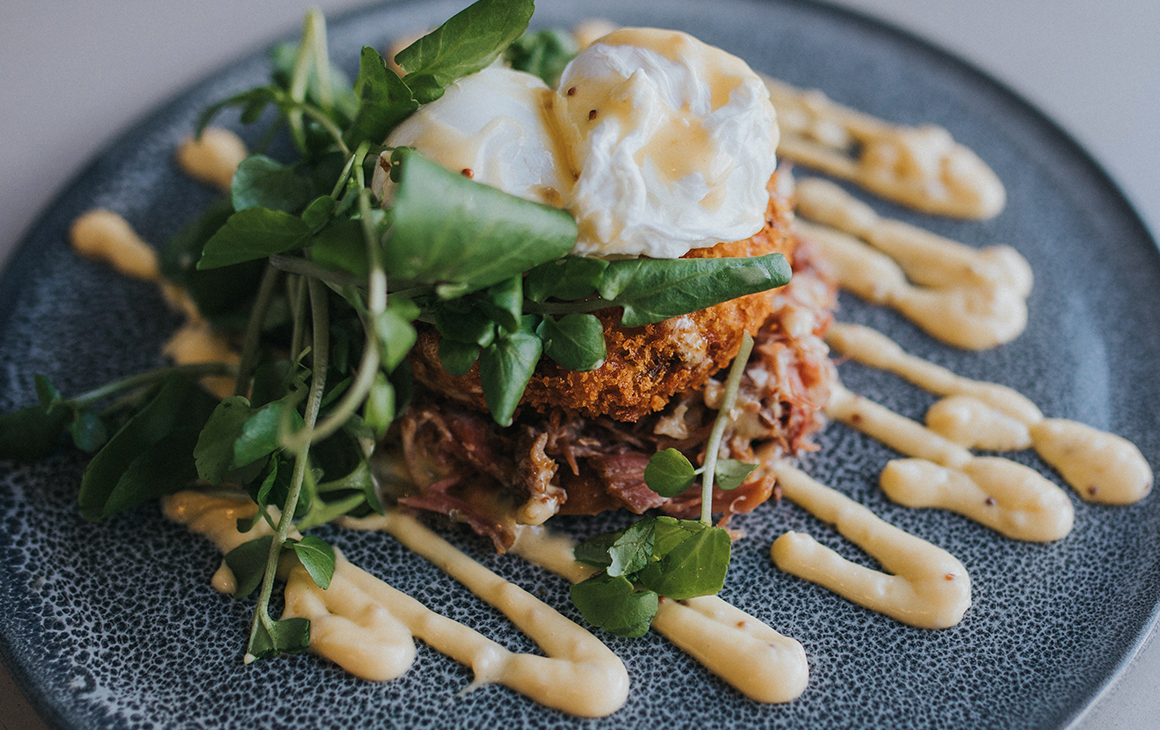 Bam Bam Bakehouse | Mermaid Beach
This talented team makes magic out of everything they touch, whether it be flavoursome breakfast dishes or buttery home-baked goodies and dessert pots; paired with a sleek interior that's up there among the Coast's most beautiful cafes.
The Milkman's Daughter | Mermaid Beach
Vegetarians, vegans and breakfast fans alike are well catered for at The Milkman's Daughter in Mermaid Beach. White washed walls, cosy alcoves lined with cushions and smatterings of live greenery set the mood for a healthy start to the day—featuring the likes of breakfast bruschetta and lemon ricotta pancakes that'll warm your soul from the inside out.
BSKT | Nobby Beach
There's so much to love about this Nobby Beach institution which is bringing health-conscious food to the masses. Regardless if you're gluten free, dairy free, vegetarian, vegan, or otherwise, you're sure to find something on the BSKT menu that tickles your tastebuds.
Blackboard Coffee | Varsity Lakes
Blackboard has spread their magic coffee-roasting fairy dust up and down the Coast, with Blackboard Coffee starring on many local coffee menus. Coffee connoisseur or not, everyone who visits Blackboard's flagship Varsity Lakes cafe always falls in love. That's probably thanks to the haloumi eggs benedict, maple bacon burger and the delicious line-up of doughnuts and cronuts.
Daymaker Espresso | Miami
With added grunge factor courtesy of its past life as a workshop, Daymaker Espresso has taken an innovative approach to their menu, starting with a vegan-friendly base, with various proteins available to add on, so as to be inclusive for carnivores and vegos alike.
Paddock Bakery | Miami
You can't talk about breakfast on the Coast without talking about Paddock Bakery—Toad in a Hole, Dippy Eggs and Nutella Bots, to name a few. With its whimsical garden setting, this pretty-as-a-picture Miami cafe has iconic breakfast dishes and wood-fired baked goods that we turn to time and time again. Paddock Bakery is one Gold Coast cafe deserving of a spot on your breakfast bucket list.
Burleigh Co-op | Burleigh Heads
Operating out of an artistically rustic wood and corrugated tin shed in the neighbourhood of Burleigh, is a cooperative cafe with a produce-driven menu that's the handiwork of several small businesses in the surrounding streets. Come for the zucchini waffles or the Brick Lane Bombay with spiced fried potatoes, flashed spinach and fried egg, and then stay for the laidback feel-good vibes.
Commune | Burleigh Heads
We'll never tire of Burleigh's beloved and original cafe, Commune. Whether we're sinking into the retro lounge chairs, devouring the signature corn fritters with house made chilli jam, or trying to decipher the latest event posters from the vintage layers, there's a lot to love about this spot.
Canteen Kitchen | Burleigh Heads
Our love for Canteen Kitchen—and adjoining barista bar, Canteen Coffee—runs deep. Their point of difference? A Middle Eastern-influenced breakfast and brunch menu with liberal appearances from dukkah, za'tar, labneh, cumin, olives and green harissa.
Social Brew | Burleigh Heads
The sheer weekend crowds are testament to the fact Social Brew whips up some of the best breakfasts on the Gold Coast. Graze on wholesome brekkies, coffee or house made cold-pressed juices under the lush canopy of the cafe's iconic indoor nursery.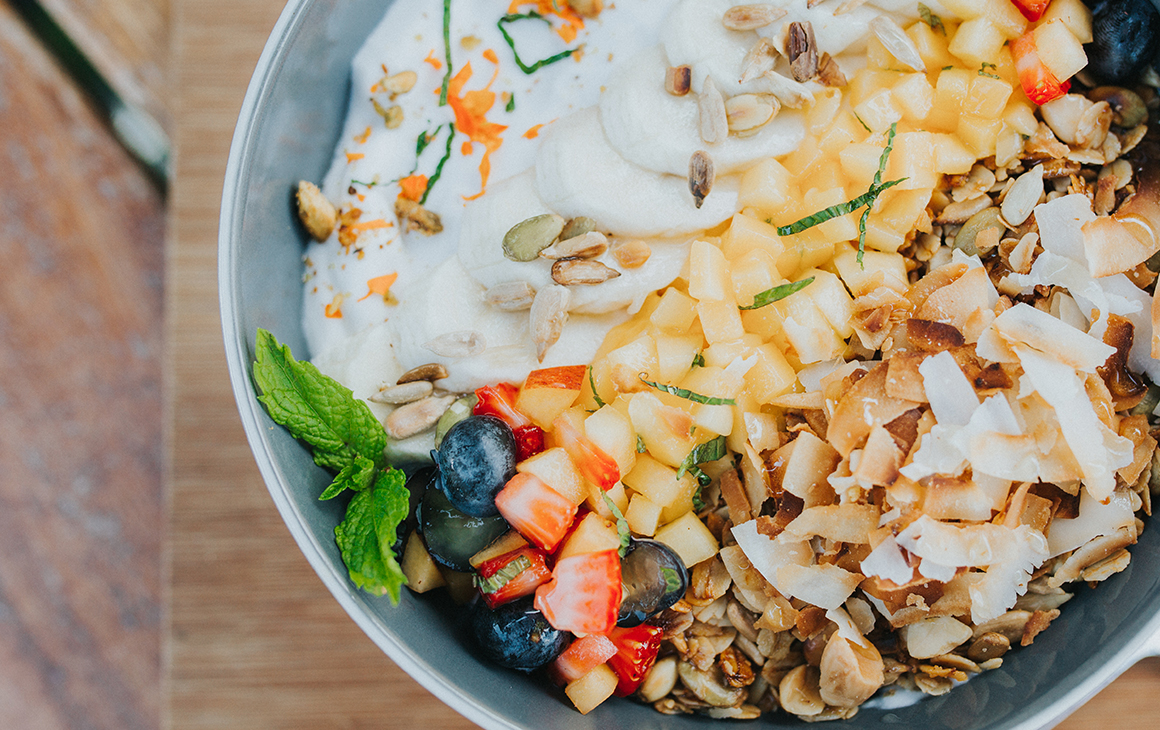 Parlour Coffee | West Burleigh
Hordes of hip coffee drinkers and lycra-wearing riders filling every available seat on a Saturday morning, is testimony to the popularity of this West Burleigh hangout. Parlour is worth the trek away from the main drag if you're keen to devour some of the best breakfasts on the Gold Coast.
South | Palm Beach & Beyond
Espresso Moto | Palm Beach & Coolangatta
Palm Beach and Coolangatta locals love Espresso Moto for breakfast and brunch, and together with exceptionally friendly and efficient service, this Gold Coast cafe delivers every time. We can't go past their famous take on the classic eggs benny—it's always excellent.
Barefoot (Barista) | Palm Beach
Ask any Palm Beach local where to head for a satisfying breakfast and chances are they'll point you in the direction of their faithful, Barefoot (Barista). From humble beginnings and now in a super stylish and sundrenched space a few steps down the road from their original location, creative and substantial dishes abound at this stalwart on any Gold Coast cafe bucket list.
Niche & Co. | Tugun
While there's no denying you can get an acai bowl from every other cafe these days, there's something to be said about Niche & Co.'s infectious passion for the Brazilian super berry. For these guys, acai is not a fad; it's a way of life. Acai bowls with salted caramel, espresso or peanut butter—they've thought of it all.
Stable | Tugun
Stable Coffee & Kitchen is the beating heart of the stellar Cornerstone Stores precinct, which sits on the grey divide between Tugun and Currumbin. This aesthetically stunning cafe, adorned with oak wood and blush accents and surrounded by lush greenery, is a go-to for healthy and wholesome breakfast dishes and may just become your next weekend ritual.
Cafe DBar | Coolangatta
If you have friends visiting an easy breezy breakfast overlooking the ocean at Cafe DBar should be top of your list. Follow it up with a wander through the adjoining gallery or a splash at Rainbow Bay and you'll soon be saying "cheers" to the good life on the Gold Coast.
Rockleigh Cafe | Coolangatta
Welcoming country-style fit out? Check. Silky smooth coffee? Check. Some of the best breakfasts on the Gold Coast made from farm fresh ingredients? Check and check. Rockleigh Cafe on Coolangatta's Griffith Street is a breakfast winner in our books.
Little Mali | Rainbow Bay
Early morning sun worshippers with sandy feet and wide smiles are not the only things you can expect to find at Rainbow Bay's favourite local coffee shop, Little Mali. A simple and fresh breakfast menu featuring the Mali falafel bowl and fully loaded tubs of CocoWhip, all paired with organic Bun Coffee that's roasted in Byron Bay, is here to blow any morning cobwebs away.

Baked At Ancora | Tweed Heads
We've practically adopted the Tweed Coast as an extension of the GC, so you should have most definitely paid Baked at Ancora a visit. With photo-worthy baked treats, plus beautiful indoor and outdoor spaces along the river, this gem is worth the drive south.
Cubby Bakehouse | Chinderah
The creators of much-loved cafe Bam Bam Bakehouse put Chinderah on the map when swinging open the doors to their latest passion project, Cubby Bakehouse. Cubby pays homage to the humble French baguette (with a speciality oven imported from the motherland) in the form of eggs benedict or Banh Mi on a baguette. Although we know you're here for their signature baked goods; like their salted caramel and rye brownies or an addictively delicious vanilla slice.
Have you eaten your way through our list of the best breakfasts on the Gold Coast? Start working on this thirst-quenching list of Gold Coast bars next.
Image credit: Hayley Williamson and Kaitlin Maree Pohotography for The Urban List