There are certain places you probably shouldn't take your dog: job interviews, dentist appointments, the airport and weddings. Having said that, we probably would take them everywhere if we could.
Whether you're a pup parent in need of a directory of dog-friendly cafes so you can grab your coffee and breakfast with your four-legged friend in tow, or you're just looking to fulfil your weekly dog-pat quota, this list is for you. Read on for 15 of the best dog-friendly cafés on the Gold Coast in 2022.
Day Maker Espresso
Miami
Daymaker Espresso might just be one of our favourite dog-friendly cafes on the Gold Coast, especially since their Instagram is dedicated to showing the cute pooches that regularly visit. This vintage corner block is not only grunge-cool but will whip up a delicious pupachino for your furry best friend.
BSKT
Nobby Beach
When you think of dog-friendly cafes on the Gold Coast, you immediately think of BSKT. This much-loved beachfront spot has loads of outdoor seating for doggos of all sizes, so you can park up and watch your pup make friends with all the other canine pals which frequent this cafe. Make sure to order one of BSKT's organic doggie biscuits with a pupachino on the side.
Blackboard
Varsity Lakes
Whoever visits Blackboard in Varsity Lakes instantly falls in love; maybe it's the insanely stacked eggs bennys, maybe it's the killer brews or maybe it's the way they treat your dog like the VIP they are. Expect doggie treats, pupachinos and pats galore here.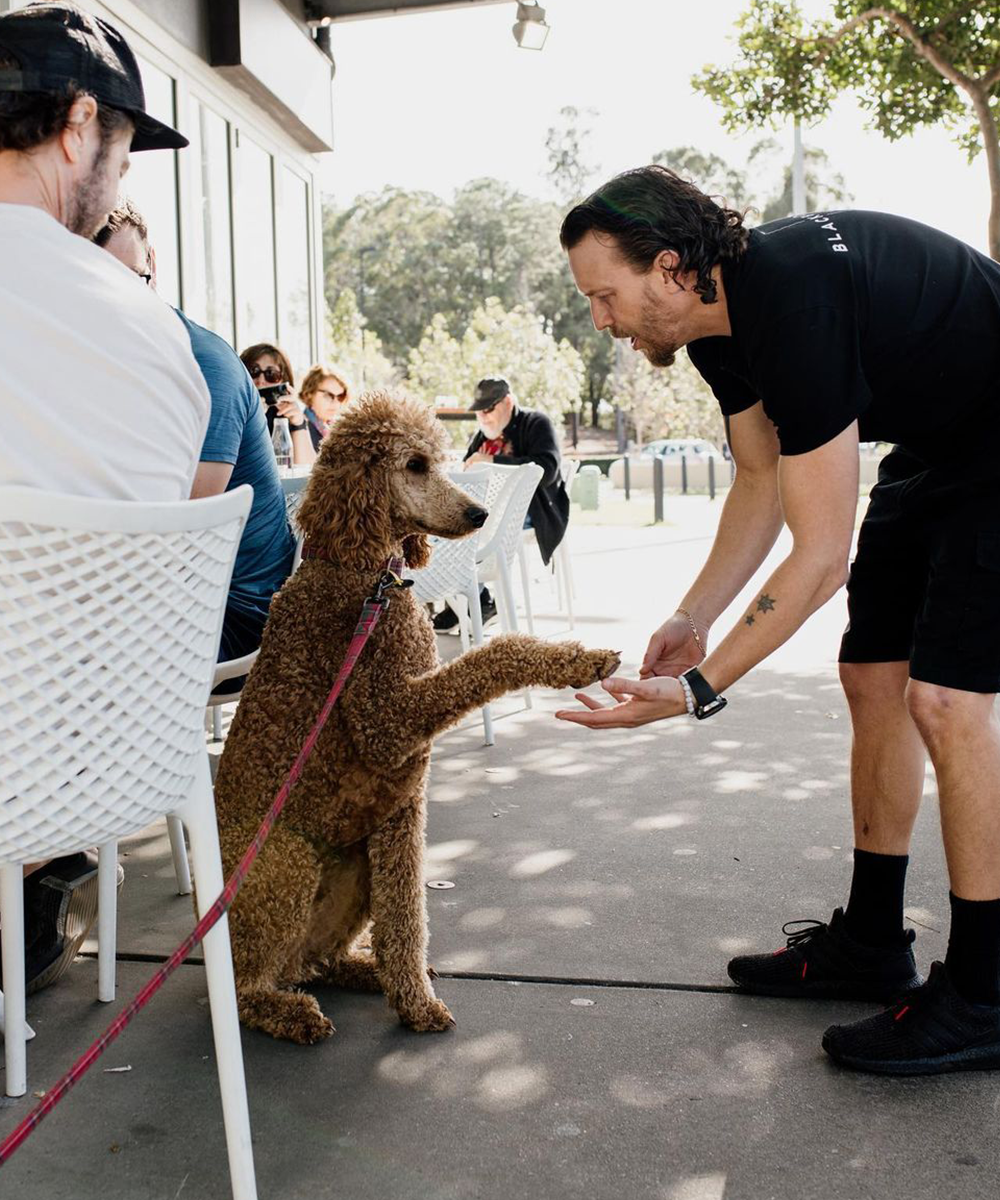 Social Brew
Burleigh Heads
Everyone is made to feel welcome at Burleigh Social and your furry friends are no exception. Tuck into their wholesome and nutrition-orientated menu while dropping sneaky mouthfuls down to your four-legged friend as they lounge at your feet.
Le Vintage Boutique Café
Nerang
You know how dogs are just so easily distracted and how they find anything and everything downright fascinating? Well, that's how you'll feel at Le Vintage. There's so much to gaze at, from the kooky and colourful mismatched chairs to statement artwork and the glitzy chandeliers. Plus there's Merlo coffee and all doggies, big and small are welcome.
Tarte Bakery
Burleigh Heads
Perched in a prime position on the corner of Burleigh's bustling main street, Tarte Bakery is well-known for its superbly-crafted pastries, but the team also whips up a mean pupachino. After a morning walk along the Burleigh foreshore, kick your feet up at Tarte and your furry best friend will be welcome with pats galore.
Parc Bah Espresso
Southport
This is one place on the Gold Coast where your dog is not only allowed but treated like canine royalty—as they damn well should be. Parc Bah Espresso is located adjacent to Southport's dog park and serves up adorable pupachinos and doggy ice cream. Parc Bah also brews a great coffee, proudly using Toby's Estate beans.
Paddock Bakery
Miami
Miami's lovingly-restored weatherboard cottage is as pretty as a postcard with a shady picket fence-lined courtyard that welcomes doggos of all sizes. Dig into their famous dippy eggs while your dog relaxes in the shade and slurps up one of their special pupachinos.
Dune Cafe
Palm Beach
This gorgeous spot is the ultimate family friendly cafe, and that includes your beloved pooch. Overlooking the dog-friendly Currumbin Lagoon, Dune Café is situated in the perfect break spot to re-energise after a beach adventure. The doggy tie-up area is perfect for your best mate to recharge the batteries with the other pooches, while you enjoy a well-deserved coffee and deliciously creative meal.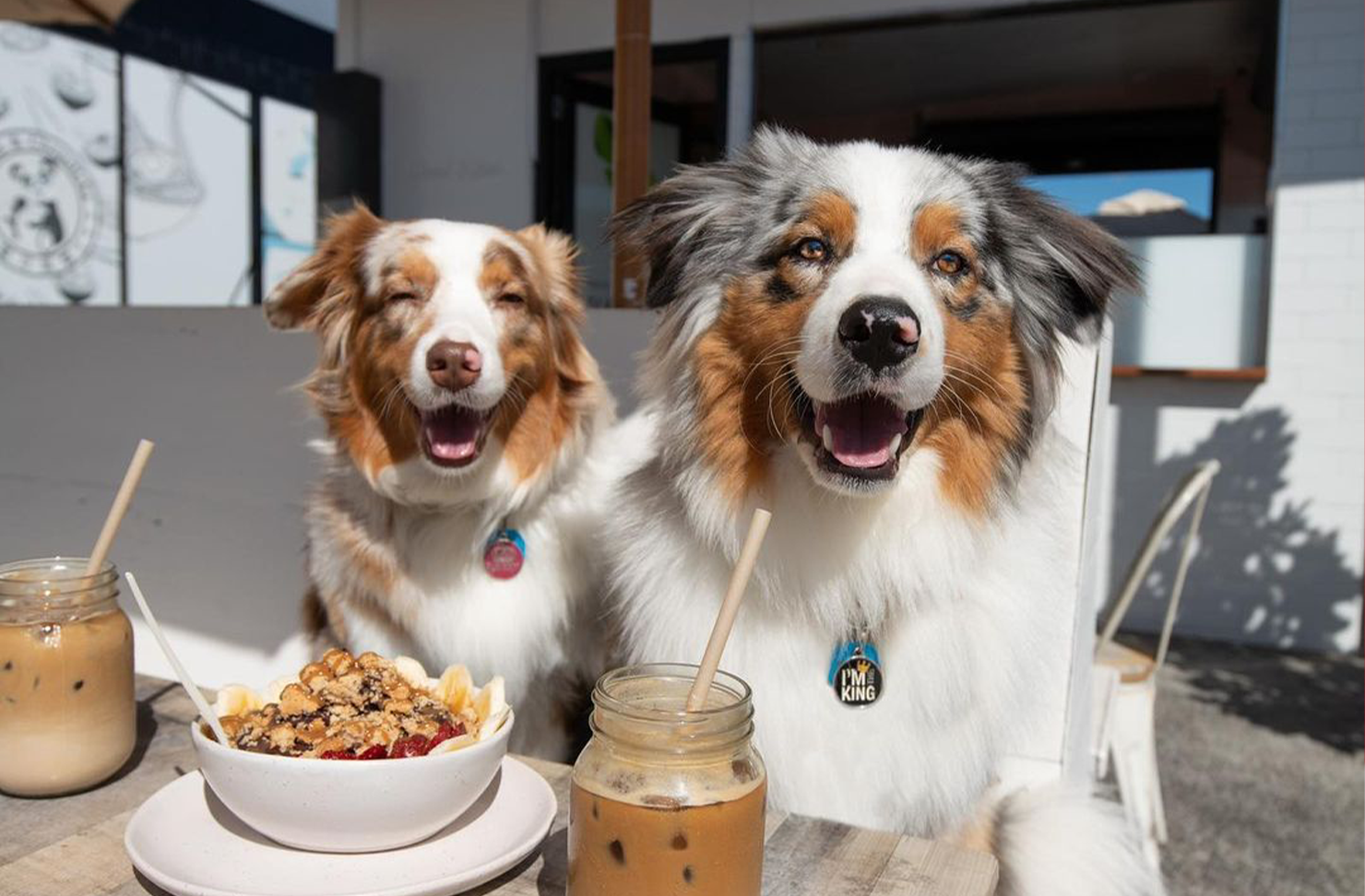 Palm Springs
Burleigh Heads
If you hadn't already heard of this luxe Cali-inspired eatery, then you've certainly seen it on Instagram because it's drop-dead gorgeous. Sprawl under umbrellas or lax out and enjoy a bite to eat in the alfresco garden area, while your furry best friend hangs out in the shade. Hands down, one of the best dog-friendly cafes on the Gold Coast.
Cafe Catalina
Southport
If you like your breakfast with a side of uninterrupted water views, your destination of choice at the northern end should be Cafe Catalina. Spacious, sun-drenched and totally pooch-friendly, lounge on the sun-drenched outdoor area and it will become obvious why this cafe-slash-restaurant is a fave among northerners.
Double Barrel Kitchen
Mermaid Waters
If you're on the hunt for some of the best dog-friendly cafes on the Gold Coast we recommend hunting down Mermaid Waters local gem, Double Barrel Kitchen. Get cosy with a cuppa surrounded by rustic décor, while your fur baby munches on their freshly-baked doggie biscuits.
Bumbles Café
Surfers Paradise
Bumbles are all about the dog life, with a full outdoor area overlooking the stunning canal so your pooch can sit and rest after your leisurely morning walk, while you enjoy a coffee and brekkie. The team at Bumbles Café will even supply your pooch with water and ample room to rest their weary legs—such a tough life they lead.
Daark Espresso
Chirn Park
An institution among the northern Gold Coast folk, Daark Espresso is also well-loved by all doggo parents, as their fur baby will be well catered for here. Perch on the wrap-around deck and sip on Daark's incredible speciality brews while your dog lounges in the shade.
Barefoot Barista
Palm Beach, Currumbin & Mermaid Beach
The folks behind Barefoot Barista are laidback, serve up some damn good food and coffee and, of course, love dogs. That's a triple win in our books. After you've exhausted your pooch with a long beach walk, stop in at one of their three gorgeous locations for artisanal coffee, creative breakfasts and plenty of pats from walkerbys.
Your dog needs to burn some energy before hitting up these epic dog-friendly cafes, so why not take them to one of the Gold Coast's best dog-friendly beaches?
Image Credit: Blackboard & Supplied