Tongues were wagging last year when news spread the Coast's most iconic cafe, Paddock Bakery, had been sold to new owners. All eyes have been firmly on ex-owner Chloe Watts' next move ever since and well let's just say, she's back with a bang, baby!
Heralding a new era of Gold Coast brunch dates, prepare to fall head over heels in love with Tarte Bakery & Cafe in Burleigh Heads.
Tarte is a dream that's been years in the baking. Wheels were first set in motion six years ago when Chloe Watts acquired a set of antique brass measuring cups from a flea market in Paris. On the spot, she declared to her parents that she'd feature them in her own cafe one day.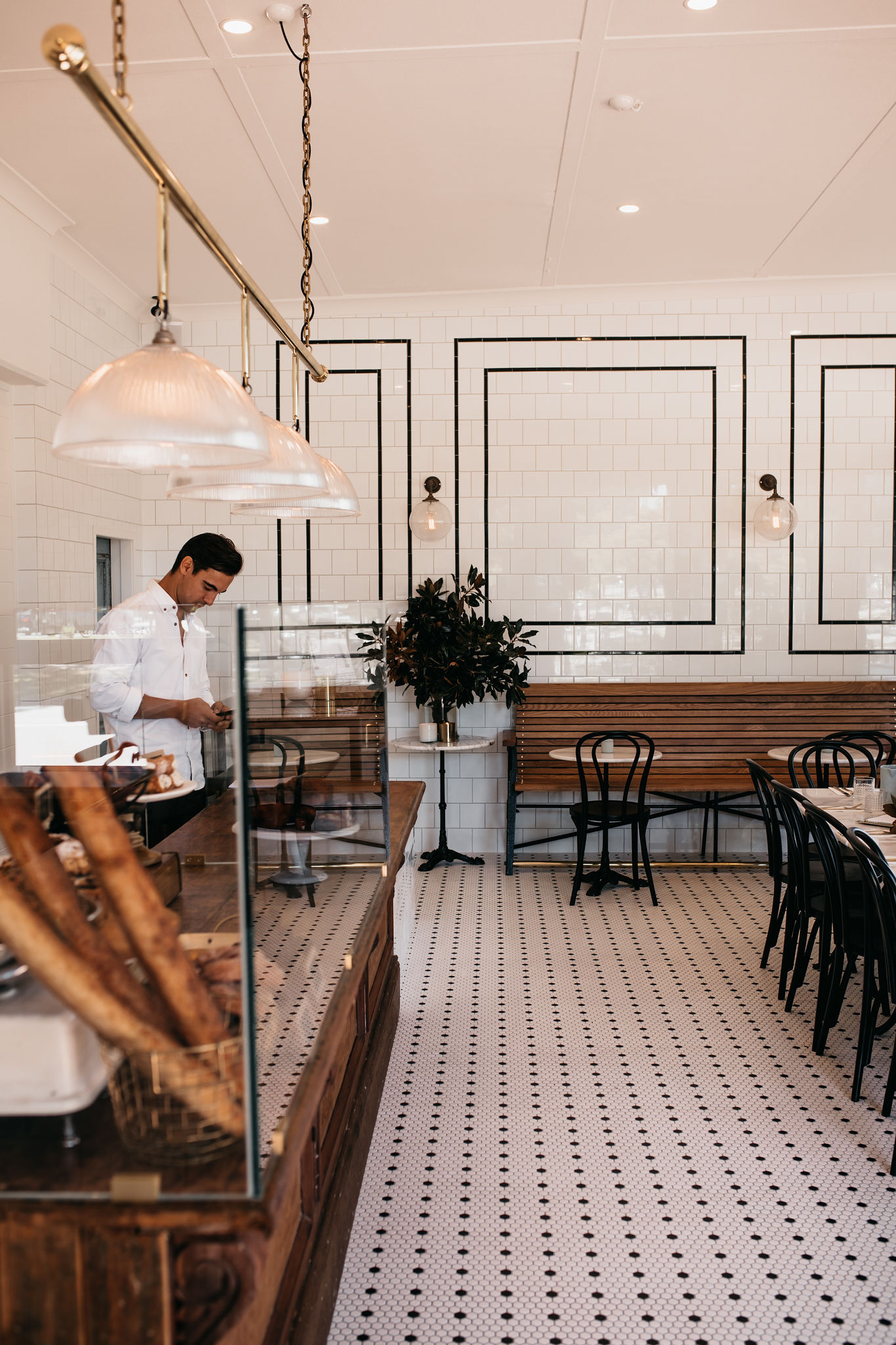 Fast forward to today, these symbolic brass cups—which can be spotted proudly hanging from the coffee machine—together with a salvaged door painted duck egg blue, have become the inspiration for her entire design, branding and packaging. Brass accents are scattered throughout, from vintage train luggage racks stacked with bread to the trim on the custom La Marzocco coffee machine. Other design elements worth lingering to appreciate include mid-century pendant lights shipped over from Amsterdam and century-old antiques like front door handles recovered from a London pub, an antique fire bucket, coffee grinder, shop scale and more.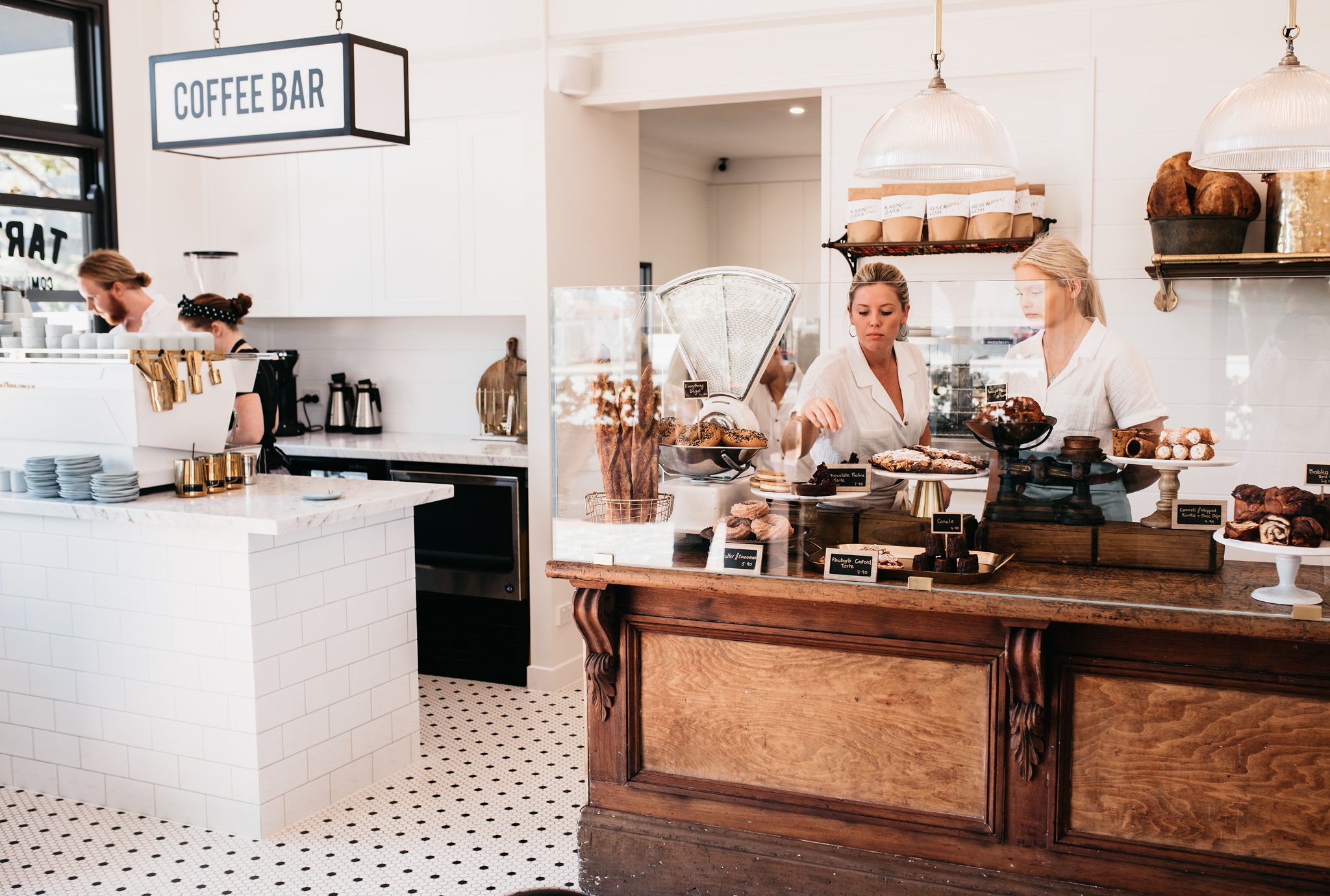 Or the 100-year-old movie theatre counter she rescued from NSW; stripped bare and full of character with marks and dents etched over a lifetime. Repurposed as the cafe's main display counter, the heavy timber bench now sits atop an elegant white and black mosaic tiled floor. So invested in realising her design concept, Chloe and a handful of others spent over 30 hours on their knees chipping out and hand laying 3,000 tiny black hexagon tiles. In the process, creating a unique yet hypnotic flooring underfoot; one we predict will become the must-have "I was at Tarte" backdrop to your takeaway coffee cup and baked treat Insta-brag post.
Hand-picked by Chloe, heavy marble adorns the barista station and five metre stool-lined brunch bar, while bi-fold doors and windows open right up to invite the balmy Burleigh breezes inside. Seriously, every angle of this place is photogenic.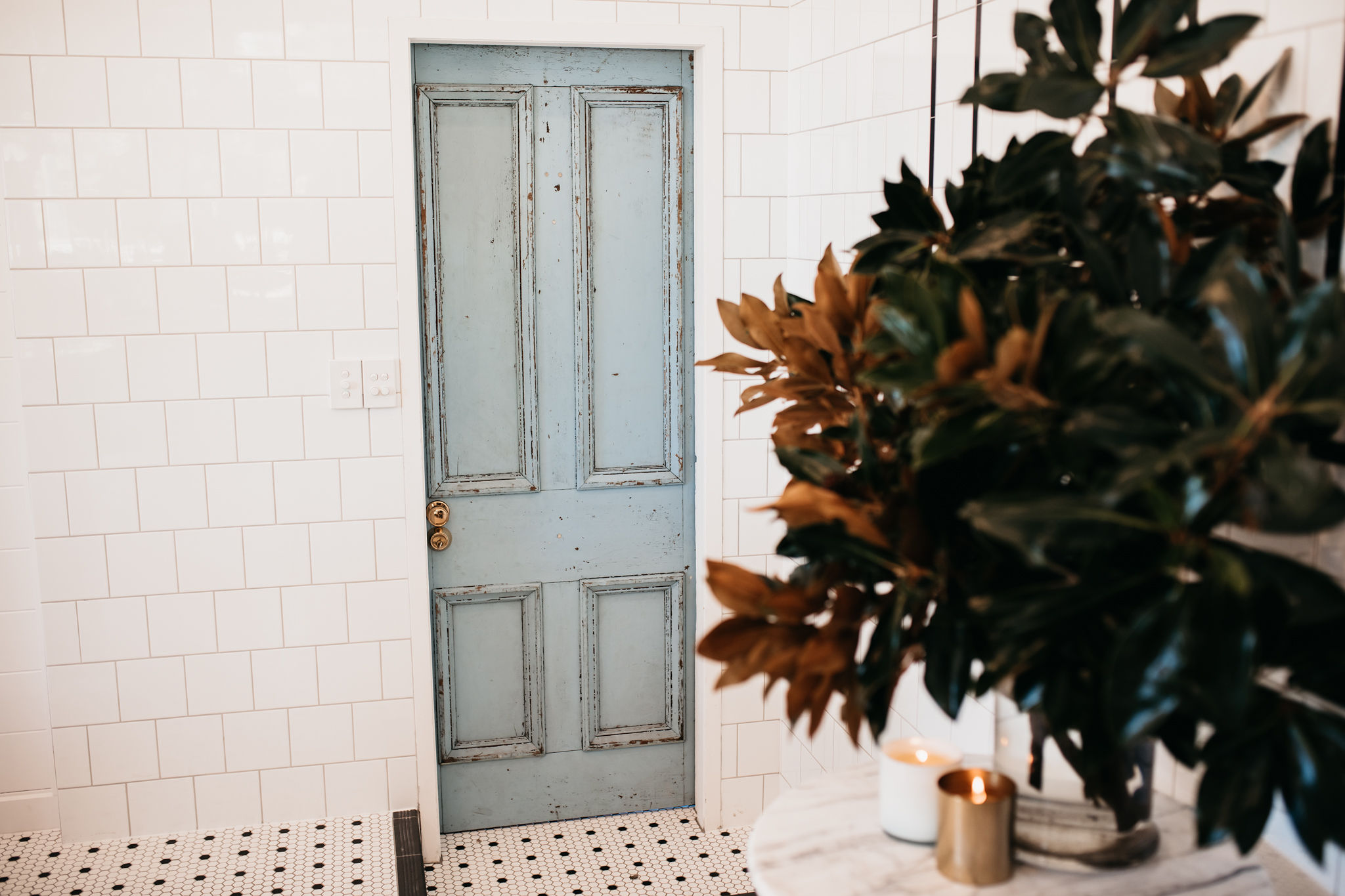 Also paying homage to two cities she holds dear to her heart, a collision of Parisian and New York style can be felt in the forward-facing tables that hug a grand, charcoal grey custom-built façade—typical of establishments found in NYC's fashionable SoHo and West Village districts.
The overall result is refined, elegant yet oh so welcoming.
With the arrival of Tarte, this typically quieter western end of Burleigh's popular eat street will be abuzz, as locals and visitors take advantage of the see-and-be-seen alfresco dining area. Shaded by leafy trees and with capacity for 100 diners, sidewalk tables sprawl around the corner. While the hottest commodity is certain to be those black and white woven Parisian-style cafe chairs and round tables; set for two and facing out so people-watching is totally acceptable, if not encouraged.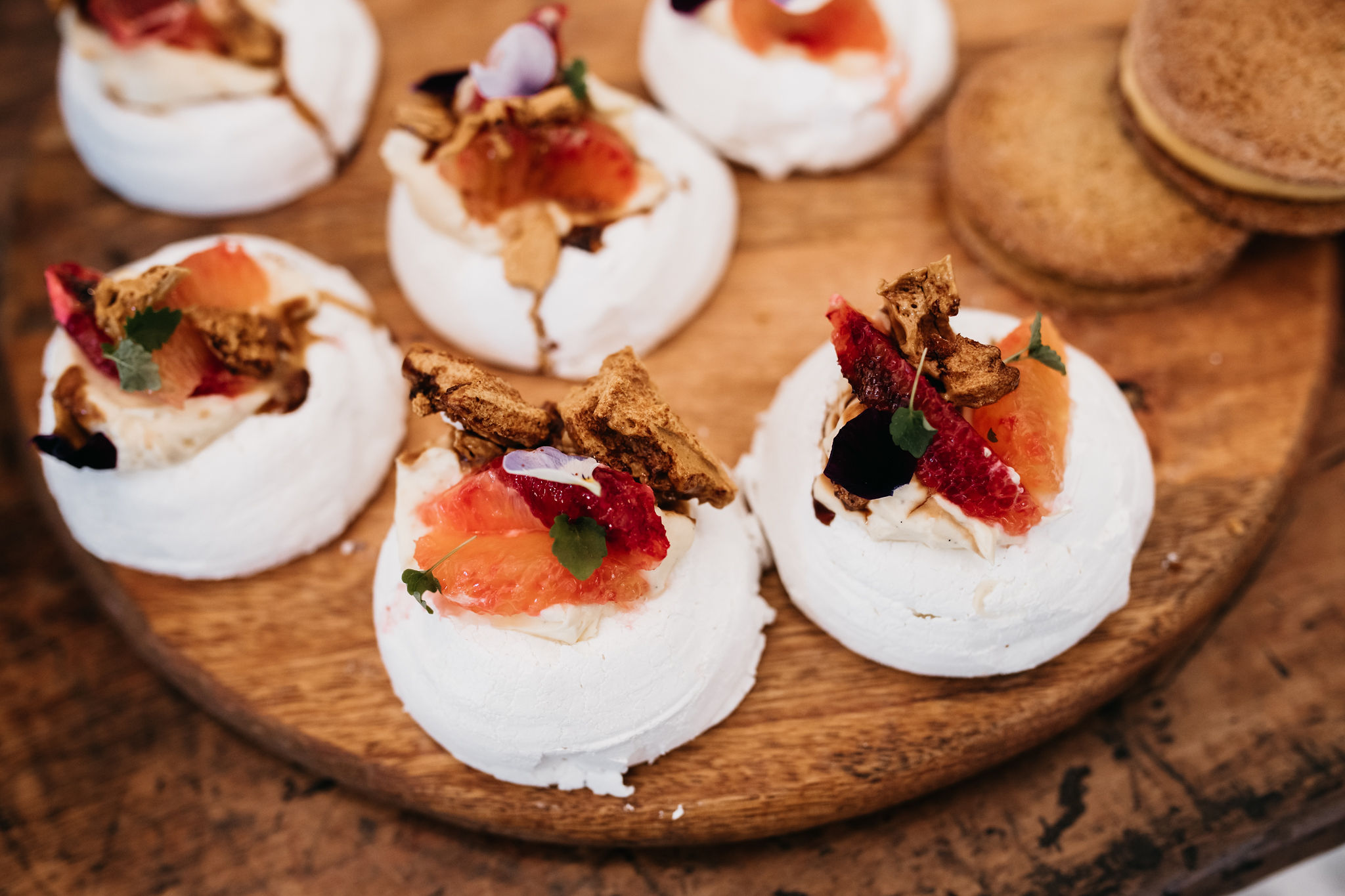 Chloe's standout menu is unlike anything else in town and serves as a memoir of her international dining adventures over the past decade. She's held tightly onto unforgettable dishes eaten on her travels, which now hold pride of place amongst meticulously crafted breakfast classics. Take for example the Turkish Eggs which she first salivated over when living in London. Think whipped yoghurt, Turkish spiced butter, two poached eggs with Aleppo pepper with artisan sourdough.
Or the range of French-inspired open-faced Tartines she devoured when visiting San Francisco. Tarte's signature options feature the vibrant Spring Tartine—sourdough generously loaded with all shades of green from shaved zucchini to edamame, avocado, asparagus, watermelon radish and mint. Or the deliciously layered sweet and savoury Tartine with roasted grapes on a bed of whipped ricotta, topped with honey and pops of thyme.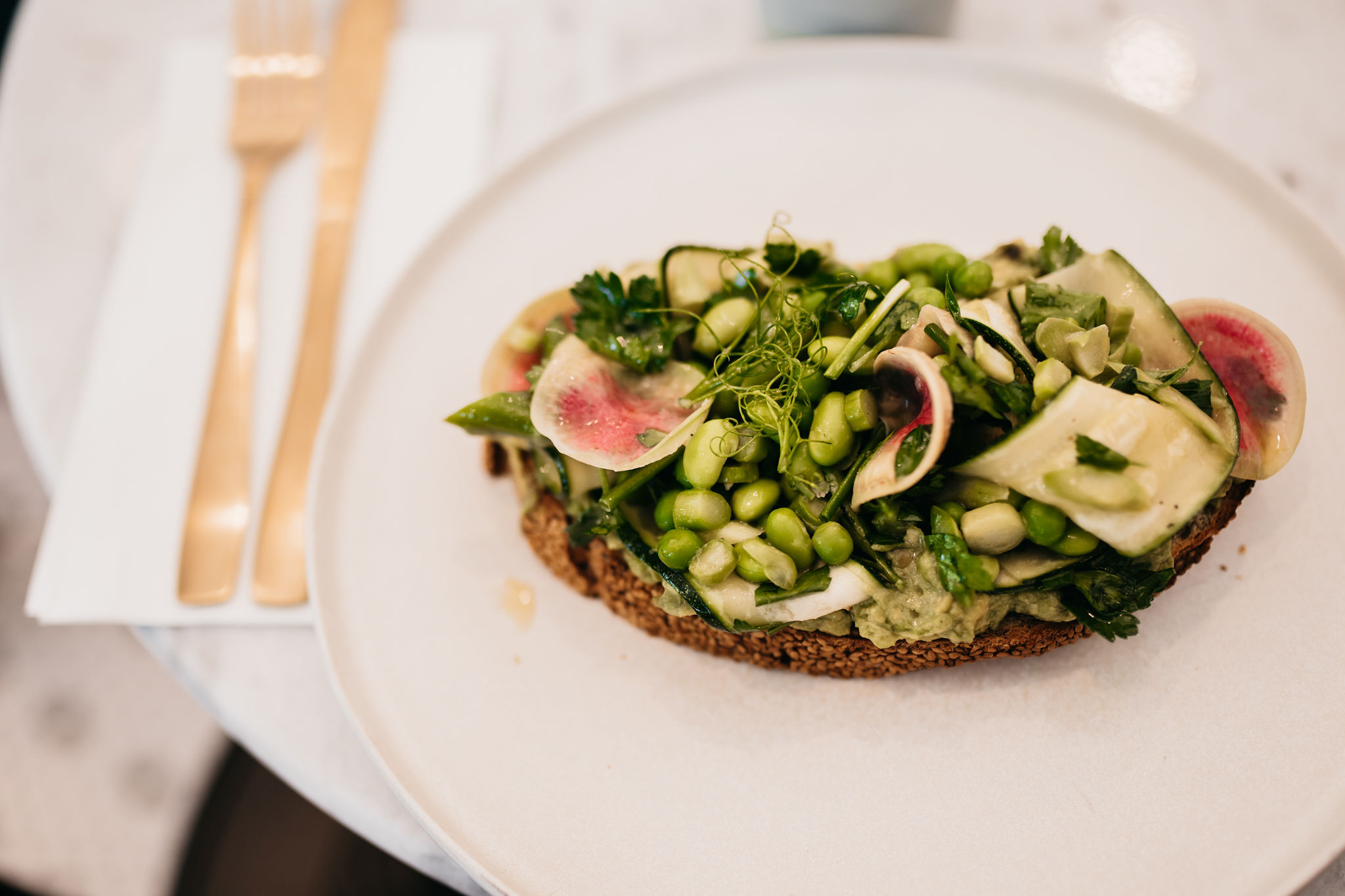 Food envy is guaranteed across the table, as you and your brunch pals tuck into plates of miso scrambled eggs sprinkled with fine grated parmesan and togarashi (Japanese spice), or the Bullseye Bang consisting of bacon, fried eggs, avo and house chilli sambal atop Tarte's NYC Everything bagels.
Predicted to lure crowds from all corners of the Coast, Tarte's baked offerings are the ultimate mouth and eye candy. Peer through windows into the bakehouse where talented artisans produce treats you're unlikely to find anywhere else in town. From the five different flaky, buttery tarts (Chloe's favourite is rhubarb and custard) or the addictive Cruller doughnut-hybrid—crispy on the outside with a soft centre—covered in cinnamon sugar or, our pick, the maple glaze which was inspired by Chloe's time in New York last Christmas.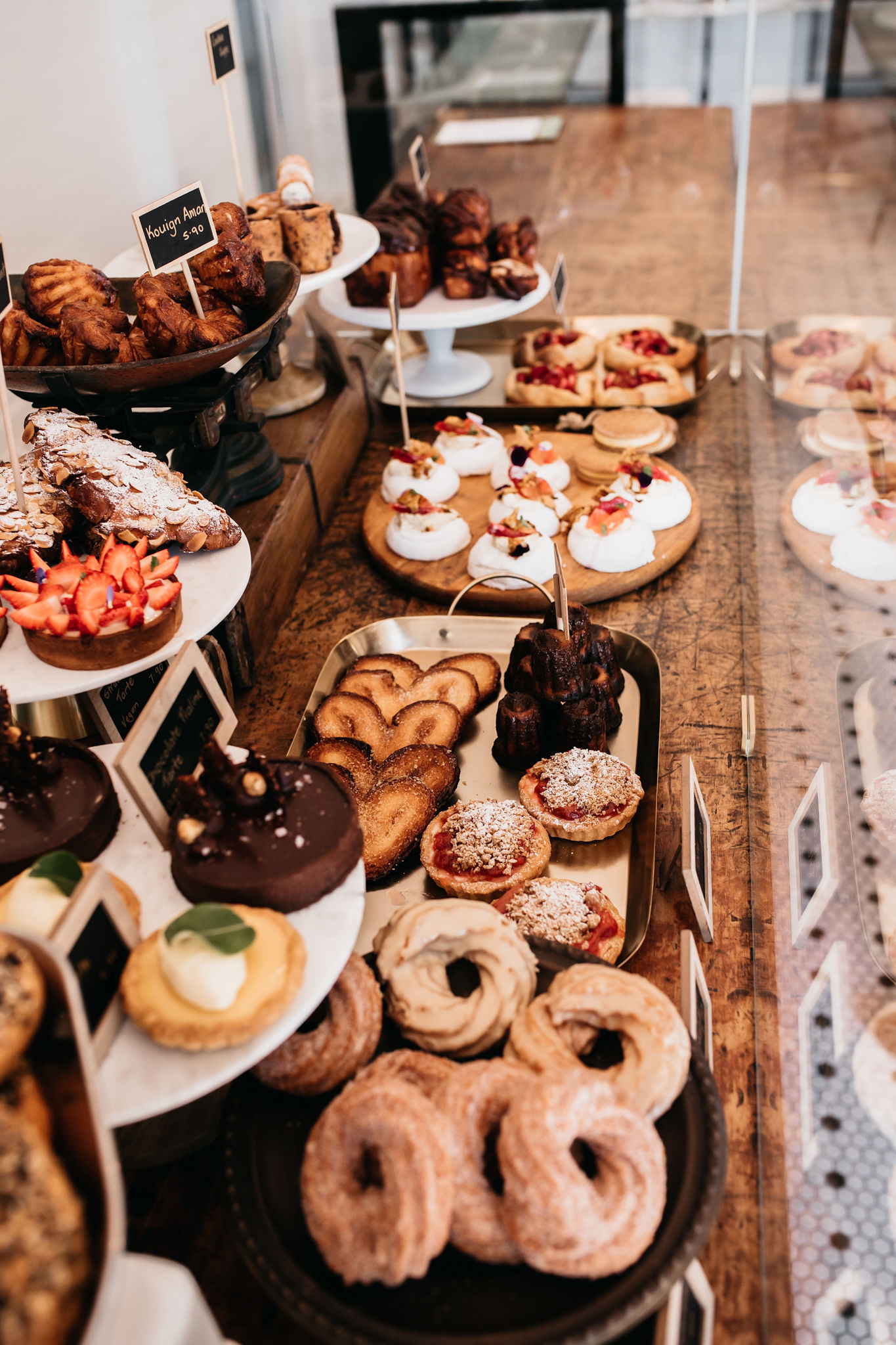 Other unfamiliar names to wrap your mouth around are traditional French pastries known as Kouign Amann (croissant-like dough with buttery layers and coated in sweetness) or the Canelé from Bordeaux (caramelised crust and a soft, tender custard centre). You'll totally want to acquaint yourself with Tarte's Sicilian Cannoli, complete with housemade shells, whipped ricotta and chocolate chip filling—paired perfectly with a smooth Single O coffee, decadent hot chocolate or Southern iced tea. Sounds too good to be true, except it's not.
Coming soon, we also can't wait to fill our arms with retail goods direct from Tarte's kitchen featuring the likes of house-cured salmon, sauces, pickles, pesto, bread crisps, Everything bagel seasoning and more.
Open seven days, do yourself a favour, give Tarte a follow on Instagram and fire up the group chat—your new favourite spot for weekend brunch dates is here.
The Details
What: Tarte Bakery & Cafe
Where: Shop 2 & 3 West Street, Burleigh Heads
When: Open 6:30am to 3pm daily
Image credit: Brooke Darling Photography for Urban List