In case you've been living under a rock—craft beer is all the rage right now in 2022. And the Gold Coast is leading the way, with local beerpreneurs shining a light on their brews of choice and boutique-style breweries popping up across the region. We'll drink to that.
Whether you're a seasoned beer swiller or just like a reason to get out and socialise; we've rounded up eleven of the best breweries on the Gold Coast, or within driving distance, that are absolutely worth frothing over. Go on, drink up.
Black Hops
Burleigh Heads & Biggera Waters
Run by three local lads who've gone from producing their first beer to opening a multi-award-winning brewery in just a few short years, Black Hops is easily one of our favourite breweries on the Gold Coast. Black Hops HQ in Burleigh Heads is the original brewery where the magic first started and if you find yourself on the Northern Gold Coast, Black Hops II in Biggera Waters is their upscale production brewery and taproom, with 16 beers on tap. All of the Black Hops venues are dog-friendly so bring your furry pal along while trying one of their quirky limited-release brews like the Galactic Symphony Hazy IPA, one of their core range like the Hornet IPA or the beer that started the dream, the Eggnog Stout.
Balter Brewing
Currumbin
Legendary local pro surfers Mick Fanning, Joel Parkinson, Bede Durbidge and Josh Kerr, together with long-term mates and their main man, head brewer Scott Hargrave, launched their first beer—Balter XPA—in early 2016. These days, Balter is stocked at a staggering 100+ bars and restaurants across the country. A household name countrywide, we can stand by with our chests puffed proudly, knowing the dream was born right here on the sunny GC. This weekend you should be drinking at Balter's sexy newly-revamped Currumbin headquarters and working your way through a rotating roster of experimental batches, complete with food trucks, live tunes and a cool crew. This gorgeously re-vamped brewery is seriously awesome.
Burleigh Brewing
Burleigh Heads
After more than a decade in business, it's fair to say these guys helped revolutionise the local craft beer scene that we know and love today. A gleaming beacon of awesomeness in an industrial estate, the Burleigh Brewing taphouse is open to the public from Friday to Sunday with brewery tours, live music and delicious food truck meals. They're always pouring famed brews such as Hef, Big Head and 28 Pale Ale, as well as limited edition concoctions from their trial system. With 28 brewing world gold medals under their belt, the husband-wife power couple that is Peta and Brennan Fielding have undoubtedly transformed the Gold Coast's independent craft brewing scene. Hands down, one of the Gold Coast's best breweries.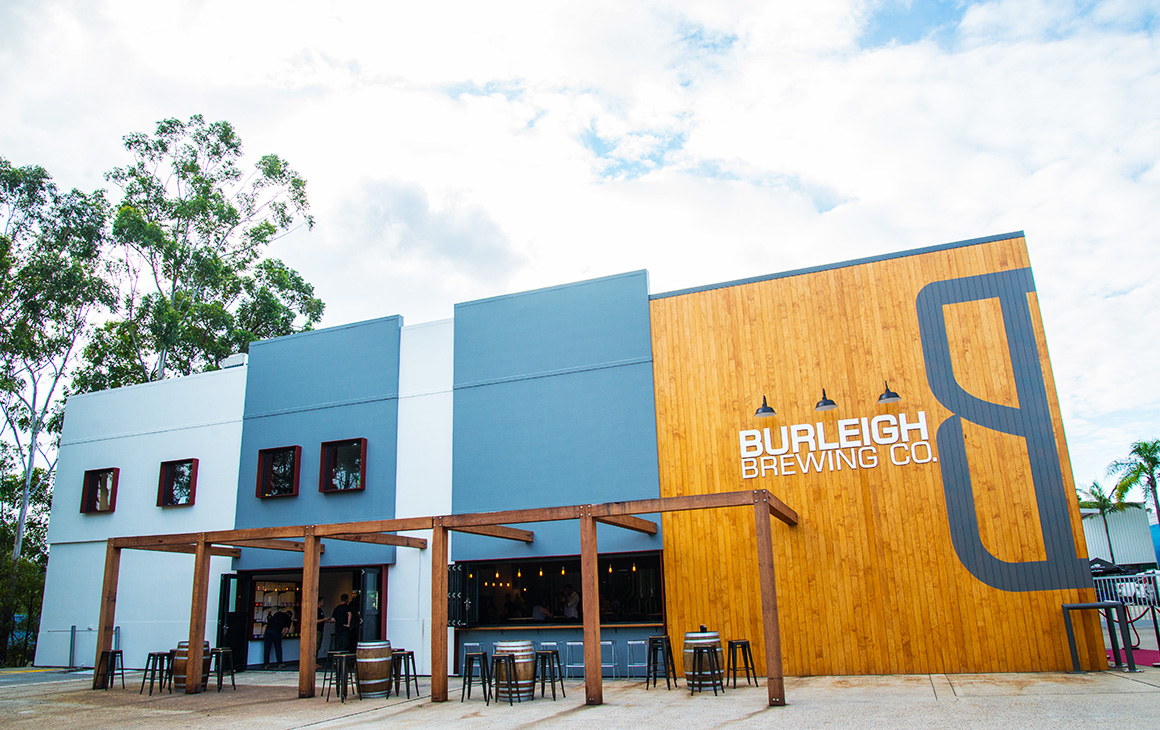 FIZZ HQ
Miami
If there's one thing the Gold Coast is never short on, it's breweries. But one thing she hasn't seen before is a seltzer brewery. In fact, no one has. The world's first immersive hard seltzer brewery is located in Miami and we're damn proud. FIZZ HQ pours a rotating series of exclusive Hard FIZZ (FYI that's sparkling alcoholic deliciousness), as well as fan favourites like orange and mango and watermelon. The iconic Mr Consistent is also on tap and FIZZ HQ slings up an extensive range of Gold Coast beers and artisan spirits. If all that hasn't convinced you to head down to Miami, FIZZ HQ is seriously aesthetic. Think—bold neon signs, funky leopard-print bathrooms (prime for selfies) and a stunning wrap-around bar.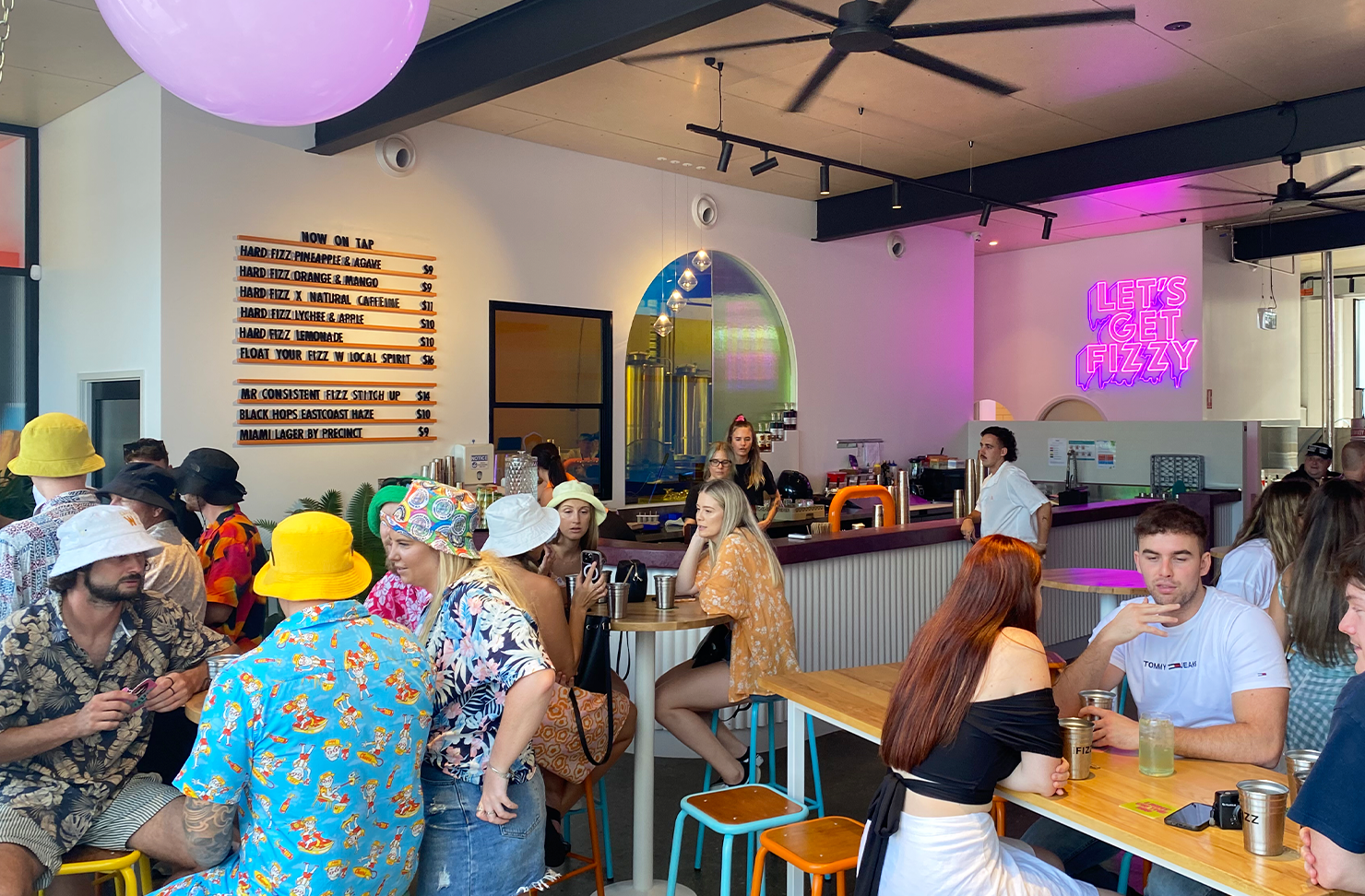 Lost Palms Brewing Company
Miami
Miami's colourful brew house Lost Palms Brewing Company is a bold and bright addition to the best breweries on the Gold Coast. You certainly won't miss their giant blush and mint green Miami warehouse, set against the street's industrial backdrop and otherwise cement landscape. Come for a chinwag with the friendly team, as you discover staple offerings like the summer and IPA brews, alongside more creative concoctions like their Kombucha blends and inventive sour flavours. Cheerleaders for the local art community, these lads also collaborate on artist-designed cans and packaging, which is worth two thumbs up in our books.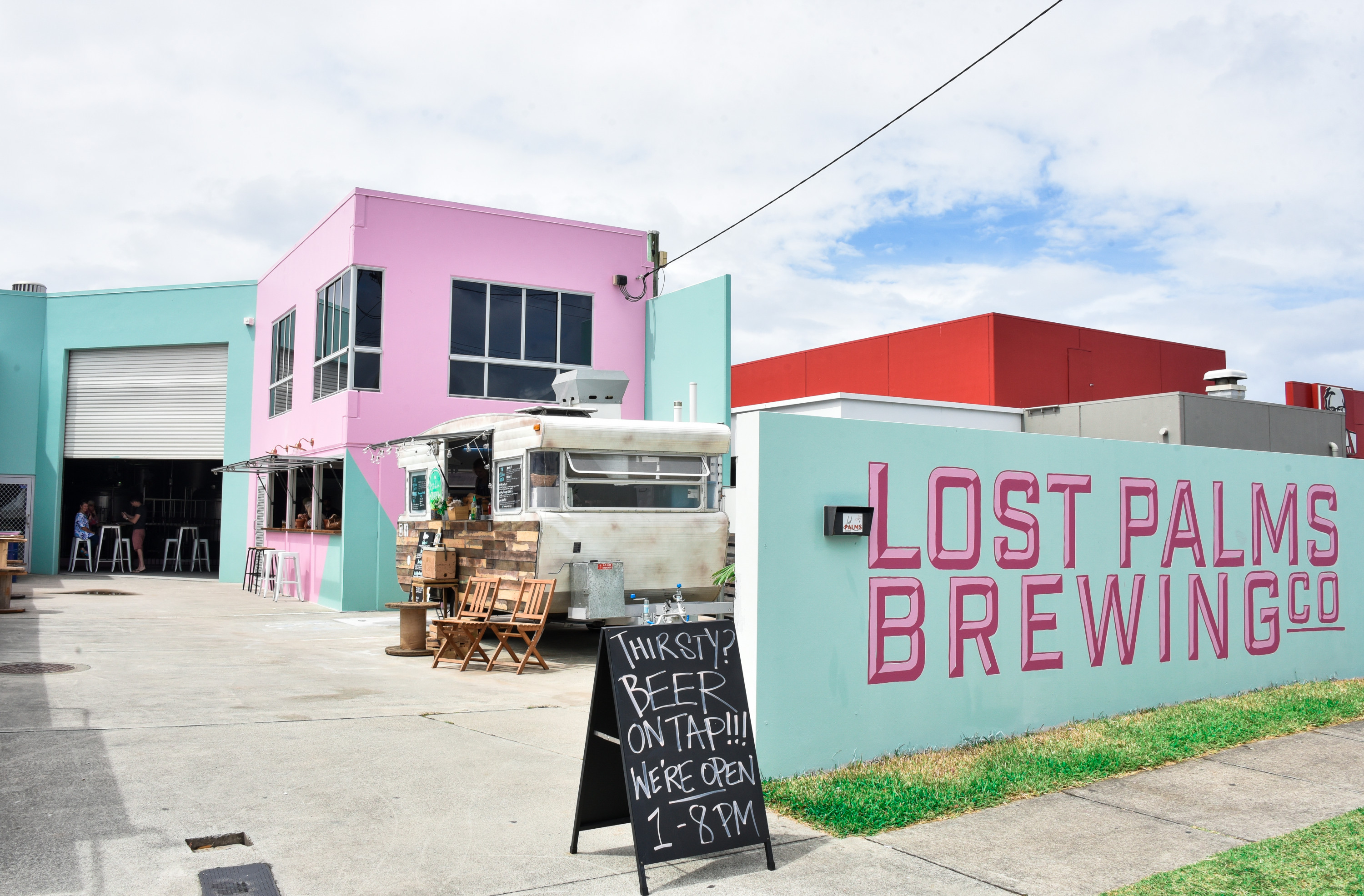 Precinct Brewing
Miami
Opening in December 2020, Precinct Brewing Co. has quickly made a name for itself as one of the Gold Coast's best breweries and it's easy to see why. Precinct Brewing oozes industrial-chic vibes; the impressive metallic pour tanks contrast the timber beamed, open-air ceilings and polished concrete floors. Precinct is a fully functional brewery, with all beer made from scratch onsite and boasts twelve taps and four direct pour tanks. We did the math; that's 16 different bars on tap at once. Favourites like XPA, rice lager and Open Borders pale ale grace the menu or froth over unique flavours like mango kettle sour. Precinct also hosts regular trivia nights that we're major fans of.
Burleigh Barrels
Burleigh Heads
One of the newest breweries on the Gold Coast, Burleigh Barrels is the ultimate trifecta‒a brewery, distillery and smokehouse. Oh yes. Just a stone's throw from the bustling heart of James Street, Burleigh Barrels boasts a stunning beer garden where you can blow the froth off a few cold ones while chowing down on smoky bites straight from the in-hose smokehouse. In terms of beers, they currently stock a core range of five lagers, ales and IPAs, but there's plenty more coming in the works.
AWOL
Burleigh Heads
The brainchild of the Black Hops crew, AWOL is the Gold Coast's first dedicated barrel-aged beer taproom. Located in the heart of Burleigh Heads, you can book a special event and beer tasting tour at AWOL, where you'll learn about the complex nature of barrel-aging beer, tour the facility and be guided through a beer tasting. We'll drink to that. This one is definitely worth hitting up for a special occasion or gifting as an experience to that beer-lover who is just too hard to buy for.
BOBs Beer
Surfers Paradise
Surfers Paradise might not be where you expect to find a fully functioning brewery, but BOBs Beer is mixing things up in the best way possible. If you haven't heard about BOBs, you're sure to notice it—the striking, three-storey white-washed brewpub commands the bustling corner of Elkhorn and Orchid Avenue, its copper sign shining out like a beacon to thirsty patrons. The name says it all—BOBs is actually an acronym for Best of Beers—but the beers attest to it. The brewhouse is led by famed ex-Red Duck, Clifton Hill and Bad Shepherd brewer Ryan Fullerton, so you know something good is a'brewin. BOBs currently offers 13 beers on tap, as well as a regularly rotating lineup of guest taps. Black tie chai stout, anyone?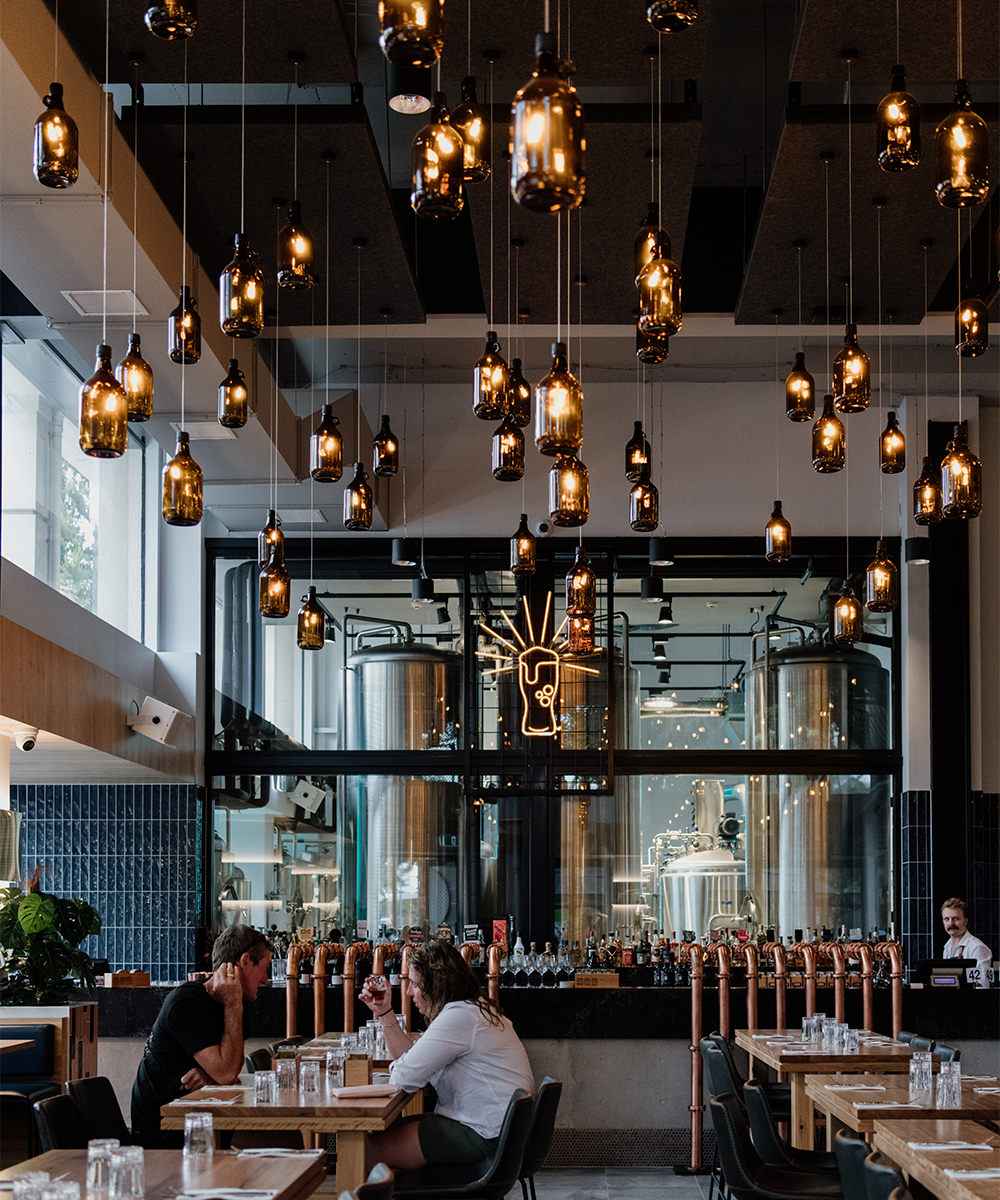 Fortitude Brewing Co.
Mount Tamborine
Fortitude Brewing Co. is one of the Gold Coast originals. First opening in 2012, this hinterland-based brewhouse has an inviting indoor-outdoor beer garden for sampling their staple range or a punchier brew from their other label, Noisy Minor. What do we love most about this brewery, aside from its scenic mountain-top home? The fact it's attached to a cheese-making factory. Order a tasting paddle of Fortitude brews with a plate of drool-worthy Witches Chase cheeses and crackers on the side. A heaven-sent combination.
Stone & Wood Brewery
Byron Bay
Ah, where would life be without Stone & Wood? We shudder to think about it. Just a short drive down the M1 to Byron, join a brewery tour for just $20 per person and learn what it takes to be rated one of the country's best breweries. The stunning 1,160-metre-squared space in Byron's Arts & Industry estate has a whopping 31 brewing tanks pumping out all their much-loved classics like the Pacific Ale as well as Stone & Wood's experimental Pilot Batch beers and limited one-off beers. After your tour, pull up a stool in the taphouse and sip on all your frosty faves like Pacific Ale and Green Coast Lager, direct from the source.
If you're looking to expand your beer-swilling horizons further afield, why not head up to the Sunshine Coast and sip your way around the Sunshine Coast's best craft breweries?
Image credits: Hayley Williamson, Claire Plush and Brooke Darling for The Urban List, Balter Brewing & Hard FIZZ