Ah, the humble toastie. So simple, yet so satisfying. To people who say they could give up bread, we say toasted sandwiches. We say pulled pork toasties, mac 'n' cheese toasties and even plain old (but equally delicious) cheese toasties.
Everyone loves a good sanga, but something magical happens when you slather the outside with butter (right to the edges, of course) and toast that bread to golden, crisp perfection. We believe it's important to appreciate these simple pleasures in life so, just for you, we have tracked down some of the best toasties on the Gold Coast.
Cheese Me Baby
Mermaid Beach
When it has 'cheese' in its name, you already know it's going to be good. Cheese Me Baby has taken the Gold Coast by storm, and for some very delicious reasons. This coffee/toastie/wine joint toasts up some of the most delicious, cheese-loaded toasties we have had the pleasure of devouring. Their signature four-cheese toastie is oh-so-decadent and we also recommend trying their slow-roasted pork belly toastie. Drool.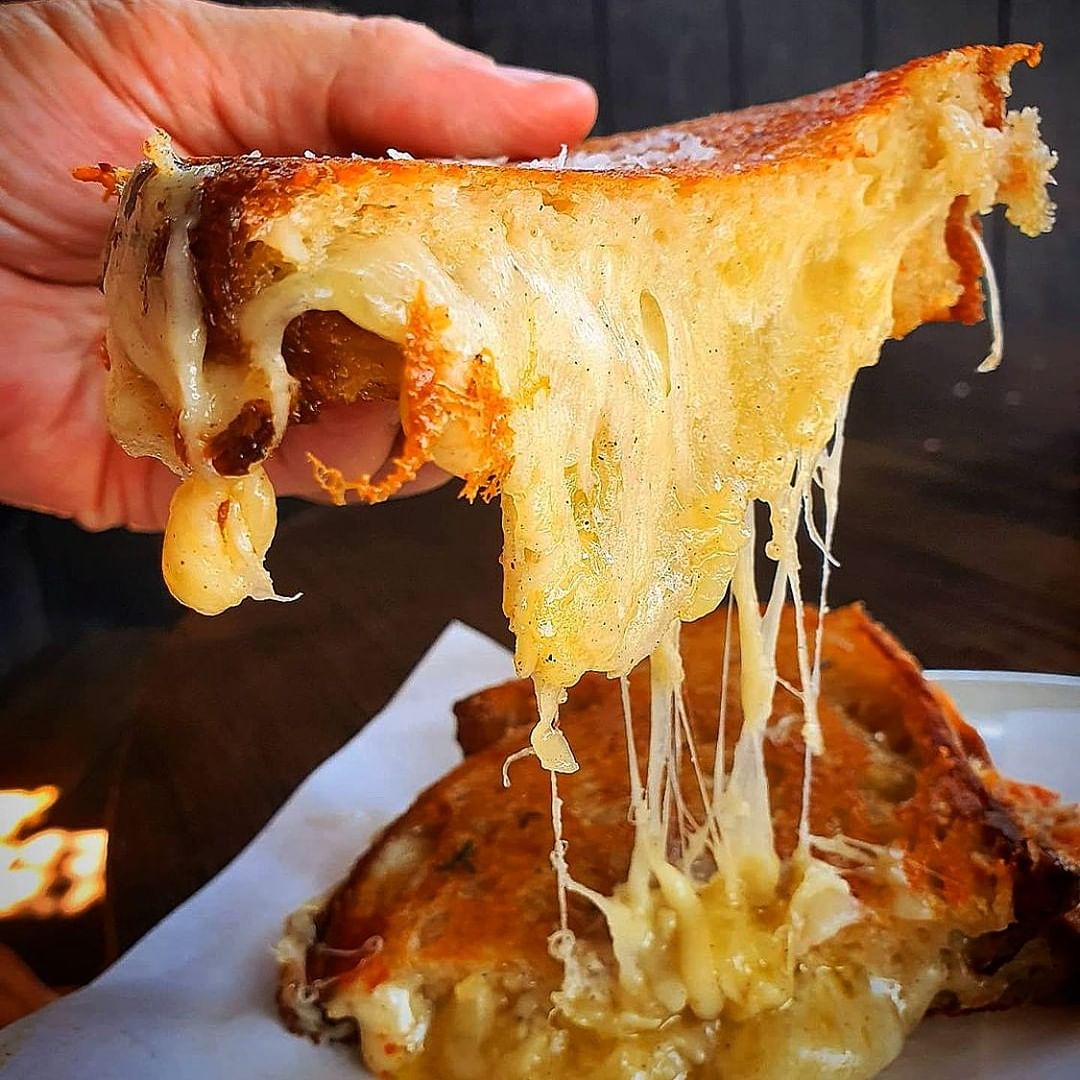 Rafiki
Mermaid Beach
Nestled on Hedges Avenue in Mermaid Beach, Rafiki serves up some of the best toasties we've had the pleasure of devouring on the Gold Coast. Their Rafiki Rueben is packed to the max with all the good stuff (and topped with a gherkin) and their chicken pesto toastie is oh-so-cheesy but personally, we can't go past their OG ham, cheese and tomato toastie. It's a classic for a reason.
Santa Barbara Speciality Coffee
Hope Island
Our northern friends were certainly blessed when this sweet spot opened up in late 2021, slinging up perfectly poured coffee and tasty toasties for the masses. Santa Barbara Speciality Coffee's legendary 'meaty' mushroom and mozzarella toastie is a crowd favourite, and they take it to the next level with their drool-worthy chipotle dipping sauce. You'll have trouble choosing between all of their delectable flavours, such as chicken pesto, four-cheese and Reuben. If massive loaded sourdough toasties are up your alley, then you need to get your tush in a seat here ASAP.
Scott's Luncheonette & Bar
Palm Beach
One of the newest kids on the block, Scott's Luncheonette & Bar has the toastie game in the bag. Or as they call them, sangas. We dig it. Think: a mushroom brekky sanga with garlic and thyme mushrooms, spinach and manchego cheese or the philly cheese steak sanga melt with marinated wagyu strips, Provolone, American red cheddar, caramelised online, green capsicum and cos lettuce. If you're feeling fancy, we recommend the crab sanga with blue swimmer crab, avocado, tomato, cheddar and smoked jalapeno mayonnaise. The toasted sandwich game just got a major level-up.
MC's Sandwich House
Burleigh Heads
Burleigh Heads newbie, MC's Sandwich House lives by the philosophy of 'it's good sandwiches' and we're all for it. Their succinct and simplistic menu is all about the sandwiches and they've certainly mastered the art. Choose from five flavours, including a kimchi Rueben, jalapeno brined fried chicken, rare roast beef, chickpea salad (yes, on a sandwich) and panko crumbed mushrooms. Their sangas are paired with good brews from Coffee Supreme and once you've chowed down on one of their stuffed sandwiches, you'll be coming back again….and again.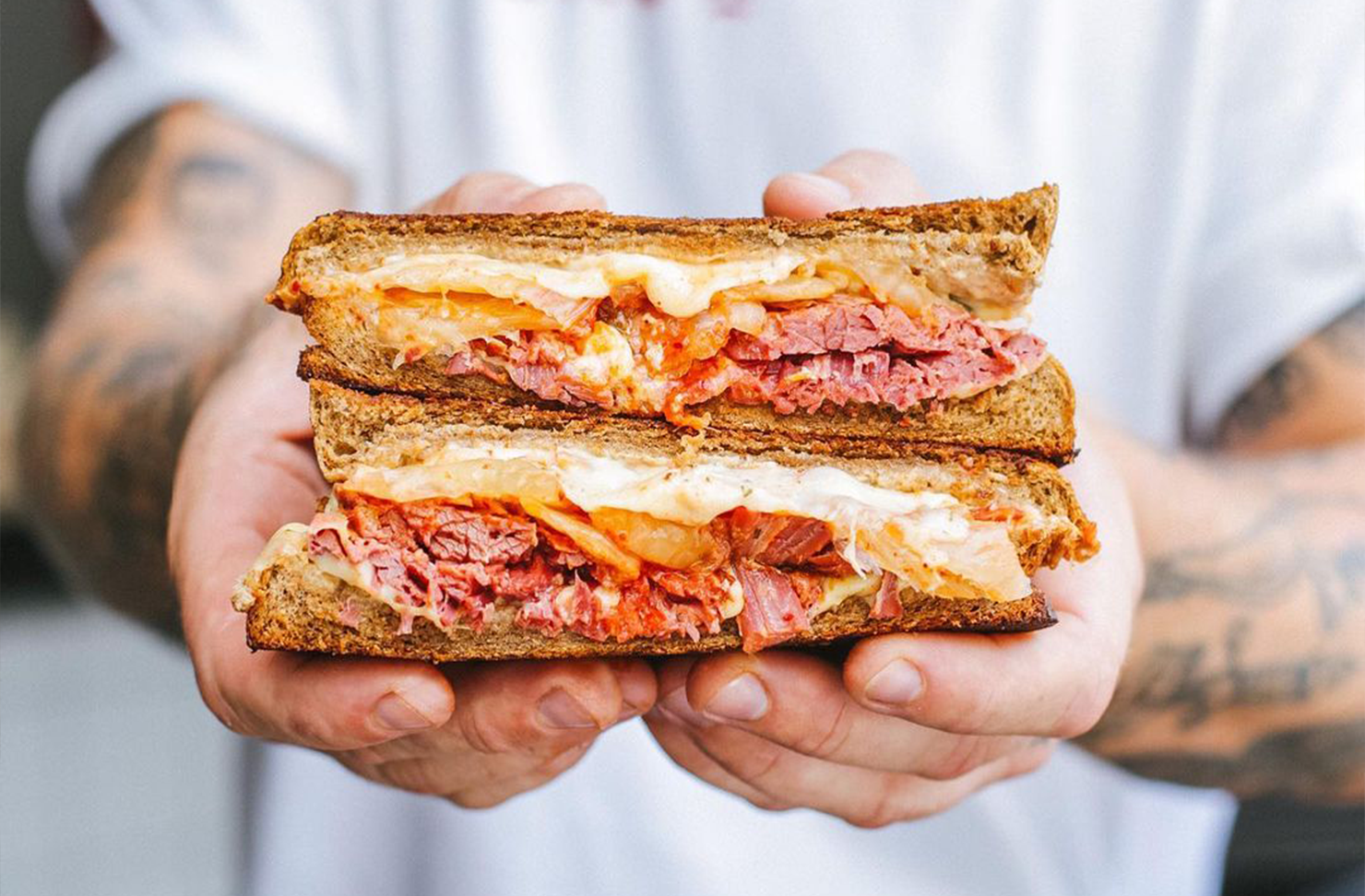 Good Day Coffee
Tugun
You didn't really think we could write a list about the best toasties on the Gold Coast without including Good Day Coffee, did you? Good Day Coffee is all about simple food done well and friendly service, and we can confirm they nail this winning combo. On the toastie front, their ham, cheese and onion jam toastie is to-die-for and you've got to try their roasted mushroom and three-cheese toastie. It's even more delicious and cheese-loaded than it sounds.
Daymaker Espresso
Miami
If there's just one toasted sandwich you try on the Gold Coast, it has to be Daymaker Espresso's Cuban sandwich. A big sandwich for a big appetite, this loaded sanga is sure to satisfy you at your hungriest and comes loaded with all the good stuff and served with a side of dipping sauce and pickles.
Highline
Palm Beach
Toasted sandwiches, jaffles, whatever you choose to call them, Highline in Palm Beach serves up some of the best on the Gold Coast. Dive into innovative flavour combinations, such as their mac and cheese jaffle with cheeto crumb, sobrasada jaffle with jalapeno, smoked corn, three cheese and chimichurri and potato bombay jaffle. If you're looking for a jaffle with a twist, it's time to hit up Highline and thank us later.
Made Barber and Barista
Tugun
When a barbershop and an espresso bar combine, you know it's going to be different and damn good, and Made Barber and Barista certainly delivers in both categories. If a barbershop and a coffee joint weren't already enough, the team has raised the bar by slinging up drool-worthy toasted sandwiches. Chow down on these loaded bad boys which included flavours like tomato, cheese and pesto, as well as pulled pork, kraut, pickles and cheese and classics like ham, cheese and mustard. Simple, but so good and we can confirm they butter right to the edges.
Looking to save your pennies (so you can spend more on toasties, obviously)? Chow down on the Gold Coast's best cheap eats.
Photo Credit: Rafiki , Cheese Me Baby & MC's Sandwich House