No matter if it's a sweltering 35 degrees or a freezing (in Gold Coast terms) 18 degrees, it's always gelato time on the Gold Coast. Some folks are all about ice cream, some swoon for sorbet and others won't look at anything but gelato. But it really doesn't matter whether you're a cup or a cone fan—or even one of those shakes people—because there will undoubtedly be a cold cabinet full of creamy frozen treats on a corner near you.
Here's the scoop on the best gelato and ice cream shops on the Gold Coast. We challenge you to lick your way through this list.
Gelato Messina
Surfers Paradise
Gelato Messina fans will be stoked to find out that this uber-popular gelateria is finally back on the Gold Coast and serving up top-notch gelato to all and sundry at the brand spanking new Paradise Centre in Surfers Paradise. For all those IYKYK peeps, the store has all the regular trimmings—35 signature gelato flavours and five rotating weekly specials, served out of their shiny new digs with a gorgeous beachfront view. You'll also find a selection of eight gelato cakes, made-to-order milkshakes, thick shakes as well as the full wild and wacky dessert spreads range. All the noms.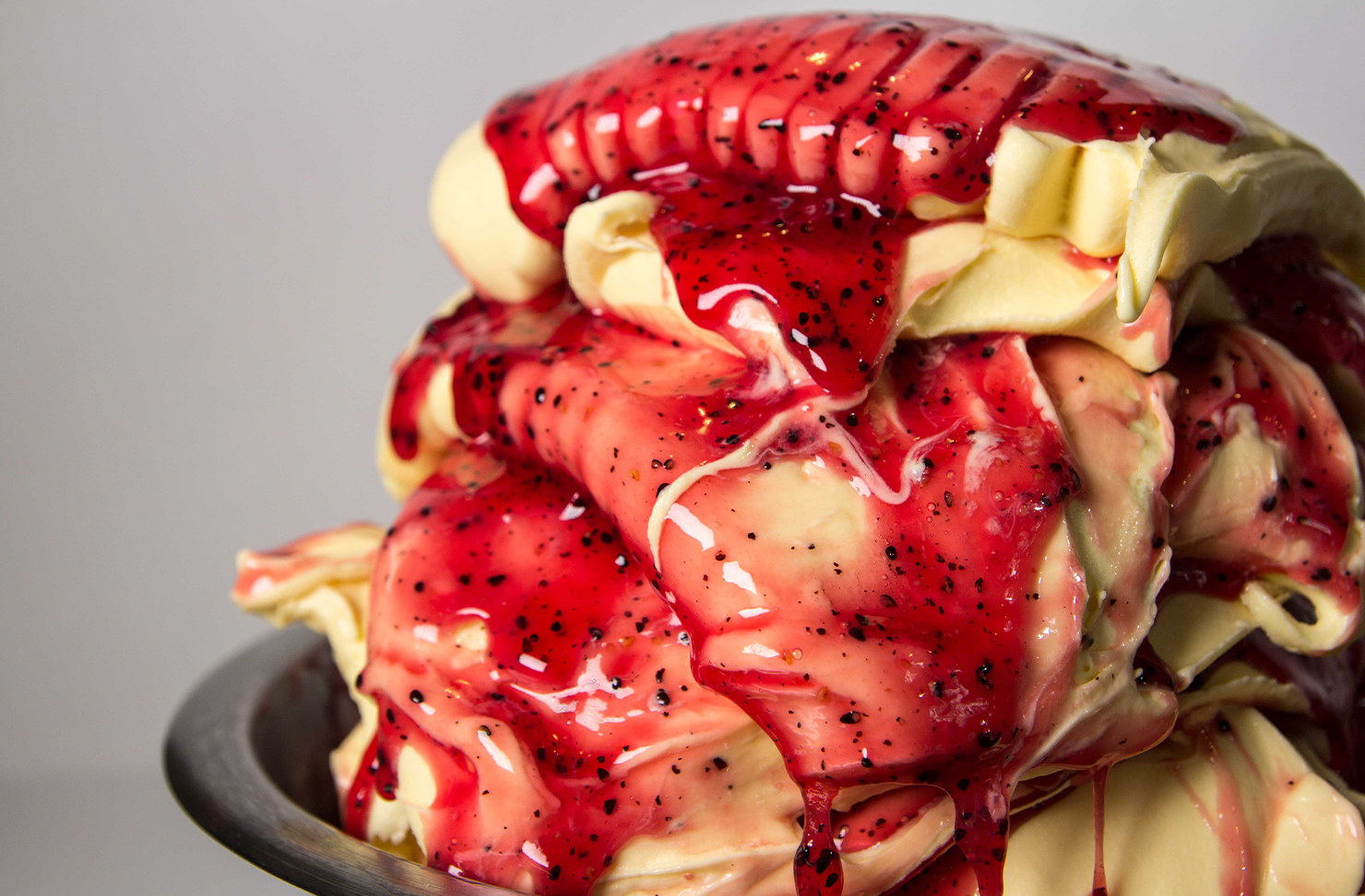 Scoop Gelati Bar
Burleigh Heads
A family-owned business offering handcrafted, small-batch gelato and sorbet, Scoop Gelati Bar is conveniently located right in the bustling southern hub of James Street. An ever-changing selection of 24 flavours (from a total range of 300+ recipes) keeps things fresh and exciting for customers, and keeps ingredients seasonal, too. Go for the scoops or traditional milkshakes and thick shakes, or if you're feeling a bit extra, pump things up with a gourmet thickshakes, ultra-loaded with four scoops of creamy gelato and almost a meal in and of themselves. You can also snag gelato and sorbet cakes that are made to order. Oh, and the blood orange sorbet is to die for, just quietly.
Burleigh Gelato Co.
Burleigh & Palm Beach
Burleigh Gelato Co. is all about tradition. The family who own Burleigh Gelato Co. are all mad gelato lovers themselves, so they take care to make everything with the utmost authenticity. They always purchase local goods when they can and boast regularly-rotating flavours to provide you with a unique—and delicious—experience every time. During summer, we definitely go for the refreshing sorbet smoothies, and for those colder days, it's hard to go past a gelato panini, with a scoop of your favourite flavour sandwiched inside a warm toasted brioche bun. Add a schmear of Nutella, caramel or Biscoff to make it extra luxe.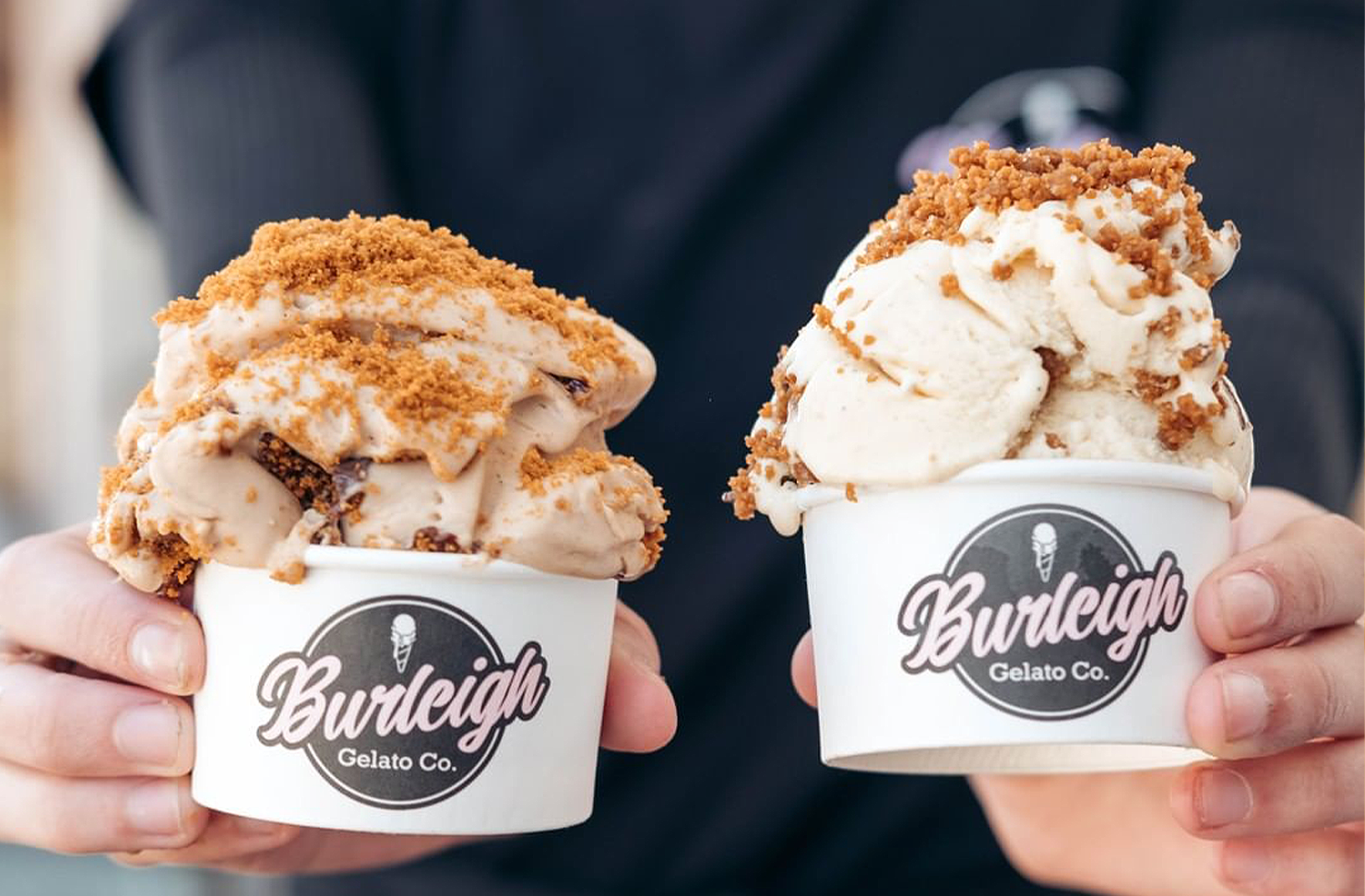 The Gelato Shop
Broadbeach
The Gelato Shop just keeps on racking up the wins, with multiple Gold, Silver and Bronze medals awarded over the years at the Royal Queensland Food and Wine Show (and those judges know what they're about.) They've also been voted as Gold Coast's best gelato for multiple years, so it's definitely worth a trip into Broadbeach to see what all the fuss is about. This is not an exhaustive list by any means, but a few flavours that caught our eye are: American Cookie, Caramel Slice, Peanut Butter Nutella Crunch, Triple Chocolate Biscotti, Chunky Chocolate Cheesecake, Chocolate Profiteroles, Banana Split and our personal fave, Baileys Irish Cream. For serious gelato lovers, you can also order one of their incredible gelato cakes. BRB, off to Broady.
Gelatissimo
Surfers Paradise, Coomera and Coolangatta
Gelatissimo is your one-stop gelato shop with a huge range of gelato for individuals and a party section so awesome that you'll never want to eat regular cake again. From the classic favourites to a rotating menu of new innovations, they have over 40 flavours made fresh in-store for us to drool over. When it comes to parties, they've got you covered with five ice cream cakes including a chocolate and salted caramel cake, smothered in rich chocolate ganache (do we really need to share?), and colourful bambino cones for that perfect individual bite. They can even make up a custom cake of your own choosing. For those just looking to satisfy a sweet tooth, a warm toasted doughnut with a scoop of your favourite gelato has to be the perfect comfort treat.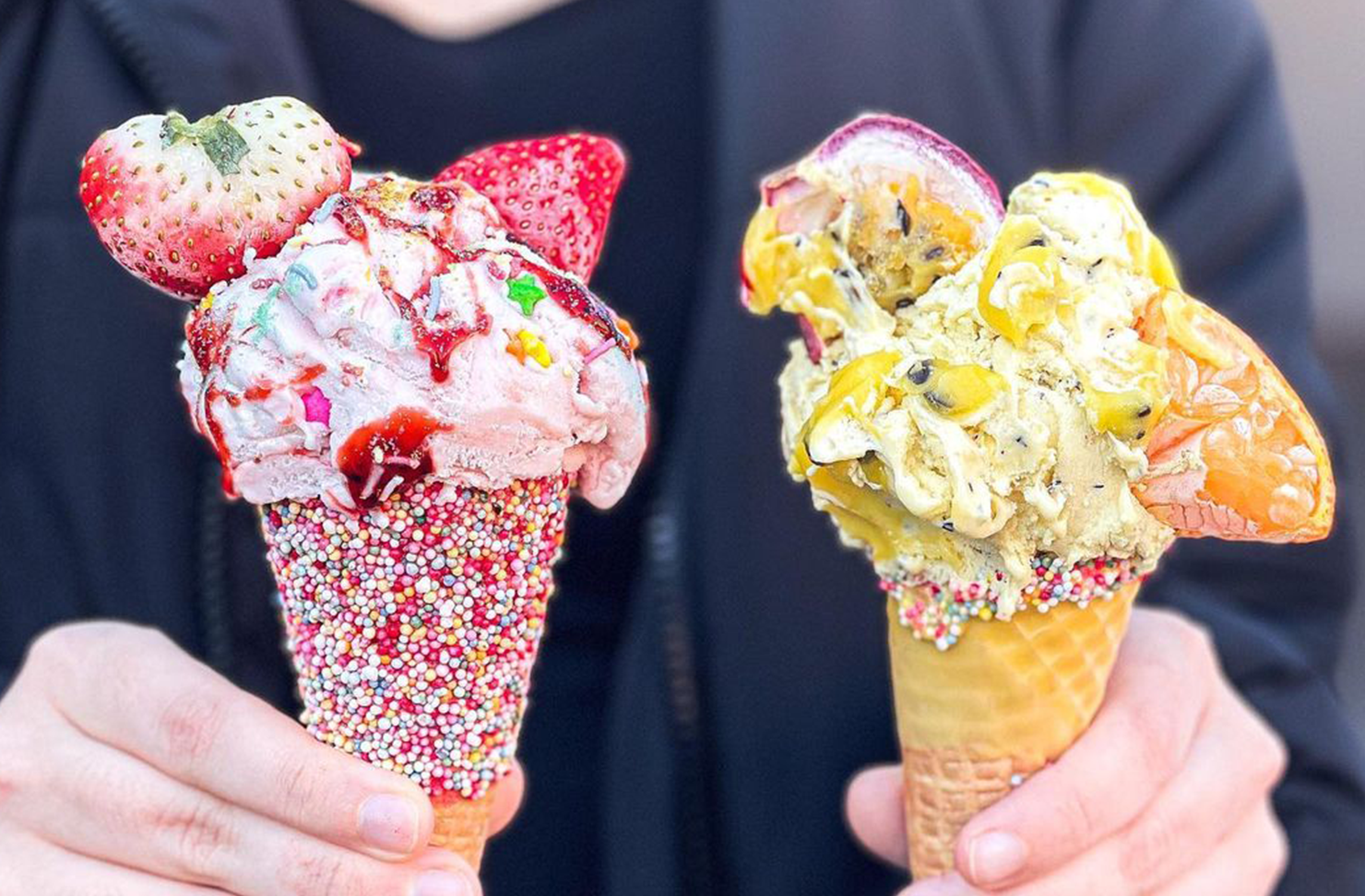 My Gelato
Broadbeach
Situated in the Oracle Boulevard, My Gelato is an easy stroll from a plethora of local restaurants so you can toddle straight on over after a delicious meal. We love that these guys pay close attention to details and support local producers wherever possible. They even do an ultra-decadent affogato for those who are looking for the grown-up touch to dessert. Try the mandarin pistachio and almond, biscotto, panna cotta or cappuccino flavours to whisk your taste buds away for a trip to the Mediterranean. If you're too full from dinner you can always get a take home tub for later.
Tango Gelato
Palm Beach & Kingscliff
Tango Gelato has recently opened up a second store at the Pavilions Shopping Centre in Palmy, so there's no need to head all the way down to Kingscliff for your fix. As well as your traditional cup, cone and shake offerings, Tango Gelato likes to get a bit healthy with its huge variety of real fruit smoothies, freshly squeezed juices, shakes and Acai. Best news? They deliver, so you don't even have to get off the couch.
Scoop of Happiness
Mudgeeraba
Scoop of Happiness by name, and scoop of happiness by nature. This delightful Mudgeeraba gem is worth a visit, not just for its range of creamy, exotic gelato flavours but also for its range of hard-to-find international sweet and savoury treats like Butterfinger Bars, Twizzlers, Mango Mountain Dew and even Cinnamon Toast Crunch cereal. Keeping with the unique theme, you can also nab yourself mud cake with a scoop, a gelato hot dog with toppings or warm Belgian waffles with a scoop of creamy gelato. Potentially Gold Coast's most unique gelato shop.
Rose Gelateria
Main Beach & Sanctuary Cove
Rose Gelateria is a hot contender for best looking gelato shop—nay, shop—on the Gold Coast, with its dusky pink hues and on-point Insta game. It's worth a visit just to take a picture and pretty up your grid. But there are lots of other reasons to visit too, among them a range of delightful creamy gelato and sorbet of course, but also perfect macarons, flaky croissants, affogatos, dessert jars and locally sourced beans from Supreme Coffee Roasters. You really don't understand what heaven is until you've tried a quality affogato with Rocksalt Caramel gelato. We recommend asking for the stunning gelato rose. You won't regret it.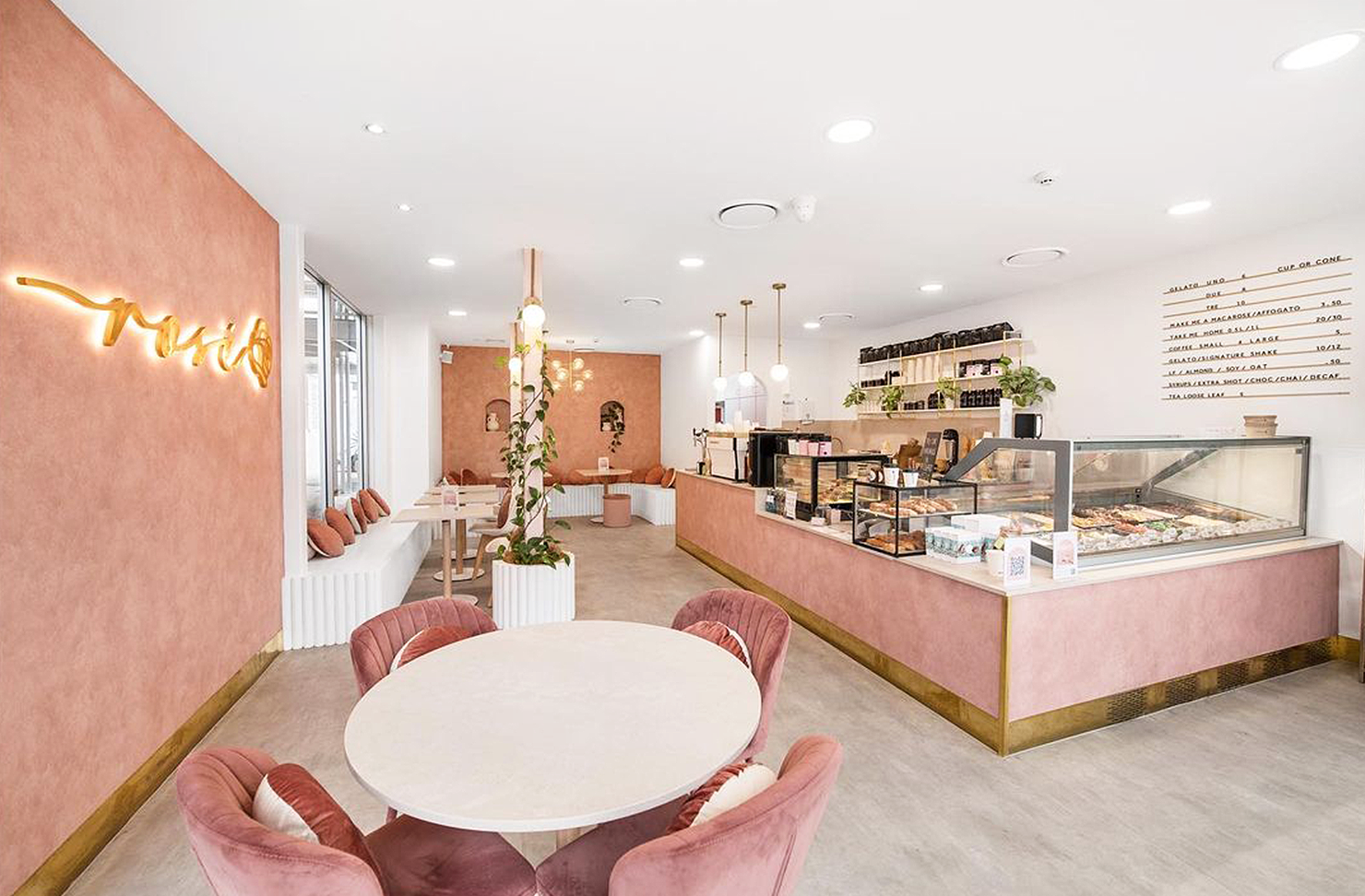 Cowch Dessert Bar
Broadbeach
If a decadent dessert and cocktail bar sounds like your kind of heaven, then get yourself to Broadbeach's quirky dessert spot immediately. Steal your gaze away from the insane selection of desserts (think: sweet pizzas, churros and Belgian waffles) so you can sample Cowch's signature Naked Pops. First choose your ice cream flavour (vanilla, chocolate, peanut butter, bubble gum, strawberry or peppermint), then dress your personal creation in a chocolate coating and adorn with edible decorations like mini M&M'S, pretzels and marshmallows. Pair it with a wild cocktail creation and you've got one of the best ice cream shops on the Gold Coast.
Heven-yah Gelato
Mermaid Beach
Heven-yah Gelato is very much a local's joint, with customers returning again and again to this sweet corner building in Mermaid Beach, decked out in upgraded versions of its original 50's façade, including exposed hardwood ceilings and recycled brick. Run by two dedicated sisters who have spent years perfecting their craft and flavours, it's easy to see why Heven-yah is so incredibly popular among frozen treat connoisseurs in the area. It's the only venue on the Coast using a traditional "Pozzetti" refrigeration system, with built-in tubs, imported directly from Italy. These sisters have spent years mastering dozens of drool-worthy flavours from classic Belgian chocolate or, for vegans, the chocolate almond (made with almond milk), to the popular salted caramel, house ricotta and rhubarb.
Ottimo
Coolangatta
Italian for 'excellent', Ottimo is certainly living up to its name with its drool-worthy range of unique flavour combinations and authentic vibes. The husband and wife team behind this Cooly cone spot source fresh, natural ingredients and do the simple things well, like strong coffee made from Julius Meinl beans, traditional gelato flavours like salted Caramel and nutella alongside Sicilian-style flavours such as mandarin custard with pistachio and almond, and passionfruit sorbet. Come for the gelato, but stay for the range of flaky pastries and decadent cheesecakes. Beachside dessert, anyone?
Lik Lik Lik Gelato
Nobby Beach
If you find yourself in Nobby Beach in desperate need of satisfying your sweet tooth, then look no further than Lik Lik Lik Gelato. This ice creamery scoops Maleny Food Co.'s delicious gelato and offers a constantly rotating selection of flavours. They've got classics like peppermint and salted caramel but if you want to try something a little different, opt for delights like creamy pineapple and Italian marshmallow.
If you're looking for somwhere to grab dinner pre-gelato, check out our roundup of the Gold Coast's best restaurants.
Image credit: Burleigh Gelato Co, The Gelato Shop, Gelatissimo, Gelato Messina & Rose Gelateria