Whether you're on the hunt for a new breakfast spot or just want a change of scenery, we get it—it can be oh-so-easy to slip into the habit of picking up your morning jolt from the same neighbourhood spot every single day.
Lucky for you, the Gold Coast is teeming with new places left and right, so you've plenty of options to choose from. From quaint coastal-inspired joints to well-loved espresso bars, here are ten new—and some newly revamped—Gold Coast cafes you should check out ASAP.
MC's Sandwich House
Burleigh Heads
Proving once more that scarcity can generate demand, MC's Sandwich House has a simple yet deliciously effective food philosophy that involves two types of brekky sandwiches and five types of lunch sandwiches, all served exactly as is, no changes, and when they're out, that's it for the day. The crew here really turn up the tasty on the humble sanga too, with options like mushroom po boys, kim chi reubens and chickpea salad on offer. Their mission? Make the humble sandwich great again. Mission accomplished.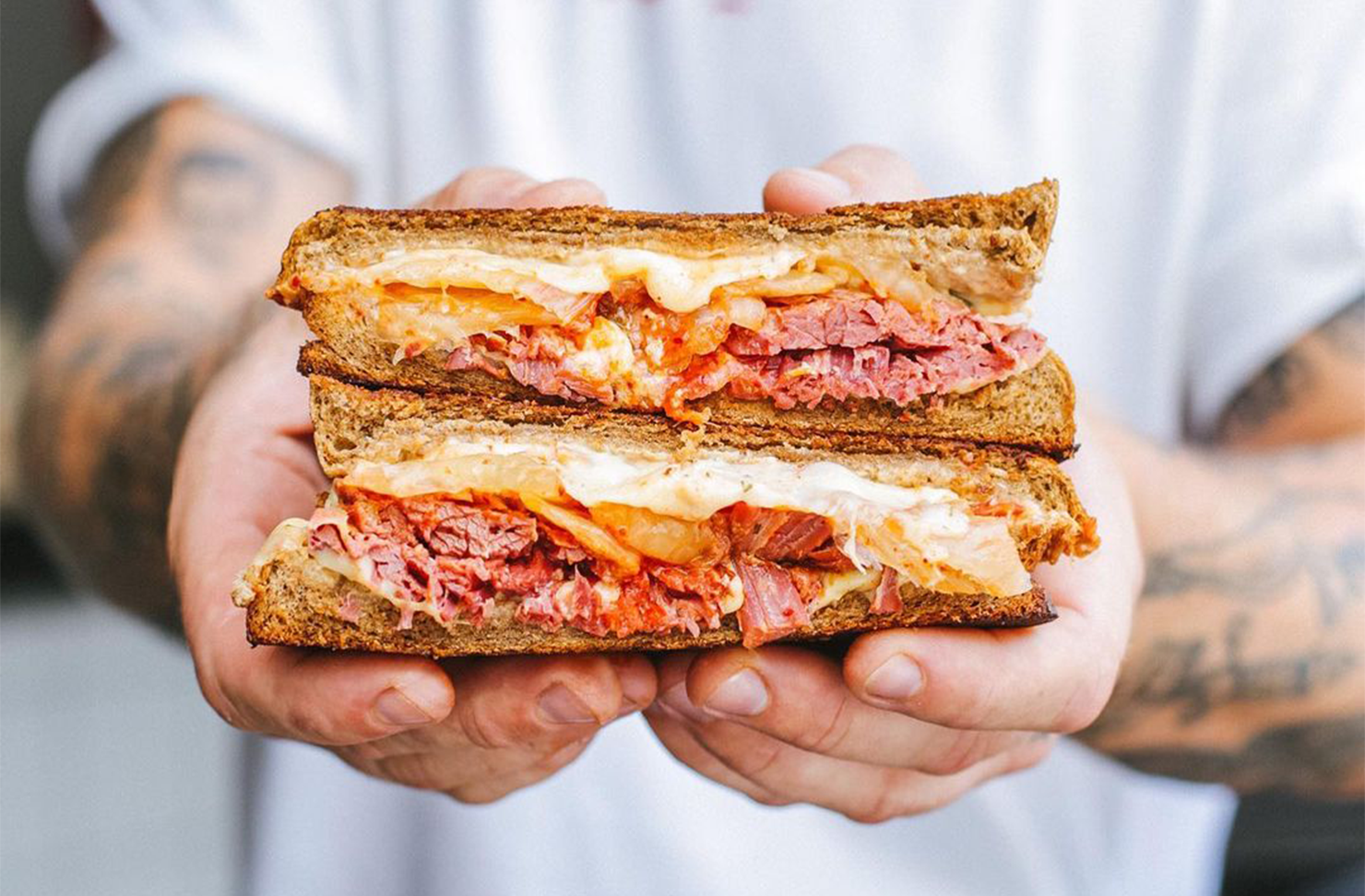 Aperitivo Café and Panini Bar
Currumbin
In a world full of burgers, be a panini. That might as well be the slogan of Aperitivo Café and Panini Bar that brings a world of generosity to this eternal pressed sandwich favourite. Nestled snugly on Thrower Drive with shimmering water views, this Italian-style eatery serves house-made cannoli alongside trendy Melbourne coffee, croissants, pasta and loaded paninis made on their house-made special 24-hour fermented focaccia. The divine in-house product range means you can take home a tasty pasta sauce to cook for the family, too. Now that's amore.
Wavybone
Broadbeach
The Gold Coast is definitely in no shortage of trendy coffee shops but when you hear that a retro coffee caravan turned speciality coffee lounge has opened up a second location, you check it out ASAP. Wavybone rightfully gained a fan following in their vintage coffee caravan serving up delicious brews at events and markets and now has expanded into their second bricks-and-mortar location in Broadbeach. You know you'll be getting a top-notch cup of locally brewed Blackboard Coffee and the baristas certainly know their way around coffee—expect quality latte art here. Once you've had your caffeine fix, tuck into a sumptuous array of baked goods, gourmet sandwiches and bagels or indulge in one of their signature smashed avos.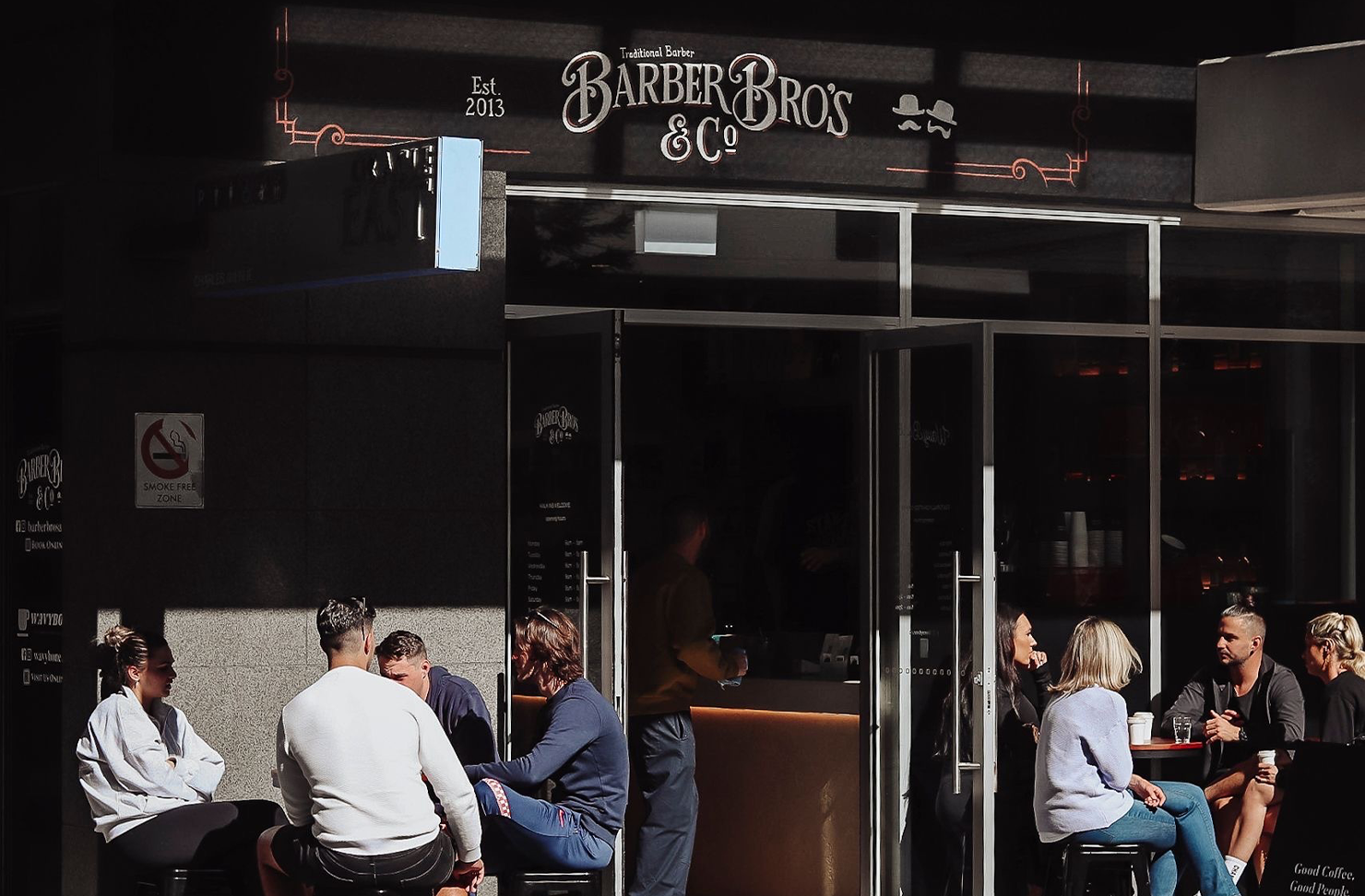 Rise Bakery
Sanctuary Cove
Take a trip to Paris minus the airfare at this oh-so-chic artisan boulangerie and tea room in Sanctuary Cove. The gorgeous bakery was inspired by the tea houses of Southern France and is aesthetically pleasing as it is delicious. Think: a soft palette of cream, pale pink and gold which complements the arched windows, plush leather seats, an outdoor terrace and a champagne bubble-esque glass feature wall. Rise Bakery is definitely the place to get your boujee on, with a selection of buttery French pastries made with loving authenticity. Grab a short black and sip it with a croissant the size of your head, or nibble on a delightfully loaded fruit Danish.
Butler's Tea Room & Noshery
Burleigh Heads
Spanner crab omelette, anyone? Nosh is the perfect word for the unique and varied grub served up at this Burleigh gem. A true foodie revolution, Butler's Tea Room & Noshery dishes up an all-day menu stacked with such delights as green eggs, kimchi burger, shakshuka skillet, pandan porridge and house-made sourdough crumpets. Be sure to book if you've got four or more to avoid missing out, and get ready to raise your pinky to this delightful tea (and cocktail) spot.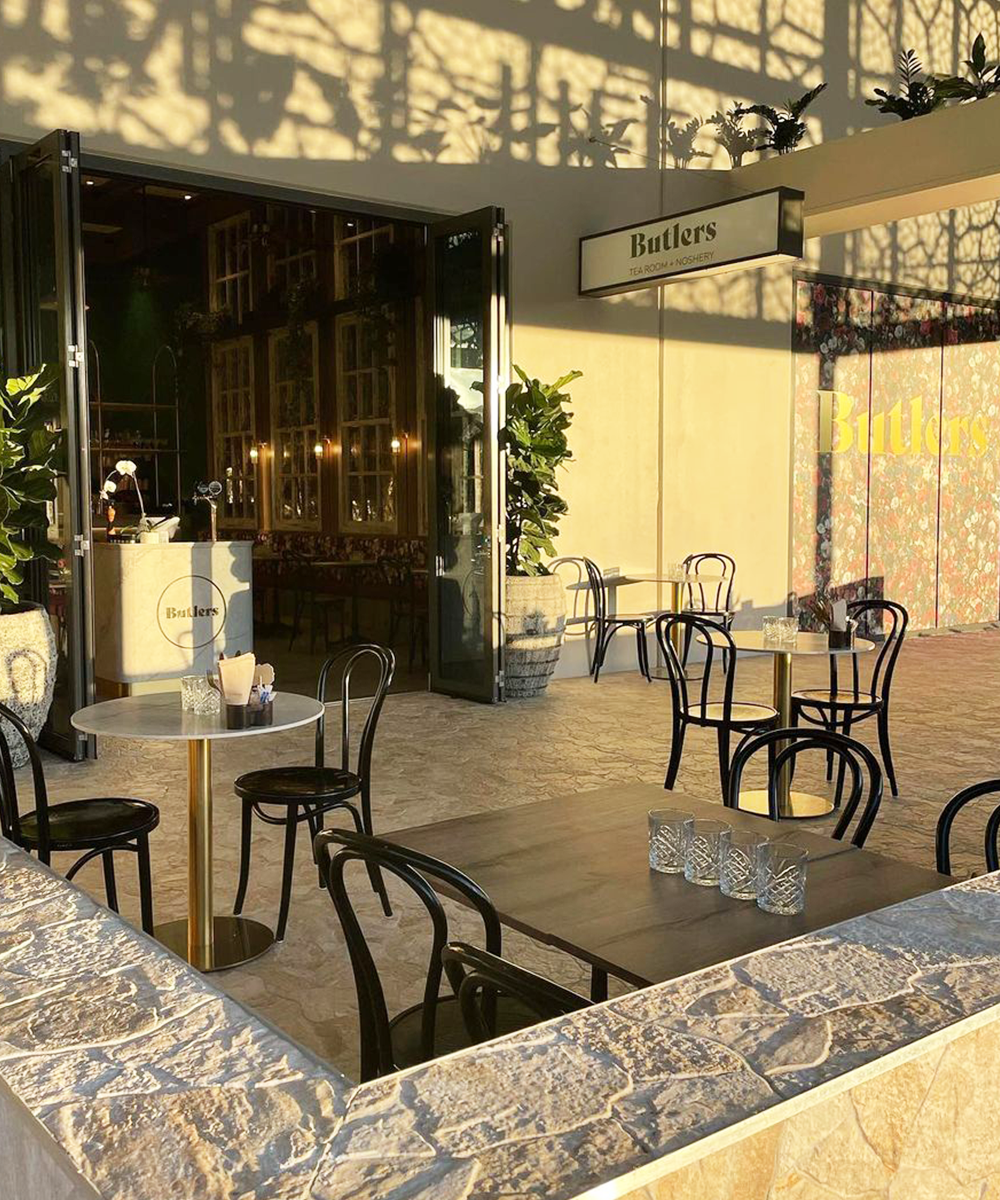 Hazel Espresso
Southport
If you're after a good ol' Aussie breakfast or lunch with South East Asian twists, look no further than Hazel Espresso in Southport. With Southport being the undisputed home of the Gold Coast's best Asian and fusion eateries, Hazel Espresso holds its own amongst the crowds with an authentically unauthentic menu. They're serving up classics like traditional Vietnamese iced coffee and colourful Banh Mi's, and then mixing it up with dishes like the chill crab scramble served on a toasted croissant and the Japanese-inspired Tamago salad 'sando'. If you've got a major sweet tooth, you can't go past the french toast—vanilla bean cream cheese stuffed french toast with ice cream, berry coulis, fairy floss and almond crumble. Yes, it's as delicious as it sounds.
Santa Barbara Specialty Coffee
Hope Island
Who doesn't love a toastie? This breezy Hope Island café has taken the art of toasties to the next level, with towering concoctions like chicken and pesto and a unique pulled BBQ mushroom toastie keeping diners happily stuffed to the gills. And if the toasties aren't enough to make you jump in the car for a wee northern road trip, Santa Barbara Specialty Coffee's wide selection of top shelf coffee brews is enough to keep any caffeine addict well supplied for life. Oh, and there's a stacked pastry cabinet for all the sweet tooths, too. That is, if you've got any room left.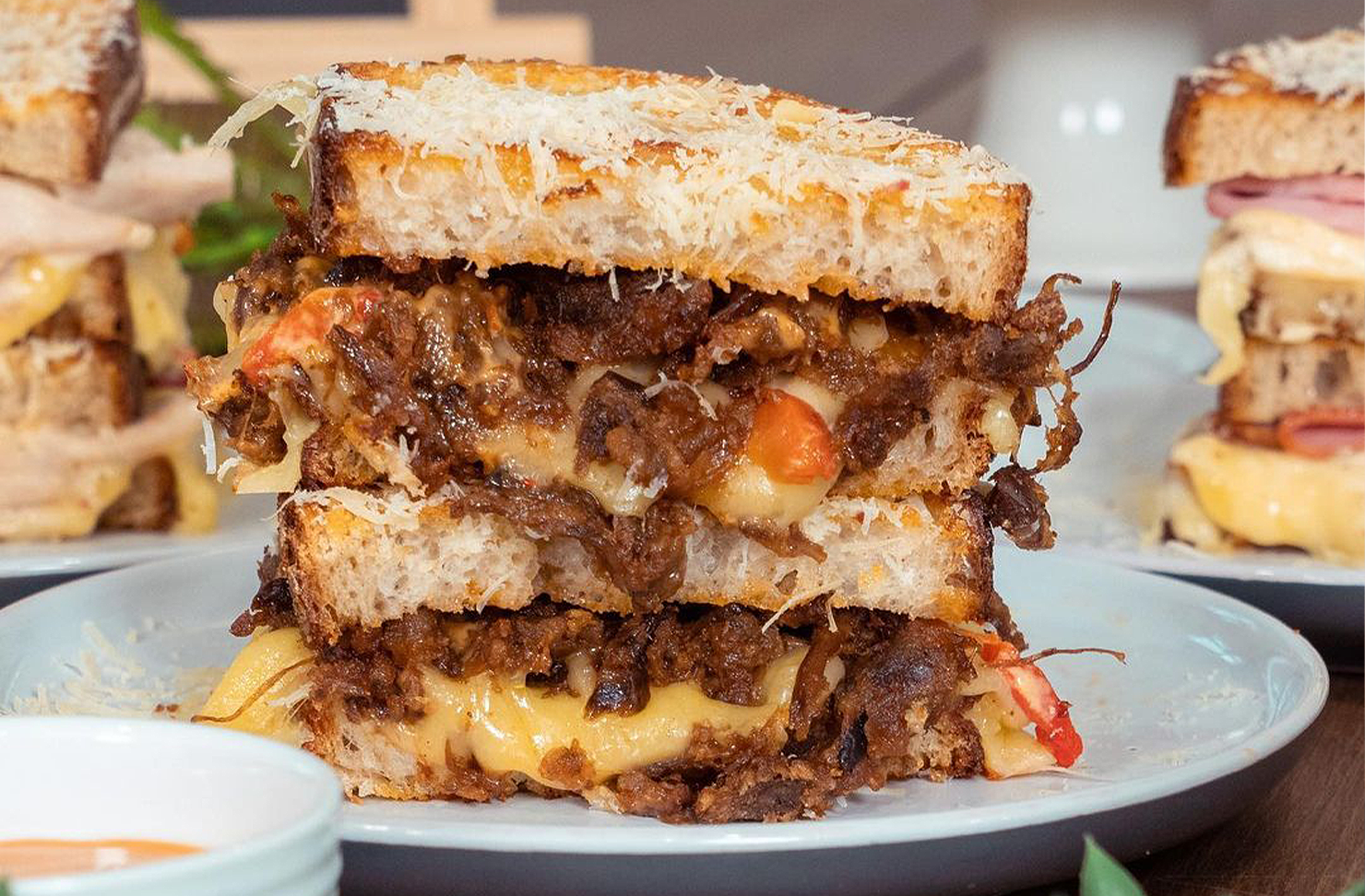 Goya Café
Broadbeach
The former SENS Coffee at the base of the Meriton has been transformed into a beautifully minimalist Japanese-inspired cafe, with epic eats and some serious hip-hop vibes. The all-day brunch menu is inspired by street-side eateries in Osaka and Tokyo, fighting the mainstream with offerings such as okonomiyaki with juicy prawns, yolk and bonito flakes or a Japanese staple of omurice reimagined with 12-hour slow-cooked beef, miso red-wine gravy and Japanese chilli. For serious hunger-pangs, Goya's decadent sandos are made with chunky slabs of homemade shokupan (Japanese milk bread) and stuffed full with combinations including tonkatsu pork and Angus beef tenderloin. Hands down, one of the best new cafes on the Gold Coast.
Koko Cafe & Bar
Southport
Koko Café & Bar in Southport is a proud slinger of Melbourne's ST. ALi coffee, so for all those Broadwater dwellers with big city hearts, it's absolutely the spot to stop before heading into a hard day's work. If you're after a brunch bite, look no further than Koko's loaded sandos, in drool-worthy incarnations like katsu beef and juicy pork. Omurice and okonomiyaki are also absolute must-dos on the loaded brunch menu. Scarves optional.
Milk Money Espresso
Robina
Okay okay so they've just turned one, but one is still a baby, right? And it's always worth reminding sandie-lovers of the absolutely epic Reuben toastie at Milk Money Espresso made with crunchy toasted sourdough, oodles of oozy cheese, countless layers of salty corned beef and topped with a huge, juicy pickle. And if you get in there soon, be sure to ask for the off menu, limited-edition butter chicken toastie to warm your belly on these cold winter days. But really, you had us at Reuben toastie.
On the hunt for more Gold Coast cafes to check out? Have you visited these beautiful Gold Coast cafes yet?
Image Credit: Rise Bakery, MC's Sandwich House, Wavybone, Butler's & Santa Barbara Specialty Coffee