Whether you're on the hunt for a new breakfast spot or just want a change of scenery, we get it—it can be oh-so-easy to slip into the habit of picking up your morning jolt from the same neighbourhood spot every single day.
Lucky for you, the Gold Coast is teeming with new places left and right, so you've plenty of options to choose from. From quaint coastal-inspired joints to well-loved espresso bars, here are 17 new—and some newly revamped—Gold Coast cafes you should check out ASAP.
Raijin
Palm Beach
Raijin Palm Beach is the latest newcomer on the Palmy block and serves up all manner of Japanese deliciousness, most notably, their signature souffle pancakes. These Insta-famous creations were once all but a faraway dream for Gold Coast bellies—until now. Everyone likes their pancakes served a different way but thankfully, the good folk at Raijin know that and provide a drool-worthy array of pancake flavours you'll want to sample ASAP.
Barefoot Barista
Currumbin
In case you missed it, Barefoot Barista has opened a new venue in Currumbin this past month and it's already the talk of the neighbourhood. Taking up prime real estate right on Pacific Parade, this little slice of heaven will tick all your breakfast and coffee boxes and then some. Take your pick from an extensive list of all-day breakfast and lunch options, including the indulgent Korean Benny (spiced pulled pork on sourdough doused in Sriracha hollandaise), the tried-and-true bacon and egg roll, the crispy potato hash, the Canadian maple syrup-doused French toast...we could go on, but we'd need a bucket and a mop.
Palm Springs
Burleigh Heads
One of the most stunning new cafes around, Palm Springs is dishing out serious vibes and eats on the Gold Coast highway. Open since November of last year, this baby's the perfect backdrop for all your brunch-related Insta snaps. Putting a Cali-cool twist on brekky and lunch favourites, the standout menu is set to have you drooling—think delectable noms like the halloumi and egg burger, with grilled halloumi, rocket, avo, tomato jam and an oozing fried egg on a soft milk bun.
Funnybone Coffee
Helensvale
Funnybone is the latest venture of local Gold Coast barista and coffee aficionado Damian Swan, who cut his teeth in the coffee scene working with Blackboard Coffee. Located in The Surrounds in Helensvale, the new addition has quickly become a must-visit hotspot serving up local-favourite Blackboard Coffee and a menu filled with wholesome eats that'll leave you feeling full and happy. Need examples? Think weekend specials like the Hash Benny with slow-cooked beef brisket, confit garlic skillet potato and kimchi, or a Moroccan-spiced chicken salad with sweet potato, quinoa, avocado, almonds and mango chilli tahini dressing. We rest our case.
Croffee
Southport
Just when we thought we'd seen and tasted it all, the crew at D Point Ten decided to bake a croissant in a waffle pan and load it up with toppings and now we're here: meet the Croffle. Part croissant, part waffle, this new delicacy can be found at Croffee, a small cafe where you can get your croffle fix along with coffee (hence the Croffee—duh). Whether it's drizzled with chocolate or stacked with ham and cheese (yep, we're not making this up), you'll have to pick one of these babies up for yourself to see whether it lives up to the hype.
Espresso Moto
Mermaid Beach
With a cute takeaway counter and plenty of outdoor seating to enjoy your breakfast and coffee, you'll find a lot of similar favourites on Espresso Moto's Mermaid Beach menu from 6 am to 2pm. Sip on quality brew while munching on a wholesome Acai bowls, or order up a smashed avo—whatever you end up choosing, make sure to hit up the brand-new venue soon and reignite your love for this legendary Gold Coast institution.
Olive Coffee
Surfers Paradise
A cute pastel green paradise with hanging greenery, Olive Coffee is slinging Social Espresso coffee and a delicious menu you'll want to order everything off of. From breakfast burgers with eggs, cheese and tomato relish—with a halloumi option for vegetarians—to vitamin-packed Buddha bowls, these peeps have got it all, so make sure you check out their cute-as-hell digs in Surfers ASAP.
Wavybone
Southport
Wavybone rightfully gained a fan following in their vintage coffee caravan serving up delicious brews at events and markets and now has expanded into their first bricks-and-mortar location in Chirn Park. Their loyal coffee addicts now have a place to get their daily dose of Wavybone's elixir and the culturally crafted coffee spot has already made its mark on the northern Gold Coast. Once you've had your caffeine fix, tuck into a sumptuous array of baked goods, gourmet sandwiches and bagels or indulge in one of their signature smashed avos.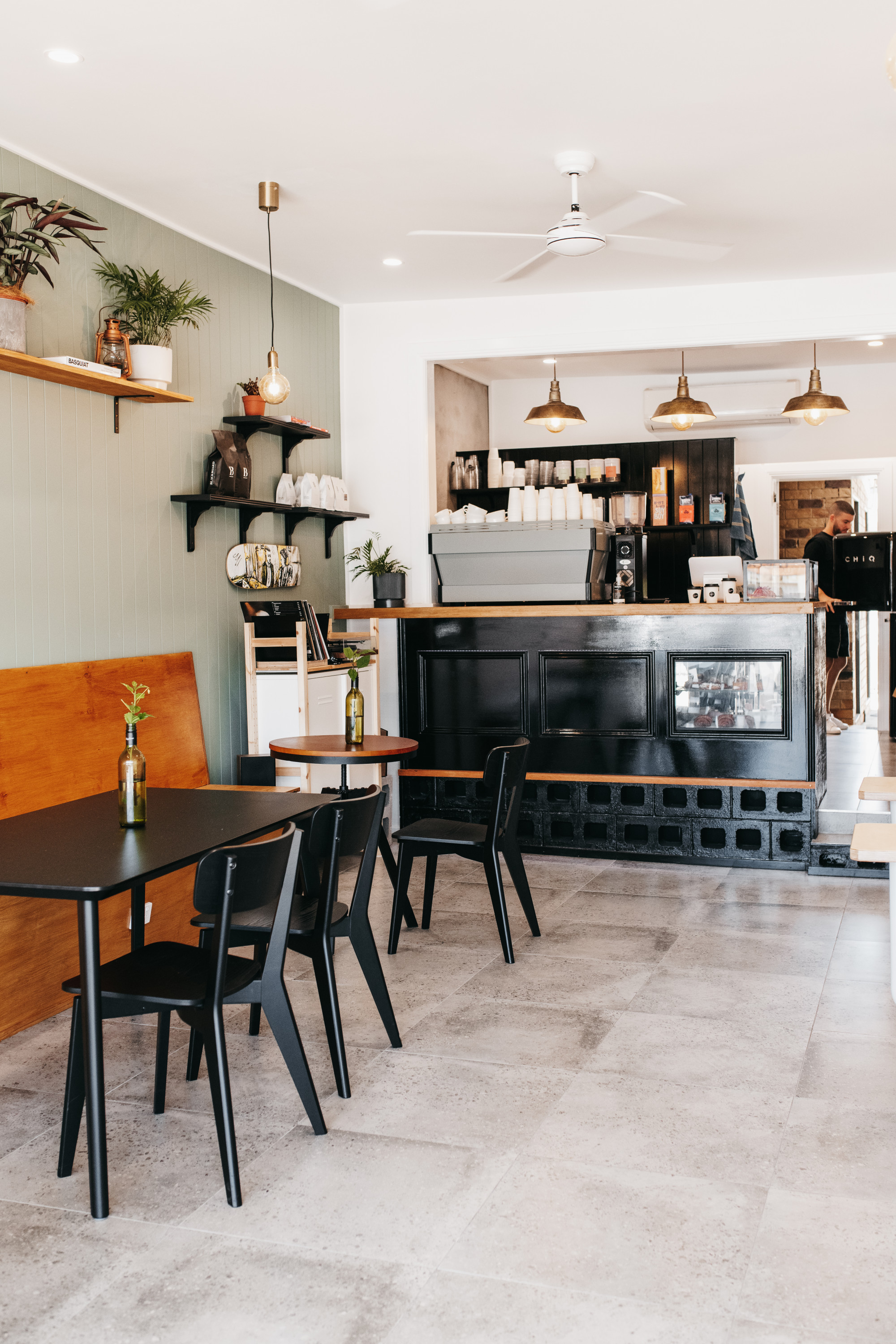 Rosé Gelateria
Hope Island
Sanctuary Cove's latest newbie is a gorgeous new gelato place called Rosé Gelateria. Not only is this place a serious contender for the cutest gelateria we've ever laid eyes on―think luscious hues of musk pink, with pops of white and gold accents―but their unique gelato range features 24 flavours and flaky pastries like fresh croissants or melt-in-your-mouth macarons. Rosé also specialises in adorable flower gelatos aka gelato shaped like cute flowers, so make sure to have your phone at the ready for some 'Gram-worthy snaps.
MADE Barber & Barista
Tugun
Tugun newbie Made Barber & Barista is both a modern barber using classic traditions and an espresso bar. Serving delicious coffee by Moonshine Roasters, as well as a few sweet treats, Made's stripped back, minimalist space is the perfect spot to come unwind with a top notch brew while getting your mane tamed.
Pretty Handsome
Burleigh Heads
One of our favourite spots, Pretty Handsome has recently undergone an epic expansion—we didn't think we could love this place even more than we already did, yet here we are. Not only are they serving up top-notch coffee, but their burgers are to die for, and now there's plenty of space to sit down and enjoy the quality eats while soaking up the epically chill vibes. They now also offer rotating brews on tap—as if we needed another reason to go there daily.
Morena Espresso
Mermaid Beach
Unless you've been living under a rock, you would have heard about Morena Espresso, the Latin-Kiwi inspired cafe making waves in the Mermaid community. The venue has recently had a bit of a facelift and the crew has also just launched their own coffee blend—it's a blend of beans from Brazil, Colombia, Honduras and Nicaragua and makes for a delightfully rich and smooth dark brew. As for grub? Our fave is La Morena, with avocado, feta, Peruvian paprika, tomatoes and other goodies on fresh Turkish bread.
Hudson & Rosie's Table
Highland Park
Amid the hustle and bustle of the northern suburbs lies a sweet newcomer bringing stellar coffee to our grateful northern Gold Coast friends. Nestled in Highland Park, Hudson & Rosie's Table is a bright, breezy breath of fresh air and is mixing things up with their top-notch brews and luscious menu. Putting an inventive twist on brekky and lunch favourites, the standout menu is set to have you drooling.
Next Door Espresso
Tweed Heads
It's time to reacquaint yourself with the heavenly coffee nook that is Next Door Espresso, because the Tweed location has undergone a major revamp and we're seriously digging it. Serving up organic Moonshine coffee and a drool-worthy menu boasting faves like sourdough french toast and too-pretty-to-eat acai bowls, you'll definitely want to put this spot on your next breakfast list.
The Backyard Cafe
Mermaid Beach
Not sure why Mermaid is hogging all the best cafes, but we're not complaining. The Backyard Cafe is not exactly a newbie—it's been open for a while now—but it always keeps us on our toes. It's sprawling backyard (get it) is always pumping and they're always releasing fun new menus and concepts (they've recently launched a Mexican-inspired Cantina), so if you're looking to spice things up, Backyard's where it's at.
Nectar
Cabarita
If you feel like a little weekend trip, Nectar in Cabarita is where you want to head. With the freshest sandwiches we've ever had the blessing to gobble down, don't be alarmed when you realise that Nectar is THE lunch place you've needed all your life. With healthy carnivore and veggie options galore, these sandwiches will satisfy even the most tenacious hunger pangs and are 100% worth the trip over the border.
Tarte Bakery
Burleigh Heads
Look, we probably don't need to tell you about Tarte Bakery & Cafe, but we're going to anyway, because we're pretty sure it would be illegal not to put them on this list. Heralding a new era of Gold Coast brunch dates, owner Chloe Watts' (ex-owner of Paddock) standout menu is unlike anything else in town. We're already dreaming about the next time we can get our hands on the Turkish Eggs with whipped yoghurt, Turkish spiced butter, two poached eggs with Aleppo pepper on artisan sourdough. Drool.
On the hunt for more Gold Coast cafes to check out? Have you visited these beautiful Gold Coast cafes yet?
Image credit: Raijin Cafe, Brooke Darling Photography for Urban List