Does anyone else view their dining experiences through the lens of a camera? You know what we're talking about; choosing where to sit based on favourable lighting or pretty backdrops to complement a cheeky selfie, ordering the most attractive dish on the menu and taking a million photos of your coffee before it turns cold.
To save you trawling through Instagram to find your next good-looking pit stop for breakfast or lunch, we've pulled together the most beautiful cafes on the Gold Coast for your dining pleasure.
Tarte Bakery & Cafe
Burleigh Heads
One of the newer kids on the block, we can assure you that every angle of Tarte Bakery & Cafe is photogenic. Hand-picked by the owner, heavy marble adorns the barista station and five metre stool-lined brunch bar, while bi-fold doors and windows open right up to invite the balmy Burleigh breezes inside. The alfresco dining area is shaded by leafy trees that create the perfect backdrop for that magical Insta snap. Plus, the menu is to die for, so if you haven't been yet, what are you waiting for?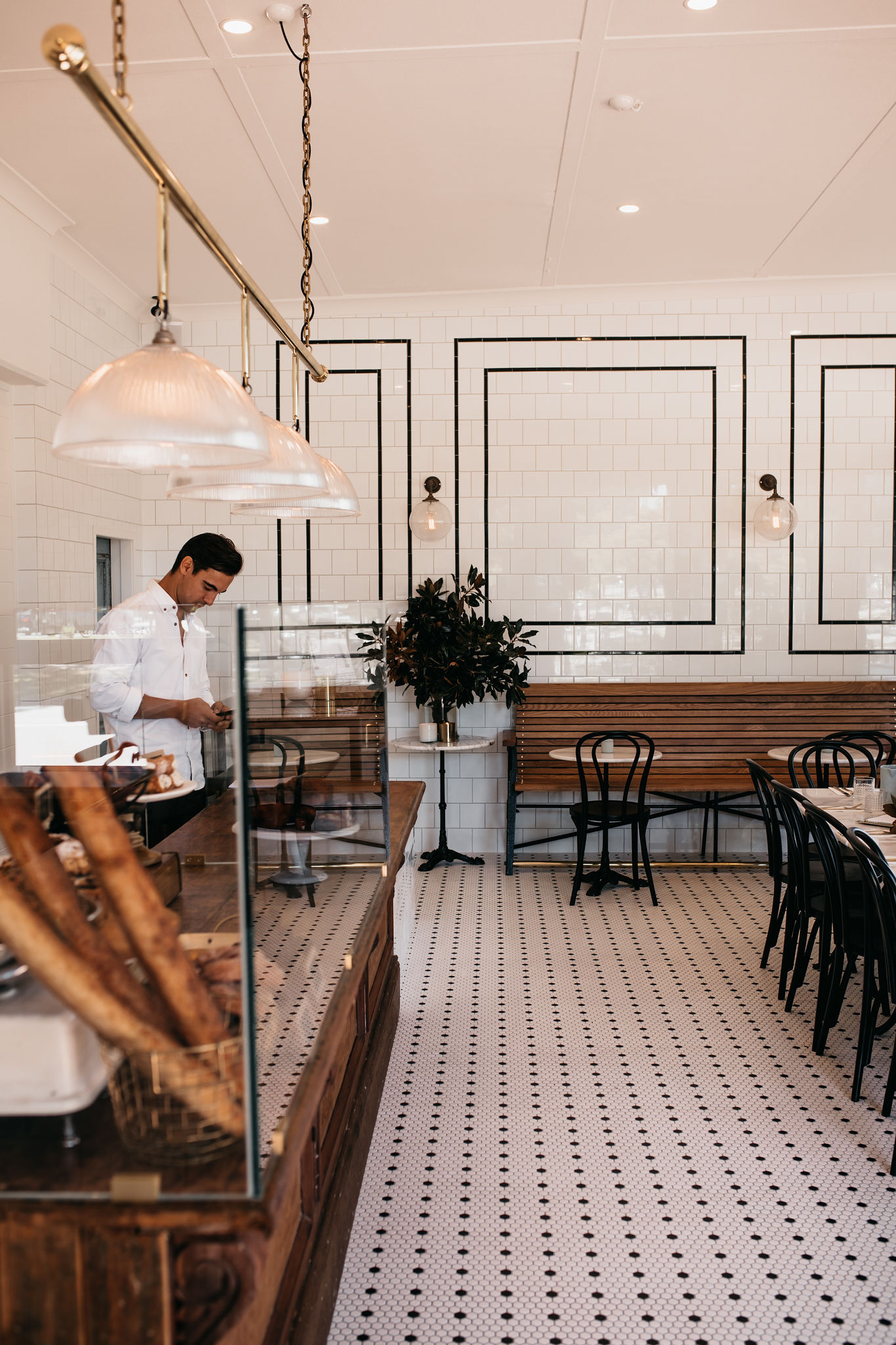 Paddock Bakery
Miami
Quite possibly the most Instagrammable cafe on the Gold Coast, Paddock Bakery melts our hearts with every visit. Miami's lovingly-restored weatherboard cottage is pretty-as-a-postcard with a shady picket fence-lined courtyard. Offering countless delectable angles and subjects for your brunchin' photo shoot: straight-from-the-oven baked goodies, artisan bread loaves, dessert pots, dippy eggs and cosy nooks backed by sunny windows. Paddock Bakery sits high on our list of the Gold Coast's most beautiful cafes.
Palm Springs
Burleigh
Step into the bright, modern two-storey Palm Springs cafe and you're greeted by a crisp, white interior complemented by cool mint tones. Funky chandeliers hang from the ceiling, clusters of cactuses reminiscent of the California desert adorn the bright space and high arched doors let the balmy breeze flow through. Run by three intrepid Burleigh locals, Palm Springs is the coolest new spot we didn't know we needed and the vibrant interior is perfect for pimpin' your Insta. You'll want to sink into the sage green seats hugging the whitewashed walls, indulge in the plethora of deliciousness and let the day pass you by in this dreamy haven.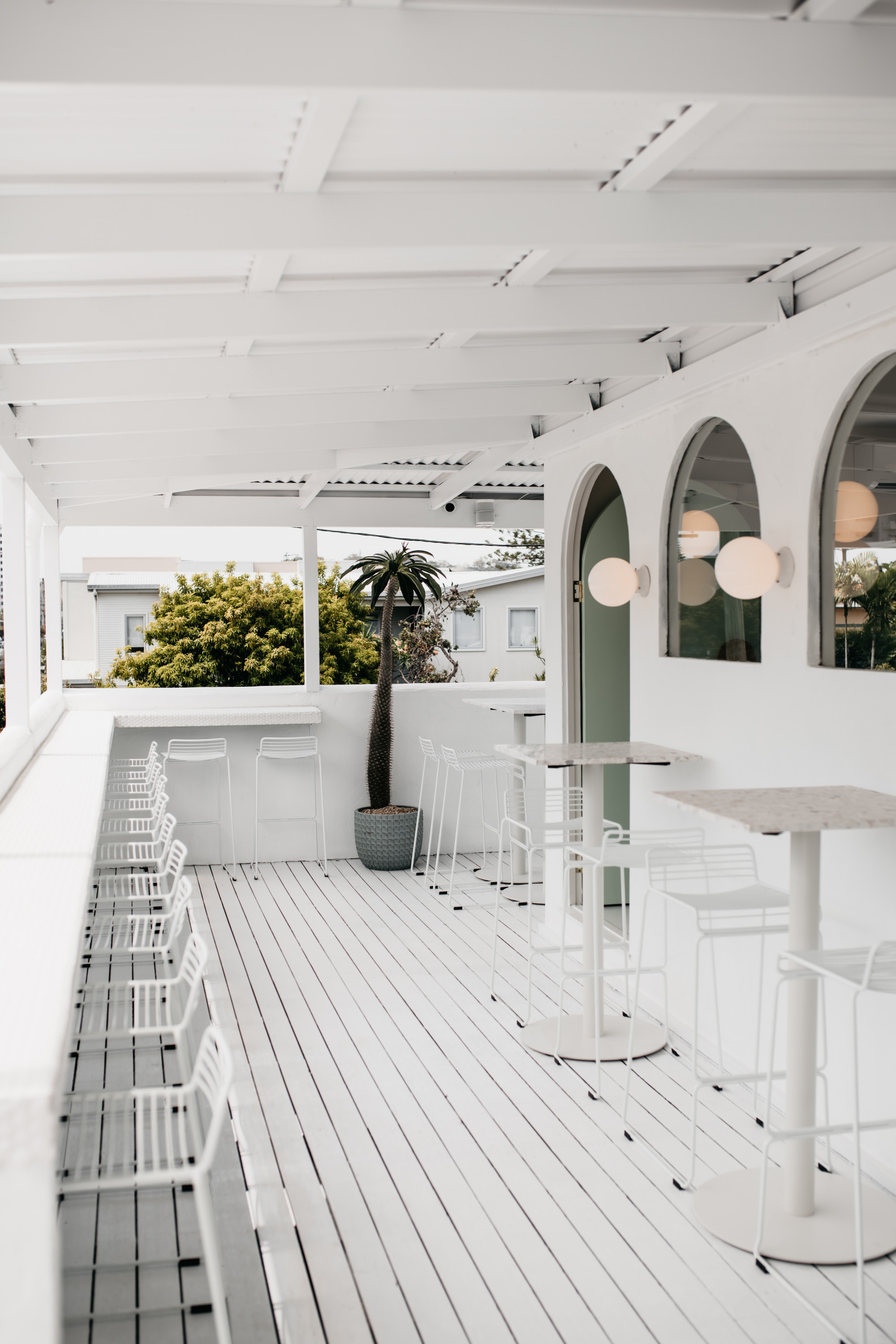 Stable Coffee And Kitchen
Tugun
The beating heart of the Cornerstone Stones complex, Stable Coffee and Kitchen is one of the most aesthetically pleasing cafes in town, hands down. You'll be crushing on Stable's blush pink stone-top island table—the perfect Instagram backdrop for your breakfast plate—retractable floor-to-ceiling windows, courtyard seating, oak wood accents and artwork by local creative Claudio Kirac. While you're there, tuck into some of the most wholesome and artistically-presented breakfast and lunch dishes around, best followed by a spot of retail therapy at the adjoining boutiques.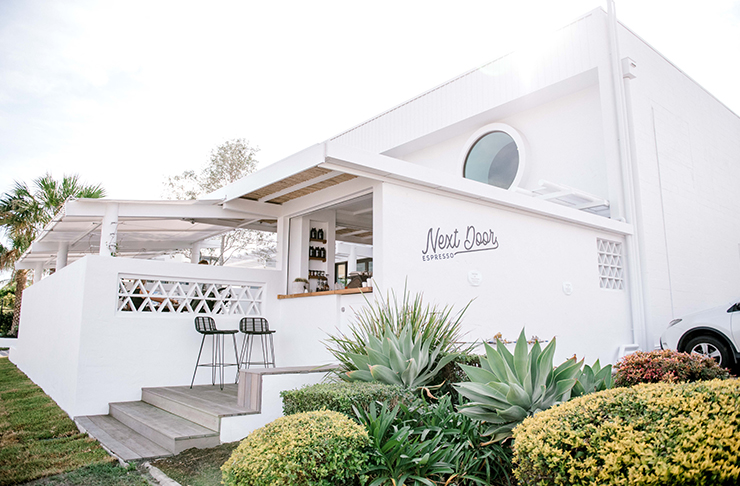 Next Door Espresso
Burleigh Heads
Stepping into Next Door Espresso's alfresco cafe will set your heart aflutter with its crisp decor, understated styling and breezy vibes. From the solid teak tables imported from Jakarta to the inviting blue and white striped seating, designer rattan loungers, olive tree centerpiece, and bougainvillea and jasmine vines creeping their way around the outskirts, Next Door is laidback bohemian luxury. Adjoining St Barts' knockout, flagship homewares store, it's no surprise this spot sits among the beautiful cafe set.
Pasture And Co.
Currumbin Valley
This is one cafe where the journey is equally as magical as the destination. Drive through lush scenery to the Currumbin Valley Ecovillage, where Pasture & Co. offers numerous reasons to jump off the well-trodden path. From the leafy surrounds, fresh hinterland air, child-friendly spaces to roam and regular kangaroo spottings, perfectly rustic Pasture & Co. is truly a hidden gem and one you'll go back to time and time again.
Baked At Ancora
Tweed Heads
Our list of beautiful Gold Coast cafes would not be complete without this chilled hangout in Tweed Heads. You can't meander around Baked at Ancora without visualising the space in Insta squares—be it the swinging chairs, recycled wood, designer picnic rugs, river views, drool-worthy baked treats or the selfie-perfect morning sunshine.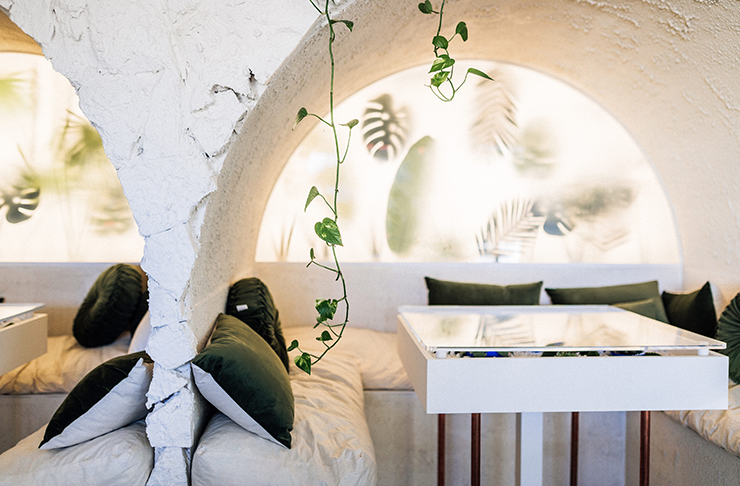 The Milkman's Daughter
Mermaid Beach
Vegetarians, vegans and breakfast fans alike are well catered for at The Milkman's Daughter. From the moment you walk inside you'll be transported to an urban rainforest retreat with lush greenery and white concrete alcoves filled with comfy cushions just begging you to curl up with your pals and cradle a coffee. You could stay here all day, and thanks to the all-day breakfast and all-day lunch menu, you just might.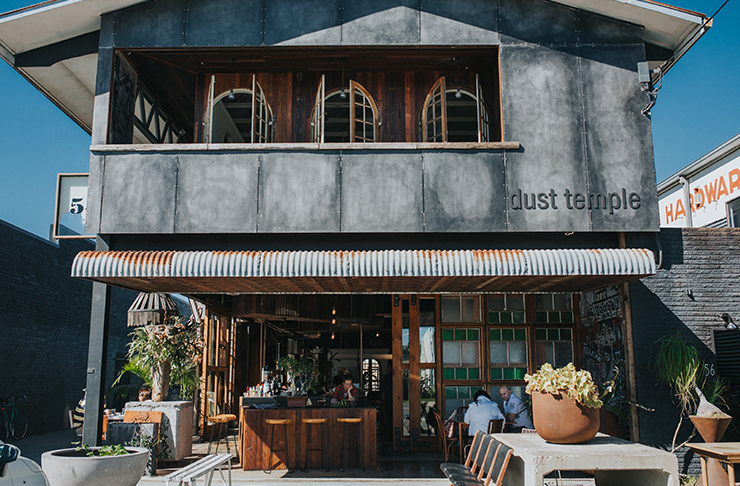 Dust Temple
Currumbin
Tucked away in an industrial corner of Currumbin, this beautiful old warehouse is home to both coffee lovers and creative souls. Boasting a lust-worthy interior, Dust Temple is a community space that caters to just about everyone. Grab a friend and head to the popular cafe out front, then peruse the latest exhibition in the art gallery or wander through the eclectic indoor and outdoor spaces. Come nighttime, Dust Temple transforms to anything from a jazz club, to a space for life drawing classes, slam poetry competitions and everything in between. Creativity has no limits here.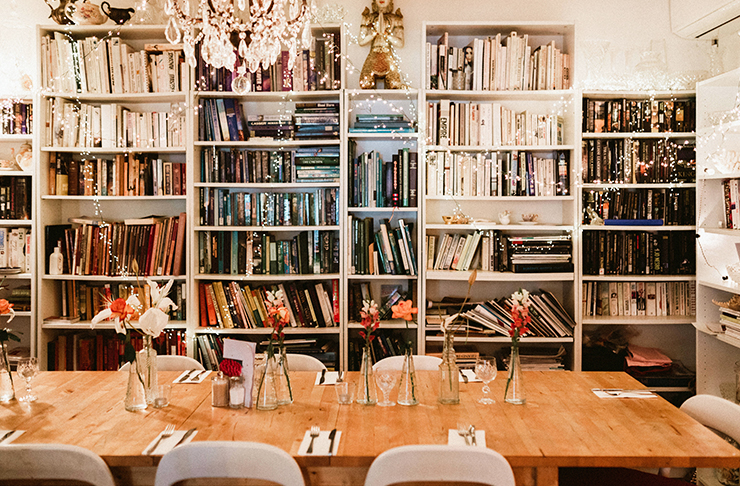 Bumbles Cafe
Surfers Paradise
While Gold Coast's cafe culture is blossoming around it, Bumbles is one of those charming beauties that feels like it's been there forever. Whimsical rooms perfect for private parties be it baby showers, birthday gatherings or a long lunch lubricated with bubbles, the interior of this one-of-a-kind cafe could be mistaken for a Queenslander-style cottage. Adding to the allure are cabinets filled with drool-worthy cakes, slices and all things nice.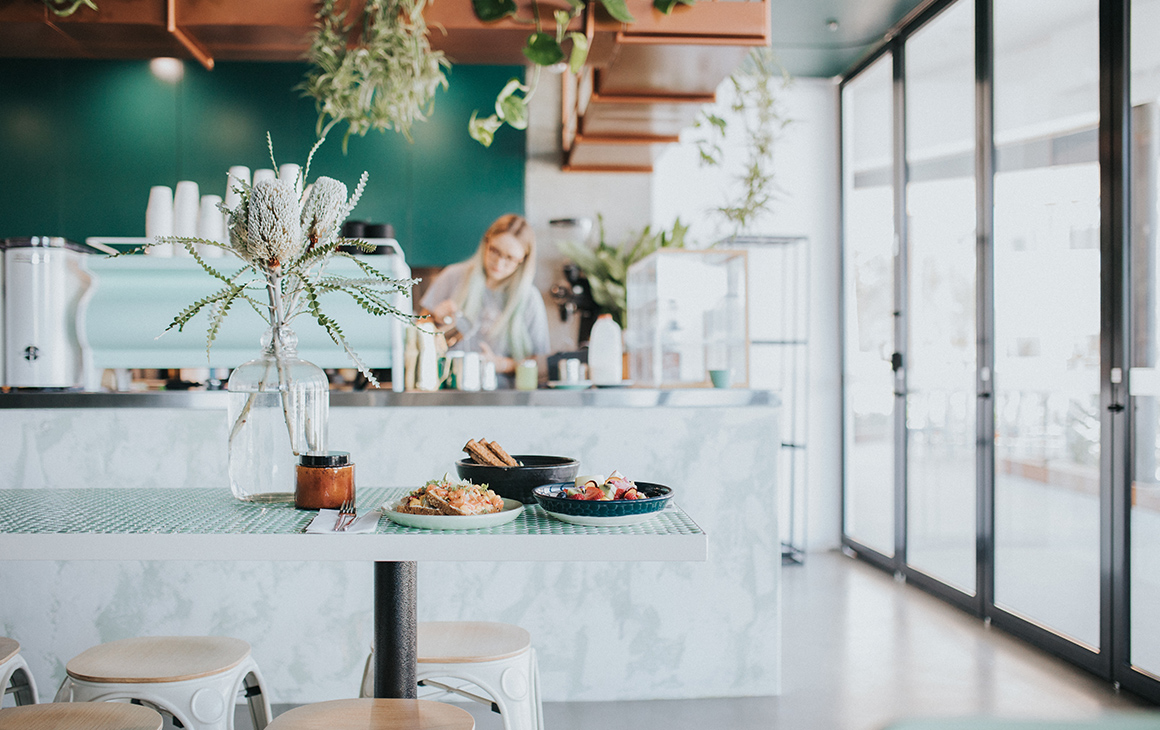 Elk Espresso
Broadbeach
Gold Coast's ultimate breakfast spread for your next flatlay project, Elk Espresso makes us weak at the knees with every visit. From their photogenic seasonal menu to the majestic elk etching on the wall, hanging ferns, decorative tabletops, striped umbrellas and sea breezes. Our tip? Go nuts with the snaps and then drip feed them to your Insta account over the weeks ahead.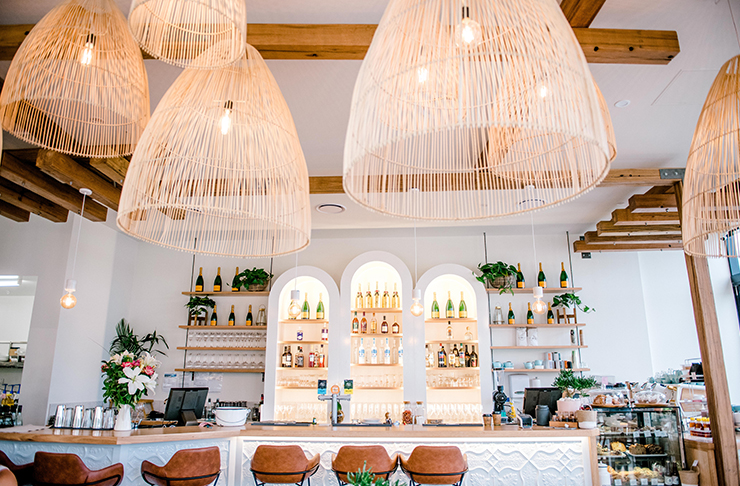 Double Barrel Kitchen And Bar
Benowa
While this versatile venue morphs into a restaurant and bar as the day progresses, in the golden morning light this sun-drenched setting is one of the most gorgeous spots for breakfast on the Gold Coast. Double Barrel Kitchen and Bar has an enviable waterside location and lounge-worthy deck chairs that simply draw you in to linger. With a breakfast cocktail menu available from 10am, you can order an espresso martini, bloody mary or a mandarin mimosa with your Canadian-style protein pancakes and no one will bat an eye.
Bam Bam Bakehouse
Mermaid Beach
Bam Bam Bakehouse is one cafe that'll have you leaving heart-eye emojis all over their drool-worthy Insta account. From the crafty team also behind Cubby Bakehouse and soon-to-open Custard Canteen, there's a lot to love about Bam Bam Bakehouse. Think: layers of textures and tiles, pressed metal, upcycled wood furnishings, fragrant blooms, leafy park views and dreamy glimpses into the bake house, there's no shortage of goodness at Bam Bam.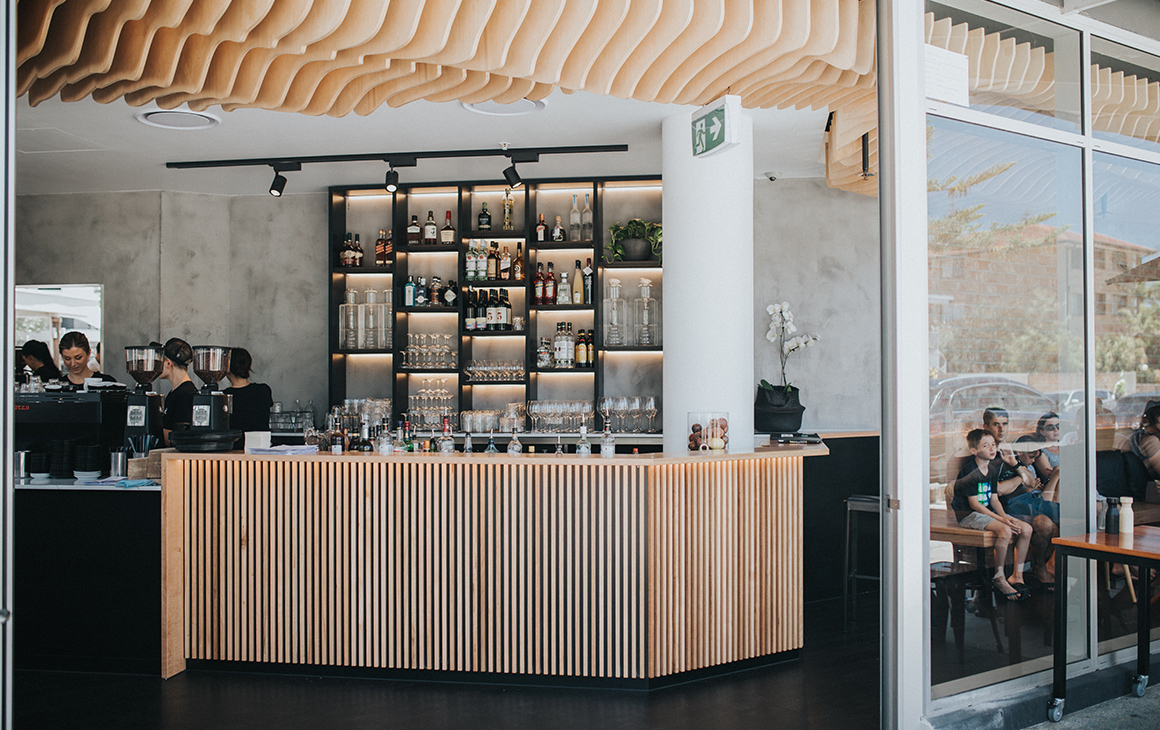 No Name Lane
Broadbeach
No Name Lane is a smart Melbourne-esque style cafe in Broadbeach. With cool and sophistication in perfect balance, using a mix of blonde-coloured timber detailing in the ceiling and bar, window-side island bench seating, pops of greenery, and all encased by sundrenched wrap-around glass windows, we're totally digging the unstated yet urbane design.
Paradox Coffee Roasters
Surfers Paradise
Cavernous with vaulted ceilings, moody lighting, red brick and industrial finishings, Paradox Coffee Roasters in The 4217 complex is the kind of cafe that excites those with a lusting appreciation for warehouses and contemporary design. Need a blank canvas backdrop that really makes your breakfast snap jump off the screen? You'll find what you're looking for at Paradox.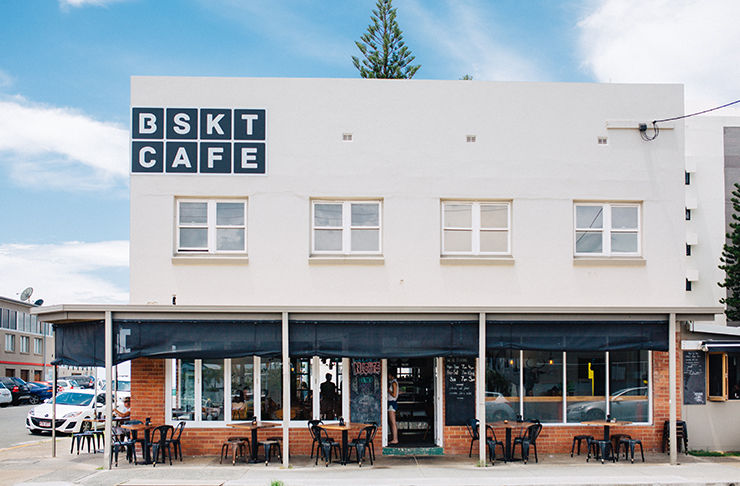 BSKT
Nobby Beach
Salty sea breezes, simplistic styling, sketched wall murals, wood galore and a delicious menu ensure BSKT (pronounced Biscuit) is deserving of its spot among the most beautiful cafes on the Gold Coast. If you're a big believer in 'you are what you eat' then BSKT is your jam. Everything on their menu is exceptional. Take that friend who is gluten free, dairy free, vegan, vegetarian, pescatarian, grain free (you get the picture), as there is something for anyone with a complex diet to eat.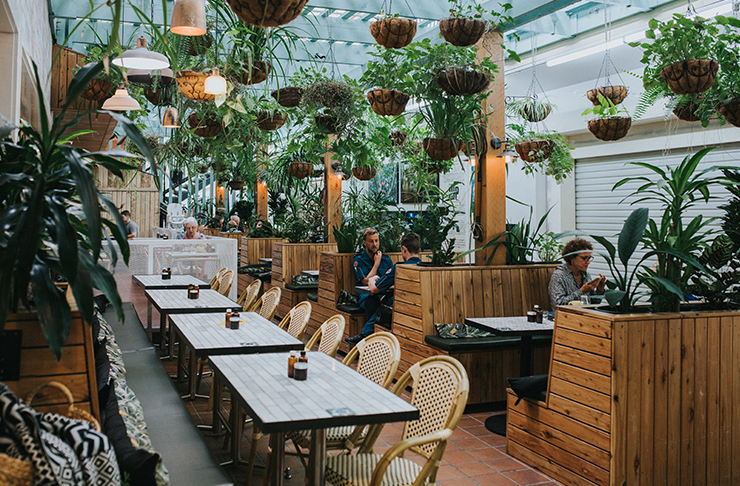 Social Brew
Burleigh Heads
The sheer weekend crowds are living proof Social Brew is a hit when you're on the hunt for breakfast or lunch in Burleigh. Graze on wholesome brunches from smoothie bowls to breakfast boards, coffee or house-made cold-pressed juices, all served under the lush canopy of the cafe's iconic indoor nursery. Hanging from the rafters, Social Brew's urban jungle and sunshine-y pops of yellow throughout help earn its place among the Gold Coast's prettiest cafes.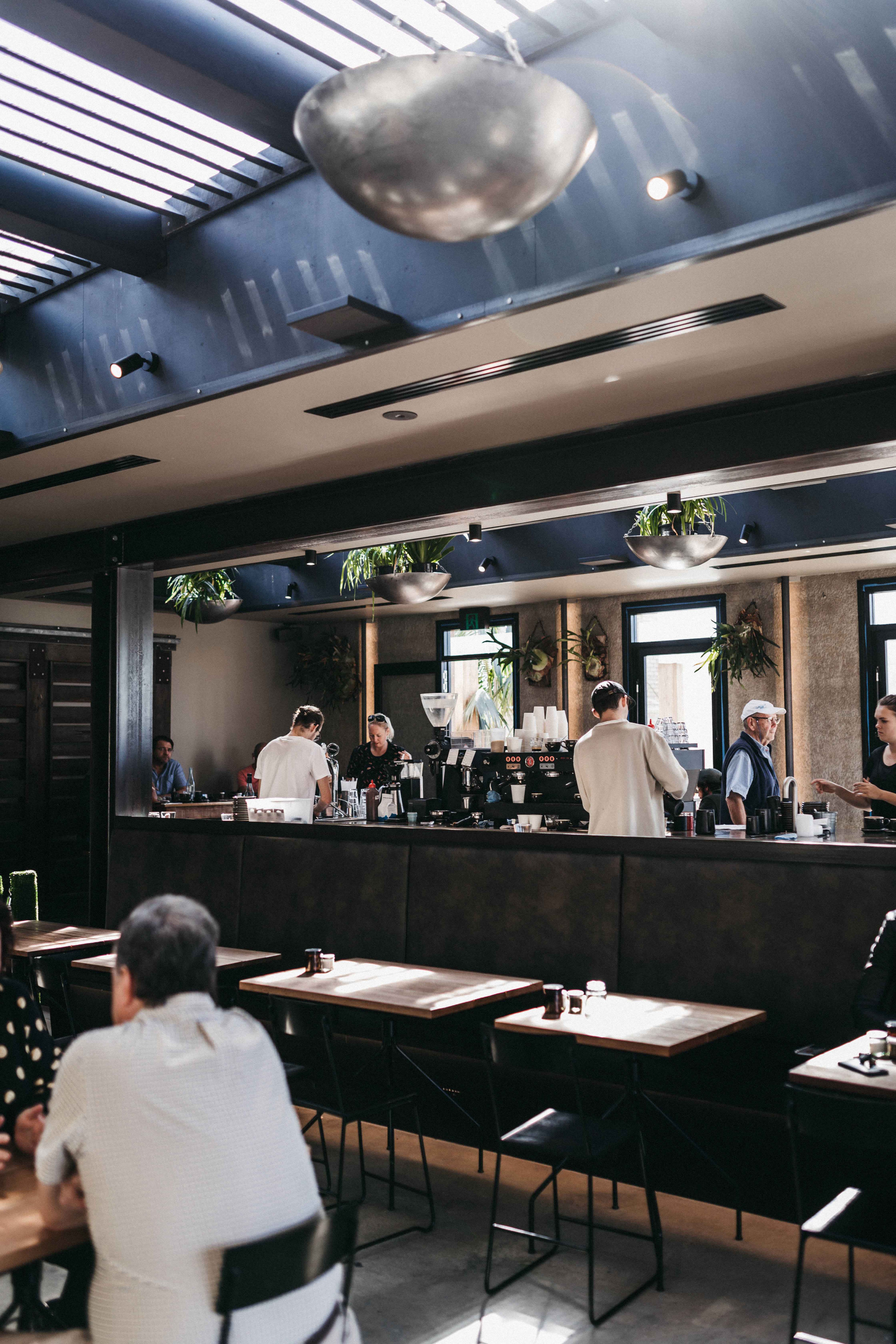 Barefoot Barista
Palm Beach
There's no denying we adore Palm Beach's Barefoot Barista. Sit inside on any given day and you'll be transported to a neighbourhood cafe in Melbourne—think: dappled light, bi-fold doors, polished concrete floors and industrial accents, hanging ferns, a busy barista bar and a kitchen in the rear slinging some of the absolute best breakfasts on the Gold Coast. It's little wonder this is a standout favourite among the locals; if we could eat at Barefoot Barista every day of the week, we would.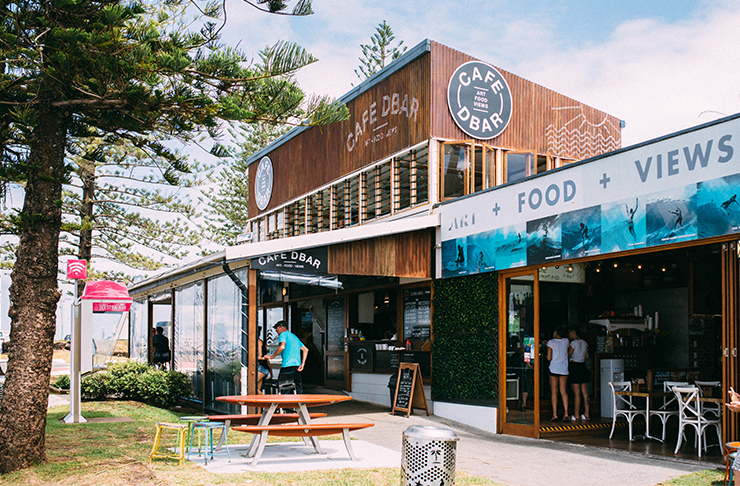 Cafe DBar
Point Danger
Our go-to when cruising around down south is super-chill Cafe DBar, on the headland at Point Danger. This sweet cafe slash restaurant earns bonus points for having one of the most spectacular locations on the Gold Coast. Perched above the legendary waves of Duranbah and Snapper—this rustic gem oozes surfy charm and the first-level dining room is the perfect possie to treat your visiting granny or aunt to brunch. Don't miss a little retail therapy at the adjoining boutique Arche while you're there.
Want more Insta-worthy locations? Check out 12 of the best rooftop bars on the Gold Coast for drinks in the sunshine.
Image credit: Kaitlin Maree Photography, Hayley Williamson Photography and Brooke Darling Photography for Urban List