Upon entering the doors of Palette Restaurant, you'd think you were brushing shoulders with the elite in Sydney as the harbour glistened below you. Perhaps even, in a sublime, frosty regional Tasmania. Headed by seasoned industry star Dayan Hartill-Law (think Press Club, Dinner by Heston, Vanitas and Quay), Palette Restaurant might seem out of place on the Gold Coast — if it were not for Chef Hartill-Law's masterful tuning of the menu. The cream of the local produce crop meets expert techniques in a way that results in the ultimate dining experience – sans the stuffy bow ties or waistcoats. See? Back in the GC.
Did we mention they're still riding the high of being awarded two hats from the Australian Food Guide? Just in time for the cooler months, Palette Restaurant has just launched a brand-new menu which you know we had to try. Take it from us – here's every dish you need to devour at Palette.
Australian Bay Lobster Thermidor
A heroing of local ingredients if we've ever seen it, the Australian Bay Lobster Thermidor is THE special occasion dish. After a mere 50 minutes journey from its farm-home in Chinderah, the star of the show, the slipper lobster, is masterfully evicted from its shell. Blanketed in a Burleigh Brewing beer mustard and Brisbane-made cheese sauce with a bed of caramelised fennel puree in the base of the shell, the humble lobster has had the glow-up of the century. A crispy, golden topping of grilled cheese is the full stop to this dish, though, you'll find yourself wishing it was a never-ending run-on sentence. Find the pairing of your dreams in the 23-page drinks list and voilà– you're living the high life.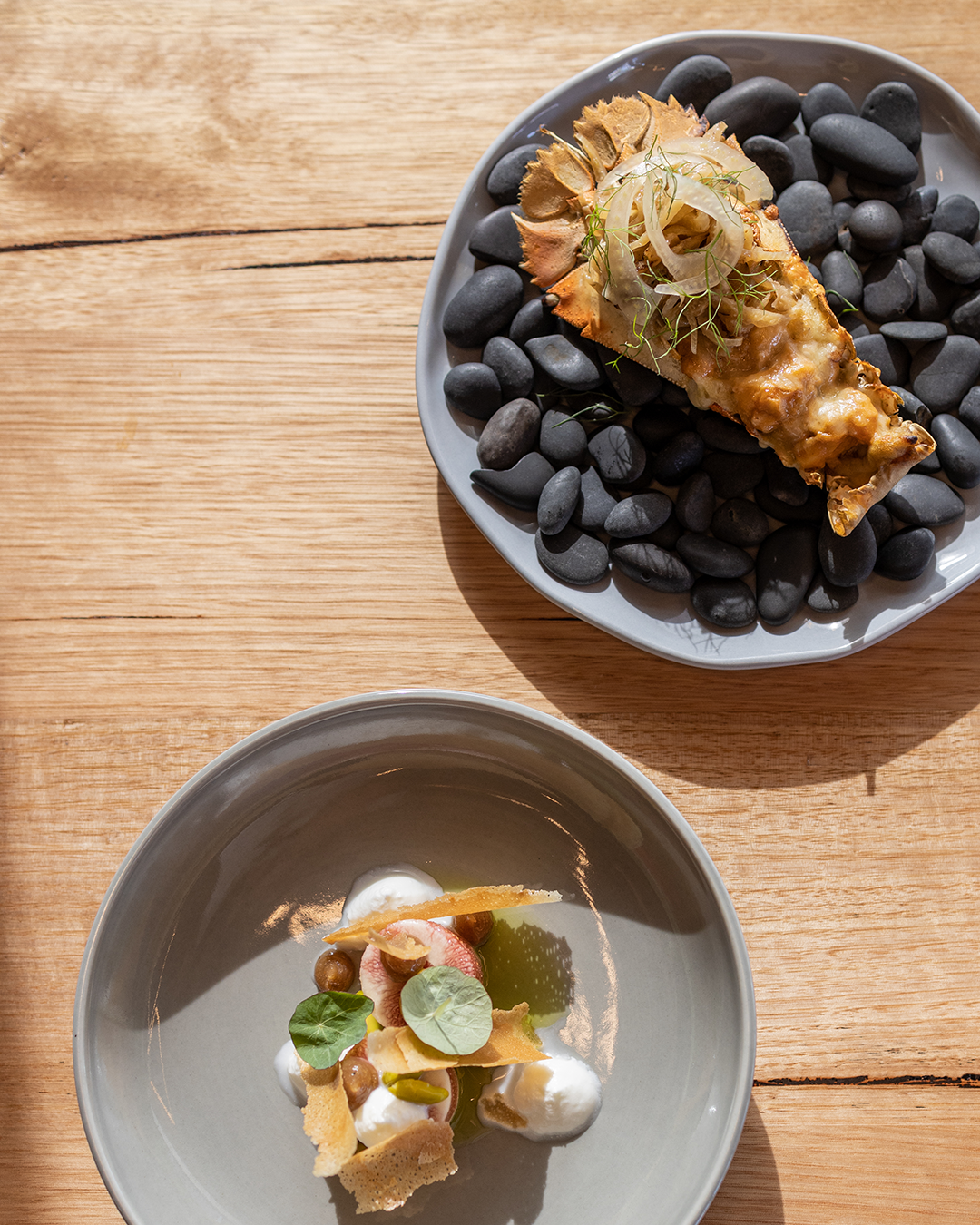 Squid Poached, Mullet Roe, Ponzu Pearls
If you've had the pleasure of visiting Palette before, chances are you've tried their crowd-favourite poached squid dish. On the new menu you'll be glad to know it's made a return; and a glorious one at that. Upon its swanning over to your table, you'll no doubt notice its sunshiney-hue, which would be the dashi emulsified with 'lots of butter' (chef's words). Said sunshine is poured over a small tower of chawanmushi (Japanese egg custard), thinly sliced squid and a topping of ponzu pearls. If it wasn't decadent enough, a grating of mullet roe is added at the last second. Need we say more?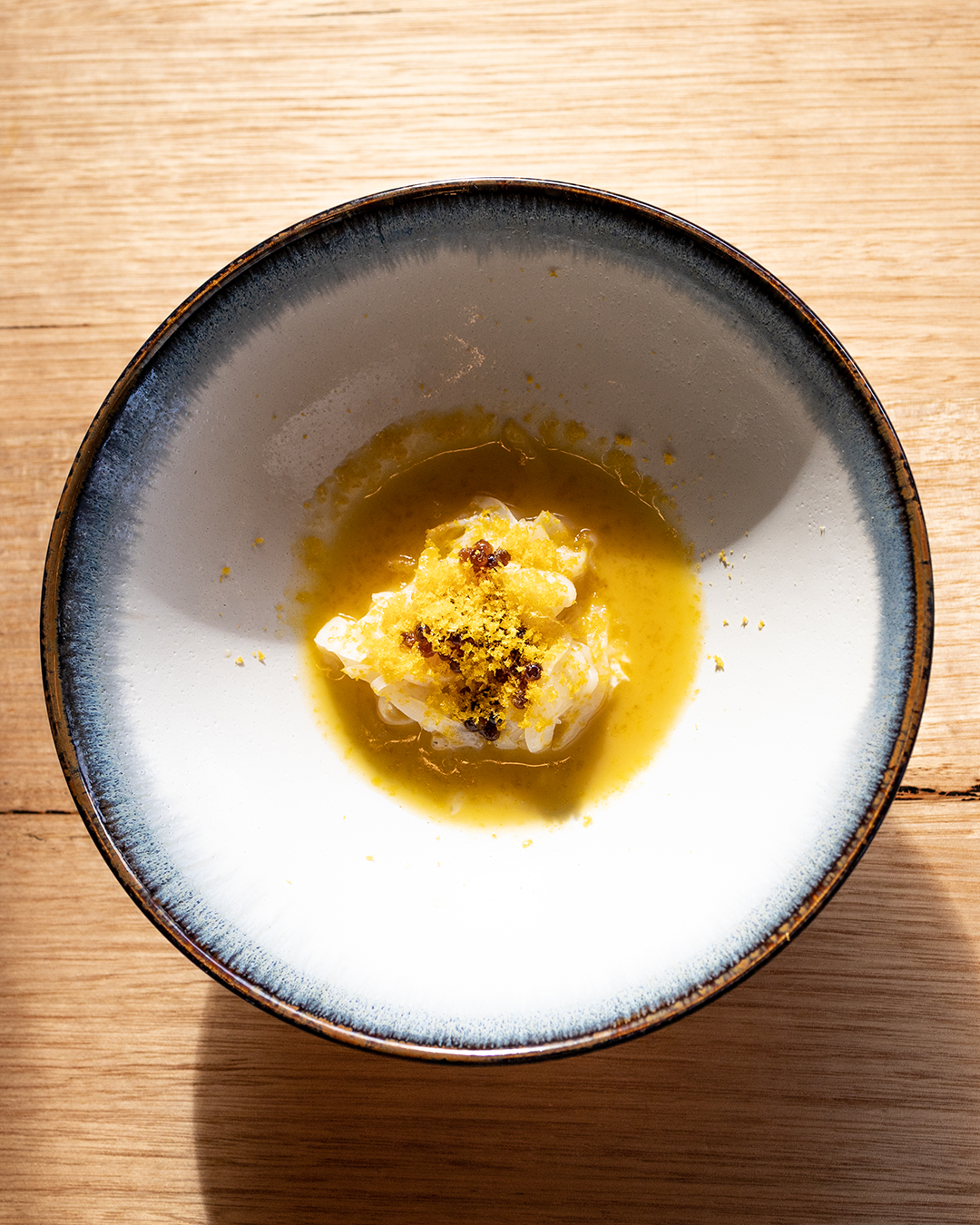 150 Day Dry Aged Stanbroke Beef Sirloin
Inspired by Bricktionary, the current interactive Lego brick exhibition on at HOTA, the 150 Day Dry Aged Stanbroke Beef Sirloin comes with… some assembly required. See what we did there? Heh. Anyway, primo dry-aged beef comes bare on the plate (shocking) (scandalous, even) with a selection of sides for you to mix and match to your heart's desire. Rainbow chard, parsnip puree, Jerusalem Hasselback Artichokes cooked in beef fat, mushroom salt made with the remains from house-made shoyu and a diabolically sweet and fatty sauce de bordelaise with added bone marrow and confit shallots are your potential building blocks for the dish of your dreams. An MYO fine dining meal — what could be better.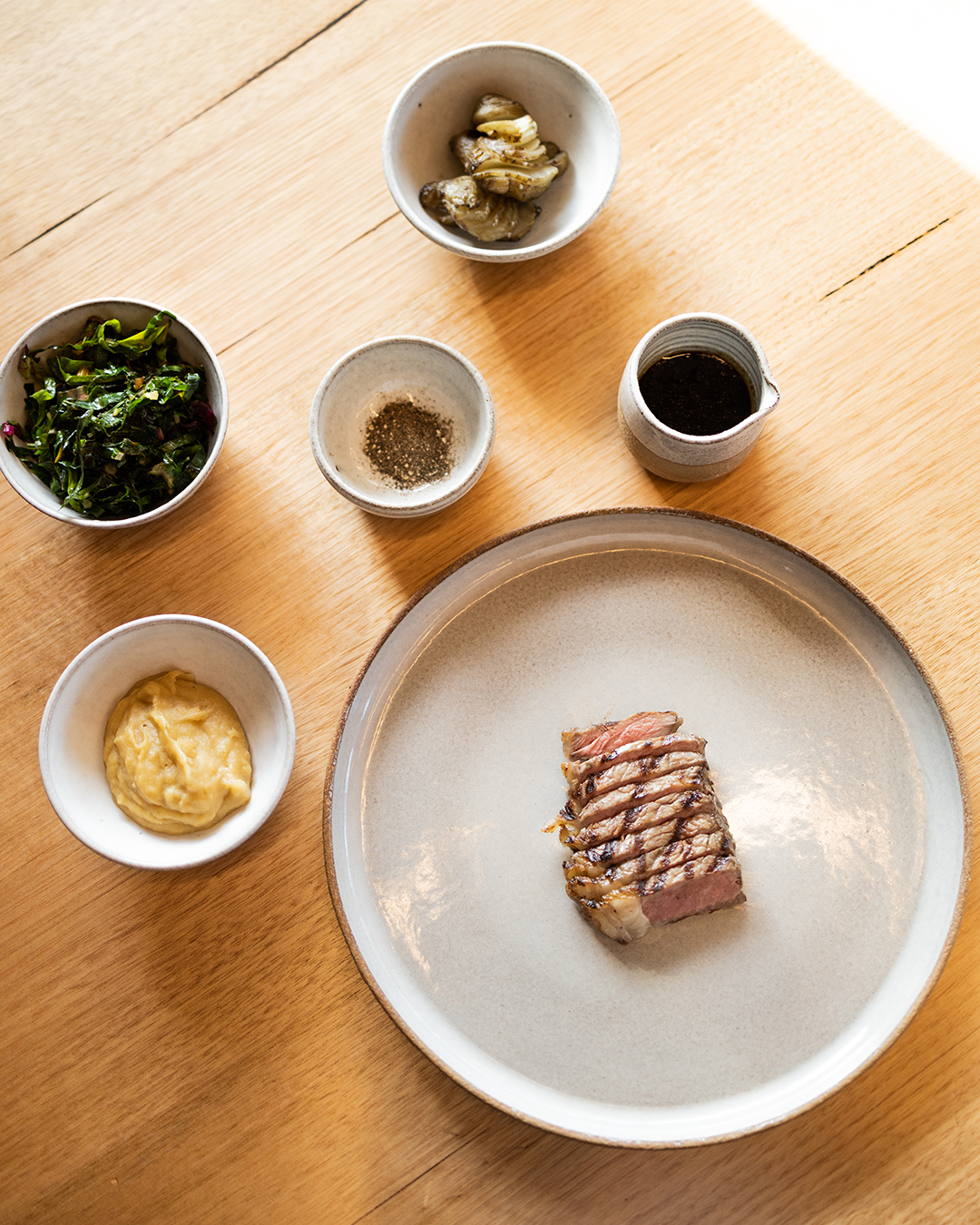 Gladstone Squab Pithivier
Now, this dish is not for the faint of heart. Or vegans. A fancy word for pie, the ​​pithivier is as intricate as any dish at Palette – Squab breast is covered with chicken farce seasoned with thyme and tucked in with a blanket of cabbage to lock in moisture, then wrapped in puff pastry made with cultured butter. A rich jus is drizzled over, the plate is dotted with fig jam and a confit squab leg triumphs above the plate. A collection of Urban Valley mushrooms carefully gathered about the ​​pithivier play the base notes. All the flavours you know and love are there, they're just taken to the next level in every sense of the word. Just– yes.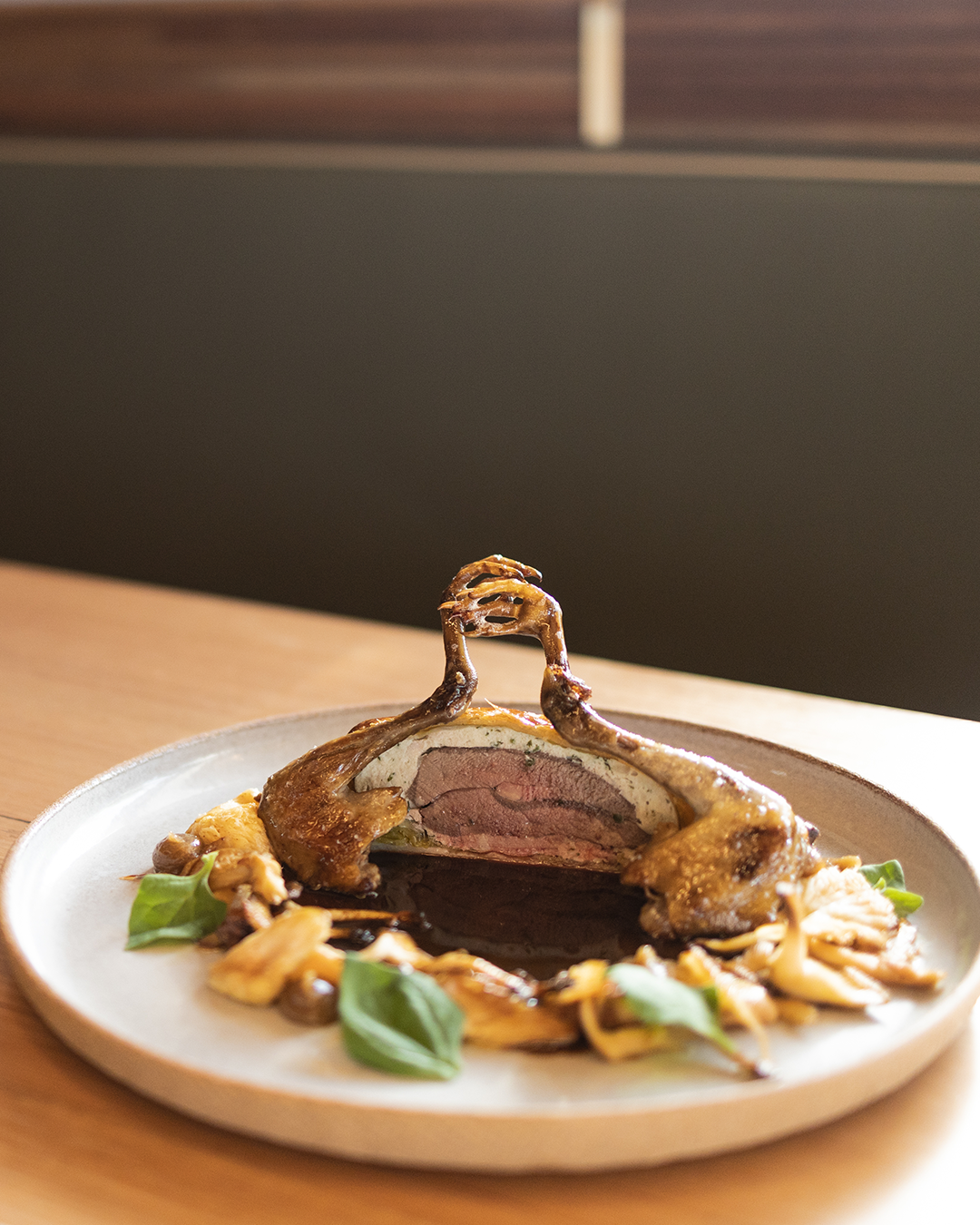 Voronoi Dessert
Got any room left? You'd want to have a skerrick for the closing act: the Voronoi Dessert. A mini HOTA homage; the cylindrical exterior is made from ultra-thin white chocolate from Little Cocoa in Southport and mimics almost the exact shapes and colours seen on the exterior of the building. Our best on ground, the cylinder is a multi-layered affair – it all starts with caramelized white chocolate, then the softest vanilla bean panna cotta. Up next is strawberry consommé gel, then fresh segments of Stanthorpe strawberries compressed with strawberry gum syrup. It's all tied together with a scoop of strawberry sorbet and topped with strawberry gum snow.
Secure your booking here to see what the hype is all about. Our advice? Get in quick.
The Details
What: Palette Restaurant at HOTA
Where: 135 Bundall Rd, Surfers Paradise
For more information or to book, click here.