With international travel not on the cards, now is the perfect time to plan a local getaway or a weekend-long catch up with your entire crew. Finding lodging for 6+ people can sometimes be difficult, so to make sure you don't have to sacrifice on your stay, we've found these stays that are perfect for plenty of friends.
Campbell Point House
LEOPOLD
Be it a milestone birthday, family celebration, or just an elevated weekend getaway, what better way to do that than a Versaille-style mansion planted squarely on the Bellarine Peninsula. The Campbell Point House is situated just a stone's throw from Lake Connewarre, the sprawling mansion is a true spectacle in itself—set on a cascading grass property that leads right down to the water. Loaded with plenty of open spaces with vistas of the gentle lake, great dining halls, freestanding bathtubs, pools, ponds and more. The entire stay fits 16 guests very comfortably, all with their very own ensuite and occasionally open fire place.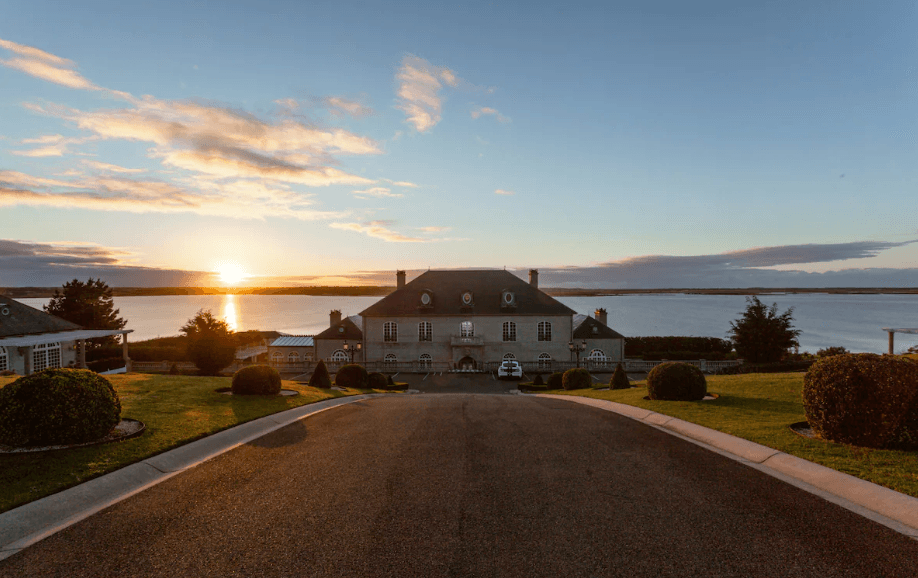 Ocean Grange Homestead
OCEAN GRANGE
This historic homestead situated inside Victoria's pristine Gippsland Lakes is an absolute marvel. Ocean Grange is a sprawling property only accessible by boat, giving you and 20 of your nearest and dearest your own little slice of heaven; with the lake on one end and the sea on the other. The incredibly beach-chic stay features nine bedrooms, a sprawling dining area, pool table, fireplace, a freshwater swimming pool, wooden verandahs that wrap around the property and even a four-storey tower and viewing deck to take in those dusk sunsets over the horizon. It's almost too much to comprehend, but with this stay as your home base, you're all set to discover the stunning natural bushland, coast, lake, or just lounge around the pool and take it all in. Book it here.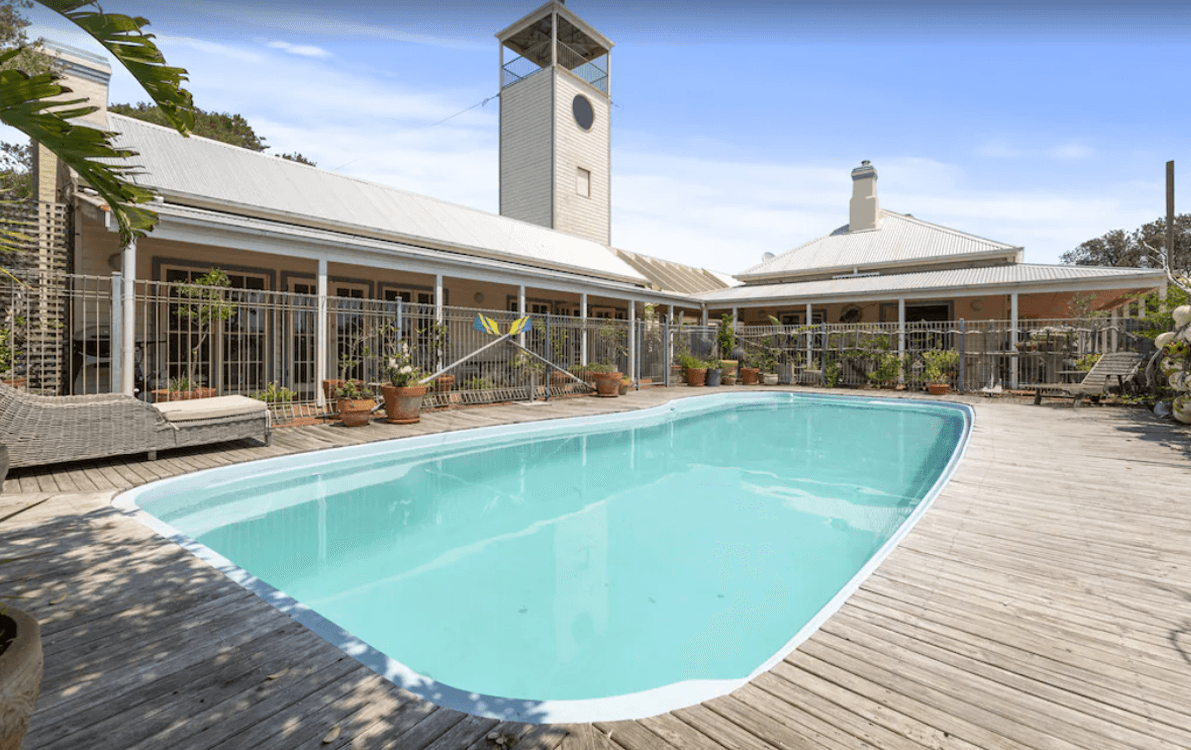 Charleson Farm
WENSLEYDALE
Out on the back hinterlands of the Otways in Wensleydale sits the incredible Charleson Farm, just 30 minutes from Lorne and Torquay this secluded semi-coastal escape has enough of the right stuff to keep every guest feeling at home. The house is stunningly designed and fitted out with a chic rustic feel, think heavy timbers and plenty of light, it's also set on a stunning 100-acre farm with panoramic views of real country Victoria on offer. If that wasn't enough it also has a life-changing outdoor spa that looks out across the ranges.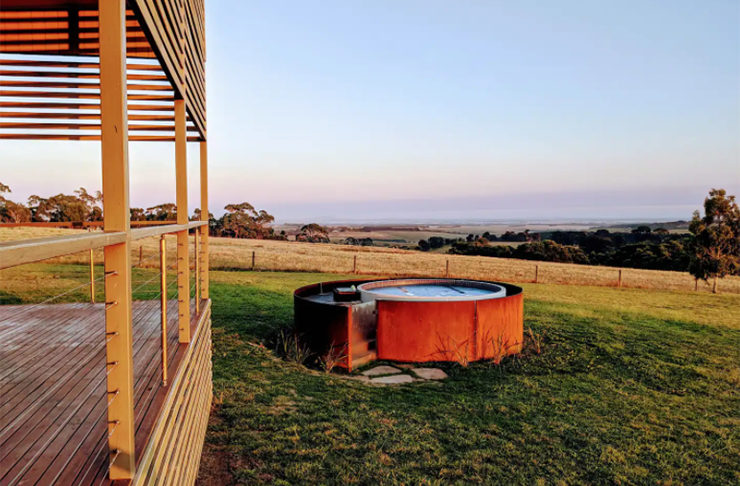 Coomalie House
BADGER CREEK
A few minutes drive from Healesville, Coomalie House can only be described as a mid-century masterpiece, with handcrafted stone floors and walls warmed with generous fires. With its architectural design inspired by Frank Lloyd Wright, expect minimalistic design and open spaces surrounded by native wildlife and greenery. Cuddle up in some blankets in one of the best Airbnbs for large groups and enjoy the peace and quiet while appreciating the serenity.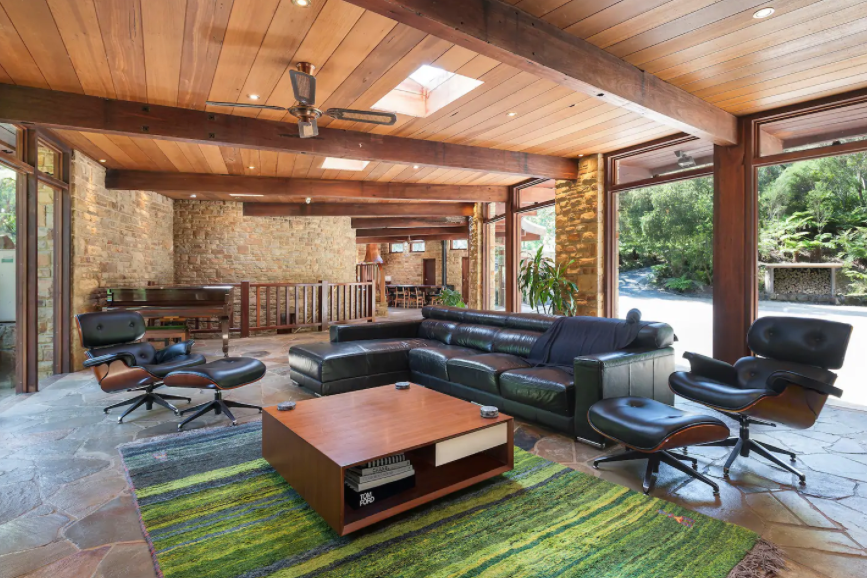 The Yanakie House
WILSONS PROMONTORY
This one might be simpler and fewer frills than others but Yanakie House sits on the edge of one of Victoria's crown jewels, Wilsons Promontory. With a minimalistic and modern design, you'll be able to view the Prom and Corner Inlet from over the surrounding fields and open spaces. Take a breather with the spacious rooms and natural sunlight every morning before heading out to the prom for the day for a hike or a bit of beach action.
Tussie Mussie
MERRICKS NORTH
Tussie Mussie brings French-inspired design to a property a short drive away from the centre of the Mornington Peninsula's wine region. This sprawling estate covers three buildings that you can stay in, with sculpture and cottage gardens, a tennis court and even a seven-acre vineyard. Ditch the main wineries and play host at your own pace with stunning outdoor space perfect for a long lunch. Smaller groups are able to reserve one or two of the buildings (choose between the lodge, cottage or laundry) if needed, or kick back in one of the best Airbnbs for large groups.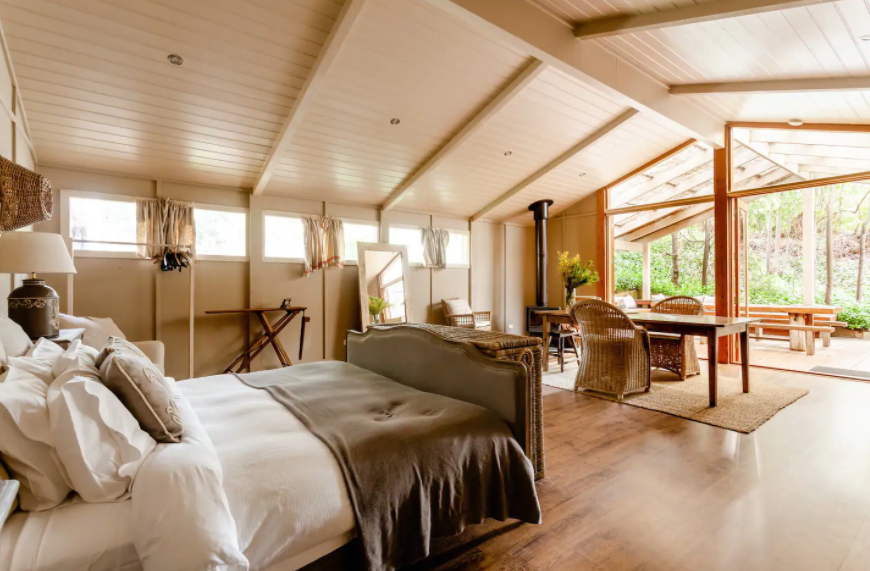 Moose 2 Apartment
MOUNT BULLER
The best thing to come back to after a tiring day on the slopes is definitely a Japanese-inspired Onsen bath to soak in. Rest your bones at the stylish and snow adjacent Moose 2 apartment which is situated right on the mountain in the middle of Mount Buller Village. This space has plenty of wintery warmers to keep you and the whole snow patrol comfortable after plenty of ups and downs. The cosy spot provides plenty of views of the alpine region and lets you take a look at the day's conditions right from the comfort of bed.
Lakehouse Estate
NEWHAVEN
How often can you and 14 of your closest pals secure your own private lake? Well, this Phillip Island located stay will give you just that. Set on a three-acre property Lakehouse Estate is a remarkable stay and a contender for the best large group Airbnb, it's even equipped with its own basketball court, trampoline, and gym. The house is only a short drive from Phillip Islands main drag but has everything you'd need to stay parked up including a lengthy dining table, fireplace, and front bedrooms that look out onto your own secluded body of water.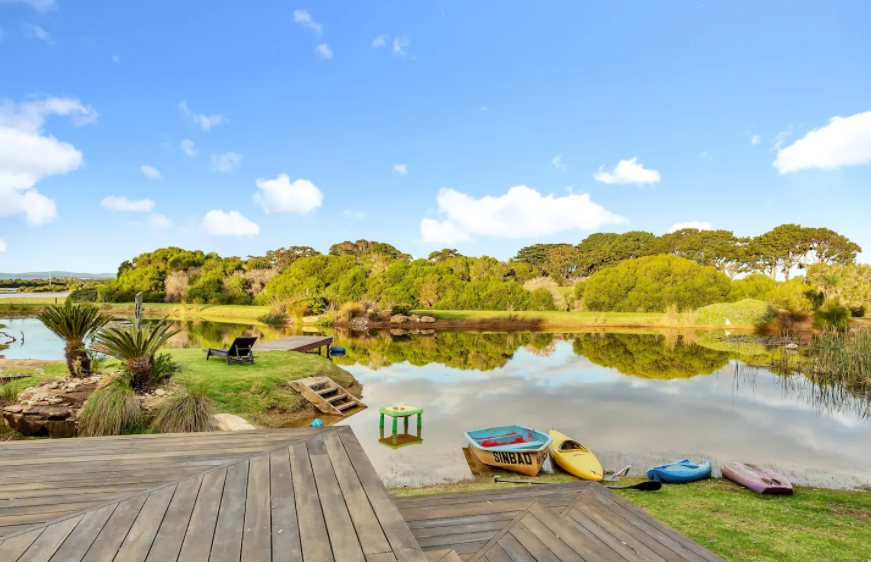 The Wensley
WENSLEYDALE
The Wensley is a ten-guest stay that helps you appreciate the simplicity of minimal design. This house has been so carefully curated that each square of it feels like an exhibition, but it still maintains a comfy and homely feel. Laden with recycled wood and concrete, Wensley's biggest drawcard is the secluded and elegant space, pile around the fireplace and look out across the fields or sit down together at the open dining table and kitchen space. The bedrooms feel fairy tale-esque tucked underneath wooden beams with views of the property and light beaming through.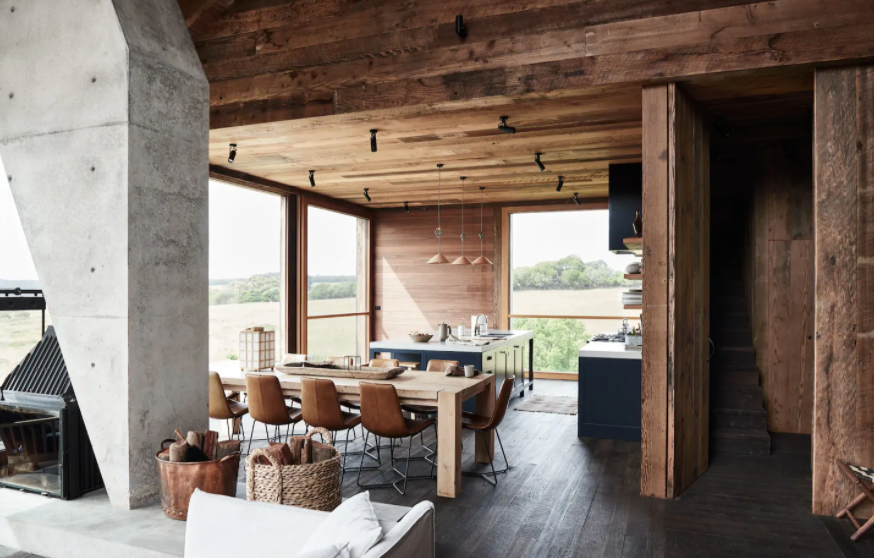 Otways Loft
FORREST
The beautiful three-storey Otways Loft is a mix of tree-house, vintage train, and raw and recycled materials, in the middle of a forest-like garden. Dark wood panels and low sloping roofs make up this unique property, with the interior combining local timber, train remnants, accompanied by the green surroundings it has a deeply enchanted feel. Nestled in a small town behind the Great Ocean Road, this is perfect for a group looking to get down to the coast but away from the noise.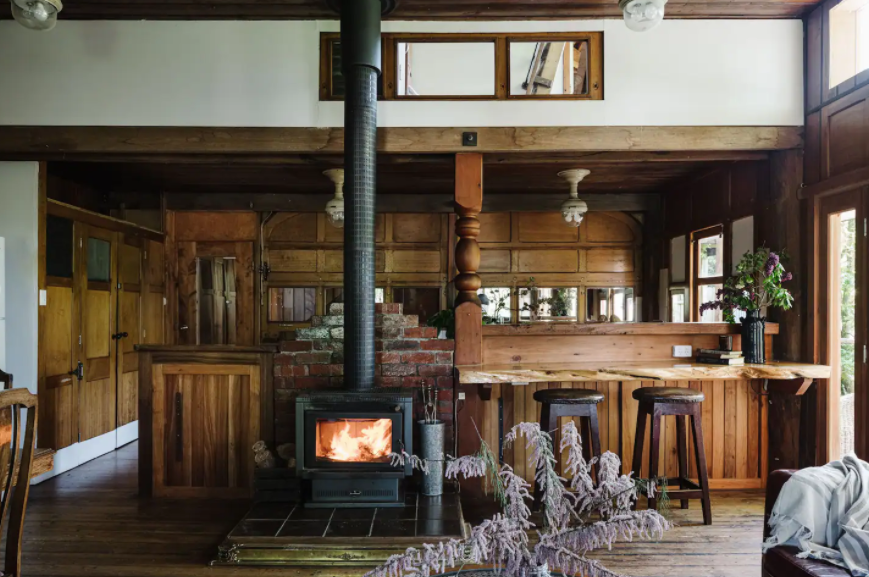 Cypress Hill
APOLLO BAY
Huge glass windows from floor to ceiling cover Cypress Hill, it has a contemporary architectural look and minimalistic design. Located just 5km from the Great Ocean Road suburb Apollo Bay, you're away from the thick of it and left with just the natural beauty of the Otways and all its greenery and wildlife. The interior has a very Grand Designs feel with heavy concrete throughout and a wide lounge room with an open kitchen perfect for intimate dining with plenty of friends, one of the best Airbnbs for large groups that's for sure.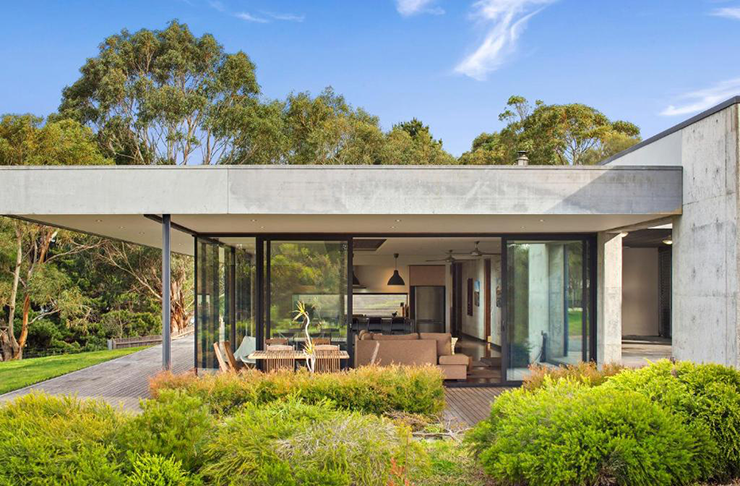 Piccadilly House
DAYLESFORD
Piccadilly House is decked out with a farm-style design with hints of wood, rustic fireplaces and polished floorboards, with sunlight streaming in from every room. You'll be able to relax in the open dining spaces and kitchen and admire the artwork adorning the clean white walls. As it's situated near the heart of Daylesford, this historic house is close to the Wombat Hill Botanical Garden and the Convent Gallery, or any cafes or restaurants that might strike your fancy. Hands, down, this is one the best Airbnbs for large groups.
You can now stay in Bonnie Doon holiday house from The Castle.
Editor's note: Urban List editors independently select and write about stuff we love and think you'll like too. Urban List has affiliate partnerships, so we get revenue from your purchase.
Image credit: Airbnb