It's that special time of year, the time when you eat as much ham/seafood/turkey/pork/scones as your body can handle.
It's also a time when some crazy cats get out in the front yard and string up an absolute ton of lights, making their power bill soar to new heights.
These absolute legends are doing it all for you, so here are the best streets in Melbourne to check out Christmas lights.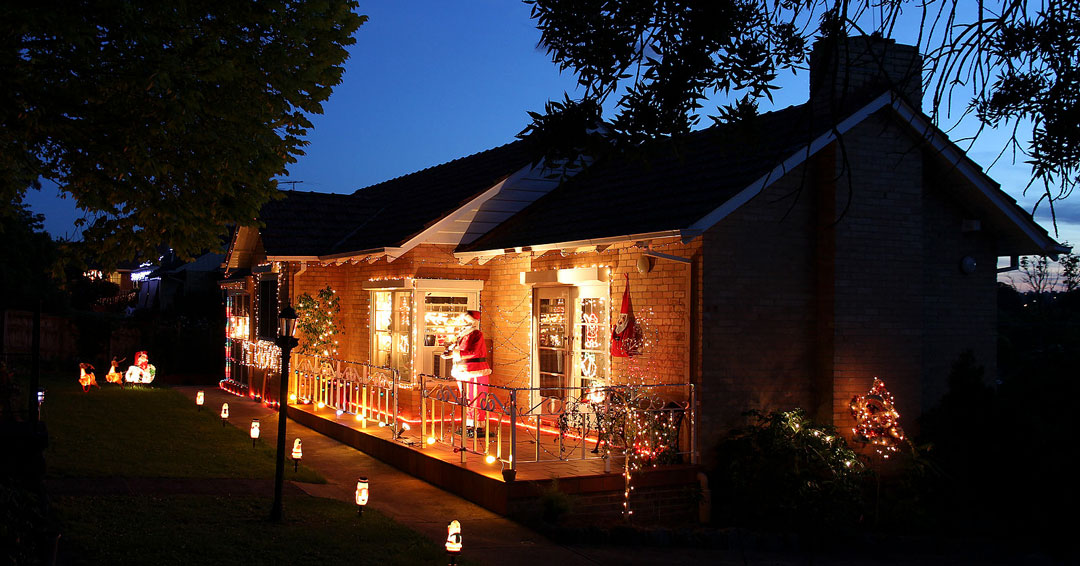 The Boulevard
Ivanhoe
The most well known (and the busiest) Christmas light set up in the city. Totally worth the wait once you get a park. Most of the street gets involved, there's generally a coffee cart there and you can get some great after-dark views of the city.
Tennyson Avenue
Preston
A trip to Preston should definitely be on the cards for any keen Christmas light spotter. Tennyson Ave has a couple of houses that go big at this time of year.
It's also worth making a trip to the nearby Gordon Grove where #47 has more than 40,000 lights on show.
Hugo Court
Narre Warren
Unfortunately, the local council pulled the pin on Narre Warren's famous Hugo Court lights in 2018. But it's still worth heading out to check displays on Clarissa Court, Barondi Avenue, and Edmonds Street.
Lebanon Crescent
Mulgrave
A trip to Lebanon Crescent will put you in front of more than 100,000 lights at #11. Check out the Polar Express as it makes its way around the track. Just a short walk to Wattle Grove will land you at #41 who have been at the Christmas light caper for more than 30 years.
Hunter Road
Camberwell
#60 Hunter Road brings in quite the crowd every year, and is definitely worth a visit if you're around the Camberwell area. Also, this year the family will be raising money for the Starlight Children's Foundation via a donation box out the front. Give generously to help those in need this Christmas.
Vialls Avenue
Parkdale
Venture down around the bay to Parkdale and you won't be disappointed. The amount of houses getting involved on Vialls Avenue grows every year. It's also worth skipping a couple of blocks over to Cedric Street and check out the seven houses on show.
Tennis Court
Mornington
The lights at #6 are switched on from 8:30 – 10:30pm, and they invested in a ton of new lights (72 new boxes of LED lights) for Christmas in 2016.
Dalgetty Road
Beaumaris
Head down to #151 to see an enormous display of lights that you can actually take a stroll through.
Crana Court
Hoppers Crossing
One of the OG Christmas light displays in Melbourne. This one's been going strong for more than 20 years, get yourself west side and check it out.
Bellbridge Drive
Hoppers Crossing
It appears Hoppers is an absolute Christmas mecca for lights, check out #169 and #144 where the light displays have a little something for everyone.
For everything else happening in Melbourne right now, head to our Things To Do section.
This is just a small selection of all the great displays currently happening in the world's most liveable city, check out Christmaslightsearch.com to find some that are closer to you.
Image credit: James Baldwin
Source: Christmaslightsearch.com