We all need a merry Christmas—now, more than ever. With so much Christmas cheer cancelled over the last few years, these brilliantly imaginative Christmas displays and homes are offering some much-needed festive sparkle and reverie.
So, Christmas Light Search has made it easier this year for you and your Christmas compadres. It's time to leave your worries behind and celebrate the most wonderful time of the year. Gather your friends and family, grab your phone, hop in the car and start searching for your local lights.
Here are Melbourne's best Christmas lights, courtesy of our mates at Christmas Light Search.
Knightsbridge Avenue
Altona Meadows
A friendly host who adores Christmas has put on a neat and pretty display with lots of colours and Christmas-y things to see. There are a few great homes in Altona Meadows, so make sure you see them all. More details here.
Lance Close
Aspendale Gardens
A sparkly and funky display that's been a local's favourite for years. Come stand at the fence and gaze down the drive, spot the singing elf, decorations and glowing Christmas characters. There's heaps to see at this house and if you look long enough you may even spot Santa with his reindeer.

More Details here.
Middlesex Court
Cranbourne North
Squiggly flashing tubes of lights weave around the pavement and up the walls at this fun and classic display in Cranbourne North. Tucked away at the end of the court, this is a display that all ages will appreciate. Meet the friendly owners who give out sweets (if you ask nicely). Lights dazzle the entire length of the property and accompany various Christmas scenes located throughout the driveway and garden. More Details here.
Shaftsbury Street
Coburg
No one loves Christmas more than this owner. This unique Christmas Display down in Coburg is sure to surprise. The first thing you'll notice as you walk up the drive is the attention to detail, it's a Christmas wonderland on a miniature scale. Check out the Light Show, Santa's house, reindeer and sled, animated bears and a moving Christmas train.
This one's open until Friday 31 December. More details this way.
Elevation Boulevard
Craigieburn
Located on the edge of Melbourne, this property warps classic Christmas lights with miniature Christmas themes. Enjoy not only the music and lights, but also the handmade Christmas wonderland village that sits in the front window. Running nightly to midnight, until Friday 7 January.

More details here.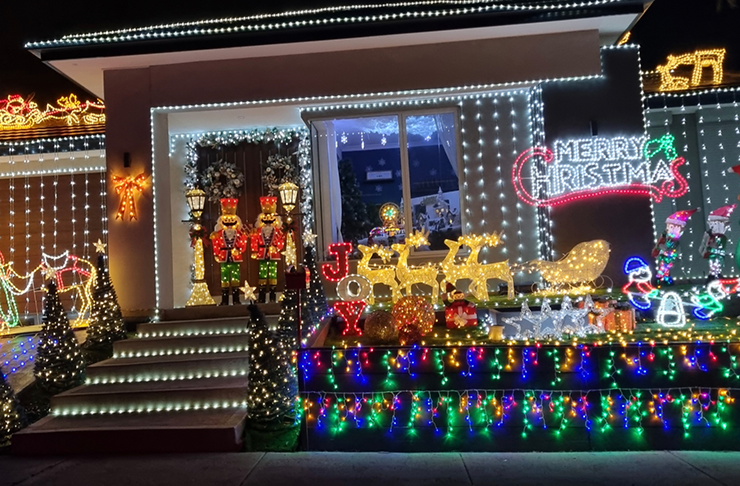 Glencairn Drive
Greenvale
Amazing Christmas light display with multiple Christmas windows, scenes and villages. Enter from the left and walk along the length of the house admiring the funny and classic festive characters. All scenes have moving props. Ice cream and coffee trucks will usually park out the front from 8:30pm for all viewers to enjoy.

More detail here.
Boyd Close
Mooroolbark
Formerly #thebigredtreeonaintree, they have relocated for 2021. New location but the same great display. You'll find roof decorations, blow-ups, wooden cutouts, lights plus a life-size santa sleigh. Almost every inch of the property is decorated—there are lots of displays around Mooroolbark, so make an evening of it.
The lights on every night to Christmas day in support of Mooroolbark CFA. More details here.
Kristina Court
Pakenham
Warning, many bright flashing lights! 50,000 to be exact. With three large rooftop LED trees, you'll see this place a mile away. Grab a photo in Santa's sleigh. Donations are of course welcome with all proceeds going to Camp Quality. Oh, bring your sunglasses.

More details here.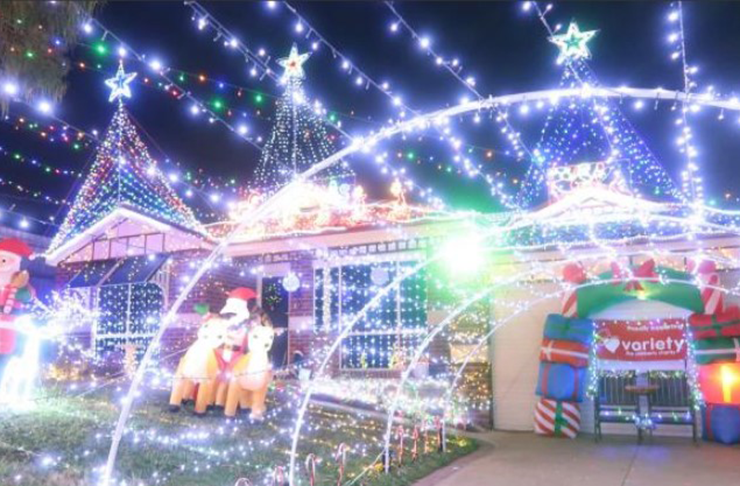 Turnberry Drive
Sunbury
Not far from Craigieburn, this is a house not to miss. Lasers, a nativity scene and moving displays will keep the little one's (and big kid's) eyes wide open in awe. Running nightly to 11pm until Saturday 1 January.
Head this way for more details.
Grange Road
Sandringham
The famous 'Get On The Beers 2020' house is back for 2021. But what new hit do they have planned for this year? You'll have to come check it out for yourself. Raising awareness for breast cancer, and taking donations plus hamper raffles. Watch the lights come to life and dance to the beats.
A favourite for Bayside families

More details here.
Coleman Parade
Kew East
Tucked away in the quiet streets of Kew, many sparkling & synchronised lights await. Melbourne's long-standing computerised light show in the city is, no surprise, back on again. 80,000 lights dance to music—tune your car radio in of watch from the footpath. The show runs nightly until Christmas day. Walk around the streets and you might even find a few other displays too.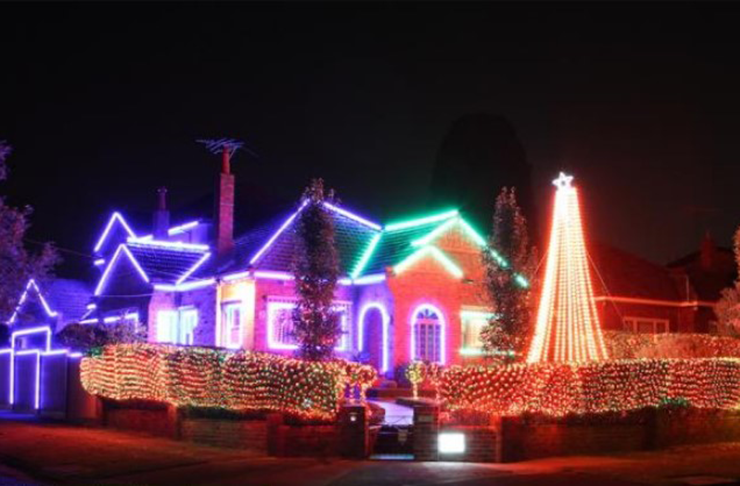 So, there you have it. Beat those post lockdown blues and head out in your local streets or discover a new suburb all together! If you're a Christmas Lights fanatic and keen to make a night of it, make sure you head over to Christmas Light Search website where you can find hundreds more on their Melbourne Christmas Lights Map.
Image credit: Lachlan Kennedy
Source: Christmaslightsearch.com