Counting down the days until you can sip a delicious summer Aperol with friends again? Well, we're about to hit you with a revolutionary fact. Aperol is not just a summer bevvy. In fact, it never has been.
This Italian staple has been bringing people together for over a century in all types of weather. It turns out that summer has never been a global requirement to enjoy this iconic drink. Instead, the activities that underpin Aperol experiences worldwide are food culture and rituals.
In honour of this epiphany, we've partnered with the legends at Aperol to celebrate the joy of Aperol-fuelled dining experiences. Not to mention, we've also teamed up with Maha Bar, Leonardo's Pizza Palace and Tokyo Tina to bring you a series of bespoke aperitivo and Aperol foodie deals for $40 or less.
Head here to discover our exclusive foodie deals, and read on for more places to enjoy an Aperol any day of the year.
Maha Bar
For the first of our bespoke, bargain Aperol experiences, head to your local meze bar, Maha Bar. One of the best Middle Eastern restaurants in Melbourne, Maha Bar is all about the snacks, serving us endless share plates of more tasty morsels than you can handle. Every menu item is innovated using traditional flavours, even their cocktail list, complete with a hand-picked wine list focused on organic and biodynamic drops.
Now for their limited-time aperitivo and Aperol offer. For just $40, you'll be greeted with a perfect portion of porcini ravioli topped with wagyu tagine sauce, toasted almonds and parsley to share. This flavour-packed dish is, of course, served alongside two Aperol Spritz to complete the dining experience.
On top of this being a total steal, it's also the perfect way to sample some of Melbourne's tastiest Middle Eastern flavours. Be quick! This offer ends on the fourth of September—but don't worry, Maha Bar will still be serving Aperol cocktails year-round.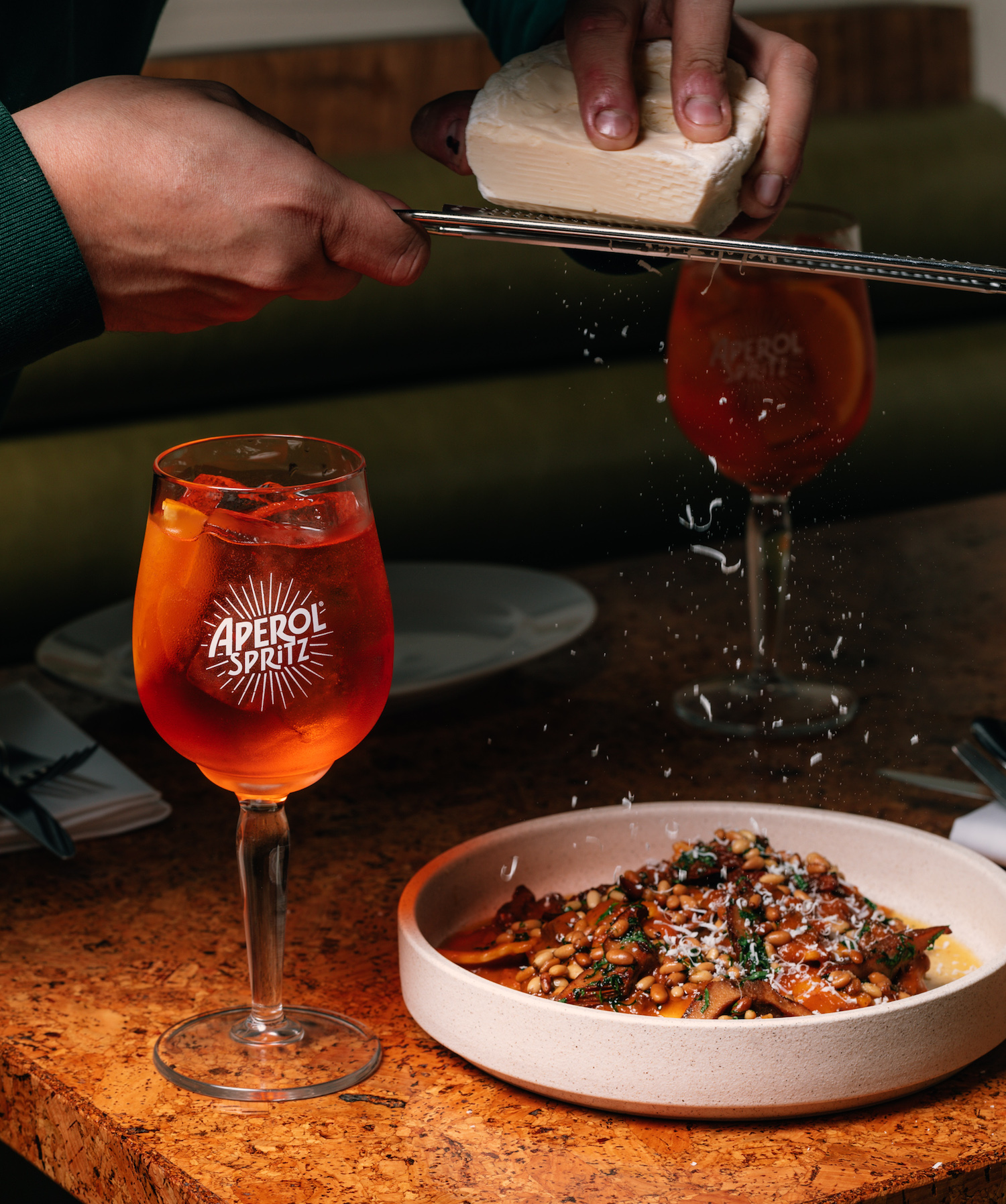 The Hardware Club
For authentic Italian vibes with food to match, enjoy your Aperol at The Hardware Club. Tucked away on Hardware Lane on the first floor of a heritage-listed building, this restaurant is all about the classics. With a focus on set menus, the idea is to share great food with those you love as you're treated to dish after dish of authentic flavours.
Sit back and enjoy your oh-so-Italian spritz as you choose from their many indulgent banquets, including a meat-lovers date night, seafood feast, and vegetarian experience. To pair with your Aperol we recommend the Hardware Club Mid-Week Trackies Feed featuring comfort classics like croquettes, spaghetti, and tiramisu.
Grill Americano
Speaking of Italian eats, Grill Americano is serving up nothing but Italian excellence. From the mind of famed restauranteur Chris Lucas, this place takes dining indulgence to a whole new level.
The sleek interior is entirely clad in black tile accented by marble benchtops, broken only by the luxe blue velvet seating that is beckoning for you to settle in and experience opulence. Everything on the menu is made with the same attention to detail as the decor, from their delicate handmade pasta to unbelievably fresh seafood dishes that pair perfectly with a high-end Aperol on the side.
Tokyo Tina
Meet Melbourne's go-to for modern Japanese fare, Tokyo Tina. From traditional eats to karaoke nights, this dining institution celebrates the culture and classic Japanese flavours we know and love while elevating them to a whole new level.
Tokyo Tina is another one of our Aperol partners, coming up with a unique flavour palette that will knock your spritz-loving socks off. For just $35, Tokyo Tina has paired two Aperol Spritz with limited-edition beef skewers that melt in your mouth. Smoked with flavours of gochujang and orange, these tasty morsels are the perfect snack to share.
Once again, this deal is available until September fourth, so order fast. Trust us, you don't want to sleep on those unbelievable skewers followed by the perfect sip of spritz.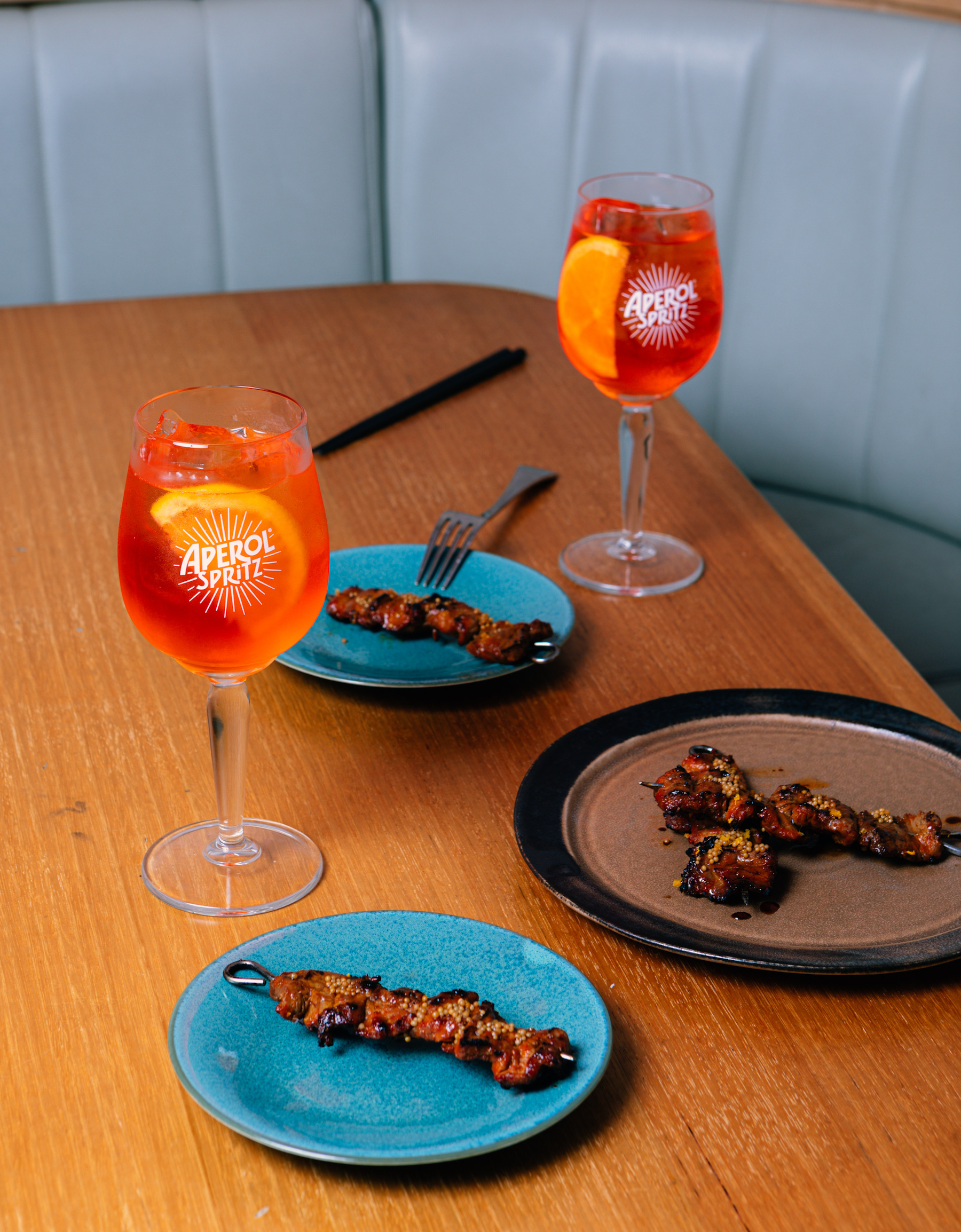 Serai
In the heart of Melbourne, you'll find Serai, a home away from home for Filipino diners. The open kitchen creates a warm and welcoming atmosphere, inviting you to watch as the chefs whip up masterful dishes that perfectly merge Australian and Filipino flavours.
While this may not seem like your typical Aperol environment, the folk at Serai know a good spritz when they see one. What's more, the light and refreshing cocktails perfectly pair with the rich, flavour-packed morsels Serai is churning out daily. They even serve Gaytimes for dessert—the key to any sophisticated flavour profile.
Leonardo's Pizza Palace
Where better to bask in the cultural experience of an Aperol Spritz than in one of Melbourne's most iconic pizza joints? Leonardo's Pizza Palace is serving up the Italian eats your dreams are made of. The team at Leonardo's has partnered with us and Aperol to offer their own aperitivo and Aperol Spritz deal, creating a bespoke and entirely Italian dining experience.
Leonardo's Pizza Place has paired two Aperol cocktails with a share plate of smoked mussel and roast Nduja Pizza Fritti with cavolo nero, radish, and pecorino. What's a Pizza Fritti, you ask? Just a little Naples classic where pizza dough is fried rather than baked to give you max flavour and texture points. Who knew pizza could get better?
This offer is available up until September fouth for just $40. Order now, and thank us later.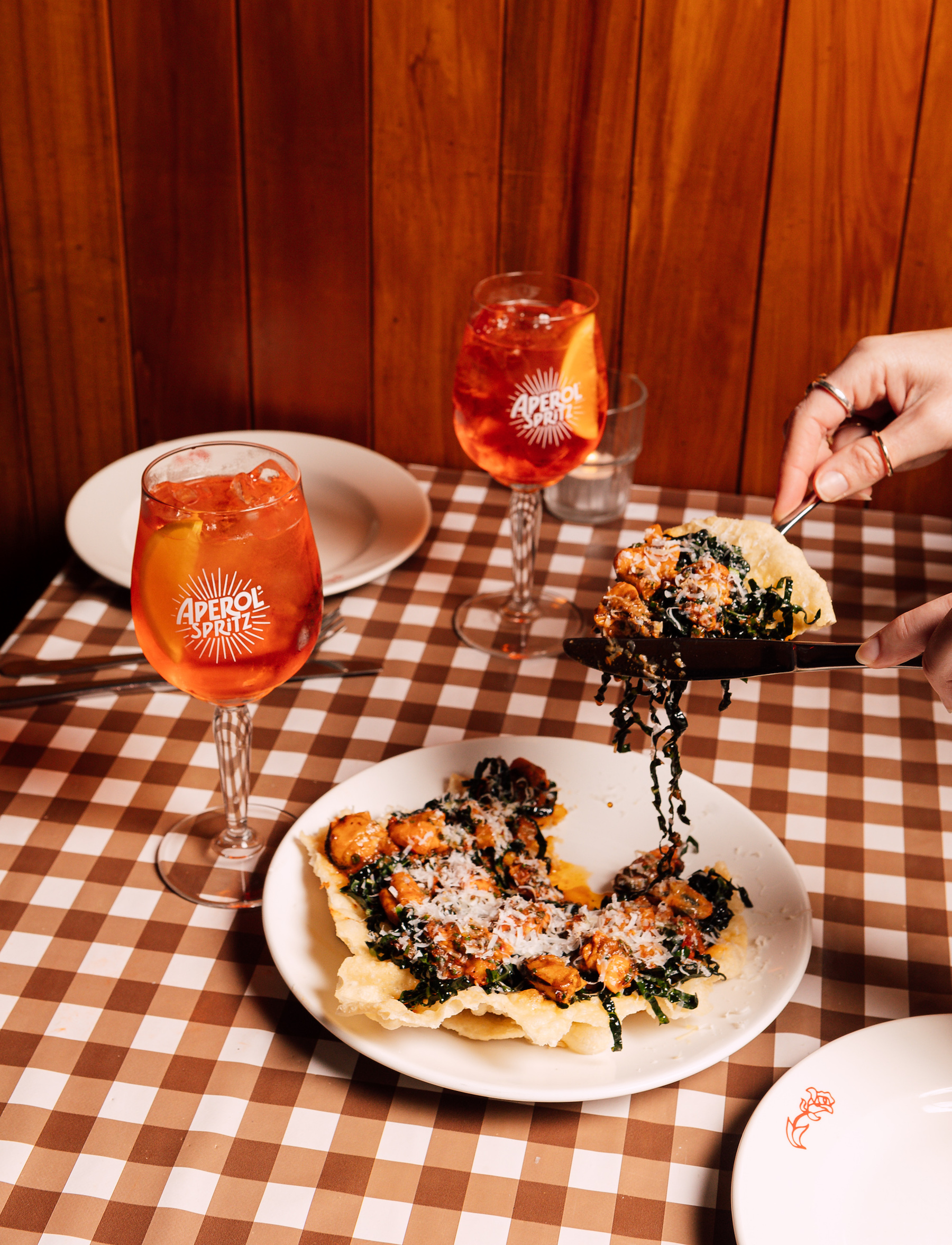 Poodle
If there is one place that Aperol truly belongs, it's in a courtyard. Drench yourself in the sun while you sip on your favourite international cocktail and enjoy the tastes of Europe at Poodle. This place is perfect for a long spritzy lunch trailing into a leisurely dinner—ideal for anything from casual catching-up to hosting an event on their raised patio.
Inside, the bistro and bar is a unique, art-deco-style hub for creative European cuisine. Settle in amidst the art-lined walls and take your pick of delectable dishes that range from classic to intriguing. We recommend the Poodle chef's collection as it embodies the community aspect of Aperol that we're all about.
Rocco's Bologna Discoteca
For more Italian fare with a true home-classics vibe, hit up Rocco's. This Bologna Discoteca is as close as a restaurant can get to Nonna's kitchen, serving up traditional family favourites with the cosy Italian decor to match. It's this homey atmosphere that makes it the ideal space to enjoy a leisurely meal with family and friends.
While Rocco's menu may not be the longest or most fancy on our list, it has everything you need to piece together a traditional Italian feast of tasty morsels. We recommend keeping it classic with the House Salumi Plate and a cheeky spritz.
Stalactites
Stalactites are one of Melbourne's best-known Greek restaurants for a reason. Sure, it could be the epic interiors with a ceiling of stalactites inspired by the caves of Diros in Sparta, but we think it goes deeper than that. What truly gives this Melbourne institution it's staying power is its roots, owned and operated by the same family for over 50 years.
It's this family vibe plus the impressive decor that makes this restaurant the perfect place to kick back with an Aperol and transport yourself to another culture with those you love. Their massive menu boasts every Greek fave, so whether you're a giros kind of person or prefer your spritz with souvlakis you're sure to leave satisfied.
Need more Aperol in your life? Take a culinary trip this winter that your tastebuds will thank you for with these nine exclusive dishes thanks to Aperol. But be quick, these creations will only be hitting tables until 4 September 2022. For more details, head here.
Editor's note: This article is sponsored by Aperol and proudly endorsed by Urban List. Thank you for supporting the sponsors who make Urban List possible. Click here for more information on our editorial policy.