Chef Matt Wilkinson's back with his latest offering, Crofter, an 80 seat diner and bar that pairs Wilko's British heritage with his deep understanding of modern Australian cuisine.
Like the chef himself, there's a subtle, playful flair peppered throughout the menu that you can't help but immediately notice. The tomatoes with Vegemite dressing leaps out first, only followed by nan's overcooked greens and various off-menu Midori-based cocktail suggestions—yep, the team are bringing it back, and the nostalgia is delicious.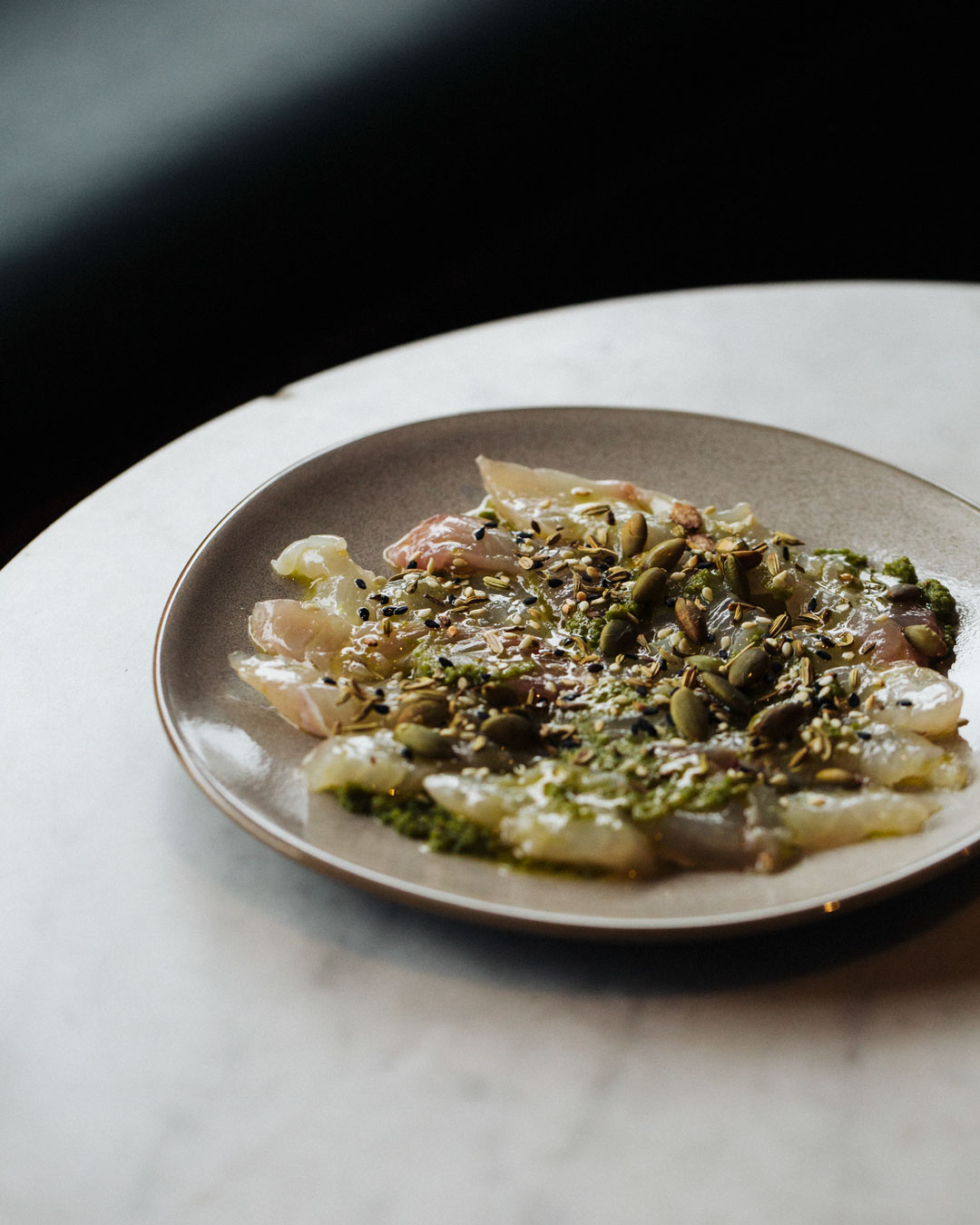 Matt's creative direction of all things "Made from Gin" over at Four Pillars Gin shines through on what's in front of you. The gin cured fish was undoubtedly our pick, complete with green harissa for balance. There are several British throwbacks that shouldn't be skipped over, either—potato gems with gin salt in particular.
Veggies and salads are the champions here, but if you need something to accompany the likes of your woodfired spicy cabbage, the half a kilo of golden-crusted lamb shoulder should fill out the table and your tummy.
Four Pillars Gin scores a heavy feature throughout the drinks menu for obvious reasons. There's a bevvy of creations worth your consideration, but honestly, Crofter's take on the tried, tested and then reinvented southside is the perfect partner to the snacks menu, and to many of the more substantial items, too.
If it's a glass of vino you prefer, or 'plonk' as Wilko calls it back on the motherland, then you're spoilt for choice. The list is considered, yet not without the aforementioned playfulness. Little Reddie's lively Pat Nat, a lightly sparkling pet nat, sat well with the first half of the menu, while Philip Lobley's Yea Valley Pinot Noir took the weight of the heavier dishes with its well-rounded and brighter notes.
Come dessert, you'll find a bold nod to Britain with a series of puddings. If you're staying true to tradition, you can't go past the chocolate & salted caramel blanc mange along with a glass of Moscato providing you have space.
​
Taking a seat in Crofter feels like familiar in all the right ways. As with the Circa rebrand in 2009 and Pope Joan's launch in 2010, he's worked with long-time friends at design studio Racket to create a space that's both homely but relevant—these are of course qualities that resonate within the menu, too
Crofter is open from 5:30pm until late Tuesday through Friday, and from 11:30am to late over the weekends. Keep an ear out for Wilko's recommendations by the kitchen pass.
The Details
What: Crofter Dining Room & Bar
Where: 434 Lygon Street, Brunswick
Stay up to speed with the latest openings around Melbourne on our New Eats section.
Image credit: supplied